If your definition of a dream trip is to be roaming the roads of Australia behind the wheel of an old backpacker's van, this guide is for you.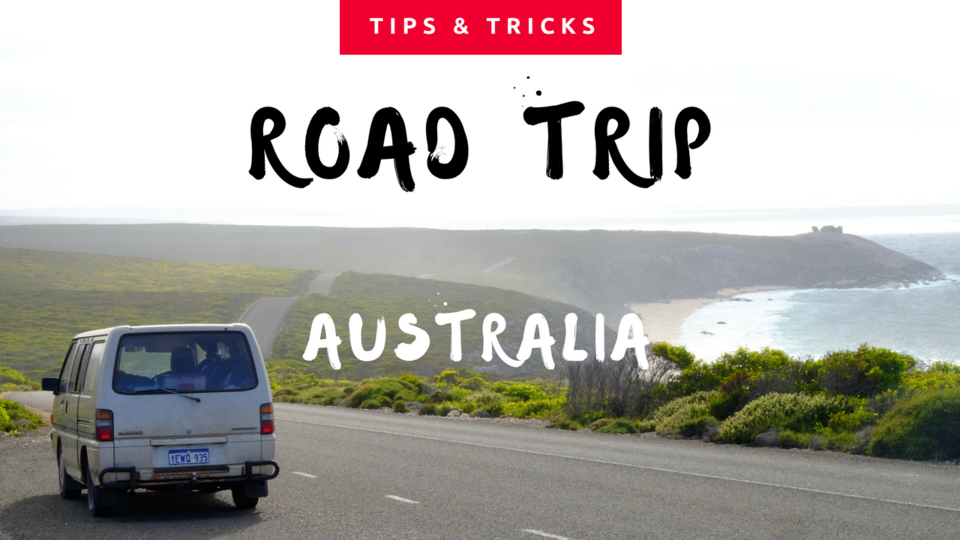 Buying a car and hitting the road is the most genuine way to discover Australia and its otherwise inaccessible wonders. There is no greater feeling than to wake up in the morning in the midst of a national park and realize that you are completely free to go wherever your heart desires.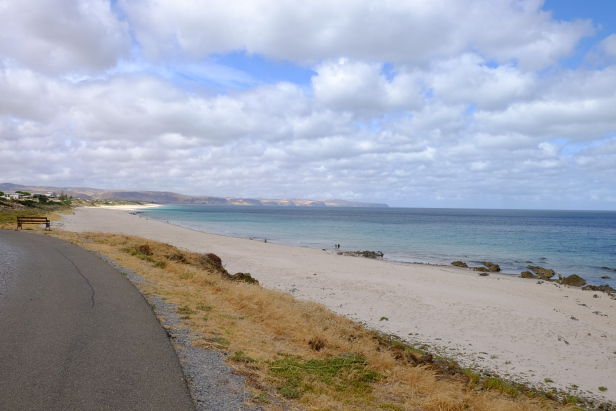 Road view on Carrickalinga Beach, South Australia.
A road trip in Australia is all about a sense of adventure, ignited by casual interactions with friendly or sometimes eccentric locals, close interactions with a unique wildlife and landscapes that will leave even the most jaded of travelers speechless. However, adventure comes side to side with a sense of danger, as driving in Australia can lead to precarious situations every visitor needs to consider.
Driving in Aussie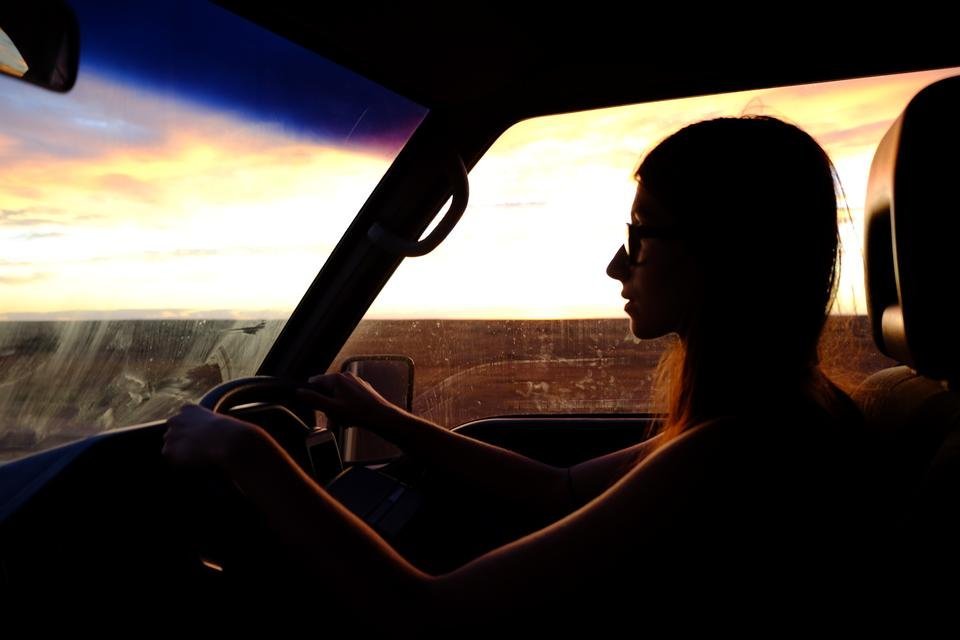 1.Road Safety


It probably won't be revolutionary news to say that Australians drive on the left, for some of you how already drive on the left no change for the others there is no real trick here as it is easy to get used to driving on the left. It can sometimes take a few days to adjust to roundabouts or to manage to drive in the middle of the road without leaning too much to the left or to the central white line.


An actual safety hazard now is one that most travelers underestimate or are not even aware of: the wildlife. The first time you will see a kangaroo road sign will feel authentic but it can become your worst enemy pretty quickly, to the point when you won't be surprised anymore when you see dead mammals rotting in the sun on the side of the road. The risk of encountering a wild animal crossing the road is especially high at dawn and dusk but you have to be careful at all times as you certainly don't want to be running over a 200-lbs kangaroo at full-speed. Savy drivers tend to add bull-bars to their car and it can be a really good way to protect the car and yourself.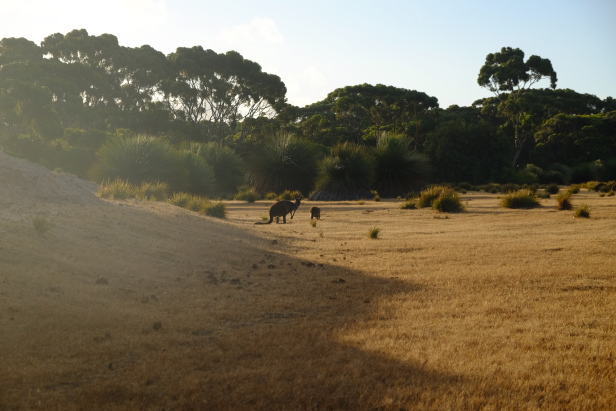 Safe encounter with a mother wallaby and her child in Kangaroo Island at dusk, a time when your car should already be parked.
Driving at night is closely related to the dangers of coming across animals on the road. Try as much as possible to avoid driving in the dark, the best time to pull over being around 6:30pm. Some locals might ignore this advice, especially truck drivers, but be aware that they are fully equipped when you will probably be driving an old van or a backpacker's car. In case you have no choice but to drive at night, a slow 35-km/h will leave you enough time to brake out of the blue – you'd rather test the limits of your patience than kill a live being and wreck your undercarriage in the process.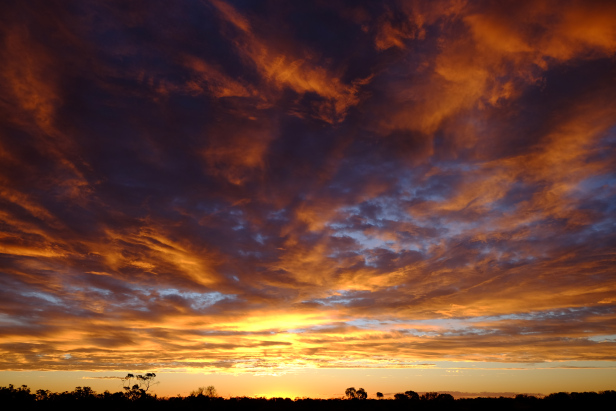 2. Extreme weather conditions


Australia is known to be a country of extremes. Being the size of a continent, driving across this massive country will have you exposed to climatic extremes that will challenge you dramatically.


Weather conditions are widely different all over its 10 federal territories and seasons vary considerably as well. Winter driving in Queensland is fair enough but be aware that Tasmania is known for its heavy snow, turning this mountainous island into a trickier place than you might have expected. Getting to its remote national parks will force you to drive on bendy roads that can be extremely slippery throughout the year so do not push it in winter time. Unsealed roads are also a norm in Tasmania and in other secluded locations across the country, making them even more of a nightmare under thick snow or rain. If you have a tight schedule, it might be safer to cross out some of the places you wanted to see to avoid any accident on the road but if you are on a long road trip, there is no point in rushing.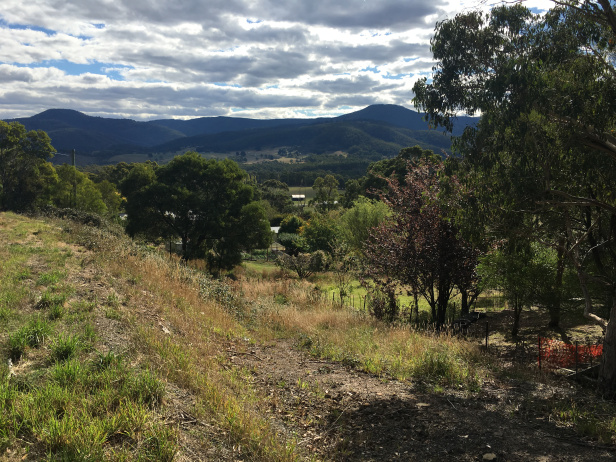 Mountains make for bendy and dangerous roads in green south-western Tasmania.
Winter in the Northern Territory is a different story altogether as this vast and largely empty state only knows two seasons: the Dry (March to October) and the Wet (November to March). In a nutshell, the Wet's peak lies around the end of December to early March, restricting access to iconic places such as the Kakadu National Park. Most national parks will be stunning during the Wet, furious rain unleashing its wrath onto waterfalls, but the tropical rains will make your life harder than ever. It may sound funny to describe being stuck in the middle of a flooded road turned into a raging river where logs drift right in front of your eyes while you're sitting safely on your couch at home, yet it is far from funny to actually go through the experience.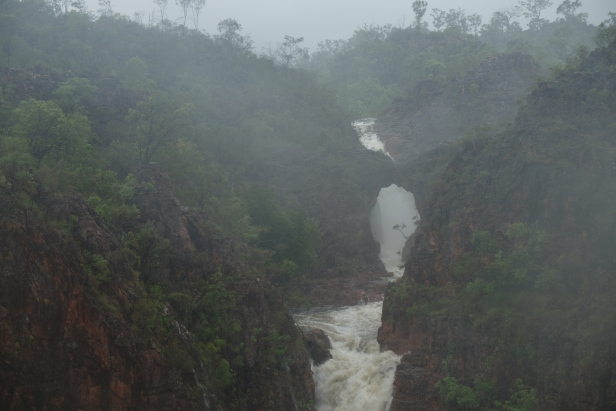 Eery waterfall inside foggy Litchfield National Park, NT.
You will not always have a choice though as there are limited options in some areas where the only way is forward. Getting past a flooded road is not easy when you are an inexperienced driver behind the wheel of a van so engage the first or second-gear and move slowly to the flooded area but never try to go at full-speed as the current will always be stronger than you and you might drift away. At some point the motor will probably stop so the passenger will need to push the vehicle from the outside but only if you are beyond the northern part of the territory, far from Darwin and the Kakadu, as their waters are a crocodile nest. Keep in mind that this is an extreme solution that should not be encouraged so always get informed on the current situation of the roads in your area as backpackers have to be rescued each year over reckless driving. You can receive alerts issued by the NT government directly on your phone by registering here or checking the Australian Bureau of Meteorology.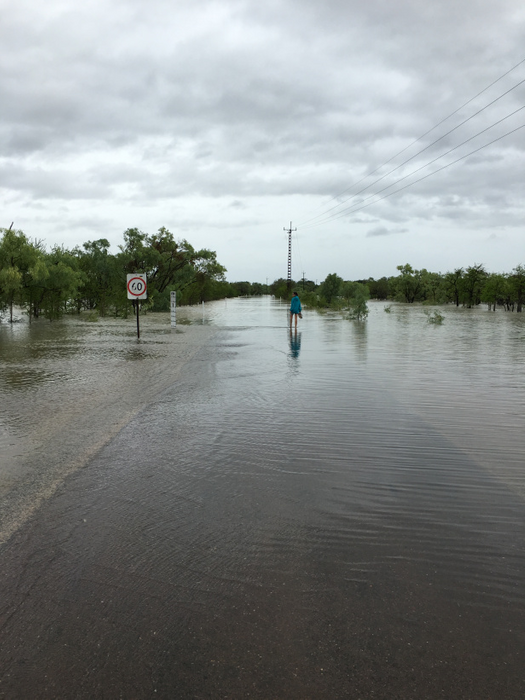 if you are visiting a national park, pull over and wait for a shuttle to come and get you, if you have a 4x4 you might get through but always check the flooded bar on the side of the road
3. Driving through the desert


Driving from the top-end of the Darwin area to the heart of the desert at the Ayers Rock on the Stuart Highway is one of the highlights of any road trip down under. Some travelers will hop from cities to cities but this infinite line between the capital of the Northern Territory and Adelaide in South Australia is where the genuine face of Australia can be seen. Yet, it should not be taken lightly and comes with a bit of preparation.


As many stops and towns there might be on the way, always try to warn someone of you planned journey, whether it is a family member or a friend of yours. In case something happens to you, the rescue services would be informed faster.


It is recommended to purchase mineral water dispensers before you embark on your journey. There is a range of brands and prices but the basic product you will find the most easily is the Frantelle natural spring water dispenser available at Coles and Woolworths – prices between AU$11 and 12 for a 15L dispenser. Supermarkets will pop out on the way, in places like Katherine and Tennant Creek, but there will be hundreds of kilometers in between them so do not hesitate to buy as many dispensers as you think you need, keeping in mind that you should drink at least 3L a day.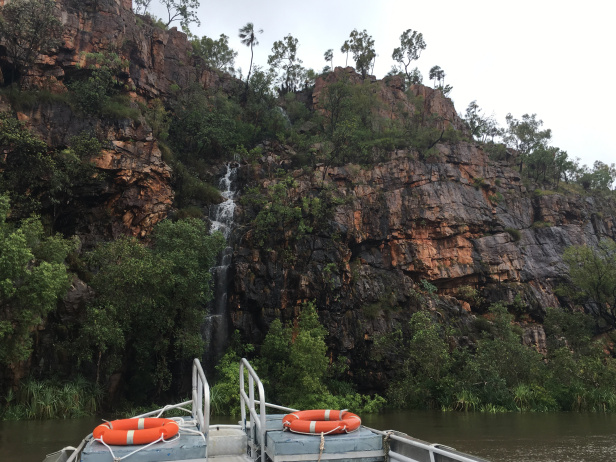 Rainy day on the Katherine Gorge, NT: boat trips are not always available during the Wet so check a few days in advance.
Gasoline should also come in good stock as some gas stations along the road might run out of supply unexpectedly. Buy a spare bottle of engine oil too, after you've checked the reference needed for your car. Long distance driving drains oil out of your engine fast so check your oil level at least once a week. If you have never done it before, the oil cap is usually found under the passenger's seat in a backpacker's van. Make sure your car's engine is turned off and cold then unscrew the oil cap and pull the dipstick out of the holder. If the oil does not reach the right level, use a funnel or the neck of a plastic bottle cut in half and introduce it inside the oil cap to pour oil into the engine.
Lastly, there will be days when you won't see anyone else on the road but if you do, there is a little travel etiquette you need to follow. As cars can be scarce in certain areas, most drivers will wave at you and expect you to wave back, creating a comforting feeling of familiarity you could be longing for after several days spent all by yourself.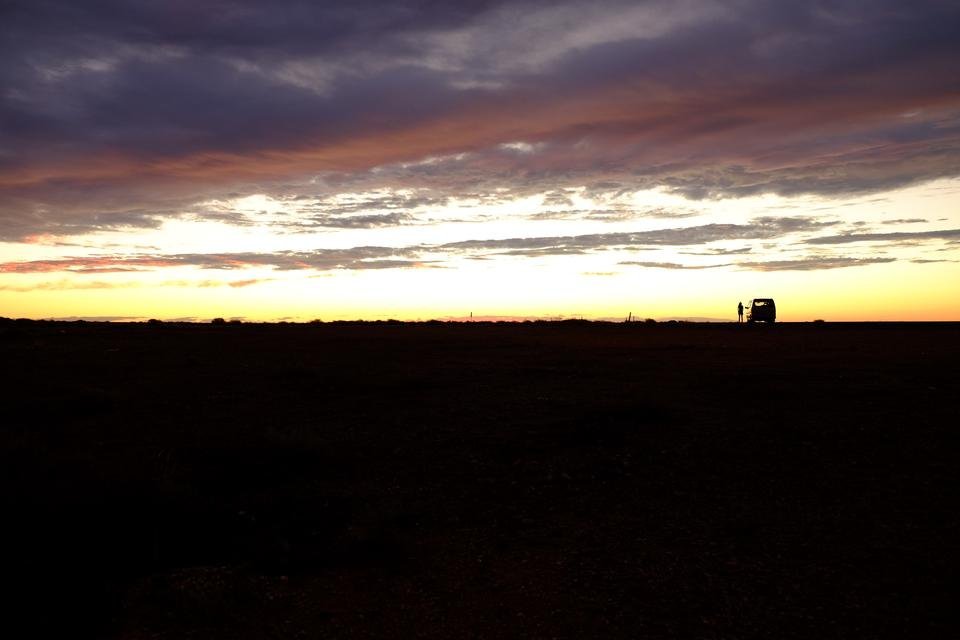 Alone in the desert.
It is no wonder why so many backpackers flock to Australia each year. Turning your dream road trip into reality has never been so easy to reach, making it a once in a lifetime experience. Despite all the ups and downs that come along with such a journey, Australia is a country like no other and exploring it in depth is the sole reward you need.
---

---
Check our other posts
We try our best to bring quality content. All feedback is welcome so please comment on what you like and dislike so we can get better :)
This is a repost from our blog Sekaivox