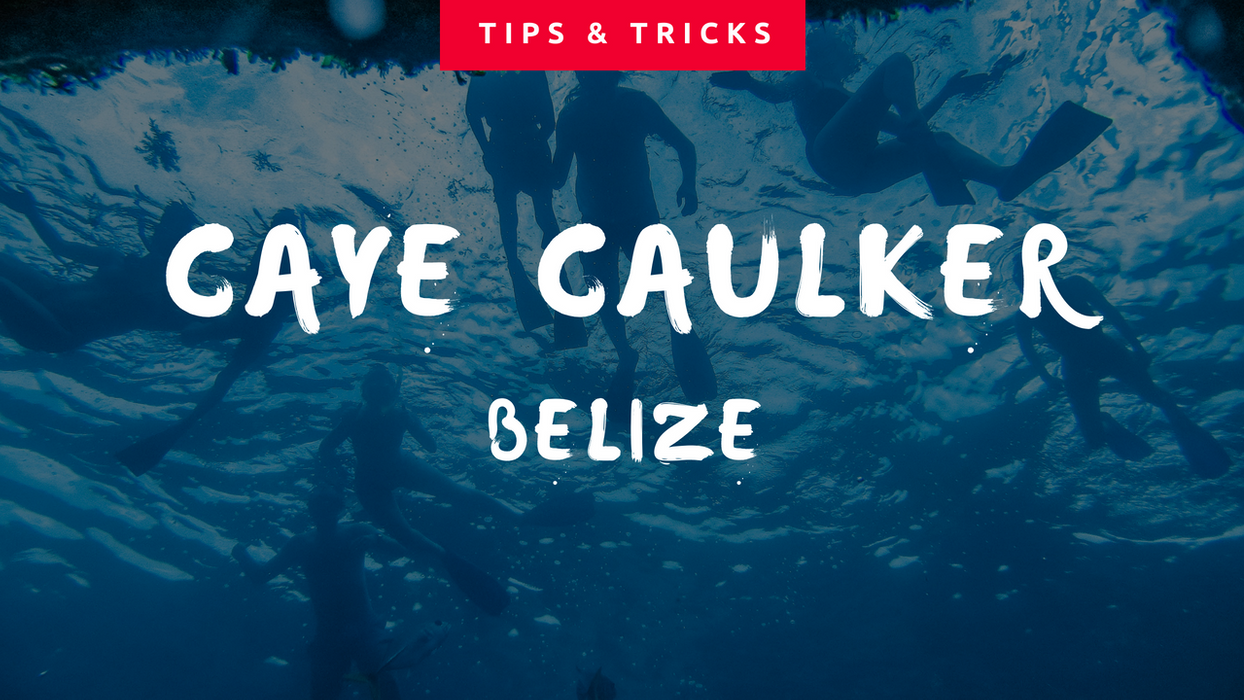 Belize is certainly not the best-known country in Central America but it doesn't mean it shouldn't get more recognition as this tiny country located between huge Mexico and Guatemala brings a Caribbean feel you are bound to fall in love with.
One of its most popular destination is backpacker-friendly Caye Caulker (oddly pronounced Kee Caulker), an island slightly off Belize City where time simply seems to linger.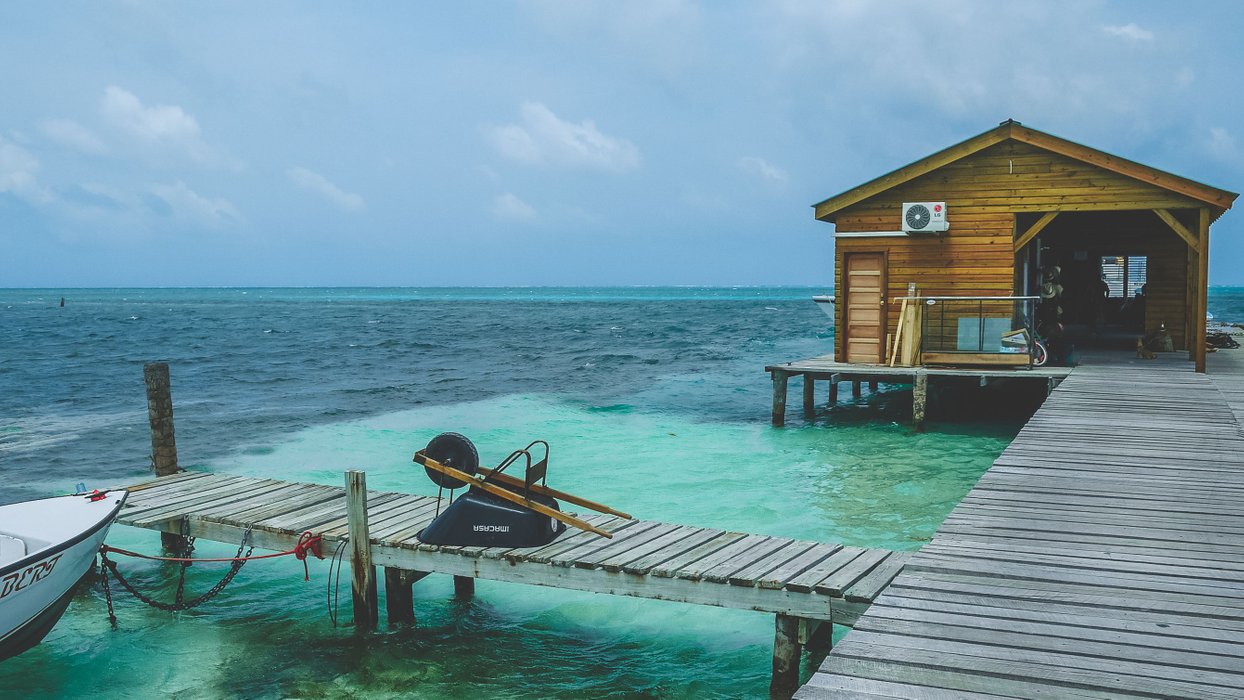 Your first sight of Caye Caulker: the pier that will welcome your water taxi.
Here are a few tips for you to enjoy this unique island.
1. Caye Caulker is the perfect stop for a backpacker
Lots of backpackers travel for months in Central America, attempting to go to every country they possibly can and see every spot worth visiting. Some even go as far as starting from the south of Argentina to get all the way up to the north of Mexico. They obviously need some place to relax at some point in their exhausting trip and Caye Caulker is exactly the right contender for that. Even if you are not one of those worn-out backpackers, it never hurts to take some time off your busy tourist schedule to just enjoy a break.

The first word that comes to mind to describe Caye Caulker is laid-back, because that's how it is. Locals will tell you to stop walking so fast if you dare be in a rush so just follow their lead.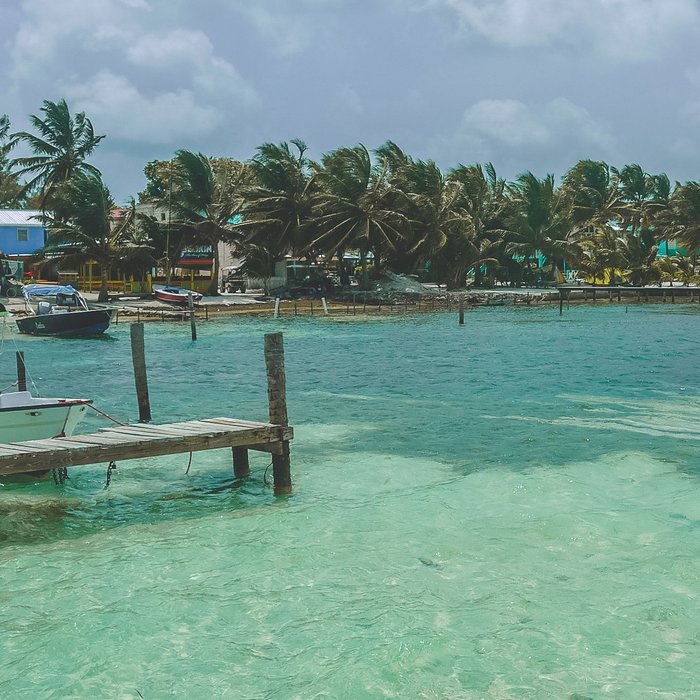 You might want to spend hours in a row enjoying a divine nap in a hammock, soothed by the gentle sound of the waves crashing down on the shore. You could also read that book you've kept in your backpack for weeks without opening it in the very same hammock. But be careful though, they are not always free and you could be told to pay a few dollars to rent it for a couple hours. If you're lucky enough to have hammocks at your hotel, make the most of them there. Why not also sip a cocktail on the sand too or simply walk around the island, meeting the friendly locals? You have plenty of options to make your trip memorable without being in a frenzy.

Three days should do the deal if you plan to spend a reasonable amount of time on the spot. It should indeed allow you to enjoy some well-deserved mornings in bed while still having time to appreciate what the island has to offer.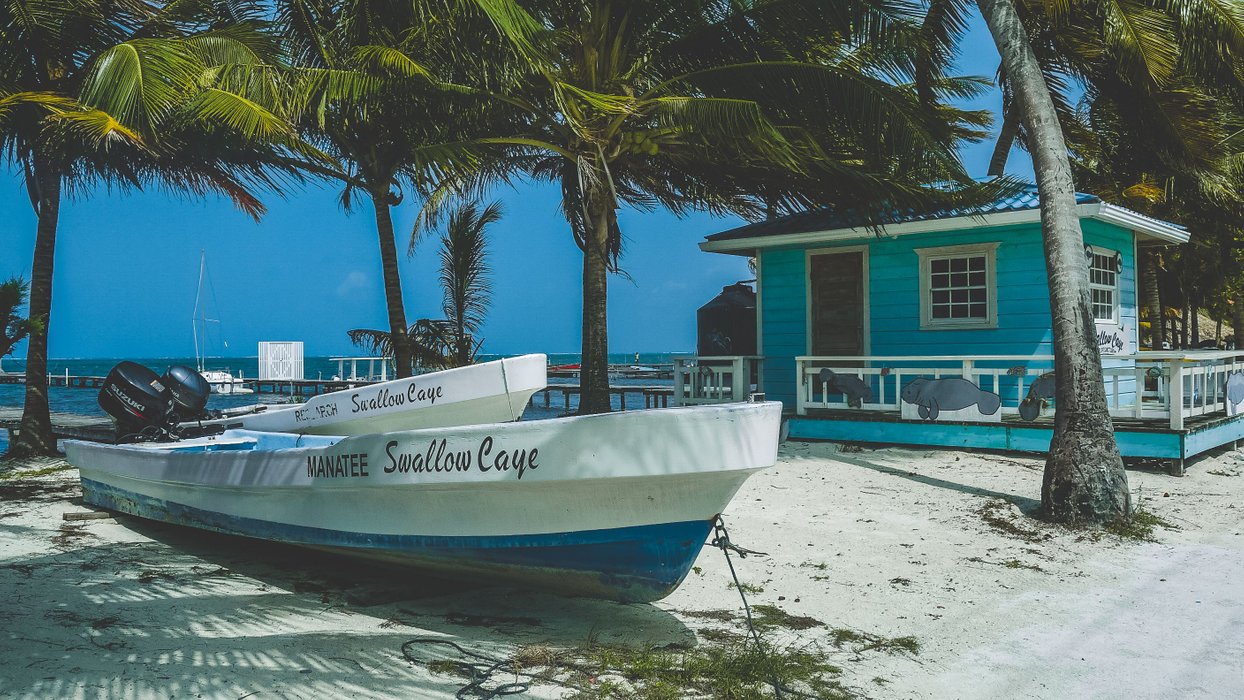 2. Caye Caulker is a world-class snorkeling and scuba-diving destination
Having said that you shouldn't expect to be too active there, it is fair to balance it out by saying that Caye Caulker is far from devoid of activities. It is the wrong place if you're looking for idyllic white beaches though, as you won't find any proper beach on the island contrary to its neighbour Ambergris Caye, but being located on one of the most pristine Barrier Reefs in the world it is the perfect spot if you wanna discover the stunning magic of the underwater world.

Several agencies are specialized in snorkeling and scuba-diving all over the island, each with a pretty distinctive feature. Some have a reputation for offering great food on board, in others you will listen to loud reggae music on the boat, some offer special manatee tours but you might guess that all are not equally as reliable. If you can, try to avoid the ones that allow you to touch the animals underwater. It is perhaps great fun to cuddle a nurse shark but they are wild animals so keep your distance as they don't want to be disturbed by intruders.

Remember that fun doesn't have to come at the cost of the ecosystem. To check on this kind of malpractice, try and take a look at the pictures on display at the agencies: if you see tourists far too close to the animals, better go somewhere else.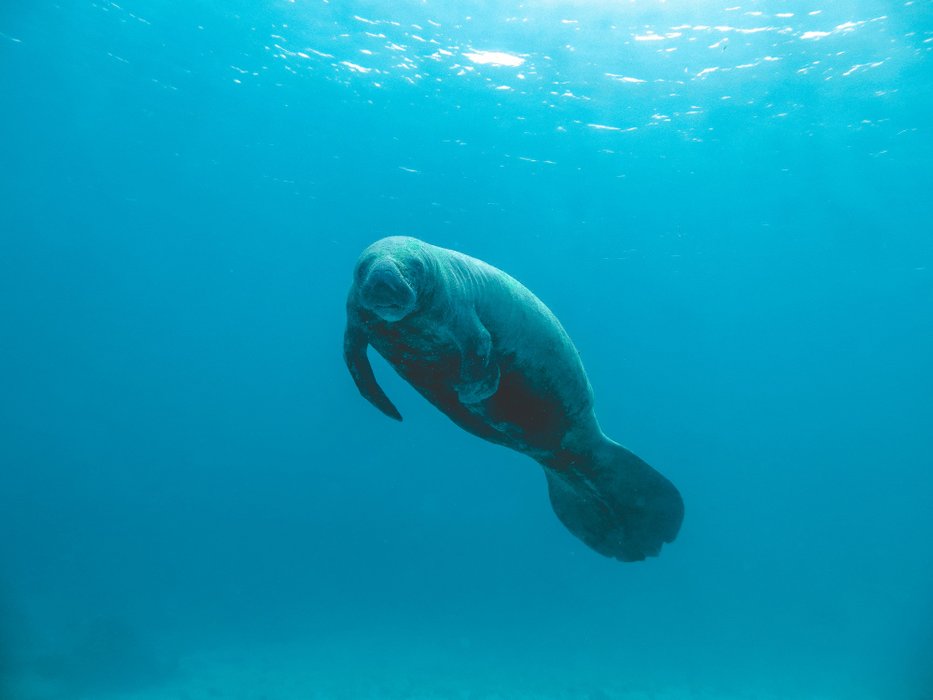 Encounter with a manatee: picture taken by a professional guide from Carlos Tours.
I can personally recommend Carlos Tours, having tried their snorkeling tour. They offer two options but in my opinion the whole-day tour is no to be missed. Prices may seem a bit high (BZ$90) but you pay for what you get and the experience is amazing as Carlos obviously knows his stuff about the marine fauna and he is an excellent guide. It is also quite a delighting feeling to pass boats full of tourists and snorkel away from the crowd. Carlos only allows small groups of people though so you should register a few days prior to your trip and write down your name on the piece of paper hanging by the door if no one is in office. It is worth knowing that you won't be offered a full-course meal however, only some fruits, but you will make a stop for lunch at San Pedro on Ambergris Caye. And if you don't have a waterproof camera, be sure to purchase the photos of your tour for BZ$30.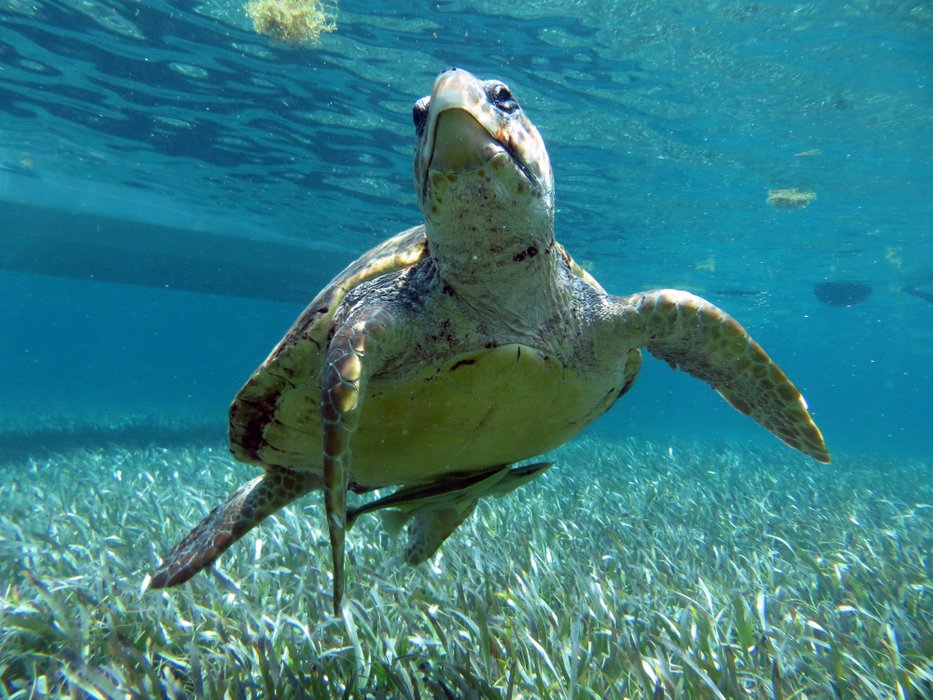 Picture taken by a professional guide
3. Cars are forbidden on Caye Caulker
No car, no pollution, no overwhelming sound of traffic: that's what awaits you in Caye Caulker. Locals use golf carts to get from one point to another and you might need to wave one if your luggage is too heavy and you don't want to walk to your hotel. Otherwise, you shouldn't need to rent one as the island is small enough to get through by foot.

You will get to Caye Caulker by boat, invariably. Most tourists transit through Belize City and then hop on a boat at the pier. Two companies will offer their service in Belize City so you have the choice to pay a bit more for some more comfort and to go for the cheapest option, that will take longer. If you are coming from Guatemala, you will most likely have booked your trip with a travel agency so don't worry about which boat to take as the agency will have decided for you.

Once you are in Caye Caulker, you can buy return tickets at one of the two booths representing both companies. Locals say that Caye Caulker Water Taxi Association is not as reliable as San Pedro express taxis but you might want to take the risk – which we did and the journey was just fine – and to be fair, it didn't seem to us like there was much difference between both companies. You can take a look at their fares at : Caye Caulker Water Taxi and Belize Water Taxi.

If your next destination in Mexico, you can get on a boat with San Pedro Water Taxi that will take you straight to Chetumal but that's a fairly expensive option (US$50).

To save some money, get back to Belize City and then go to the bus station to book a ticket to Chetumal. If you can, try to find other tourists to get on a taxi with you as you do not want to wander around the streets of the capital on your own since Belize City doesn't have a good reputation as far as safety is concerned. The bus tickets usually cost about US$6 to 10 so you will make huge savings. Say farewell to comfort though as most buses in Belize are former American school buses which have seen better days. More importantly, you will be required to pay an exit fee of BZ$37,50 (about US$20) at the Mexican border so do not be surprised.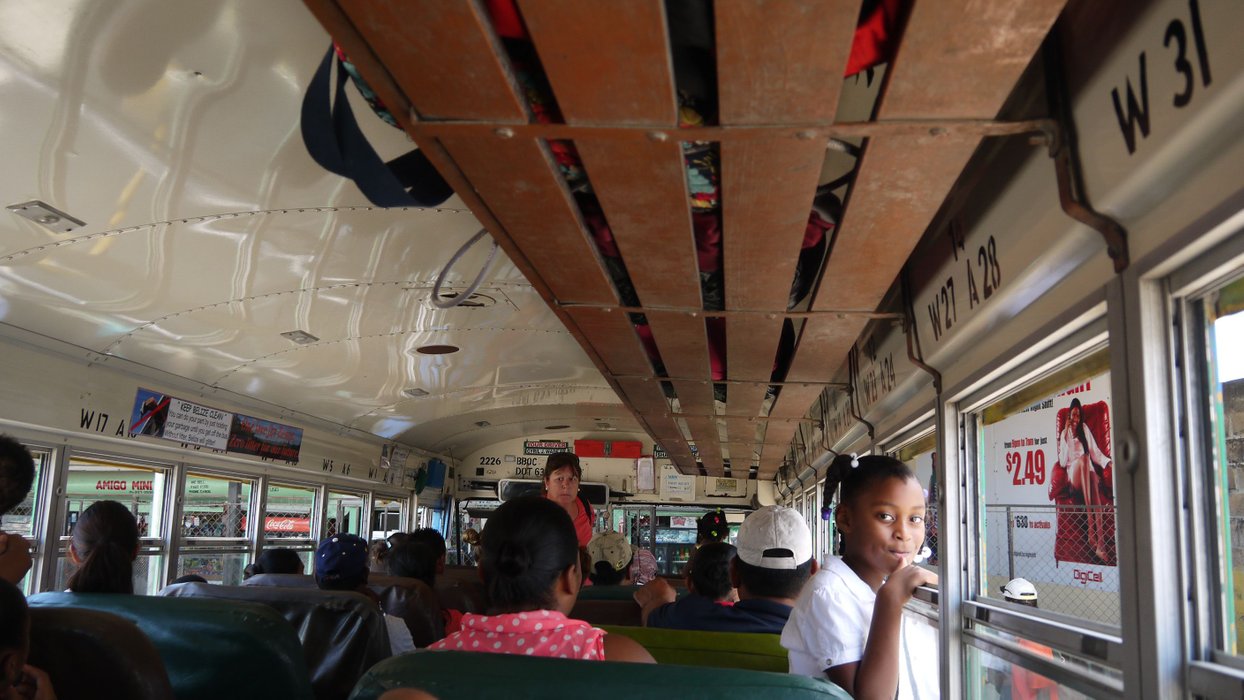 Welcome aboard a typical bus in Belize
4. Tighten your budget because Caye Caulker can be expensive
Belize is not gonna have you go bankrupt but the cost of living there for a tourist is higher than it is in, say, Mexico. However, you will probably find it easier to calculate your expenses as the Belizean dollar is roughly twice the American dollar. Therefore you can either change your money into Belizean dollars or arrive with more familiar green bills. In order to make the most of your trip, keep that difference in mind and try not to spend all your money before you actually get to Caye Caulker.

If you are coming from Guatemala or Mexico, get ready to pay more for your food than you did over there, especially since there is no market where you can buy your food and the stalls are about the same price as restaurants. Yet, you will find some great food options on the island and especially when it comes to seafood, obviously. You definitely have to try lobster once – which is cheaper than the lobsters you will find at home anyway (around US$9 at Wish Willy's but Fran's Grill also offers some tasty lobster). The seafood comes really fresh too so do not miss on some great fish either. Besides, some restaurants have great settings and you will not forget the time you enjoyed succulent lobster while sitting on a swing with your feet buried in the sand. For nice drinks and atmosphere, try the Lazy Lizard by the split, you will not be disappointed.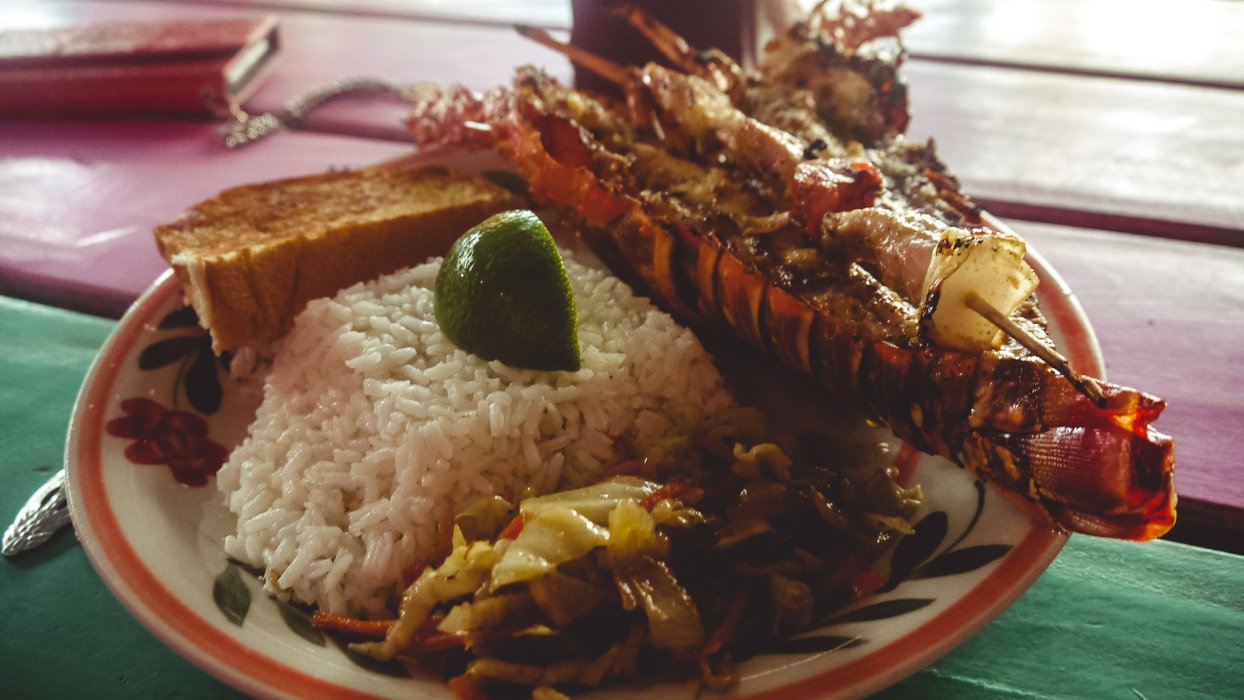 Gorgeous lobster and garlic bread.
There are quite a few options for hotels but most youth hotels range from mediocre to just above average (prices can start at US$10). You will probably have plenty of occasions to get friends with cockroaches if you are on a low budget, though locals are as friendly as it gets and will make you feel at home.

Do not hesitate to visit every hotel you possibly can before you make a decision to settle down somewhere but be aware that the competition is raging. There are obviously more comfortable options among guest houses and resorts but they are never the preferred option for a backpacker.
5. People speak English in Belize
Wikipedia could tell you as much but that is still an information worth highlighting. Some tourists might indeed expect to hear Spanish all around as we are still in what is considered as Latin America. But that's part of what makes Belize, and Caye Caulker for that matter, such a charming place that will make you feel like you've left Central America when you're still at its heart.

The History of Belize, former British Honduras, is one of mixed heritage. The Maya originally occupied the land before the arrival of European settlers, bringing slaves with them from Africa. Belize is now a multi-ethnic country where different groups co-habit in harmony: Maya, Creole – descendants of slaves and European merchants, Garifuna – an Afro-Caribbean group, Bestizo – of mixed Spanish and Maya descent etc.

This mixed identity comes out in a very distinctive country, boasting a rich cultural heritage and is probably why you will likely feel a certain Caribbean vibe to Caye Caulker that you will not find, whether in Yucatan or in other parts of continental Central America. Caye Caulker could very well be your first Caribbean experience that will call for many more.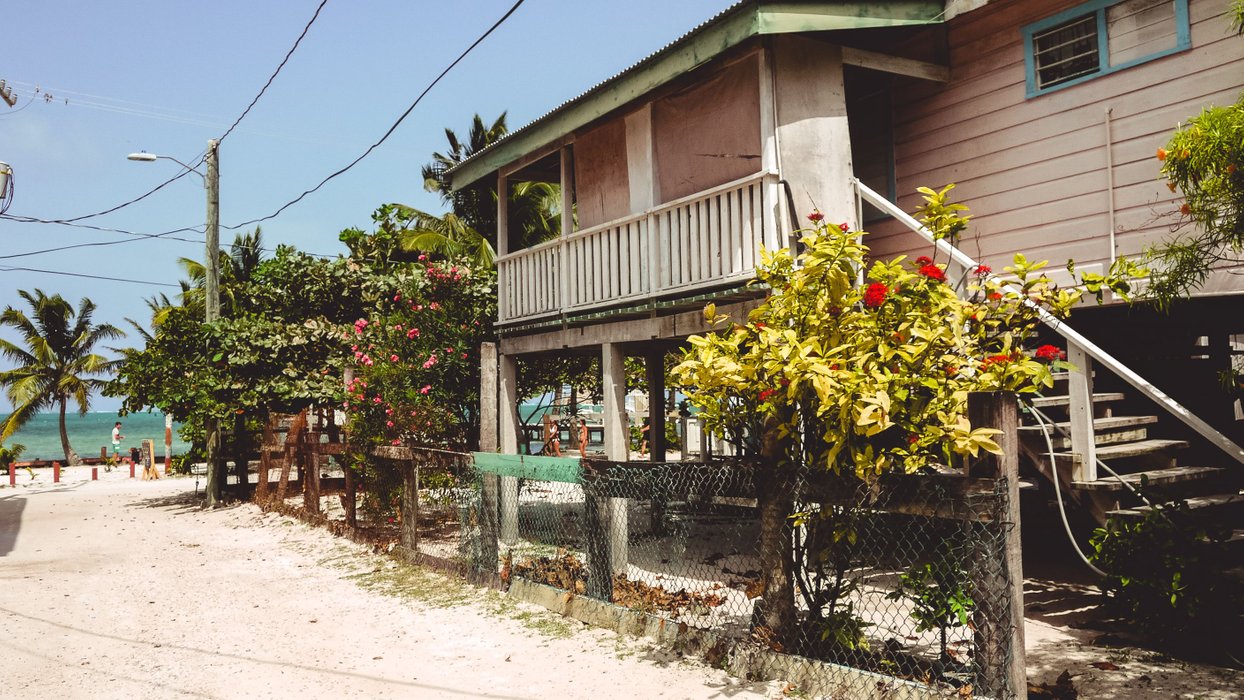 Walking through the streets of Caye Caulker.
Belize is varied and wide so try to explore the country if you have the opportunity. If not, enjoy the quiet beauty of Caye Caulker and take some time for yourself in the middle of your journey.
---

---
Check our other posts
We try our best to bring quality content. All feedback is welcome so please comment on what you like and dislike so we can get better :)