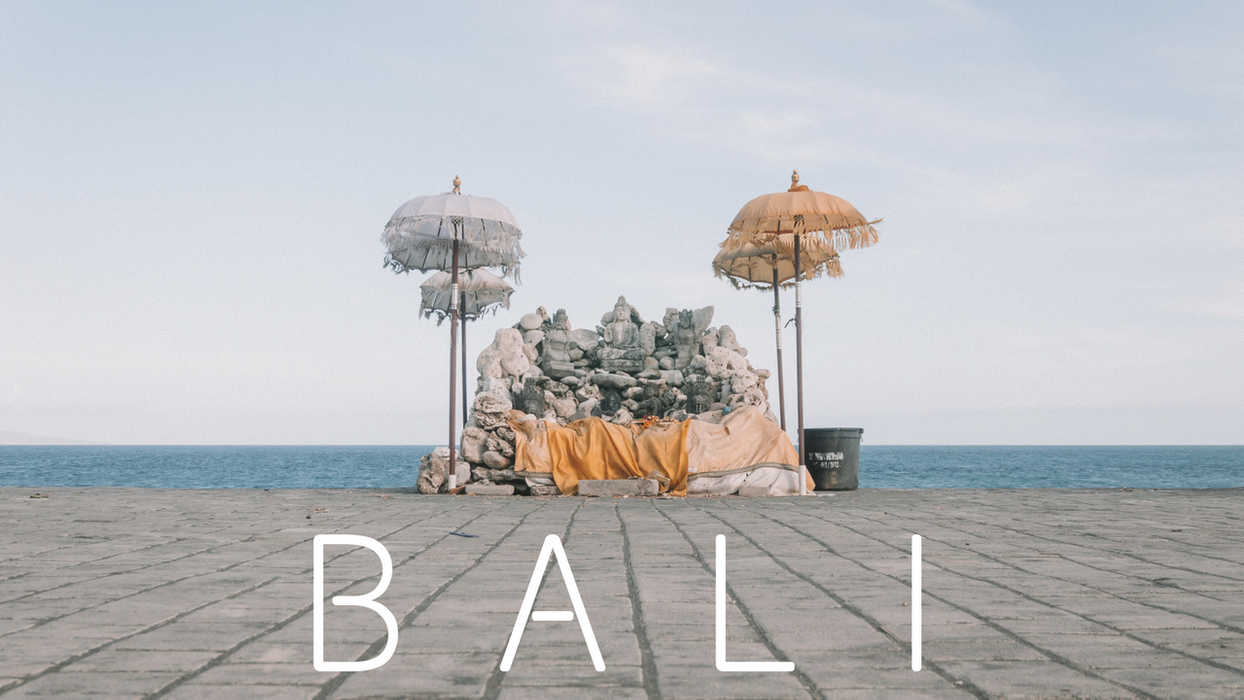 We took off our helmet and confidently walked towards the platform from which we had been told we could take a peek at the most stunning view in all Bali. Instead, what we saw was a crowd of tourists meandering like a colony of ants up and down terraced rice fields that probably used to look genuine, one or two decades earlier. Our smile faded and we jumped back on our motorbike.
What had drawn us to Bali was not the romanticised pictures on paper glass ads nor was it the Eat, Love and Pray phenomenon, but driving across this iconic, and strangely chicken-shaped island somehow came with the realization that those had set unrealistic expectations anyhow.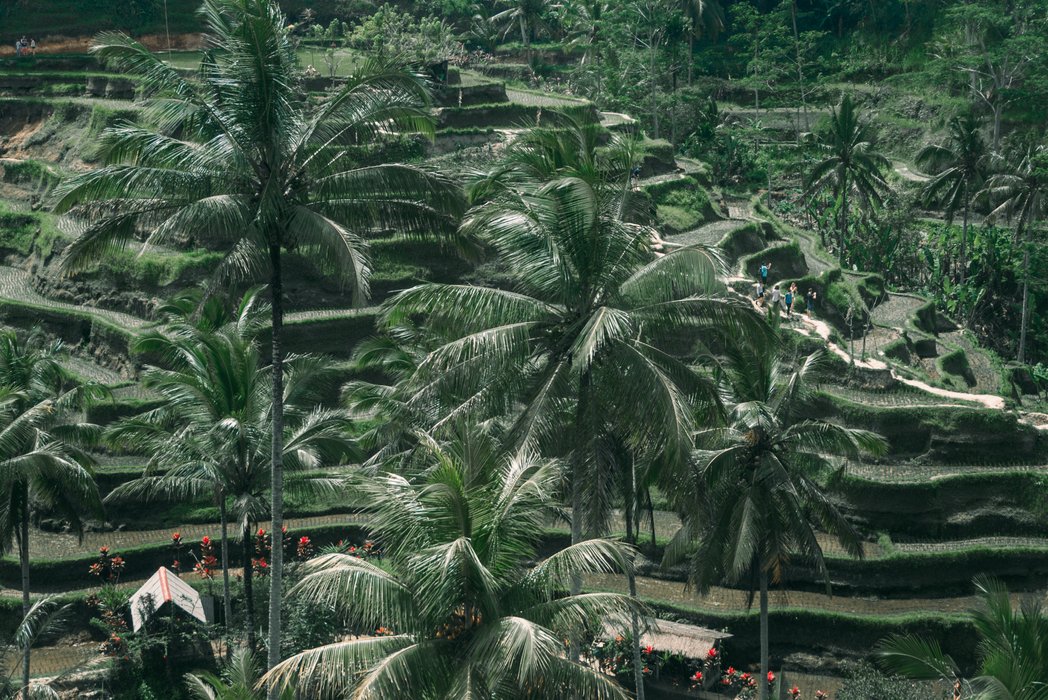 On our way back to Ubud, a place we knew had been central to Elisabeth Gilbert's narrative, we started to wonder if the Bali that was depicted in both book and movie truly existed.
As we were pondering these dispiriting thoughts, a flash of bright green blinded us suddenly and a scope of rice fields appeared behind the curve of a road. Parking our motorbike on the edge of the road, we stood still for a minute, worrying that an army of tour coaches might invade the place, disrupting its remote quietness. After a while, our chest lifted of this burden, we timidly set foot on a stone bridge covered in mud, a gift brought by an impromptu rain in the early morning. Locals were busy harvesting the rice, heads covered in large straw hats and backs bending over the grass, but our feeling like indiscreet intruders disappeared as soon as they waved at us with heart-warming smiles. Finally, Bali was beginning to unveil before us.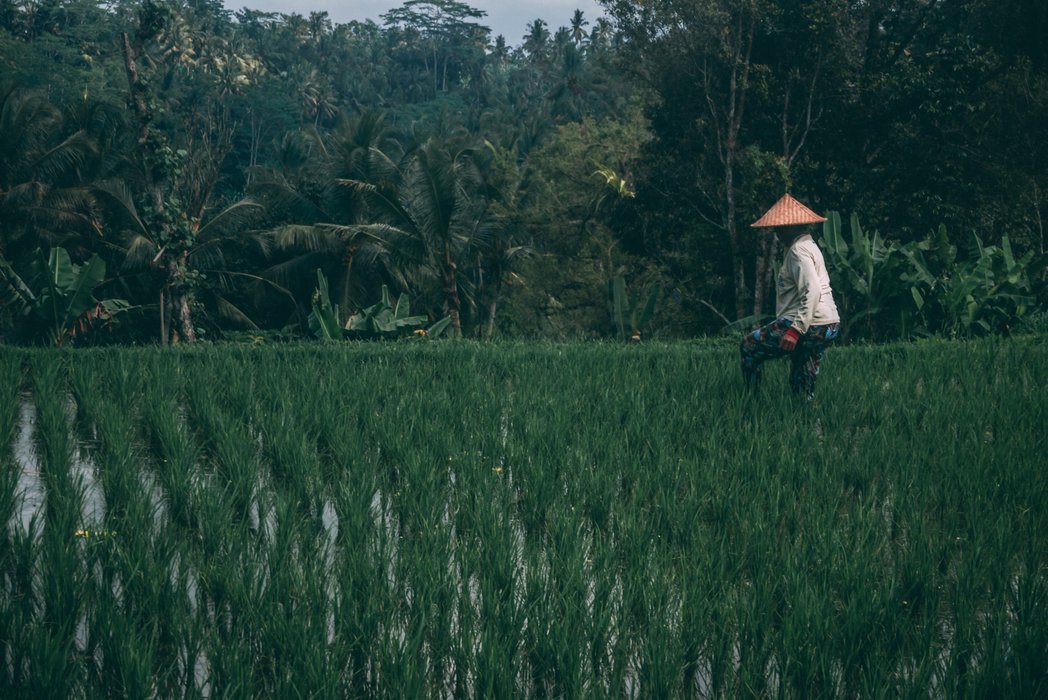 We locked this breath of fresh air in our mind before making our way to Ubud, where a comfortable canopy bed and royal breakfast at the simple but welcoming Praety Home Stay would help uplift our spirit the following day. For the time being, the packed streets we were driving through, surrounded by Western restaurants and 4-star massage parlours only looked like a cheap version of the Bali we were looking for, as if the tourism industry had decided to replicate a movie set, afraid that reality might not look as appealing as fake fairy tales.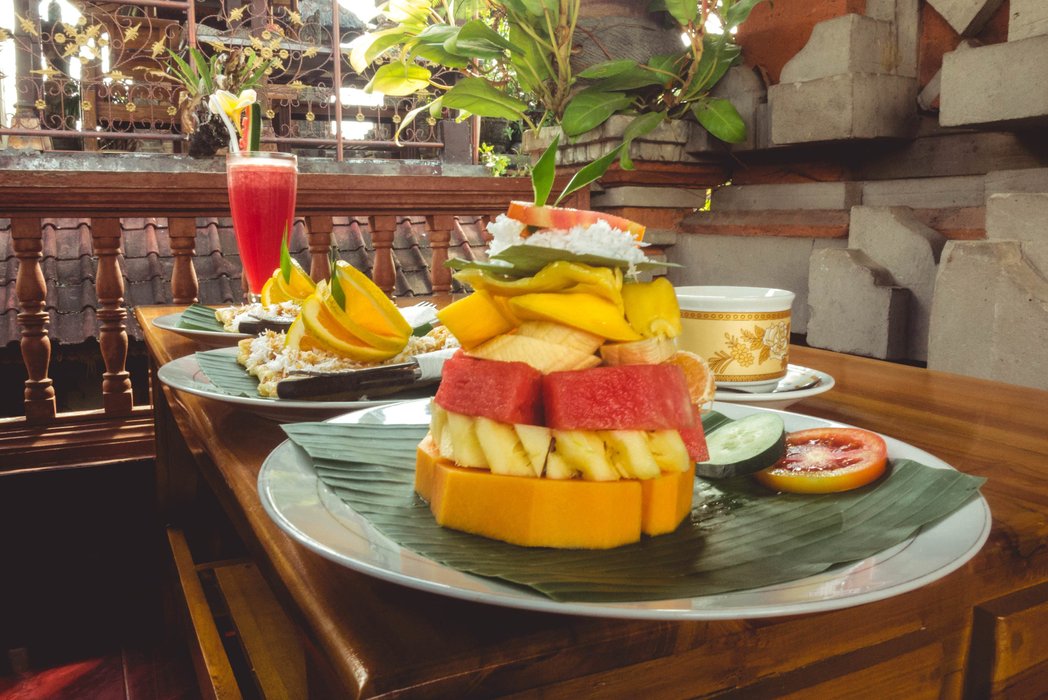 Waking up at the ungodly hour of 6 the next day, we were determined to reiterate our feat and find another authentic-looking Balinese gem. As we were walking straight into the Sacred Monkey Forest Sanctuary, a few miles away from our hotel, we let out a sigh of self-loathing. That was definitely a wrong move, we could tell by looking at the countless stalls selling overpriced bananas to a horde of sun-burnt tourists hoping to lure monkeys out. It was even more painful to see that the trick actually worked, turning these wild animals into some sort of fat caricature of angry costumers, growling in discontent when they were not handed enough food.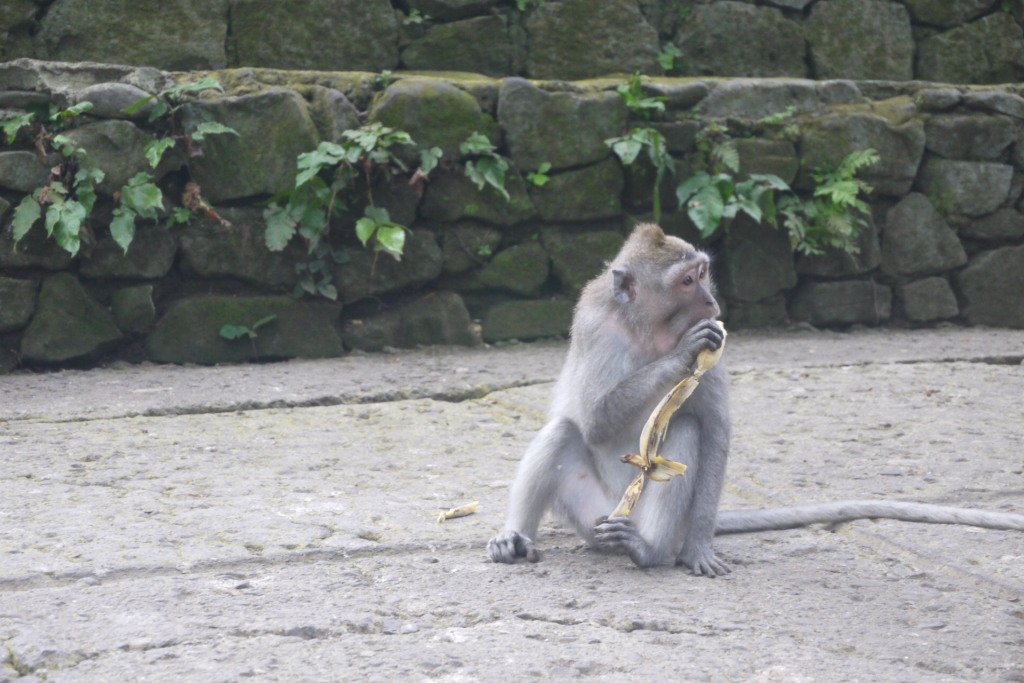 A monkey enjoying the banana he had just stolen to a careless visitor.
Our tour of the sanctuary took half the time we had planned but we had seen enough and hopped on our motorbike. Our next stop confirmed that our wishful-thinking had reached its limits. Swallowing up the miles towards the west-southern side of the island, we arrived at the Tanah Lot Temple. A substantial sum left our wallet, never to return, before we went through an endless corridor of gift shops that could not be a good sign. When the outline of the temple finally materialized, we could not deny it was a feast for the eyes with its ancient pagodas dominating a rock separated from the shore by waves whose breakers came licking the ankles of joyful tourists, screaming in the face of a feigned danger. We followed them, almost fell over in the sea that was sweeping our legs and reached solid ground where, queuing behind other excited visitors, a Hindu priest performed a ritual and stuck flowers on both our foreheads. He then insisted we gave him money.
This taught us the only lesson we needed in Bali. There was no point in showing up at a spot advertised by all tour guides, hoping to enjoy it on our own without being either disappointed, overwhelmed by the crowd or scammed. It was selfish, it was vain and we knew better. Therefore, we said farewell to the dream-like Bali of magazines and films, making the first wise decision of our entire trip, and traded our much anticipated white sandy beaches and remote, secret temples for real places, far from our delusional fantasies. This whole new mind-set started with intentionally getting lost. A disastrous drive on a dirt road with holes as large as a car's wheel put our theory to the test but it proved us right when a laid-back beach presented its dark black sand before our eyes.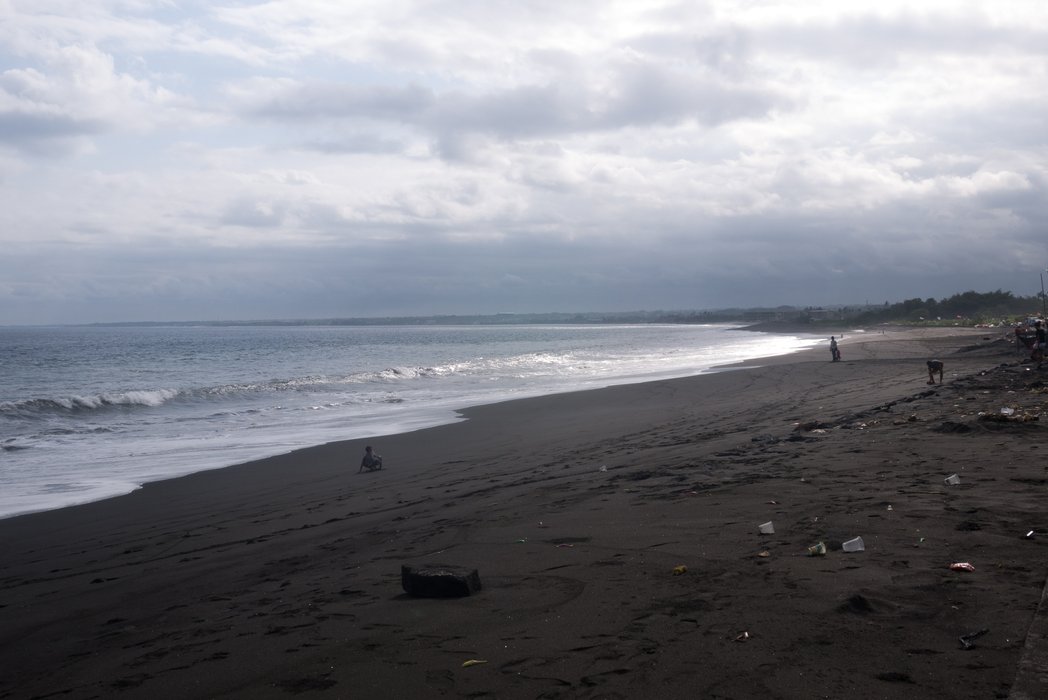 A dozen locals were flying kites over our heads, the shadow of a vivid paper butterfly as big as three surfboards obscuring the sky every now and then. On a small seaside road, as damaged as the one that had given us nightmares earlier, one Buddha was sitting at the heart of an altar made of stones and seashells, sheltered from the wind by a range of umbrellas whose yellow had passed long ago. The smell of corn opened our appetite and we walked down to a small stall.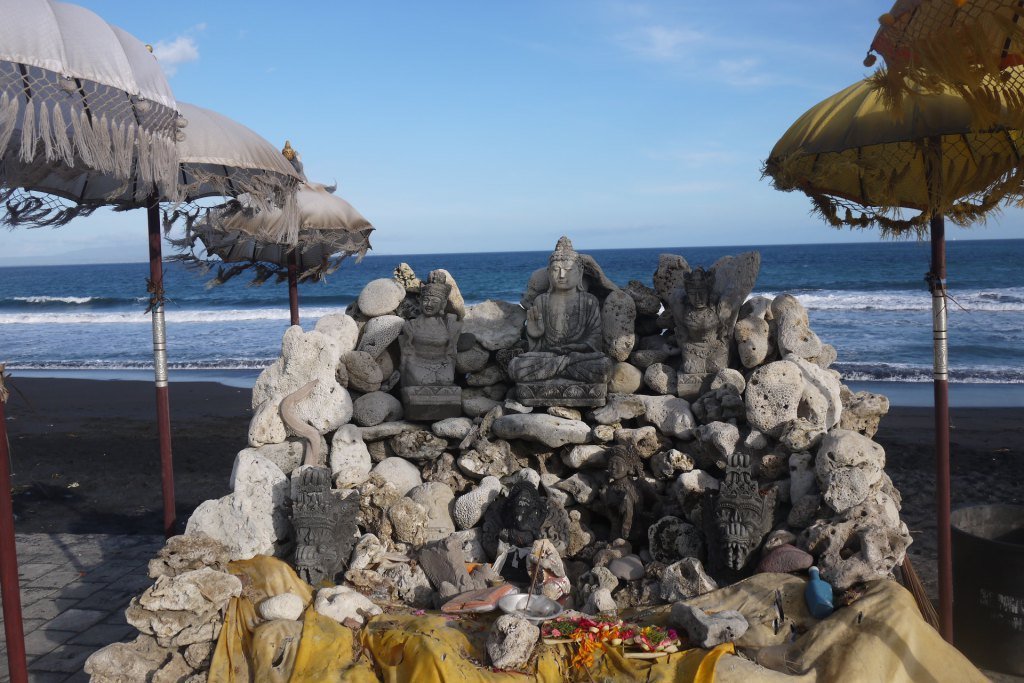 After a painstakingly funny conversation in broken English with the family that owned the place, who made us promise to come back, we were handed a corn on the cob covered in a shiny substance made of sugar cane and a secret ingredient impossible to identify. It was a treat, and even more so because we were eating it with our feet buried in a thick layer of black sand in front of a deep blue sea, with no other tourist in sight. No, it wasn't the cleanest beach we had ever seen and certainly not the prettiest, but the atmosphere felt genuine in an island that mass tourism threatened to deprive of its soul with each passing year.
Looking at a boy launching its fishing rope off a shaky boat at the feet of a mountain the next day, near a road zigzagging in the middle of bright red peppers' plants, whose relaxing silence was briefly interrupted by the mooing of an old cow, we could feel for the first time why so many people had fallen for Bali. We had crossed out the pristine beaches, the spectacular dancing shows, the massage therapists extraordinaire, and other spiritual enlightenment courses undertaken by forty-year-olds seeking a new start in their life. All these things we had not found here in Bali nor had had the budget for. We plunged our fork in our bowls of ridiculously cheap bakso, an Indonesian favourite meatball soup, and just enjoyed the Bali we had found.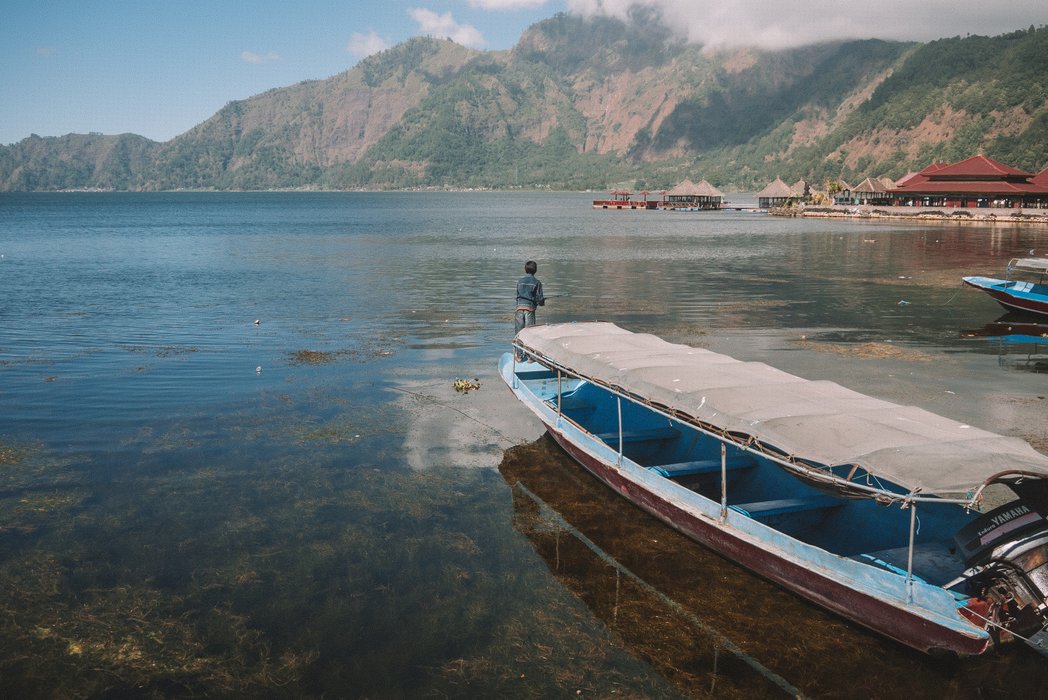 ---

---
Check our other posts
We try our best to bring quality content. All feedback is welcome so please comment on what you like and dislike so we can get better :)
This is a repost from our blog Sekaivox