For many reasons, Amsterdam became one of my favorite cities in this world. First, because I'm crazy about bicycles and since the urban landscape is full of it, for me it's impossible to walk around Amsterdam and not get enchanted! Even cycling in Amsterdam is not the most pleasant experience (there are so many cyclists, that people behave with the same selfish spirit as drivers), just observing the thousands of bicycles can be funny and interesting enough. Since I started traveling, I've been flirting with photography. Going through Amsterdam, for me, seems like shooting a fashion show. The difference is that instead of models, you have bicycles. But the light and the scenario are perfect, and you can really have some fun looking for "new looks" and "beautiful models".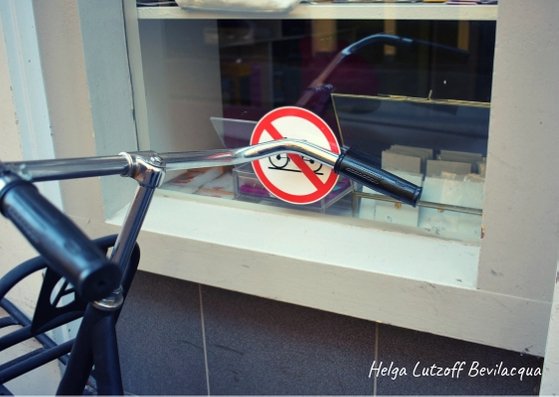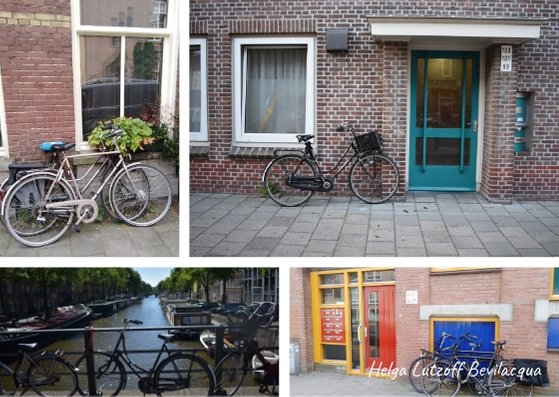 How to think outside the box?
Another thing that I enjoy a lot about Amsterdam is the free spirit and creativity that are everywhere. Great initiatives grow between the charming channels of the city and I really get inspired about it.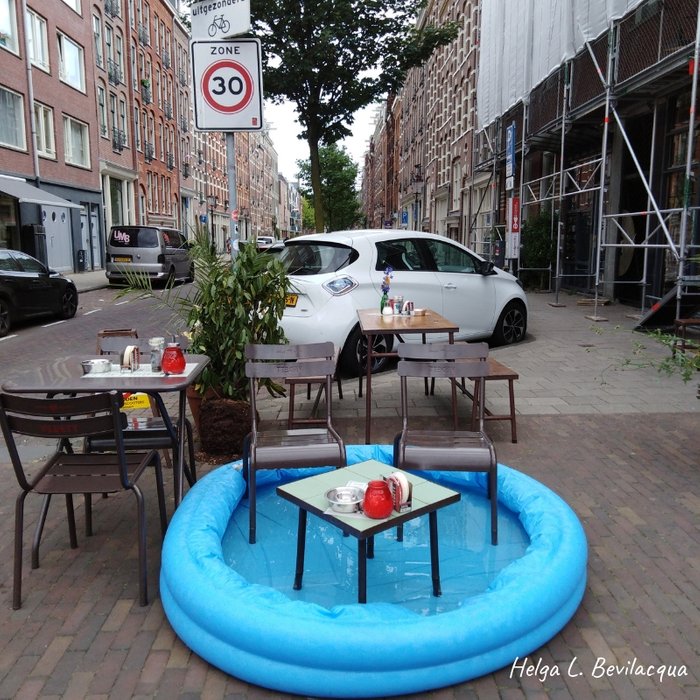 These are some good places that I visited last time and I really recommend if you're looking for some great initiatives in this world!
Labeled with Trust started as a restaurant/cafe close to Albert Cuyp Market. All the food was prepared and served by volunteers and the place works in the concept of "pay as you feel". Basically, you go, order, eat and pay how much as you want for the food/drinks you had. What I like most about this place is that someway somehow it brings you the reflection about the value of money. How much is the cost when we are not obligated to a certain amount?
De Ceuvel is another nice place to visit and get inspired! Located in Amsterdam North, which is far from the Amsterdam of the red light and stinky tourists that everyone knows, De Ceuvel unites sustainability, creativity, work, and art all in the same place. The idea was to build a kind of coworking space using boats as a basis. All these boats are used by companies and entrepreneurs to create and develop new creative business. In the location everything especially the cafe was built with sustainable technology and a lot of events are always going on.
I told about my first experience with ecstatic dance here. Odessa is a boat where these parties happen and I really recommend you to check it out someday if you go to Amsterdam.
I'm definitely not a big fan of smoking weed. However, I was curious for a long time to eat it. So, I had my first space cake in this place and I really recommend it. It's really strong, so go with friends and please share it. The guy that sells the small cute cake will warn you of its power and believe him. The cake looks small and inoffensive but can make you laugh until you pee in your pants.
This coffee shop is totally different from the normal coffeeshops you find around with that dark atmosphere and zombie tourists with red eyes... It's a gallery inside, full of natural light and a really adorable place. You can enjoy your space cake with kombucha, for example. What can be more adorable than that?
The free spirit city
Ahhhhh Amsterdam! I'm so happy to know that there's such a free spirit city in this world! I really enjoy your channels, the buildings that grow down the water, the poetry that comes from your old old bicycles. Visiting Amsterdam is always a way to refresh the spirit and remember that we are who we are! And free ourselves for just be is inspiring, enlighten and the true way to creativity. Thanks, Amsterdam! My love for you is forever!