I had never seen a camel so close. I saw it at the zoo, it's true, but never so close that I could touch it. Arriving in Al-Khazneh, or "The Treasury", one of Petra's most famous monuments, there are camels and Bedouins inviting tourists to take a ride everywhere. A ride of about one hour can cost you something close to US$ 70, which means, in my case, it is necessary to write a lot of content to give yourself such an eccentric gift. Traveling on a budget, definitely, the camel ride would stay for another time...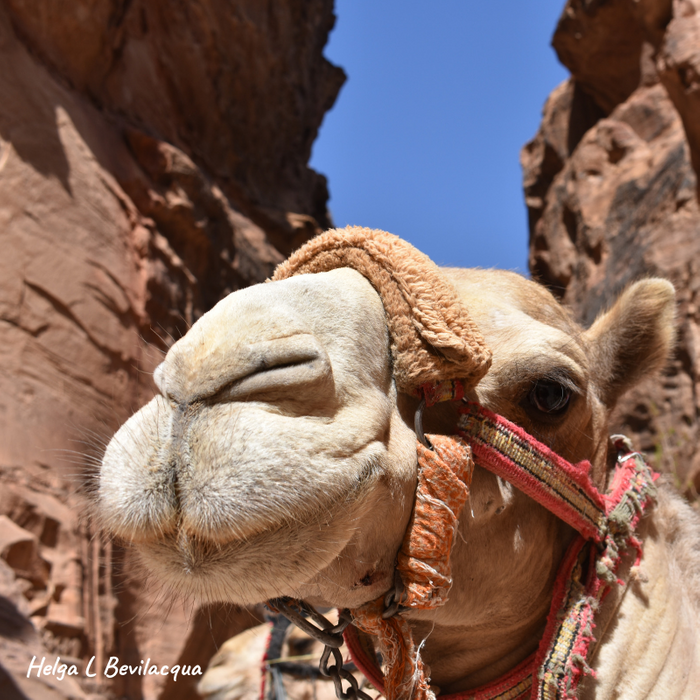 The fact that I didn't make the ride, however, didn't stop me from being enchanted with those animals. They are huge and extremely friendly. I confess that I still don't know if I was more delighted to see the Treasure (which is also a real scene of the Indiana Jones jumping into your eyes) or the camels with their colorful saddles. At one point, I saw a small cute caramel camel, which seemed extremely docile. On its side, there was a Bedouin who seems to own the animal. When I approached him, I asked if I could cuddle such a beautiful animal. The Bedouin nodded. "Does he have a name?" I asked. "Yes, Abu. He's only 5 years old and he's almost a puppy. " Just like a cub, Abu is huge, and his head and neck are more than half my height.
When I put my hands on its neck and start cuddling, Abu brings me his head to do the same. I melt in front of the camel. Without realizing it, I begin to speak with Abu in Portuguese, my mother language, as if I was talking with a real baby. Suddenly, I realize that it was a group of Bedouins laughing right behind me and saying something to the other Bedouin who had told me about Abu.
One of the Bedouins who was in the group approaches and introduces himself. His name is Solomon and he wants to know who I am and what I am doing in Petra. I say that I am a Brazilian tourist visiting. I get a little embarrassed to explain to him that I had never seen a camel before. I also say that I loved these animals since I had read a book about a woman crossing the Australian outback desert with three camels.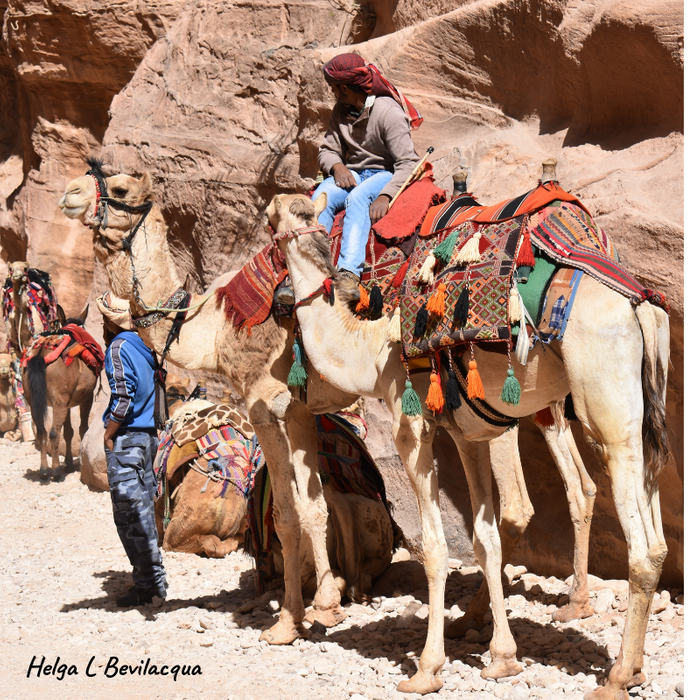 I tell Solomon that I didn't imagine that they had so much personality and were so difficult to be tamed. Solomon answers me "Oh! That's true!!" And laugh. Solomon owns the camels and tamer them. He was born in Petra and lives today on the tours he takes with tourists. "Have you ever ridden a camel?" He asks me. "Never!" I reply. "So, you need to take a ride, girl!". "Sorry, Solomon, but it's too expensive for me. I can't.". He just looks at me and says, "Let's go!"
I quickly respond, afraid to get caught up in a trap. "Look, Solomon, I know it's your job and I do not like to exploit people's work, I really don't have money, and ..." Solomon then interrupts me "Mam, Bedouins don't make friends for money!" Immediately Solomon gives a command to Abu. The camel descends on its two front legs and then places the two hindquarters on the ground. My chin immediately drops. Seeing that I'm astonished, Solomon takes my bag off my shoulder and fits into the saddle, helping me up. "Hold on now!" And in another command, Abu raises from the ground carrying my sixty-three pounds of purest perplexity.
At the front Solomon goes with his black camel and behind me, three other Bedouins follow us. I am escorted as a princess around Petra! I don't want to abuse and after half an hour I ask to go down. Solomon brings me back to the hall of Al-Khazneh and gives the same commands for Abu to put me on the safe ground. I have no words to thank that man and cannot hide my emotion for his generosity. I ask you to hug him and take a picture. Solomon stands in front of his black camel. Bedouins do not make friends for money. Even because certain things in this life are priceless!
(PS: After posting pictures of Bedouins on Instagram, a lady come to me and said there are a group of Bedouins who actually are scammers on Petra and every woman should be aware. I can't say anything about it because that wasn't my experience. However, being a woman and traveling solo I must emphasize the message: girls! take care!)
(Petra, Jordan, 2017)