"Chang" in Thai means "elephant." That was one of the first words I learned in the local language and that, of course, has a reason. There are elephants everywhere in Thailand: from beer to temples and decoration. Tourists in trousers and T-shirts sporting the animal are everywhere, especially in Chiang Mai.
In the city located in northern Thailand, visiting an elephant sanctuary is part of most tourist itineraries. Living there for a year, of course, I didn't want to waste the opportunity to see an elephant up close and understand a little more about the fascination this animal provokes in Thai people and around the world! However, before visiting a sanctuary, I wanted to check a few things... After all, just like elephants, predatory tourism is also everywhere in Thailand.
Loy Krathong taught me that in order not to be part of the exploration of the environment, people and animals, a good deal of research and care is essential.
In search of a real sanctuary
The story of the mistreatment of elephants, unfortunately, is something that is repeated in many "sanctuaries" throughout Thailand. So that tourists can take a ride on an elephant or even get close to the animal, chains and whips stay behind the scenes.
At first, the rule to find a real elephant sanctuary is to avoid these two premises: the use of chains and the possibility to ride the animal. However, as we all know, an elephant is a wild animal that can be unpredictable in its behavior. So the idea of placing a human so close to a wild animal naturally poses risks if the animal is not trained. And is it possible to train an elephant without involving chains, whips and things like that?
Experts and animal welfare associations insist that real sanctuaries do not allow any direct human contact with elephants. Therefore, activities such as bathing and direct interaction should not be included either. The ideal is that the sanctuary allows only the contemplation of the animal and nothing else.
Doi Inthanon Elephant Sanctuary
With all that information, I was wondering what to do. Getting close to an elephant really seemed to go beyond the limits of non-predatory tourism. So, go or not go? Well, I chose to visit Doi Inthanon Elephant Sanctuary, on the recommendation of friends and the information I got from the place.
At first, on the website, the company declares that it protects elephants and acts in an ecologically correct way without any form of mistreatment. The owner, Taksin and his family, want to spread the Thai culture and the elephants that are part of it. That is why they founded and maintain the sanctuary, which also has a social project employing people from the Akha tribes living in the mountains.
Well, based on that, I went there to do the tour and see if those animals are really not treated badly.
My experience
The entire booking process until arrival at the sanctuary is well organized. Everything can be done over the internet and an air-conditioned van will pick you up wherever you are in Chiang Mai. Halfway there is a break to go to the toilet and have a snack. In the program I chose lunch was included.
When you get there, the first thing to do is feed the elephants. At first they stay loose on the spot, but as soon as the tourists arrive, the trainers put the animals in line so that we can offer them bananas.
I won't deny it, it's a very unique experience and I confess I become a child again. Elephants are extremely nice and it's amazing how docile they are. The guide explains to us their history, how old they are and how they were rescued. I ask again if chains do not stay hidden somewhere in the sanctuary and what he tells me is that when the females get in heat, it is necessary to separate them from the group, because the males become aggressive in the dispute for sex.
After the banana snack, it's bath time. In a river of running water, we can throw water and play with the elephants that don't seem to get mad at the party. Some throw water and play with the tourists.
Finally, there is a walk in the forest with them for about 20 minutes. They seem to be used to the road and at all times the coaches are nearby offering commands and guiding the tourists. With the end of the tour, the elephants are still at ease walking through the area. They have free access and can do whatever they want.
During lunch, we would able to see a rather unusual scene... Two elephants that were bathing in the river follow to a bush and suddenly start to make love! As animals do not breed under stress or even in captivity, for me this was the biggest proof that those elephants were certainly not under mistreatment.
To see an elephant up close, to be able to touch it and to experience this is something awesome! You become a child again and it is impossible not to be sensitive to the animals. I wondered if the sanctuaries also have an important role in raising awareness... After all, seeing these animals wild and free in nature makes any zoo a terror movie.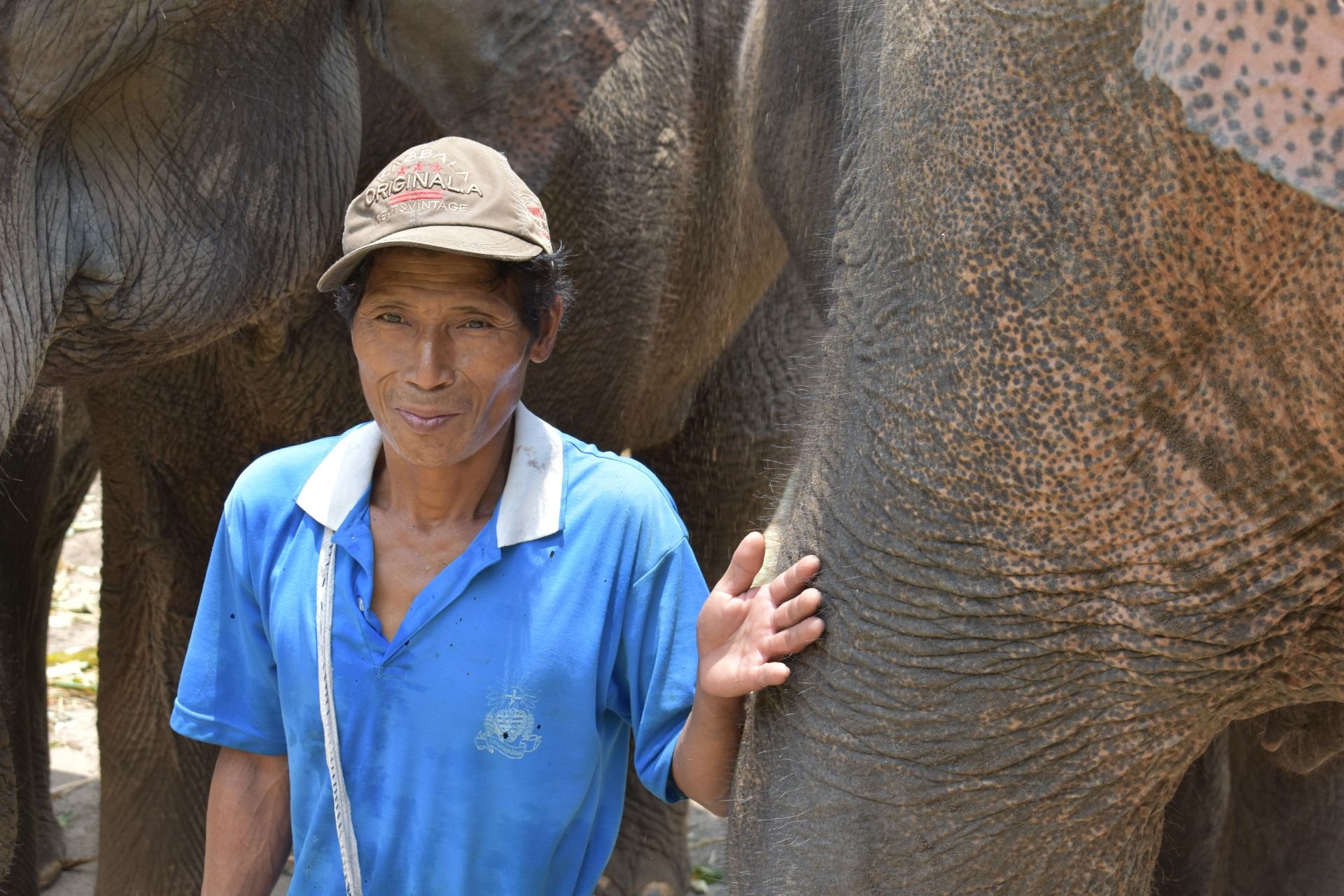 Elephant Nature Park: a real sanctuary
After meeting Doi Inthanon Elephant Sanctuary, I got to know the story of another sanctuary, Elephant Nature Park. It was founded by Lek, a woman who herself has an incredible history.
Lek was born in 1961 in one of the tribes living in the mountains of northern Thailand. Her grandfather was a healer responsible not only for treating diseases of the residents but also of animals. Lek lived with the mistreatment of animals from an early age, especially of elephants that were rescued after being used to cut down forests.
When she grew up, Lek decided to dedicate herself to the animal cause and created Elephant Nature Park. Besides rescuing elephants, Lek also rescues dogs and cats in vulnerability.
It is possible to stay and even volunteer to work in the park. The interaction with the animals didn't seem different from what I saw at Doi Inthanon, although on the website they say that the bath can only be watched.
Lek's story, however, gained international proportions and made many people open their eyes to the mistreatment of elephants in Thailand. She has won a number of national and international awards and supports the sanctuary through visits and donations.
It is really difficult to know the limits of predatory tourism when it comes to elephants in Thailand. If we were strict, maybe the answer is, stay away from the animals. Is it worth it? I don't know. At first visiting a sanctuary was a unique experience and at no time did the animals seem to me to be badly treated. On the contrary, they feel so comfortable that even sex in front of tourists they are doing...
Anyway, it's up to everyone to research and do what they like. For me, visiting a sanctuary made me understand more about elephants and in a certain way find zoos much more absurd than before.