"When 3 armature cyclists learnt the definition of adventure and survival"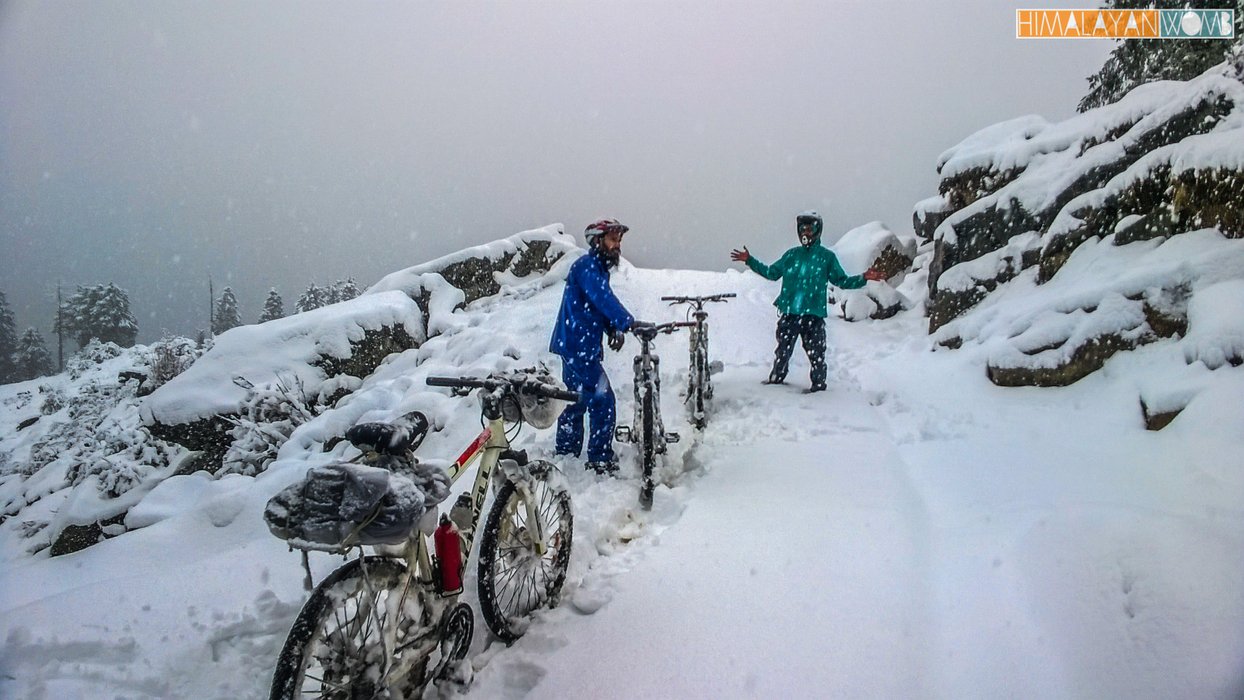 Trapped
Before going to basic mountaineering course I thought about a small and adventures cycling trip anywhere in Himalayas so do my other 2 IIT'ians friends. They were willing to do the same after boring exams. After so many meeting finally we decided to go to Prashar Lake. Prashar Lake is located 49 km north of Mandi (Himachal Pradesh, India).
It has three storied pagoda-like temple dedicated to the rishi/sage Prashar. The lake is located at a height of 2730 meters.
We had started our journey from Delhi on 26th feb 2015 with HRTC bus and it took 4 days to bring back us. Next morning we reached Mandi and without any rest or acclimatisation we had started our journey to Prashar Lake
Here is our story which actually turns into survival.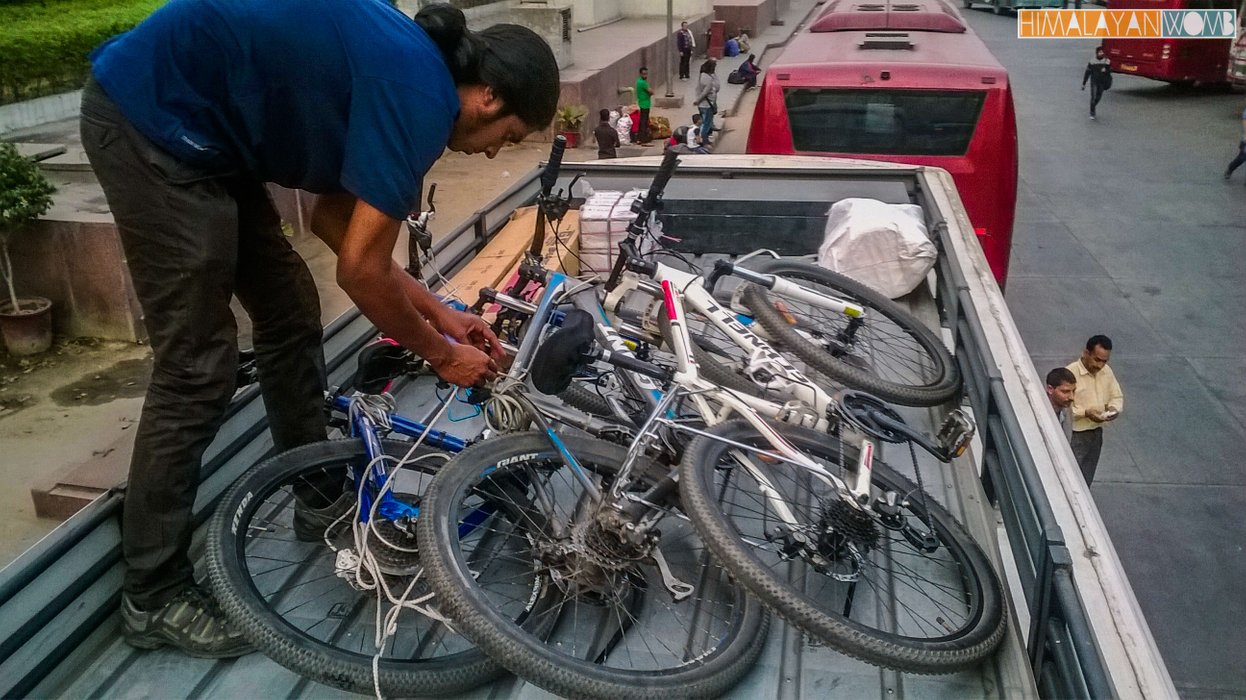 Final Knot
26th Feb'15 was the date when we all 3 left the fast life of Delhi to great Himalayas. Excited for new adventure trip. Bus took 12 hours to reach Mandi. The entire journey was very boring except our gossips about our journey.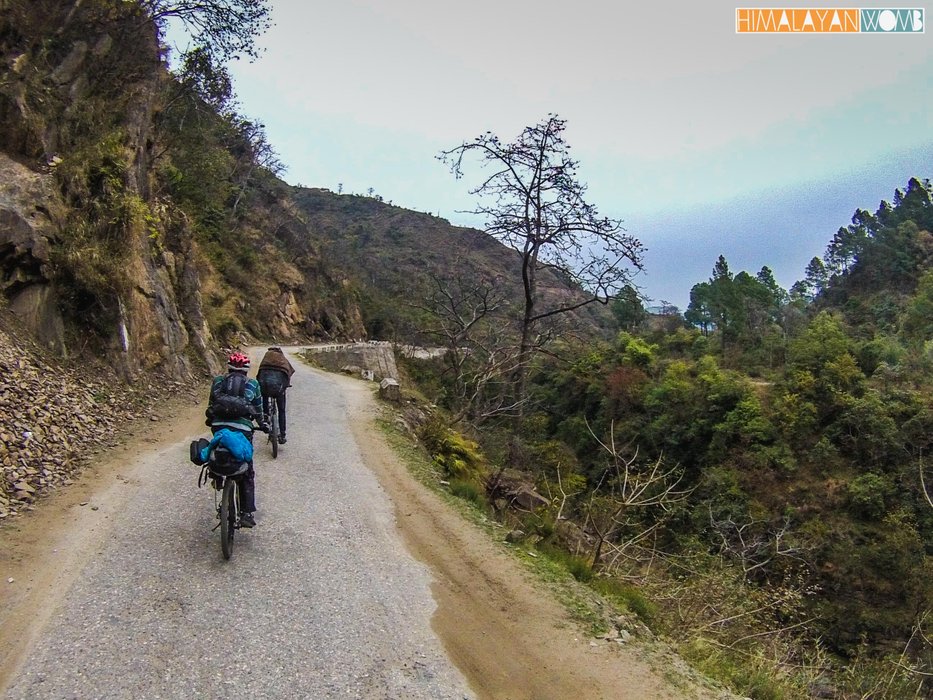 Pedaling starts
We had aalu paratha in breakfast after getting down at Mandi (Himachal Pradesh) bus stand at 9:30 am. Slow start towards to Prashar Lake. All the 49 km is uphill journey. Both IIT'an friends passing smiles after seeing IIT Mandi.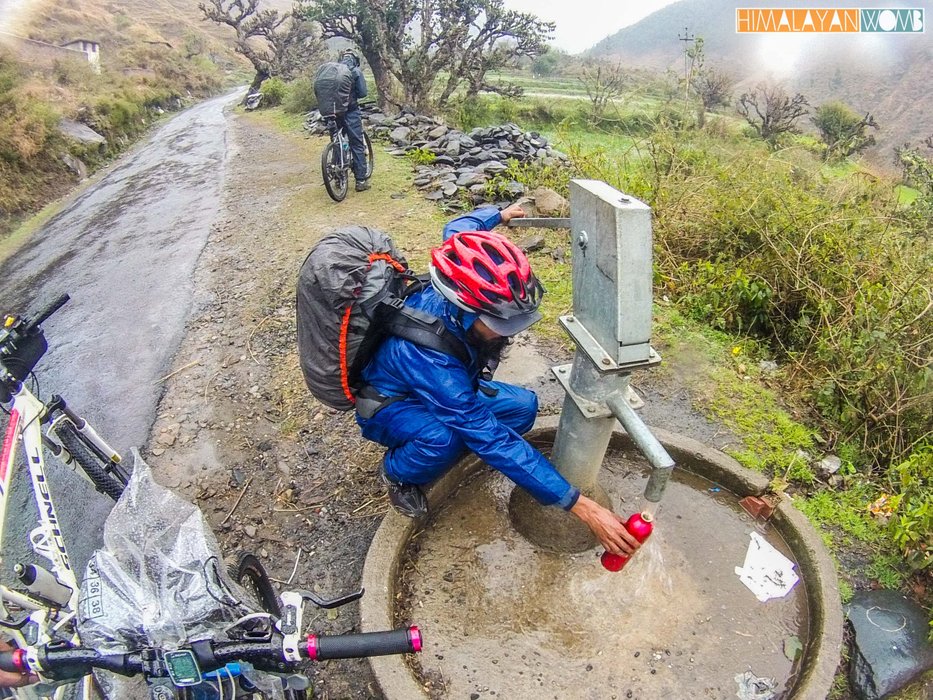 Unexpected weather
Land slide, Rain and now out of water. Filling water bottle at Kamand village (1200 m). Due to land slide have to wait for some time and now the rain had been started. Still 6 km away from today camp site. Just because of rain and out of energy we included nigh stay into our itinerary otherwise the plan was reach to Lake directly.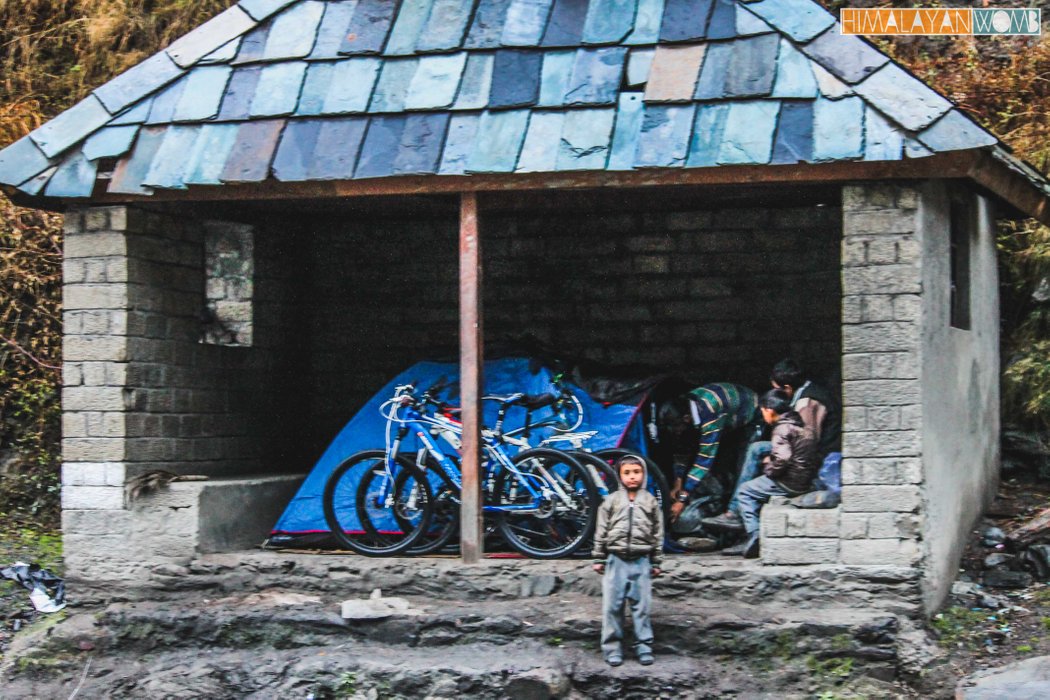 Night halt at Bus stand
It is Bagi village where 3 days back flood came. Due to flood and continuously raining since many days the only bridge had been broken which can land us other side of the river. Pitched tent in bus stand of Bagi village (2100m) and feeling happy when some children were around us. Today paddled almost 30 km. Tomorrow we'll go further if it is rains or not.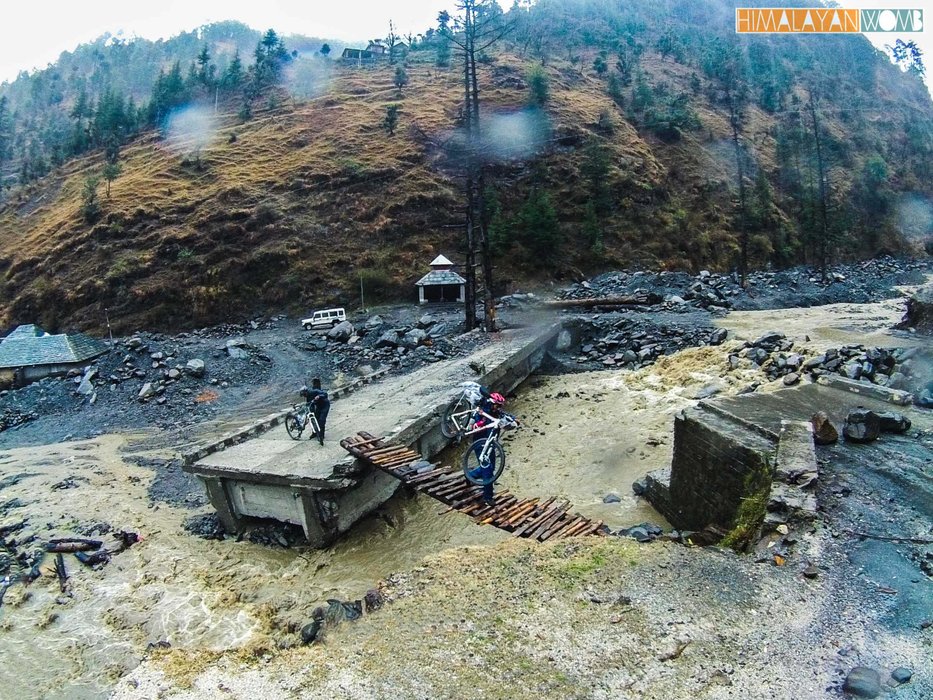 Broken bridge and mad river
The plan was cycled up to Prashar Lake and get back in same day so we dropped our bags here at tea shop (Bagi village) and kept some dry ration with ourselves. After getting best wishes from locals left the Bus stand which you can see behind us. Now the first challenge was to cross the flood area and it has to cross by wooden temporary bridge. After this point we'll own our own. Started at 7:35 am to Prashar which is 20 kms far from here and all the way is steep climb. The last push has been started.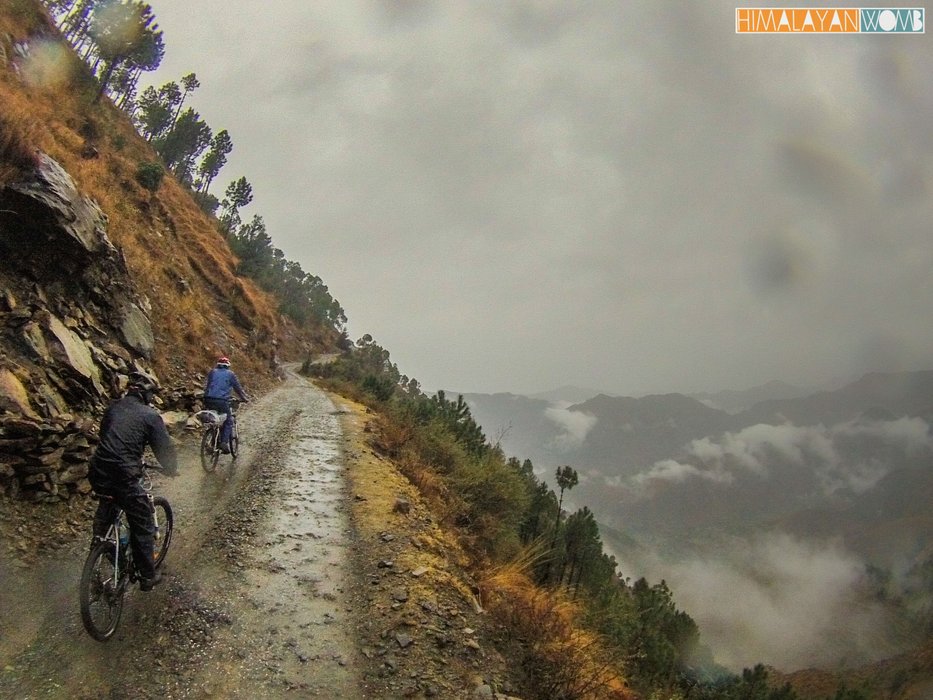 Worst weather makes it hard
Rain, chilled winds and now hailstorm, we were wet what you can expect more from an adventures trip. We were at 2150 m from sea level and still had to cover 16 kms more. All the energy has been gone up to here. Feeling tired and want to finish it as soon as possible.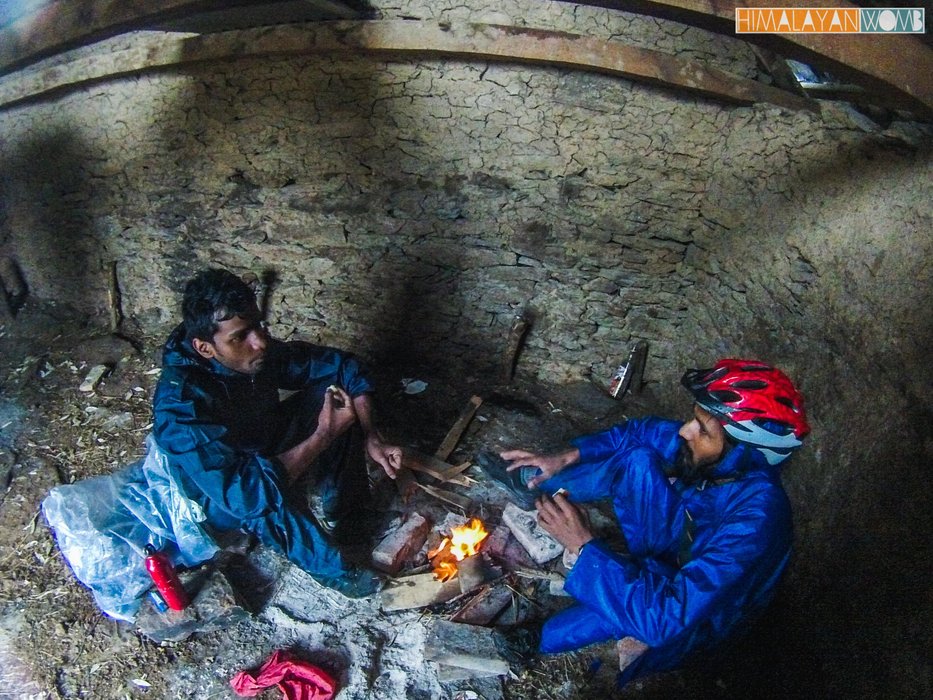 Aid station inside stable
It was afternoon, and it was still raining outside. We were wet and tired so decided to stop before 12 kms of Prashar Lake. It was a stable, now we were using it to dry ourselves on fire, eating and discussing further plan. Felt lucky as found some woods inside stable to make fire.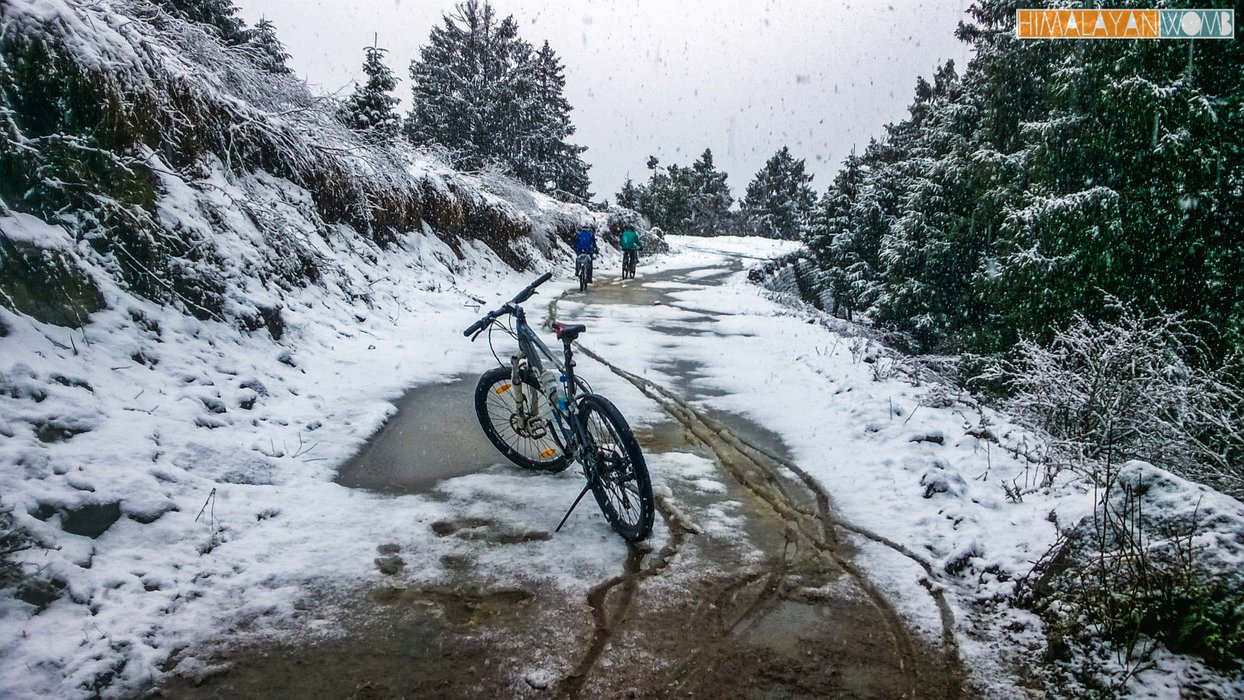 Lone trails
Since 6 hours we haven't seen any living thing and now we were into heavy snowfall. It's become more difficult to ride cycle on snow as were losing our balance on road, the tyres were slipping and many times it's become more dangerous. Hoping to reach soon at Lake because as per plan we have to come back from Prashar Lake to Bagi village today itself.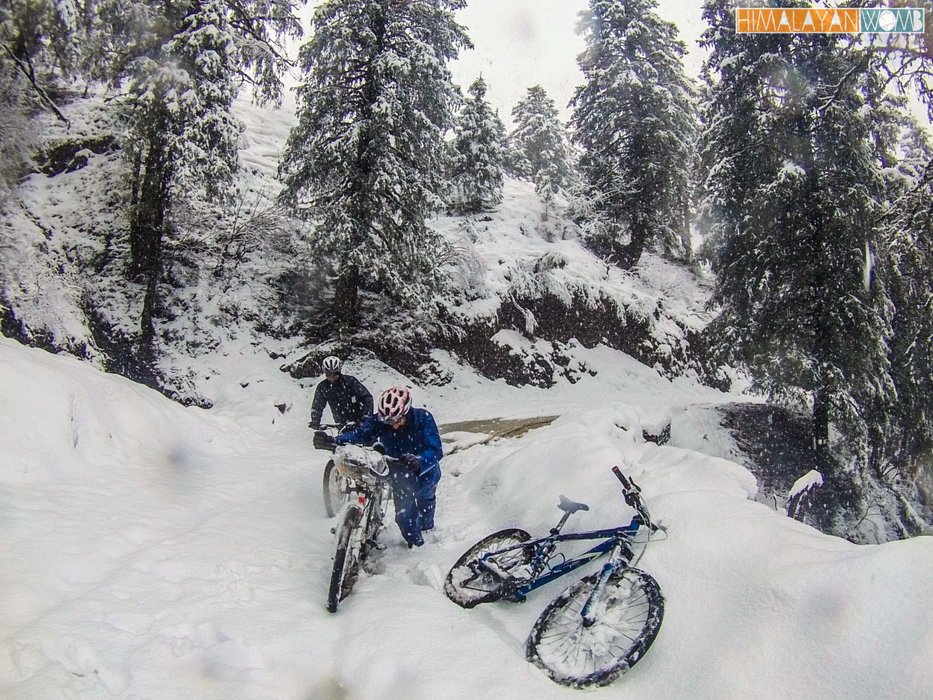 The Push on snow
The height of patience had been tested. We were into 5-6 inch snow and by moving further it was getting more deeper. Now it was getting difficult by every new step. We cannot ride, had to walk with bike but the problem was both the tyres were not rotating due to snow. Still don't know when we'll be there. Speed getting slow last 2 kms had been covered in 1 hour.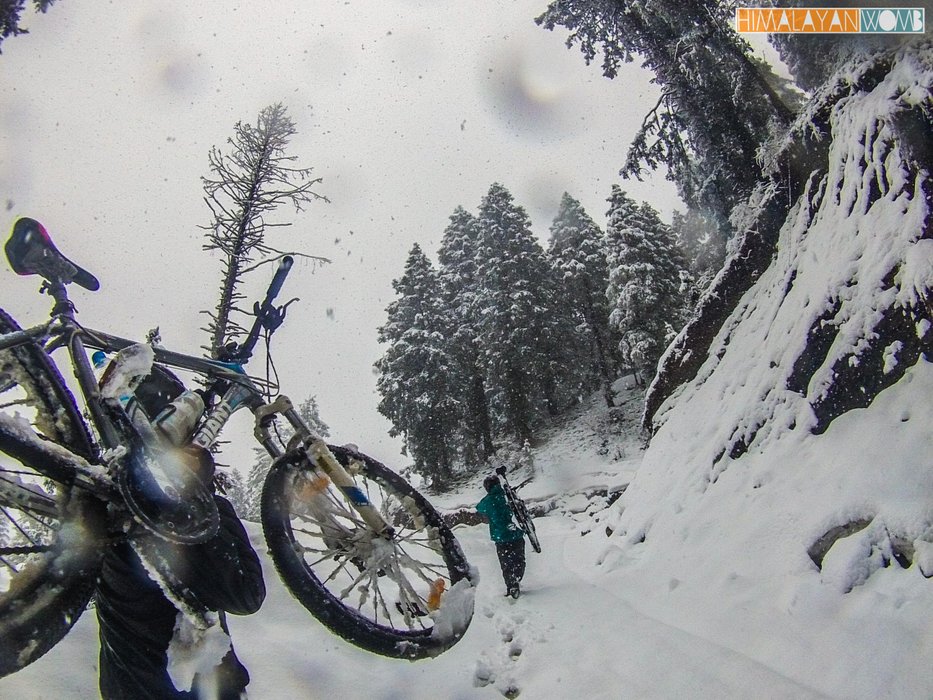 Adventure on shoulders
We can walk even in 5-6 inch snow but our bike can't. When it was getting difficult to manage bike on invisible trail then we put it on the shoulder. Didn't know up to where we can walk like this.
We were thinking to go back because it was getting worst with every step even we left our luggage at Bagi village itself and now all 3 were shivering the temperature was in minus and all of us only with rainwear. Dhanush K Dev said lets go 2 kilometres more then we decide. Can't even think that can we walk 2 kms more? Due to minus temperature the symptoms of hypothermia was moving around us.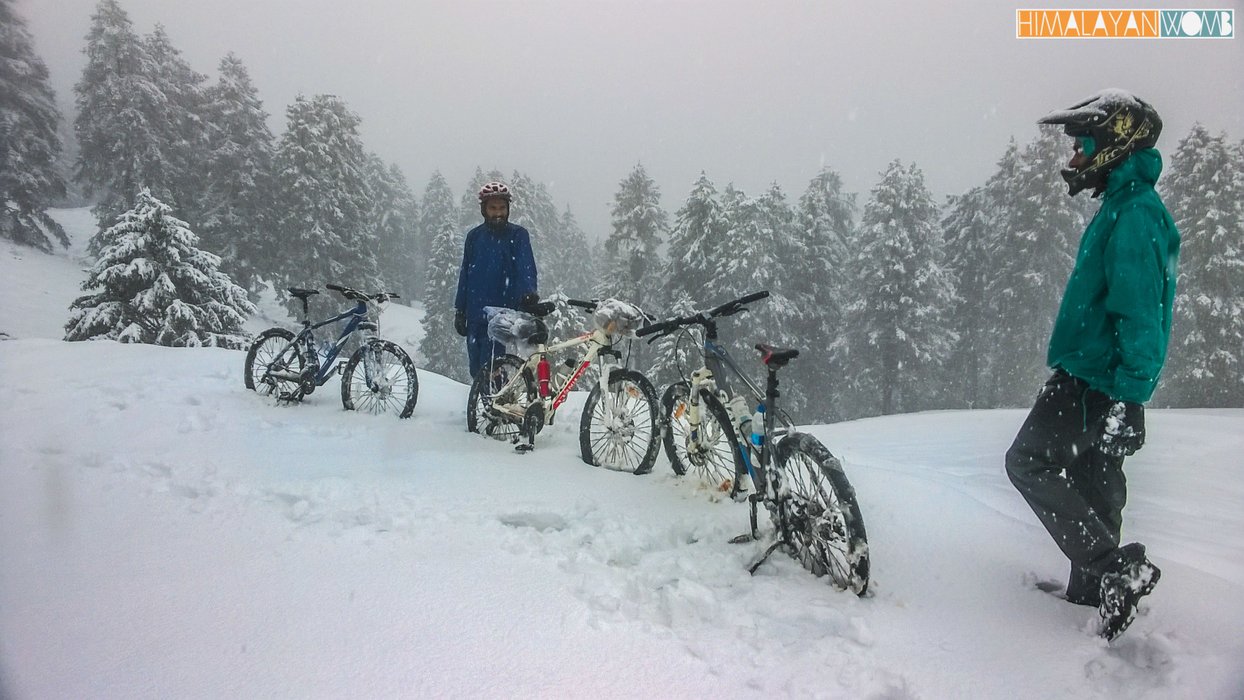 Freezing temperature -2 degrees
The plan has been failed in just 800 meters. Everyone were thinking same thing that it was difficult to move ahead with bikes so drop these here and lets go ahead so that we can find some help. Now it's my turn I said lets go with next turn which was 100 meters ahead then we finally decide that what we can do?.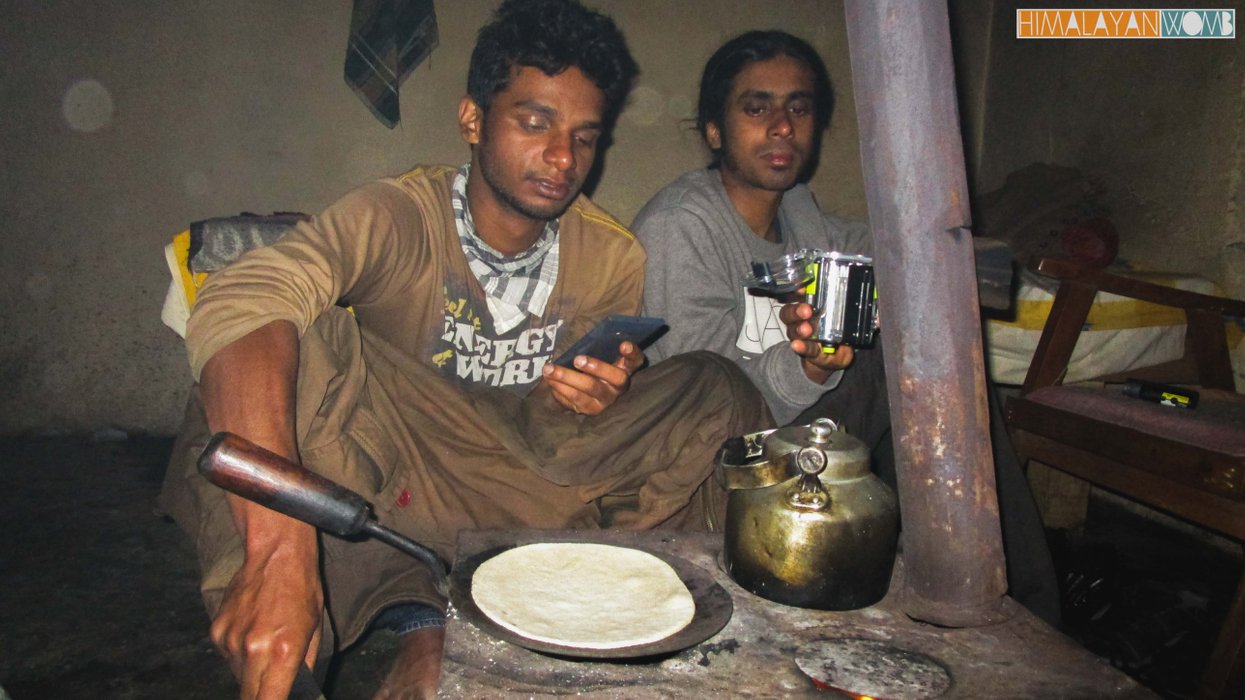 Saved
We were broken, wet, tired and enable to find any help. The condition was so worst now we all were far away from adventure, now it's become survival. We were thinking if we failed to get help then what happened because it 4 pm now. We were without gears and feeling trapped into snow. All the bad thoughts were running into our minds. We covered 100 meters as we decided but no one was there but suddenly we all 3 saw someone behind fog and snowfall.
Oh my god a man and he is shouting that "Come up here, Come up here". Left all bikes at trail and went up to him. His name was Ramsingh and he was working there in guest house as a care taker. He told that only some tourists come here in this season and if snowfalls then no one. He added "In season time vehicle comes only up to here only from here its 1 km walk to Prashar Lake.
We were shivering. As soon as possible we bring ourselves near to fire. Then we talked lot, dry ourselves, had tea and tasty dinner and 8:30 pm we were on the bed.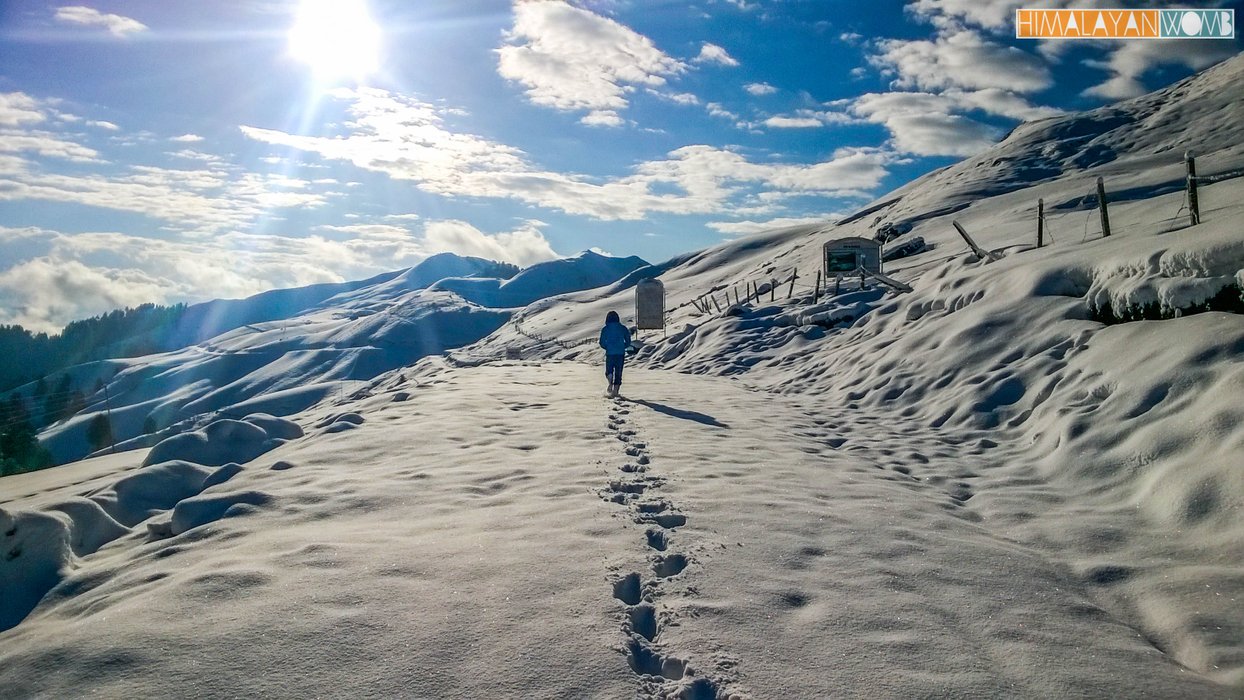 Good Morning
After all the natural hazards walking towards our destination "Prashar Lake" which is only 1 km away from here. New day and all 3 don't want to think about yesterday. It was 7:00 morning when we come out from room. Had breakfast and started new day.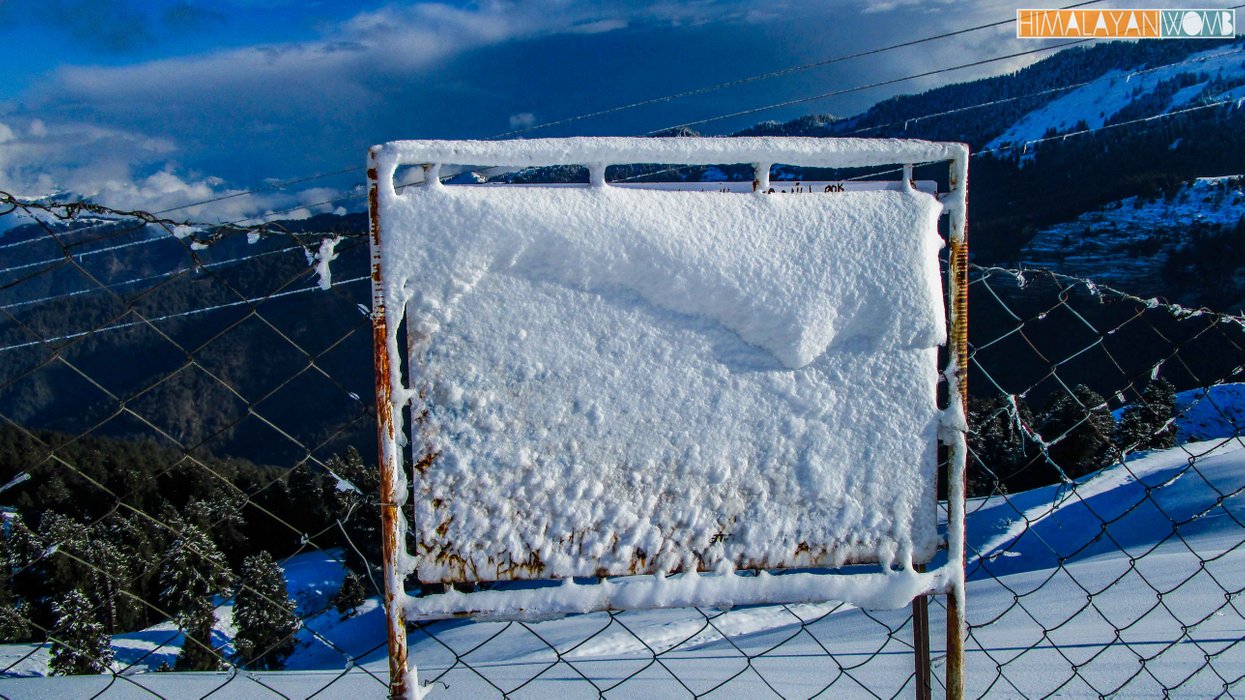 Himachal Pradesh welcomes you to Prashar Lake
After 9 hours of cycling we were about to see our last milestone. Sometimes you don't need welcome words.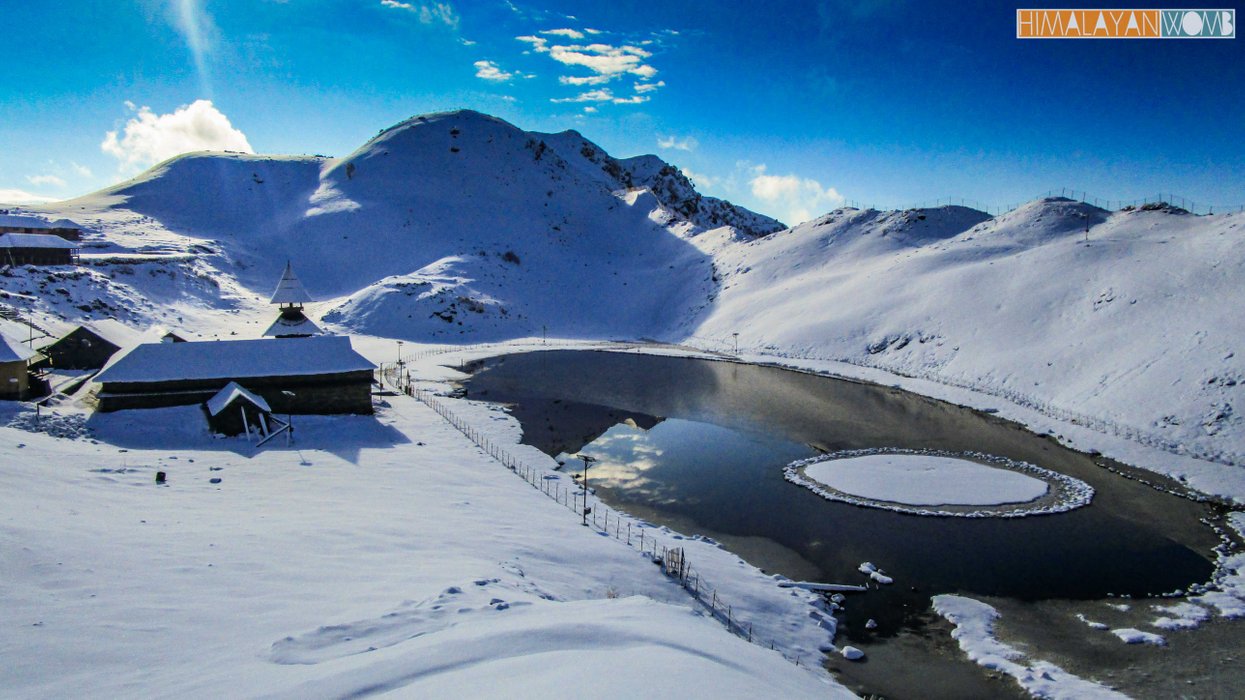 Prashar Lake – 2730 meters
At last we have reached at our destination, "Prashar Lake". We all were very happy and enjoyed every movement after getting there. The lake is located at a height of 2730 m above sea level. With deep blue waters, the lake is held sacred to the sage Prashar and he is regarded to have meditated there. The temple was built in the thirteenth century and legend has it was built by a baby from a single tree. The lake has a floating island in it and it is said to be unclear how deep it is, with a diver not being able to determine its depth. Spend 1 hour there and move back as today we have to get back to Mandi and from there we'll catch bus to Delhi.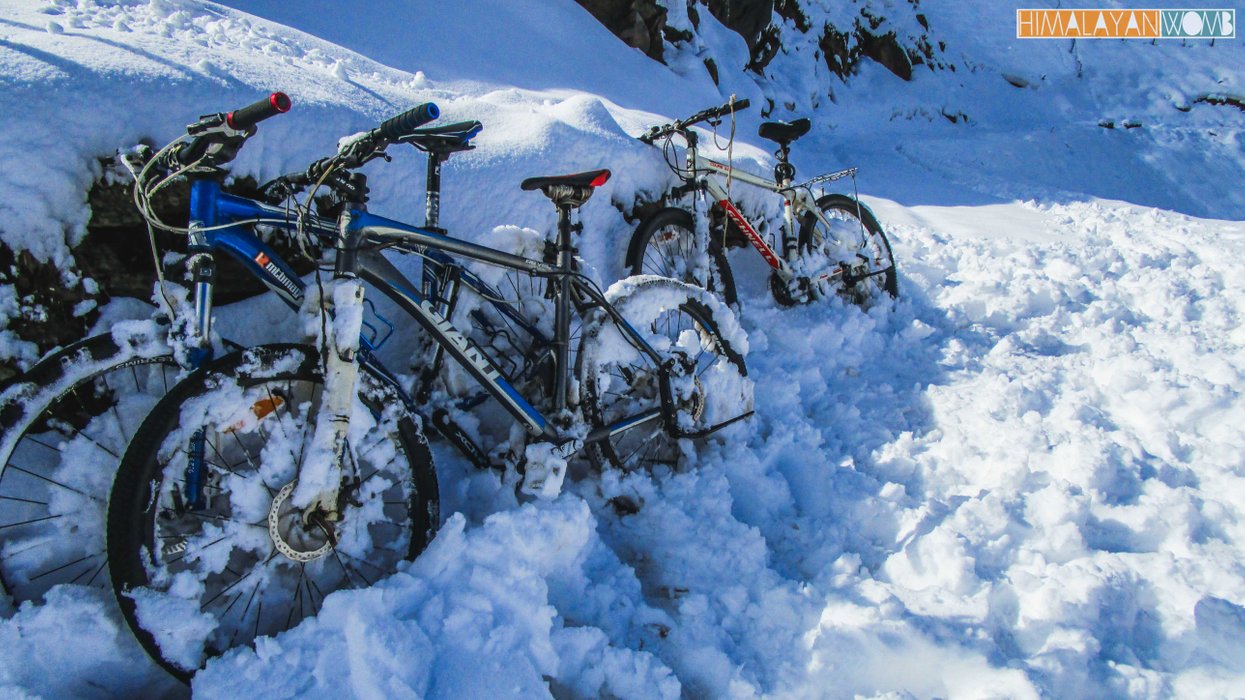 The partners
It was 9:30 am morning after paying rent of room and food we left the Ramsingh's guest house. Even though it was not snowing but still had to cover entire way on 6-8 inch deep snow. After seeing our bikes all three said that "Like them we don't want to ride today". Snowfall was too much on road hence cannot ride so we walk. 09:30 we had started our journey back to Mandi.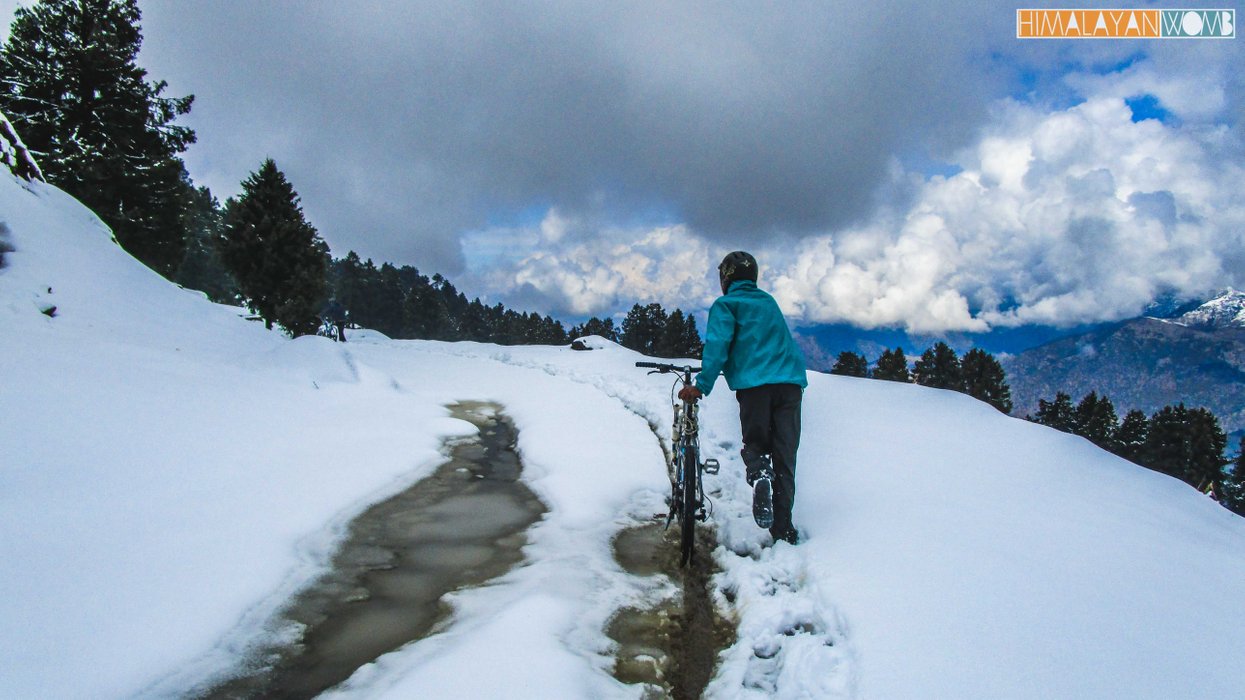 Deep Silence of Nature
Since 2 hours we were pushing ourselves on snow but the white sheet behaving like it will never end. And now the problem had been started – "The Clouds", no the black clouds coming and covering entire valley. Pushing bike on fresh snow was very difficult as tires were not rotating. We were switching ourselves like 50-60 meters by it you'll clear the way so that we can push bikes on the line which front man will make from their bikes tyres. Have to cross it quickly otherwise again we'll trap into snowfall. The black clouds were giving us warnings.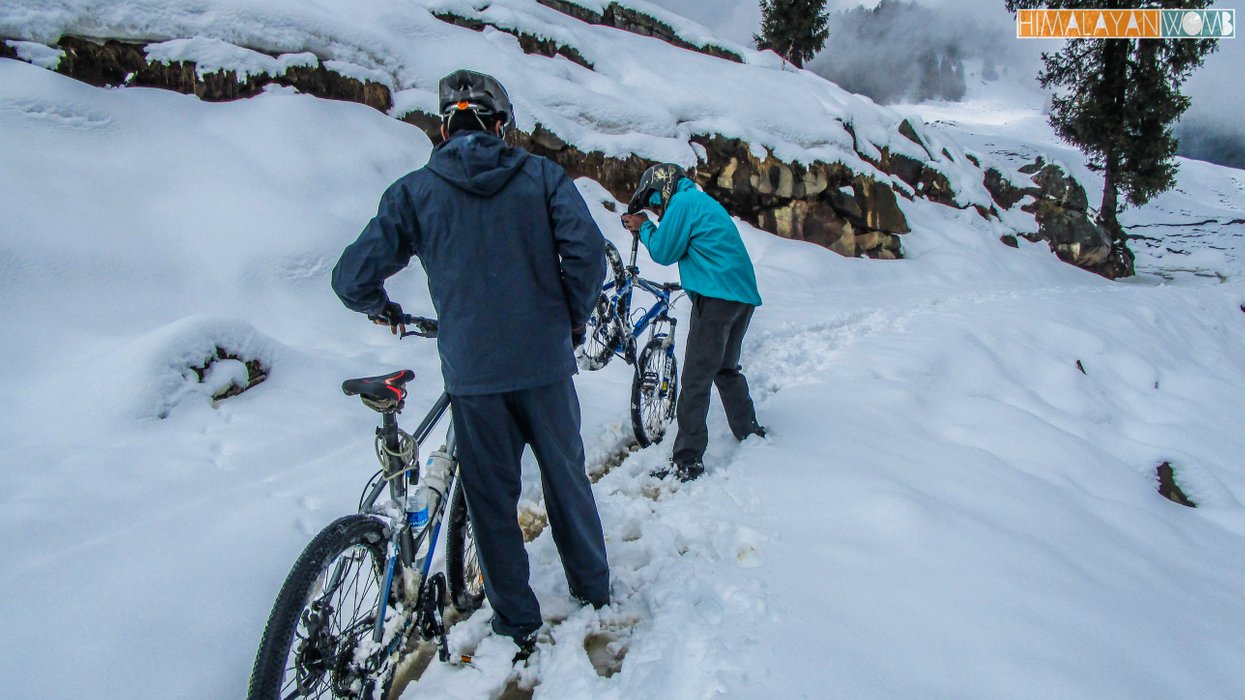 Wheel stopped
It was 12 noon and still the area of snowfall was not ending. Our foot was facing more and more problems with each step as our shoes were wet since yesterday. And now we wasn't want any new diseases like trench foot or frost bite.
Snow stopping cycles tire so after every 5 minutes we had to clean the front man's bike tire. After it he'll make the way to other bikes. Still have to walk 4 kms more to cross this snowfall area only then we can able to ride.
We reached Halgarh at 2 PM and from here snow area was finished. Happy to back on saddle. It is all downhill up to Mandi except one part which is 1.5 km steep and long. As soon as we crossed Halgarh likewise rain started. Now we cannot stop until Mandi.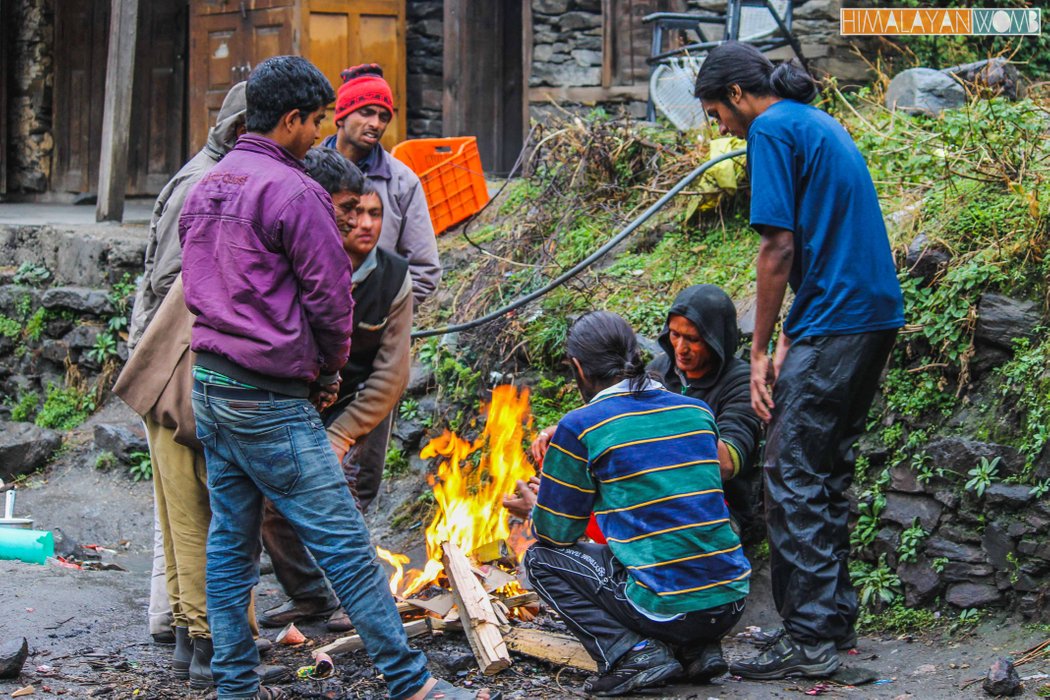 Back to civilization
After all the efforts and hard works we make it and reach Mandi at 4:30 PM. It was still raining. We all were fully wet and now it's time to go back. Caught Mandi to Delhi bus at 5:25 pm. All 3 bikes were safely ties on the roof of bus.
So in just 3 days our prospective has been changed toward to mountains and adventure. Extreme conditions taught us real things. Although this journey had started with adventure word but ends with life treating survival at -2. We explored, experienced and live the movement. To learn all this destiny pulls us from Delhi to Himalaya 481 kms and forced to see their so many faces. Spend 3 days on bike and spend 2456 rupees per person.
It was not a journey although it was experience which will be always live with us.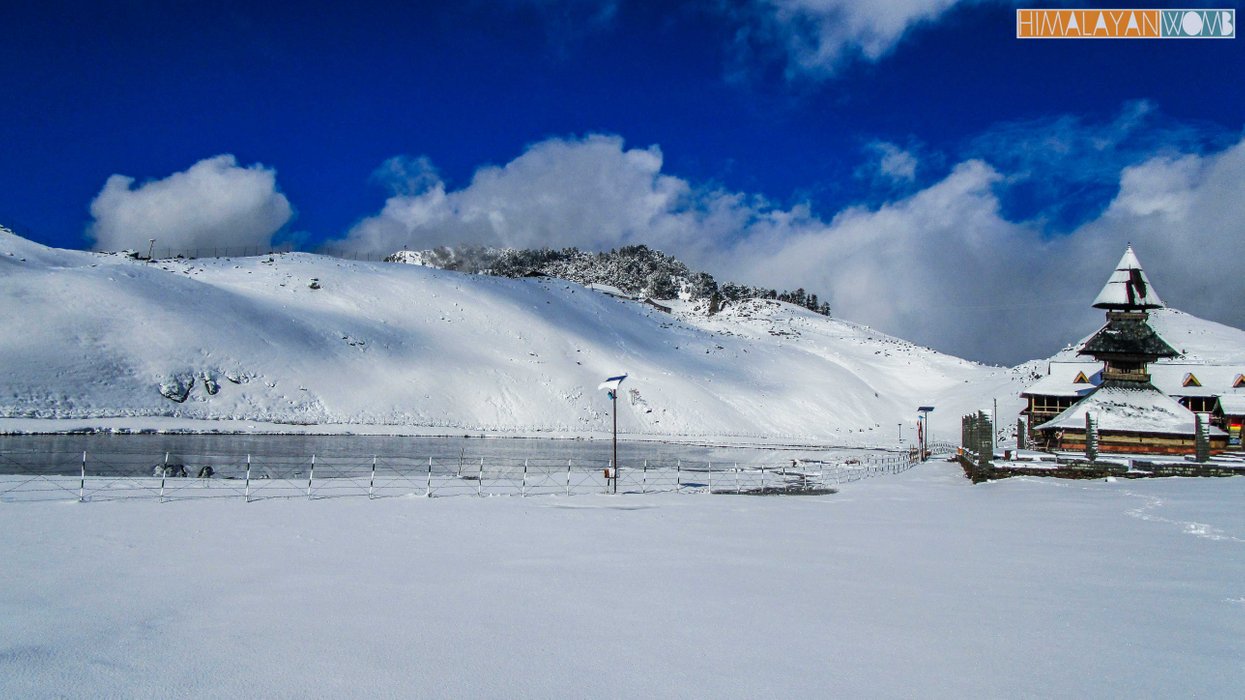 The Holy Prashar Rishi Temple
I know there will be many mistakes while go through this post, but still I have tried my best to provide my experience here. I am not friendly person with English language, first I write in everything in my Native language which is Hindi then translate to English with the help of Google and then corrected it again while reading.
I have already been written this post on my personal Hindi blog since long time ago. Here is the Hindi blog link :
https://himalayanwomb.blogspot.com/2017/05/1-prashar-lake-when-adventure-becomes.html
All the copyrights reserved to me for content and photographs. Thanks for coming here and have a good day guys.
Love Nature
Love Himalayas...