Founded by the Spaniards in 1572, trading was already established between the Chinese traders and the indigenous tribes from Cordillera mountains. From then on, it was only a town then, becoming a city way back in 1999, called the Heritage City of Vigan, to be exact. Although the Spanish influence is very much visible around the city, where the only changes can just be the modernisation of buildings by covering the old-brick structures or new buildings and residences in between them.
Calle Crisologo
Structures in this city is unique in a way that influences were built with Chinese, Spanish and Filipino combined. Typically, structures were built from local resources as the norm, similarly with most places back in the days. As the seat of power was transferred to Vigan from Cagayan during the Spanish era, residences and a few establishments retained its' Spanish influences as we see VIGAN today, more so in Calle Crisologo.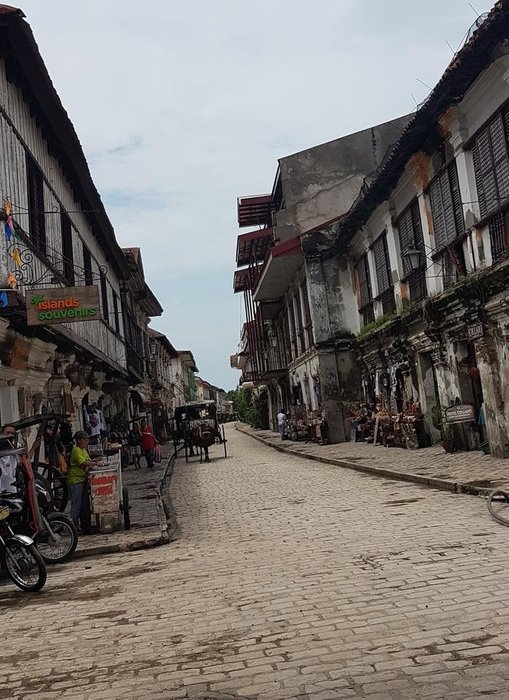 Winning the title as one of the New7wonder Cities in 2015, tourists from neighbouring towns, around the county and abroad have been flocking to these few blocks of paved street, old Spanish houses turned souvenir shops and mini-restaurants and cafes. Anyone walking along will be transported to those years gone by when this tiny town in Northern Philippines held the seat of power by Spain.
No wonder then that a few Filipino heroes, a previous president, poets and great artists hailed in this part of the country, but to name a few: Father Burgos of Gomburza, the Silang couple, Juan Luna, Elpidio Quirino, that great lady sitting in front of Max' was a distant cousin of JOSE RIZAL, and many others.
Starting point.
Fancy a Kalesa ride?
In the olden times, Kalesas were the rolls royce of the rich and famous in Vigan. Only recently that this transport is the only one allowed to pass through Calle Crisologo. They can be rented for more or less $10 per kalesa, anyone can bargain as some up their price to $20 to tourists. A kalesa ride will take about an hour or so visiting the tourist' spots in Vigan and the neighbouring town's bell tower in Bantay. For a minimal donation, on top of this bell tower will show you the panorama of the distant mountains to the East. It's also a good place to watch the sunset if it's still open as the stairs is very old.
Tip:
A side door of the church will lead you to a chapel ruins. I am a local yet was unaware of it till I accidentally saw a signage going to it. It is functional as there are pews inside and the enclosing walls are pure bricks of the past. Personally, this was the best part when visiting the bell tower. I have yet to visit the place this time, so to follow.
Don't forget your souvenirs from Vigan!
Anyone is welcome to buy this table, used before to squeeze the juice from sugarcanes being pulled by a carabao. Imagine that!
Friends and their parents in UK love those woven placemats, coasters i used to bring them. As they are light and cheap, they are great for souvenirs.
@mariayves0912 enjoying her sugarcane juice.
Allonsy to Vigan!
All images are mine, taken with my Samsung Galaxy S7.
Reference:
Vigan