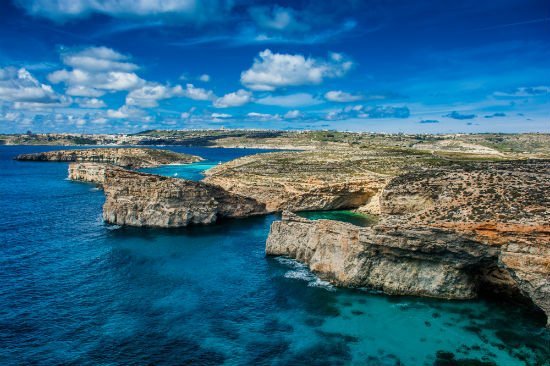 Comino and Gozo – Each of the Maltese Islands have something particular. Malta is the largest as well as the fast-paced one, compared to Gozo and Comino. Gozo is more relaxed, quieter, greener and everything in Gozo just seems as though there is no reason for pace. It truly is the perfect getaway, especially if you are looking for something familiar but slightly different. Comino is the smallest and yet serves as the perfect place if you have about a day that you just want to tune out from all that's familiar and simply enjoy the beautiful Mediterranean Sea and be isolated from everything and everyone. Each sister island of Malta has something special about them, so it all falls to what it is you are looking for.
During the Romans, the island was inhabited by farmers and throughout history, it had times when it was populated, owned privately and abandoned. During the Middle Ages, it was popular with pirates and marauders. In 1285, the island was a home of Abraham Abulafia, an exiled Jewish prophet, and Kabbalist. It was here was he wrote his "Sefer Ha-Ot", "The Book of the Sign", as well as his last work "Imre Shefer", "Words of Beauty". The Knights of St. John used Comino as hunting grounds and for recreational activities. At that time, they were protective of the local game, mainly wild boar and hares and poachers were heavily convicted up to three years as galley slaves. Comino was also used for imprisonment or exile of errant knights during the 16th and 17th centuries, in the St. Mary's Tower in Comino. During the French occupation, Comino was turned into a quarantine and isolation hospital.
The sister island of Gozo is about 15 minutes by ferry from Malta to Gozo. The ferry is the most popular means of transportation between Malta and Gozo, however, you can also get there with a personal boat. Gozo is much smaller than Malta, but is also less built and is fuller of greenery. It is a perfect getaway location from the busy lifestyle in Malta.
Read full article:
https://www.innakay.blog/malta-the-sister-islands-of-comino-gozo/