MAGIC REVEALED
All I knew about Slovakia was only a handful of facts. During Soviet times this land of castles and high mountains was a part of so-called Czechoslovakia. Slovakia became an independent state only in 1993. Mostly because of countless caves, rivers, and national parks it is now a quickly developing tourist destination.
"Good morning sunshine," I welcomed Kamile who had just left the tent. "How did you sleep?"
Kamile couldn't believe in her eyes once she perceived how unique was the scenery surrounding us. When we crossed the border it was already pitch dark. The sunrise was all that was needed for the magic to be revealed.
FOREVER LOST
Long story short, once we reached Slovakia it was starting to rain. This is why we had to find a potential campsite quickly and do it in a very improvised way. It's a well-known fact that the best place safety-wise is the one that empowers you to see everyone when no one sees you.
This time we were lucky enough to find such a place. We had to pass through dense bushes and cross a shallow water catchment. The tiniest possible island in the middle of the river Bialka offered enough space for a compact tent.
One of the riverbeds was narrow and shallow. Another one - wide and deep. Little did I know how easy it was to lose a slipper in such a fast river current. It was a matter of seconds when my slipper disappeared behind the bend of the river.
SHALL I TELL HER?
"It's the first week of our journey and you already dissipated half of your belongings" she giggled heartily. "Are you doing this on purpose?"
"Shall I tell her I've also lost my towel?" I whispered to myself. Most likely it was still hanging on the Farmer's fence 30 kilometers away.
"I will rather keep it to myself. For now, I may use my T-shirt."
After the ritual of personal hygiene and a cup of tea, it was time to hit the road. What about breakfast, you ask? A few berries were all that we found but the act of sharing replenished our energy reserves for hours to come.
EYE OF THE SEA
On our way to the main road, we met a countless number of hikers heading towards the Morskie Oko - the most famous lake in the Tatra mountain range. The so-called Eye of the Sea is the largest mountain lake in the High Tatras that lies at an altitude of 1395 meters above Sea level.
Why such a name? One of the locals revealed that according to the legend, a long time ago the lake was connected to the sea via an underground passage.
"The world is full of wonders," we thought and promised ourselves to see the lake once we get back.
I did it a couple of years later with my father. This time we had a mission to complete. For now, reaching Asia without too many major interferences was our main goal.
THIS WAS OUR CHOICE
While we spent the rest of the morning in relative silence, our hearts burst with joy. With each mile, our self-confidence grew exponentially. People we met turned out to be warm and positive. Acquaintance with most of them highly contributed to the overall charm of the day.
Slovakia covers a total of 49,035 km2. The peculiarity of its shape determines that the shortest route from its Northern and Southern borders is only 175 km long. In theory, 2.5 hrs of continuous driving should be more than enough to cover this distance. However, for hitchhikers, it may take way longer.
The first part of the day was pretty successful. It took five short runs to go halfway. The real challenge unfolded only in the afternoon. Standing on black asphalt and baking in the sun started to get frustrating. In a moment like this, being with a like-minded weirdie helped a lot.
"This is our choice. We are here because we want to. This is our choice!" we kept repeating over and over again.
HITCHHIKING RULE NO1
After two long hours, someone finally stopped. It was a young couple, about our age. The funny thing is they were going in the wrong direction. It turned out these guys passed us fifteen minutes earlier. but the girl convinced her companion to turn around. This act filled our chests with a pleasant warmth.
Hitchhiking rule No 1: avoid big cities. Disobedience to this law might get you into some serious trouble. Especially when you are a so-called budget traveler with a total budget of a few euros per day. At least that's what happened to us when we ended up in the second largest city of Slovakia.
Košice is a charming city that originated in the 9th century. It is located in Eastern Slovakia, only 20 km away from the border with Hungary. The driver left us in the city center. Lack of experience and a simple misunderstanding led to a tough situation. Otherwise, we would have asked him to leave us somewhere on the outskirts.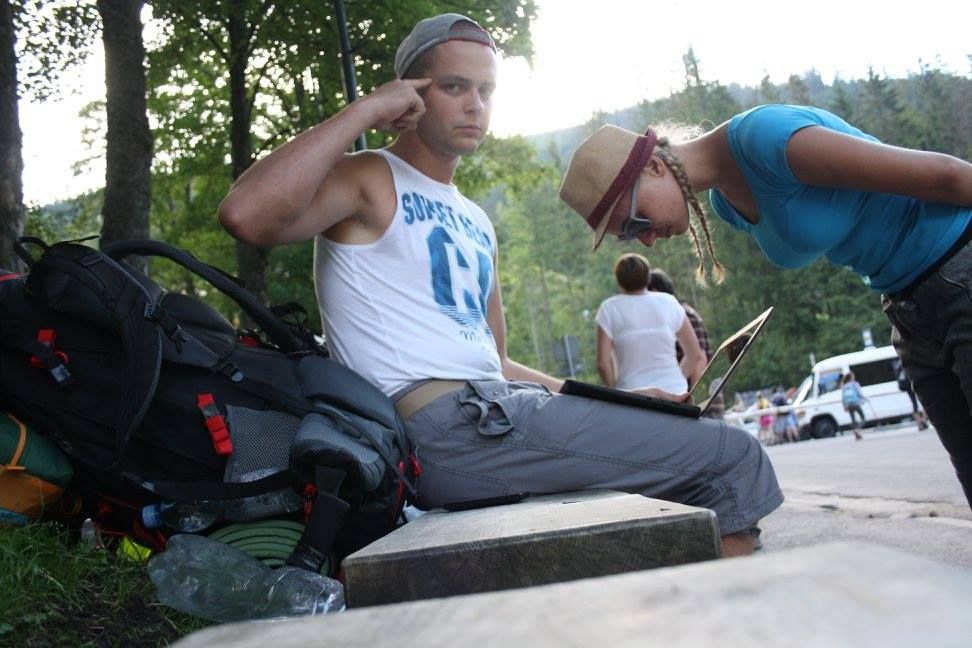 LACK OF OPTIONS
Staying at one of Košice's fancy hotels would have drained the wallet big time. Keep in mind our budget was no more than a few euros per day. What is more, it would have most likely killed the charm of adventure. At that moment it didn't seem like the right choice.
Reaching Hungary was our goal for the next day. Walking south was another option. To find a suitable spot for camping, we would have had to walk for about 8 km. Not an easy task when it's already evening and the burnout is already knocking at your door.
There was one last thing we could think of. Kamile and I concluded that we should spend the night at the bus station and probably write a blog post in the meantime. We intended to leave the city in the morning and have some rest once we leave the residential area. However, most of the time it is way easier said than done.
THE PICKPOCKET LADY
Košice bus station was not a five-star hotel but it provided at least some kind of shelter. To protect our belongings, we placed most of our stuff under the staircase and used two benches to build a fortification around it. It acted as a precautionary measure in case someone would decide to borrow some of our gear.
Funny things started to happen when Kamile lied down and tried to get some sleep. Observing the environment and noticing details was something that I was always good at. What caught my eye was a nice-looking middle-aged woman roaming around the waiting hall for more than an hour.
The lady had dark wig-like hair and wore large black sunglasses. Her tiny dark suitcase created an illusion that she was waiting for the bus. As she stood in the corner her gaze was following one particular man. It triggered my curiosity.
Not long after, she approached him in a very cautious way. When she was only a couple of meters away, his phone started to ring and left the building immediately. The same scenario happened two more times. Both of them ended up similarly.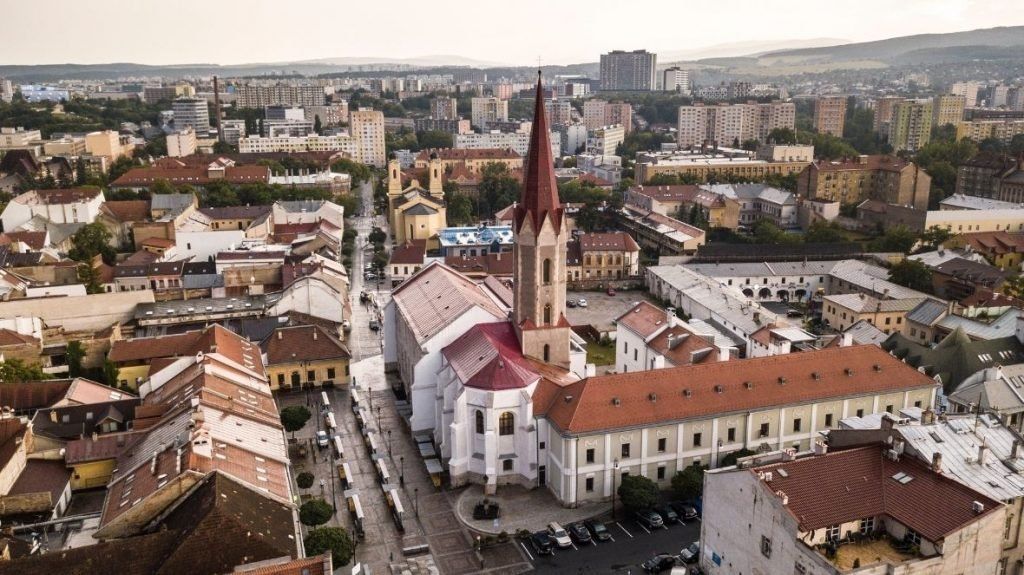 The performance reached its peak right after the announcement. The bus station was going to be closed in less than one hour. I was so busy watching the lady that I didn't notice we were the only ones left. This was the moment when she started staring at us. I found it difficult to hide the smile as I knew what was her intention.
"Kamile, wake up!" I poked my girlfriend. She was lying on a bench right in front of me. For a while, she couldn't understand what happened.
"There is this lady. She will most likely come closer and try to sit beside us. Pretend you are asleep, but be aware that she might be a pickpocket."
Most of our belongings were relatively safe. All the essentials were hidden in the depths of my backpack. The backpack itself was tied to the bench and the only way to get it was to pass through me. Our most valuable asset was a laptop. At that moment I used it to send some emails.
"How shall we make it more interesting?" I asked myself.
Suddenly I came up with a brilliant idea to place my smartphone in the most vulnerable position possible. Once I laid it next to me everything else went as planned. Step by step the lady came closer and closer.
There were a hundred other places to sit, she chose the one that was only two meters away from me. I was sure she noticed the smartphone.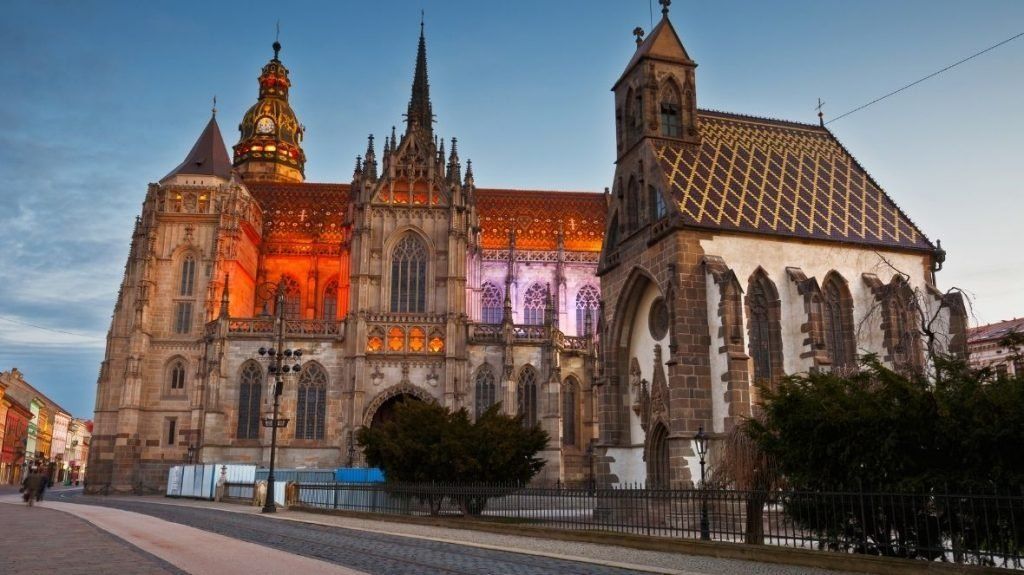 "Excuse me," the lady turned to me. "Can you tell me what time it is?"
"It's 10:20 PM" I responded politely.
"What?" the woman pretended she did not understand and came even closer.
Then she put her right hand next to the smartphone and leaned forward acting like her intention was to look at the laptop watch. Kamile started laughing and I couldn't help it too. This might have been the moment when the lady realized that she was the true victim o day.
I could see in her eyes that she felt super uncomfortable. It was a matter of seconds until she left the building. We never saw her cute little suitcase again.
TROUBLE WITH THE POLICE
The bus station was closed for the night. We had to find another spot. Luckily the train station was located only five minutes away. According to the signboard, the Košice train station was supposed to be open 24/7. The top floor happened to be as empty as my stomach.
A little privacy was what we needed the most. At the time I explored the building in search of food, Kamile made herself comfortable in the darkest corner she could find. It did not take long to apprehend the adventures of that day were not yet complete. I was on the ground floor when something odd occurred.
I saw a man whose face was colder than long winter nights in our dearest motherland. Most likely it was the station guard. He was leading the way for two uniformed officers who looked just as serious. They passed me by and went upstairs.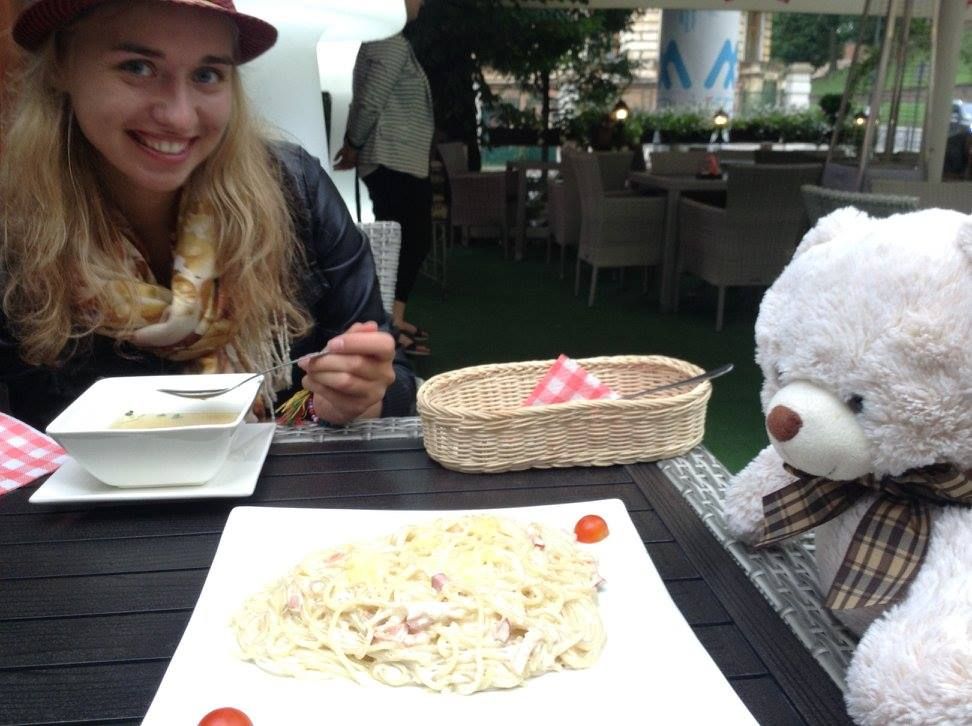 I decided to follow them. Shortly my suspicions were confirmed. Kamile was on their target. When I came closer she was already interrogated. It was clear they took her by surprise and she couldn't understand what was going on.
"Excuse me. May I help you?" I asked the officer who was standing next to Kamile.
"Where are you from and what are you doing here?" He requested a quick answer.
"We are Lithuanians. Tomorrow we will travel to Hungary."
"Where are your tickets and when exactly do you leave?"
"We don't have them yet" I replied.
"We have a problem then," stated the officer and asked for our documents.
For a couple of minutes kept whispering something while examining my passport.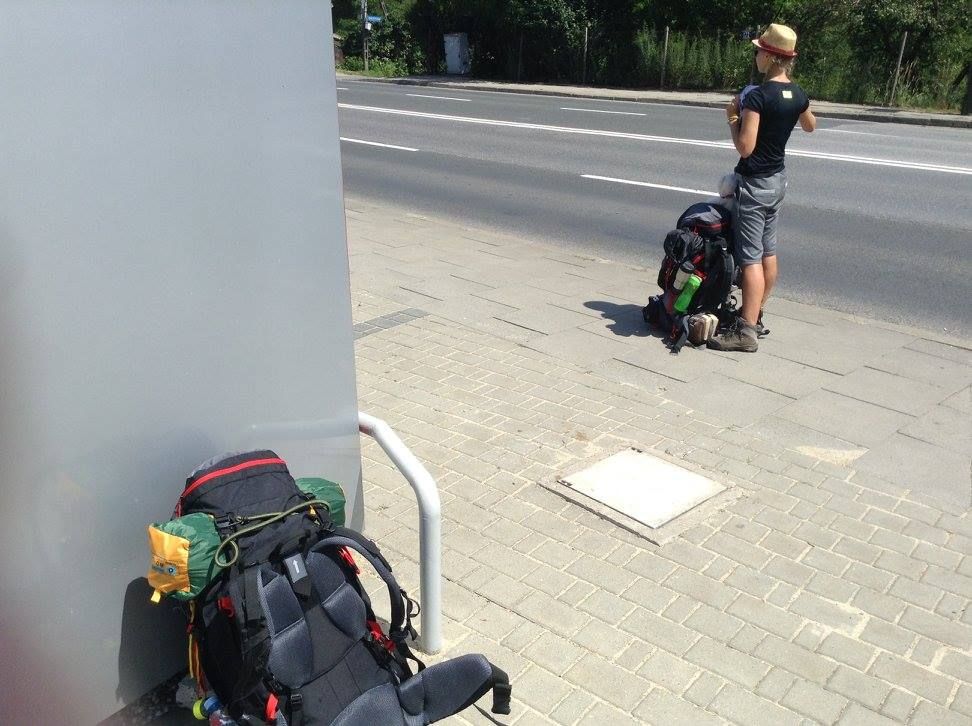 "Lithuanians, you say," the same officer spoke once again. "Are you fluent in Russian then?"
Neither of the three men looked happy about the negative answer. Despite the fact we knew the basics, Russian was not one of our strengths. Probably they could say the same about English.
It turned out only those who had night train tickets were allowed to stay in the station after midnight. Who knows what would have happened if we told them the full story. Shortly we were walked out of the station. For the first time in our lives, we had such an honorable escort.
It was amazing how much their tone changed once we left the territory. Once we came to a place invisible by the camcorder one of them explained the situation in a very polite fashion. It turned out they were just following the orders. This kind of measure helped to minimize the number of thefts as pickpocketing was not a rare thing in that particular area.
His advice was to spend the night in a hotel that was located next to the station. While this option was tempting we chose to stick to the plan. After expressing gratitude for their effort to help it was time to say Goodbye.
"What a day," we thought, but the day was far from being over.
We took the opportunity to explore the town. Košice is well known for Slovakia's longest promenade as well as its best-preserved historical district. In the heart of it is located the Cathedral of St Elisabeth. It is by far the largest church in the country. The evening was crowned by a fancy late-night snack: canned beans and a juicy apple.
Our stay in Slovakia was coming to an end. Getting out of the city took more than an hour. Hitchhiking at night did not look like an option. The safest place to rest was a field near the main road. There was no point in making a tent as the sun was about to rise in several hours. For the first time on this trip, we spent the night under the stars.
---
PREVIOUS CHAPTER
NEXT CHAPTER