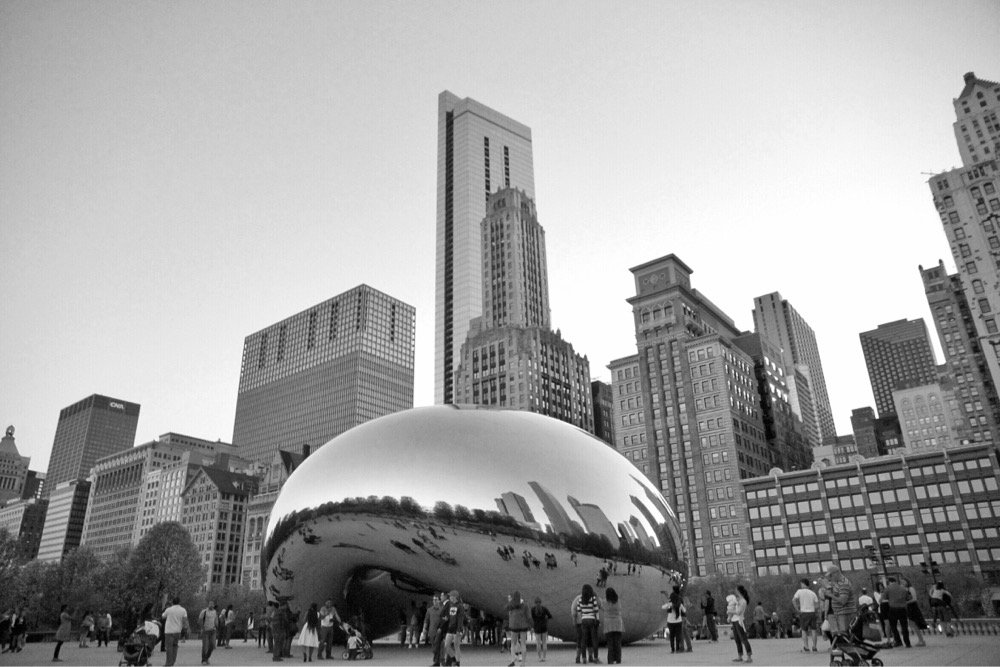 Hey everybody, do you know what the sculpture is in my photo here? You probably got it right - the Chicago Bean!
This public artwork's official name is Cloud Gate, and it has been a landmark of Chicago since the opening of Millennium Park in 2004. Locals call it The Bean. This huge magic bean is a very popular site that attracts tourists from around the world. I was one of them. :)
It was during my grand solo trip in USA 5 years ago. I took the epic California Zephyr train (yes the unforgettable 53 hours crossing the vast American land with gorgeous views :)) from San Francisco to the Windy City - Chicago, and visited this famous stainless steel figure.
嗨~ 大家好!看出来这是哪里了吗?这大豆一样的公共雕塑位于美国芝加哥的千禧公园,正式名称叫"云门",昵称"豆荚"。自从2004年揭幕,就成为芝加哥的地标之一,一直吸引着世界各地的吃瓜群众前来观瞻,包括我。;)
五年前,我搭乘那趟有名的加州西风号列车,晃荡了50几个小时,横穿美国大陆,一路美景变幻,从春风萧萧的旧金山风尘仆仆地来到风城芝加哥,有幸领略了这颗大魔豆的风采。看出来这段的关键字是"风"了嘛?;p
它的创造者卡普尔是位印度裔的英国人,称云门的灵感来自于液态水银。这颗巨大的魔豆由168块不锈钢板接焊而成,我们这些游客可以从它的表面上看到被反射和扭曲的自己、其他吃瓜群众和城市轮廓。整个大豆光滑无接缝,底部的凹形空间还会歪曲和重叠影像,是不是很奇特?:)
According to its creator, the Indian-born British artist Anish Kapoor:
What I wanted to do was to make a work that would deal with the incredible skyline of Chicago and the open sky and the lake but then also be a kind of gate. You know, the tradition of public sculpture is for the gate, the archway, the square to flow within [the landscape] rather than be an object decorating it.
Contemporary public spaces are a very difficult problem that we haven't yet fully and properly understood. The idea here was to make a work that was drawing in the sky, the skyline and all of that, and at the same time allowing you to enter it like a piece of architecture that was pulling your own reflection into the fulcrum, making a kind of participatory experience.
At every side of the big Bean, there were onlookers taking selfies or group photos. I guess we all like its lovely shape and the cool idea that one can see him/herself together with the surroundings from the shiny surface. Plus it's fun to get those distorted shots of your body and the buildings around. =) Kudos to Anish Kapoor for the "participatory experience"!
Like what we normally do on the Uyuni salt flats, or with the Pizza tower, visitors can take creative perspective photos with all kinds of goofy gestures. :D I would probably try some too if I travel there with my families or friends in future!
Have you visited this Bean before? How's your experience?
The head image is also my entry for @axeman's Cityscape Photo Contest. Check it out and join the photo fun! :)
你去过芝加哥没?觉得这颗大豆怎么样?=)
All content by @itchyfeetdonica
图文 by Donica多

---
Thank you for visiting! Please tell me what you think. Exchange makes change! =)
If you like my content, please support me by commenting / following / upvoting / resteeming.
感谢来访!你的关注/点赞/留言/转发就是对我最好的支持~ 下次见!:)

---
Here are some of my travel shots. Check out my posts on Steemit World Map, and follow me for more adventures around the globe! :)
下面是我的一些旅途摄影。欢迎查看我的Steemit世界地图,跟我一起环游世界~!