I am always dreaming about mountains, walking on the mystical trails, reaching to the top and finding something amazing at the other side of the mountain...
Have you ever dreamt of that?
---
My last trek to Buran Ghati was exactly like my dreams and I Was lucky enough to see whats on the other side of the mountain which I have never experienced before.
I am sharing here my trekking experience of Buran Ghati pass. It's a pretty long one and so I will be posting in two parts. 😍
---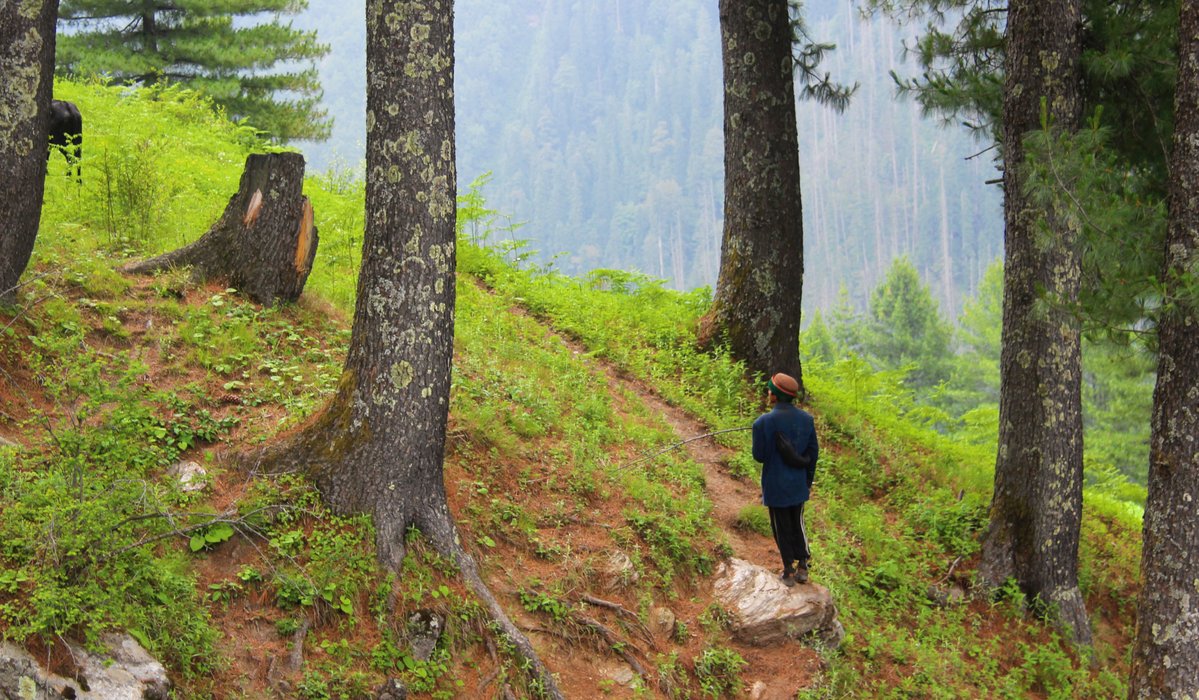 ---
Buran Ghati - a much lesser known place, a hidden gem in the midst of the Himalayas at 9,200 ft. A very few people know about this trek but shepherds have been taking their flock to graze at Buran Ghati for many many years.
It has everything... grasslands with beautiful flora, clear rivers, snow, dense rich forest, green-carpeted meadows, and the most thrilling pass which makes it the perfect trek. This trek is physically demanding especially the last stretch.
It was one trek, which I did not plan in advance, one day came across a post on facebook and instantly booked the trek without even doing a quick search.
Never heard of this trek before, no bookings made of stay and travel, no company. I just left. Sometimes I think its the best thing to do!
---
The only thing I know was:
"The mountains are calling. I must go."- John Muir
---
I left for Shimla a week before the trek, just wanted to relax for a while, get away from the city life , so I booked my stay at one of the most beautiful and cheap hostels in Shimla and spent a week reading books, walking around the town, drinking coffee, checking out cafes, and living in the moment. I have never stayed alone at one place for so long doing nothing. The town is very small, so nothing much to do. It rained most of the time, so I pretty much sat outside my room reading. Though I did go for short hikes around the town... I kind of enjoyed the whole week just by myself.
---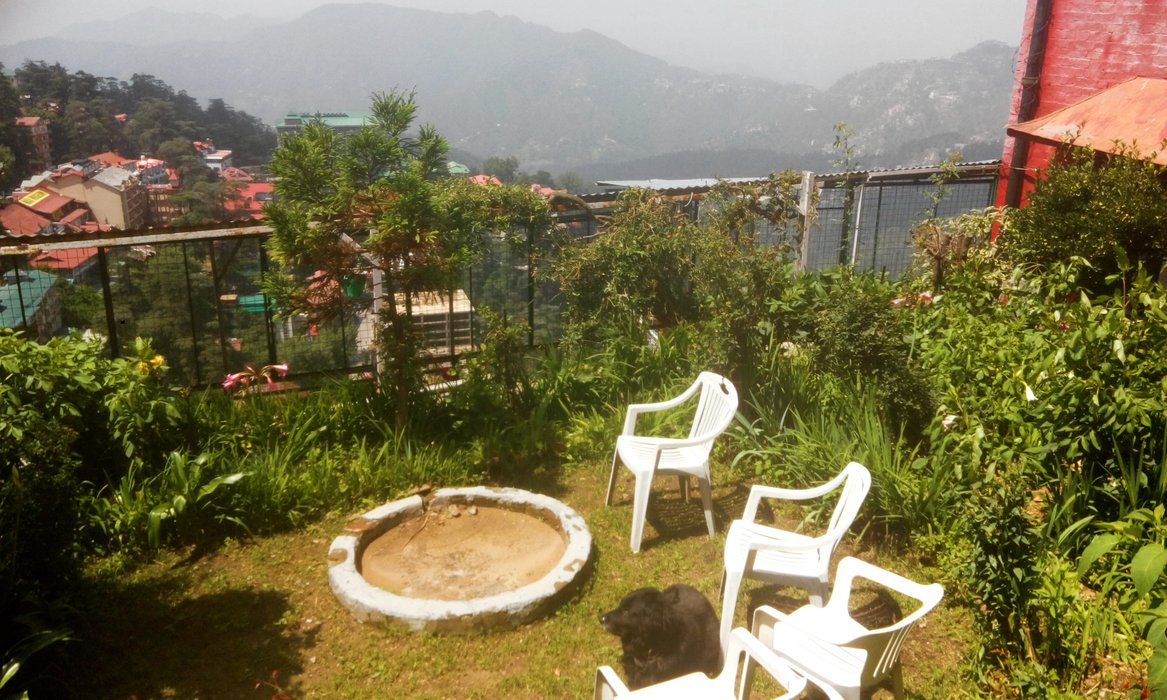 The view outside my cabin, where I spent most of my day reading books, and this little guy giving me a company. :)
---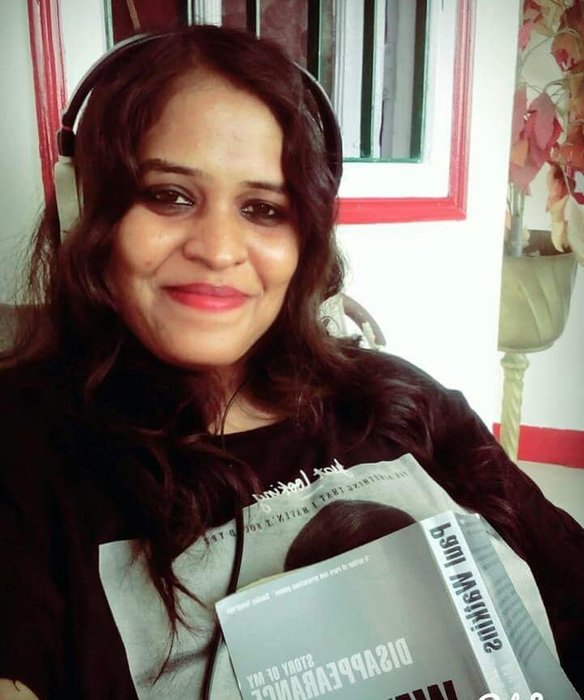 ---
After a relaxing week, I met some of the trek members a day before we were to leave for our journey. We met for dinner and since I knew all the best cafes and restaurants by now, everyone left it to me and they were not disappointed.
---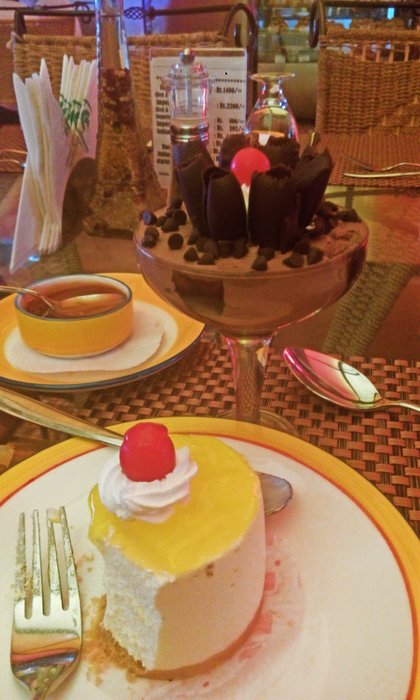 I ate so much after a week, It was one of the best cheesecake I ever had
---
They welcomed me into their group and it did not feel like I was traveling alone anymore.
Next day early morning we started for a very tiring 9-10 hours journey from Shimla. I was traveling with other members of the group in the jeep who are a bunch of crazy Game of thrones fans and someone asked me from the group:
Who is your fav?
'No one. Haven't seen Game of Thrones..'
Whaaattttttt???? I think all eyes were on me- like I belonged to a different planet...
No really, I am not a fan of violent movies/ series...and everybody started telling me how it is more than just violence, how it is one of the greatest show..etc etc..
Seriously if I had internet, I would have seen all the episodes there only in one go just to make them quiet.
I pretended to sleep for the rest of my journey. No more Jon snow and no more discussions on who deserves the throne...I simply didn't care!!!
---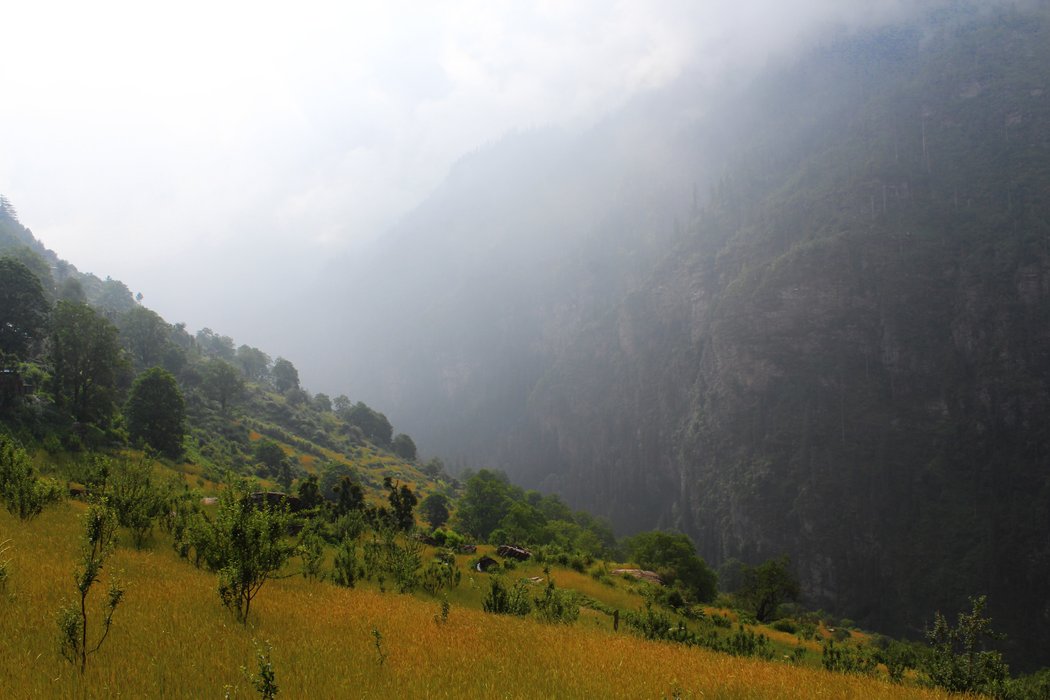 ---
And we reached passing through rice paddies, forests, dirt tracks, the gorgeous blue Pabbar river, and pretty villages to Diude . the last two hours was a bumpy ride due to shabby road conditions.
From Diude it was 2 hours uphill walk to our base camp, Janglik at altitude 2,804 m. It was a difficult short climb after a long ride but the route was so captivating and I was excited for the journey that I didn't feel tired at all.
---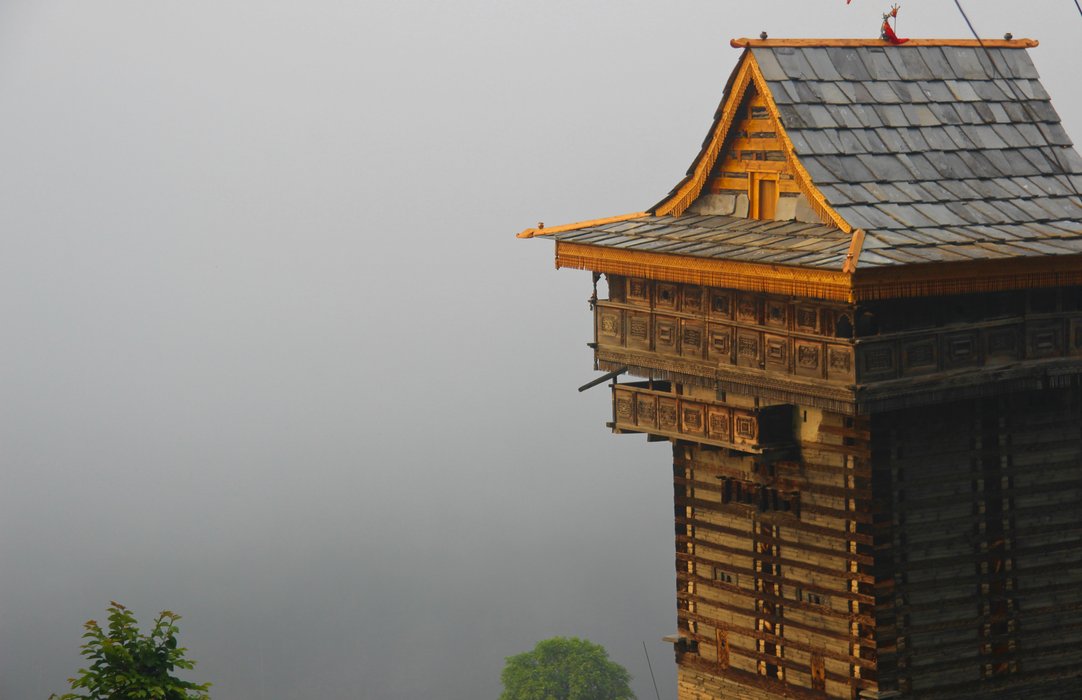 ---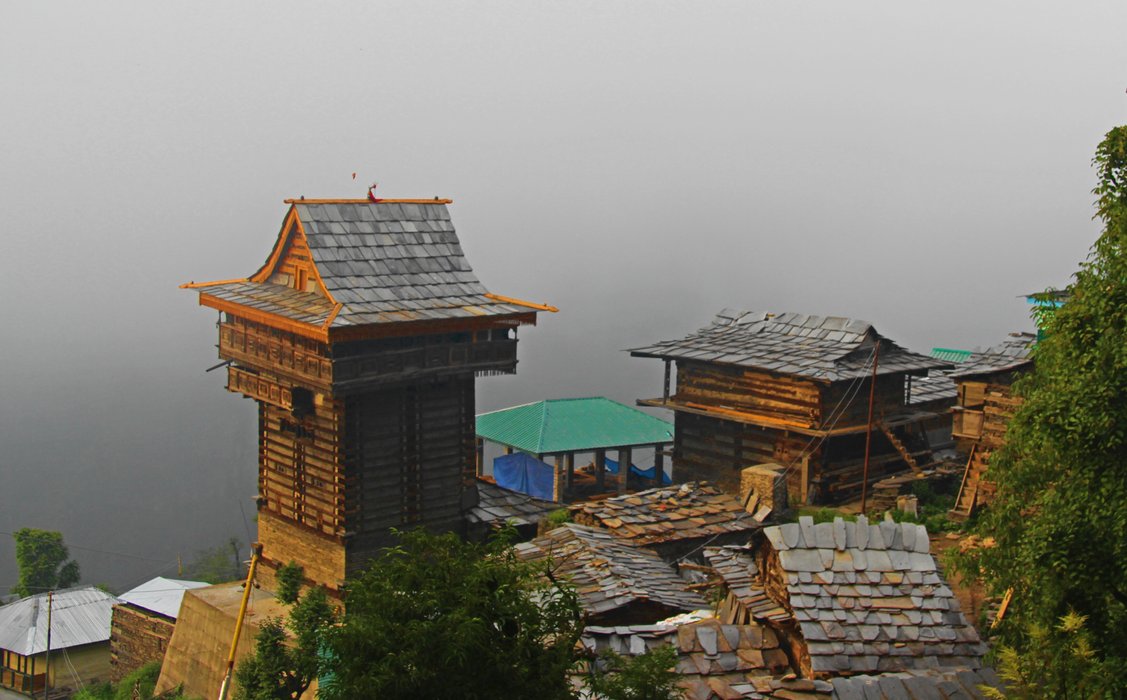 ---
Janglik has few wooden houses, and after having our dinner we rested in one of them. By now I have become an expert in folding and sleeping inside a bag. So slept like a baby all through the night.
---
At Janglik
---
Next day we left for Dayara, which was around 5-6 hours journey from Janglik climbing from 2,804 m to 3,376 m.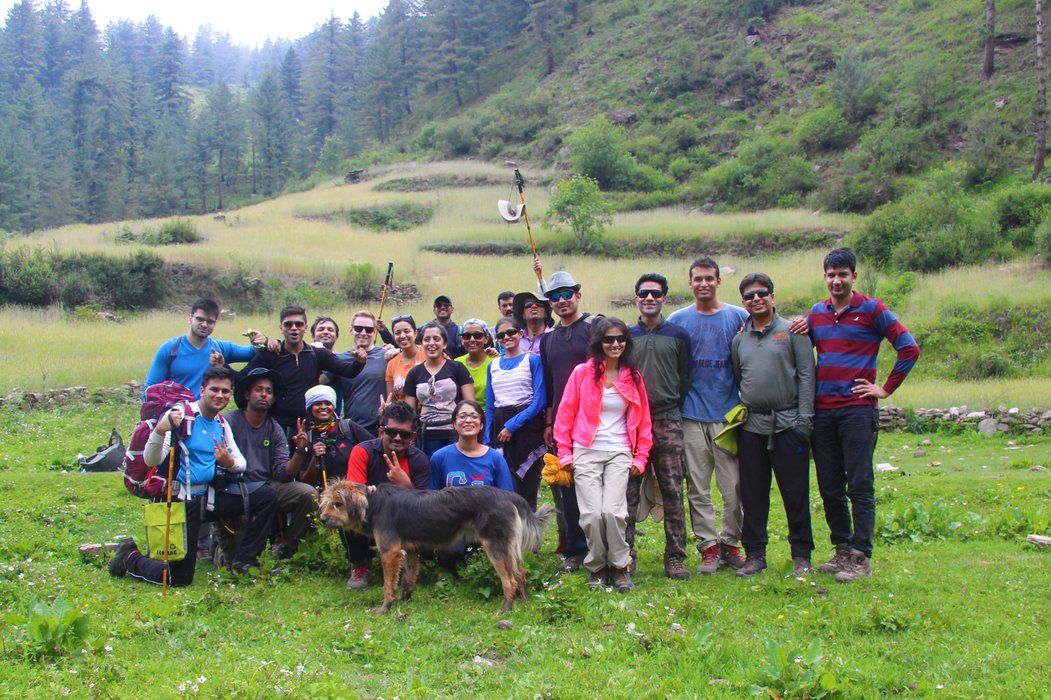 ---
I forgot to mention, it was a big group of around 20 and I was not really excited about it, I love the silence on the mountains, and on this trek there were people everywhere, talking loudly, clicking pictures...anyways this was just the beginning!
I decided to walk alone... it was an easy walk into the forest, and I found something...
---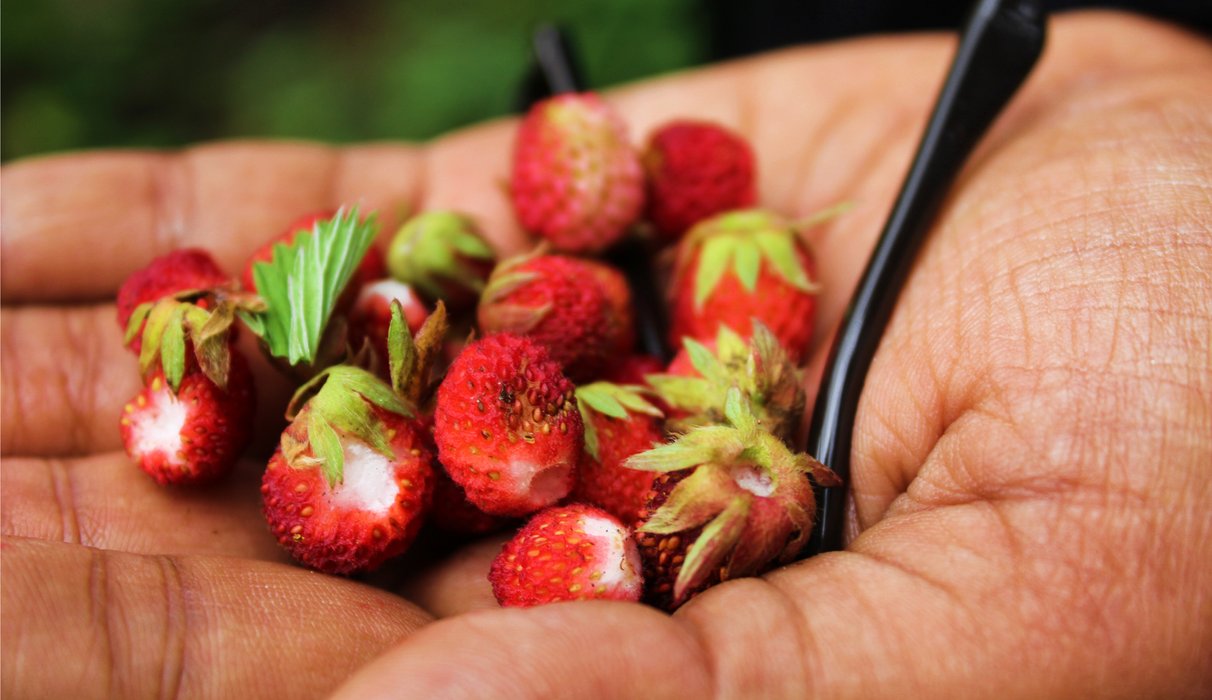 ---
Wild strawberry...Woah ...never seen one like this..since I was pretty fast from rest of the group, and had the luxury of time and so picked up a good amount of strawberries on my way and ate some too.
---
Rest I shared with the group. It was the common love for food that I and Kartik became friends. We shared some of our recipes, our travel adventures, and enjoyed strawberries together.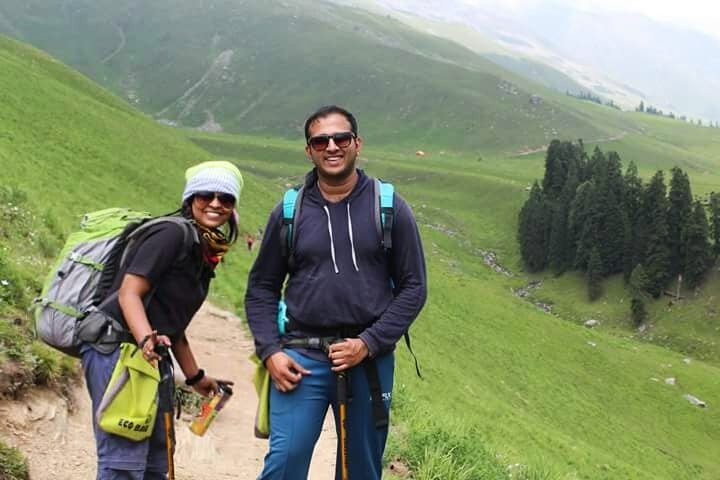 Karthik and Me
---
It was like walking in a park with few hours of ascent but a well-defined trail and such magnificent meadows and pine tree forest. I want to settle here!
---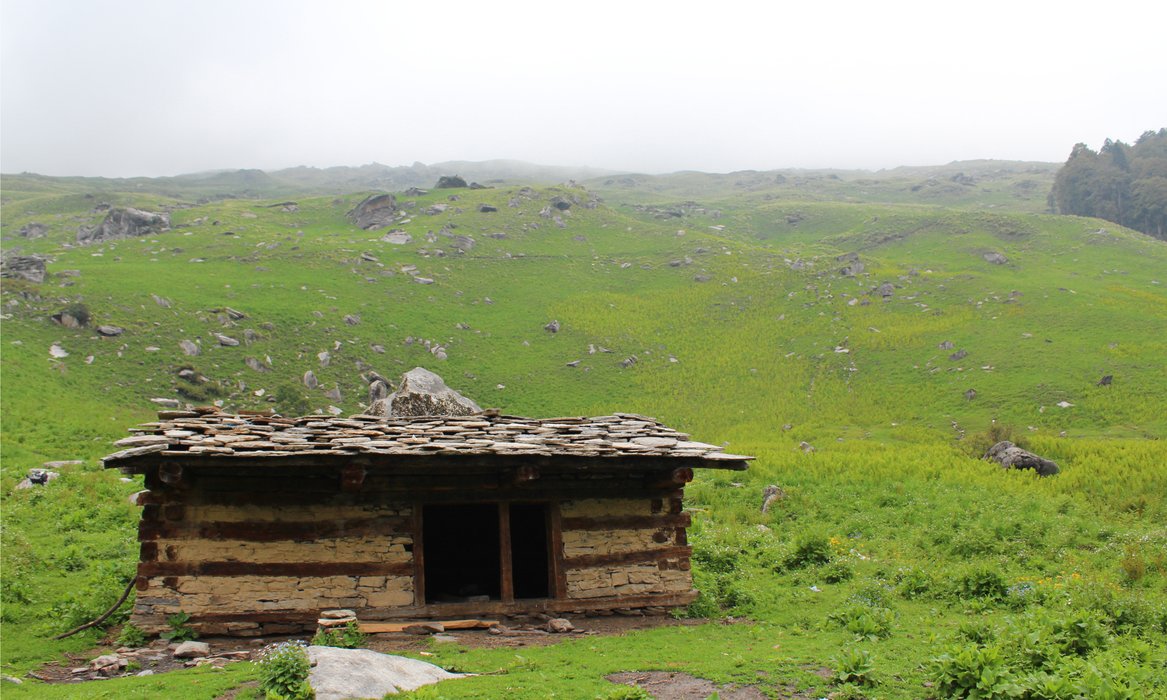 ---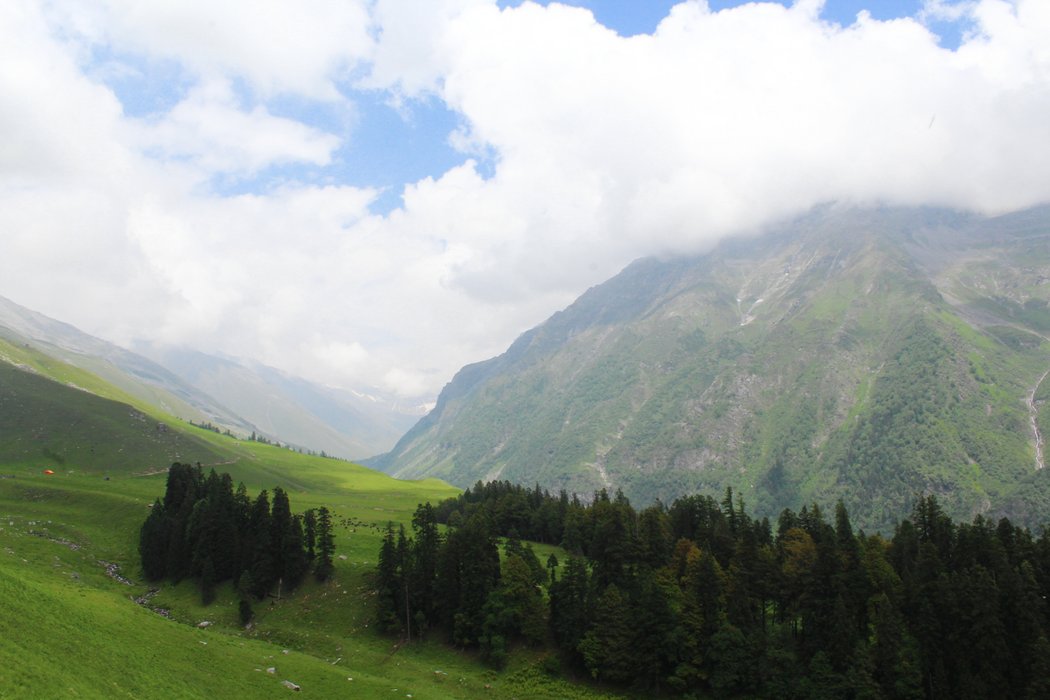 ---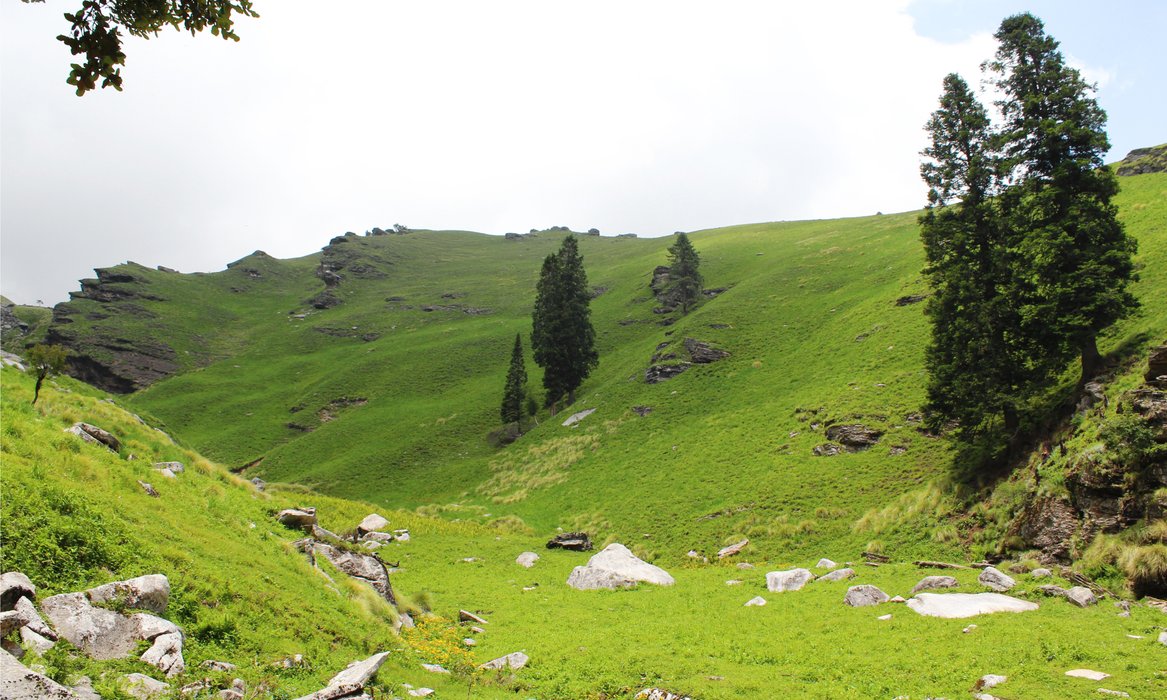 ---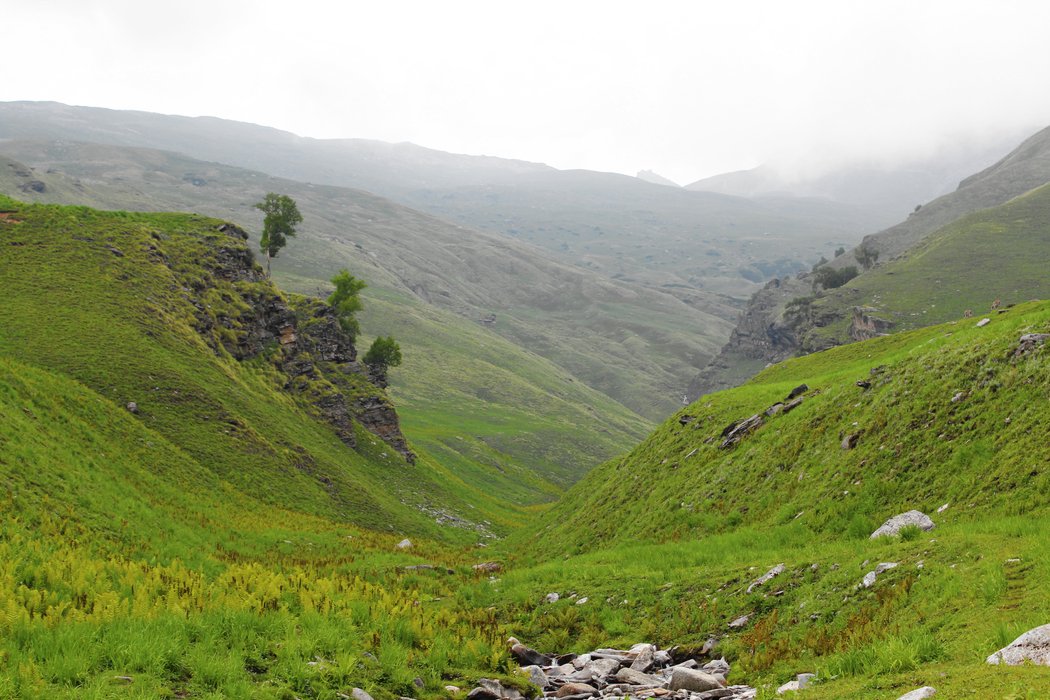 ---
Walking through the meadows, horses running around, it was one of the most beautiful scenes, and soon I was climbing the hills. its a sudden change of scenery from meadows to suddenly walking on the cliff and into a think dense forest that made this trek so amazing.
---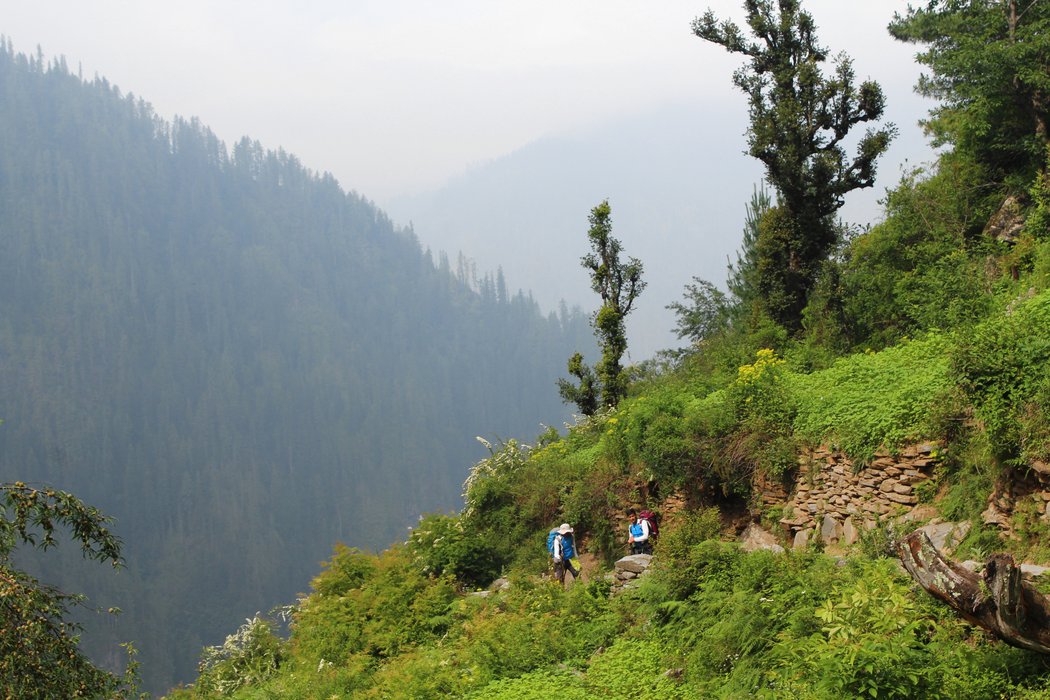 ---
Finally! There it is, our base camp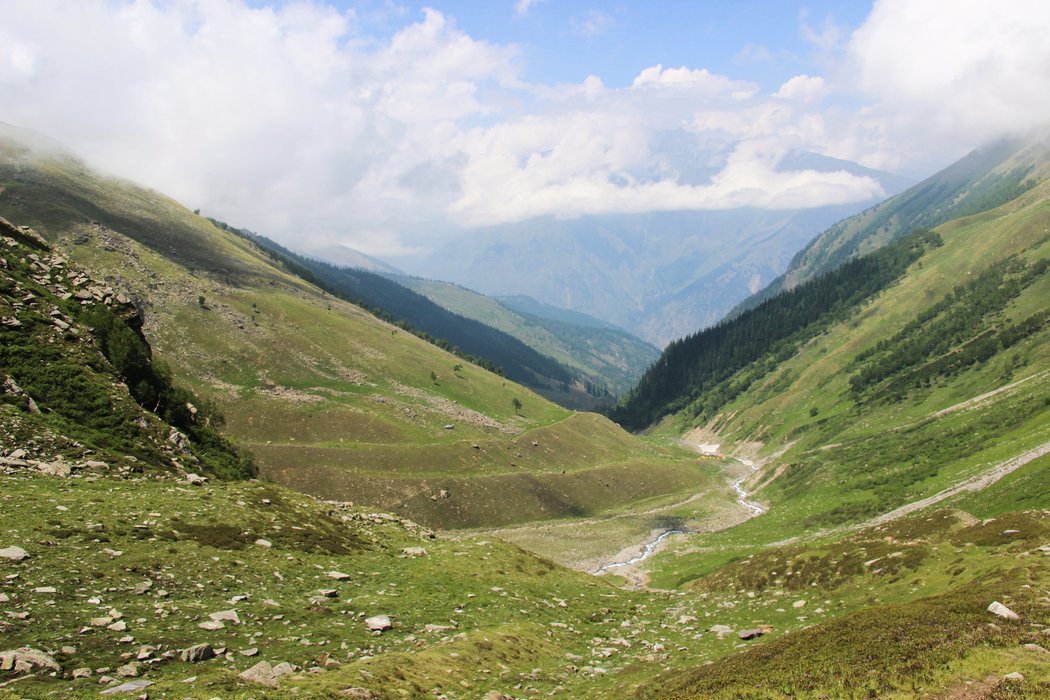 ---
We reached our campsite at Dayara around midday and had our lunch. It was time for exploring Dayara meadows. One cannot stop admiring the mountain range which keeps hiding behind the dense layer of fog. 'Now I really want to live here forever!'
---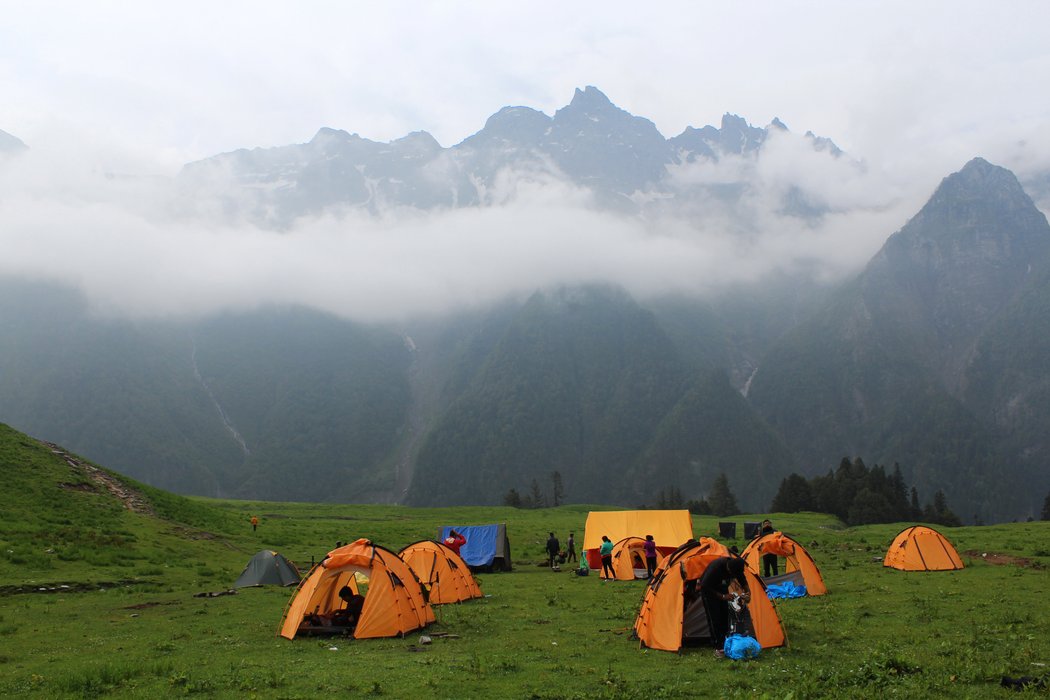 ---
It was a picture perfect view from the campsite. the vast green meadows looked like a fairyland. All the groups quickly settled in their tents and I shared my tent with two other girls who were traveling solo just like me.
---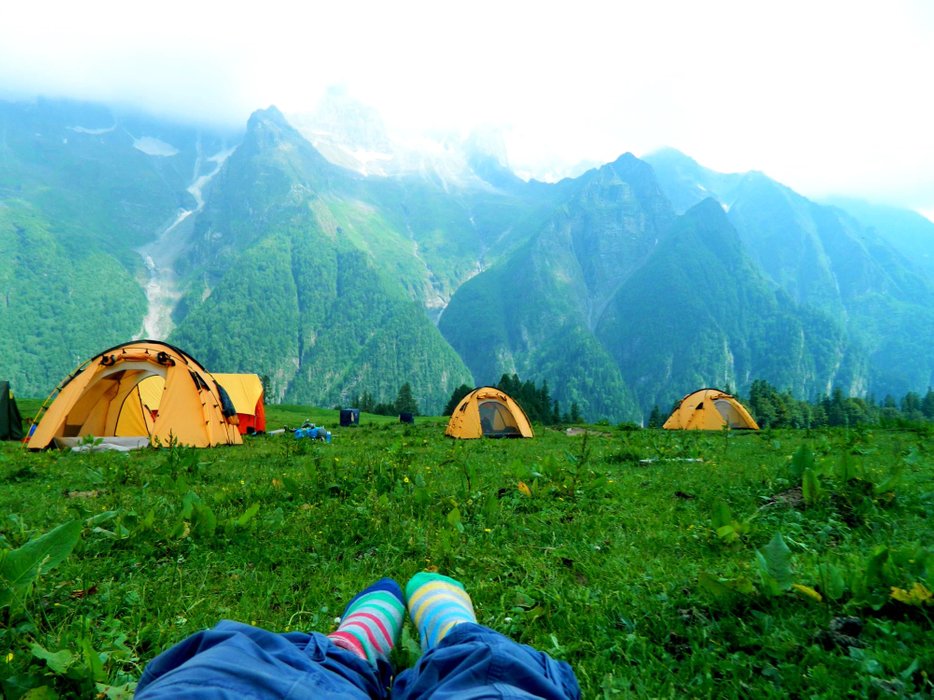 ---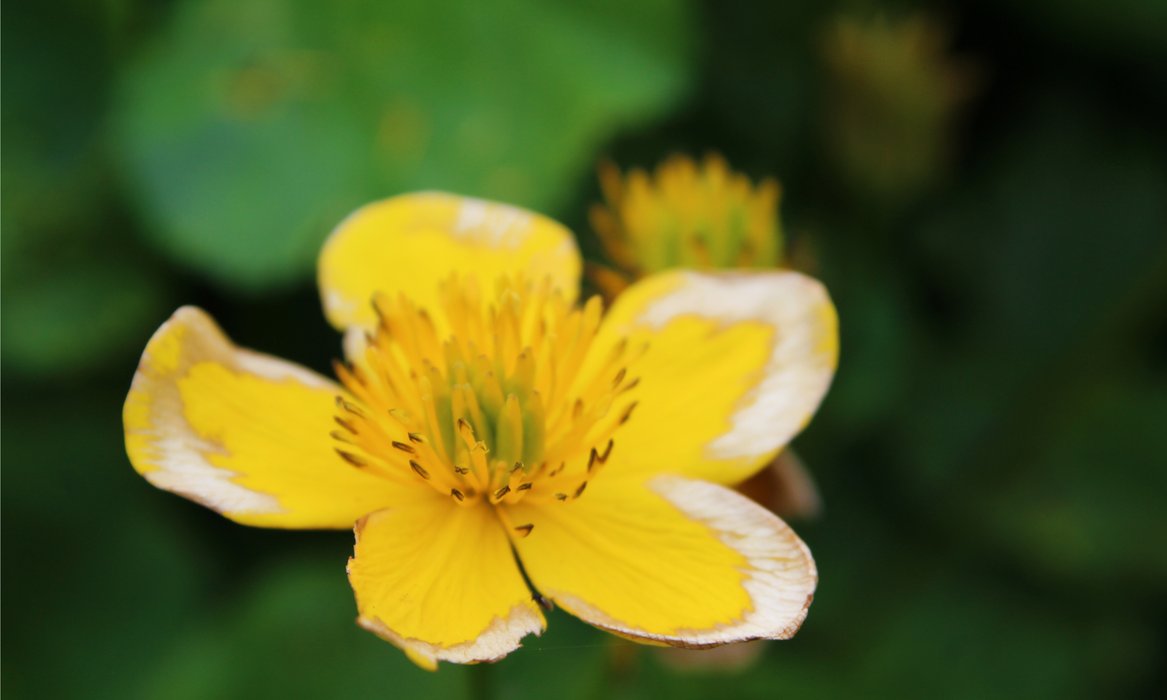 ---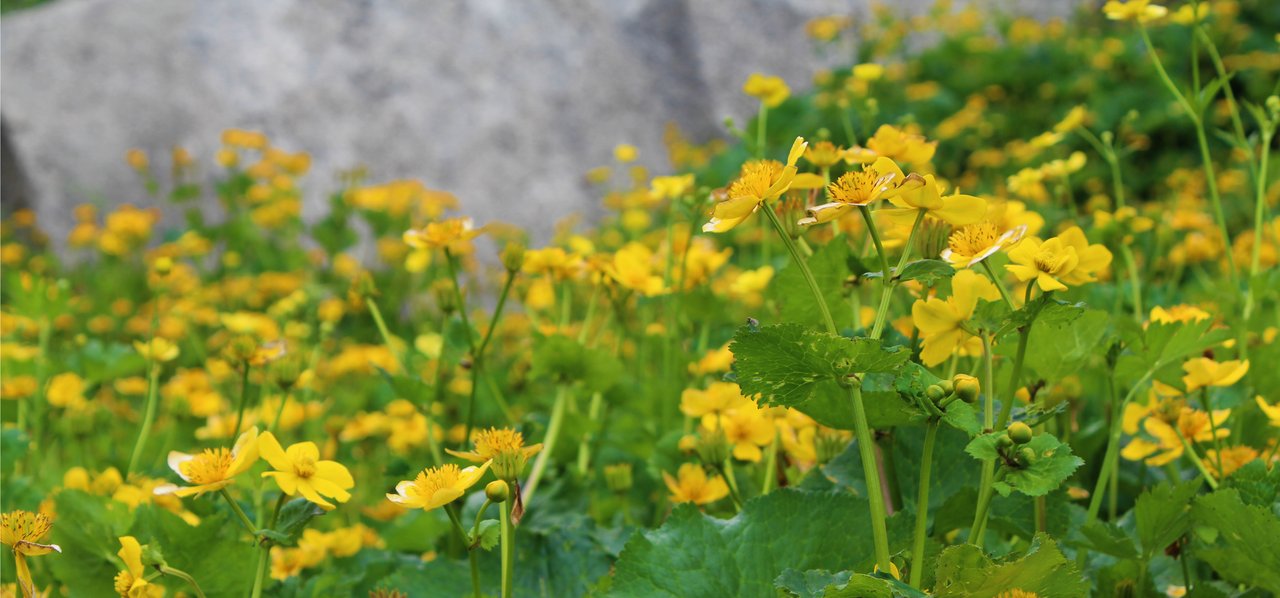 ---
It was time to wander around, I left with Karthik and Gayatri (my tent partner) for a walk uphill taking pictures, but soon we were running down as the weather suddenly got bad. It suddenly became very cold and started raining, with no other choice we were once again in our tents.
---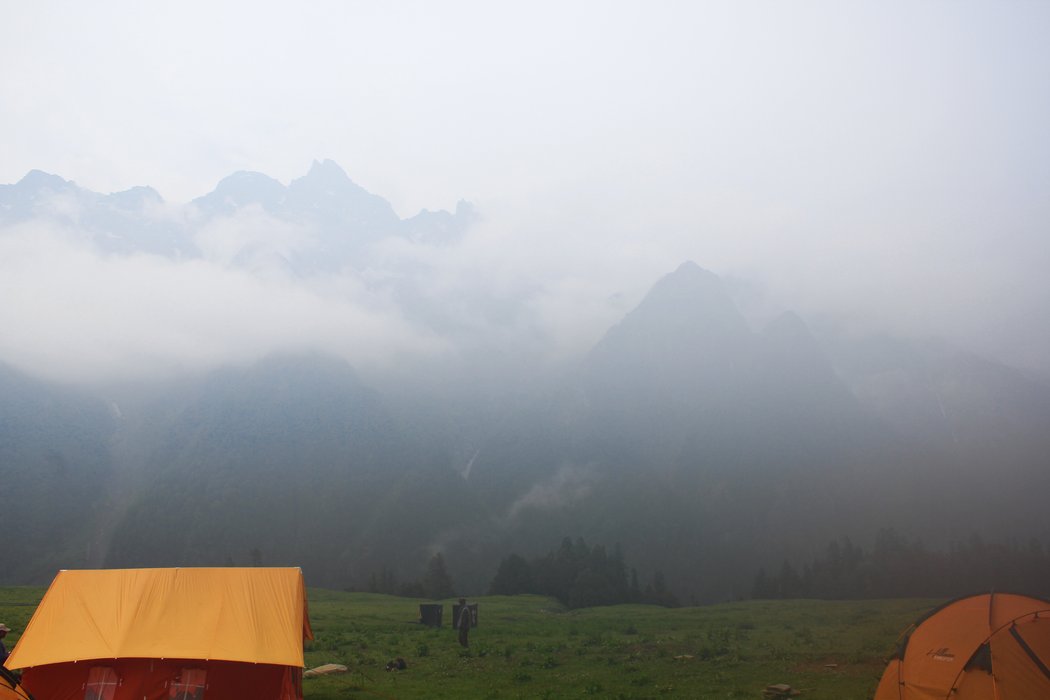 ---
There was no way we could have slept through that thunderstorm with snakes, and mountain lizards in the grass. There were hundreds of insects in our tent, and it took hours to get rid of them.
Soon I realized
"I have a comfortable bed and a home with no insects or lizards'' and that's the reason I don't live here!!!
---
Time for playing cards and some local drinks which the guys picked while coming from Shimla. It was fun, we played till the wee hours while everyone slept.
We were to leave for Litham the next day, but due to heavy rainfall all night and morning it was decided to camp for another day.
While everyone cribbing, I was happy - I would get some sleep, will be able to go uphill again and enjoy the meadows one more day... :)
---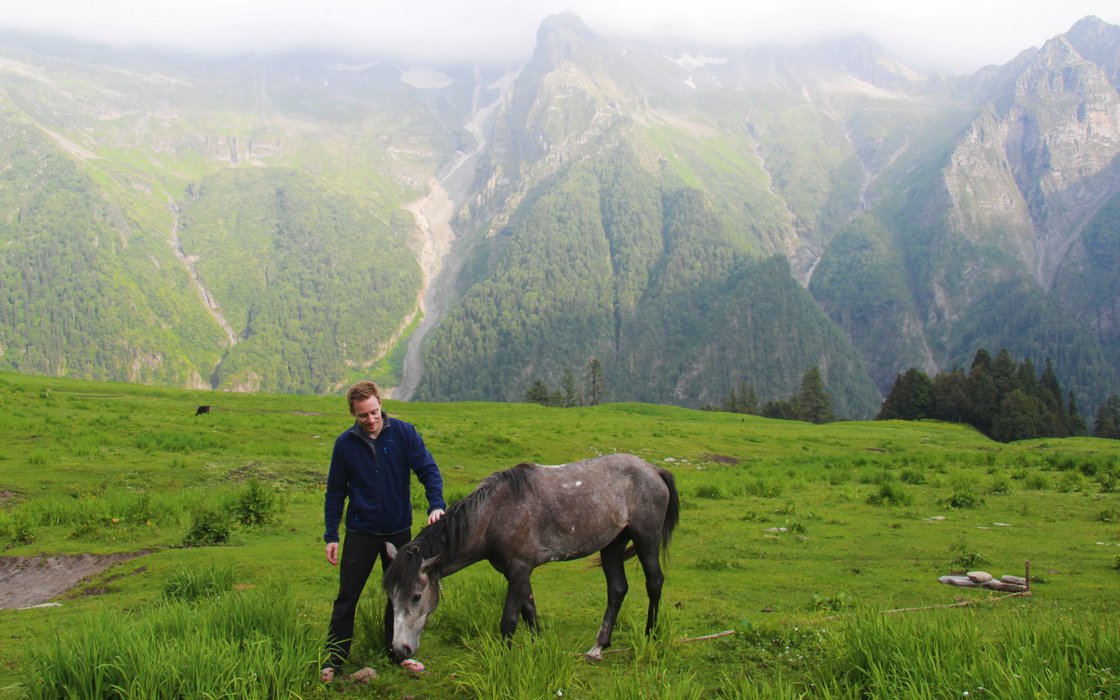 Aaron posing with the horse
---
The rain did eventually stop (for a while) and I went on walking on the hill which was a thrilling experience itself due to the wet and slippery surface.
During our two day stay at Dayara, I never once saw the clear sky.it just made the whole place more magical.
It started raining again at night ..and now I was worried...
If it doesn't stop, we might have to go back because we need to cross a river to reach next campsite.- Karthik informed
I don't want another uncompleted trek.
And luckily it stopped after a while. It was a calm peaceful night...
---
"The way up to the top of the mountain is always longer than you think. Don't fool yourself, the moment will arrive when what seemed so near is still very far." — Paulo Coelho
---
Buran Ghati Map Source
---
---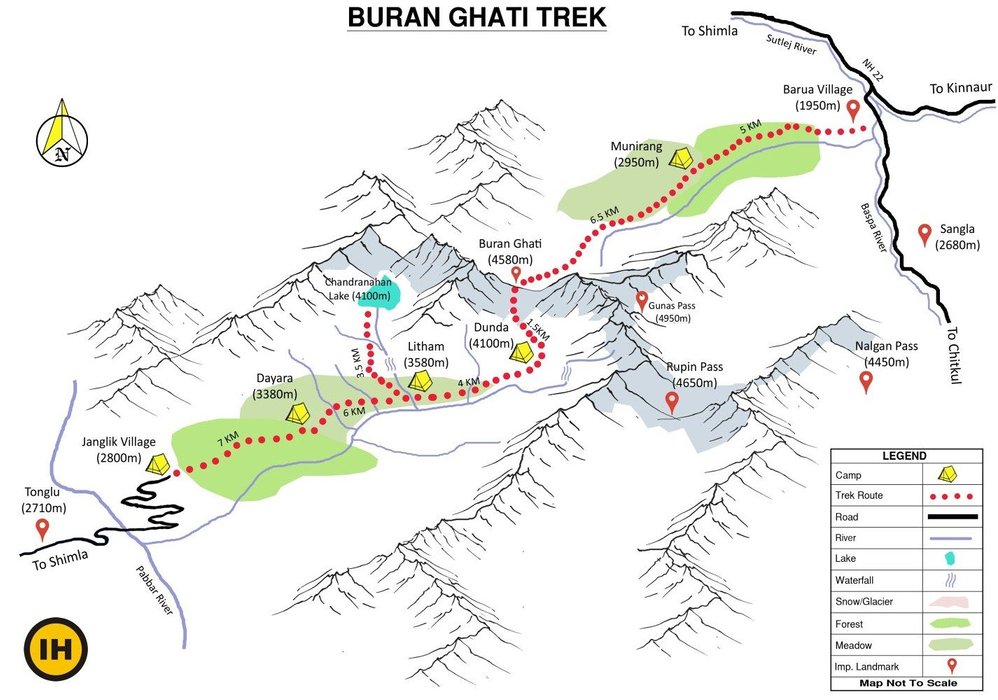 ---
Oh by the way..as soon as I reached back home- I checked out Game of Thrones series and did see in one go...
4 days and finished ...loved it totally and now anxiously waiting for the last season!!!
---
---
I hope you enjoyed reading my post and I am grateful for every Upvote, Resteem, and Comment. Until next time! 😍

Content by @itravelarts
Photos by Karthik, Aaron and itravelarts.
Love. Swati ❤️