Are you afraid of doing something? and still, love doing it?
Does it make sense??
Well, this is my story and my fear of walking on ice.
---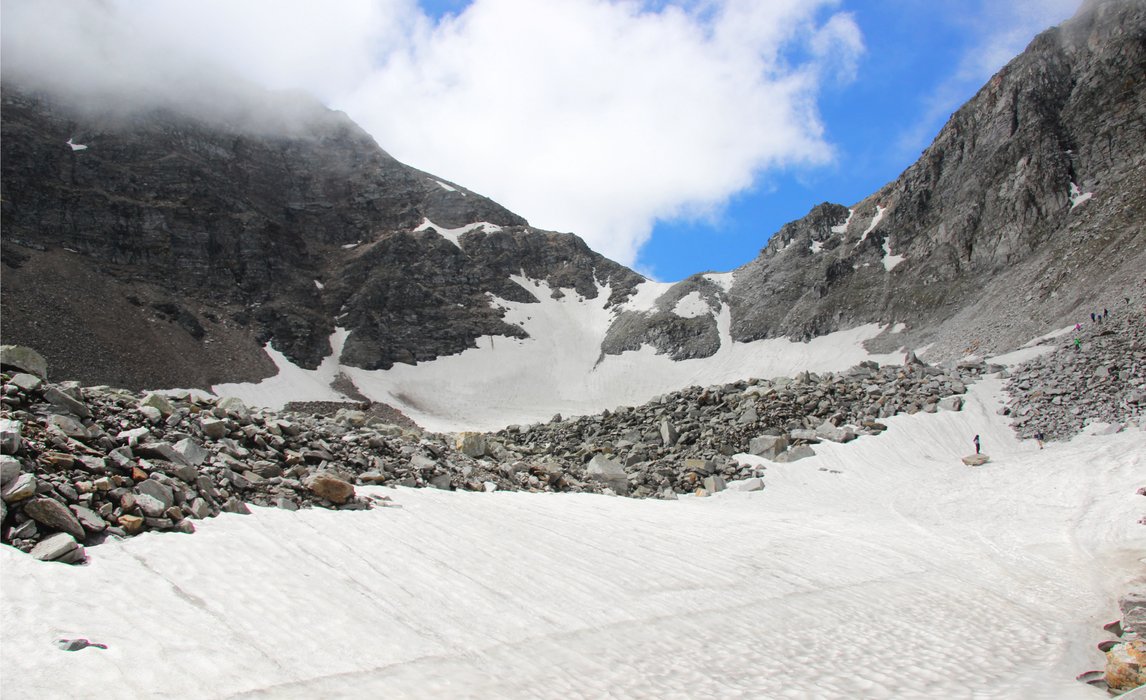 ---
Taking a Walk on the Ice Side
---
It was a gorgeous morning. I was standing with a cup of hot tea looking at the mountains when my guide said- its gonna be an amazing day, we will be walking on ice today.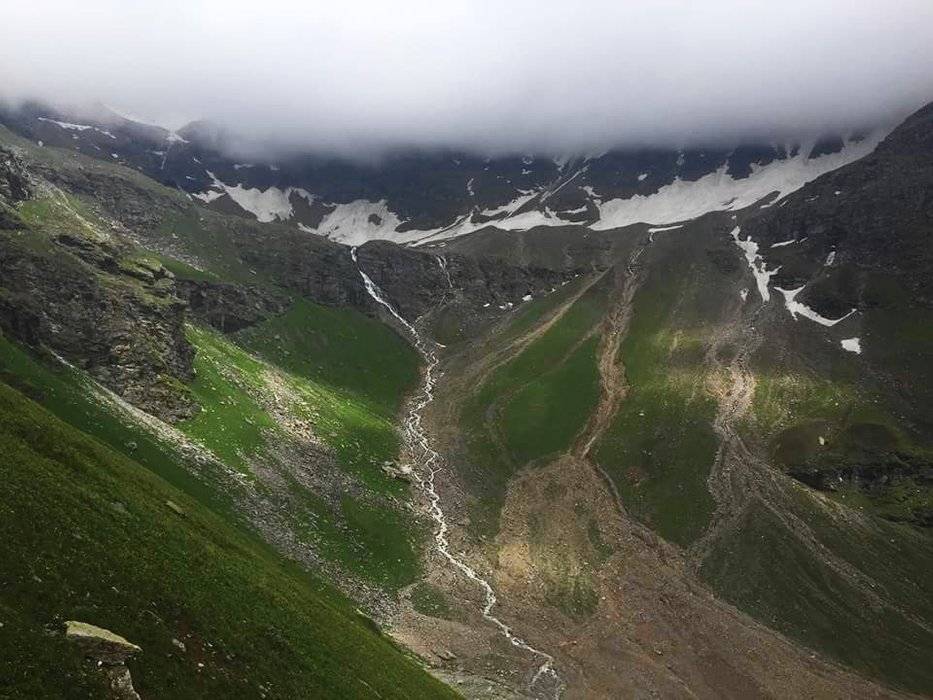 Oh, No...no.no.no..No walking on ice.
I was already nervous... I have done this walking on the ice thing before and was badly hurt...I can't do this...
I was dreading for this day since we started. I knew we had to since the beginning but was hoping it would melt by some Gods grace, or it wouldn't be hard this time!
You are strong. Its gonna be like a walk in the park for you- Guide said
After some convincing - I felt better!!!!
Let's do it!!!
---
The idea was to cross the pass and reach the campsite before sunset.
Dhunda to River camp via Buran Ghati
From 4,074 m to 3,597 via Buran Ghati (4,572 m)
Hiking from Dhudna to the Buran Ghati Pass- 1 hour steep ascend
---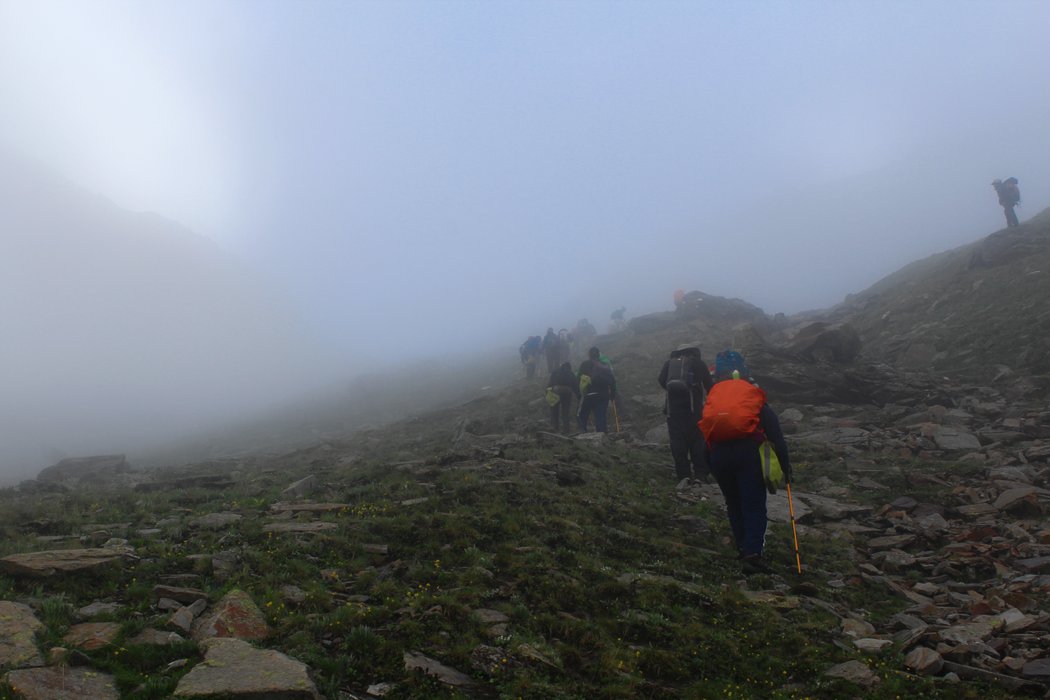 ---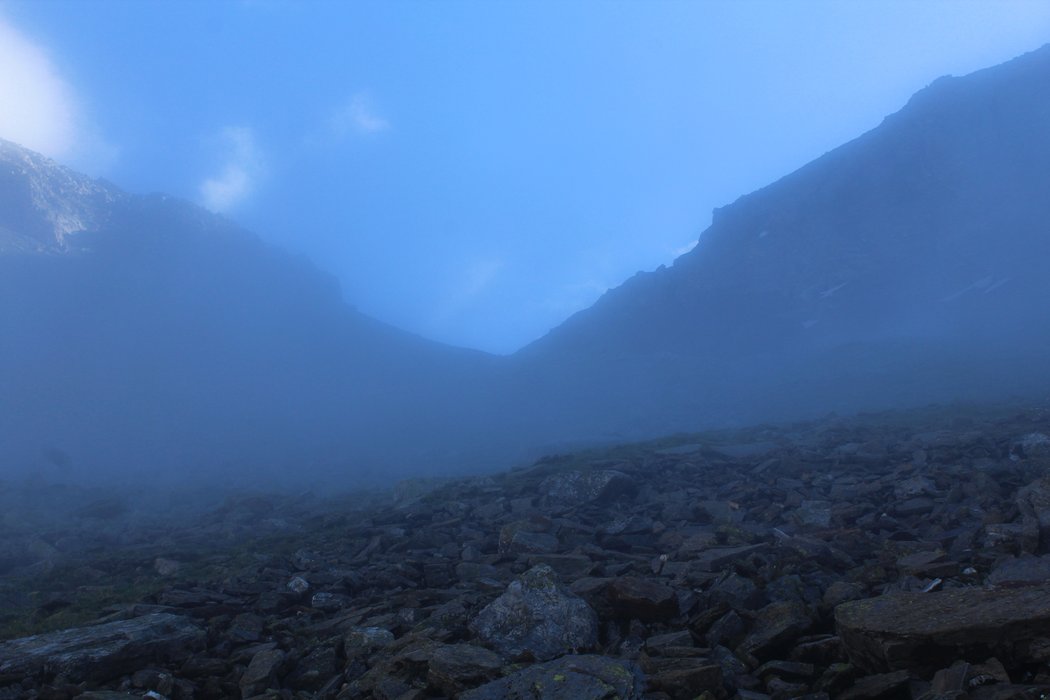 ---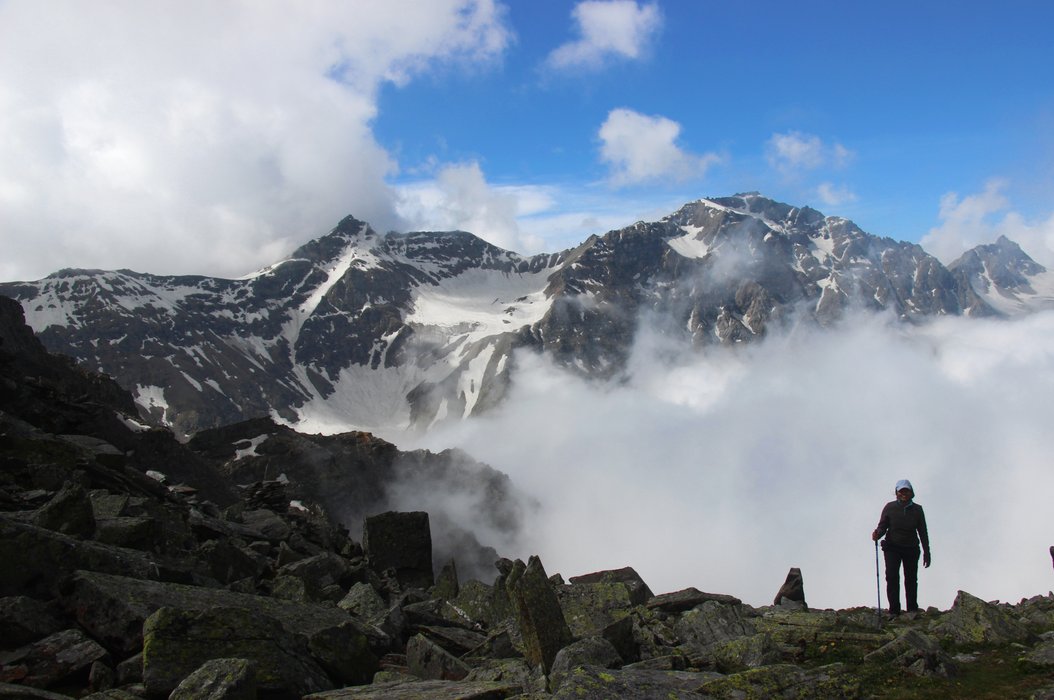 ---
An hour and half of hiking in the fog, a very tough, steep and strenuous climb brought us to the most picturesque tip of the Buran Ghati pass. It is a narrow ledge on the top. Absolutely breathtaking, and cold. The wind was harsh and suddenly the temperature dropped down to Minus. From sweating, we suddenly were in need of more layers.
---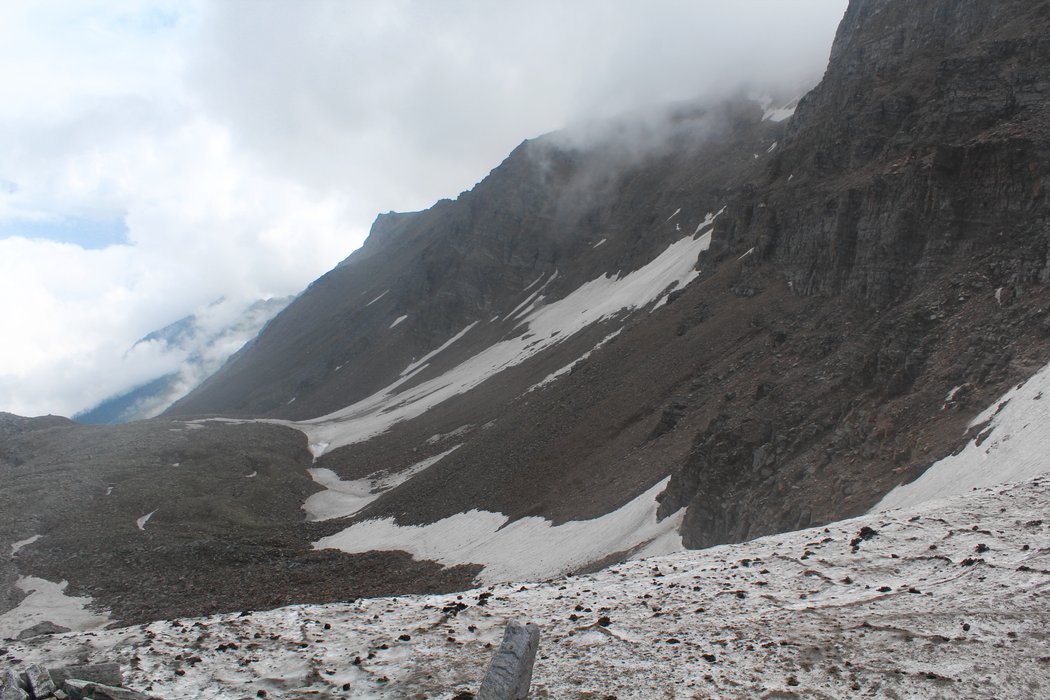 ---
I am fast on my foot, so Reached early and I was able to get a video of the stunning view without anyone around. Though it's not the best video my hands were shaking and freezing. Here is the video:
---
---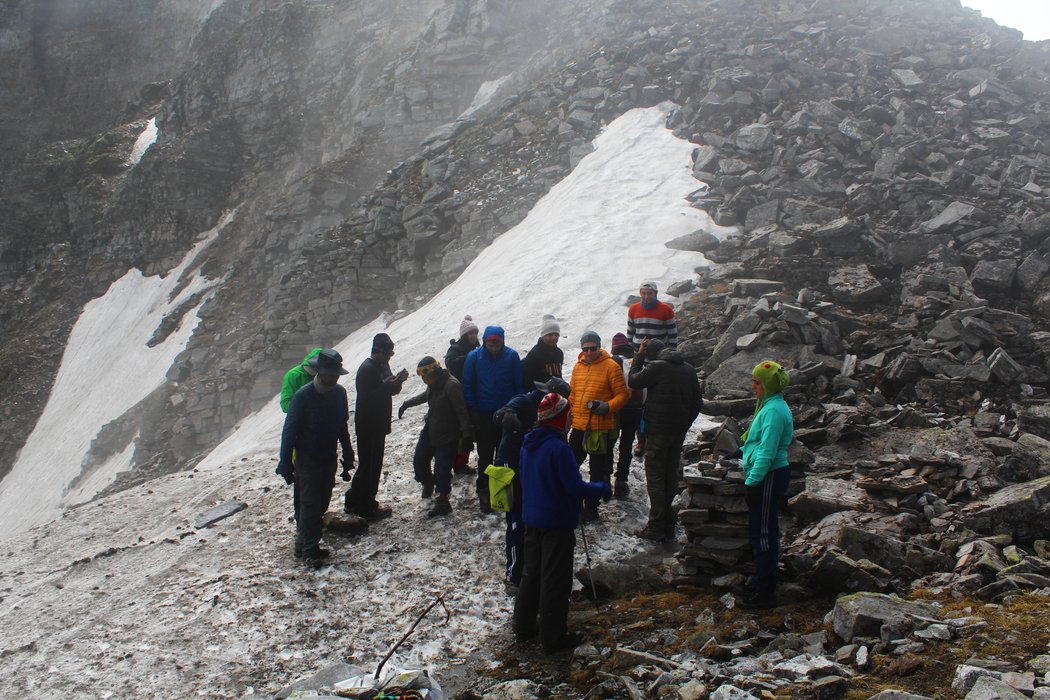 ---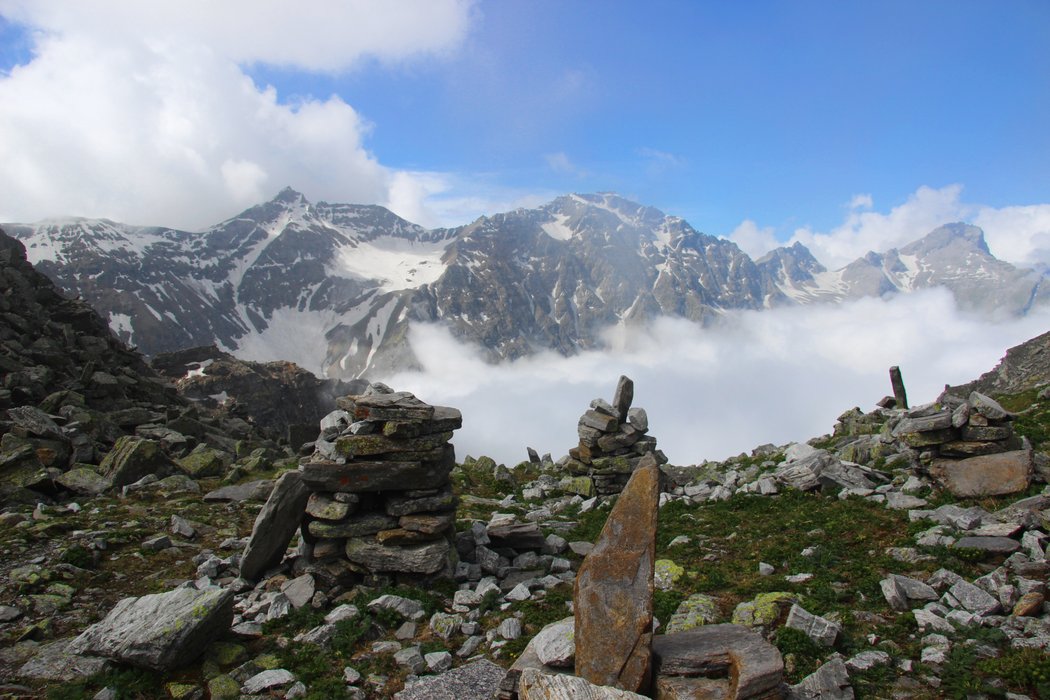 ---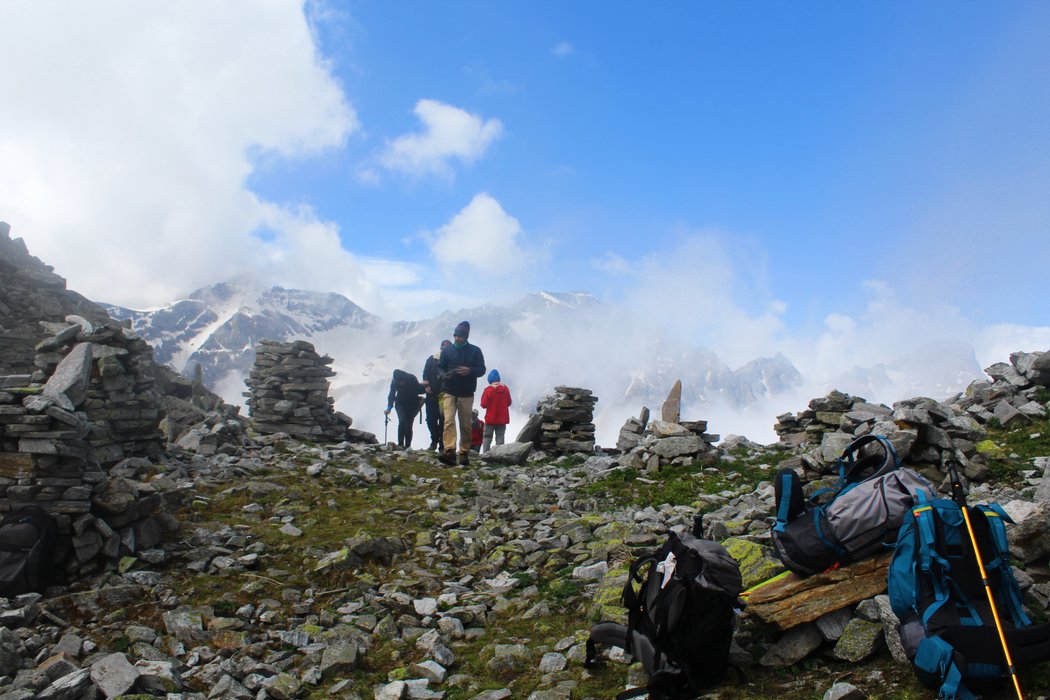 ---
Customary Group Picture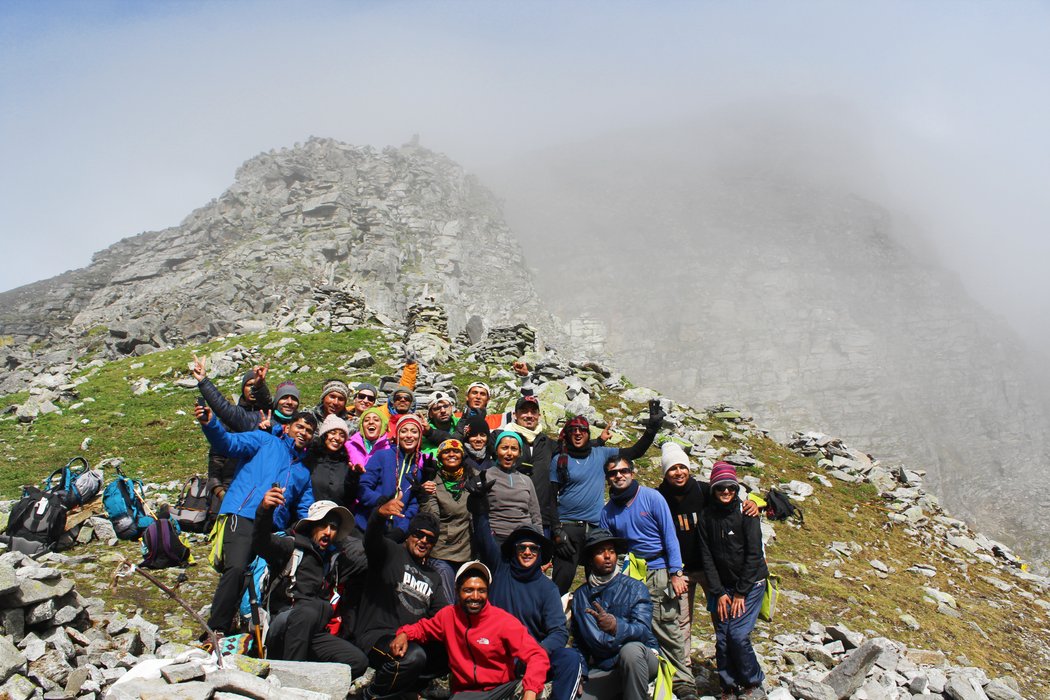 ---
It was difficult to stand on the ridge as the wind started hitting hard on the face. But the descent down was not easy and required the whole team to go together. It was a risky place to be with stone falling from above. We reluctantly began our rocky descent.
---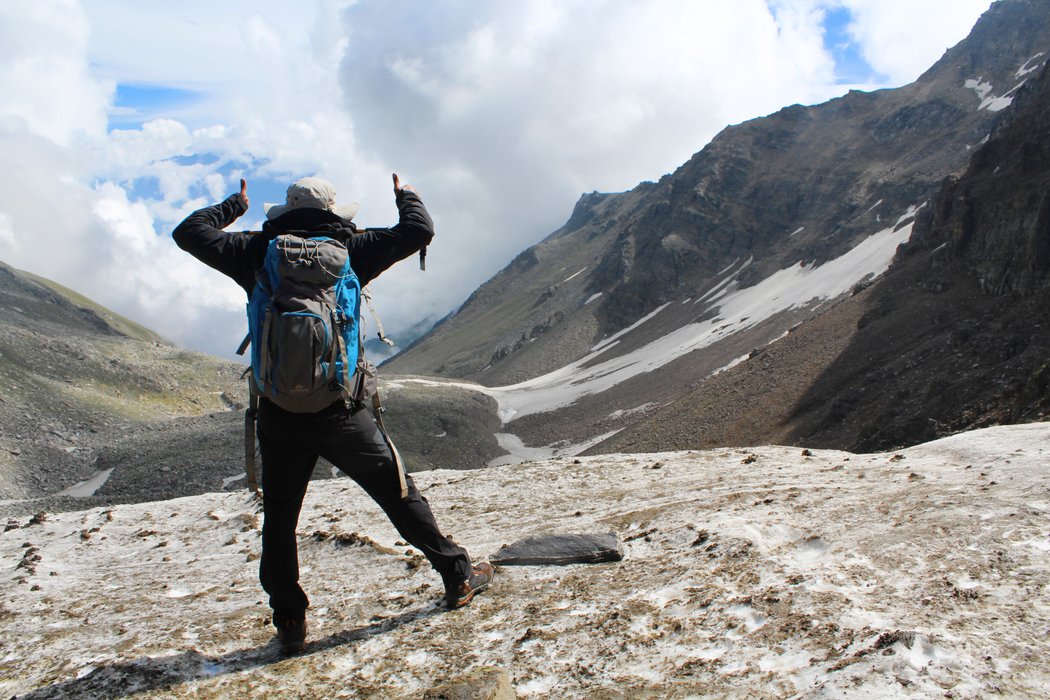 ---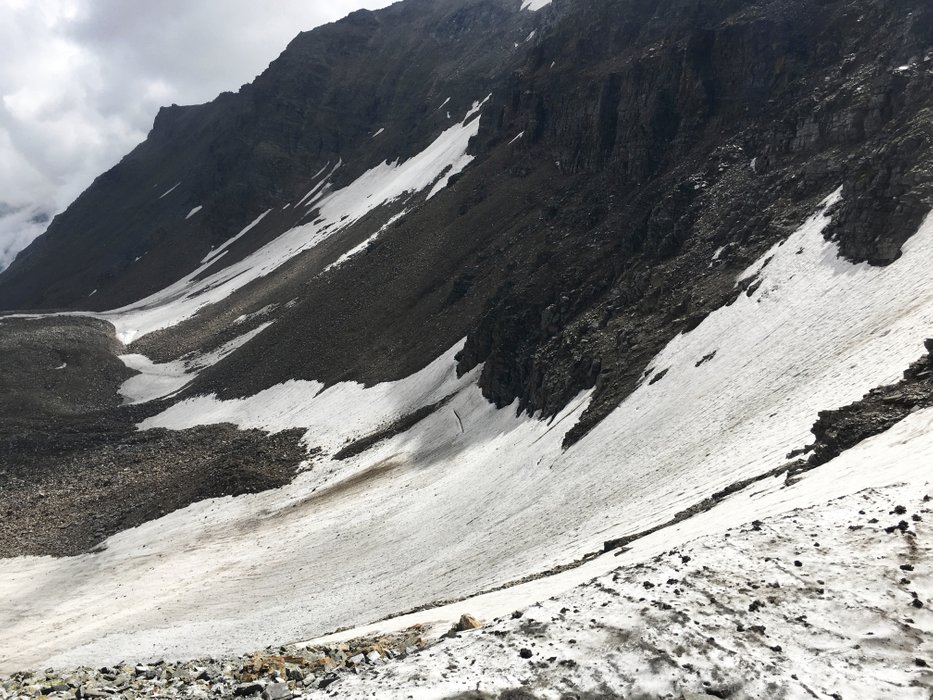 ---
Walking on ice. This is one thing I hate more than anything.
No seriously, even with just sitting and sliding I will get hurt.
Everyone was having fun, playing on ice while I was trying to maintain my balance but still fell down several times.
I think it was more because of being nervous about walking on it, that I made more mistakes...But I couldn't help it.
---
I looked up...wow..I loved the whole setting, it was gorgeous. I was in the middle of the glacier, snow peaked mountains around, it was nothing short of amazing.❤️
---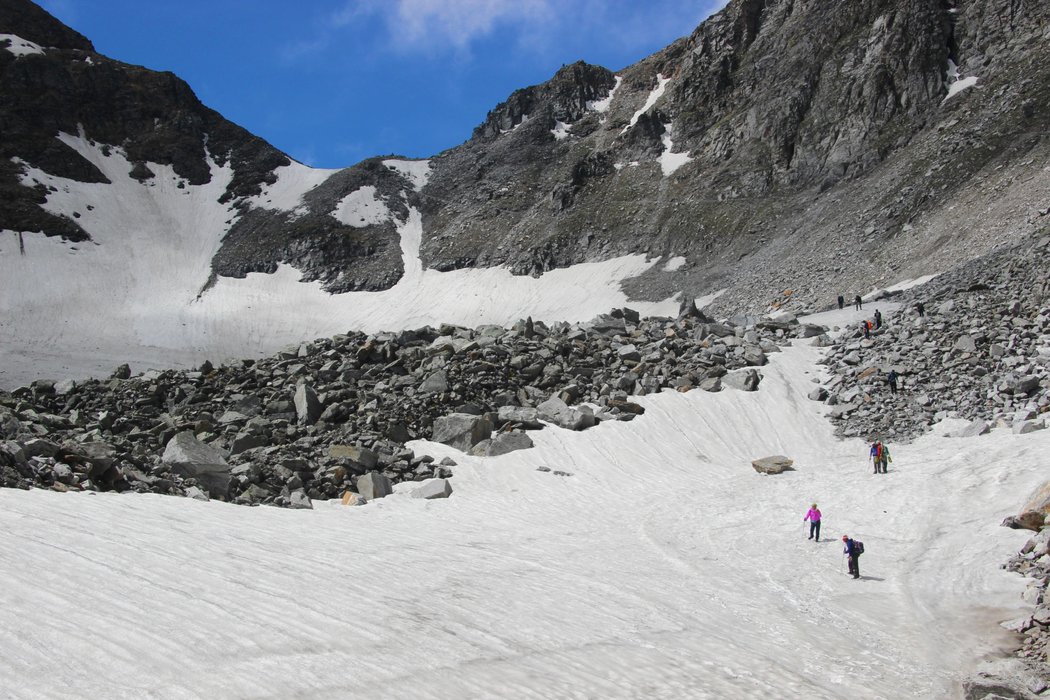 ---
But why can't I walk?
The guide kept telling me- walk like a penguin, walk like a penguin...
I wanted to scream I am human dammit! I don't know how to walk like a penguin....???? Just get me out of here!!!! But I didn't.
I know, I know ...He was just trying to help, and he was probably right!!
But I was tired and frustrated because of falling, and not being able to cross, while everyone has already reached to the other end and started having their packed lunch.
To calm myself I reached for my water bottle and BAM!!! I fell again!!!!!! And this time pretty hard on my left hand.
NOW I QUIT...
---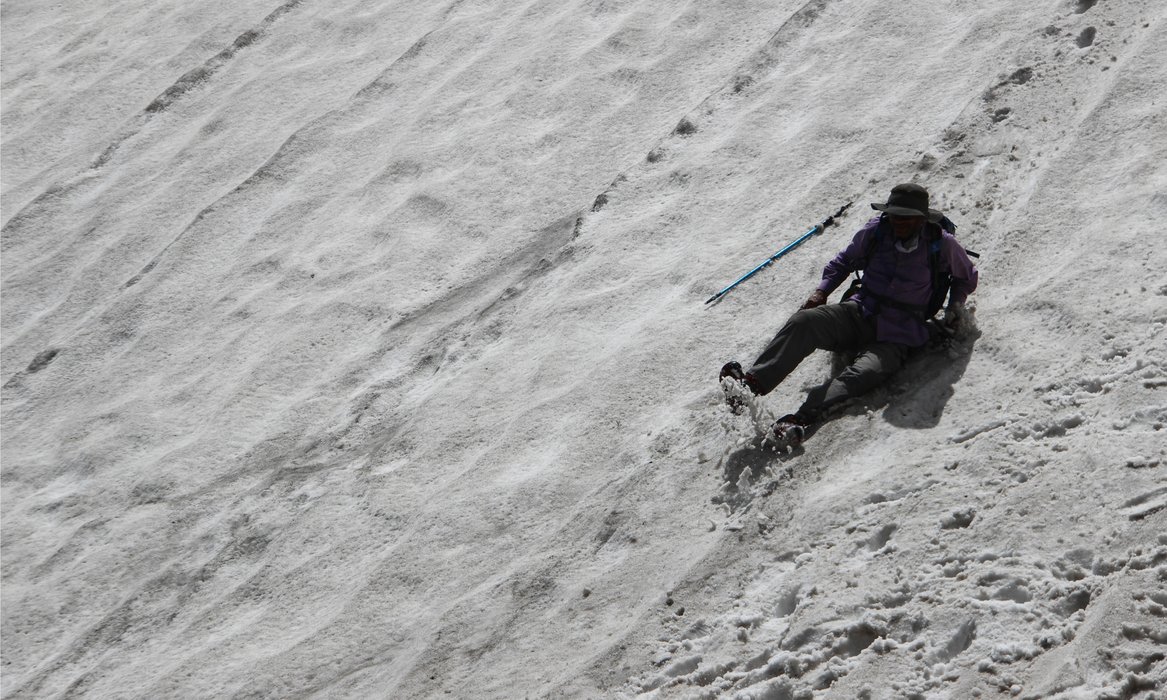 ---
But soon came to my senses and realized I am in the middle and even to go back I had to cross the same ice floor.
REALITY CHECK- no helicopter is coming to rescue me!!!!
Haha..ok I was overthinking..but I needed to weigh all my options.
During this entire walk, I sweetly cursed myself several times for coming here...
---
"No one saves us but ourselves. No one can and no one may. We ourselves must walk the path." ― Gautama Buddha
---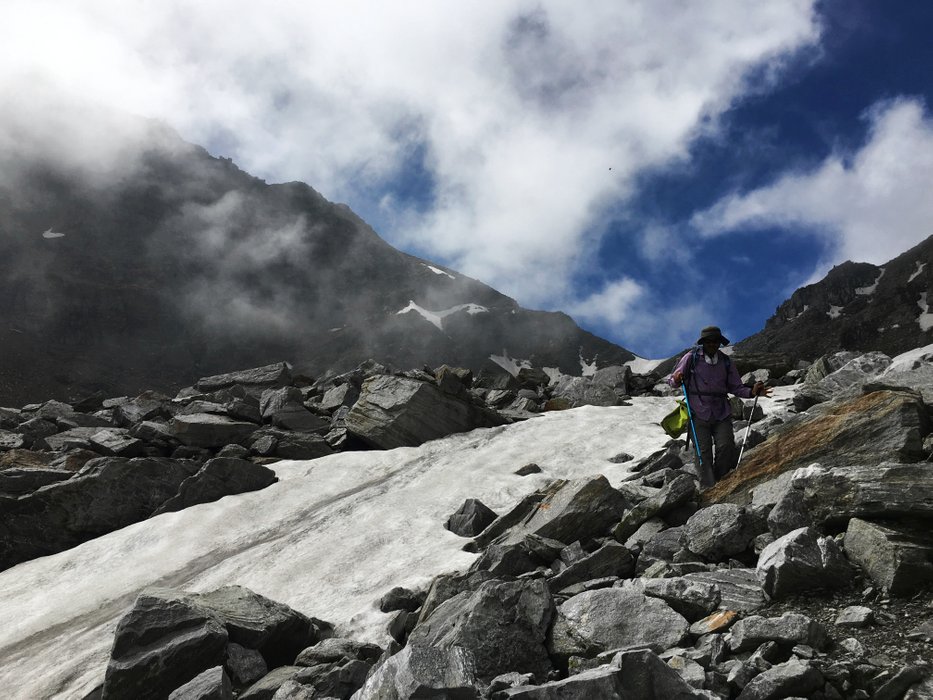 ---
So with no other choice, I walked, constantly thinking – I can't miss my lunch...some motivation was much needed. Finally, with all the help and multiple falls, I crossed it and was there in just 10 minutes.. woohoo...
---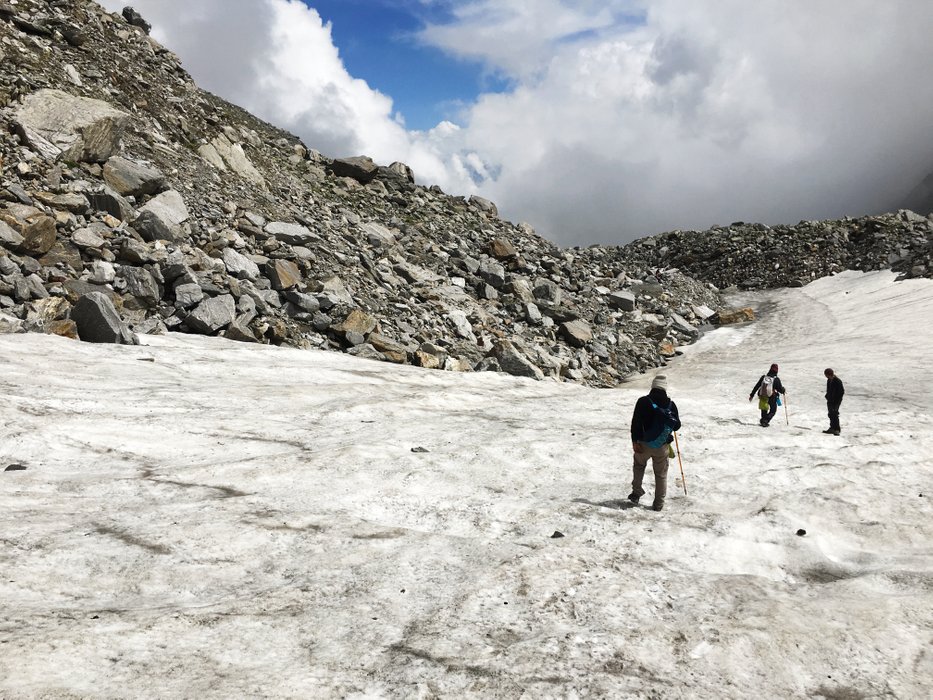 ---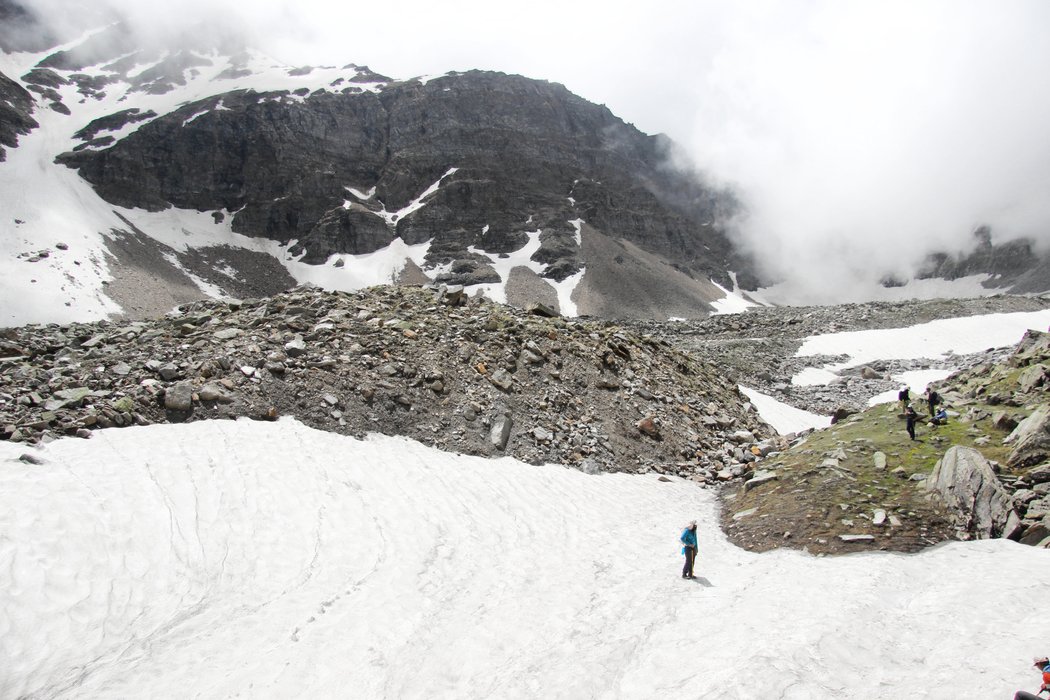 ---
Can I have my food now?
After a full belly, I was back to being a happy trekker!
---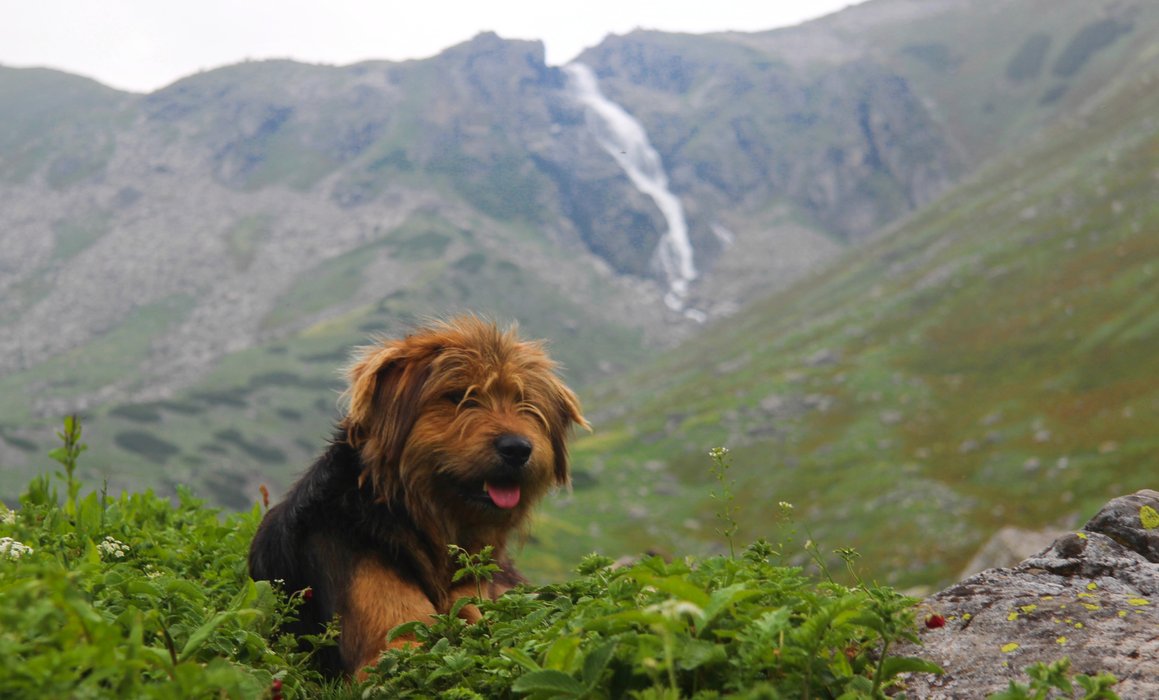 ---
While for everyone else it was like a walk in the park, but I must admit it was challenging and tiring for me. My legs were still shaking but the reward was great! No Regrets!
---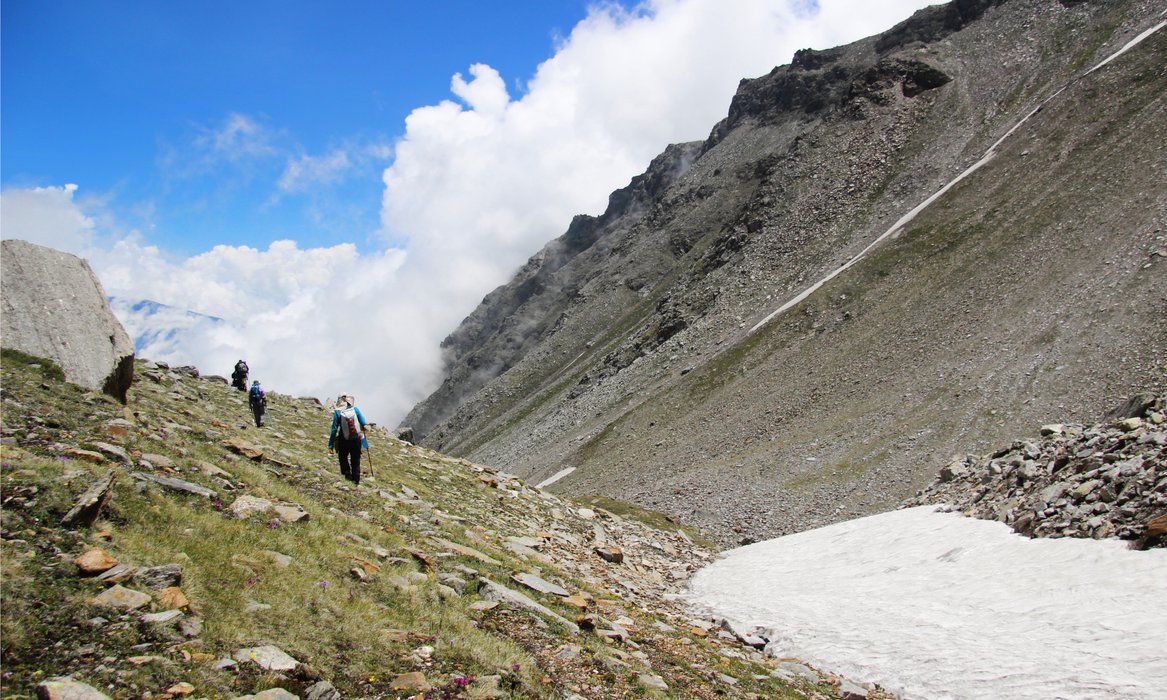 ---
It's time to continue the journey through the meadows and to the last campsite at Barua Village. It has been 6 to 7 hours since we left our last camp and we had another 4-5 hour of walking left.
The view of the valley in front was lush green as far as the eye can see.
---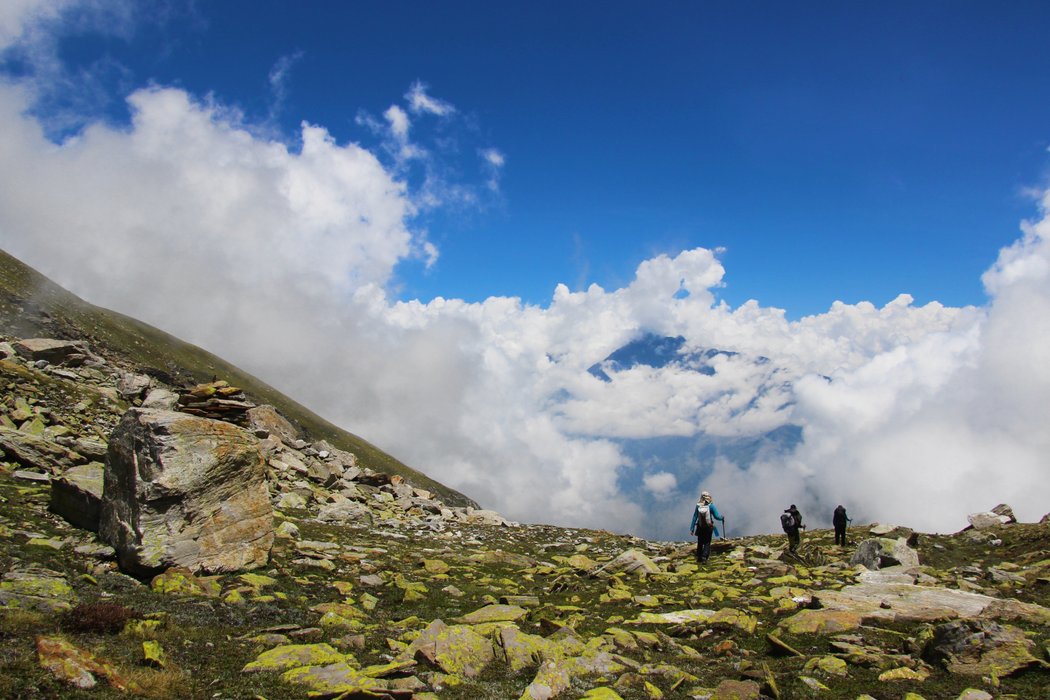 ---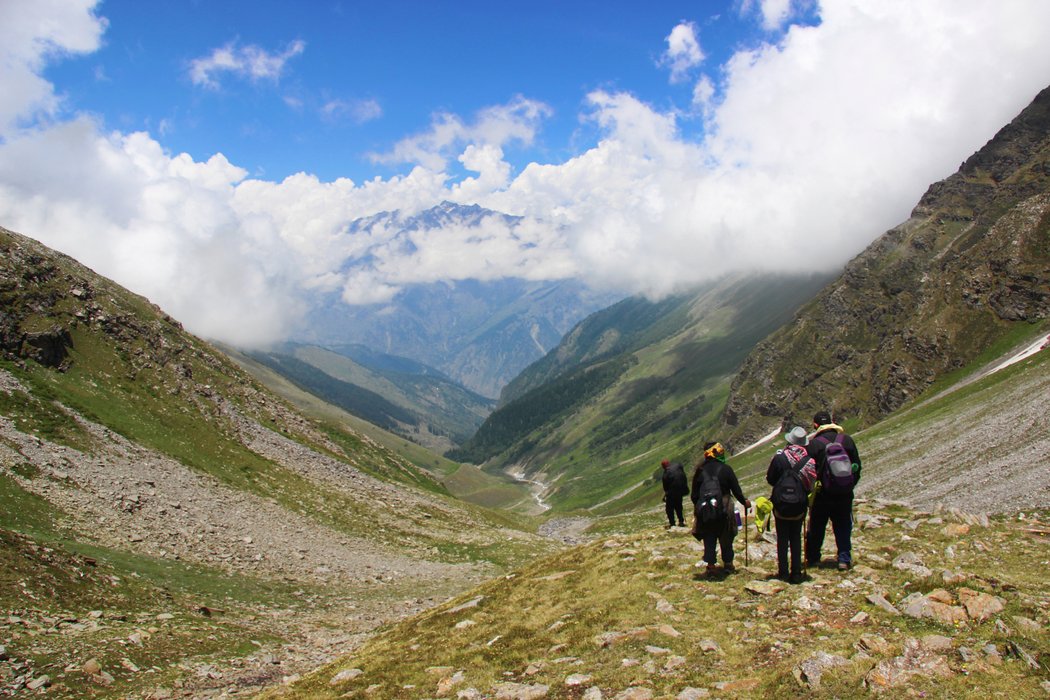 ---
It was an easy walk, we walked slowly, at our pace, enjoying this time..and reached before sunset. :)
---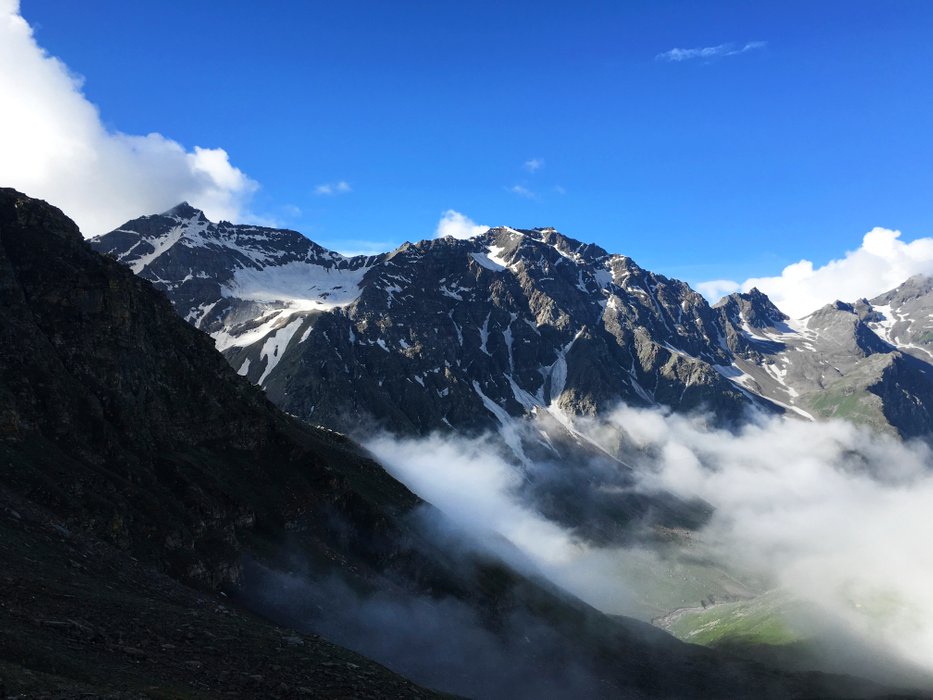 ---
One of our trekkers got badly hurt, he fell down an hour before reaching the campsite. We helped him in tucking inside his sleeping bag, gave some pain relief and was hoping for him to get better as we had another 6 hours of walking for the next day.
---
River camp to Barua village
From 11,800 ft (3,597 m) to 6,700 ft (2,042 m)
---
That mixed feeling of going back when you don't want to leave the amazing place but you also desperately need a shower and bed with pillows.
I was slow today may be because this felt like home and I didn't want to leave, or maybe I was just tired. Anyways everyone left, except me, one of the guides, my tent partner and the guy (Vinay) who was hurt.
---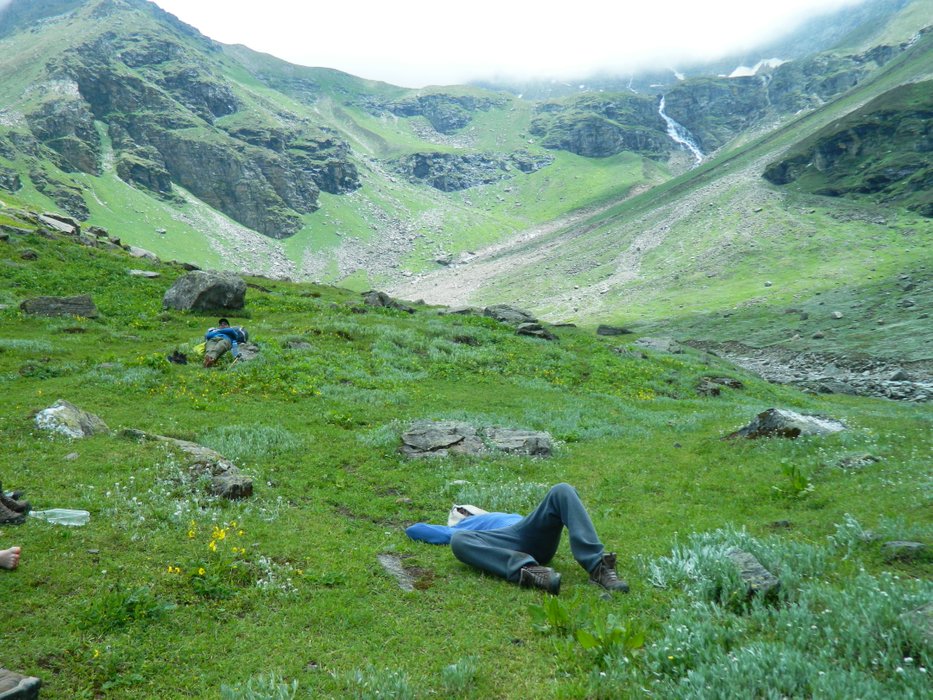 ---
His knee was hurt and he needed help. It was an easy descend but we had a long way to go.
We helped Vinay in getting down, especially whenever there was a climbing involved, and encouraged him to keep going.
---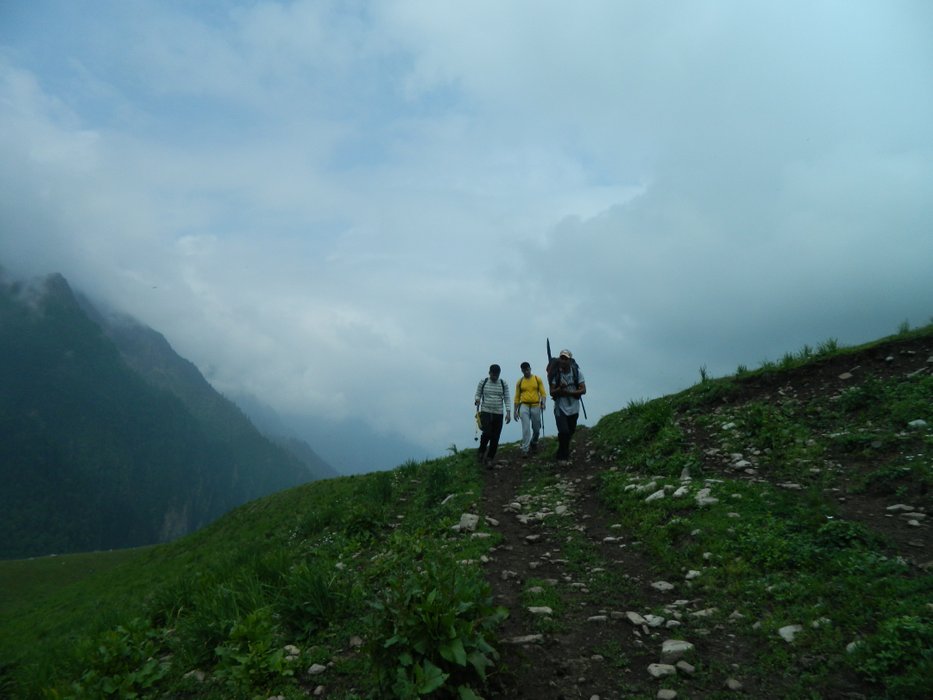 ---
The trail is full of surprising changes in scenery that makes it an absolute delight.
We took 8 hours Reaching Barua village and from there another 10 hours to Shimla by jeep which was extremely tiring.
Shimla welcomed us with showers- or it just couldn't bear our stink...
---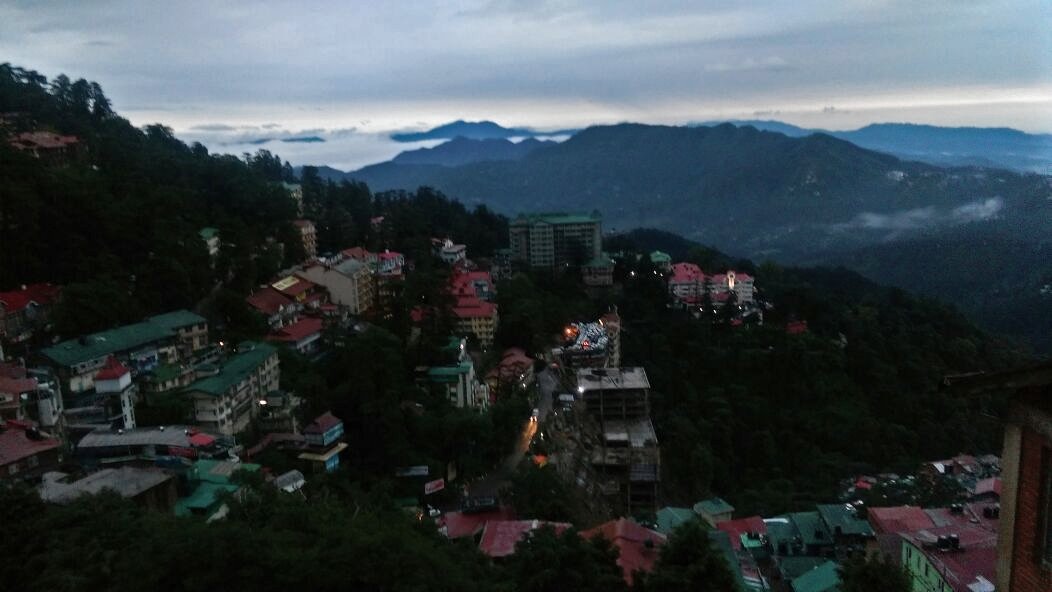 ---
It was now time to treat ourselves and gain back all the calories lost during the trek.
---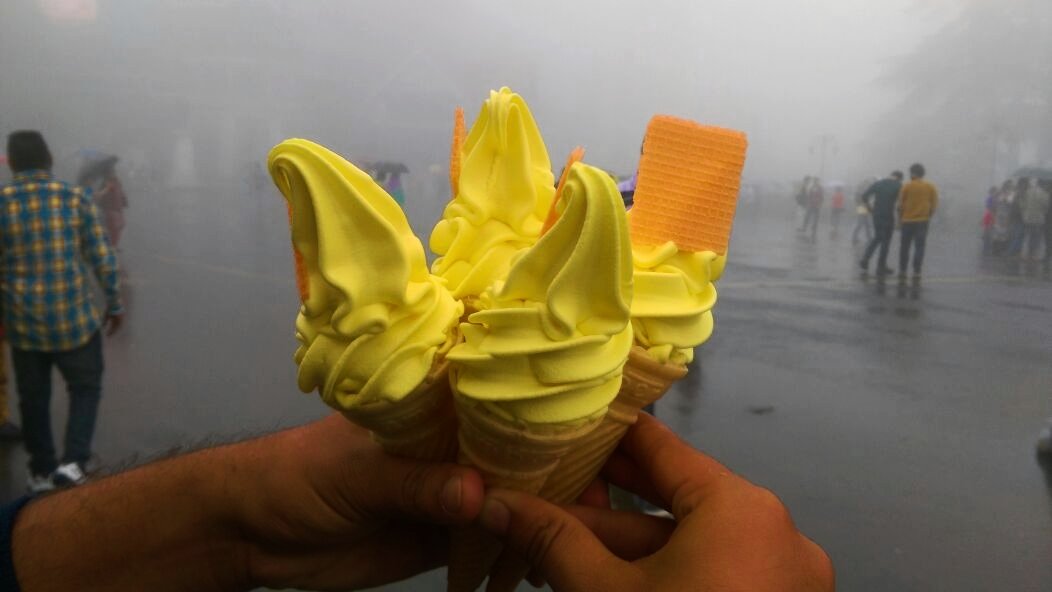 ---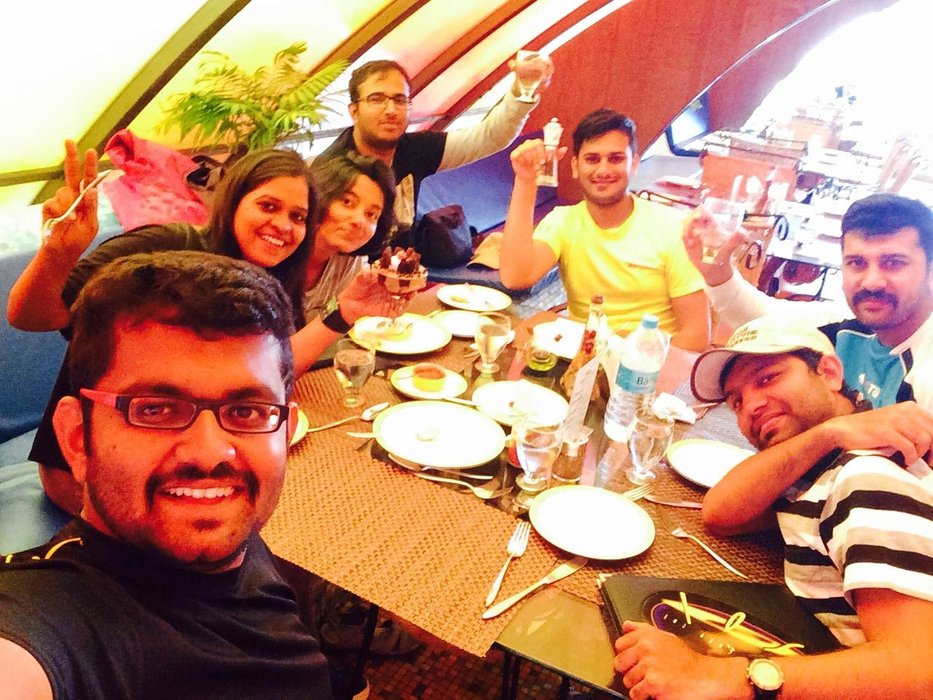 ---
We were already missing the trek and everyone, the moment we bid adieu to each other.
---
---
This is the last part of Trekking In The Himalayas- Buran Ghati Trek- You can check out my other two blogs on the same here...
---
I hope you enjoyed reading my post and I am grateful for every Upvote, Resteem, and Comment. Until next time! 😍

Content by @itravelarts
Photos by Karthik, Aaron and itravelarts.
Love. Swati ❤️