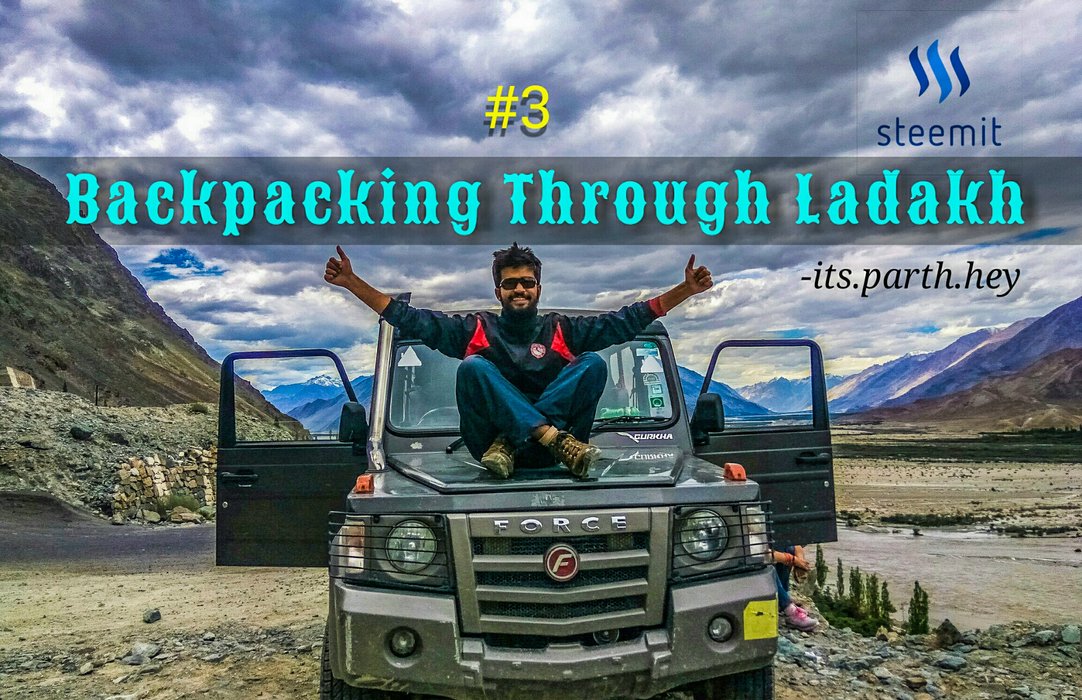 Greetings Steemians! In this part of my backpack trip's blog, I will take you guys through my road trip into the beautiful Nubra Valley in Ladakh. The highlight of this trip on a personal level was driving through Khardung La Pass (18,300 feet), the highest road in the world!
Nubra Valley is a tri-armed valley located to the north east of Ladakh valley. Diskit the capital of Nubra is about 150 km north from Leh town, the capital of Ladakh district, India. Local scholars say that its original name was Ldumra (the valley of flowers). The Shyok River meets the Nubra or Siachan River to form a large valley that separates the Ladakh and Karakoram Ranges. The Shyok River is a tributary of the Indus River. The average altitude of the Nubra valley is about 10,000 ft. i.e. 3048 meters above the sea level. The common way to access this valley is to travel over the Khardung La pass from Leh town. Like the rest of the Ladakh, it is a high altitude desert as well. The major attraction of this place is the white sand desert and the huge sand dunes in them. This is also the only place in India where you can spot double humped camels.
In Leh, I was staying at a guest house called Leh Palace View, which is owned by a dear friend of mine, Wasim. He also owns a crazy beast of a jeep, which was custom made for him by Force! I always wanted to go on a long road trip in it. One fine evening, he told me that he is leaving for Nubra Valley early next day and that I could join him too. It didn't take me even a second to say YES!
The next morning, we were all set to leave by 7am. The road heads steeply upto Khardung La pass, which is the highest road on the planet. It is 40km from Leh Town. The road passes through beautifully changing terrain of dry and brown mountains.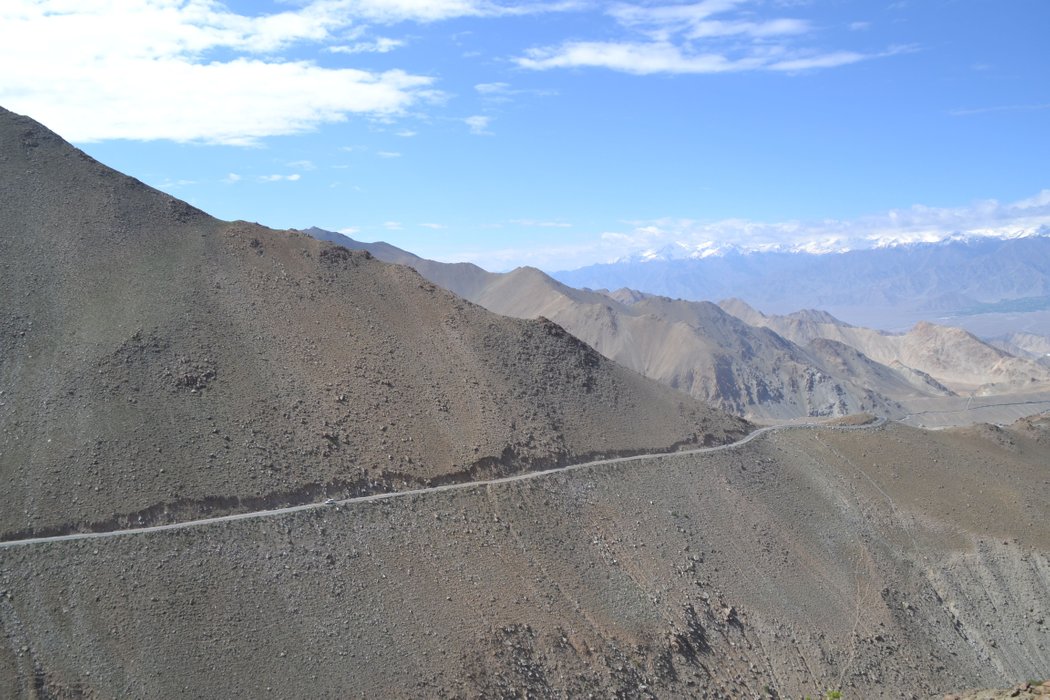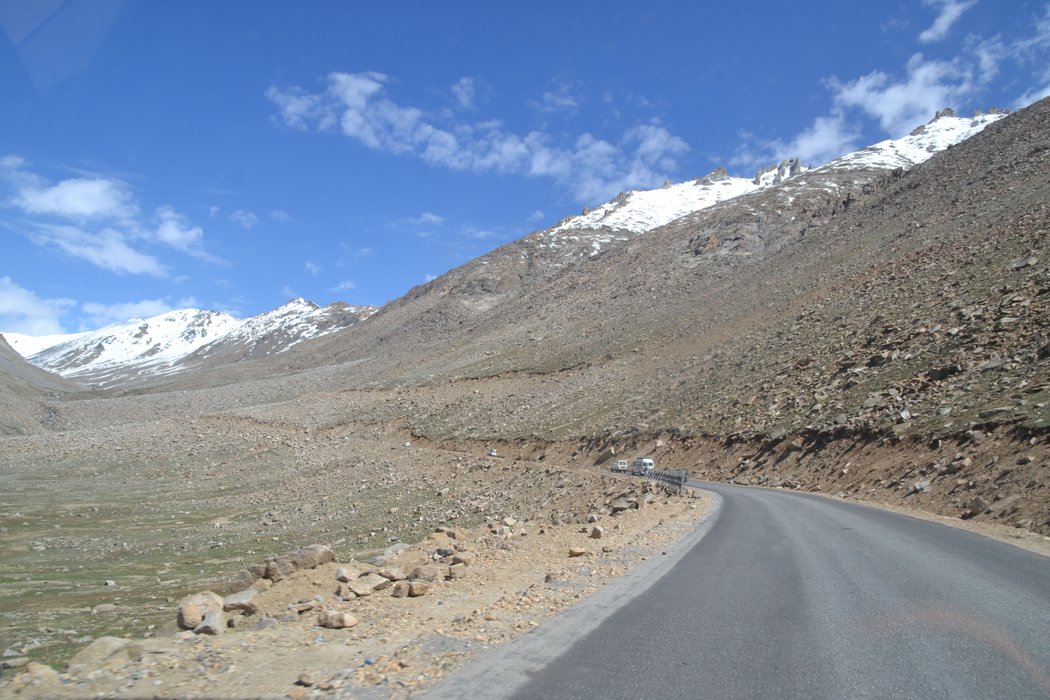 As we gain altitude, the temperature plummeted quickly. There are a few turns on the road from where we can see the entire town of Leh stretched far below us. It's a beautiful sight to witness. 45 minutes into the drive, we hit the snow line already. There was a lot of snow for the month of July.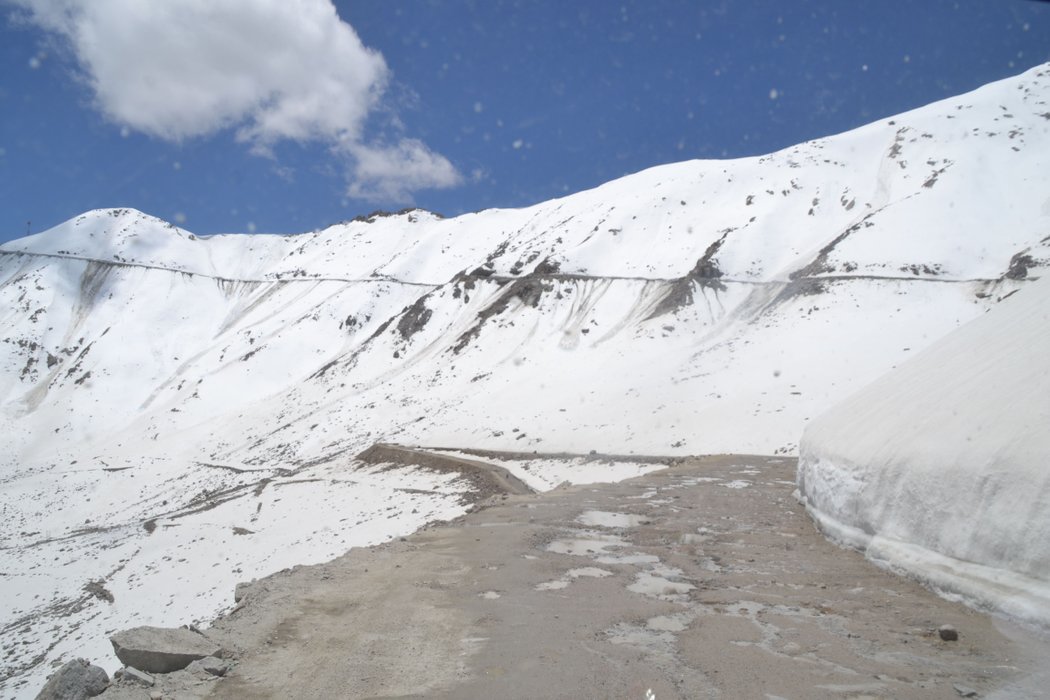 This jeep was literally a beast and you could feel its power when it's flying up the rough roads and steep slopes where other cars can barely cross the speed of 20kmph. We could feel the lack of oxygen once we went above 17,000 feet. We reached Khardung La Pass 2 hours into the drive. We got out of the car and it was brutally cold. I wanted to spend some time here and cherish the feeling of standing on the highest road in the world at 18,300 feet!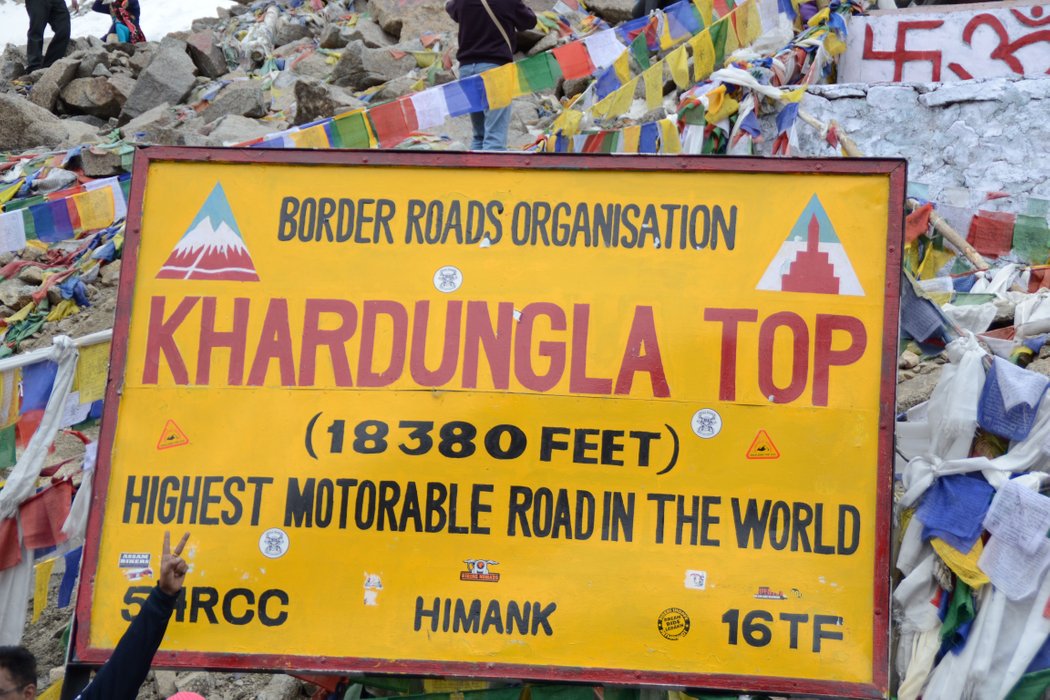 There was a hill full of snow next to the road with prayer flags tied on top of it. I started climbing up the slope. I was getting breathless after every ten steps. I was climbing above 18,000 feet after all. This was very normal occurrence. Looking down at the highest road in the world below you, that feeling was something.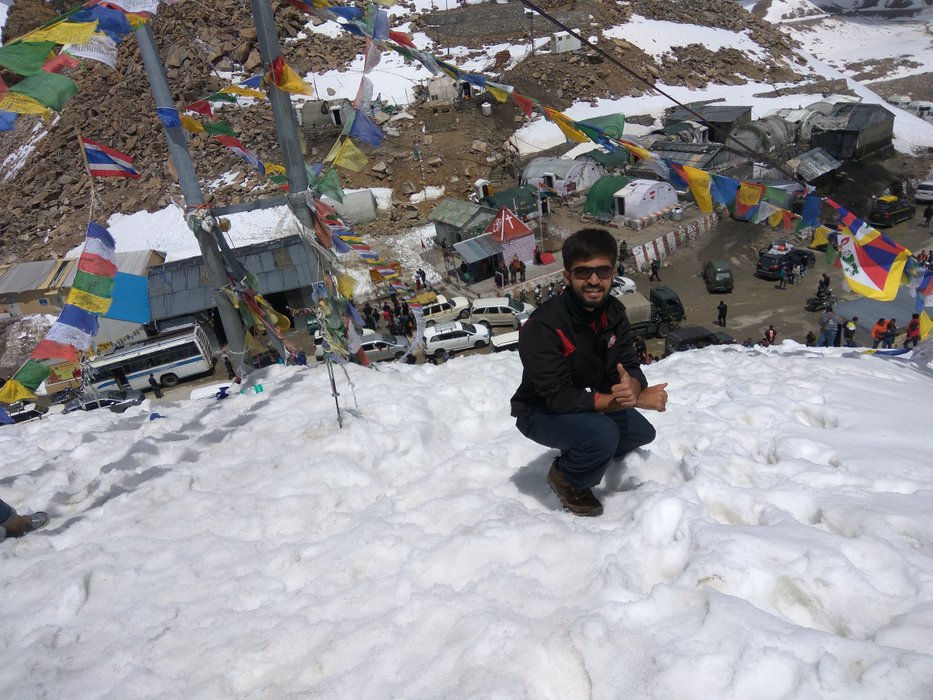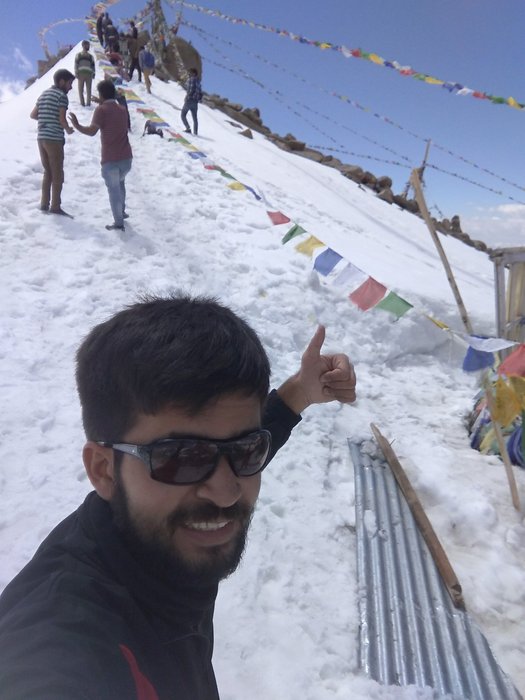 We left from the pass within 30 minutes. The descent into the Shyok Valley begins from here. There was a lot of snow on the other side as well. The valley looked so beautiful, as if there was a huge one piece fluffy carpet laid over the mountains.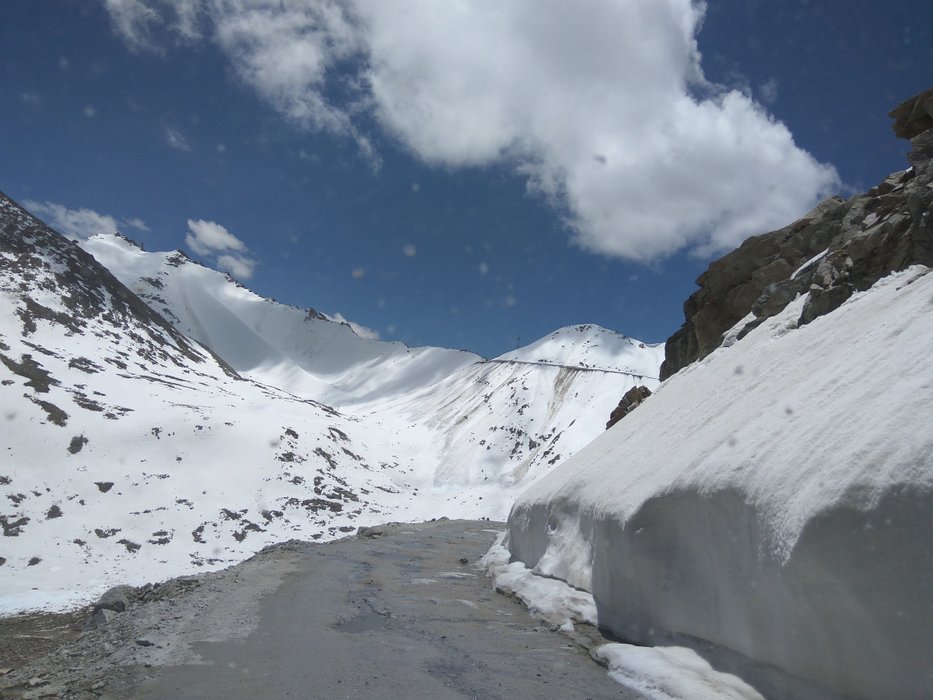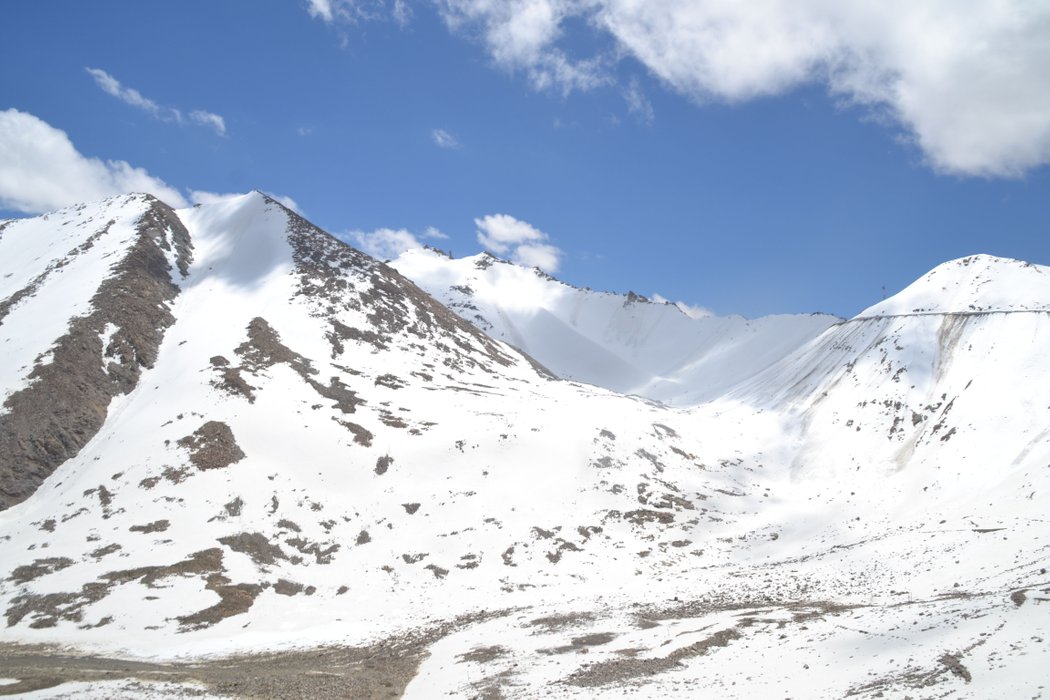 Once we descended below the snow line, it got warmer and we rolled down our windows to let some fresh Himalayan air hit our faces. All throughout our drive, accompanying us were some classic Bollywood songs which we were singing on top of our lungs (screaming rather). Good music, scenic roads, powerful vehicle and a friend who vibrates on the same energy as you do is a perfect recipe for an ideal road trip. The energy and mood in the car was of another level that day.
Maximum of the road now is either flat or downhill. We were headed to Hunder Village, the capital of Nubra, which is situated at 10,000 feet. We stopped at Diskit Monastery, 5km before Hunder. Diskit is the biggest monastery in Ladakh. There is a huge statue of Lord Buddha here at quite a height. We spent some time sitting here and admiring the valley around. It was so peaceful, so quiet, the air and the energy was so pure. In that moment of time, there was no place else I wanted to be. We could see the white sand deserts and sand dunes in Hunder from here.
We reached Hunder at around 3pm and settled down in the resort owned by Wasim. It was a beautiful place with river flowing next to it and surrounded by huge dense trees. Who would have thought that there would be such dense trees in a desert like Ladakh?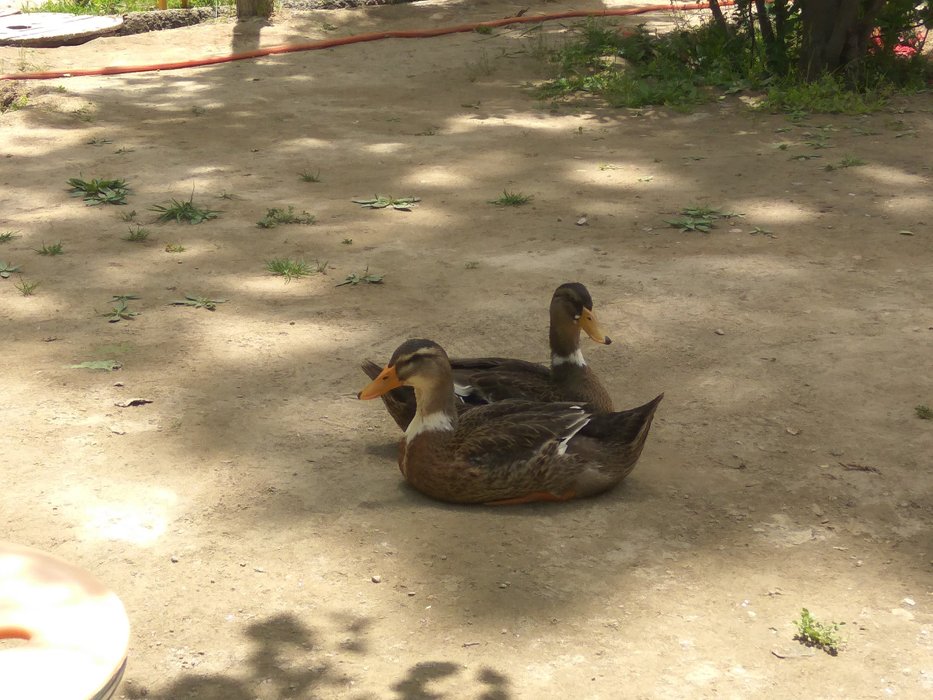 In the evening, I went for a walk in the white sand desert. There are double hump camels here which you can ride on in the desert. I care a little too much about animal cruelty and animal rights, that's why I chose not to take a ride on them. That's a topic for another day. Instead I chose to walk on my two feet's into the desert and climb a few sand dunes. As soon as I went a little deep in the desert, my shoes were filled with cold sand. I loved it!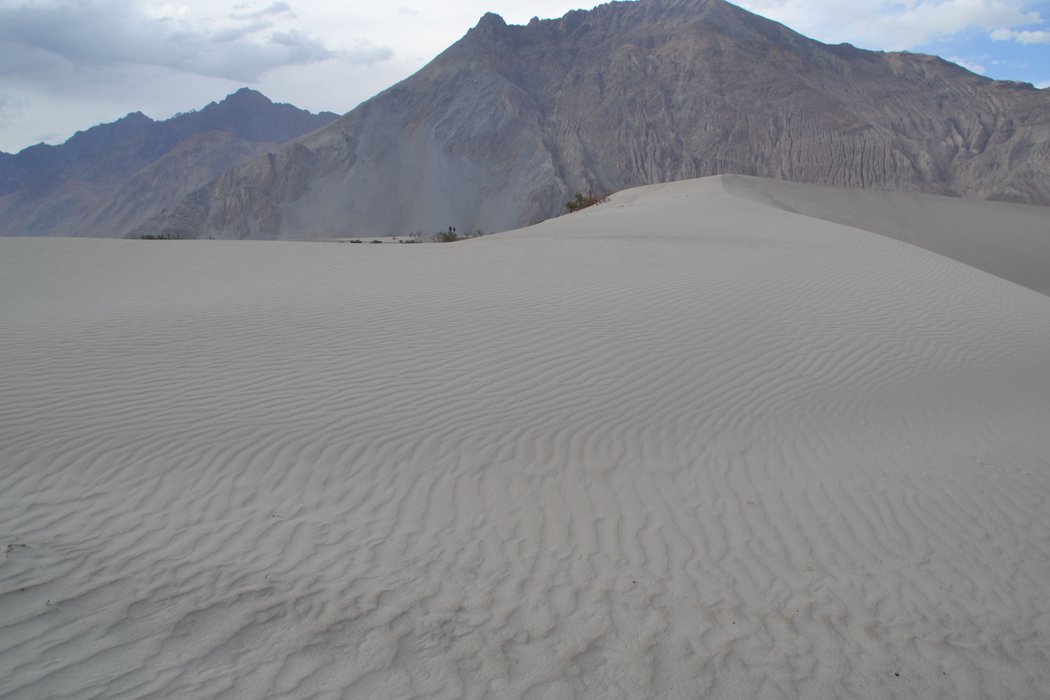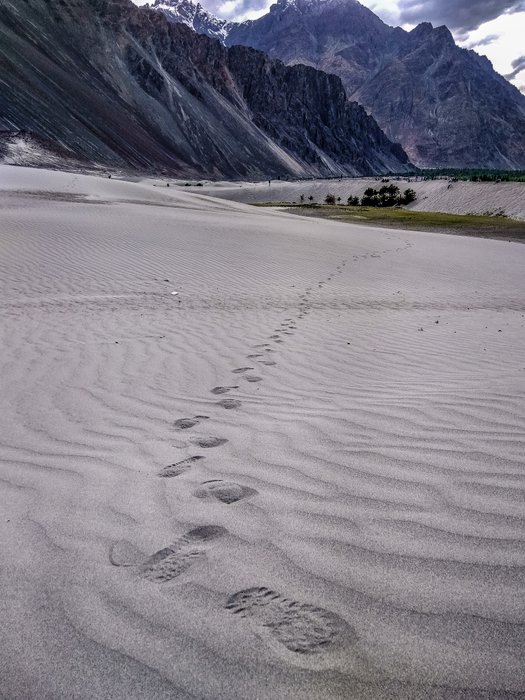 I sat on top of a huge sand dune for some time in silence and took some pictures of camels, the mountain and the desert. It was a beautiful evening. I generally enjoy spending quality time with myself, all alone and my thoughts. I enjoy my own company the best and I think everyone should connect with themselves to a level where you don't need anyone else for little pleasures in life.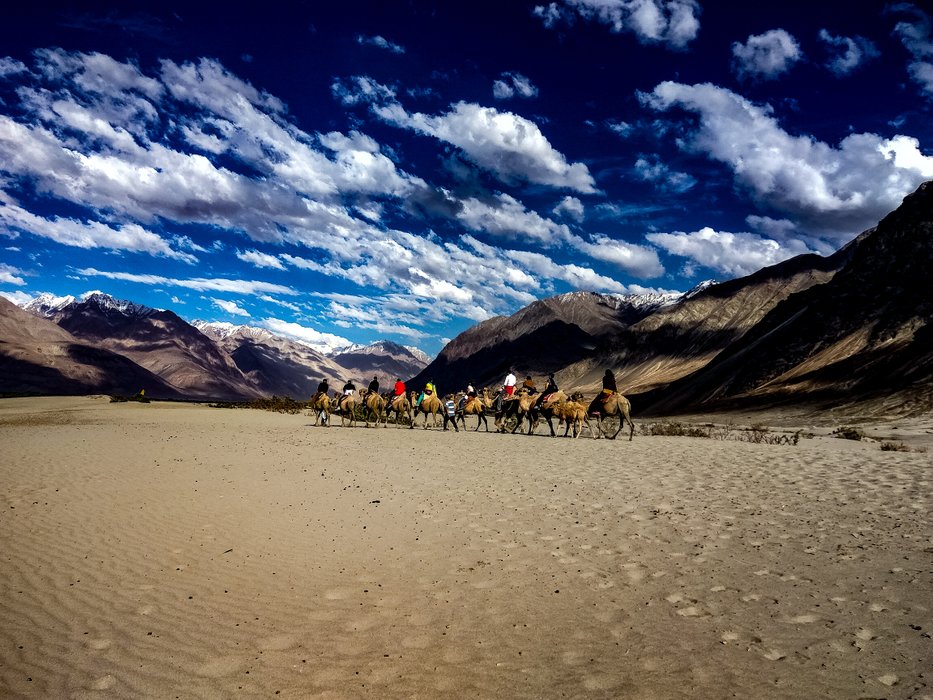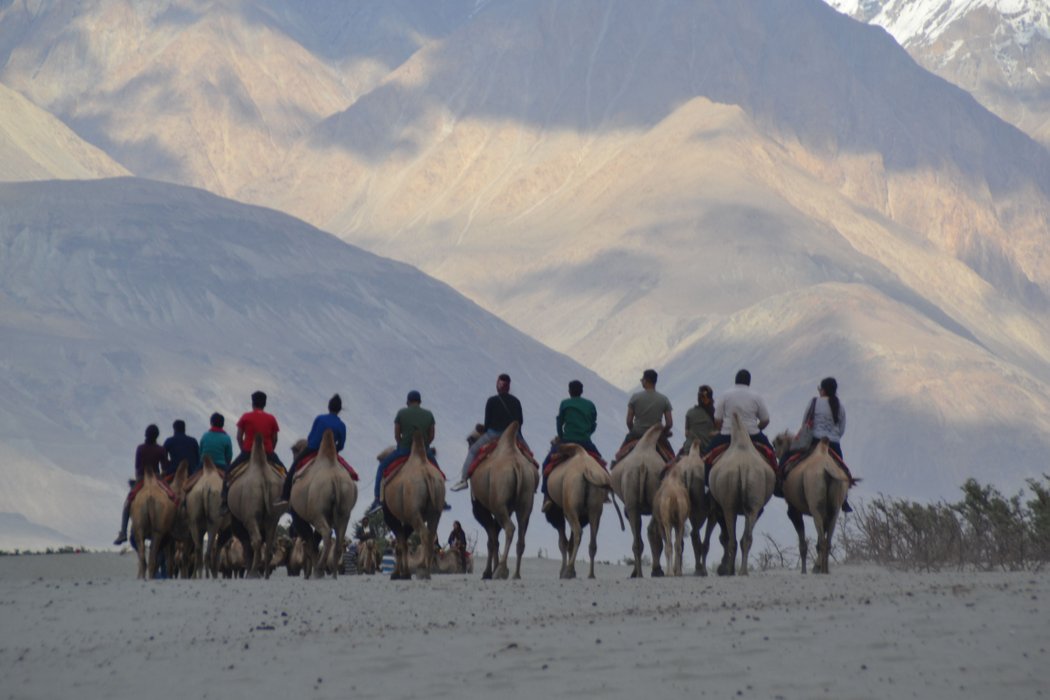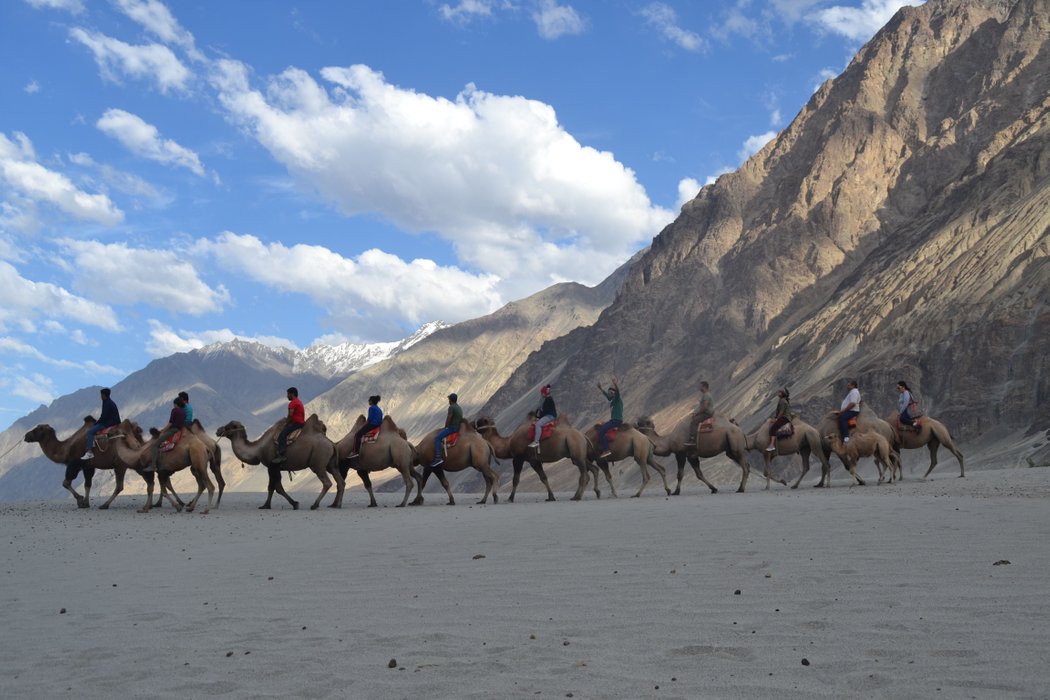 As soon as the sun set, the temperatures dipped quickly. I headed back and to my surprise, I was greeted by a nice and warm campfire burning in our resort. We sat around it, listened to some local music with some delicious local food. It was a day well spent indeed! Life was good.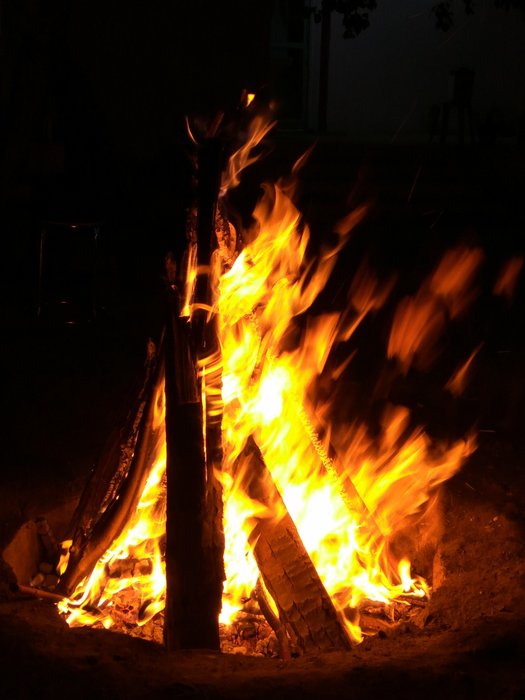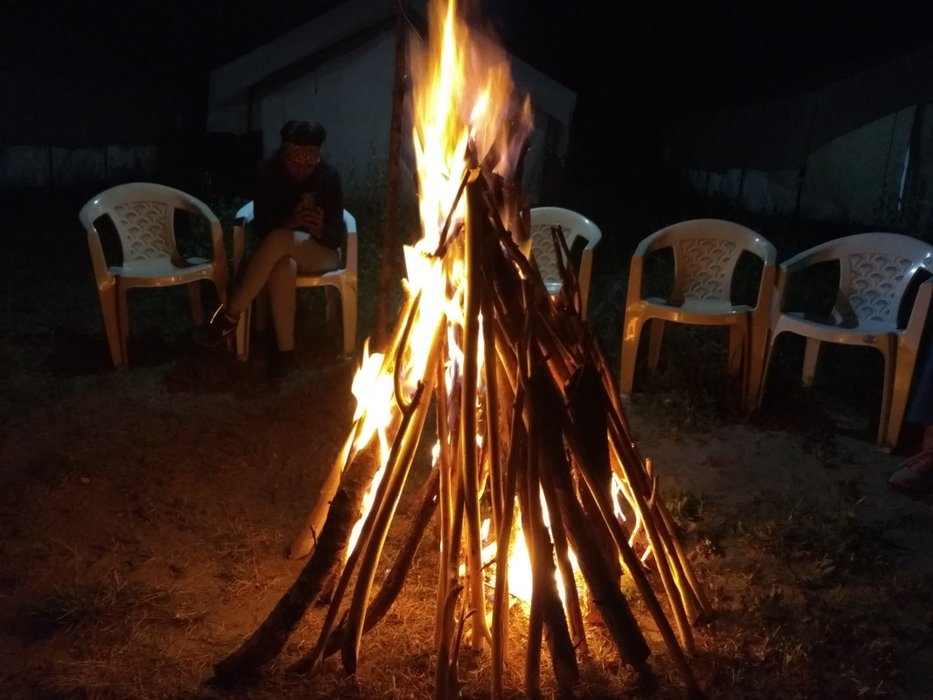 If you like this blog, show some love by up-voting and re-steeming it. This is just the beginning, a lot of crazy stories and adventures to be followed in the upcoming blogs. Stay tuned. Cheers!