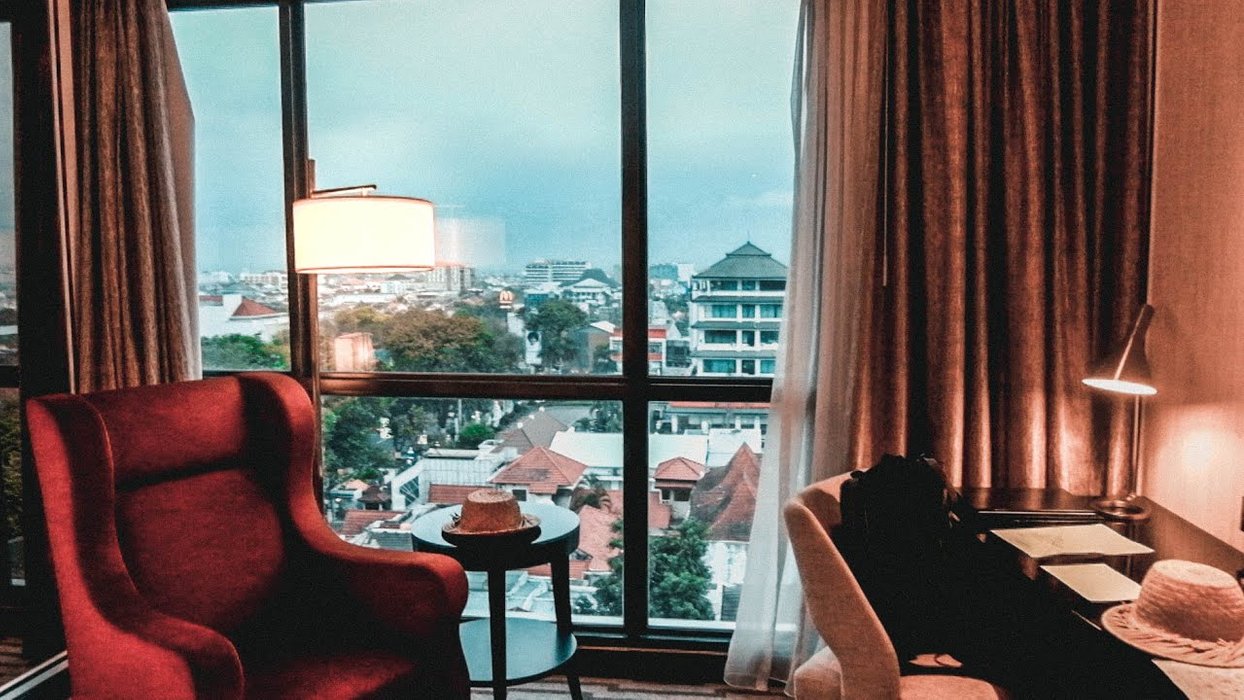 ---
We have left the area of Magelang and drove with our driver to the hotel we have previously booked in Yogyakarta. The city name is sometimes written Yogyakarta and sometimes Jogjakarta, don't ask me why. If you know what's the difference, write me in the commends please. So we have been sitting in that car and it started to rain heavily. Luckily we haven't been outside for sightseeing.
Arriving in Yogyakarta we have been overwhelmed by the traffic. Scooters, cars, coaches. Then we arrived. The lobby boy opened the doors and carried our luggage inside. First impression: a really fancy Lobby! comfy lounge chairs. diamonds hanging from the ceiling and a delicious welcome drink. That was a nice arrival. But wait for the hotel room the view of Yogya or Jogja, however you want to call it, was stunning!
Yogyakarta Hotel | Travel Vlog 91
---
RECOMMENDATIONS
The Hotel: http://bit.ly/yogya-hotel
Where i book the cheapest flights: https://goo.gl/HRhxoy
Credit card with best commissions for travels: http://bit.ly/travelcreditcard
Editing software: http://bit.ly/editing_software
---
Perfspots stands for Perfect Spots. My passion is to explore places I've never been before. While running a startup, i travel as much as possible. Here i share the Perfect Spots i enjoyed the most. Spots you can get a great meal, sip a coffee with a breathtaking view or experience an exciting adventure.
Subscribe and become a Perfspotter!
#perfspots
---
Subscribe: https://goo.gl/rQaiFV
Instagram: https://www.instagram.com/perfspots/
Facebook: https://www.facebook.com/perfspots
Website: http://perfspots.com/
---
Travel-Equipment:
Nikon D7100 http://amzn.to/2oxVyJx
GoPro 3+ http://amzn.to/2nA230J
Camera Stabilizer http://amzn.to/2nLHYF8
Portable Harddisk http://amzn.to/2oyjTil
Apple MacBook Air http://amzn.to/2nLQ7ta
The North Face Backpack http://amzn.to/2nvahFC
Dji Mavic Pro Drone http://amzn.to/2o77B44
Bear in mind that some of the links in this post are affiliate links and if you go through them to make a purchase I will earn a commission. Keep in mind that I link these companies and their products because of their quality and not because of the commission I receive from your purchases. The decision is yours, and whether or not you decide to buy something is completely up to you.
---
Support the project
BTC: 1Jjc1HFppV2SBYjV8BgeWPpykRDtWKR8oG
BCH: qqj3uxrup5tvcg5k2zrxjq20er27fwsneyc68srm63
ETH: 0xf97cA8e658d7a6344addCB398477e1D2301A8Cf1
XLM: GASYB7MFOO63JCNYDPEWHJHGNTNSGCO4FEAFSSS7JZAY6EDBJCEYYDER
---
You'll find perfect spots on the website: http://perfspots.com
---
Music by
https://soundcloud.com/joakimkarud
---
#hotel #jogjakarta #yogyakarta #southeastasia #travel
Shh yeah
---
▶️ DTube
▶️ YouTube