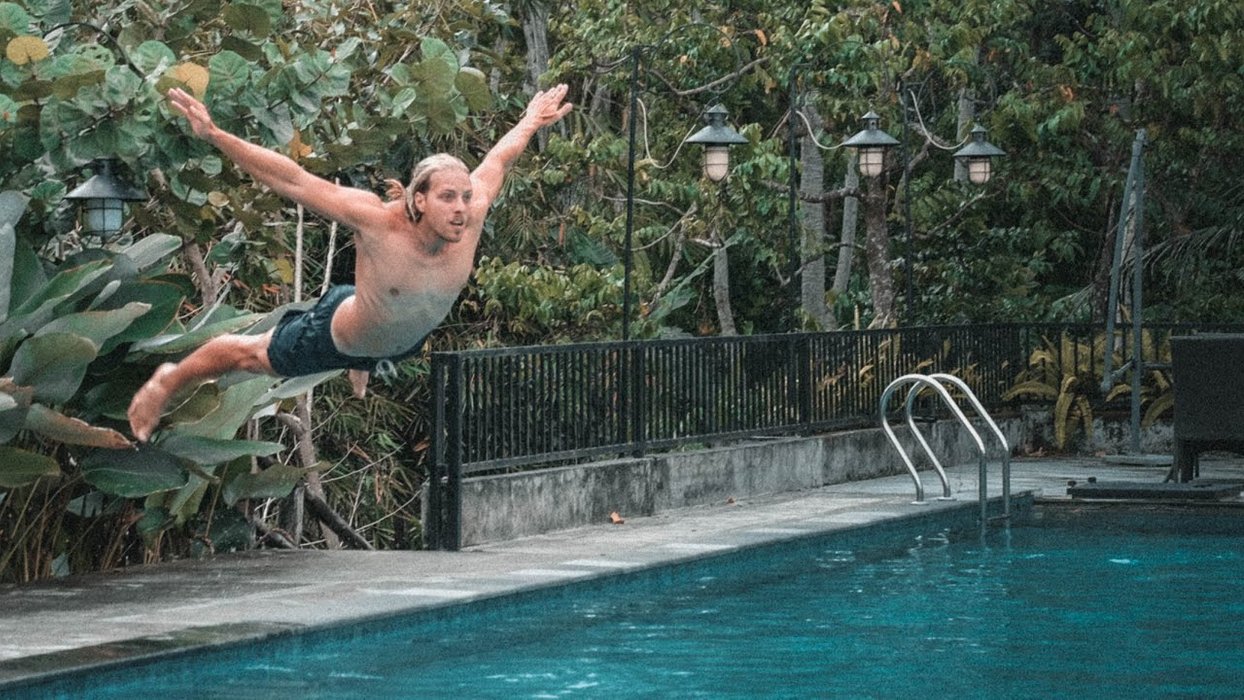 ---
It was a day without plans. We have realized that there are no other guests staying at our hotel. So we decided to enjoy the hotel and its infrastructure to the fullest. A bit of drone flying practice. Jumping and diving into the pool and splashing as high as possible. I mean there were no other guests. So it was kind of like our private hotel. We have stayed at the Amata Borobodur resort (linked down in the description) close to the Borobodur temple, in Yogyakarta, on a island called Jawa in Indonesia. After this day we packed our stuff and headed back to Yogyakarta, on the way we stopped at some pretty interesting sights, vlogs soon to come.
Amata pool jump | Travel Vlog 88
---
RECOMMENDATIONS
The Hotel: http://bit.ly/borobodur-resort
Where i book the cheapest flights: https://goo.gl/HRhxoy
Credit card with best commissions for travels: http://bit.ly/travelcreditcard
Editing software: http://bit.ly/editing_software
---
Perfspots stands for Perfect Spots. My passion is to explore places I've never been before. While running a startup, i travel as much as possible. Here i share the Perfect Spots i enjoyed the most. Spots you can get a great meal, sip a coffee with a breathtaking view or experience an exciting adventure.
Subscribe and become a Perfspotter!
#perfspots
---
Subscribe: https://goo.gl/rQaiFV
Instagram: https://www.instagram.com/perfspots/
Facebook: https://www.facebook.com/perfspots
Website: http://perfspots.com/
---
Travel-Equipment:
Nikon D7100 http://amzn.to/2oxVyJx
GoPro 3+ http://amzn.to/2nA230J
Camera Stabilizer http://amzn.to/2nLHYF8
Portable Harddisk http://amzn.to/2oyjTil
Apple MacBook Air http://amzn.to/2nLQ7ta
The North Face Backpack http://amzn.to/2nvahFC
Dji Mavic Pro Drone http://amzn.to/2o77B44
Bear in mind that some of the links in this post are affiliate links and if you go through them to make a purchase I will earn a commission. Keep in mind that I link these companies and their products because of their quality and not because of the commission I receive from your purchases. The decision is yours, and whether or not you decide to buy something is completely up to you.
---
You'll find perfect spots on the website: http://perfspots.com
---
Music by
Dvo: https://soundcloud.com/david-sch-rmann
---
#hotel #borobodur #yogyakarta #southeastasia #travel
Shhh yeah
---
▶️ DTube
▶️ YouTube