When I told people I was going to Zagreb, I was asked "Why Zagreb? Go to the Croatian coast to Split or Dubrovnik". A friend who had been to Zagreb told me it was "depressing". I had no expectations arriving by train from Vienna and was soon to learn that Zagreb is an underrated destination.
I didn't realize it had once been a stop-off for the Orient Express. The posh Esplanade Regent Hotel next door had been built especially for the train patrons. The tourist office at the station had referred me to the concierge at the Regent to buy the Zagreb Card. I looked out of place waiting in the lobby with my backpack admiring the marble columns and elegance.
I stayed at a hostel on the edge of the city - near Crnomerec tram stop – where an improvised flea-market had been set up by housewives. A low wall displayed second-hand colourful cardigans and sweaters, raided from their cupboards to sell in desperation.
Feeling ravenously hungry after check-in, my hostel host referred me to the Nokturno restaurant, which was a short tram journey into town close to Jelacic Square. Jelacic Square is a popular meeting place under the statue of General Ban Josip Jelačić riding his horse.
Dolac farmers market, behind the square, has both inside and outside areas selling vegetables, eggs, meat, fruit, cheeses and flowers, lots of homemade breads and cheeses. Bring an empty bottle and vendors will fill it with home grown wine. Souvenirs can be bought here, such as wooden ornaments and t-shirts.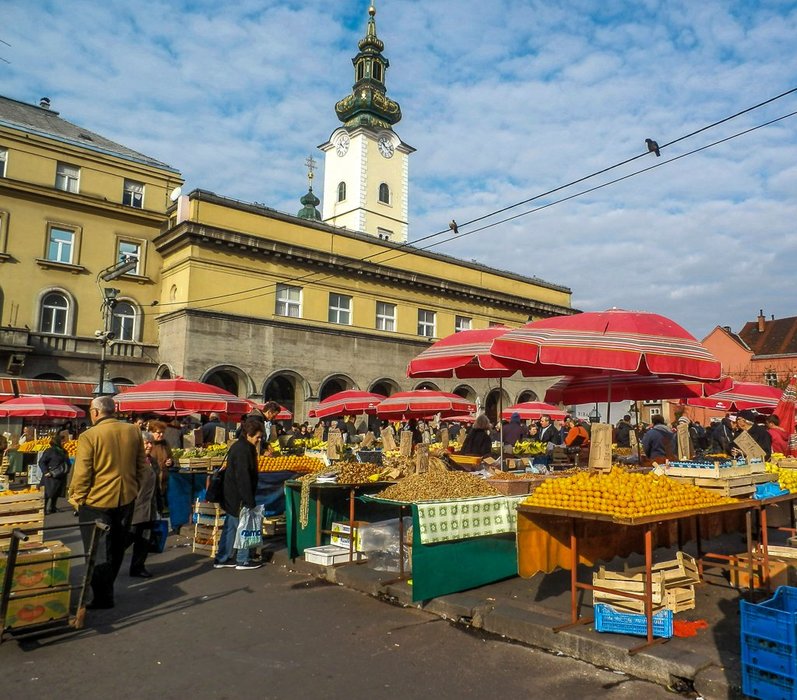 The Farmer's Market in the middle of Zagreb
Down the narrow, dead-end street named Skalinska, I found Nokturno overflowing with customers. Serving generous sized Italian dishes at a bargain price, my capricciosa pizza was more like a large then the ordered small and most definitely tasty. I was to come back to eat here each day.
A funicular railway, touted as one of the steepest and shortest in the world, operates between Lower and Upper Towns. Next to the funicular in Upper Town is the Museum of Broken Relationships. It has a permanent exhibition of donated items that once meant something to someone. Objects such as photographs, garden gnomes, an axe used to chop up furniture, torn love letters and smashed phones, tell emotional stories which are sometimes funny, sometimes doom and gloom.
The Zagreb Mummy is on display in the Archaeological Museum. Her name was Nesi-hensu from Thebes, Egypt. The museum is crowd-free with an extensive collection of artefacts to admire filling in half a day.
The Mimara Museum houses a huge collection of art, thanks to local collector Ante Topić Mimara donating 3,700 pieces, dating from the prehistoric period up to the 20th century. The collection includes works by the best - Raffaello, Caravaggio, Canaletto, Rembrandt, Van Goyen, Rubens, Velasquez, Goya, Holbein, Gainsborough, Renoir and Degas.
Sightseeing includes a lot of cool looking religious references. Like St Mark's Church which is surrounded by embassies, guards and parliament. It is a recognisable symbol of Croatia with a roof mosaic similar to the national flag.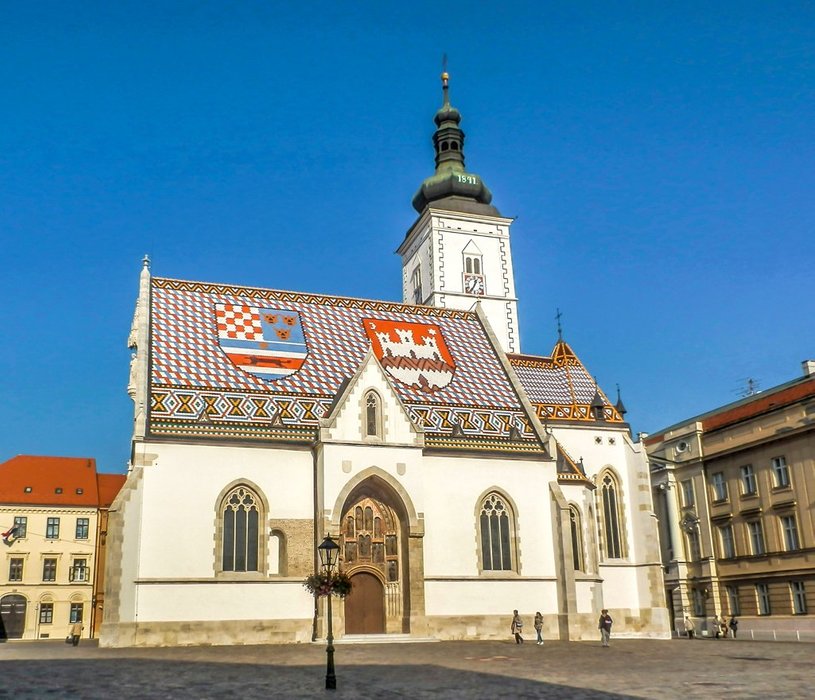 St Mark's Church
Also, Upper Town has the skyline-imposing Zagreb Cathedral. Inside is the tomb of local hero Cardinal Aloysius Stepinac. In Zagreb there are a lot of tears to witness when it comes to religion. When I visited the Cathedral it was busy with old ladies and schoolchildren solemnly filing past the Cardinals tomb crossing themselves and weeping.
The nearby Old Town Gate has a shrine to the Virgin Mary. Locals light a candle and sob at Mary's portrait. The painting is considered sacred as it was the only survivor of a past massive blaze.
Zagreb has one of the most beautiful cemeteries in Europe. Opened in 1876, Mirogoj Cemetery is a ten minute bus ride to the north of Upper Town and is surrounded by tall, leafy walls. It is well-kept with flowers and candles on almost every grave and impressive arched tomb arcades.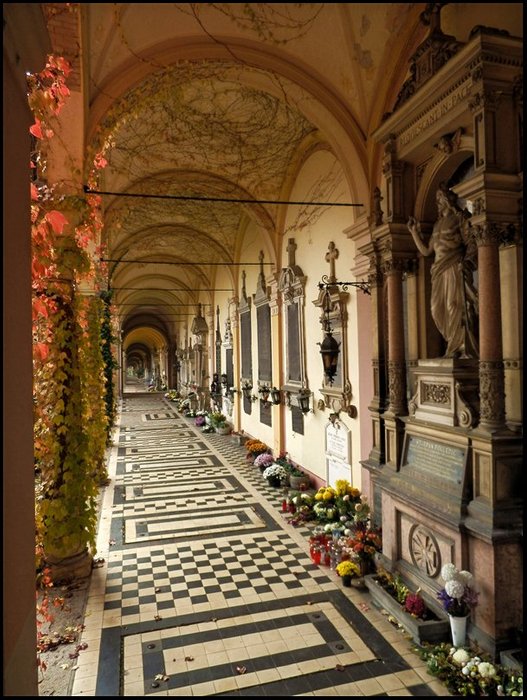 My three days in Zagreb went fast and was unexpectedly enjoyable. I was surprised how green Zagreb was with decent slabs of parkland around town. In three days, I explored little of what Zagreb has to offer and plan to return in Summer.
---
All photos taken by myself