The Distinguished Gentleman's Ride Hoi An 2019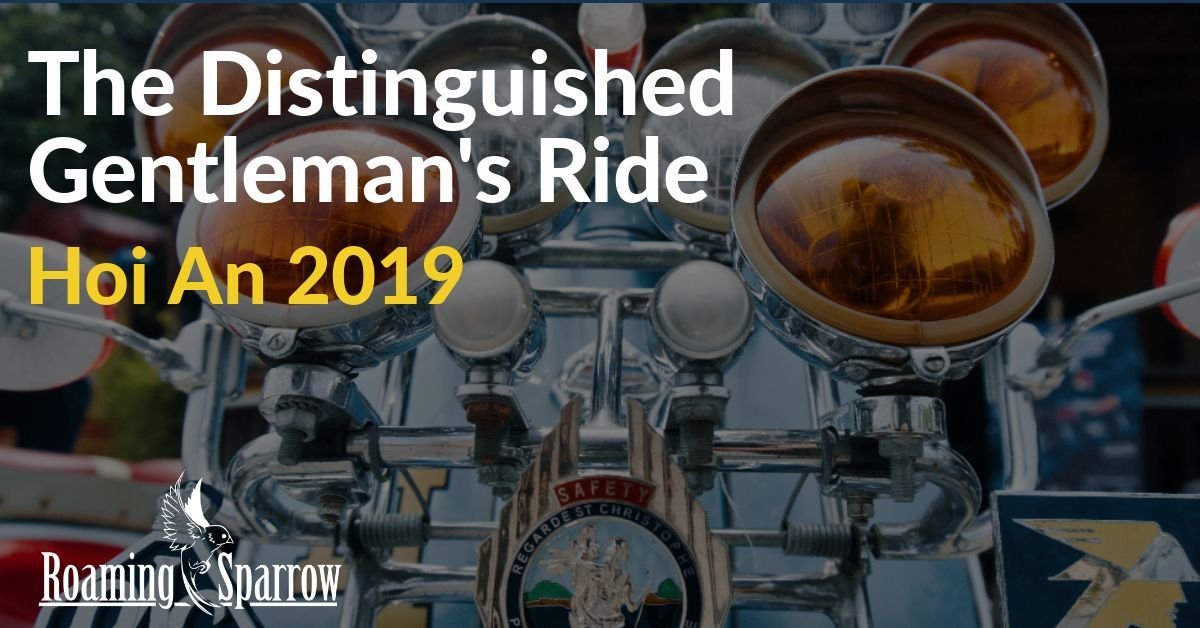 What do 45 well-dressed men and women riding motorbikes together have in common? That is the question I asked my self at 9 am when I jumped on the motor scooter I was using and rode over to 9 grains bakery in Hoi An. The bakery was the starting point for the First-ever The Distinguished Gentleman's Ride Hoi An 2019
The Distinguished Gentleman's Ride Hoi An 2019 (DGR abbreviated), was an event to raise awareness for prostate cancer research and men's mental health. Rides from around the world dust off their vintage bikes, waxed up their staches and put on a suit for this groovy cause.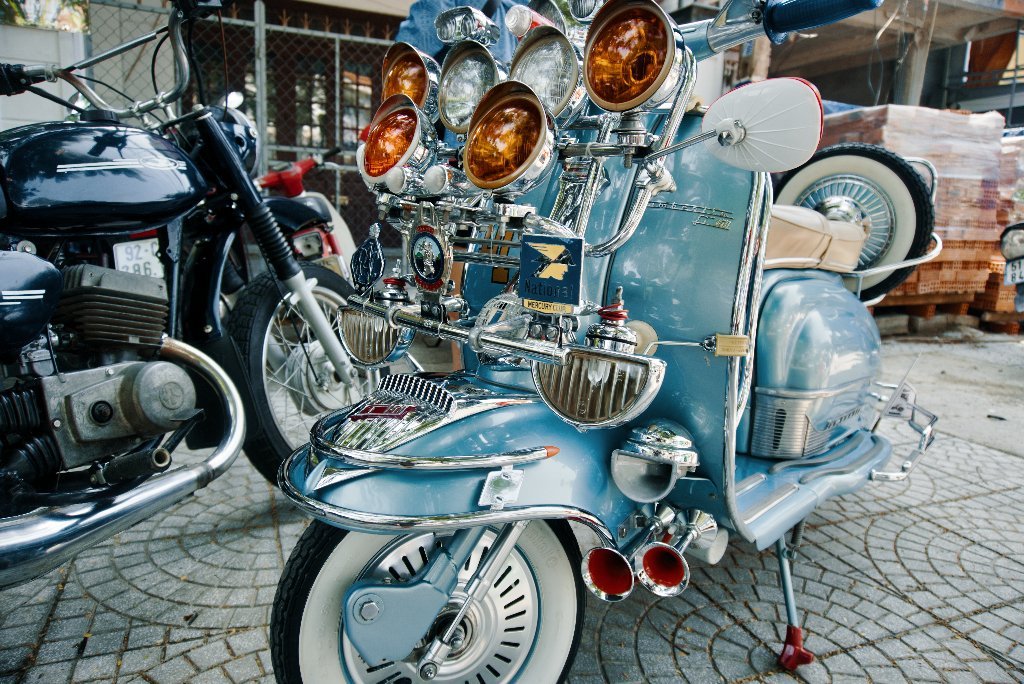 The Day Starts
Ok, before we go on, I lied to you. I did not arrive at 9 am (that just sounded better). I arrived at 8 am. With my guilt released, let's go on.
I arrived at 9 Graines bakery ( 441 Hai Ba Trung, Hoi An Vietnam: http://www.9grainshoian.com/ ) at 8 am. Sitting for a coffee and a Bai mi (Bread) I was not quite sure what to expect. In front of me sat a dapper-looking man. Striking up a conversation, I find out he is the owner of 9 Grains, and just launched a line of palm oil-free hand made soap. Super cool.
As nine arrive, so did the masses — bike after bike motored up to the sidewalk. Fancy dressed men that were looking sharp stepped of the vintage bikes with smiles. With each new guest, hugs were given, handshakes made, banana bread handed out.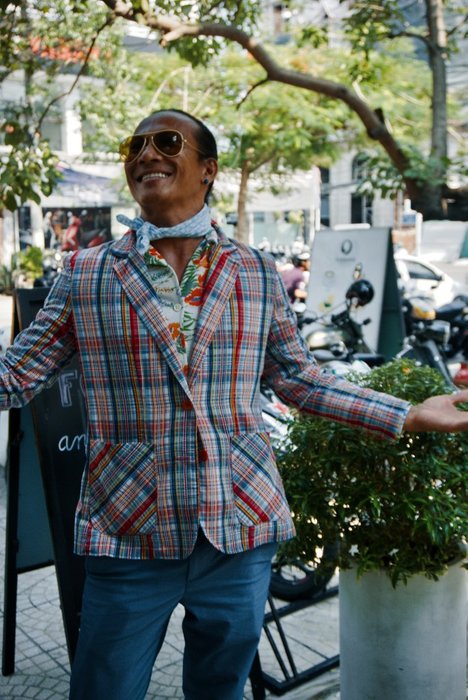 Being somewhat new to Hoi An (Less than eight days), I felt a bit like an outsider looking in; however, everyone was super cool, and I met a lot of great people.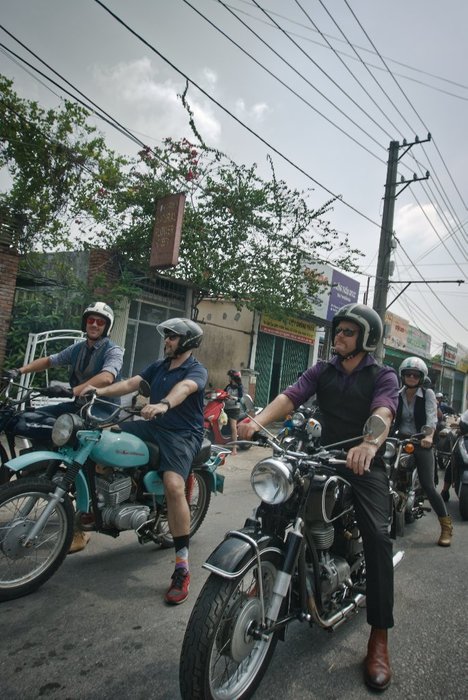 Drafted into service at The Distinguished Gentleman's Ride Hoi An 2019
The initial goal was to see about getting on the back of a bike or car and then taking photos while underway. My goal was, however, not in the cards. One of the ride organizers as if my self and two other photographers could race ahead of the pack and take some photos when underway.
I agreed, and with that, I got drafted into the DGR.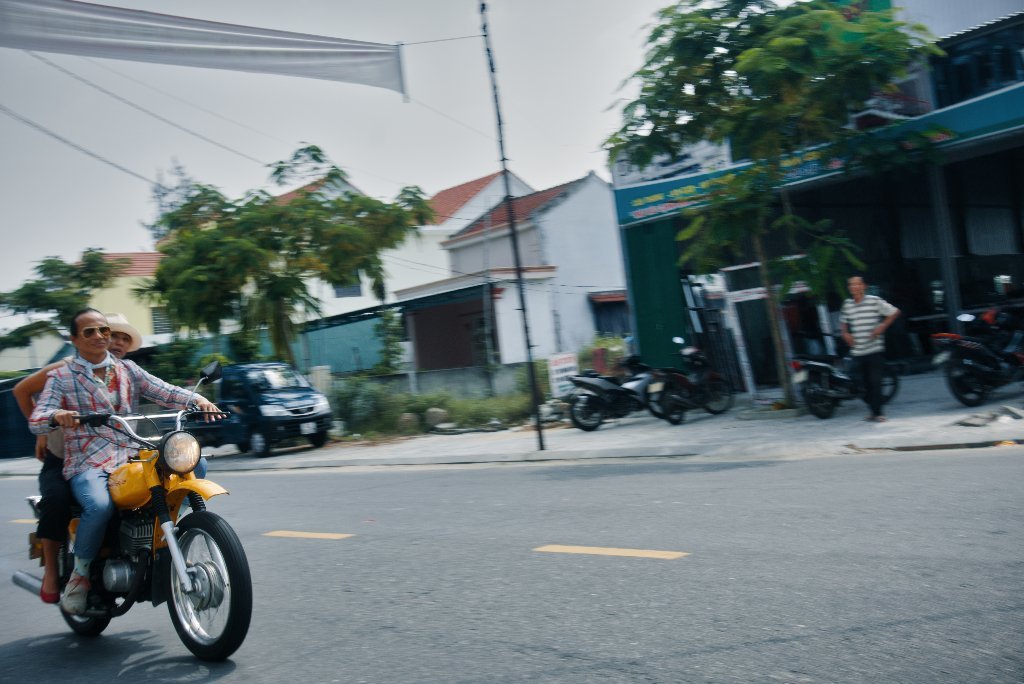 Shortly after this, the two main organizers stood on some chairs and welcomed then masses while I famous local restaurant owner translated. With robust applause, a cloud of exhaust and engine purring, the ride was underway.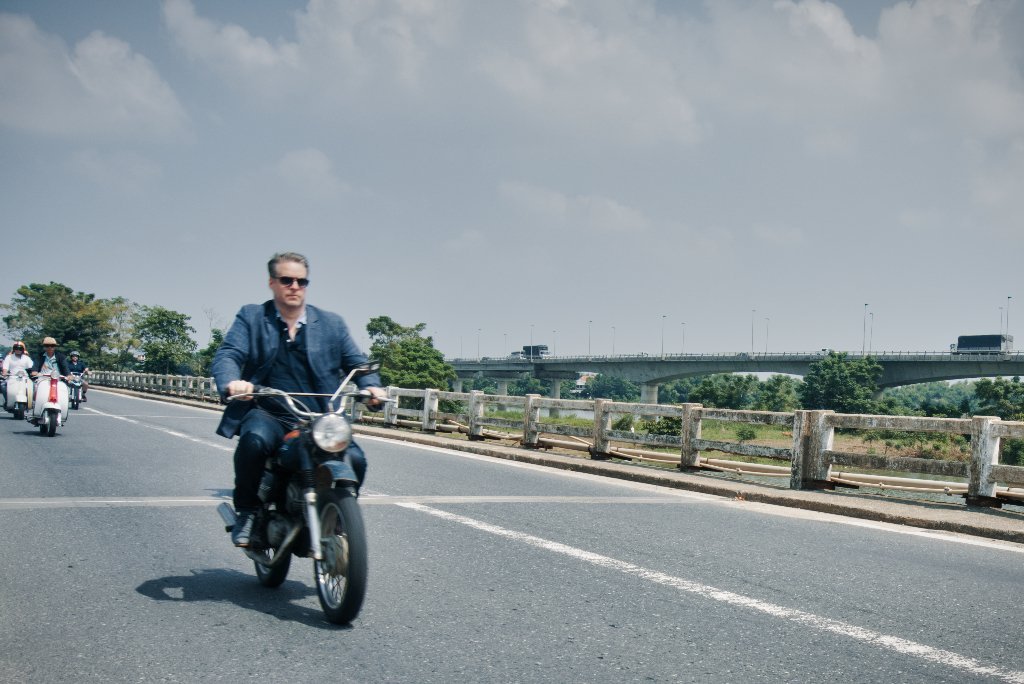 Zipping around and trying to get a good photo.
Never did I have to try and shoot such an event as this. First, it was a mad race to get ahead of the pack, then stop on the side of the road. While stopped and bracing a bike, flip on the camera, find a focus, then Oh no. Its too late and the riders are flying past. Dam, can't they stop and let me get the right spot?

After this, you are again, at the back of the pack. With many a "beep beep," I then speed past to get back to the lead. The cycle then goes again. Frustrating and exciting. Mental note, get your shutter speed set BEFORE leaving to dive a bike and snag photos. Don't do this when bikes are speeding past.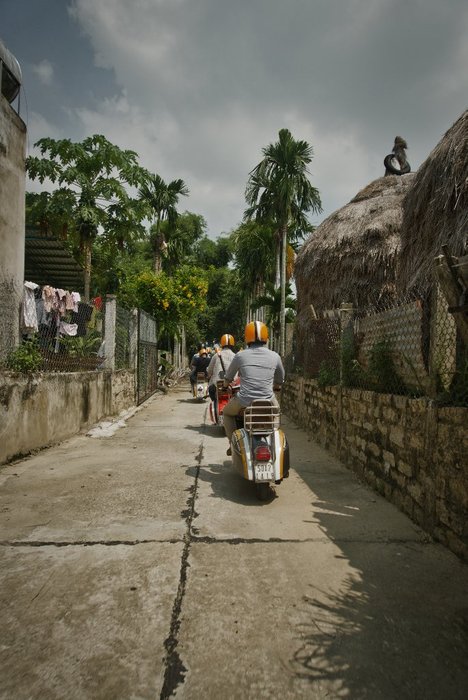 Photography woes aside, the ride was quite enjoyable. It was the longest time I have ever been on a bike in Vietnam. See the wold zip past while being in a pack of bikers, was a unique occurrence.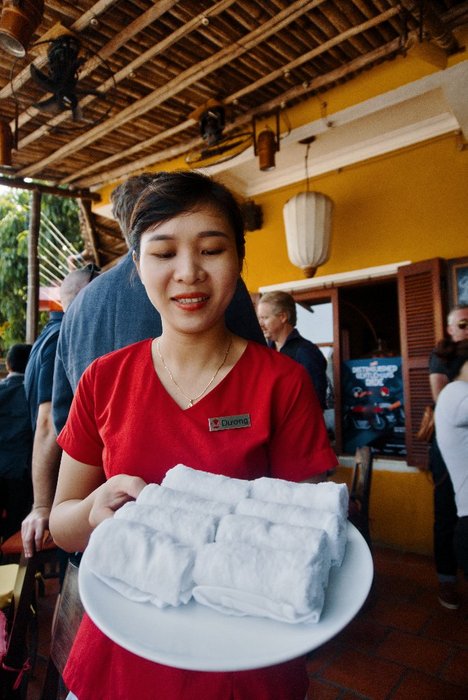 The First Rest Stop
After about 40 minutes on the road, we got to the Mango Mango restaurant and bar in Old Town (45 Nguyễn Phúc Chu, Hội An: http://mangohoian.com).
Even tho it was just an hour-long ride, getting off the bike, I felt like an old fashion cowboy saddling up his steed — the long dusty ride behind as we shunter into the bar for a drink. Lol. I know, I know... it was just an hour-long ride, not several week-long trials. Still, this is how I felt.
At the door of Mango Mango we were greeted with fresh cold towels and serviced juice and soda. The restaurant was remarkable too. Poking around back, I met a man named Sam. He was the GM and took me on a quick tour of this three-story restaurant!
Back downstairs is where I meet Cheif Duc for the second time this day. Early in the day, he showed up looking slick, and I had to take his photo. Later I find out he is Cheif Duc, owner of the Mango Mango restaurant. Wow. He invited me to have a glass of champaign with him and a few others. Very nice. I have a mental note to go back and have dinner there sometime soon.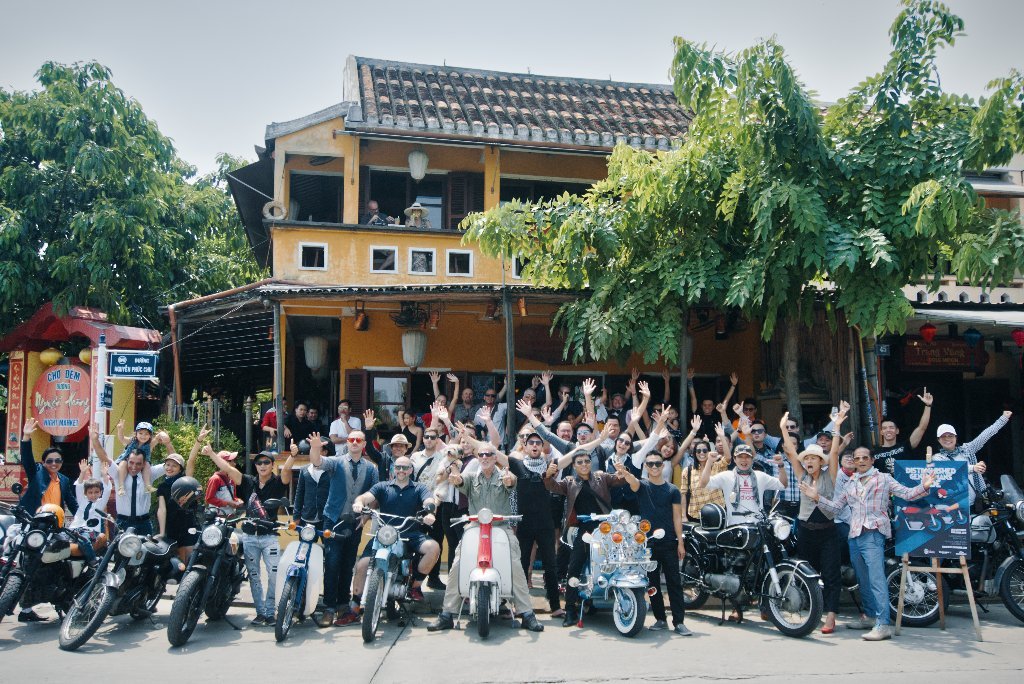 With fruit juice drinks behind us, it was time for a group photo. The photo went off rather smooth (All things considered). The crew stacked up in front of Mango Mango, we took some pictures and then it was time to saddle up once again.
The last leg of the ride and, confusion.
Sometimes I wish I had a better lense, but you have to work with what you got. The plan was for the riders to set out from Mango Mango, go over the historic Hoi An bridge, make two loops down the waterfront then head on to the final stop.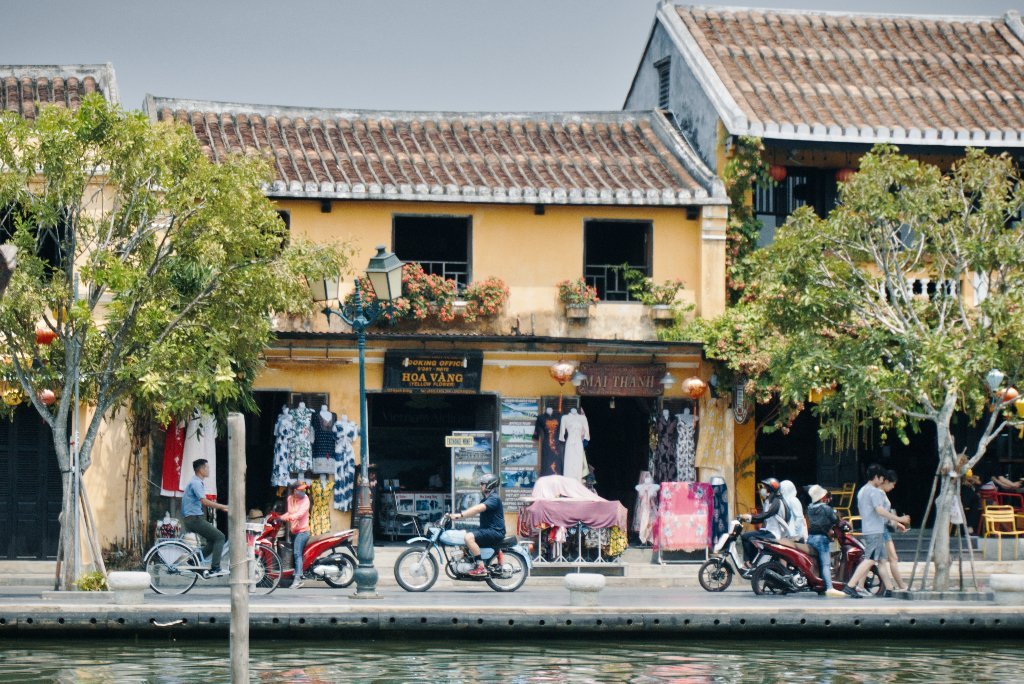 I volunteered to stay on the far side of the river to attempt to capture the riders on the water with the historic Hoi An buildings behind them.
The photo plan was a feat of fitness that did not yield great results. I ran from Mango Mango to the far side of the bridge, the riders passed. Then I ran to the other side of the river. Running along the banks, I saw the rides on the other side. DAM, I did not have time again to get in the right spot. Fliping on the camera, zoom at the max... I cursed not having the time to get an epic shot.
They told me they would do several passes up the bank, so I have a second chance! After about five minutes, I realized they were not coming back. This hunch was confirmed later when I was talking with a rider who said they took a wrong turn.
I was then on my own. My pack left me. Lol. Jumping back on the bike, I headed for the last stop on the trip. The end location was across the jetty over at Salt Bar (32 Nguyen Phan Vinh, An Bang Hoi An, http://anbangbeachside.com/salt-pub/ ).
The ride to the Salt bar was quite. It gave me time to reflect on the day's event. Pulling in to the restaurant felt good.
Here they served AMAZING food, and it provided a location for some friendly conversation with the other riders.
I also meet London, who runs Hoi An Barbeque ( https://www.facebook.com/hoianbarbeque/). Delicious foods and I highly recommend him.

Sparrow Thoughts
With the surf splashing, smiles, and conversation, I realized I had over 900 photos to go home and look through. A thought that both excited me and I dreaded at the same time. I realized that for this reason, I both do and do not miss having a desktop computer.
For the moment, however, sitting looking at the waves of the ocean crashing. Life was good. The first annual, The Distinguished Gentleman's Ride Hoi An 2019, was a success. Who knows, perhaps next year I will be here for the second.
Learn more about the ride here: https://www.gentlemansride.com
Or follow these hash tags:
#DGRhoian #gentlemansride #dgr2019 #ridedapper #jointhegentry
Thank you for reading and enjoy the adventure.
---

Thanks for reading my post, you inspire me to keep posting!
If you enjoyed this post, please consider leaving an Upvote, or a crypto Tip in support:
Bitcoin: 18zopjg9Y2VA1ouCqCZapN3UzdpK3UnMdm
Ethereum: 0xdf617bc628cae0393779e487695e4fad5a724370
litecoin: LYxRHK6UVAozNH38uW8boPpBxSdtx67Cgt
Or if you want to see other things I do, you can...
Follow me on Instagram:
https://www.instagram.com/roamingsparrow/
Check out my webpage:
https://roamingsparrow.com/
Buy some of my stock photos here:
https://roamingsparrow.smugmug.com/

Thank you for your support!