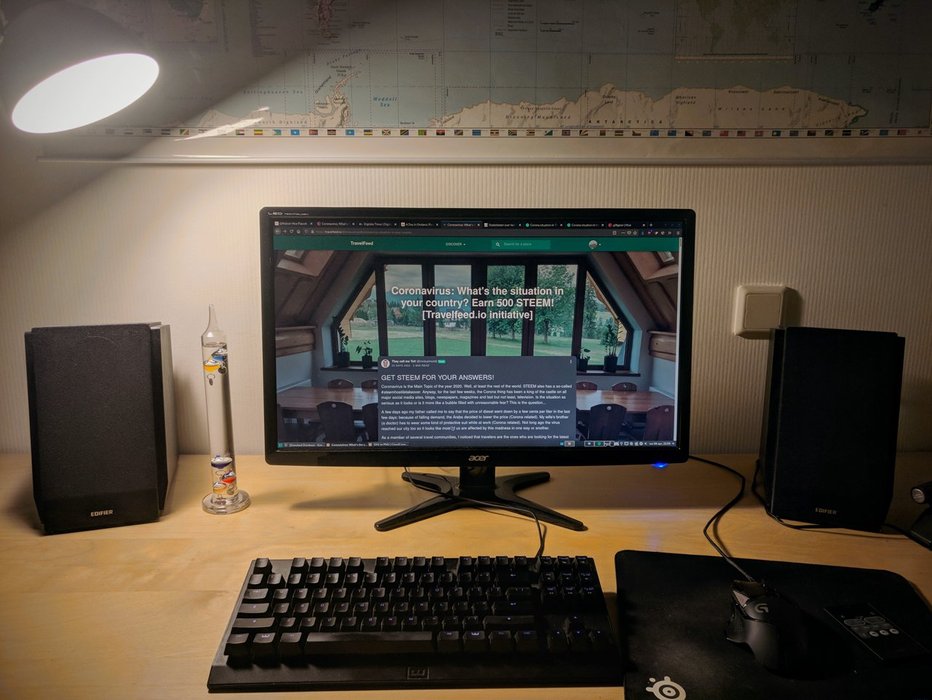 Pictured is my computer on my desk. That is where I spend most of my time during the corona crisis. I'm a university student, and all education moved online. I spent a lot of time there participating in meetings and doing my homework, and of course, reading Hive posts. I've had most of my lectures already, as my exam week is next week. My empty exam week, I should say, because they moved the only exam I have to an unspecified later date.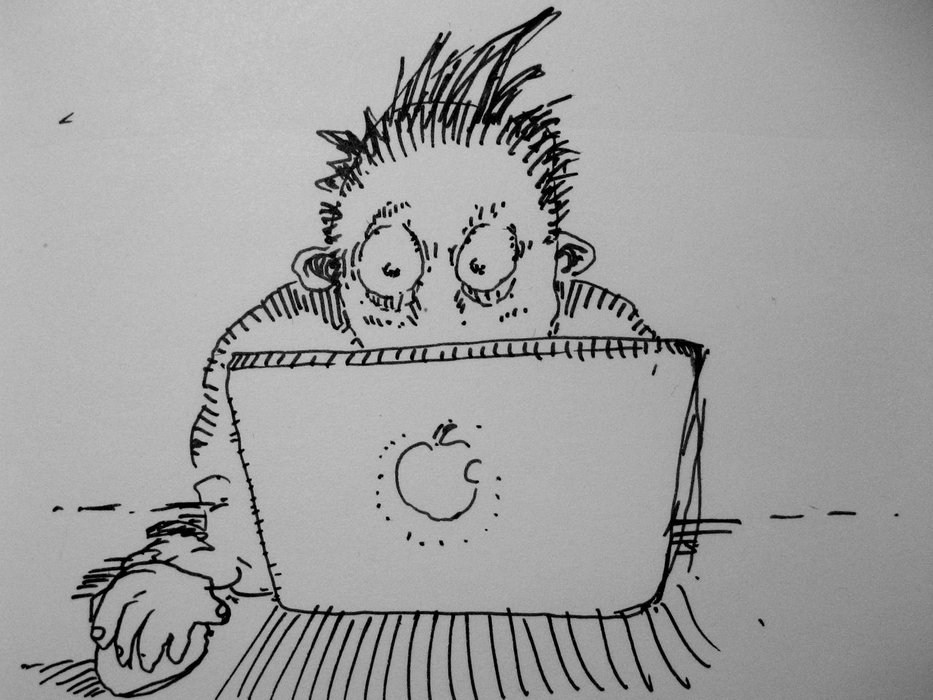 Boredom is lurking. original by Huub Zeeman
Currently, the Netherlands is in a so-called Intelligent Lockdown. Our government has a clear stance: they want to flatten the curve without interrupting daily life too much. If you're in one of the risk groups, full isolation is strongly encouraged for your safety, but for others, the rules are less strict. Gatherings of more than three people are prohibited, and one should always leave 1.5 meters distance between you and others. You're encouraged to stay at home as much as possible, but you can still go out to get some fresh air in parks or on the beach, as long as you keep 1.5 meters distance and don't form groups of more than three.
The rules expect you to work from home, but it's not a strict requirement. That means that a lot of jobs without much contact are still functioning regularly, like in construction or warehouses. Even shops remain open, provided that they have taken sufficient measures to allow 1.5 meters distance and to reduce the number of people simultaneously in a shop.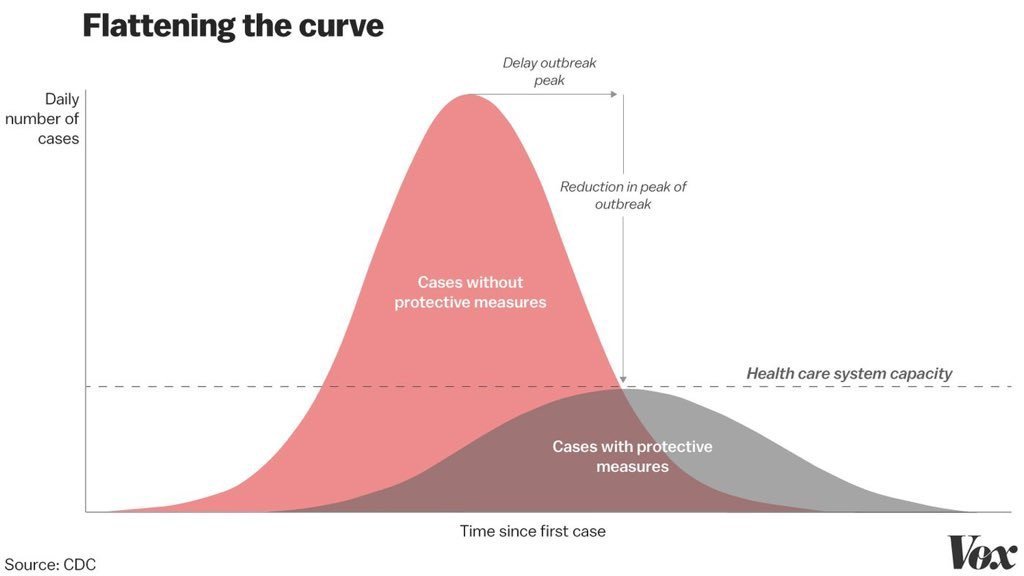 The government did close all schools and leisure businesses, so if you're a tourist staying here, there's nothing to do. Some restaurants that usually don't decide to offer takeout or delivery services, to continue to provide you with food and recover a bit of their lost income too. The schools try to give online education to ensure that there won't be an education delay. Some are even handing out supplies to those that aren't able to attend online lessons. The government made an exception for people working in so-called vital professions, mostly referring to medical employees. They should still be able to continue their work without having to worry about their kids.
If you're planning on going here, our borders remain open, but getting into the country will be practically impossible. All neighbouring countries have closed their borders, plus planes are on the ground due to the closed Schengen borders and low demand. If you're planning on leaving, then rest assured that our country won't cause trouble. Other countries, however, are considerably more restrictive. So much so that there are still dutch people stuck in other countries unable to get back here. There's no reason to disallow that single flight to bring those people back to their families. Corona is everywhere already. That single plane taking people out of the country is not going to make the difference.
The usually busy Rembrandtplein, Amsterdam, now empty. original by Huub Zeeman
Every day at 2 pm, the dutch public health organisation publishes new figures on the corona crisis. One of those figures is the number of infected patients, a number that interests many people around the world. We currently have 20 549 confirmed cases. Unfortunately, that number isn't very accurate. We have a low testing capacity, and the government reserves the tests we do have for high-risk patients and health care workers. The government expects that 50 to 60 per cent of the population will eventually get the COVID-19 virus. This way, there will be enough group immunity to ensure that it will not become an epidemic again next year. Large scale antibody tests will give a definite answer on this.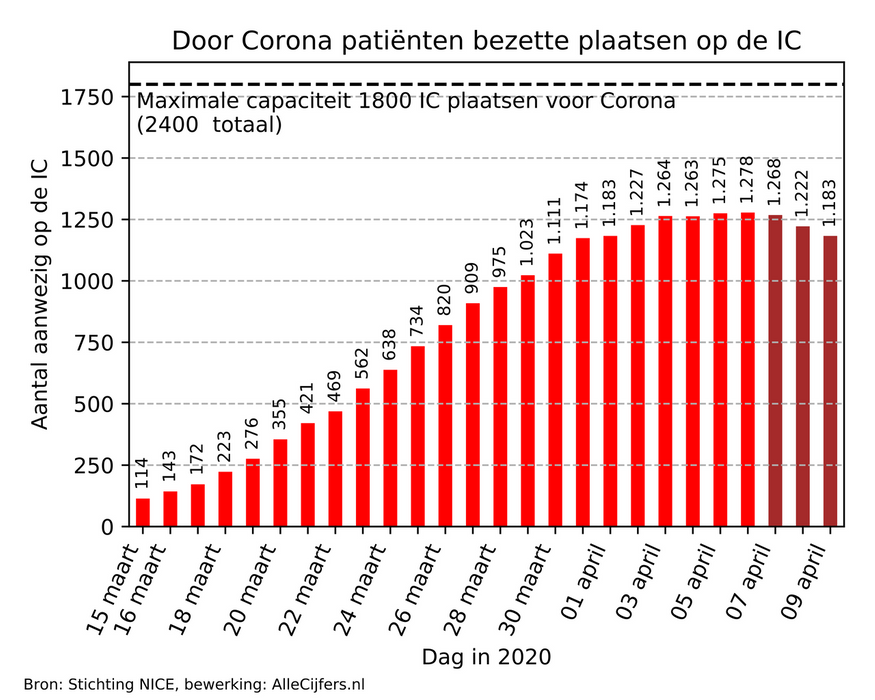 Number of corona patients in ICU. Darker red colors can still increase. source
A big problem almost every country has to deal with is ICU capacity. That's why we're much more focussed on ICU usage than total infections or deaths, also because this number is accurately measurable. By now, we seem to have reached a peak in IC units occupied by corona patients. To cope with the sudden influx of new patients, our hospitals have scaled up the ICU capacity to 2400 beds nationwide. Currently, there are 1250 corona patients on ICU beds, while hospitals reserved another 600 beds for non-corona patients. That leaves room for 500 new corona patients. As can be seen in the graph on the right, we seem to have hit a maximum in ICU beds used for corona patients.
It's too early to throw a party, though. The decrease in ICU usage only shows that the taken measures are successful, not that we're at the end of the pandemic. The excellent news, combined with the surprisingly warm weather, creates the risk that people will start ignoring the taken measures. It's too early for that. Doing so now will create a second flow of patients, possibly overflowing our health care capacity.
I'm convinced that the current measures will stay in effect at least until the first week of May. That means I'll have to stay home for the coming four weeks. It is, however, great to see that our much-critiqued Intelligent Lockdown seems to be working. I'm glad that I'm still able to go outside and get some fresh air, especially with the good weather now.
---
This is my entry to @invisusmundi's coronavirus situation in your country contest.
Stay safe
@Jager567