Too many spices, so little thyme! Keep calm and curry on. Okay I'll stop.
On a scale on 1-10, how well do you know your spices? Let's do a small exercise. How many of these spices can you identify visually? Fennel, cinnamon, curry leaves, dill, rosemary, mint, basil, sage, thyme, chive...
Through this piece, we will travel to Zanzibar, an Island on the East African coast. Zanzibar is commonly known as the Spice Island because of the innumerable spices that grow there. Zanzibar played a huge part in the 16th Century trade by being the first entry to East Africa. The Portuguese controlled trade and made plantations but did not stay there for long. Traders from India, Indonesia and Malaysia thronged Zanzibar and they brought different goods and seeds thereafter. It was inevitable that some of the spices would be grown there. The weather and climate is also favourable because it is hot and humid.
We will go to the heart of the forest and see where different spices come from. We will see them in their raw form either as leaves, tree barks, roots or seeds. Everything here has a great flavor. Even the fruit is very flavourful and juicy. Spices are the dried parts of plants used to flavour dishes and drinks. Spices are important in adding flavour and even having health benefits to those who consume them. For example, nothing comes close to the aroma of Pilau or Biriyani (Spicy rice dishes common in Zanzibar) because of the aromatic cloves and tree barks used to season the dish. Some people opt to grind them while others add them whole. You may often enjoy a cup of cardamom tea completely unaware of where or how it grows.
The Zanzibar Spice tour is recommended because you get to see different herbs and spices and how they are used. There are two types of spice farms; the government-owned and the private-owned farms. However, most guides recommend the government farms because they are bigger, affordable and they have more attractions.
You may start your trip by visiting nutmeg tree farm and you will see how it looks in its raw form. Hundreds of trees form a canopy providing shade from the scorching 10 am Zanzibar sun. Under the trees, a blanket of leaves and overripe fruits provided a nectary smell and a few bees threaten to attack. When ripe, the nutmeg fruit has a yellow flesh and a brown kernel inside. The seed has a powdery substance that is further dried and used as a spice and an aphrodisiac for women. It is no secret, everyone you meet will coyly admit this fact. They dry and grind the powdery substance and add it to their tea or pastries.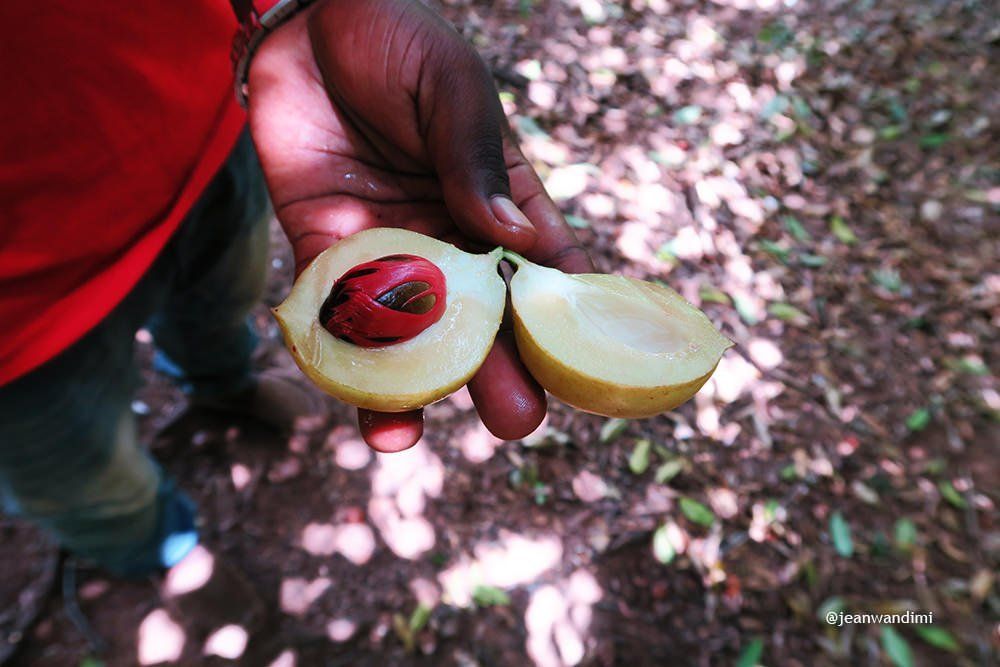 Nutmeg fruit. The brown seed has a white/ yellow substance that is dried into a powder
Just like the nutmeg serves that function for women, ginger does the same for men. Men boil ginger and drink the juice and it is said to increase vigor and libido in men.
The black pepper is used by lactating mothers to increase milk production. Black pepper grows in small fruits and they are dried and grounded to make the spice that we all love.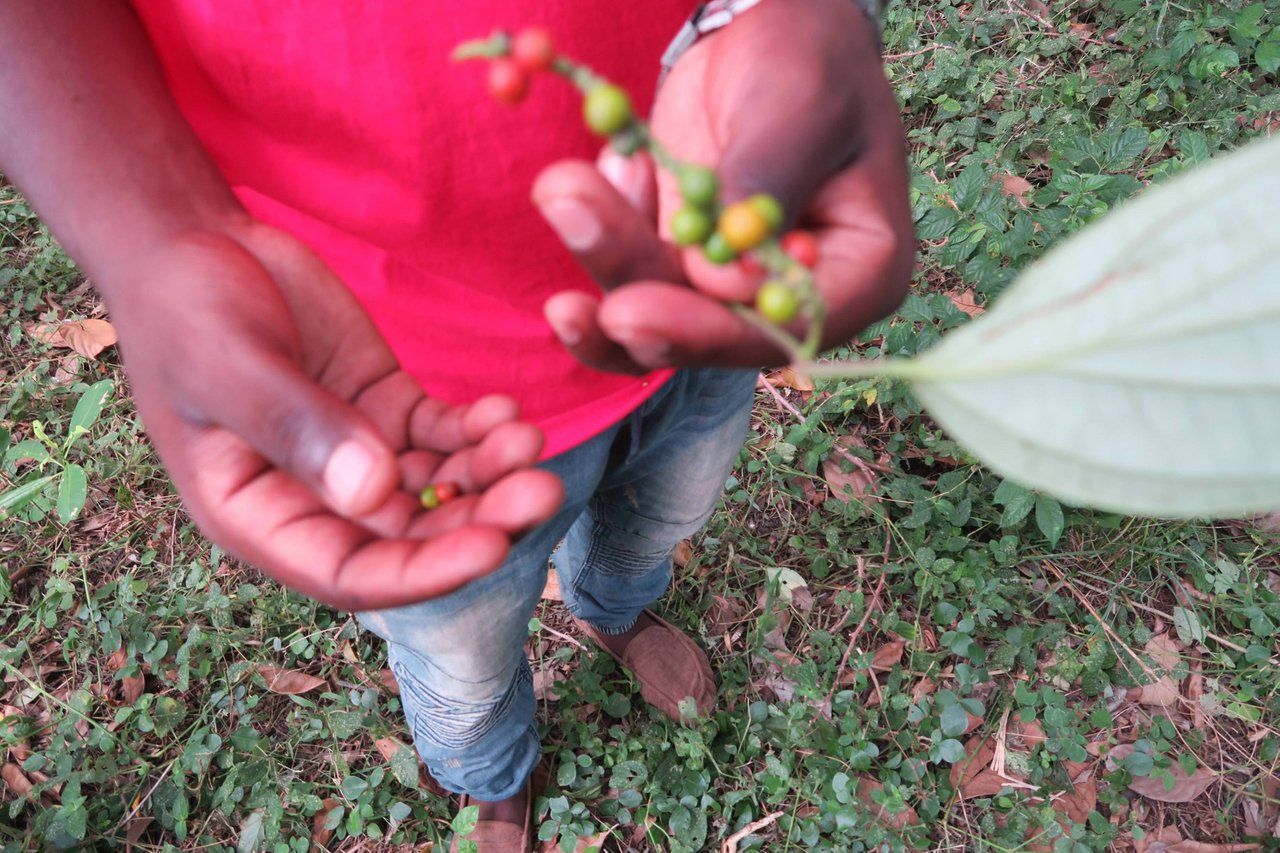 Black pepper plant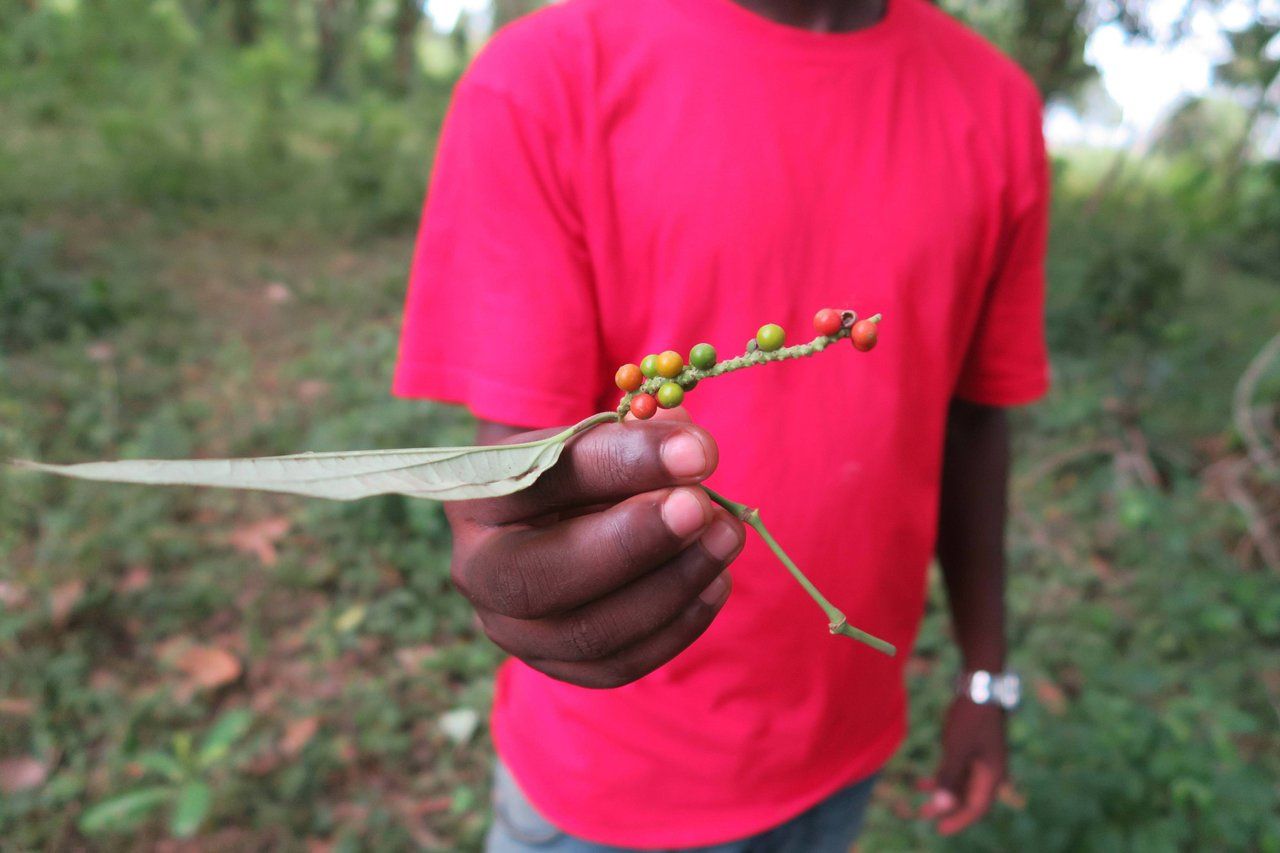 Black Pepper
The clove farms are like something out of a travel magazine. Emerald green and towering, the trees create this beautiful canopy and you cannot help but take a moment to stare at them. Although the trees are very tall, some lower branches are easy to pick. A closer look reveals small bud-like flowers. The tall trees have aromatic tree buds that are dried and used as spices for pilau. When the flowers fall off, the buds turn red and the farmers pick them and dry them.
Gigantic clove trees
The red parts are dried. You can see the light green flower.

Cloves when dried Source
You then learn how to make perfumes from different trees and one perfume maker even told us that they use the same tree to make the coveted Chanel No 5 perfume. Whether true or not, the aroma of natural perfume fills the forest and it is very pleasant. Flowers fall on the ground and if you rub them between your palms, you will smell very nicely the whole day. Sometimes, people rub the flowers on their necks to have the smell staying with them all day.
Mr. Butterly, a professional coconut tree climber was patiently waiting. His apprentice artfully and almost effortlessly climbed a coconut tree as he sang a Swahili song. He then cut four of the juiciest coconuts and chopped them for us. We were sitting in an arena-like space complete with logs which we used as seats centrally located to watch his performance. We cooled off by drinking coconut juice as he narrated different stories about how he got into coconut tree climbing. He told us that it was an art and not everyone can do it. He was trained for months.

Natural perfumes and soaps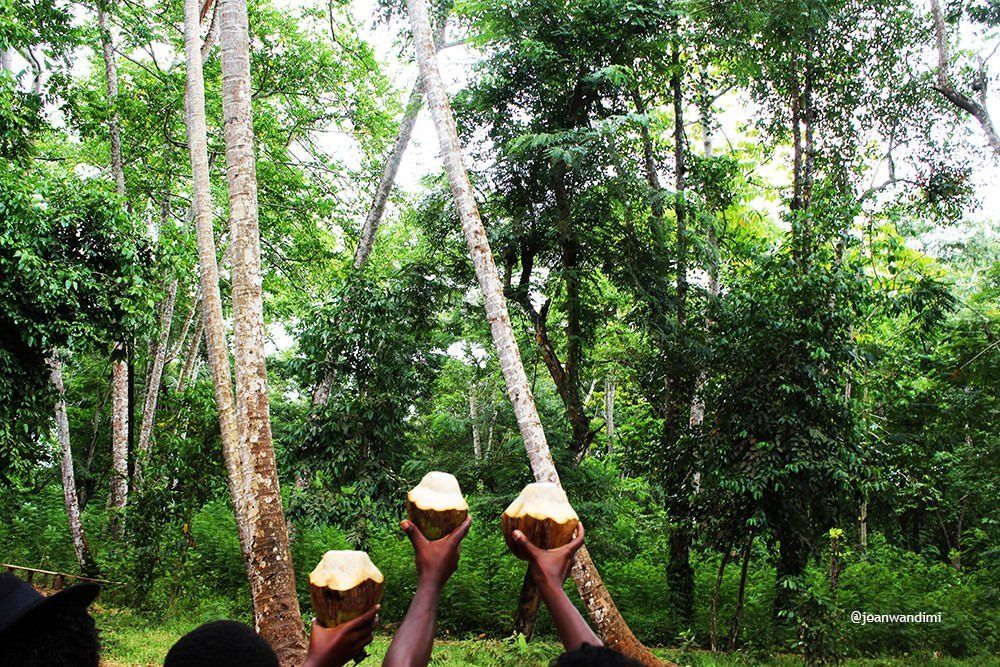 Toasting in the middle of the forest
Coconut water comes in handy because it is so hot
Other farms to visit are the lemongrass, pineapple, garlic, ginger, cardamom, cinnamon, black pepper and vanilla farms. Every place we visited was awe inspiring. We saw how different parts of plants are used to make spices. For example, in the cinnamon plant they use the bark and stem to flavour tea and also grind it to use in pastries. For the coffee they roast the beans. For vanilla, they use the pods and for ginger they use the roots.
Little pineapple plant

Cardamom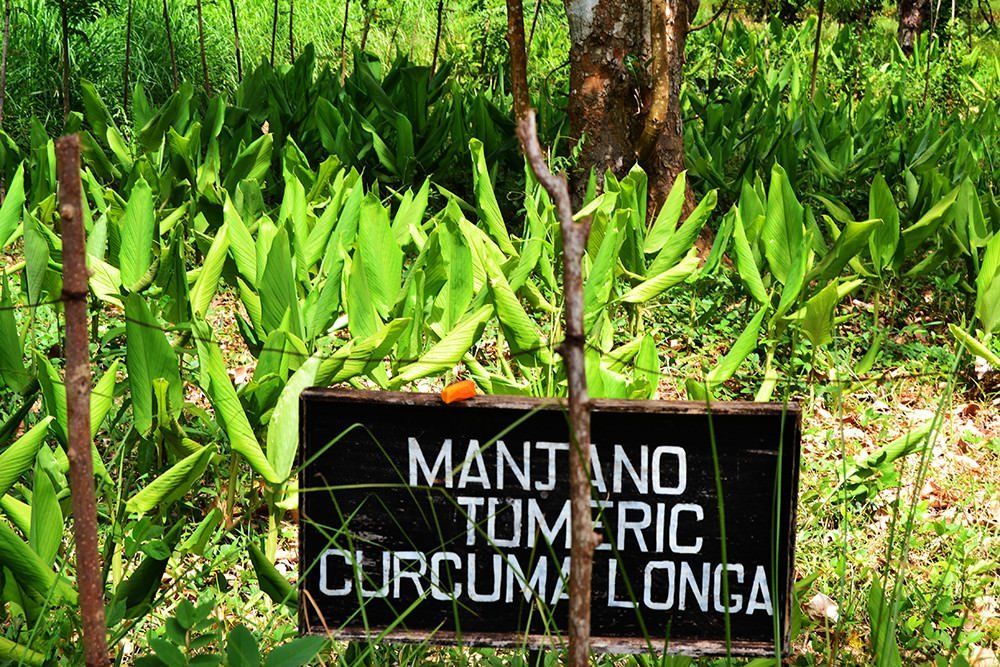 Tumeric
Vanilla Plant. The pods are used to flavour food, icecream & pastries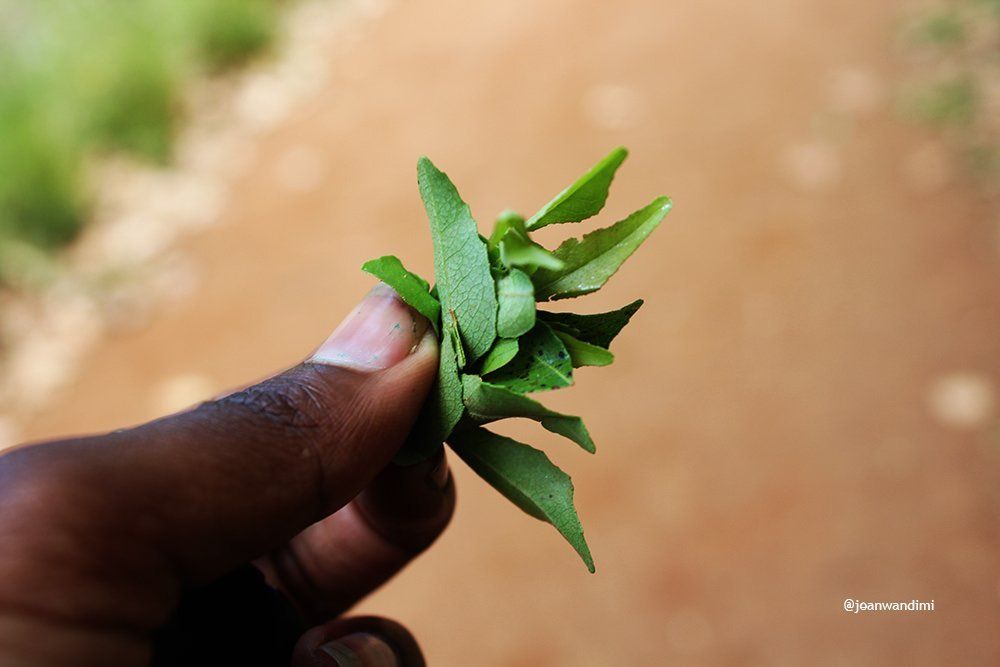 Curry leaves
The tour is not complete without getting embellished. Our assistant tour guide made us necklaces made out of cassava plant and rings and bracelets made out of palm leaves. To top it all off, we got flower crowns at the end of the tour.
Yes I will marry you Zanzibar. I do!
I got natural jewelry complete with cassava necklaces, palm rings, handbag, bangle and a beautiful flower crown. How suave
With Tess, my friend. Wearing neckaces made of cassava plants.
Travel Tips.
Zanzibar is known for its authentic spice farm tours and people come from all over the globe to take part in this experience. If you want to visit, this is Kizimbani Spice Farm. When you book early you will get some guides helping you out. Here are some travel tips.

Make sure you pick a tour company that provides you with a guide to explain everything. The company should offer to drive you there and provide a guide to take you through the trip.

Make sure you carry comfortable shoes, water and sunscreen. Sandals or rubber shoes are perfect because you will be walking. However, the temperatures are very high and sports shoes can get cumbersome.

Carry some extra money because you can buy some spices after the tour. However, we found that the spices are more expensive in the farm than in Stone Town. We just bought a few spices to show appreciation but we bought most in the town as they were way cheaper.

Be sure to taste all the exotic fruits like the juicy Zanzibar mangoes, papaya and jackfruit. You can also request to have lunch at the farm and you can see how to use the spices.
Saffron derived from flowers and is used to colour & flavour dishes
Spices to buy after the tour. They pack them in beautiful gift packs
Overall, this is a different and unique travel experience. It is not the most glamorous but you will be glad you did it.
All photos by @jeanwandimi Cameras used Canon G7x & Canon Rebel t5i