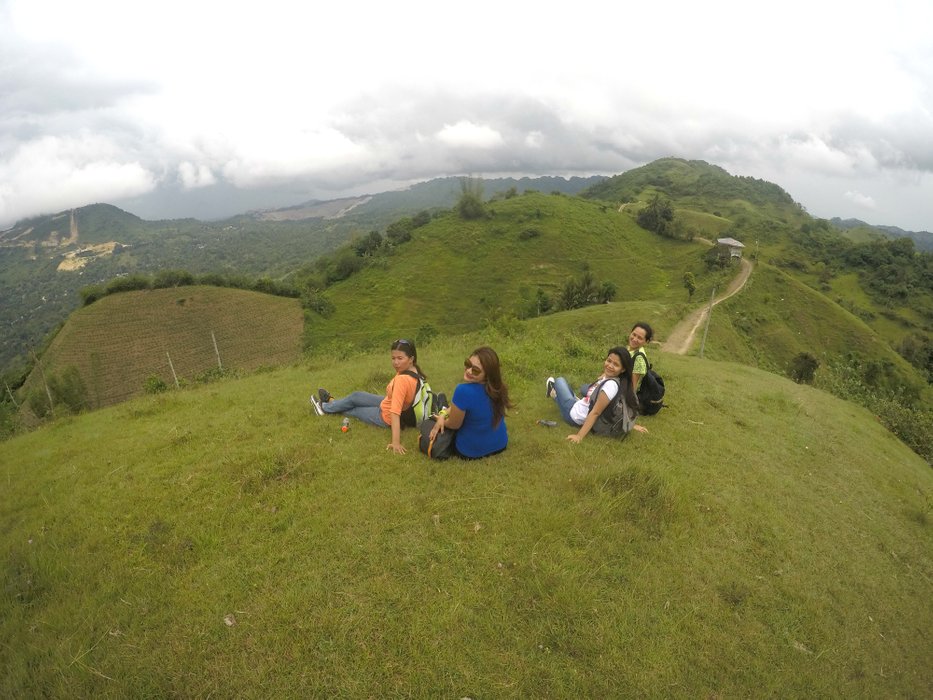 L-R: @felicitas @sawi @jenesa @georgie84 - The steemians on the peak of Mt. Naupa.
Good Day Friends!
This is another adventure that I want to share with you here today which I believe we'll all enjoy. This is far different from my usual getaways which are just concentrated on swimming and getting on thrilling rides. It's climbing Mt. Naupa and reaching its peak. It's actually just my first time to climb mountain. I may have been on mountainous areas before but I was not there to climb mountain intentionally, it just that there's no other way around to get to our destination than dealing with the steep climb just like what I had experienced in JVR resort in Balamban in my CEBU GETAWAY Series # 1: JVR Sky in the Island Resort.
This time, climbing mountain is purposely and intentionally done. I wanna know how it feels to be on the peak of the mountain and have the overlooking view of the city with the hair swaying to and fro as caressed by the air tenderly. Now that i'm freshly packed with the tranquilizing mountain sensation, allow me to take you to the place through this getaway series that's prepared for everyone around especially for those whose passion and interest is on mountain trekking or steep climbing.
Let's get started!
---
Mt. Naupa, Naga's Highest Peak
Barangay Cogon, Naga City, Cebu, Philippines
---
Mt. Naupa is actually not our target at all, like we never have thought that we were gonna marvel at Nuapa's peak instead. The plan actually is with Mt. Balirong's but due to let me say promotional talk from the habal-habal (motorcycle) drivers that we met at Naga city's crossing road to Balirong, we went for Mt. Naupa. As they say, it's the highest peak in the place and the most visited so far.
Here we go!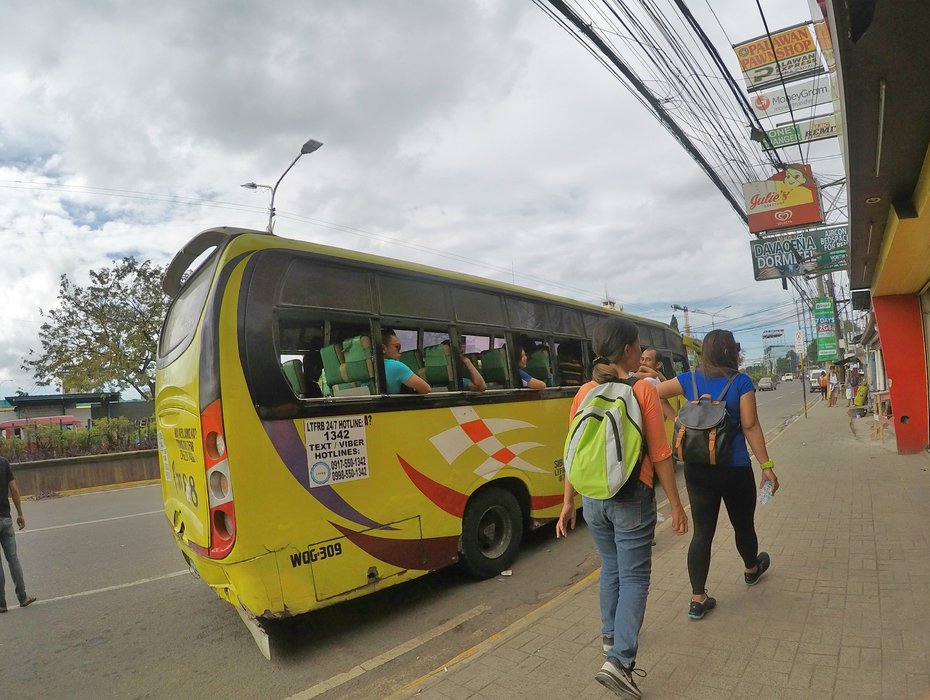 The steemians @sawi (in blue shirt) and @felicitas (in orange shirt) to step on the bus accross south bus terminal.
We started to leave the city of Cebu at 8:00 in the morning. From South Bus Terminal we got a bus to Naga City and from its drop off point we took another public jeepney to Brgy. Balirong. It took us around 45 minutes to reach the crossroad to Balirong where we met the habal-habal drivers who made us think to go for Mt. Naupa instead. It just costed us Php. 40.00 for the total fare.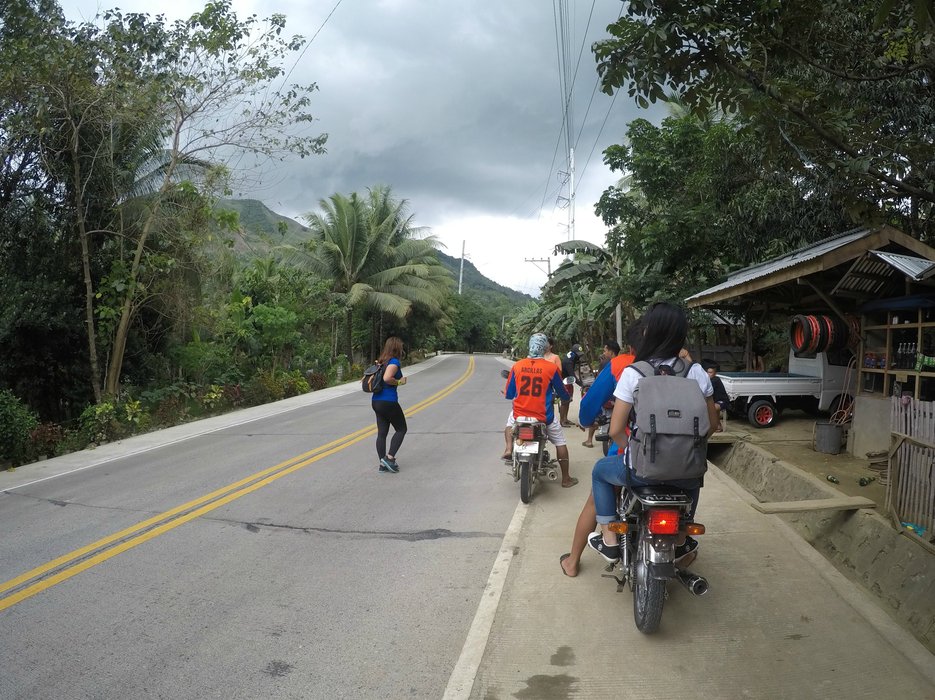 Well that's me in gray backpack, ready to flee for Mt. Naupa.
From Balirong's crossing, we took habal-habal to Mt. Naupa for Php. 100.00 each. For the roundtrip, you get to pay Php 200.00. There's no need to haggle for this is the standard rate. On our case, we spent Php 300.00. It's a hundred more than the regular pay. Well, included in our payment is the waiting fee of the drivers. As frugal travelers as we are, we just never complain for they didn't just function as drivers and tour guides, but they became more like a brother who diligently attend to our needs during the climbing.
And so...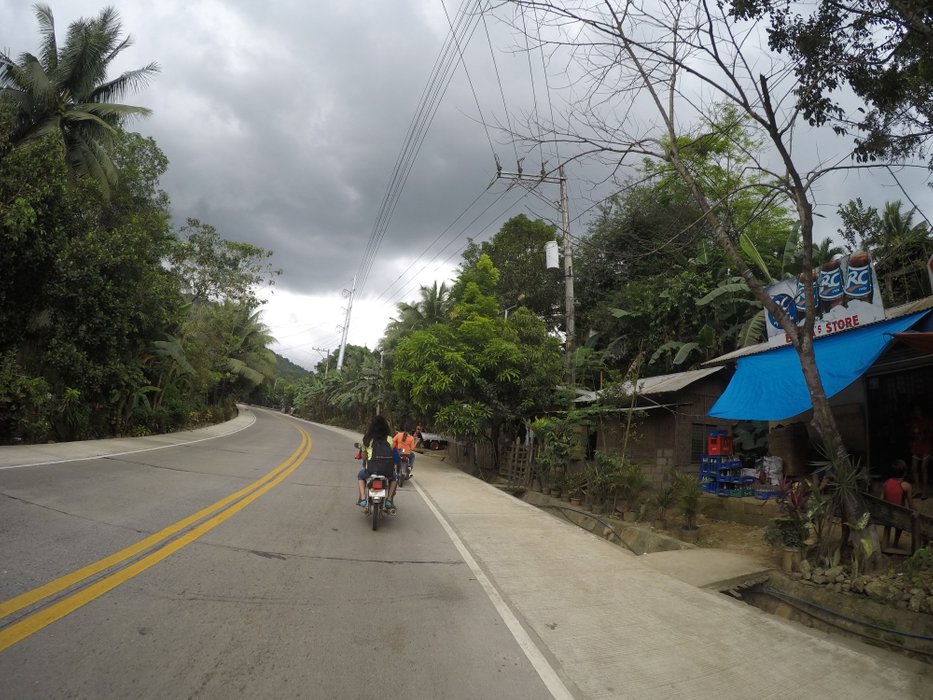 Here we come Mt. Nuapa!
Along our road trip to Mt. Naupa, under the fluffy clouds, sitted the beauty of mother earth dominated by the color of life, Green. To our left and right, you can already sight the foggy mountains that are set perfectly in their place.
Let's continue...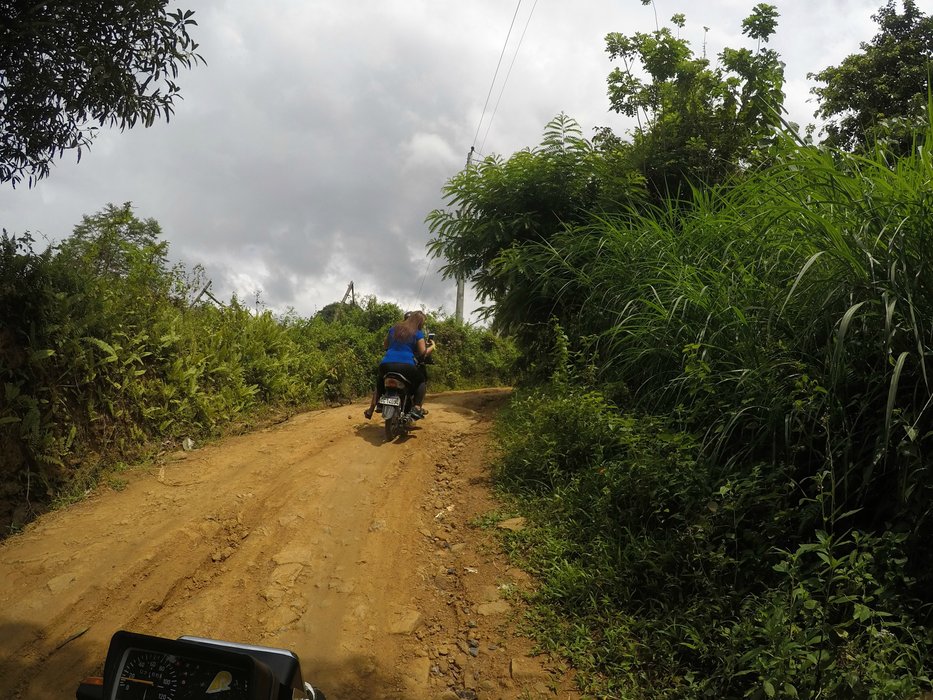 That's @sawi ahead of us.
This is already in Brgy. Cogon where Mt. Naupa lies. Unlike most of Naupa's visitors, I, together with my workmates never try trekking from the very entrance of Brgy. Cogon because again this is my very first time to go mountain climbing and what's more is reaching its peak. So, we just took habal-habal up to the foot of Mt. Naupa. Maybe next time, if time allows me so, it would be gratifyingly awesome on my end to go for a longer mountain trekking which literally starts from where it has to.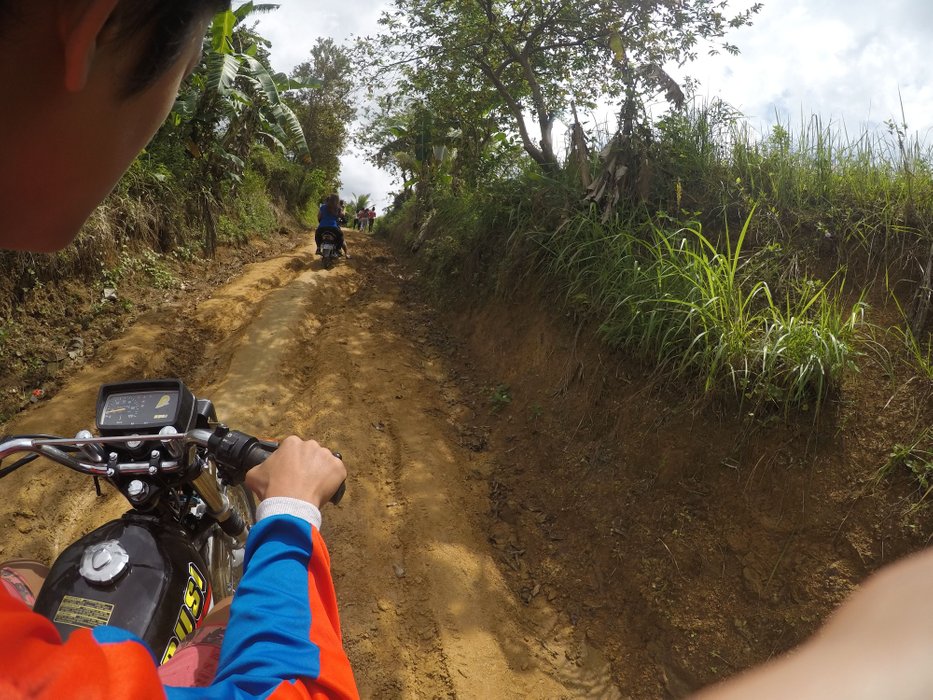 We're getting higher.
The road as we get higher is getting rougher. There are also some areas that it gets narrower and beside is a deep cliff and that it needs one to get more focus on driving.
At last...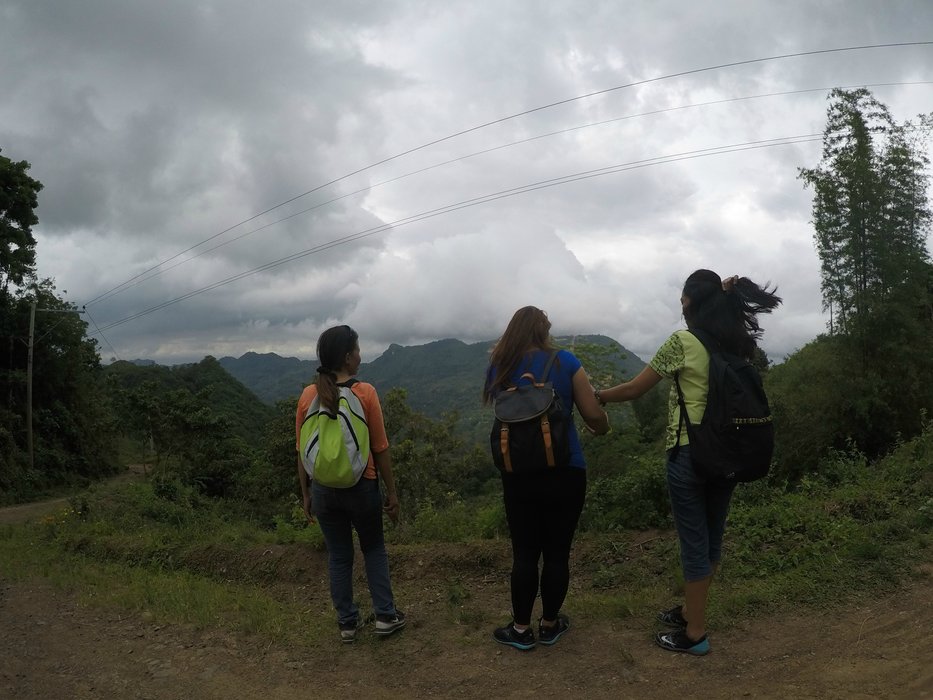 Here we are now after the 30-minute habal-habal ride.
That was the most thrilling and terrifying habal-habal ride that I have experienced so far. That jerky and bumpy travel was tough. On the other hand, it added an excitement to this getaway. So here we are now, fixing and readying ourselves for the high slopes.
Let's get started...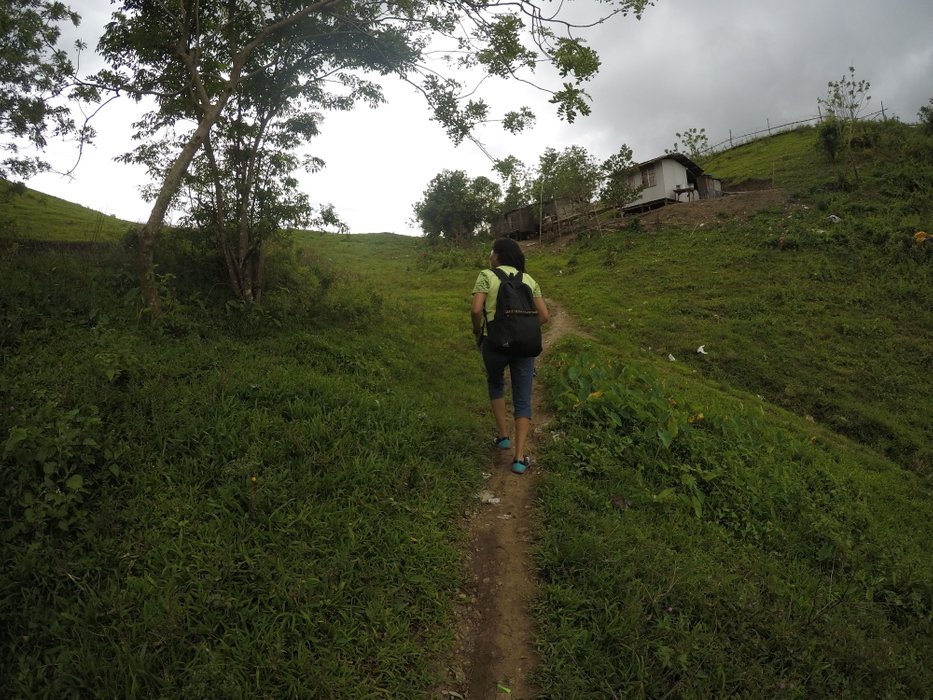 Here's @georgie84 in black backpack.
We're now starting our walk up to the peak of Mt. Naupa.
Let's keep going...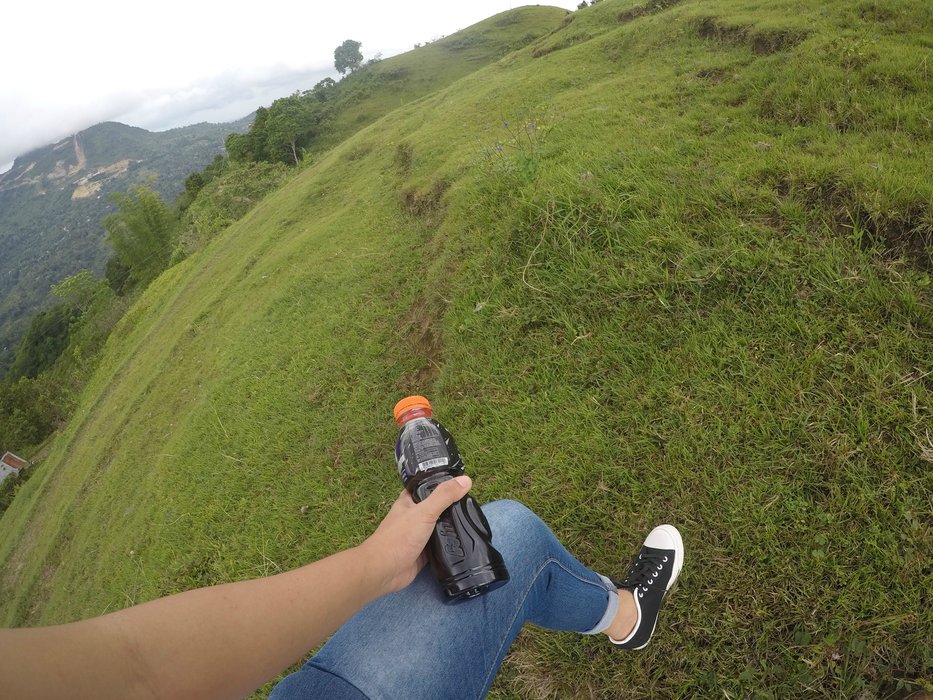 That's me with my Ion drink, struggling to reach the peak of Naupa.
Since it's my first time, I am this excited to capture every moment with the mountain. It's like leaving behind my mundane old self, embracing freedom while marveling on God's beautiful creation. How wonderful is Mother Earth!
Go for the high slopes...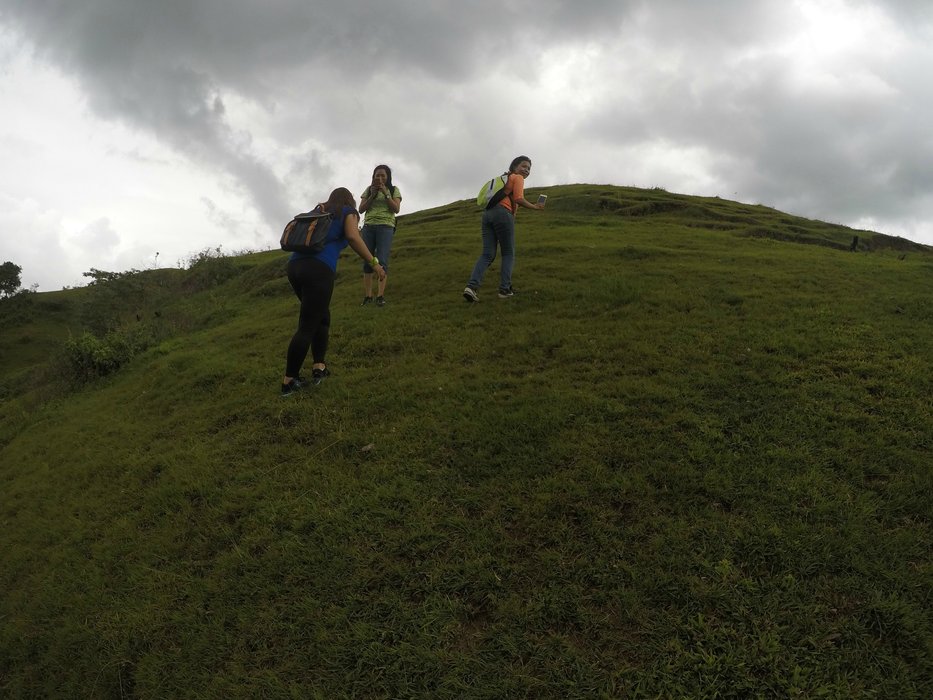 The steemians who are this energetic to go reach the peak.
Never have I thought that I would be into this one day. Reaching the mountain's peak is never easy. But the fulfillment that one gets in reaching the summit for a neophyte like me is so much to contain.
Just keep climbing...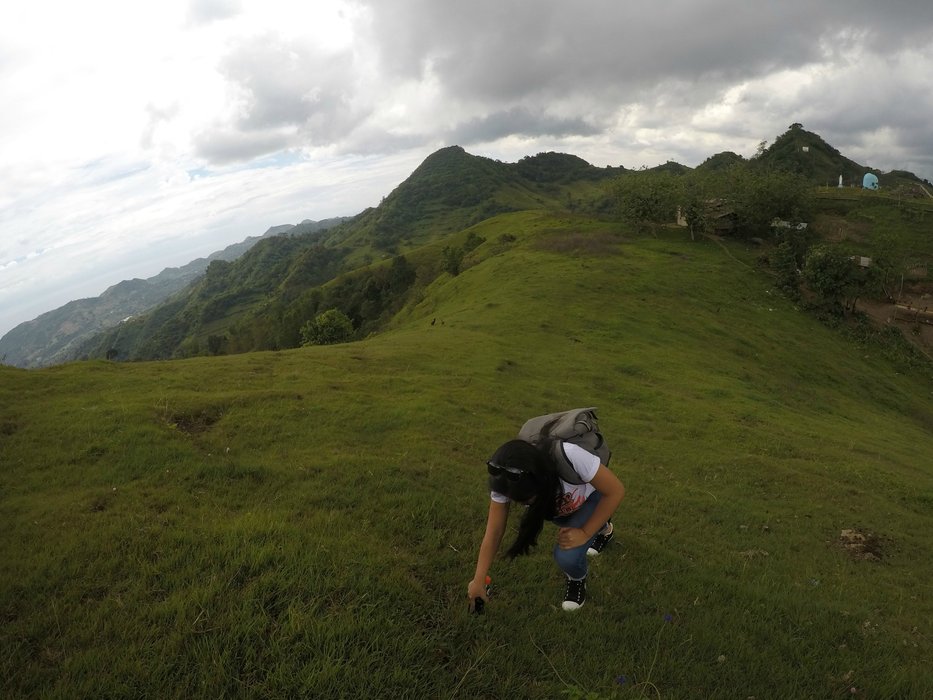 I'm almost on the peak.
As I continued, my legs seemed to wobble. But it's now the last ascent and i'm gonna reach Mt. Naupa's peak.
Finally...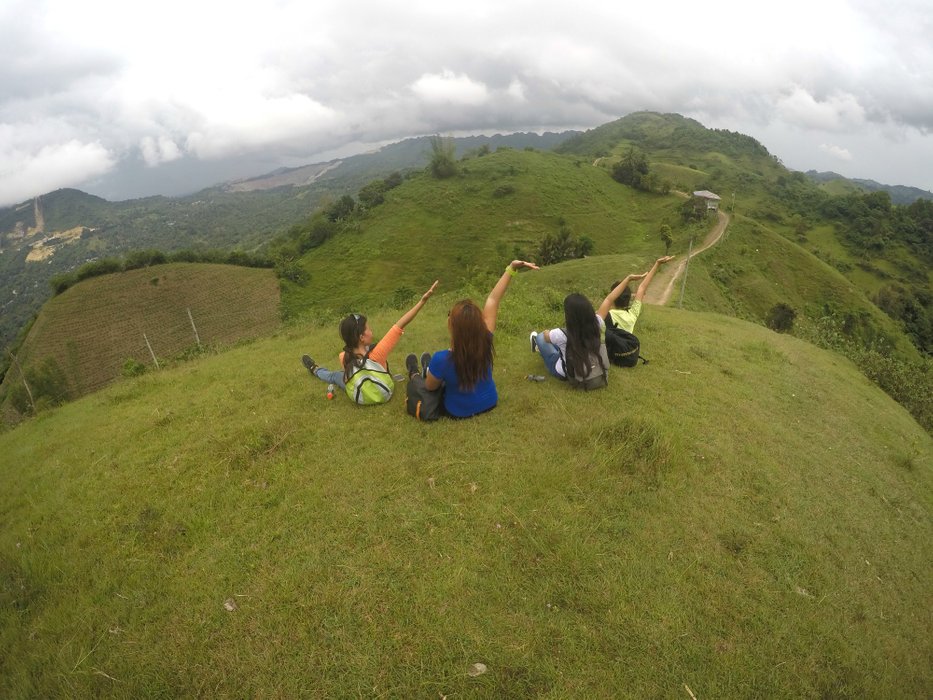 Yes! We made it!
Here we are! After hours, we made it to the peak. The green scenery under the curelean sky, the fresh cold breeze that kissed one's skin, the calming aura of the nature are such that meet you on top.
The view from above: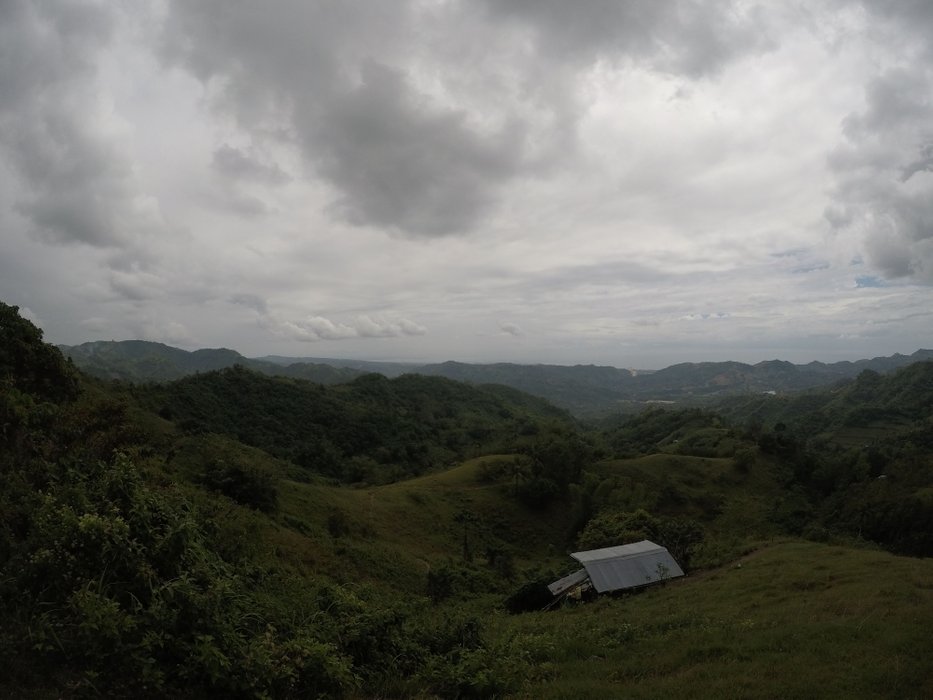 How awesome are the hands of the creator of these!
I could really feel that we're on a high altitude for the mountains, houses and objects below were getting minute in our sight.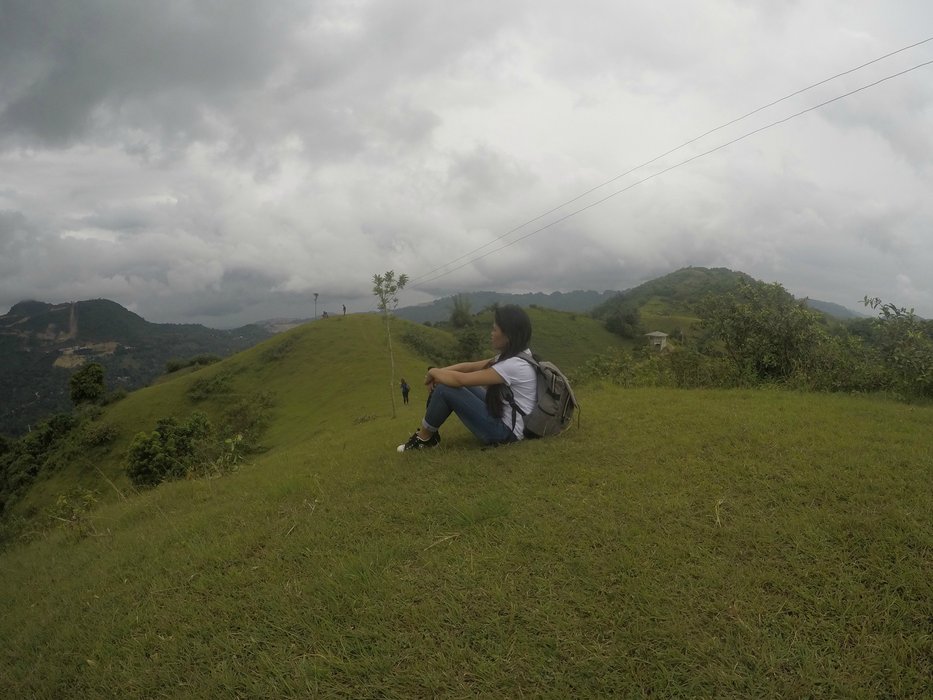 Yeah! That's me enjoying the feelin' being on top of Mt. Naupa.
I found it a very perfect setting to chill, unwind and contemplate on things. With its refreshing and relaxing ambiance there's none who would not fall inlove with the place. It's a quick fix for stress and boredom.
---
Estimated Budget
Php. 30.00 - South Bus Terminal to Naga City
Php 10.00 - Drop off point of Naga to Balirong's crossing
Php 100.00 - Balirong's crossing to Mt. Naupa's foot / Php. 50.00 - Balirong's crossing to chapel in Brgy. Cogon (starting point of the trekking to Mt. Naupa)
*The same rate still in going back to the city of Cebu. Just multiply the budget by two for the round trip.
Tips for the trip
Just pack light as much as possible. Just bring the essentials like water and food.
Wear sunglasses and hats as protection against the hottest rays of the sun
Do a little warm up and ready yourself days before you do the mountain trekking
Wear the proper hiking and trekking attire so as to make you comfortable when doing the activity.
When in Mt. Naupa, practice their LNT Policy (Leave No Trace Policy) : Take nothing but pictures; leave nothing but footprints; kill nothing but time.


That's it friends! I hope you enjoy! See you in my next getaway series!



'til then,
@jenesa