Have you ever been somewhere so magical and so enchanting that your head spins?
That's how I felt wandering through the giant Redwoods of Northern California. The enormity of the trees in the area left me feeling stunned and light headed. I find the Redwoods just as captivating as the Rocky Mountains. It's like they have some kind of power. They really are out of this world.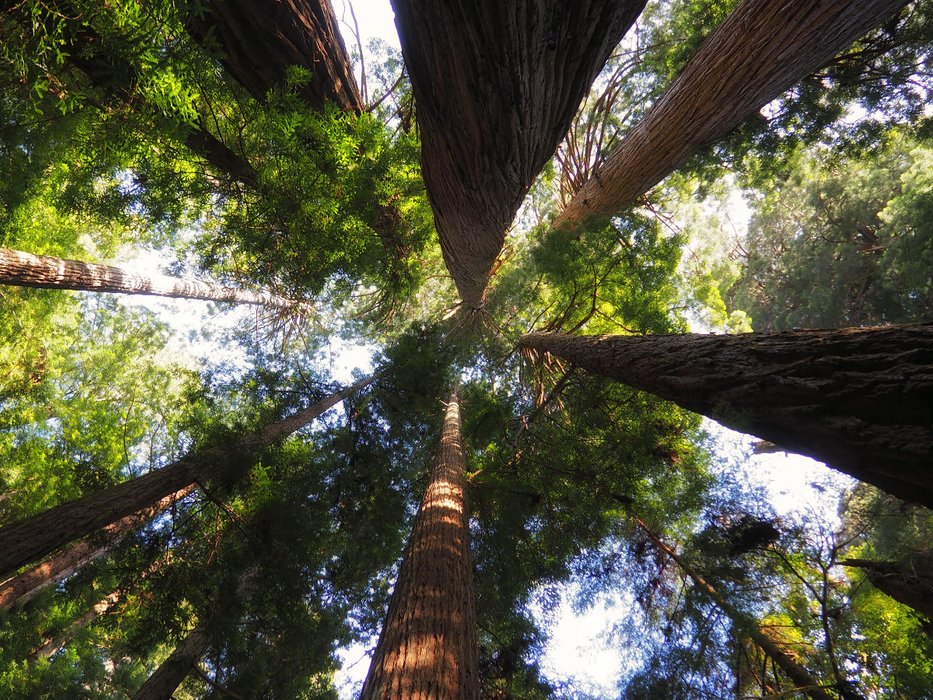 A couple of Summers ago, Ben & I spent a few days exploring the northern Californian coast and the dense Redwood forest that runs alongside it. Here's some stories and photos from our time there. I kept a journal while we were travelling around America. It tells of the struggles of stealth camping, the excitement of seeing new places, and the joys of travel. I always enjoy reading back over it and I hope you do too!
24th May 2016
Today we decided to cross the state border into California baby! We had to stop and declare that we didn't have any cherries, oranges or firewood on board. We didn't so they let us straight through. Woohoo!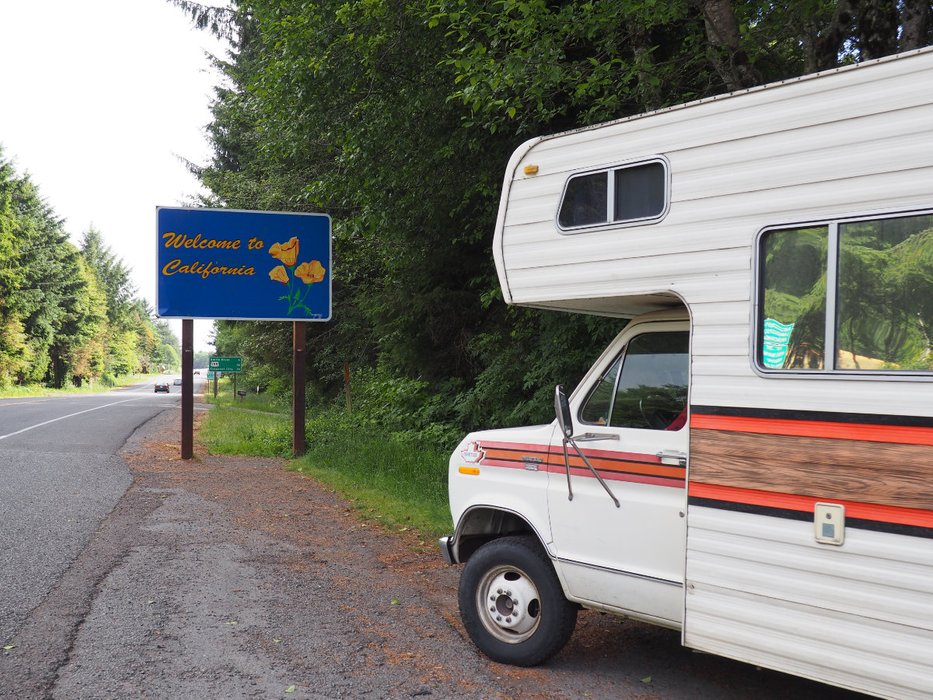 We pulled up at a gas station and filled up Annie's tank (Annie was our RV's name). The guy at the counter actually offered us free overnight parking for the RV so we took him up on the offer. It was connected to the Lucky 7 Casino and it was quite a good spot actually. We were only a few minutes walk down to the beach. Once we had settled in, we took a walk through a little forestry area which opened up to a sweet spot to watch the sun go down, over the Pacific ocean. It was beautiful! At that moment I felt so happy and knew I was in the exact place I needed to be. We took a bunch of photos and just chilled there until the sun had dipped below the horizon. Once the light had disappeared, we wandered back to Annie and stayed in for the rest of the night.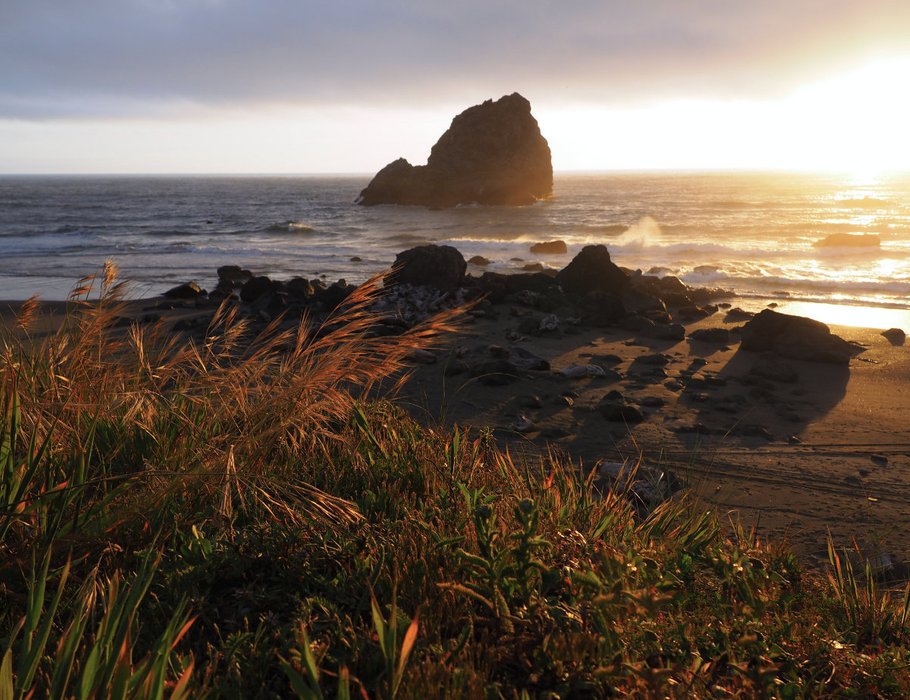 ---
25th May 2016
Great day today. We drove towards the Redwood National Park. We were on the hunt for a free camping spot that we had read about online. It wasn't far from the casino and it was a super pretty drive. Beautiful big Californian Redwoods right up against the road, towering over everything. We entered the Jedadiah State Park which crossed over the Smith River a few times. We got to the place we were searching for but one of the reviews recommended we drive a little further to a place called Sand Camp. I'm so glad we did. It was an amazing private spot with no-one else in sight. It was also right alongside the gorgeous Smith River. So beautiful!! We parked up, made some lunch and then we went for a dip. It was freezing. So cold it started to hurt. We couldn't stay in for longer than a minute or so but it was so refreshing. Once I got out, it felt so relaxing and almost releasing in a way.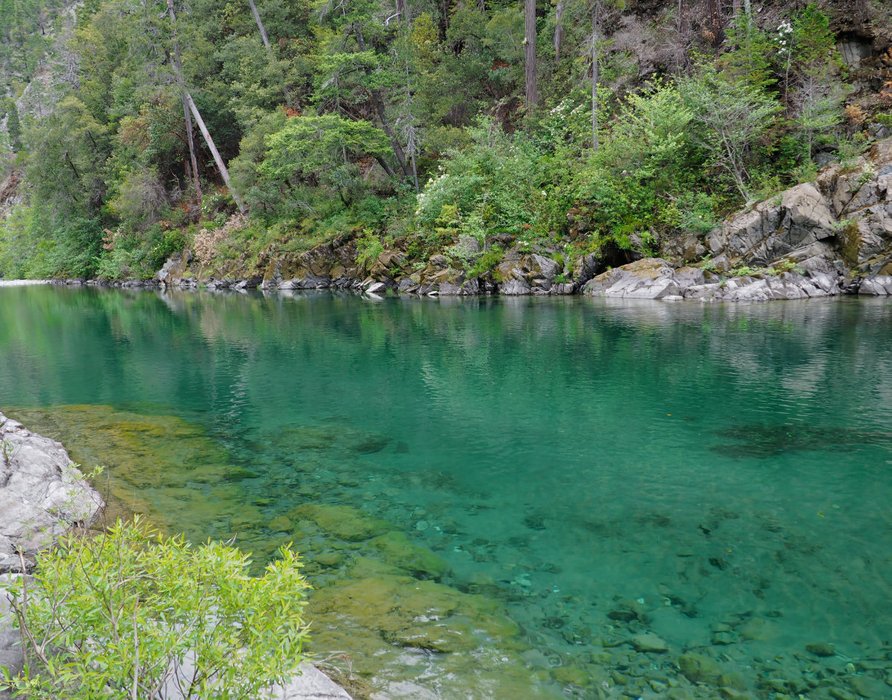 We headed back to Annie and enjoyed some red wine together. We also played a little frisbee and then made fettuccine chicken without the fettuccine. Our campsite was absolutely perfect. I wish we could of stayed longer but the internet didn't permit. The struggles of working from the road!
---
26th May 2016
The sun is out and shining. Beautiful California! After a quick walk back down to the river, we left left Sand Camp. We drove along the Californian coast, which has beautiful blue waters and huge Redwoods. We eventually got to Prairie Creek Redwoods State Park. We wandered through the towering trees. Some of them were so tall and there were some really wide ones too. We walked the Big Tree, Forest and Cathedral trails. Because it was late afternoon, the sun was coming through the trees on such a beautiful angle.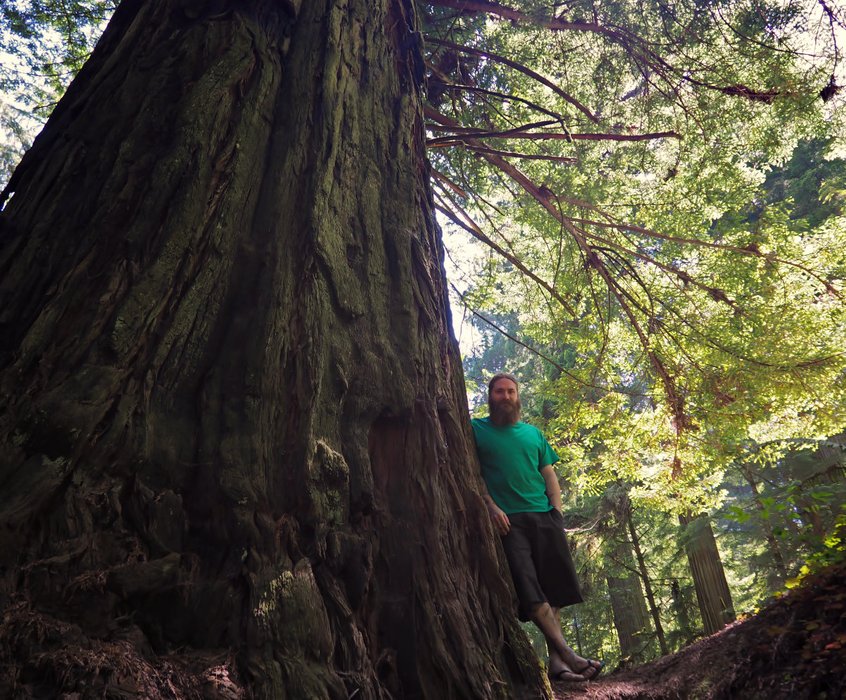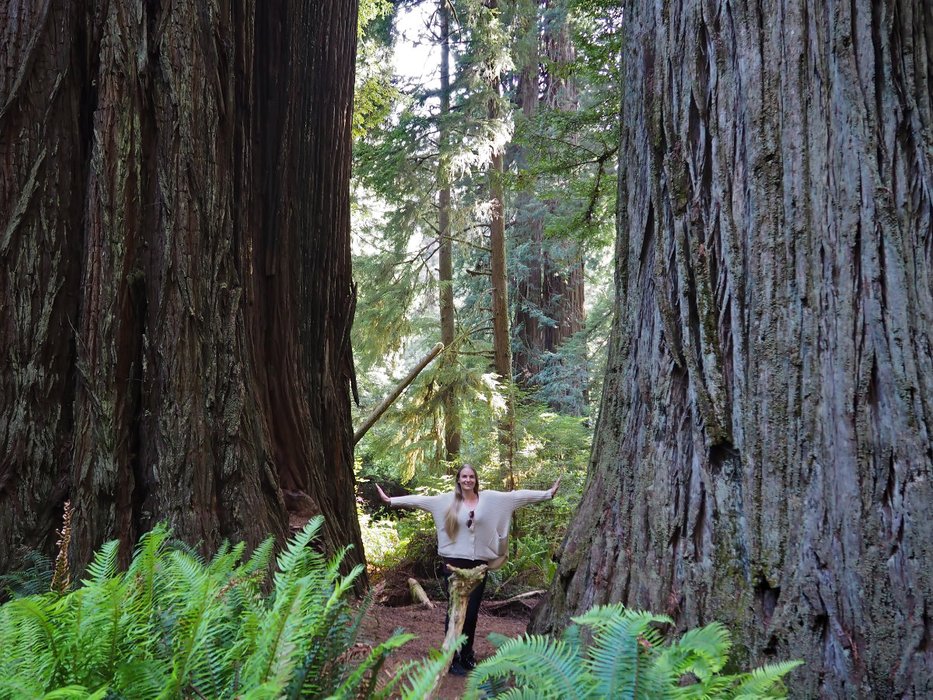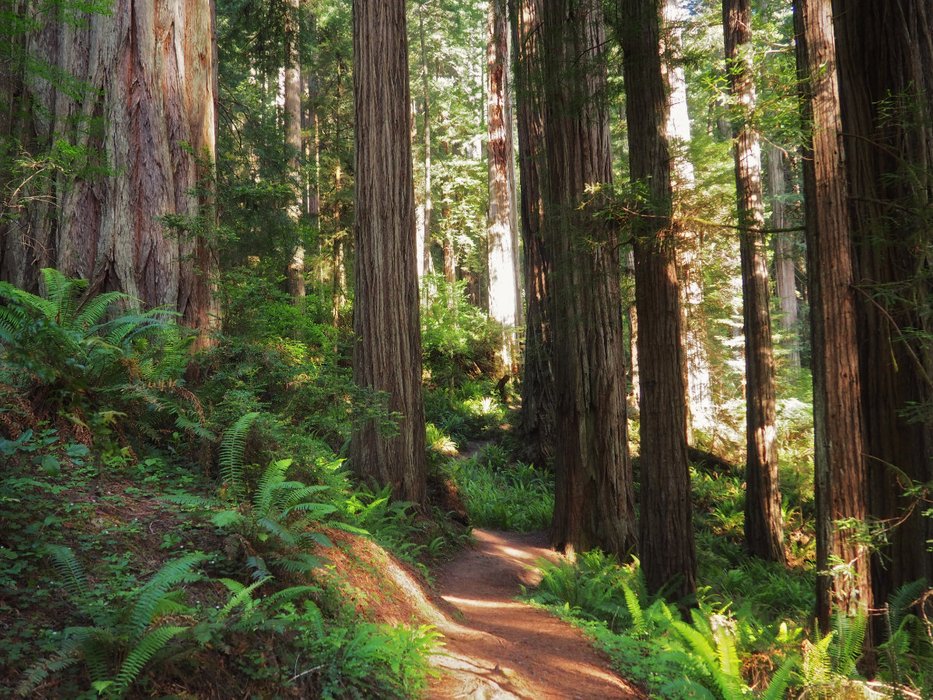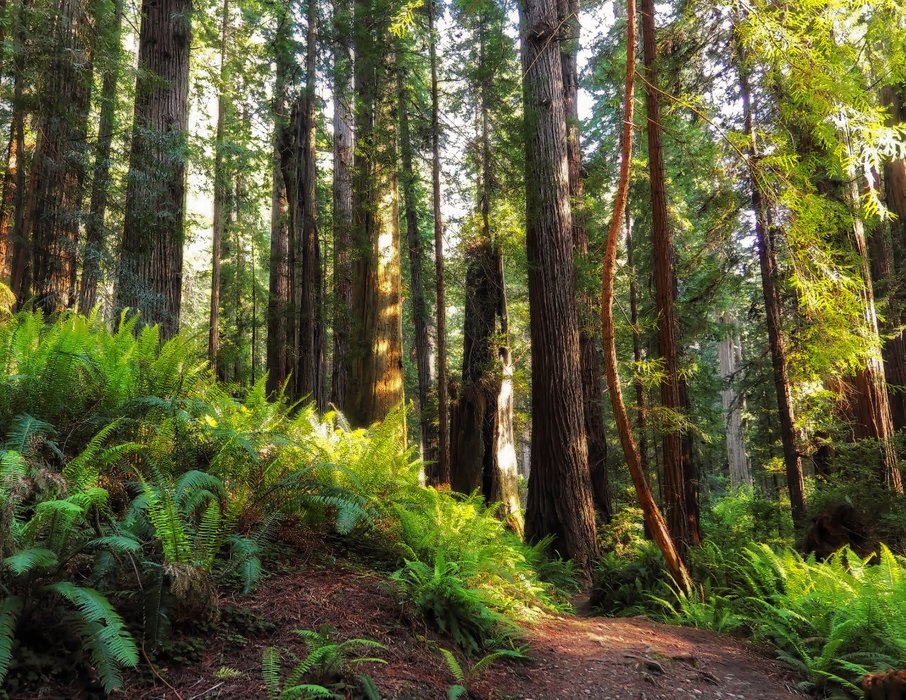 Once we were done there, we pulled into the information centre but it was closed. But, just up the road we got to see elk! So many elk. Like heaps! Funnily enough, the place was called Elk Meadow.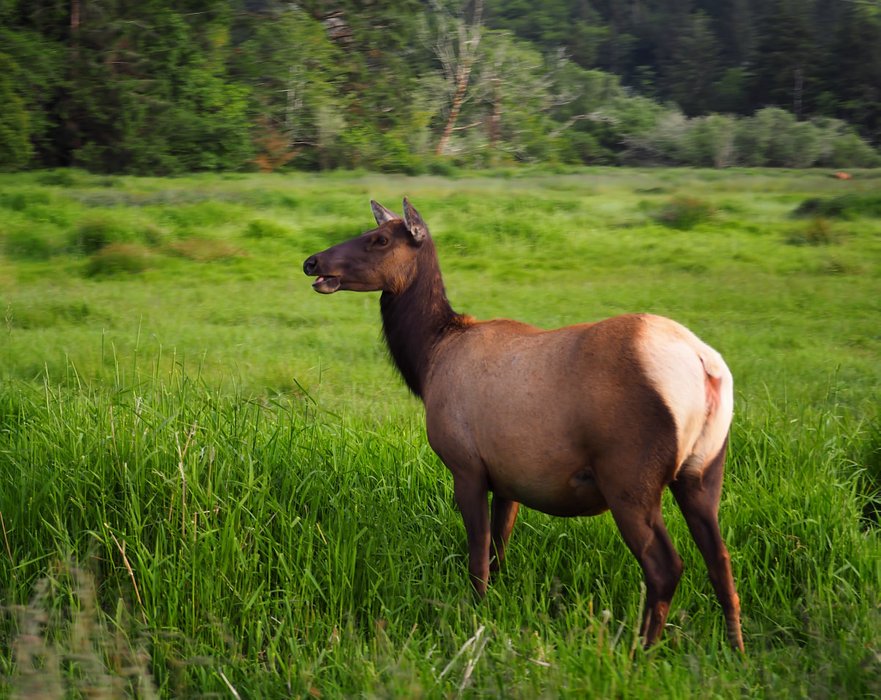 We took a few photos and continued to drive back to the coast. We found an awesome park just near the beach. We missed the sun setting but we still got to see all of the gorgeous colours from the beach. We came back to Annie and started to make pizza for dinner. I put the oven on, and then there was a knock on the door. Two rangers wanting to know if we intended to stay the night. I told them that we did so they then asked us to move on. They were super nice about it and recommended that we stay at a rest stop about 15 miles up the road. Once they left, we finished up our dinner and then made the drive South to where the rangers had suggested. It was about 10pm by this time but we stayed up a bit longer and then crashed out hard.
---
27th May 2016
We left the rest stop at around 11am and headed for a little town called Ferndale. It's a beautiful old town with so many lovely cottages and buildings. Everyone there seems to take really good care of their house and garden. We stopped in for a chicken pot pie and I even got to pat and feed a rabbit named Mocha in one of the pet care stores. So cute!

After Ferndale, we stopped at Scotia for some fuel and then drove to the Humboldt Redwoods State Park to check out some more of the trees. We drove the Avenue of Giants which is an amazing windy drive through the forest. We stopped for a few photo ops and also at a tree so big you can drive through it. Unfortunately Annie the fatty couldn't fit through so we had to walk through instead. $3 each for the walk in. We had an early dinner at the Chimney Tree Cafe which I thought was delicious. There was a really cool tree there that had been struck by lightning 100 years ago. It was completely hollow right up the middle of the tree so you could actually stand inside it.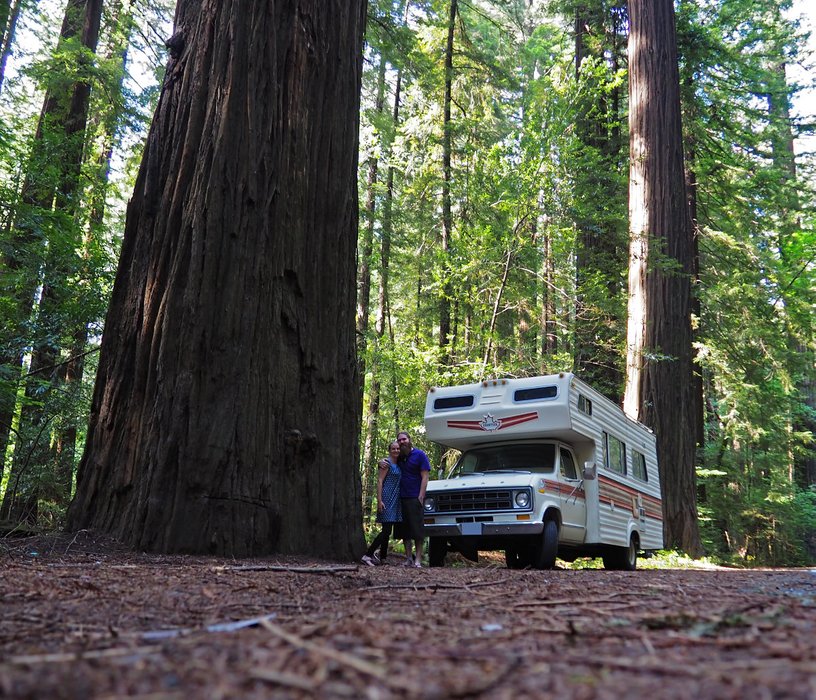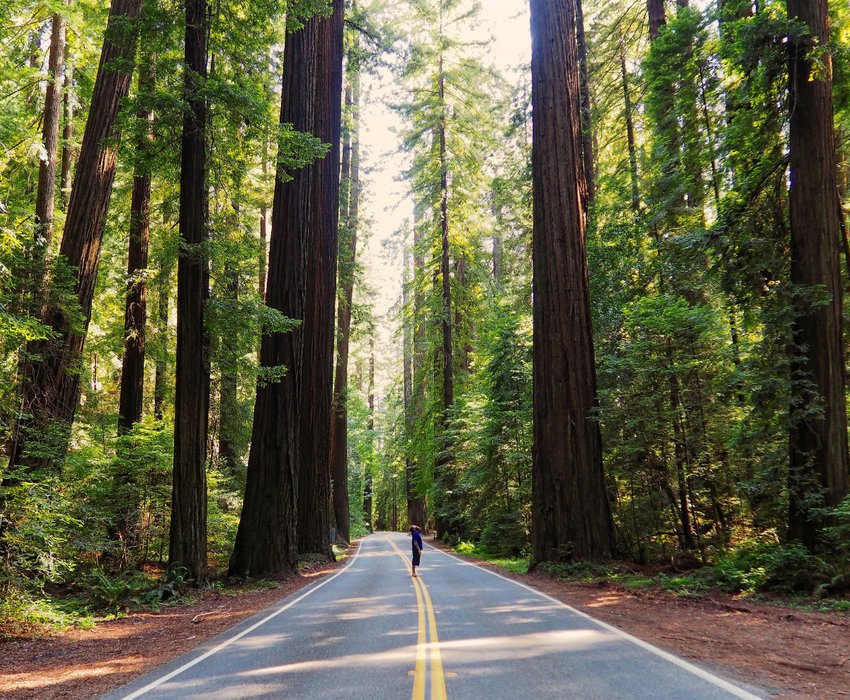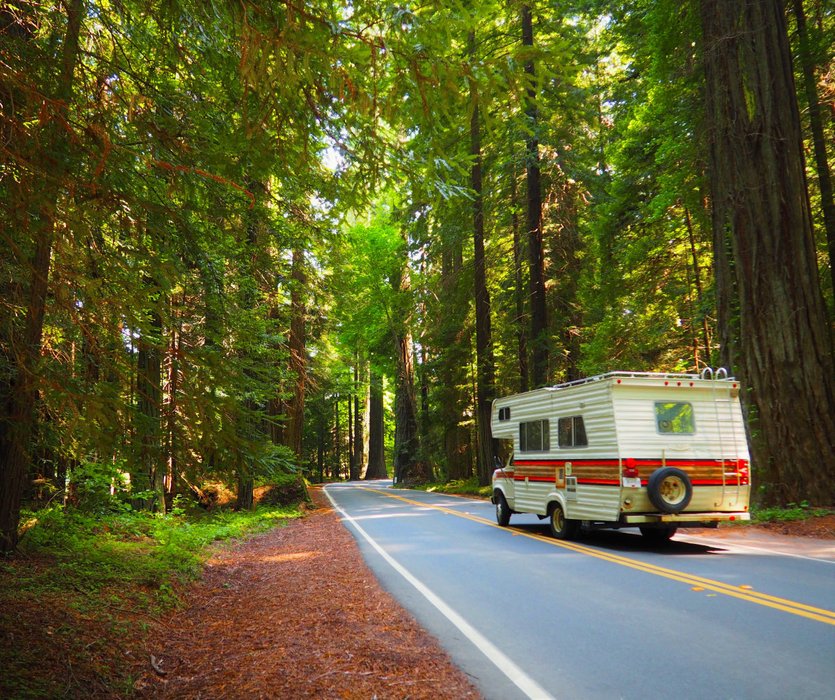 ---
And that's where our Redwood adventure ended. We continued down the coast towards San Francisco but that's a story for another time. We had a blast. I especially enjoyed the Avenue of the Giants. That drive was sensational. And if you are planning on visiting Redwood National Park, I highly recommend booking a campsite well in advance. They were fully booked when we went. Sleeping amongst the beauties would be next level!

All content is my own unless otherwise stated.