Brackenburg Trout Retreat, Cleopatra Farmhouse and Highmoor


Missing in action during the last week, mentioned why in the footnotes at the end of this post. Hope you enjoy going off the beaten track, let me show you why I am excited knowing we will be returning there in October, hopefully better weather will prevail, well better than on our first visit.
Visiting an area on the foothills of the majestic Mount Lebanon in the heart of the Kamberg Valley, three options to motivate you into the Drakensberg where nature abounds in peaceful solitude, with plenty of hiking if you love trekking around on foot.
Brackenburn Trout Retreat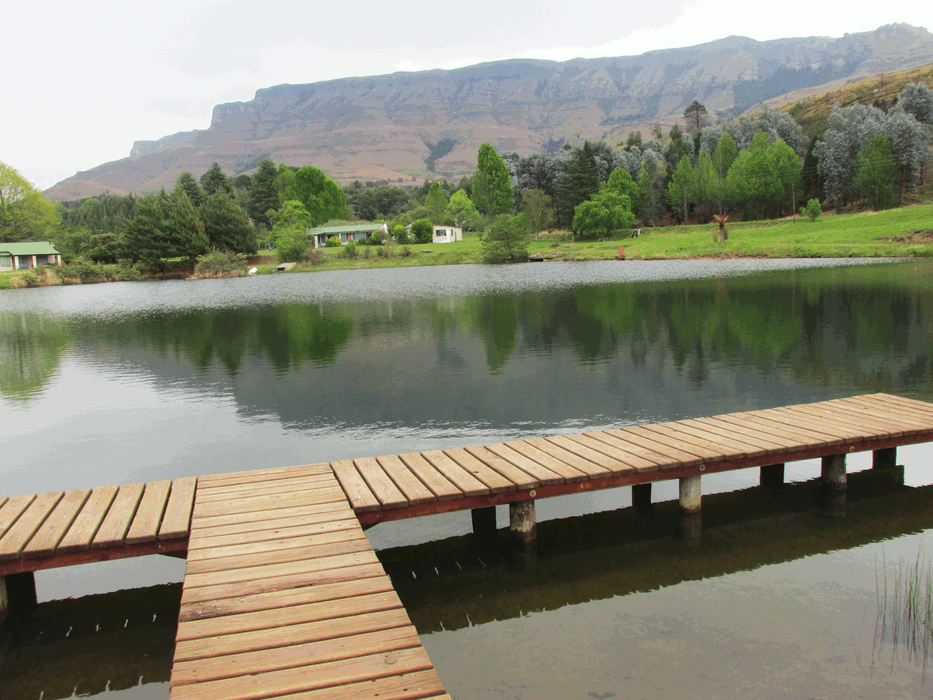 Comfortable accommodation where you take provisions with you for a great getaway from suburbia. Three dams on the property stocked with trout (daily rod fee) a wonderful view down the valley. Comfort off the beaten track for young and old to enjoy here https://www.brackenburn.com/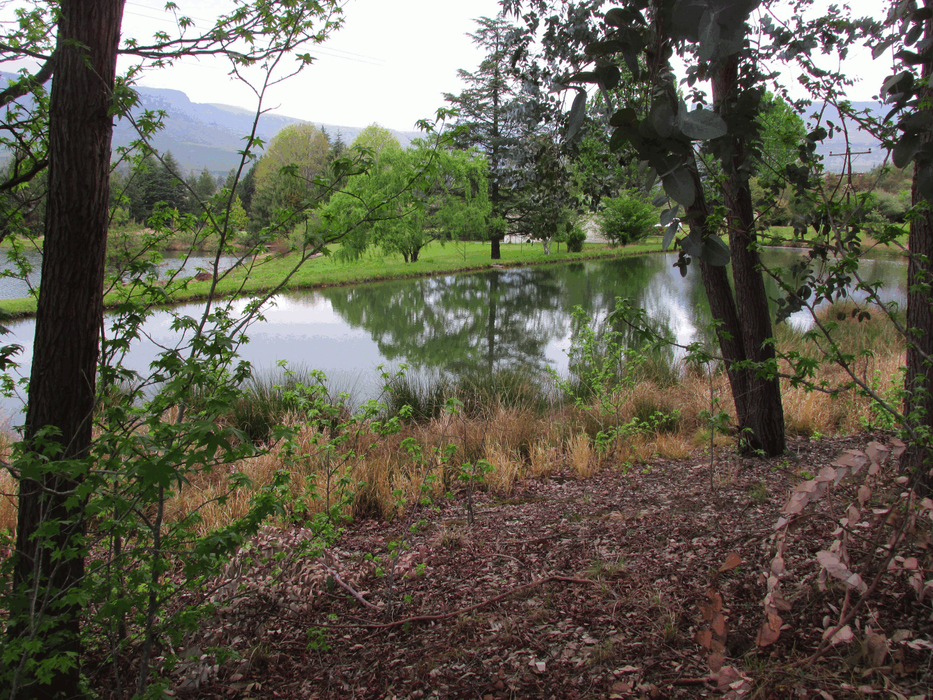 The river winds down at the edge of the property to enjoy the gurgling water, wild flowers, an abundance of birds along the way, also on offer is a bird hide to see into the trees.
Owners are super friendly, giving good warning to not walk through certain patches of grass to avoid ticks, leaving you to enjoy their wonderful quiet haven to enjoy and unwind.
Flowers around the homesteads....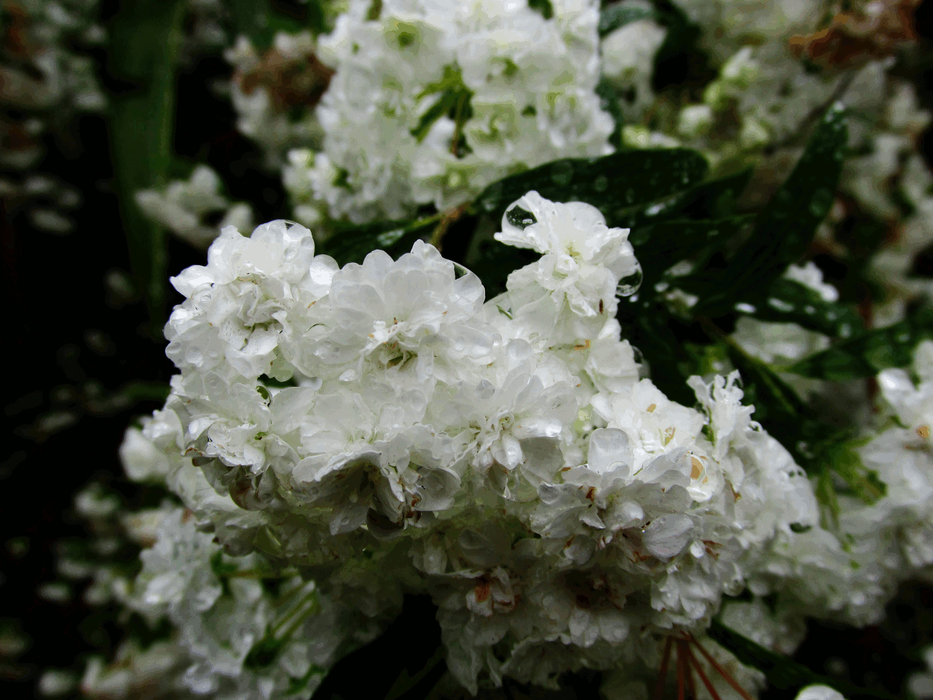 ---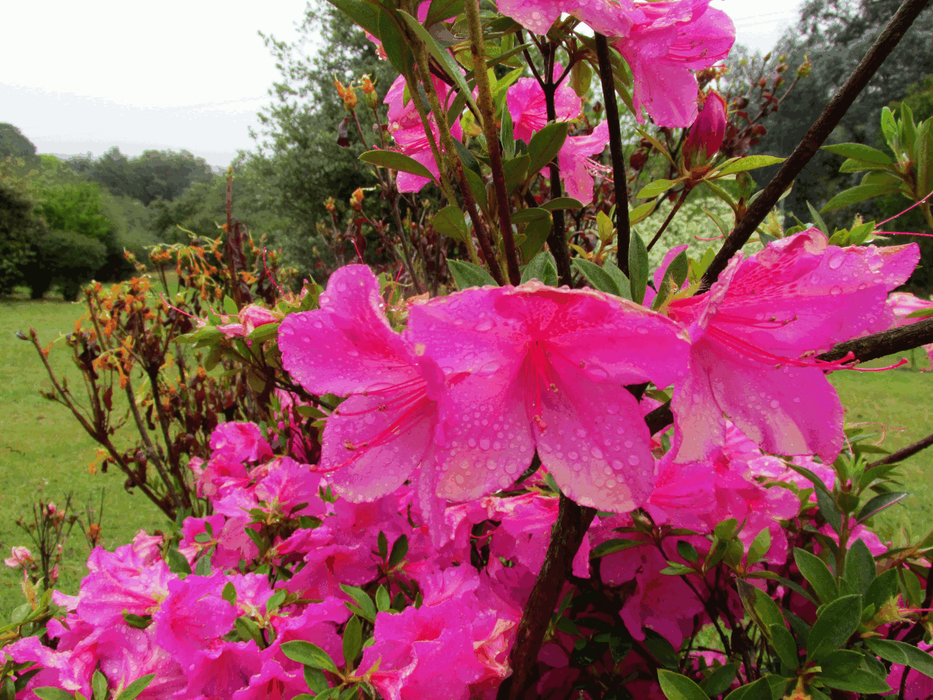 Birds in the tree top singing across the valley.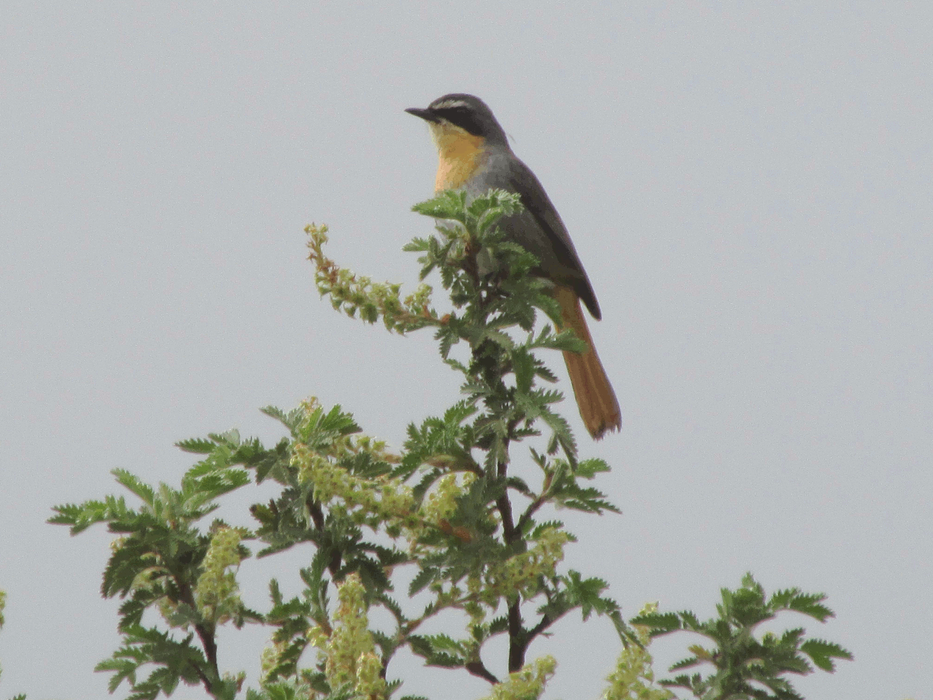 The Zulu name is ugaga and in Afrikaans, gewone Janfrederik. Cape Robin-chat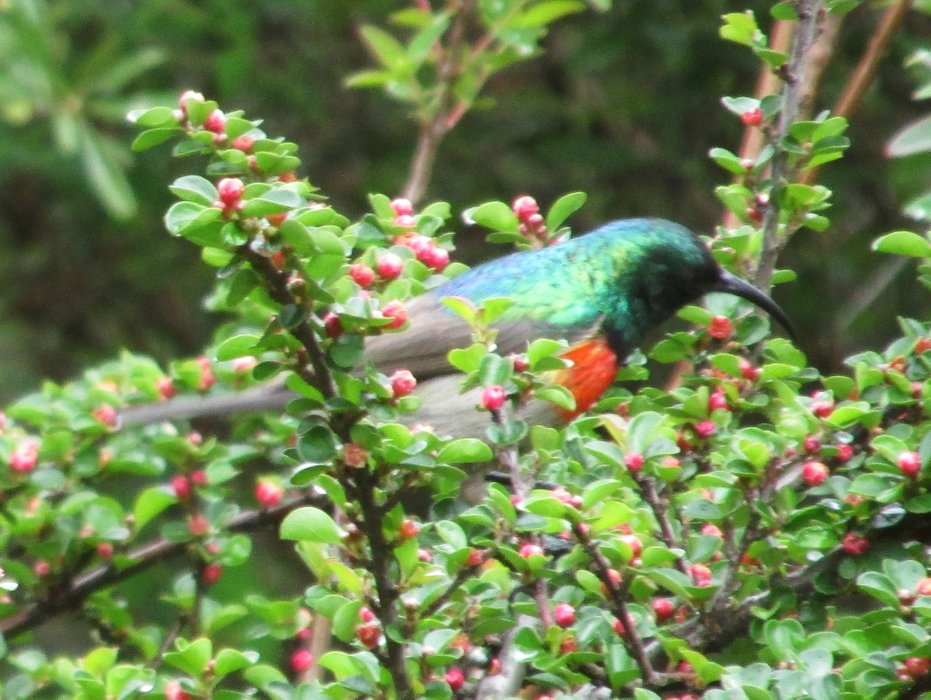 Double-collared Sunbird
The river walk was full of surprises, an eagle flushed out of the trees, too fast to capture him close up, only caught it much higher waiting to come back in, not sure what is was either!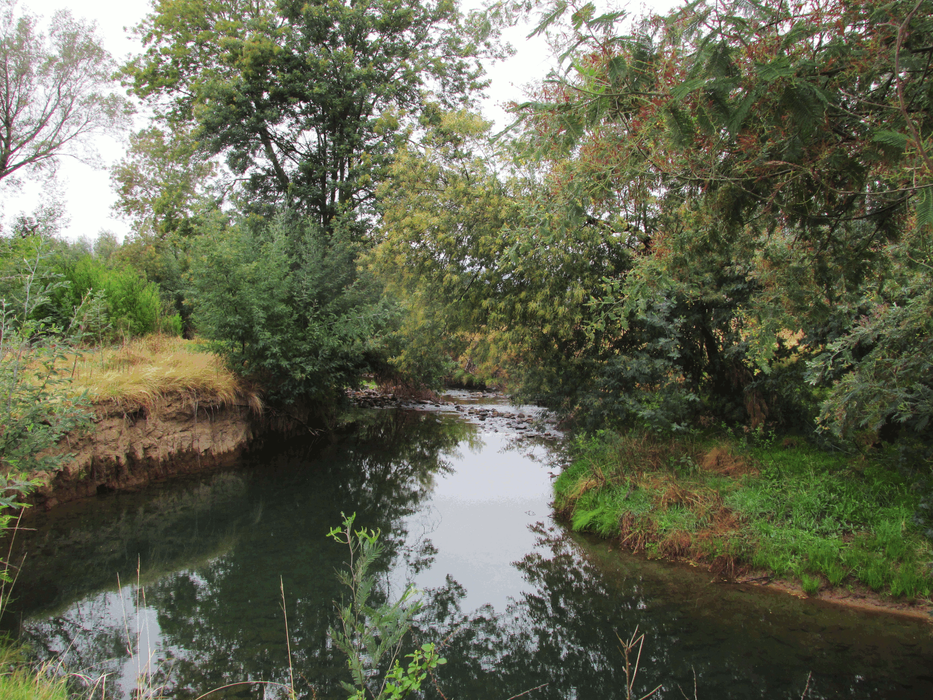 ---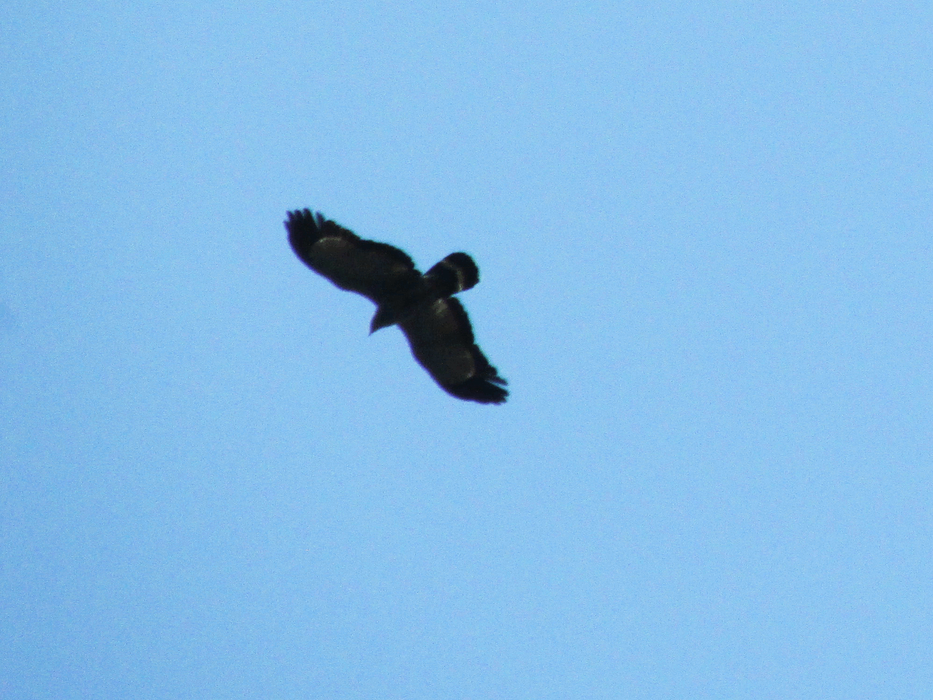 Wild Flowers captured along the riverside walk. Possible observation on names, never 100% sure.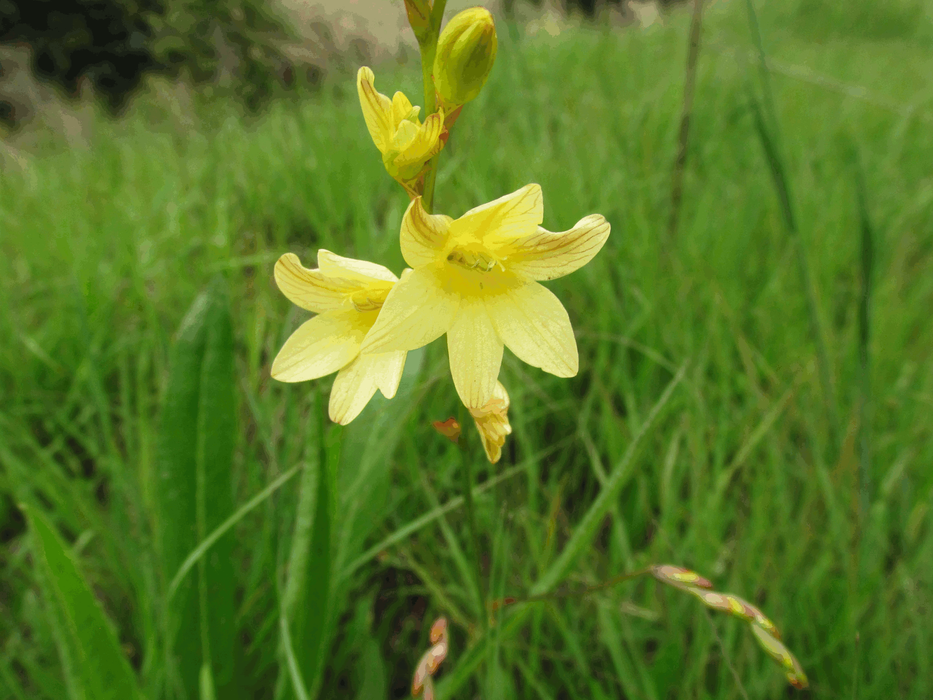 Moraea alticola - African iris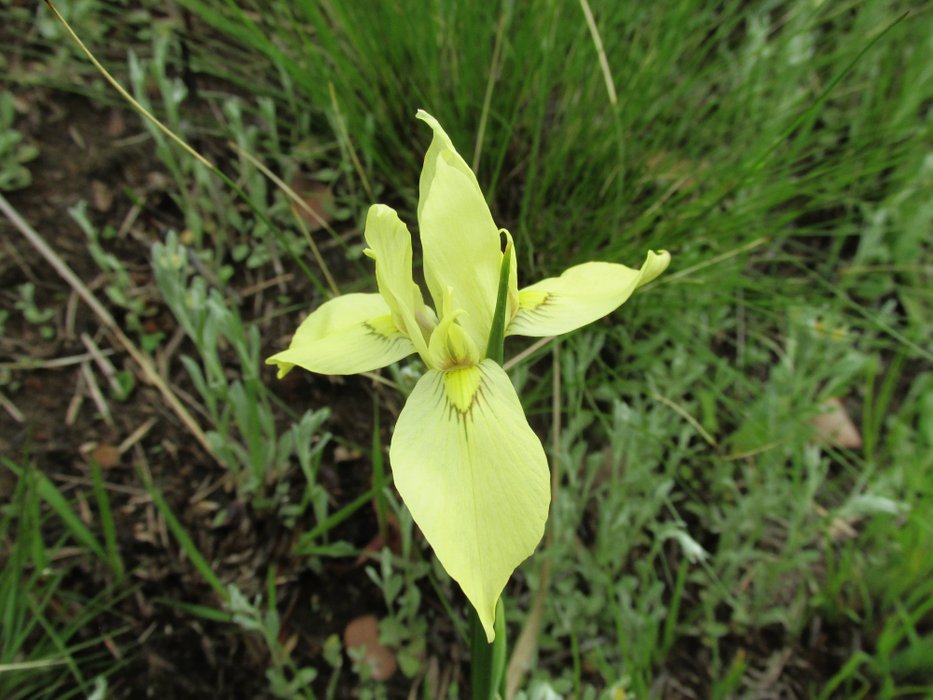 Moraea spathulata - African iris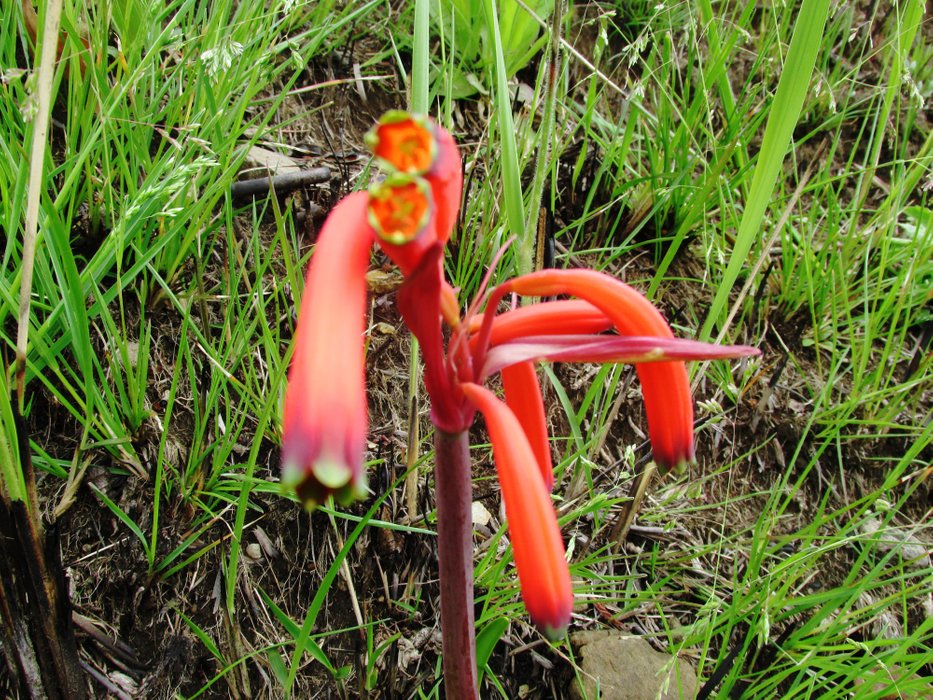 Cyrtanthus tuckii is a species from the Eastern Cape and KwaZulu-Natal that is difficult in cultivation. It is found in grassland and wet areas.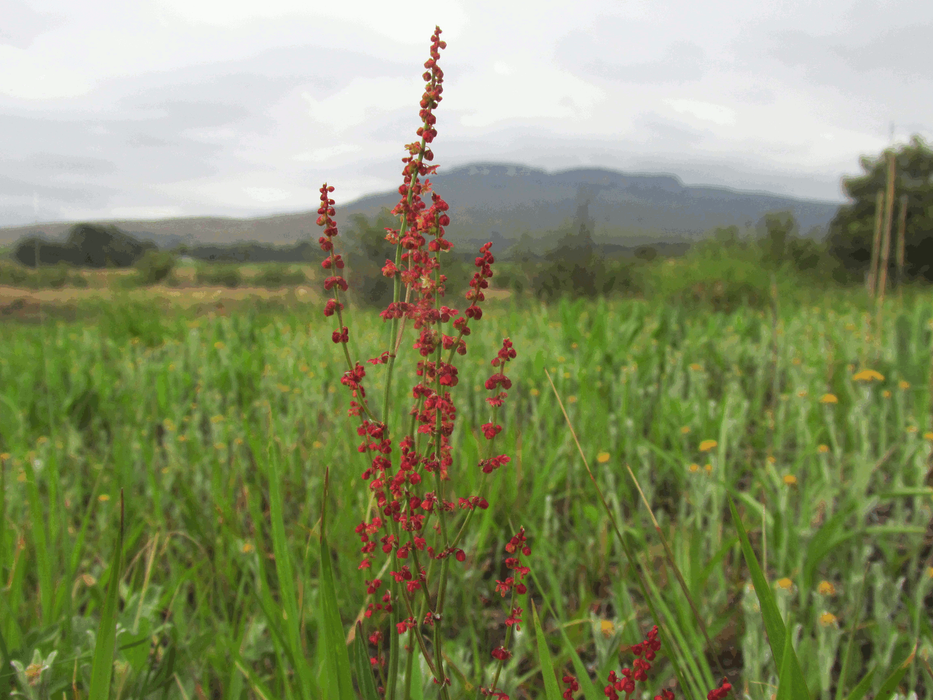 Wasonia latifolia (perennial), or possibly a Disa amoena (Orchid)
Another interesting home we found was possibly that of a porcupine..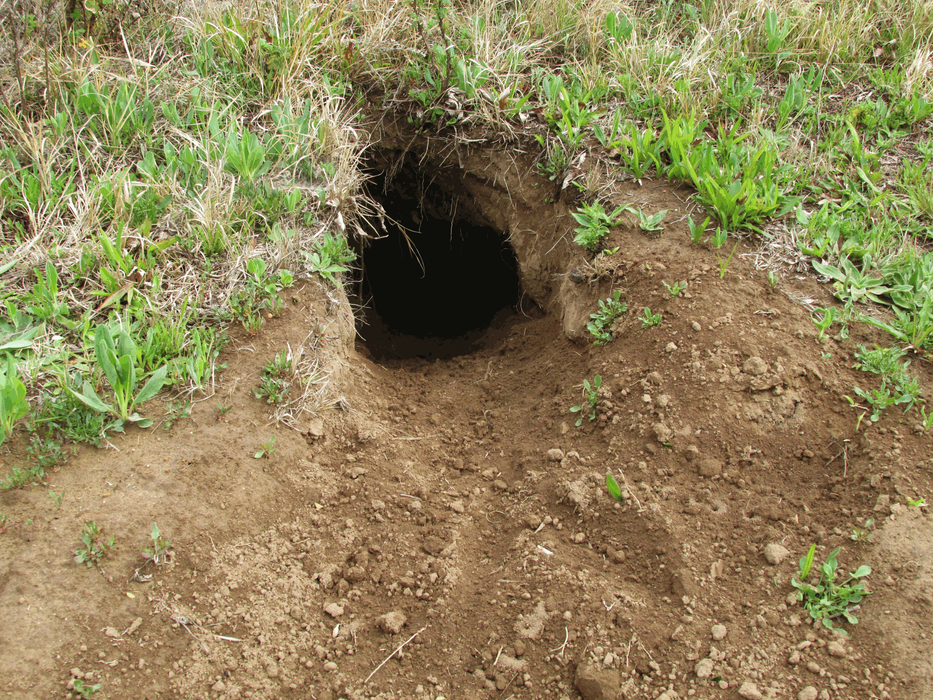 Antelope leg remained behind, who knows what hunts here ...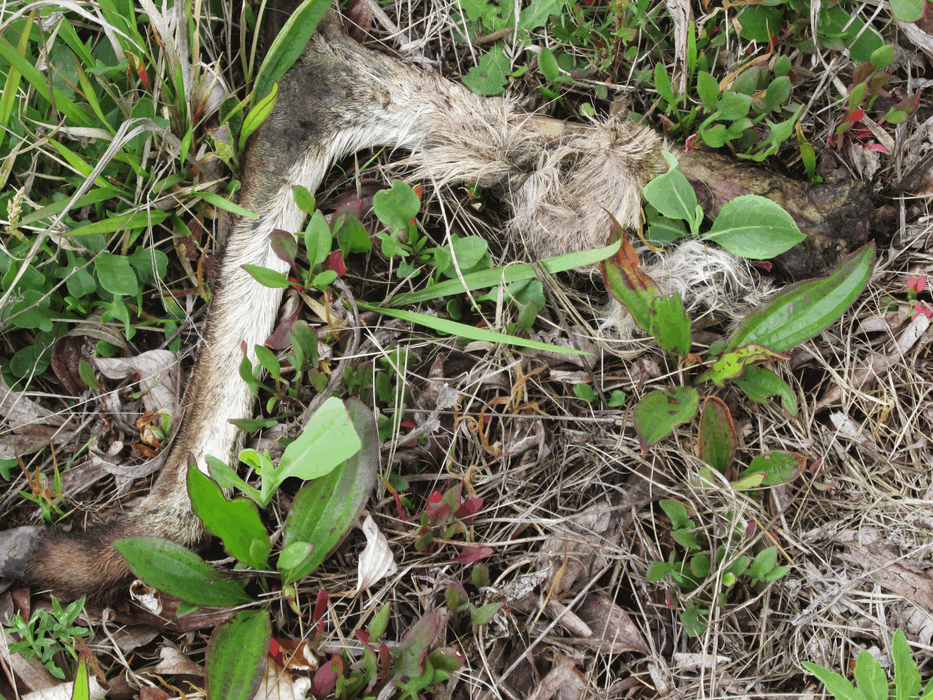 Walking along quiet country roads we collected pine cones for a braai (BBQ) to not only warm us up, but to enjoy the bliss of the cold damp outdoors from the verandah.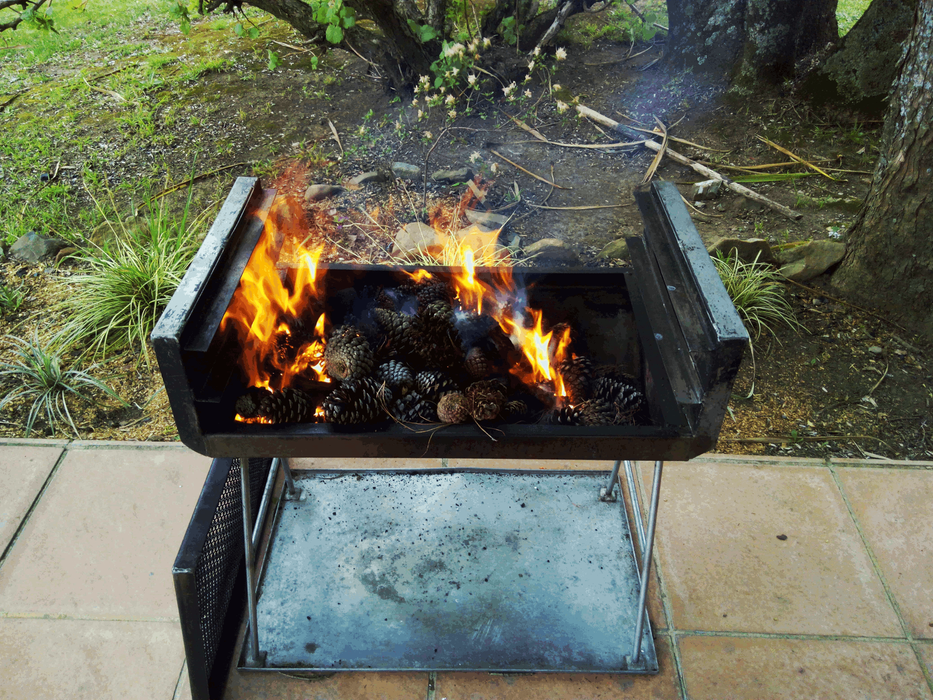 ---
Cleopatra Mountain Farmhouse
A video showing an aerial view of the area of their site, with an introduction with what to expect indoors
For those seeking a romantic gourmet getaway the Cleopatra is literally around the corner, offering sumptuous food with a rustic but stylish ambience (a lot more pricey), however well worth a visit for morning tea enjoying the amazing environment on offer for relaxation.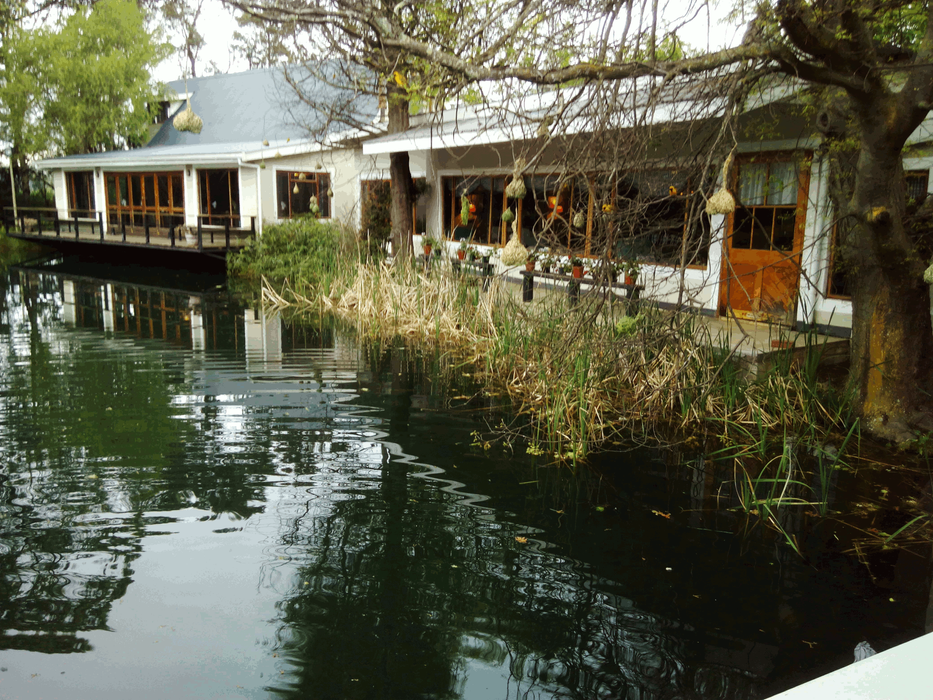 Next time we visit this lovely piece of history hidden in the valley I will be sure to take a proper camera, the first visit photography was all on a smartphone, a wonderfully well preserved farmhouse weekender only two hours from Durban city.
Extremely welcoming, oozing old world charm with a taste of luxury all rolled into one, while still enjoying the great outdoors with paths leading down to the river or onto more elevated walks.
The vegetable garden was staggering in what they are able to grow fresh for their guests, a gardeners dream paradise!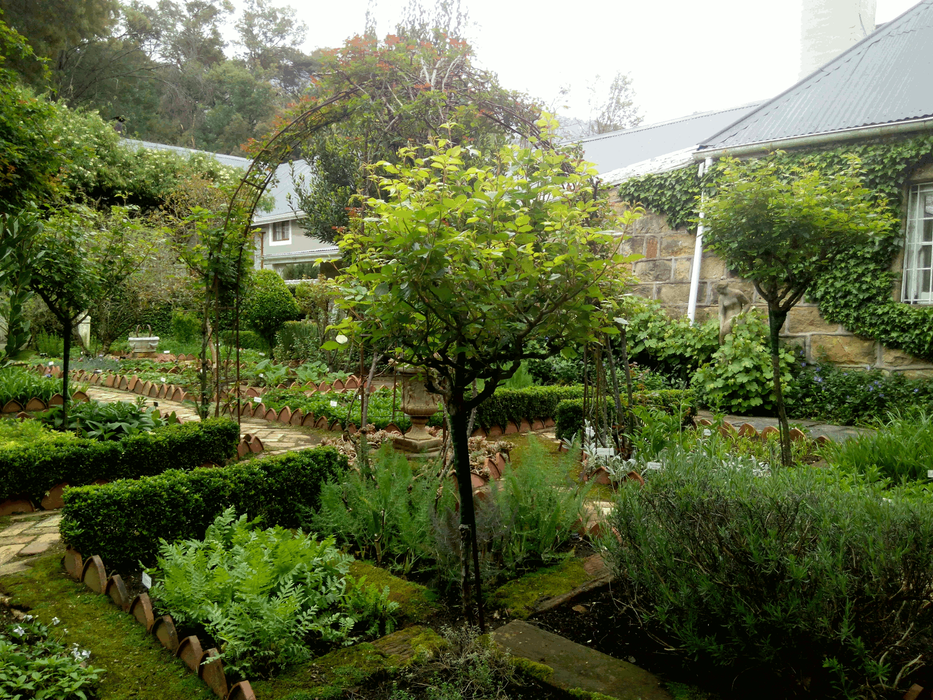 ---
Highmoor
Highmoor the immense space of Mkhomazi Wilderness Area in the Maloti-Drakensberg Park. Camping is offered, apparently the highest camping grounds in South Africa, here is the link to find out more if this interests you http://www.kznwildlife.com/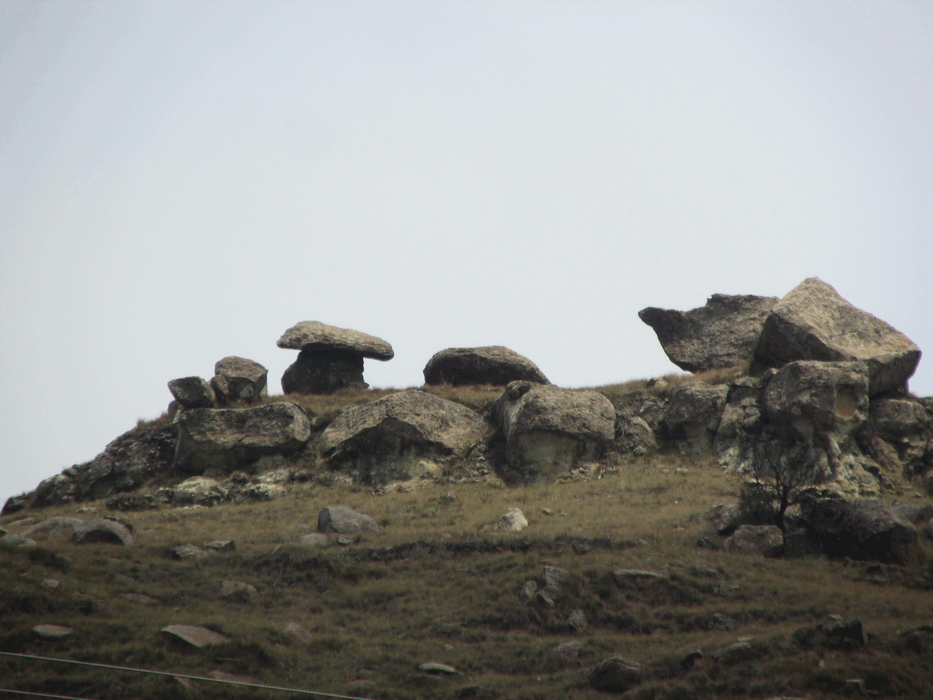 Unfortunately we arrived in drizzle, overcast weather ensued most of the weekend, did not deter us from enjoying what was on offer. As you wind your way up to Highmoor you notice the great big rocks stewn around the mountainside, like some big giant had a tantrum hurling rocks around.
Trees at the top were dripping in not only rain, with airplants dangling from the branches like a spooky story for a dark night under bright stars (I can only imagine how the stars must light up a nightsky, in the crisp cool clean altitude with no city lights or pollution to spoil a dazzling show above.)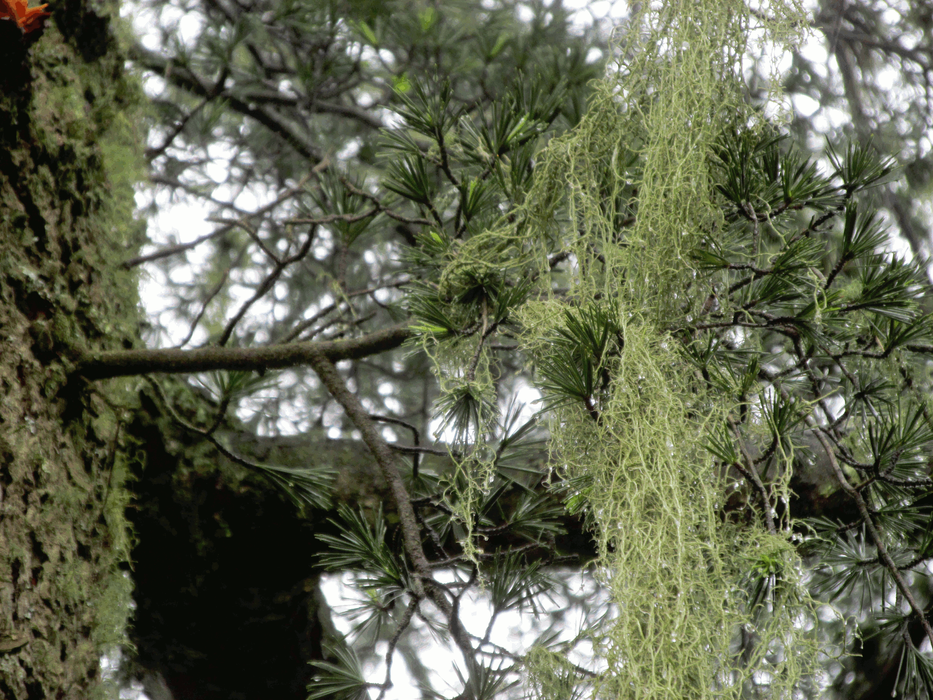 Moss and lichen hanging around....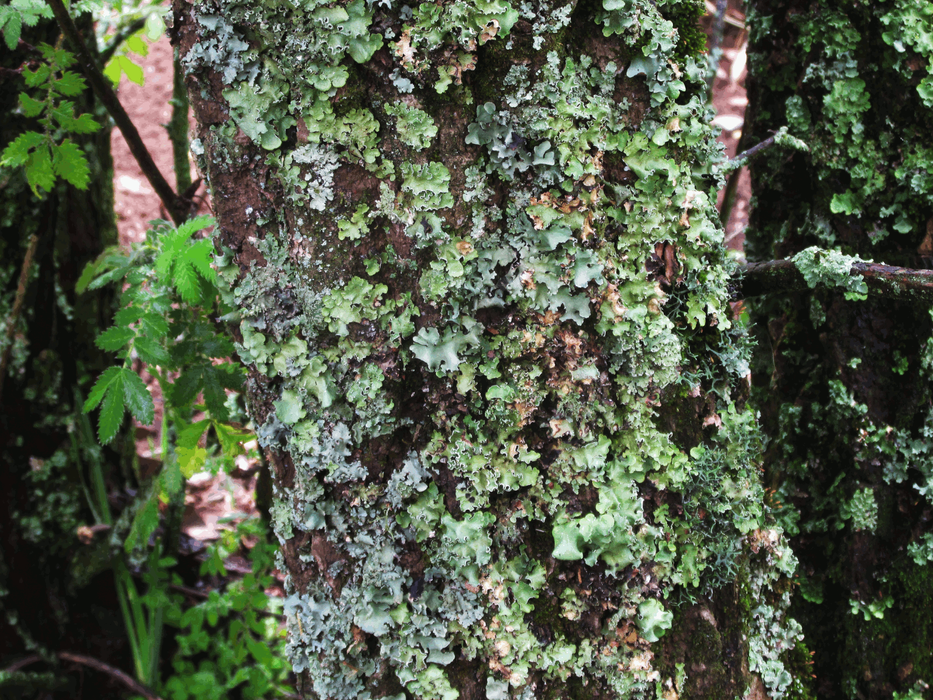 Moisture turns the old rock into a fairy tale....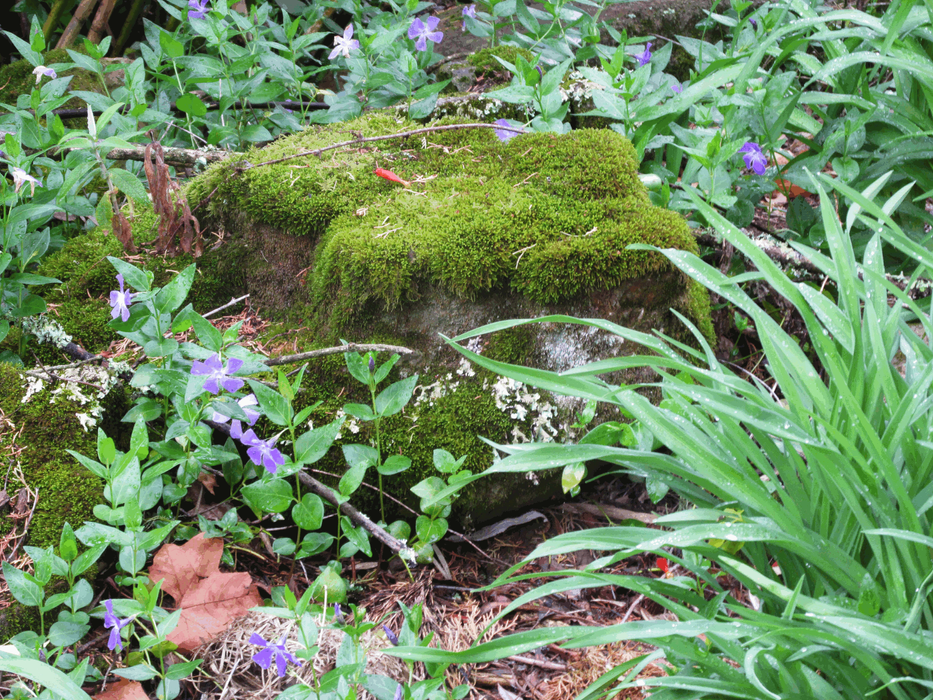 Trees in the area had blooms starting to show, hardy trees to sustain the wind and cold at this altitude.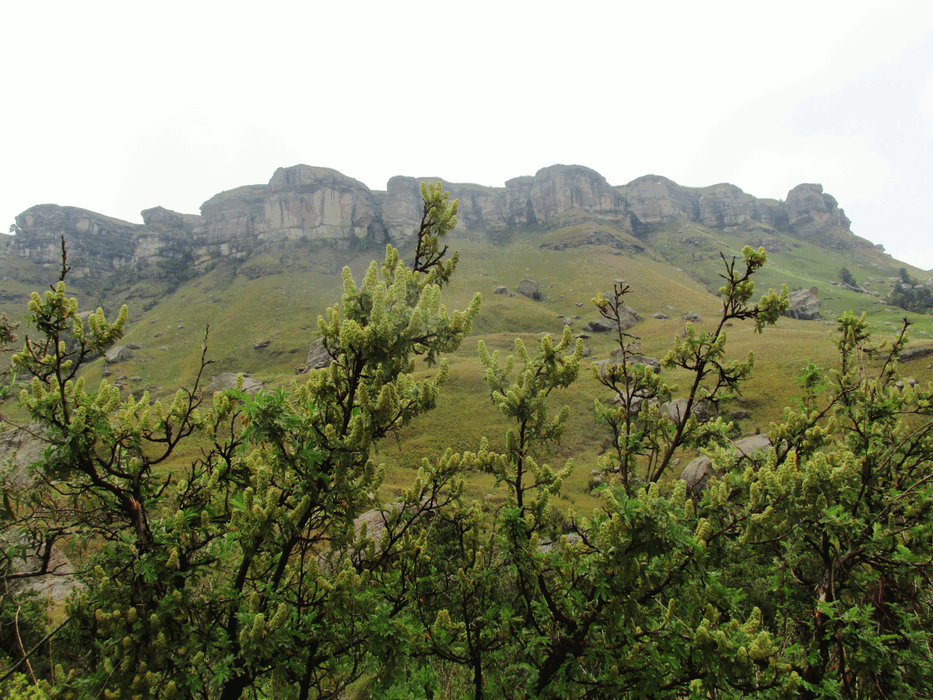 That giant I mentioned throwing rocks around like in the Flintstones series, well trees seem to be in opposition to them, growing between crevices, slowly breaking the rock into two. Mother nature has a way of dealing with everything it is opposed to.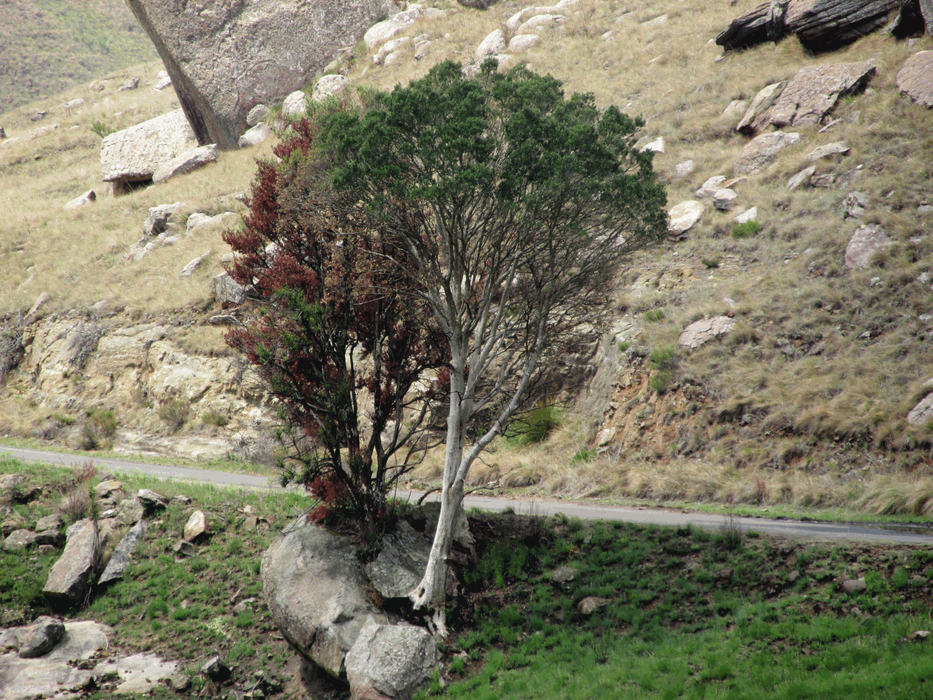 The race is on, tree now slightly taller than the rock, which way to spread itself further?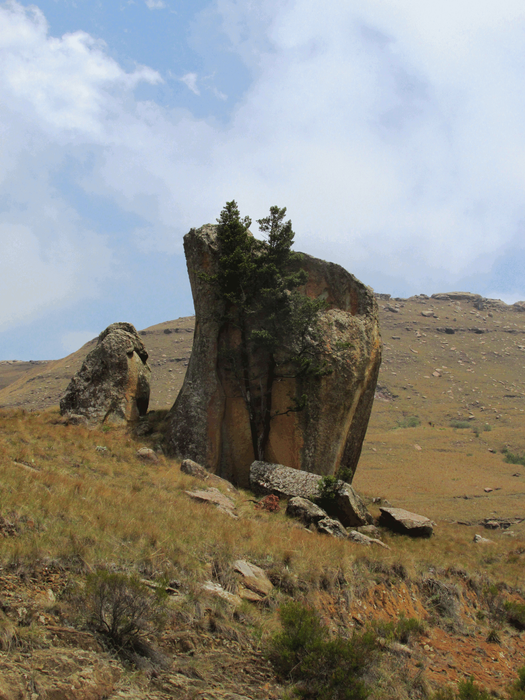 For @steemitworldmap I have used the coordinates to the Highmoor since everything else is found within close proximity leading off of the same road taking you up.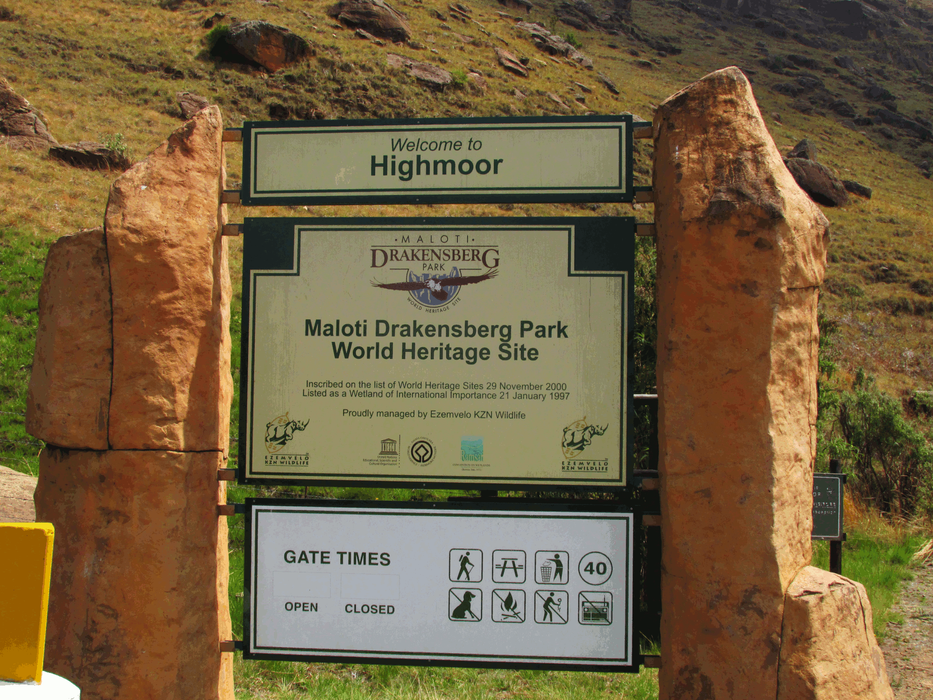 Weekenders, quick escape to the great outdoors I hope you enjoyed this read and thanks for visiting. All photography is my own taken with a Canon PowerShot A530 or Innjoo smartphone at the farmhouse.
---
Thought for today: A man gets to the land of spirits when he passes seven rivers, seven forests and seven hills. ~ African proverb
---
A week that came and went, one great achievement was the church across the road have gracefully revoked consent to the 36 meter Telecommunications Base Tower being built across the road from our residential area. Standing together as a community does count!
My recent spots are slowly fading with better health returning, no actual result from blood tests nor biopsy, our world is obviously becoming more virus/germ infected, no one actually knows what is going on. Hold onto your health no matter what.
---
*Blockchain Social Media or Blogging Shared using Kryptonia
---
Communities I Support: #qurator #steemitbloggers #teamsouthafrica #steembuilder