Southern Hemisphere Spring Is In The Air


As the ground starts warming up slowly the Snake Lily ~ Scadoxus puniceus, a bulbous plant starts to show colour, it has some descriptive names of the Paintbrush lily, Snake lily (English), Rooikwas (Afrikaans), umgola (Zulu).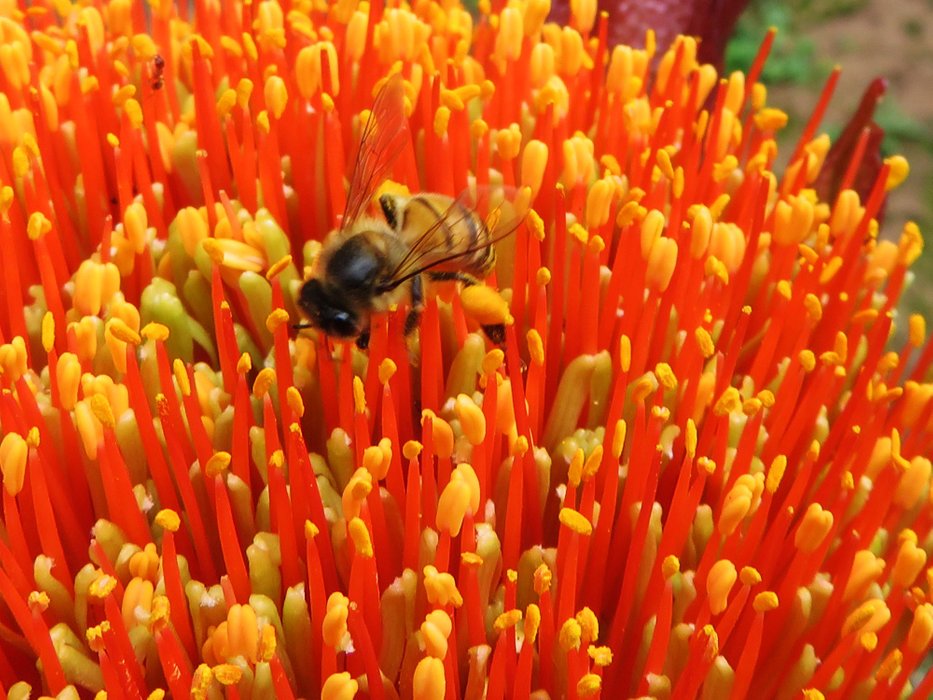 Scarlet spear shaped heads starting from the ground, the stem shoots up within a week with dazzling head above in splendid show of dense flowers with bright yellow anthers, some refer to the smaller flowers as scarlet, you decide to me they appear a startling array of orange.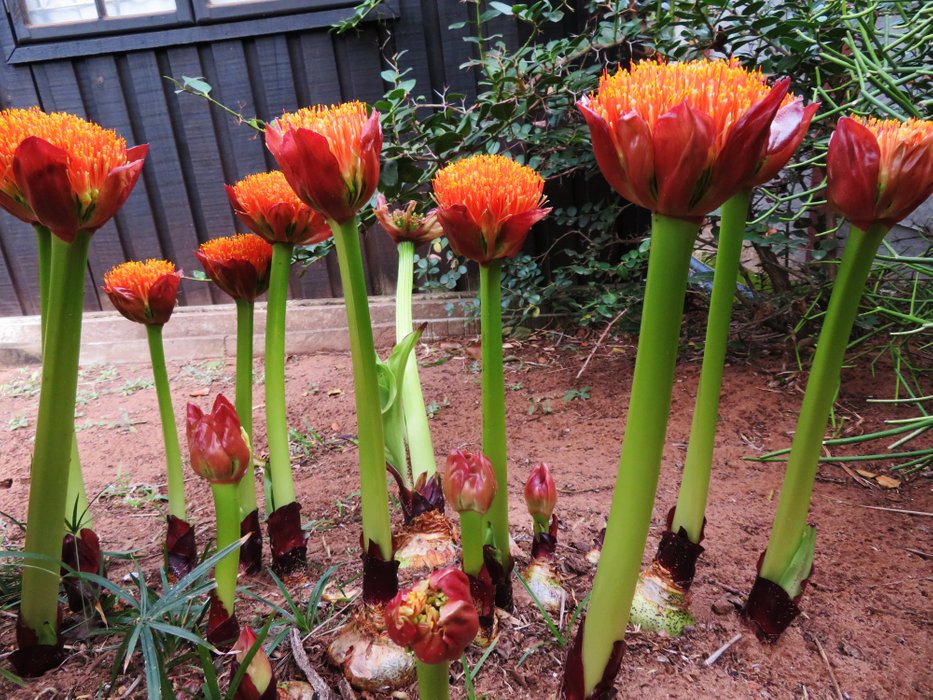 Found in southern and eastern Africa: Ethiopia, Sudan, Tanzania, Malawi, Mozambique, Zambia, Zimbabwe, Botswana, Swaziland, and South Africa.
Myth that this plant does not transfer, during the winter this bulb gets moved, we started with one bulb and now have three patches in semi-shaded areas.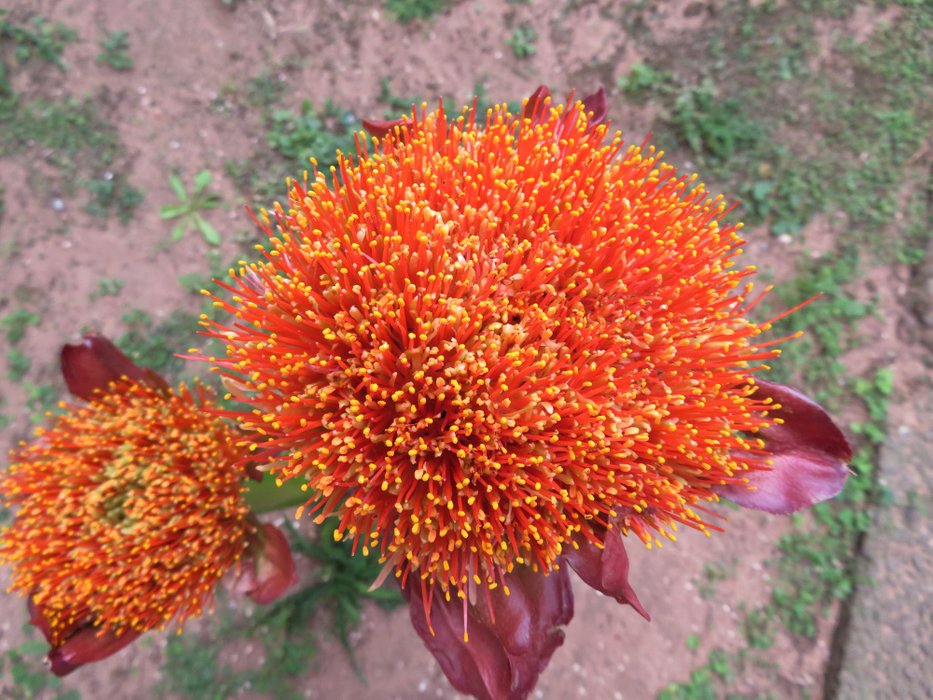 Another plant that keeps on giving in our coastal soil with not attention given except to thin the bulbs and transplant in months it is dormant, we started with one many years ago, noticed new bulbs when flowering, eventually decided to spread them around.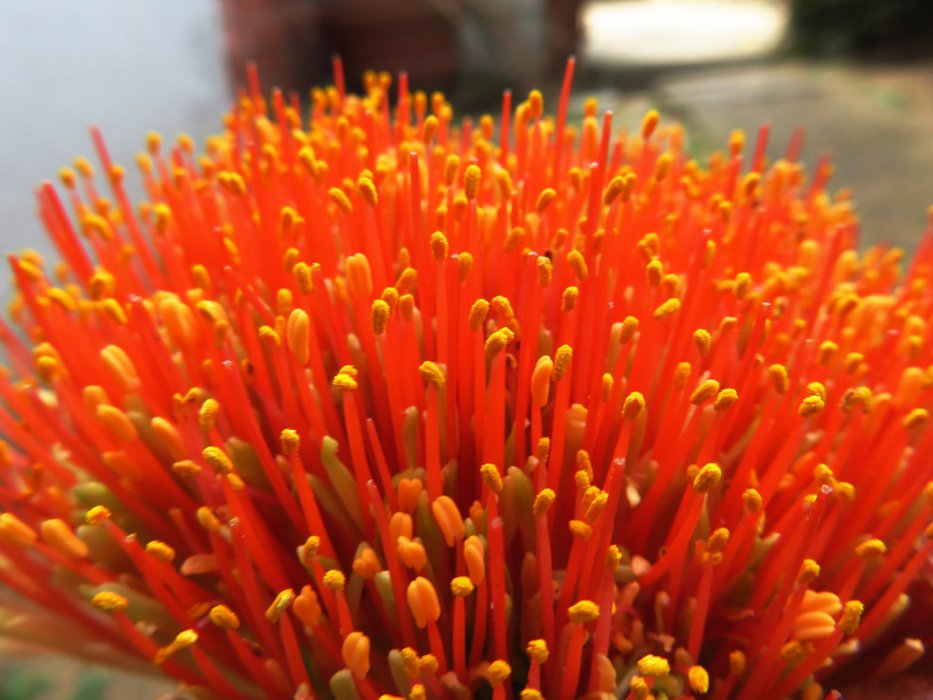 The name snake lily is apt since the stem often has black specs as can be seen on some of the bulbs, very similar to our Spotted bush snake.
Others will tell you it is the red tip resembling a snake lifting off the ground, I prefer the spear comparison, this bloom definitely signals the start of Spring, farmers start preparing to sow crops when these bulbous plants start showing it is said.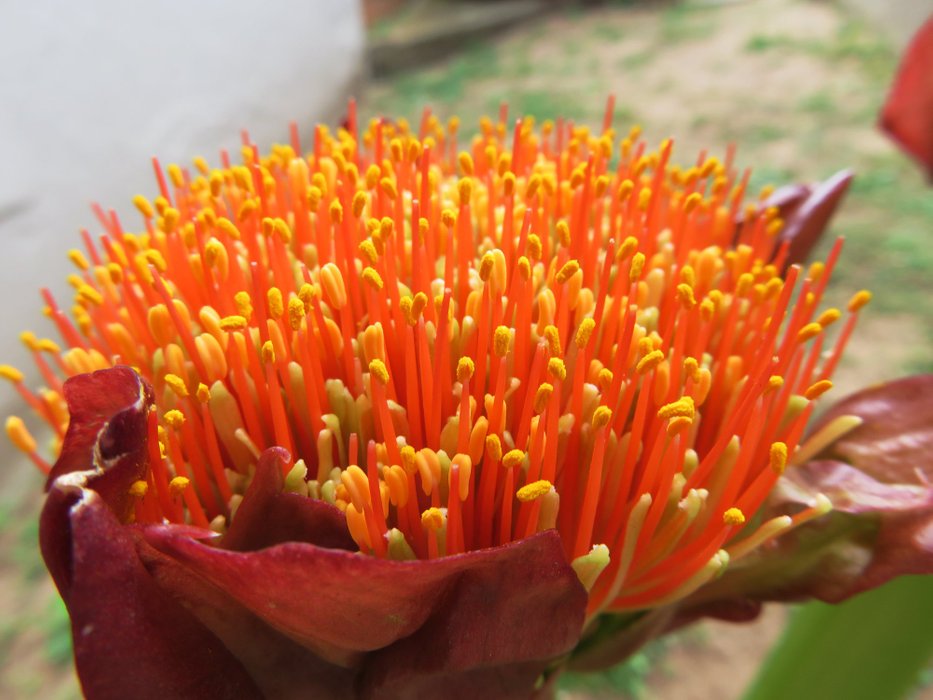 Sunbirds, weavers, bees love this in between season flower. Apparently birds and monkeys enjoy the berries, I have personally never witnessed this, I only have seen bees on the flowers.
Flowers form first, when close to stems full height it is followed with glossy green leaves forming at the base, only seven or eight leaves surround the plant reaching similar height (40 to 70 cm) as the flowers (approx 15 cm diameter).
When summer arrives, the flowers disappear transforming into bright red berries appearing approximately 1 cm big (I will keep an eye open this year since I cannot find photo's I took last season, or was it a couple ago), they are eye catching as well!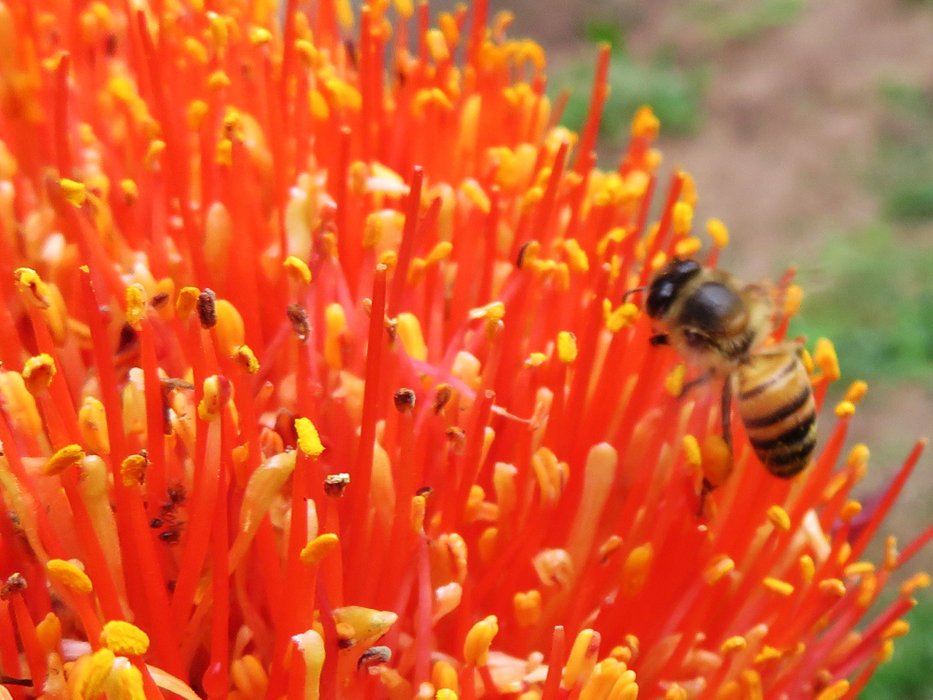 Mecinal Uses
Bulb is considered poinsous is is use to treat coughs, asthma, sprains and bruises. Leaves are applied to sores and ulcers to aid healing acting as an antiseptic. Personally I recommend never experimenting with anything unless you know what you are doing.
All photography is my own, resized for ease of uploading, using Canon PowerShot SX730 HS
Spring already, feels like yesterday I was looking forward to winter!
---
Thought for Today: "No matter how long the winter, spring is sure to follow" ~ African proverb

---
Photo Friday #89 with @qurator
Only photography-related posts.
Use the #qurator tag as your first tag.
Mention the Photo Friday competition in your post title or somewhere in your post.
Post your link as a comment in this post to officially enter.
Posts cannot be older than this post.
Competition open to all Steemians, not just Qurator members.
Only the first photo in your post will be evaluated for the competition.
Only one entry per week.
Deadline: 3 hours before this post reaches payout.
---
---
Communities I Support: qurator steemitbloggers teamsouthafrica steembuilder[steemitworldmap](https://steemit.com/@steemitworldmap "steemitworldmap"