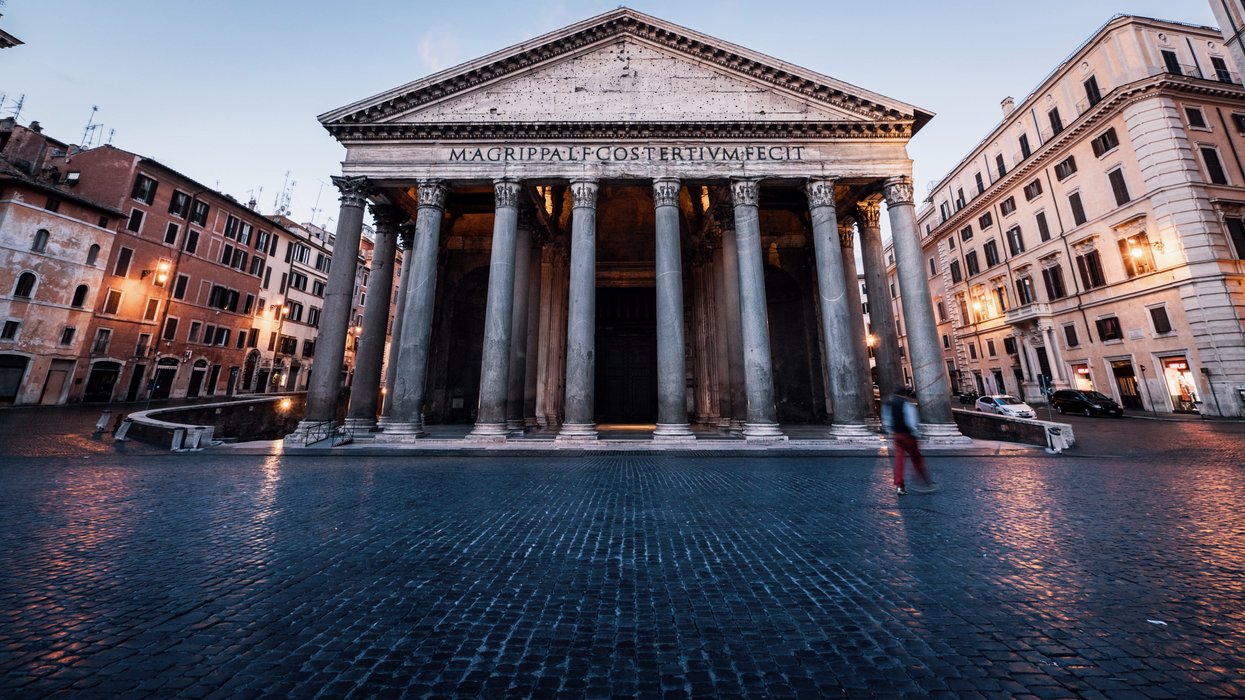 Invading Rome:
I've spent a lot of time in foreign countries searching out street art by the artist Invader. By using the app Flash Invaders, created in part by him, I have successfully found and "flashed" 101 installations across six different cities scoring 4150 points. While I rank low when compared to many of his fans (I'm currently ranked #6518 in the world), I have successfully found his art in Rome, Barcelona, Paris, London, Los Angeles and Ravenna. This article is a continuation of my time spent in Rome where I found fifteen of his iconic mosaics.
Parts one and two can be found at the links below:
Invading Rome - Part 1 of 3 - Chasing Down Invader Street Art
Invading Rome - Part 2 of 3 - Chasing Down Invader Street Art
The imposter:
On my third day in Rome I decided to make the jump and venture out as far as public transportation would allow. For whatever reason there always seems to be a piece way outside the immediate boundaries of a city. I've seen this in Barcelona, Los Angeles, Ravenna and Rome. A majority of his art is all within feasible walking distance except for one or two pieces that live somewhere on the edge of town. I usually leave those alone because it's a long way to travel just to discover it's no longer there. However, the map I was using indicated these last couple installations were still in existence so I decided to take a chance. The best of my fun came from looking for these things so it seemed worth the risk.
I did the research on what trains and buses to take. I don't remember the exact distance but I want to say it took me forty-five minutes to an hour for arrival. Starting on the metro, I'm pretty sure I took this thing to the end of the line. I just remember at some point the train wouldn't reach where I needed to go and a bus was the only option. So I made my transfer and kept going. I had all my camera gear including my tripod which couples as a defense weapon. I didn't end up using it (for photo taking or weaponry). This happens a little too often, bringing things that I don't end up using.
I definitely remember getting some looks. It's not often that tourists venture this far outside of Rome and I absolutely looked like a tourist. Frequently I am mistaken as a native Italian due to my skins proclivity for tanning but anyone carrying a backpack and tripod generally fits the part of visitor. Where I was didn't feel unsafe, just foreign. I opened my map and started walking towards its location. This map marker was a different color than the others which should have jumped out as a red flag. Again, my failure to READ everything on the legend led me down a somewhat disappointing trail.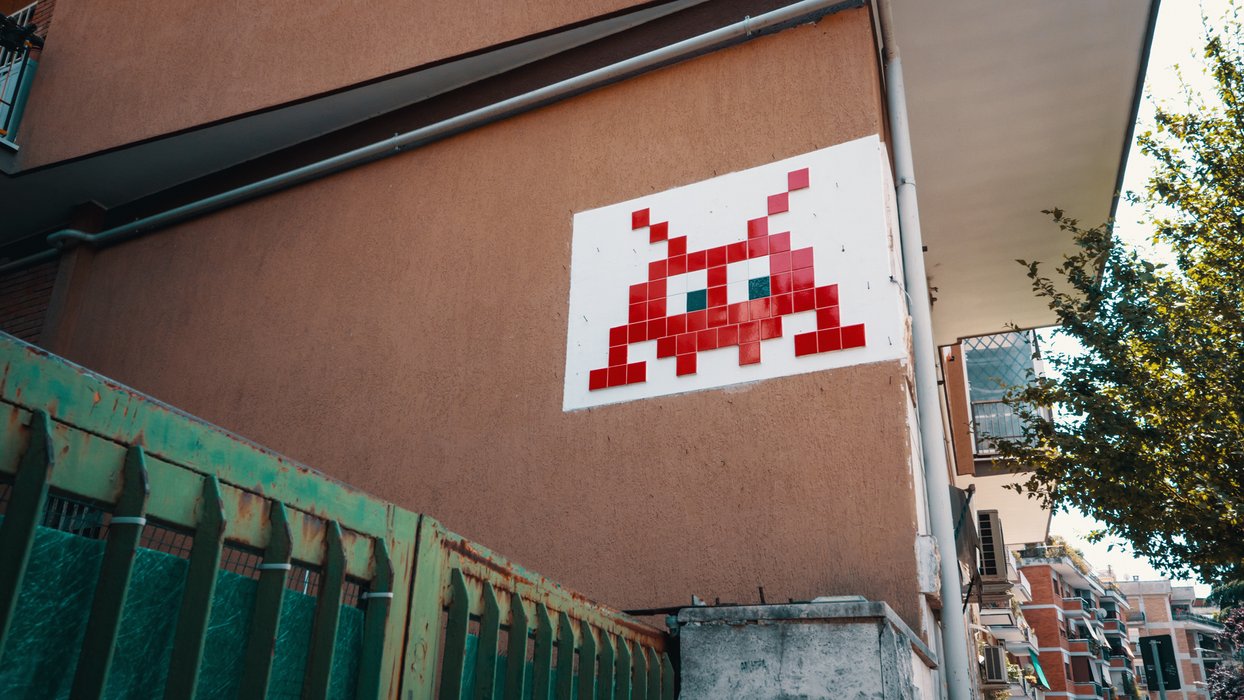 As I walked down the sidewalk I immediately saw the big red mosaic. Success! My long journey had been worth it! By the size of it I was sure it would score me some big points. I took a picture, the one you see here, and then pulled out my Flash Invaders app to get my points. The camera opens, I zoom in, aim and flash. "Missed" is the message I receive so I try again. "There is no Invader near you" is what I see next. What are you talking about? It's right here. There has to be a mistake. I try one more time but to no avail.
I open up my Google map, find the marker and start reading the memo attached to it. It turns out that, although it's quite a good imitation, this was not an official Invader. A fan or someone seeking misguided fame had placed this in hopes of impersonating Invader. Annoying. Honestly I don't know the real intentions of this imposter but I do know I was quite frustrated with all the effort I had put in to get there. I can't really blame anyone but myself though. The memo clearly stated what it was and I had failed to read it.
Imitation is the most sincere form of flattery. I decided to look at it as a positive. I've come across fakes before and it's always a bitter sweet moment when you try to flash it. There's a sense of pride that you found one and as soon as you go to cash in, the rug is pulled out from underneath your feet. Still it's one of the better replicas I've seen. I stood around for a bit, checking my resources, ensuring I wouldn't walk away from the real thing. Once I verified it was in fact a fake I left. Lucky for me the trip turned out to not be a total flop.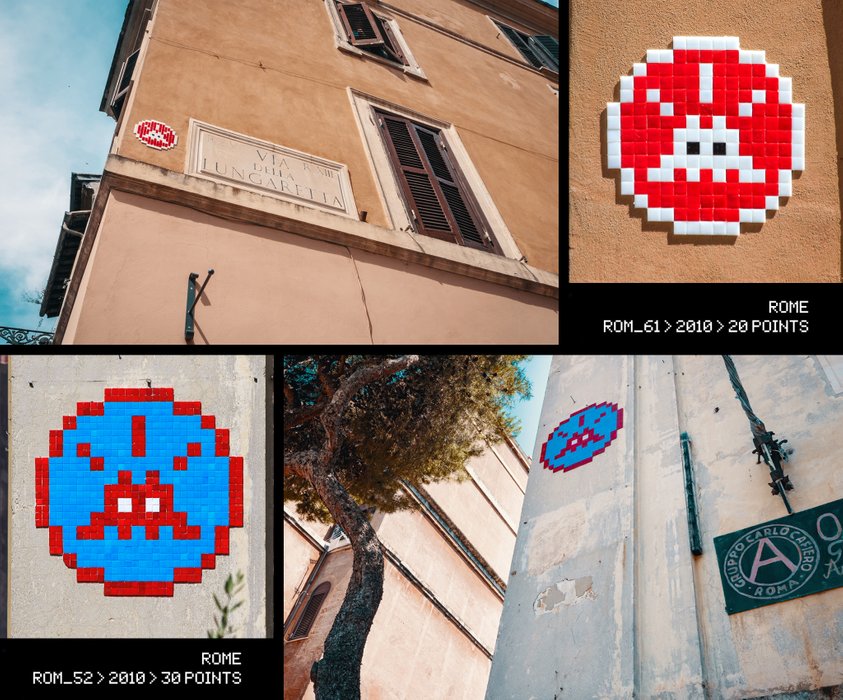 On my map was another marker that wasn't too far away, in fact it was within walking distance. The marker color was the same as all my other discoveries and this time I read the memo. It was in fact an authentic Invader that had been recently confirmed as still active. So although I was low key irritated about the fan piece, I was pleasantly satisfied to find ROM_52 and add thirty points to my high score. There were some people in a nearby market giving me strange looks but I've come to accept this as the norm when you're pointing a camera up at the side of a building. After successfully flashing it and getting my photos, I packed up and headed back to the bus stop.
I had been keeping my eye on the bus schedule so that I wouldn't miss my ride home. There was definitely a window of time closing where I'd easily be able to make it back to my Airbnb. After deciphering the Italian signs, I knew I was in the right spot and would be on my merry way very soon. Unfortunately there were some delays. And more delays. About forty-five to sixty minutes of them. I stood there for upwards of an hour, along with a small group of commuters, before the bus finally arrived. All in all it took me three or four hours to get this Invader logged into my collection. Well worth it in my eyes. ROM_61 was a find I made later in the day after returning from my trip to nowhere.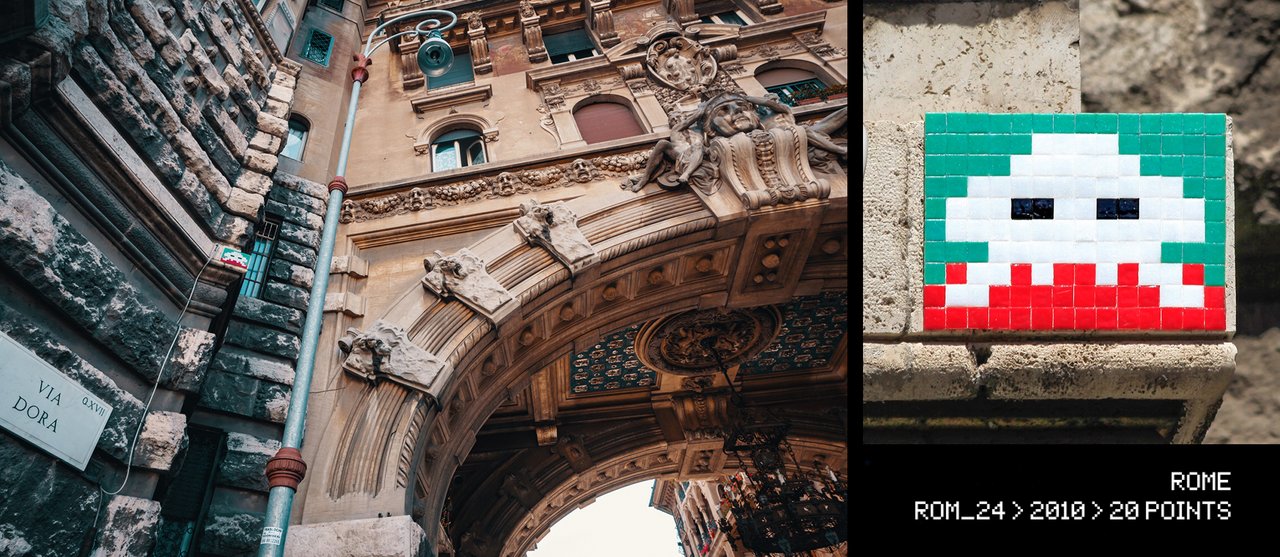 ROM_24 was actually not far from the Airbnb I had rented. I was staying in a one bedroom flat about fifteen to twenty minutes from the Spanish steps. This particular Invader was relatively the same distance but in the opposite direction. Coincidentally I had walked by or close to this one the day before. It's so small I didn't even notice it at first. I spent a little bit of time with my head in the clouds looking for it. Eventually it popped out at me as the only brightly tiled mosaic on the building. I was on a real wide lens kick at the time and apparently had not learned from the previous days that something a little longer would have been helpful. I got the photo though and the points. That's all I was concerned with.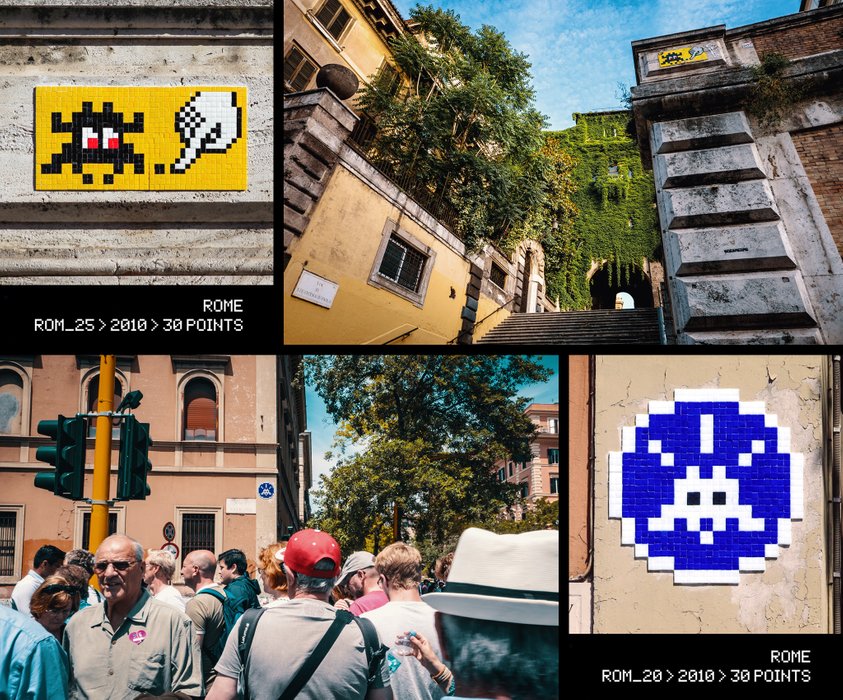 ROM_25 was actually found on my way back from the Colosseum. I accidentally started out above it. I was wandering around, as I do, and ended up in a pretty cool spot that overlooked a busy intersection. I snapped a quick photo (I've posted it as the last picture in this article) and then continued on the path I was on. I rounded a building and came to this parking lot next to a staircase. I scanned the sides of the building, thinking I'd find it, but saw nothing. I assumed it had been removed since the marker indicated I was standing right on it. Well I was. I headed down the stair case and even crossed the road before I realized where it was. It was missing a few tiles but it didn't effect my ability to flash it and rack up some more points.
Day three ended and I only had one Invader remaining on my list. I intentionally left it for last because of where it was located. My obligatory visit to Vatican City would not only serve up some of the greatest art ever created but would also complete my Invader collection. One paragraph is practically an insult to sum up my time at The Holy See but necessary to wrap up my saga. After spending several beautiful hours touring museums, I left the smallest country on Earth and made my way around the walls that protect it. On a building opposite these barriers was the final Invader. You can't help but see its bright blue tiles contrasting against the peach colored backdrop. It was one of the easier to locate. I took my pictures, I flashed my points and went on my way with satisfaction that I had completed my quest.
In closing:
My first trip to Rome was a massive success! I was able to taste great food, I drank delicious beer, I toured beautiful museums and saw incredible architecture. What made this truly unique though was the fashion in which I did it. If I had to go out on a limb and guess how most people experience this city, I'd say very few spend their time doing what I did. That being said, if I had the option to explore a city my way, the Invader way, I would choose it every single time. It grants you the opportunity to really look around you and experience all that a city has to offer.
I've been to countries, or even cities, and felt somewhat pigeon holed to certain areas because "that's what you're supposed to do" when you visit Barcelona or London. It might just be a game, this Flash Invaders app, but it's opened up parts of cities to me that I never would have explored before. It's also THE best scavenger hunt ever. I realize that might just be a me thing. Still, the next time you find yourself in an invaded city, I challenge you to give it a shot. You never know what kind of adventures you might encounter.
If you missed parts one and two, be sure to check them out at the links below:
Invading Rome - Part 1 of 3 - Chasing Down Invader Street Art
Invading Rome - Part 2 of 3 - Chasing Down Invader Street Art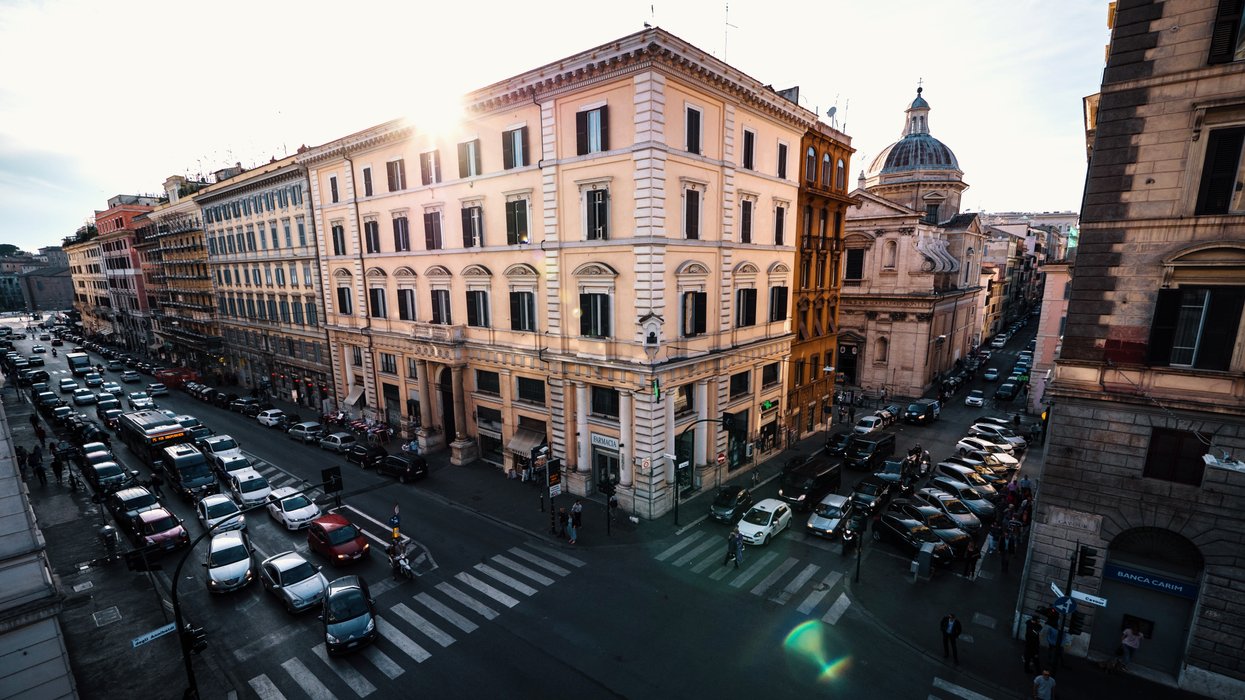 Thanks for reading my Invading Rome saga! If you enjoyed this article, please consider upvoting, commenting, resteeming and giving my account a follow. If you have any questions or comments please post them below and I would love to start a dialogue with you.