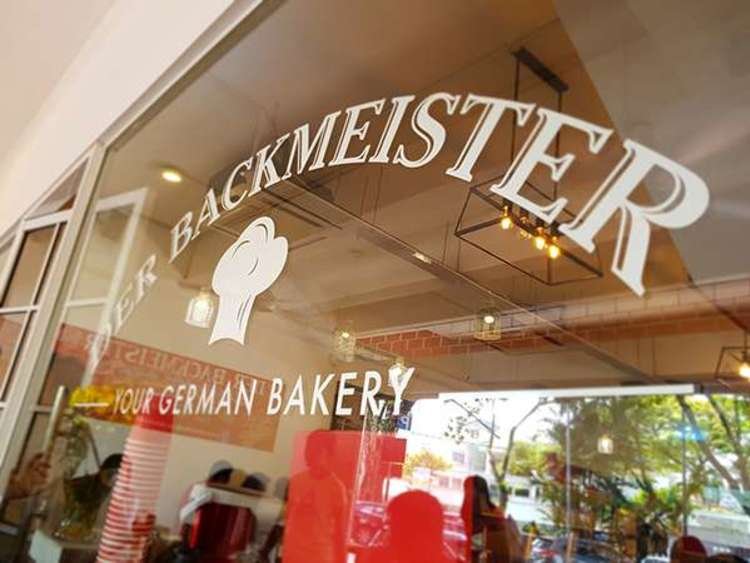 We Live the Art of Baking. Everyday.
~~ Der Backmeister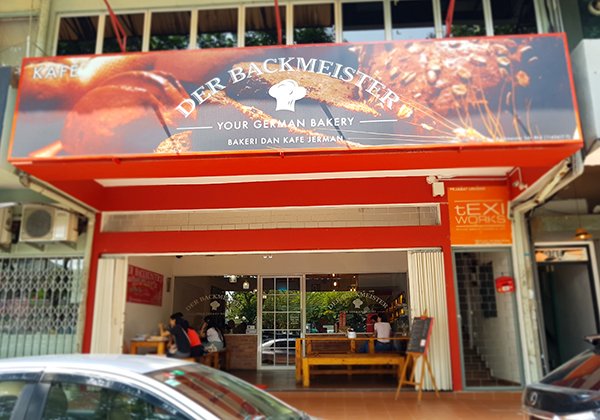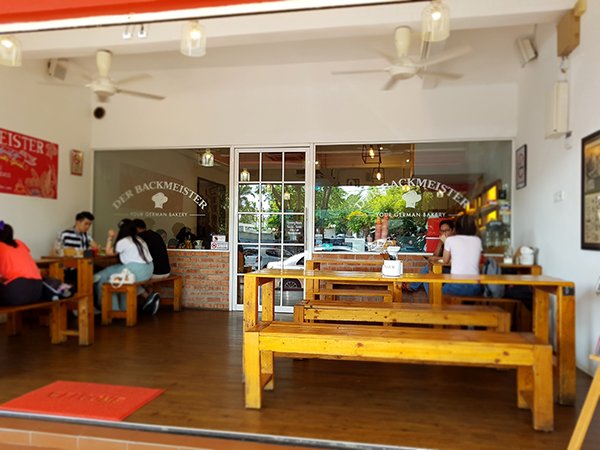 We, as in Rose (@roselifecoach) and I, have been dying to try out this German Cafe ever since it was introduced by our Chiropractor. According to her, Der Backmeister at TTDI have the most healthy and no sugar, no preservative bread with natural ingredients that a person on a strict diet can find. Plus they served varieties of German original recipes bread and sausages, that's something we really wanted to try.
The first time we went just to get the bread suggested by her. Finally, this time we manage to get up early, picked up another friend of ours and beat the traffic to go get ourselves some breakfast.
Why we need to be there early because TTDI is the toughest place to find a parking slot. Lucky us, we found an "illegal" spot at the side of the housing area, hoping we won't get summon just because we want some good breakfast!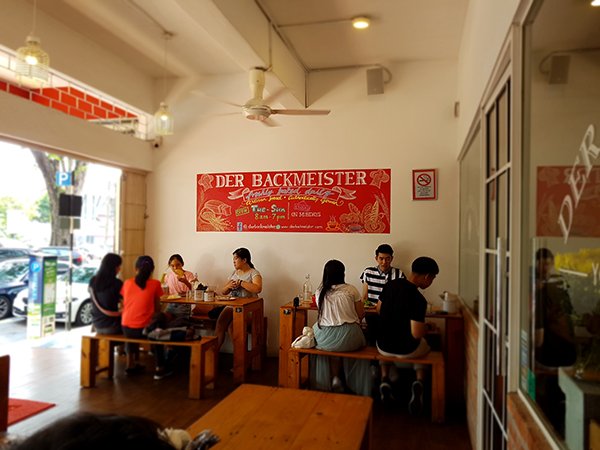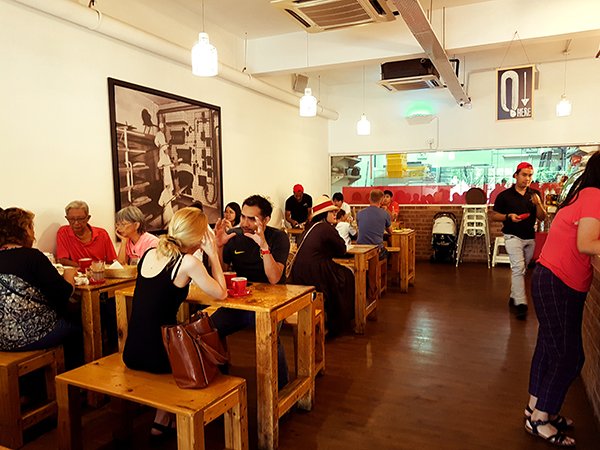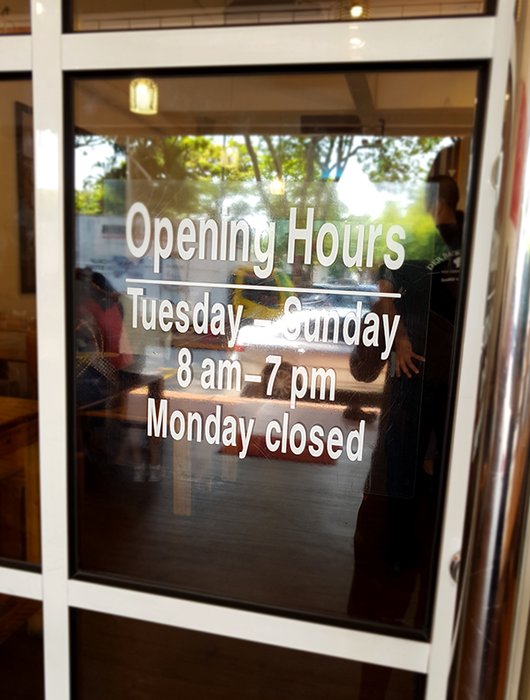 We were greeted with a warm welcome by the staffs to assist us with the order and seating arrangement because the place was already packed. Also, we need to place our orders at the counter and pay first, then the food will be sent to our table.
The cafe was very relaxing, with the old poster and wooden seatings, kinda have a vintage feel to it. While waiting for the food, I started to walk around to take some photos for this review.

Let's see what they have in there.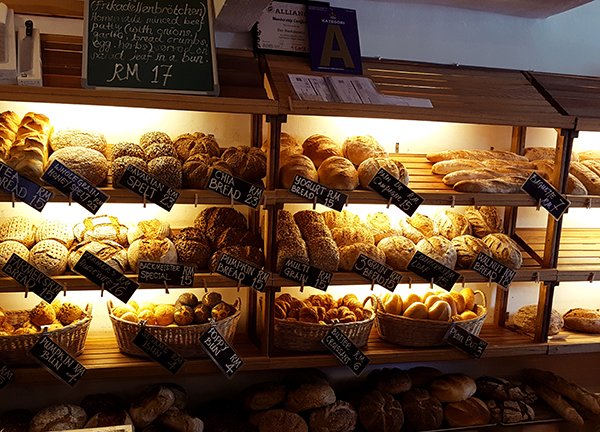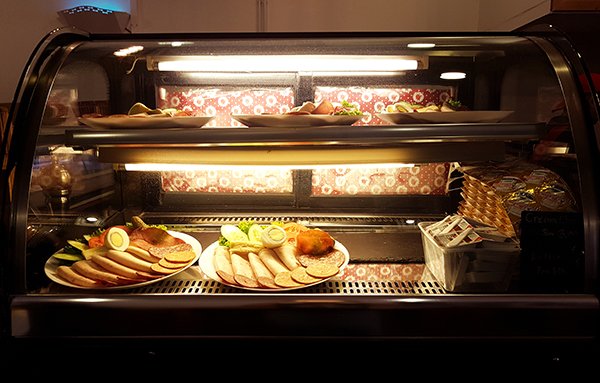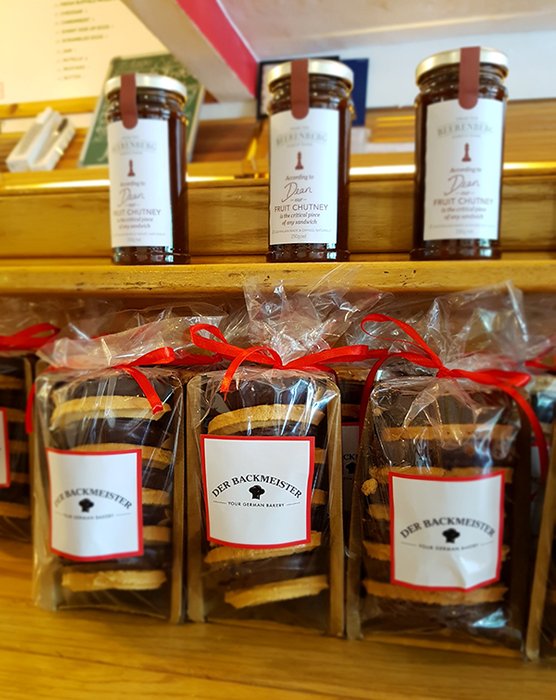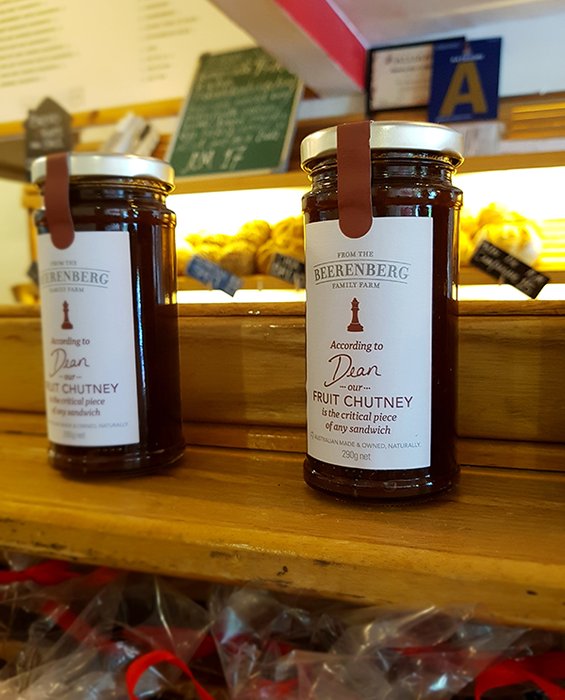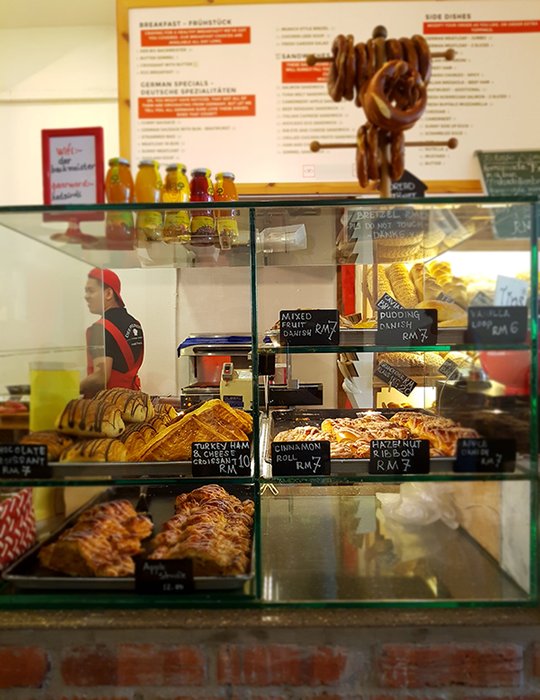 The moment you walk in the cafe, the aroma of fresh pastries and bread just makes your tummy all lightening up. There are counters for assorted pastries, homemade jams and cookies, racks of freshly baked loaves of bread, cool storage of fresh food platters ready to be served. There are so many types of bread there, I think we need to make a few more trips here to try some of them.
From the newspaper cutting on the wall, was the story of how this cafe was started, the cafe was a partnership by two Germans and two Malaysians and one of the German owner is a converted Muslim, so the bakery is pork-free. No wonder I saw Curry Sausage and Beef Rendang Sandwich in the menu, whereas rendang is a traditional dish in Malay culture.

The Giant Menu and Our Orders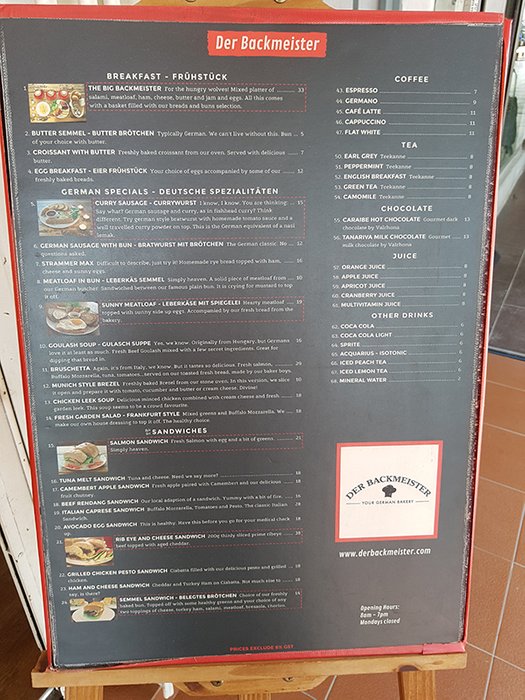 Don't worry, they will give you a smaller menu for you to make order.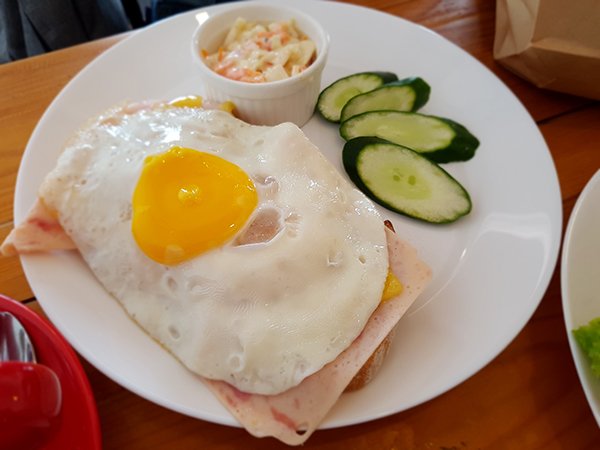 Strammer Max, RM 16 (USD 3.89)
Strammer Max, homemade rye bread topped with hams, cheese and a sunny side up. It doesn't look much but it's quite filling.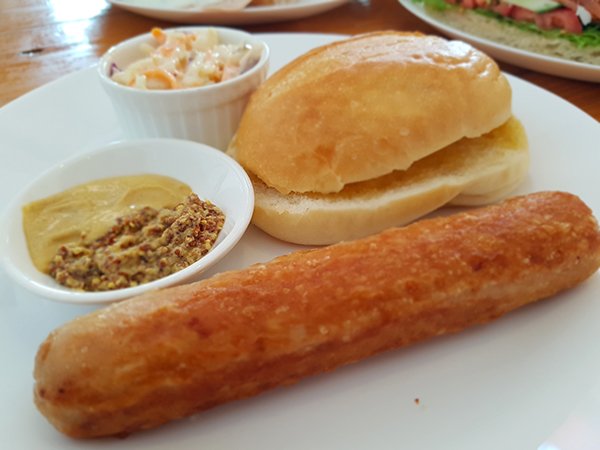 German Sausage with Bun, RM 12 (USD 2.92)
German Sausage with Bun, I'm not sure what bread was it, but it's not chewy and really light to the mouth. The sausage not like those we bought in the market, very tasty with a kind of smoked taste to it, tasted even nicer with the mustard.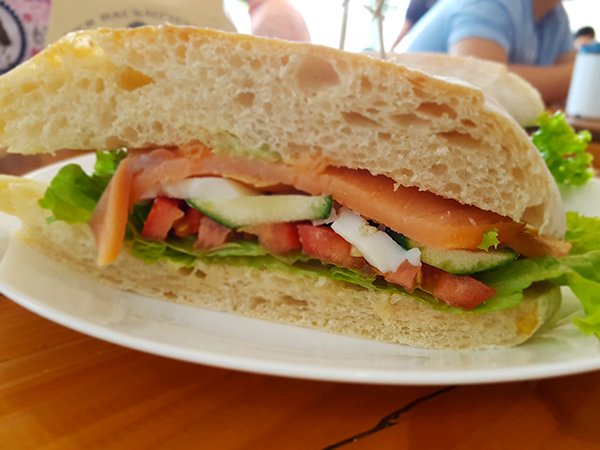 Salmon Sandwich, RM 21 (USD 5.11)
Salmon Sandwich, fresh slices of salmon with fresh lettuces, tomatoes, cucumbers and hard-boiled egg in the Ciabatta. Everything is fresh about it. The portion was big, Rose can only finish one half of it, the other half she brought back for tea time later on.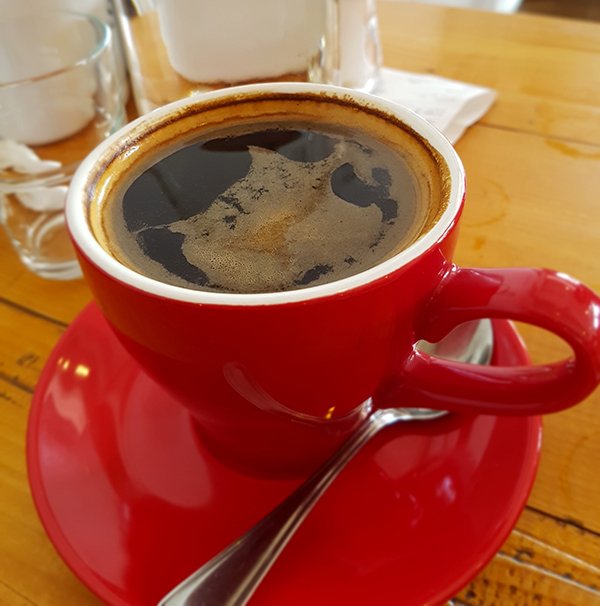 Germano, RM 9 (USD 2.19)
Germano, a breakfast cannot go without a good cup of black coffee. At first, we were guessing if Germano is coffee in German, ended up we need to confirm at the counter. The fresh aroma of coffee just woke me up instantly.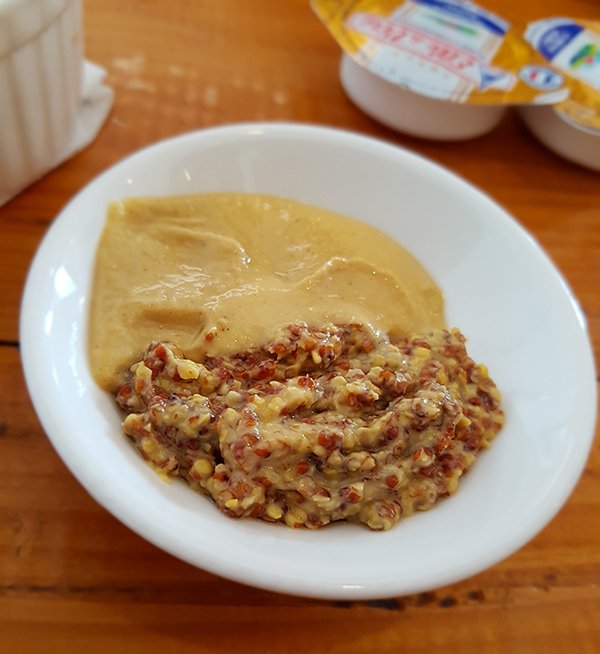 The mustard was a bomb! It's a bit sour and salty but in a good mix, very appetising. I love it with just the bread. One thing though, they don't serve butter, you will need to pay RM 1 for a pack of butter.

Overall
The place was relaxing, friendly staffs and their service was great, easy to make orders, food with an affordable price was fantastic! Only thing is you might wanna carpool or take a Grab to come here. I would definitely recommend everyone to stop by here and try out their food and services. especially if you are looking to have some German delicacies, this is the place!
Thank you for reading my review, I hope you enjoy this breakfast with me.

All photos were taken with my Samsung Galaxy S7 Edge.

Der Backmeister (TTDI) - Your German Bakery.
Address: 40, Persiaran Zaaba, Taman Tun Dr Ismail, 60000 Kuala Lumpur,
Wilayah Persekutuan Kuala Lumpur, Malaysia.
Contact: +603-2856 0613
Operating Hours: Tuesday - Sunday 8am - 7pm, Mondays Closed
Website: https://www.derbackmeister.com/

Thank you for stopping by, this is a place where I can share the things I enjoy in life, art, gardening, nature, foods. This is why my divider above are filled with all the different kind of icons that I love doing. I hope you enjoy my post so far, leave me a comment if you like.
谢谢您的到访,这里是个我可以分享关于我所喜爱的生活,包括艺术,园艺,大自然,食物等等的地方。 这就是为什么我上面的页脚全都是我喜欢做的不同类型的图标。 我希望您喜欢我的帖子,如果您喜欢,不妨留下您的评语。
Proud Member of:

Proud curator and editor of #cn-malaysia

---
Restaurant Information

Der Backmeister.


40, Persiaran Zaaba, Taman Tun Dr Ismail, 60000 Kuala Lumpur, Wilayah Persekutuan Kuala Lumpur, Malaysia
---
Der Backmeister, Your German Bakery.
This post participated in the Tasteem contest Best breakfast