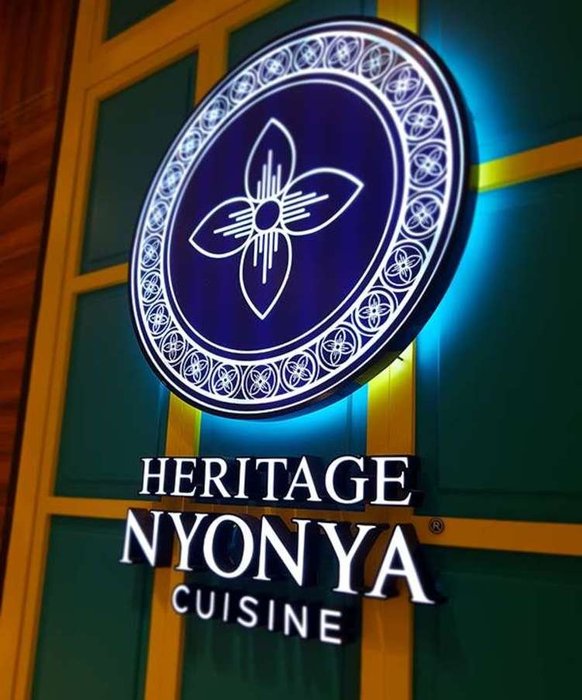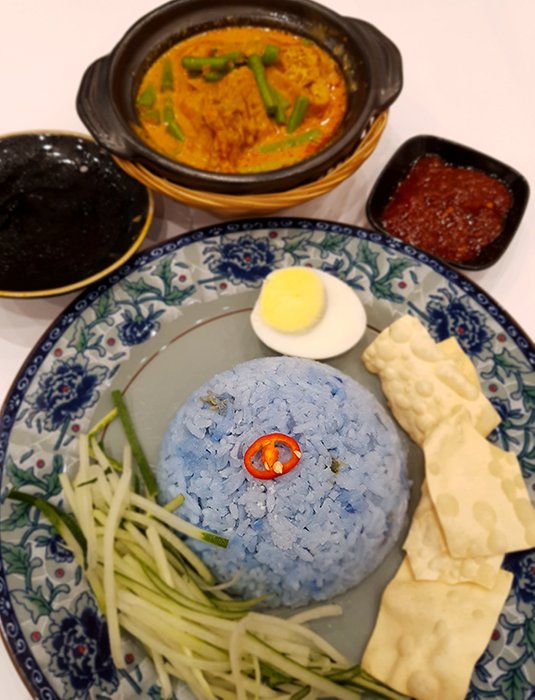 Yay! New Food Joint!!
Central i-City is the latest mall opened nearby my area. With a new mall, we definitely expecting lots of Food and Beverages shops opening as well.
So we strolled and look around for something that we haven't tried before, and look what we found, a Heritage Nyonya Cuisine Restaurant! I'm pretty sure right now the trend of Nyonya Food is increasing, I have spotted at least 4-5 Restaurants selling Nyonya Food, big or small. I really wonder how can they survived with all the competitors around.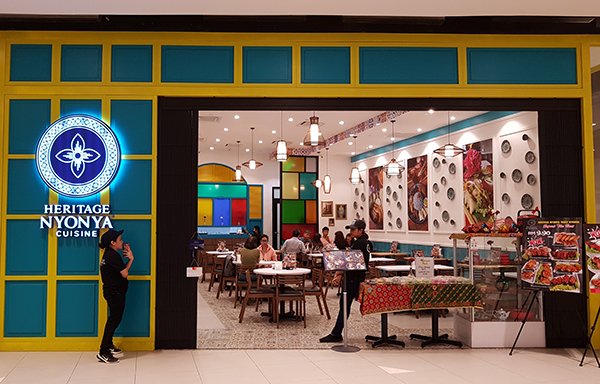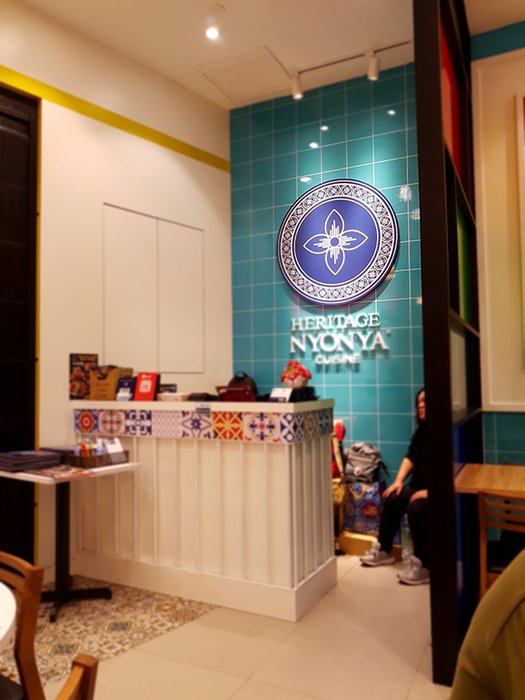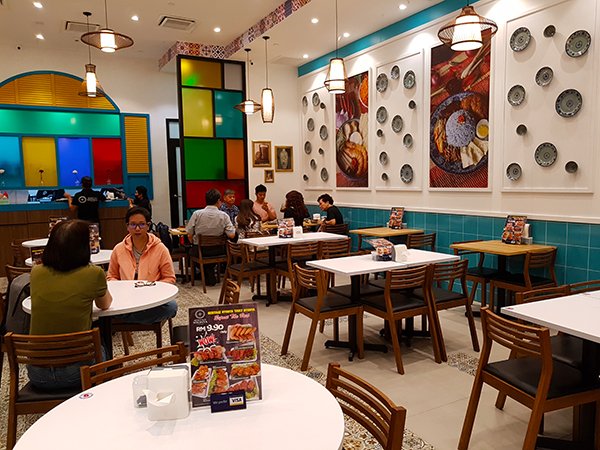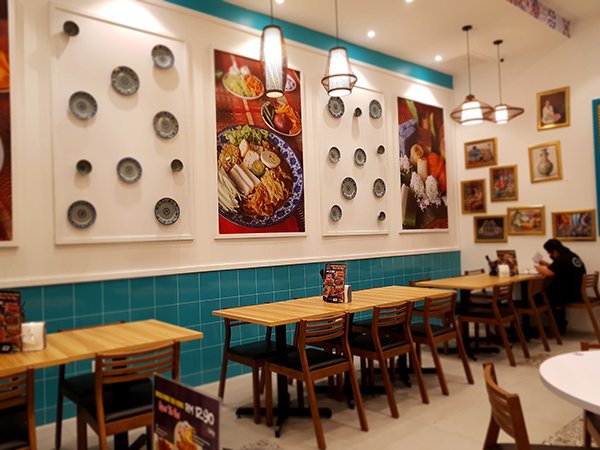 We went into this Heritage Nyonya Cuisine to try, there aren't many people dining, maybe it's fairly new and the location is not at the most crowded corners. So the staffs have actually outnumbered the customers... Haha
Though the decorations are really nice to take a photo, and it's bright and clean. I guess I will feel happier dining here because of the ambience.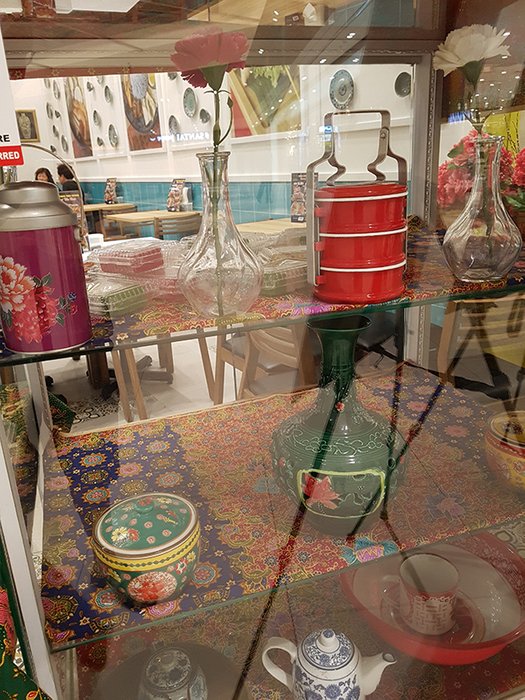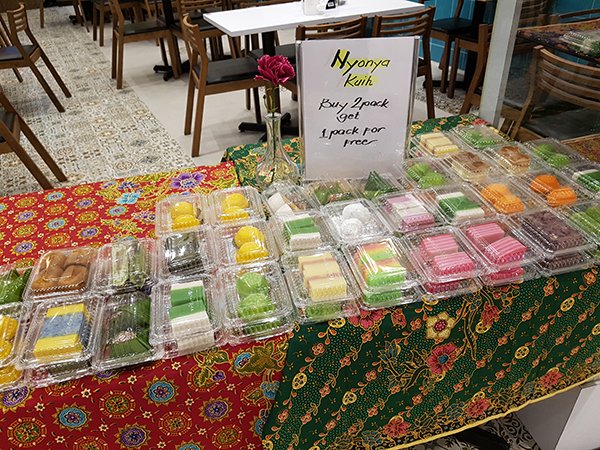 Not forgetting all these famous Nyonya Kuih (cake). I guess due to it's late (around 8pm-ish), they sell off the kuih with cheaper price in order to finish the stocks.
(We did pick 3 packets to take away for supper later, it's also because the colour of these delicious cakes are just so colourful and attractive, makes you want to pack them all home!)

Fascinating Menu!
You may notice the colour of the food mostly in blue colour, the reason is they pride themselves for using the Butterfly Pea Flowers to make their food and drinks.
If you are wondering what Butterfly Pea Flower is, it's a blue colour type of edible flowers, you can make drinks with it, or you can soak the flowers to get the blue colour water to use it to cook rice or cakes. Fascinating isn't it!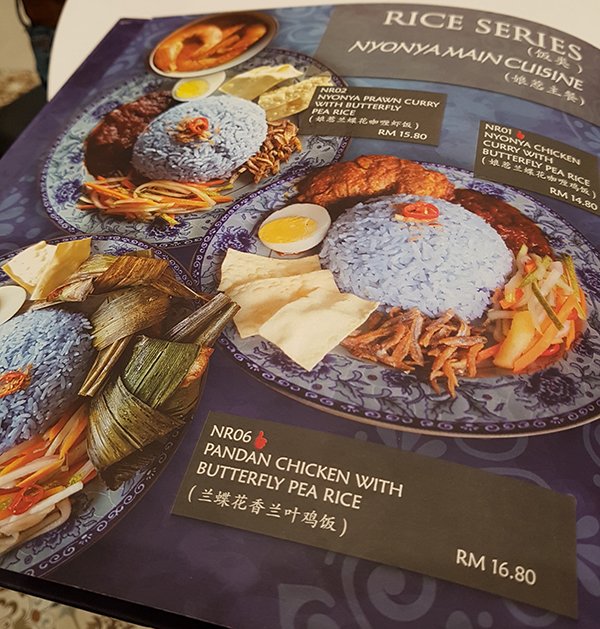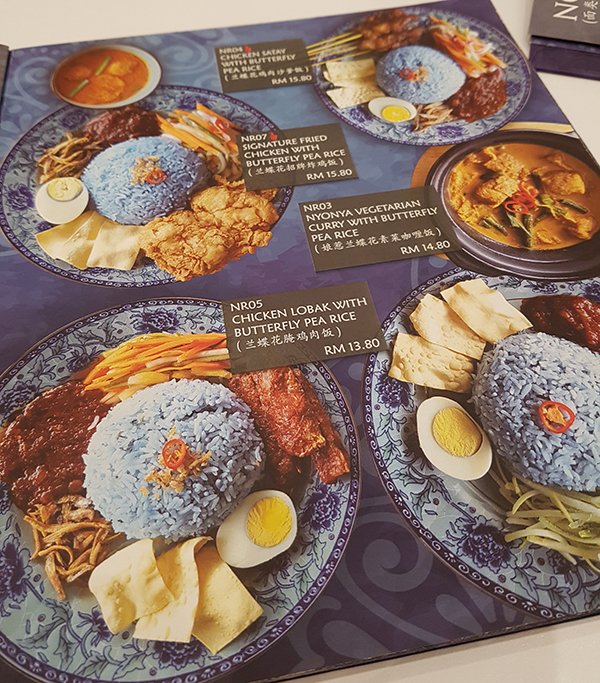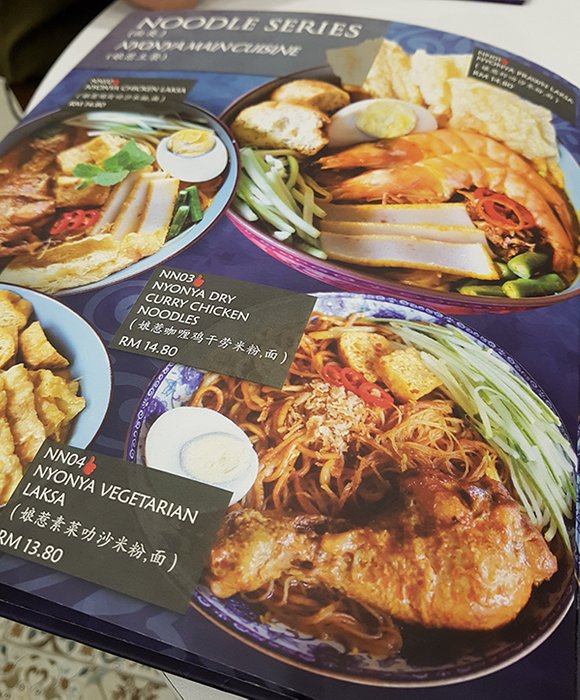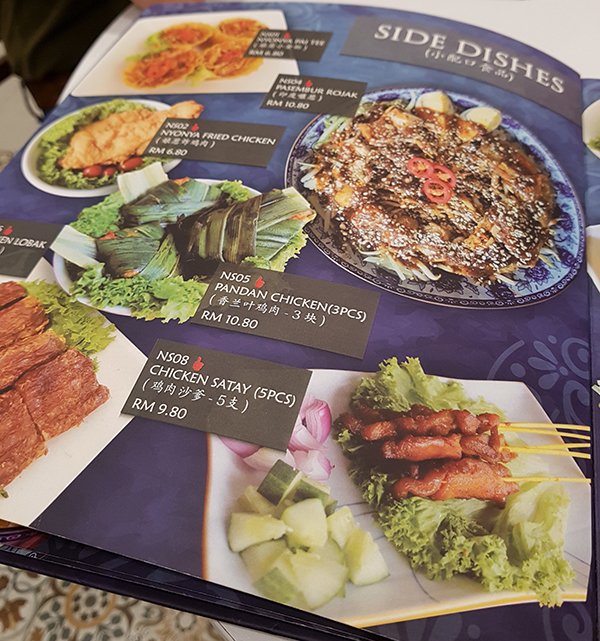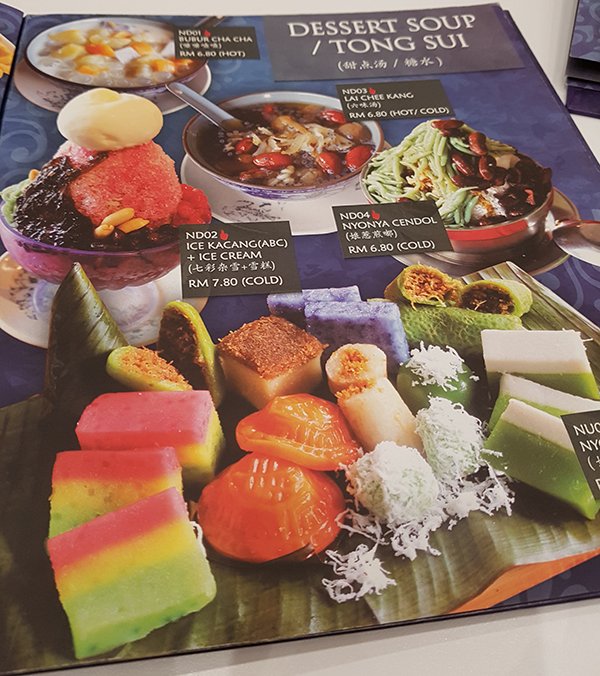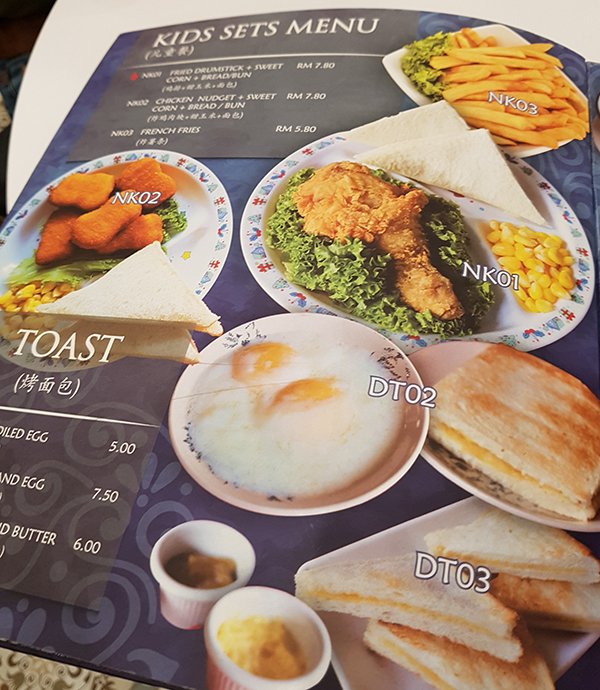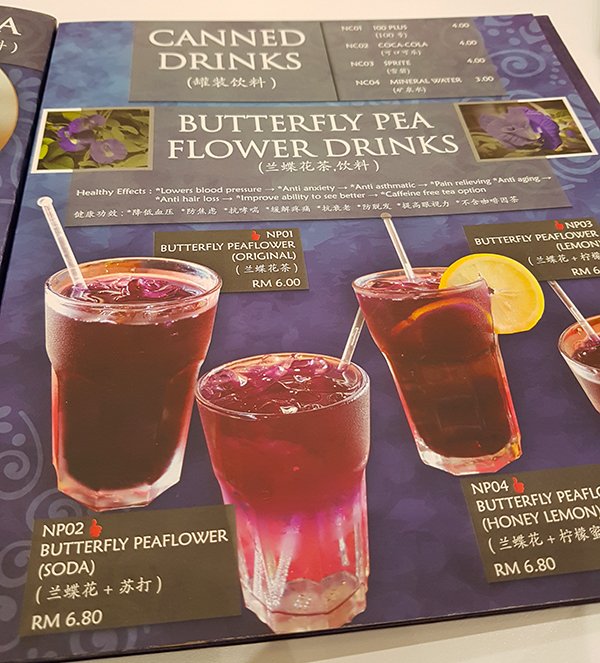 They even have a section serving Butterfly Pea Flower Drinks, which is very unusual. I guess they found their niche in this.

Let's Look at Our Food!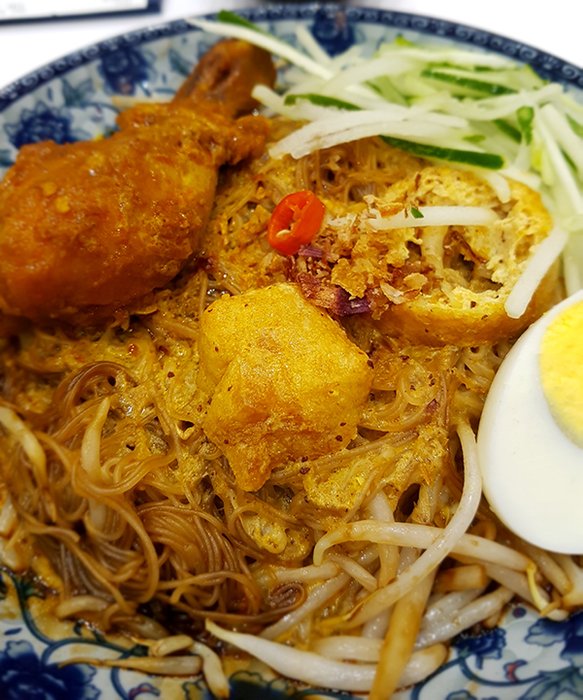 This one is the Nyonya Dry Curry Chicken Noodles, RM 14.80 (USD 3.53). It's basically dry curry poured on top of fried mee hoon and comes with shredded cucumbers, a half hard-boiled egg and curry chicken. The curry tastes very coconut, very rich, the noodles not too soggy, just nice with the curry sauce.
This dish does bring back some childhood memories and when we a small, the school canteen would sell these type of noodle but much simpler version, just plain dry curry noodles, with only MYR 0.50 at that time. How times have changed...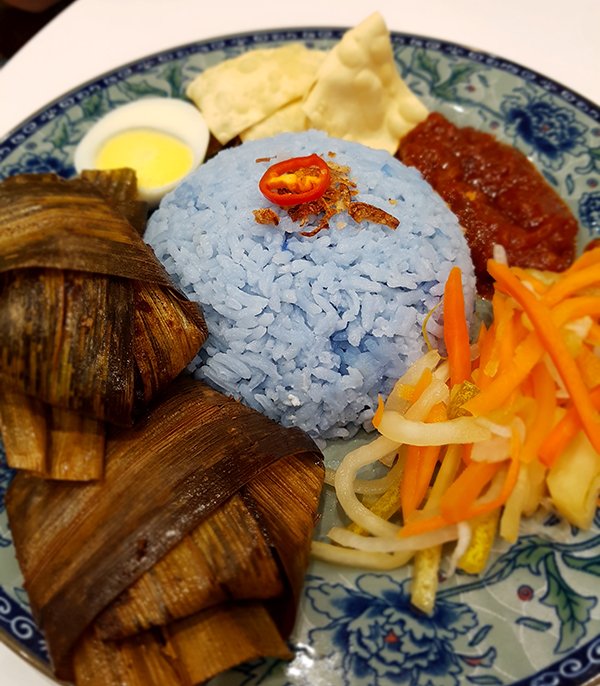 The second one is the Pandan Chicken with Butterfly Pea Rice, RM 16.80 (USD 4.01). Pandan chicken is the marinated chicken wrapped in pandan leave and fried to crispy, served with the beautiful blue colour, Butterfly Pea rice. Many Asians like to cook with pandan leaves and this pandan chicken is one of the famous one.
Although our friend told us the chicken is a little bit too hard, it is still a good try.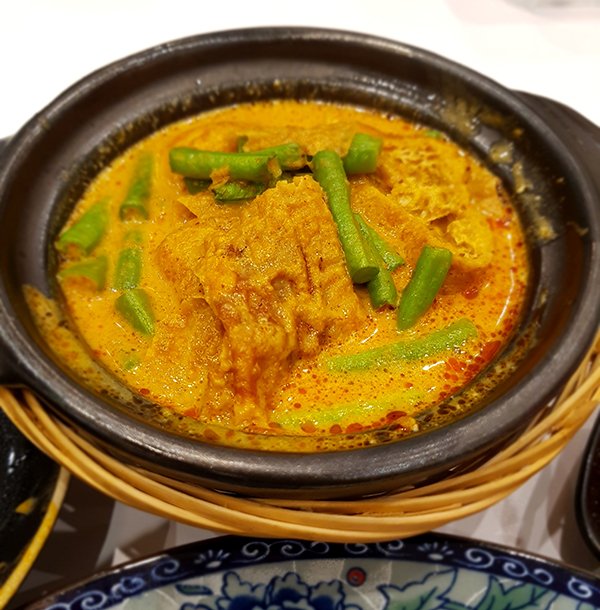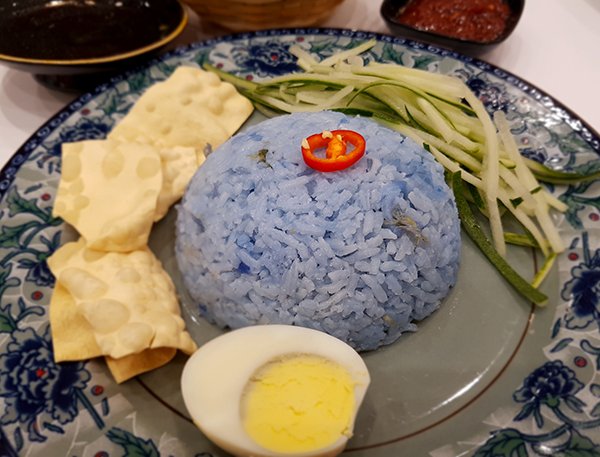 Lastly, my Nyonya Vegetarian Curry with Butterfly Pea Rice, RM 14.80 (USD 3.53). I decided to not have meat today so I went for the vegetarian, and since I am sort of craving for curry, this dish is by far the best choice for me.
The pot is actually not that big, at first I thought to myself, will it be enough for me with this little pot of curry with just vegetables? Surprisingly, it was just the right amount of portion I need. As you can see from the colour, obviously the curry is rich in flavour, eat it with the rice is just so yummy.
Oh, by the way... The Butterfly Pea doesn't really have a taste at all, it just tasted like the ordinary white rice, just that the colour is so attractive and appetising, it makes me want to have more!

Overall
I would come back again, to try other food on the menu, especially the Butterfly Pea Flower Drinks. The price is fairly the same as most places in the malls. Unless you go to the street, you will definitely get a cheaper price. The place is new so it feels clean and cosy to hang out with friends with a nice meal, or just for tea time with cakes and coffee.
I hope you enjoy the review, hope to see you in my next post! Thank you!

All photos were taken with my Samsung Galaxy S7 Edge.

Heritage Nyonya Cuisine
Address: Lot 3-37 Central I-City, Persiaran Multimedia, Seksyen 7, Jalan Plumbum 7/102, I-City 40000 Shah Alam, Selangor, Malaysia.
Contact: +60123981655
Business Hour : 10am – 10pm Daily
https://www.facebook.com/HeritageNyonyaCuisine/

Thank you for stopping by, this is a place where I can share the things I enjoy in life, art, gardening, nature, foods. This is why my divider above are filled with all the different kind of icons that I love doing. I hope you enjoy my post so far, leave me a comment if you like.
谢谢您的到访,这里是个我可以分享关于我所喜爱的生活,包括艺术,园艺,大自然,食物等等的地方。 这就是为什么我上面的页脚全都是我喜欢做的不同类型的图标。 我希望您喜欢我的帖子,如果您喜欢,不妨留下您的评语。
Proud Member of:

Proud curator and editor of #cn-malaysia

---
Restaurant Information

Heritage Nyonya Cuisine


Jalan Plumbum 7/102, I-city, 40000 Shah Alam, Selangor, Malaysia
---
Heritage Nyonya Cuisine.
This post participated in the Tasteem contest Your weekly choice