NO GRAMMARLY USED
For this trip I must thank the following people who were a valuable resource for me:
Kristina: She gave me so many brilliant tips on how to come to London, how to move and what to see! I'm sorry we couldn't meet for a good beer. Whenever you'll come back to Malta, I'll return the favour Kris! :-)
James: He my was mentor and a great company over the ICE and the Sigma cruise. Without him, I wouldn't have known who to speak with!
Dimitrios: For hilarious moments at the ICE exhibition and across London! He made the last days way more fun!
Francoise: She appeared in London out of the blue and had the great idea to take me to Hyde Park and the Natural History Museum!
Tjaša and Julia: For everything! They hosted me for a whole week! Tjaša even left her room for me while she was away! Julia was my wing in the two greatest experiences I had in London!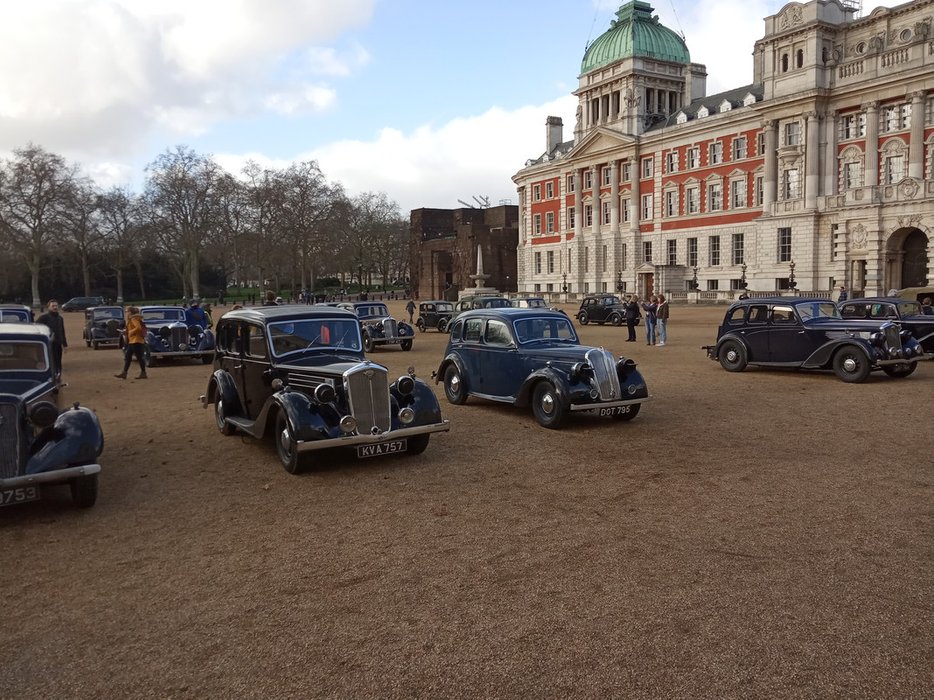 Tips for making your London stay great!
Before I roll down the things I've seen and done in London, it's important to share what you need to enjoy London at its best.
Probably, many of you will land either at Stansted or Gatwick, where Ryanair and other low cost companies operate. These towns are well out of London, so you will need a transport. Leave the Express Train. It's overly expensive and you don't need it. You can take the same time with a comfortable bus of the National Express for just 8.00 GBP from and to the airport! This big bus takes just 45 minutes to cover the distance from Stansted to Liverpool Street, in the heart of the City of London!
Special thanks to my friend Kristina for this precious tip!
Once you're in town, get ready to pick your Oyster card from any Underground station. This is a prepaid card that you can use on any mean of transport in the city. The procedure is simple and quick, managed by an automatic machine. It costs 5.00 GBP of "deposit". Be prepared to top up your Oyster with more than you think. The public transport here is highly efficient, hence very expensive. Consider that in 10 days in London, I spent something like 50.00 GBP in transport!
If you are staying for just a weekend and don't plan to go back there any time soon, then you can rely on your contactless credit card. You will have to scan it as if it was an Oyster card.
If you don't have a contactless card, make it now! My solution was a Revolut card.
Their service is incredible! I chose Revolut because they let you convert Euro to Pounds at the drop of a hat! You can switch the currencies as you wish for no fee! Opening an account is a piece of cake. Requesting a contactless card is even easier! You will receive it right in 2 days! You can top up your Revolut directly from your bank account, you can personalize your spending limits and you can even choose the colour and material of your card! Let alone that you can send money to your friends by simply having their phone number!
And now that you have your Revolut contactless card, you don't need much cash. Bring the bare minimum just in case you are unlucky enough to bump into a place that doesn't accept cards. Trust me, you can pay everywhere by card in London, even as low as just 4.00 GBP! That is heaven for me! Less banknotes means less buses for the Coronavirus...
Ah forget about the mass media paranoia! Don't listen to bullshits when you travel. Your mind must be free to enjoy the experience at the fullest! Afraid of the virus? Just follow the normal hygiene practises you always follow. My readers are clean people, they don't go to pee without washing their hands, so they don't risk anything!
My readers are great walkers too. Yes, London offers a super public transport, but you will need to walk a lot too to enjoy the city landscape. Let yourself go through the streets. Don't be afraid of getting lost. There will always be a tube station ready to take you back home! But don't insist too much on the metro though. Give those big red buses a chance to show you around a bit, comfortably from the top floor! Wandering on a red bus is a must-do in London!
Another traditional transport experience in London is to get the famous black London Cab. However, go for it only if you have money to waste. If you are a poor student for example, you will regret that experience. Cabs are super expensive, no wonder that Uber is beating the shit out of them...
And where to stay? I love hostels, so I chose the magic Wombat Hostel, set in White Chapel, which used to be Jack the Ripper's hunting ground! Thought the idea was creepy, it was a great choice! Wombat is strategically positioned between the City, the Tower of London, Tower Bridge, Brick Lane and Shoreditch. All of them are in the radius of 20 minutes walking! Great spot for sightseeing for free!
To be so central, Wombat is incredibly cheap. I paid like 22.00 GBP per night for a bed in a 6 dorm! The environment is friendly, clean and the rooms are well refined. The only minus are the thin pillows and the fact that towels must be paid extra. So in case, bring yours as I did.
The Wombat Hostel is that kind of place I like cause it's made to rest, but also to meet people. The bar is big, offering different nice beers and ciders. On Friday, they hold live music, while on Thursday they rock with karaoke, perfect event to bring people together! I just regret that I didn't dedicate much time to this place...
Brexit Fever!
The first reason I went to London right at the end of January was historical. Brexit was going to happen and I wanted to be at the centre of it! I wanted to be inside history!
I already experienced some Brexit effects right at the Malta Airport. I was going through the border check, that nice barrier for non-EU flights, as routes to the UK are already treated as such.
The queue was non-existent so I was called in right away by a nervous guard. Our conversation started already bad. As she checked my passport she asked in broken Italian: "Do you leave here?"
Me: "Yes, correct."
Guard: "You have the residence?"
Me: "Yes, I reside in Malta."
Guard: "Can I see the residence?"
Me: "Oh you mean the e-residence card? I don't have it here now. But I have the Maltese driving license with me, if you need to check my Maltese ID number."
Guard: "I asked you for the residence, Sir! You told me you have it! Where is it?"
Me: "I don't have it with me. It's not a valid document to travel. The passport is enough. I don't see what problem you have with it."
I was getting angry but even scared that this rude, ignorant scumbag could make me miss the flight!
Guard: "Do you have the residence or not???"
Me: "I don't have it with me, sorry. I was never asked for it before. I went to Jordan just with my passport. How come that now I cannot go to the UK? But if I have the Maltese driving license, I obviously have also the Maltese residence. How do you think I got it???"
Guard: "This is NOT the residence. This is for driving! The residence is made to be used! Orrjait??? You told me you have the residence, but here it's written that you came in Malta last June!"
Me: "The system tells you I came to Malta last year because that's when I came back from Jordan!"
At some point she saw something on the screen. I felt like she realized that her request was non-sense. The Maltese e-residence card is simply a document to access local public services, but it's not a valid document to expatriate, so asking for it at the airport is pointless. And even if you want to check, a Maltese driving license has the exact same number of the e-residence card. There is no way to cheat. She wanted to create trouble out of nothing. She realized it, but instead of apologising, she got away with a stupid joke: "So you left it at home, orraijt. With the cat and the dog watching over it... Go! But next time bring the residence with you!"
I had the strength to say "I'm sorry" even if I wasn't wrong at all. This is horrible customer service. She gave such a negative emotion for nothing. What I could think was "Go fuck yourself, jerk!"
I crossed the border just when the boarding started...
Brexit was causing confusion even before starting. Brexit was already giving me thrills! Well, the important was that the airplane was taking off! I was going to London for the first time!
I grew up hearing about it, listening to artists from there, watching movies set or shot there, following football teams playing there, but... I never imagined that one day I'd have gone there! Not in the middle of winter for sure! But life is more beautiful if you do unexpected things! So many thoughts, even expectations (never have them!) and history unravelling over a mass paranoia generated by a scary virus... I wanted an adventure and that was what I felt I was going to have!
The first brilliant idea, in the face of the Coronavirus, was to sleep at Stansted Airport. Why? Before Kristina suggested me to take the National Express bus, I planned to take the Stansted Express train. The problem was that the last train is at 00:45 or something and I was landing at 00:30. Considering that the first train would have been at 05:00 the next morning, it sounded legit to sleep over the comfy Stansted and wait the dawn to hit London. I didn't consider that a virus would have lingered like a ghost over every airport in the world... But after all, I enjoyed it! It was cool to sleep on the floor with other people. It really looked like an apocalypse movie, such as 28 Days Later, set right in London!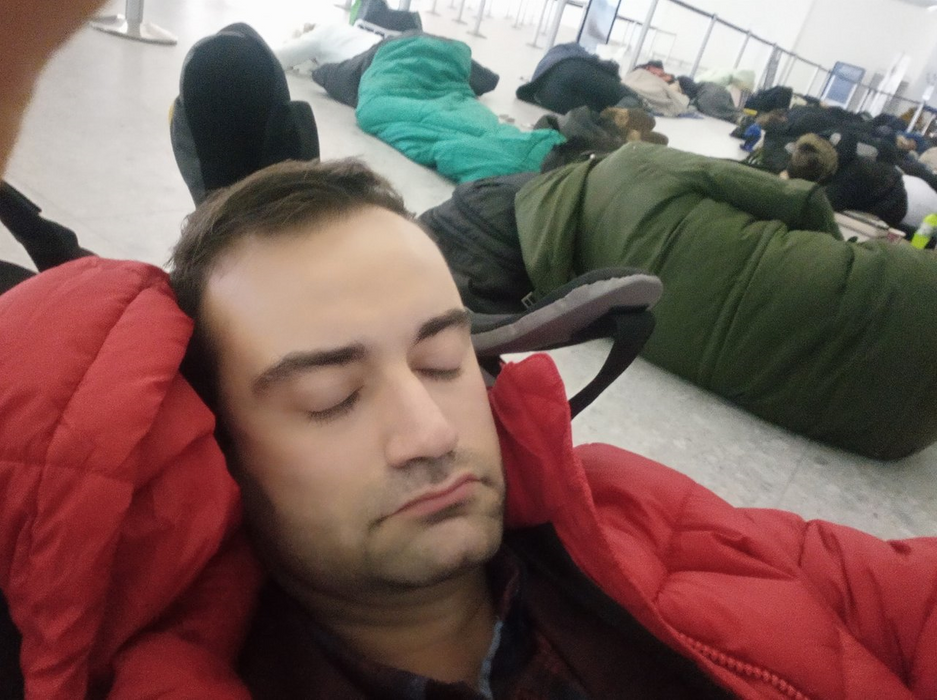 Sleeping was nice after all. What I hated was that, forced by starvation, I had to eat what was at disposal, just like in a zombie movie. All what I could have was a Burger King chicken supreme.... Awww...!!! The best way to get diseases is to eat junk food!
I spent time reading a bad book set in Malaga (ironically the destination of my previous travel) and observing people. People watching is a useful skill to develop, especially if you plan to write.
05:05 am came fast after all. If you go for National Express from Stansted, mind that the bus bay is downstairs, when you get out of the airport. Don't get tricked by the stops in front of the airport doors. I spent those 10 minutes of paranoia for not finding the place!
I was the only passenger on the bus, which made the travel even better. The driver was so kind that he woke me up once we got to Liverpool Street.
When I stepped down the bus I felt excited and amazed. I could see the skyscrapers of the City, with the iconic Gherkin (cucumber)! I was in London for fuck sake! Yay!!!
I was walking in London at 6:00 in the morning. It really felt like 28 Days Later. The city deserted with me walking lost like Cillian Murphy. I even yelled "Hello???" like in the movie. Better not, or some infected could come and chase after me to rip me apart! Unlike Murphy's character, I had a destination: Wombat Hostel. I couldn't check in yet, but I could leave my heavy backpack there and be free to explore around a bit.
London is the first place where Google Maps and I went along pretty well. I found Wombat and any other spot with no problem. The times I got lost was because I wanted to or because I was too tired to understand Big G....
Anyway, what I was looking for the most was to see some Brexit action! I expected some protests by the Remain front and some wild parties by the Brexiteers. I found my first delusion in London. Friday 31st January, the historical moment when the UK finally left the EU for good, nothing happened... At midnight, the city looked desert again, like 28 Days Later, minus fast running zombies... Well, in White Chapel there were some "zombies", aka homeless folks begging for money.
I had no idea where to go. Even before going to London I checked on the internet to find some possible Brexit events, but nothing convincing came up.
I tried last minute to hit Westminster, but the Aldgate tube station just had its last ride when I reached it... All what Aldgate could give me was an inspirational quote: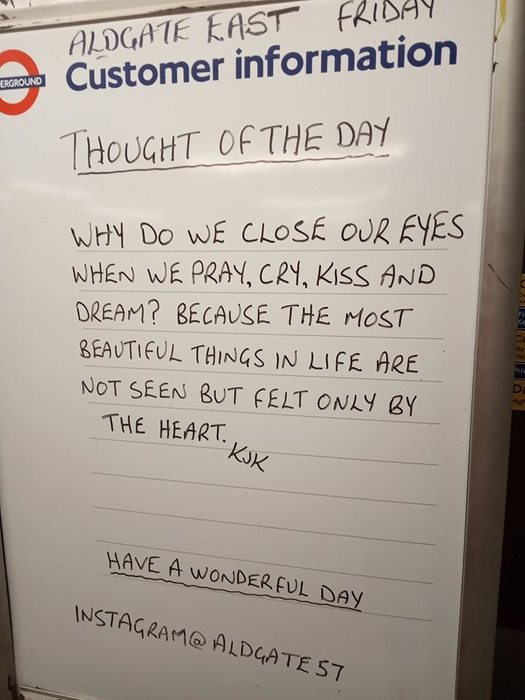 At 1.00 am I was back at the hostel, disappointed and tired. The only consolation was that I had the whole room for myself. I took a Niagara sized shower and fell asleep instantly... Good night UK....
London Sightseeing
Tower of London and Tower Bridge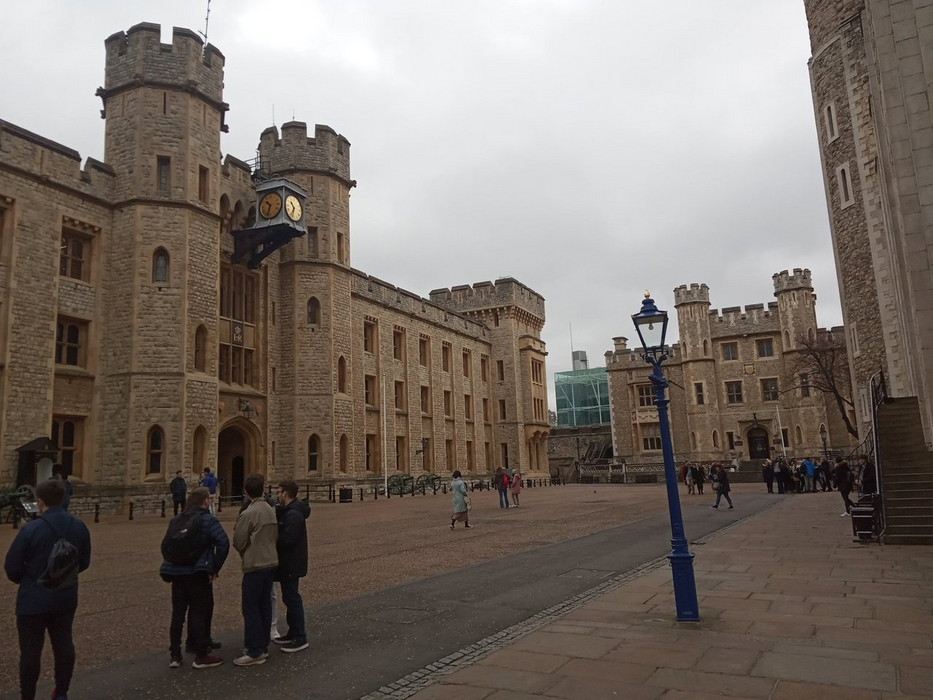 Despite I didn't find anything going on about Brexit, the first day was still productive and full of surprises! After depositing my luggage at Wombat, I began wandering through the streets, playing in my head my favourite song by The Verve: History.
"I wander lonely streets, behind where the old Thames does flow. And in every face I meet, mmm reminds me of what I have run for..."
And indeed I ended up running for... History! In the middle of the morning, I found myself in front of the famous/infamous Tower of London! I was already there when I was a kid... well, virtually speaking. I used to play a crazy video game called Midtown Madness. The game was very simple: you had to drive through London and destroy whatever you saw, escape from the police, driving over the grass, pushing buses into the Thames and so on... The only thing that was impossible to do was to run people over... So I can say that I drove quite a lot in London, even before going physically there! And what always caught my attention was this weird castle in the middle of the city...
Yes, first of all, the Tower of London is not a tower, but a big nice castle. It used to be the original premises of the English Crown, where the royals still keep their treasures as of today. The collection you see inside is impressive! Crowns adorned with the biggest diamonds I've ever seen, table sets that you cannot call silverware, but goldware! However, the best dish are the armours. An entire collection of armours belonged to the ancient kings of England populates the upper floors of the main building. Among them, there are some armours XXXL size... Damn! Enrich VIII was the Jabba the Hutt of the kings!
Outside, what stood most for me was a cannon adorned with a Maltese dog and a Maltese flag. It's so nice to see your adoptive country mentioned so far away!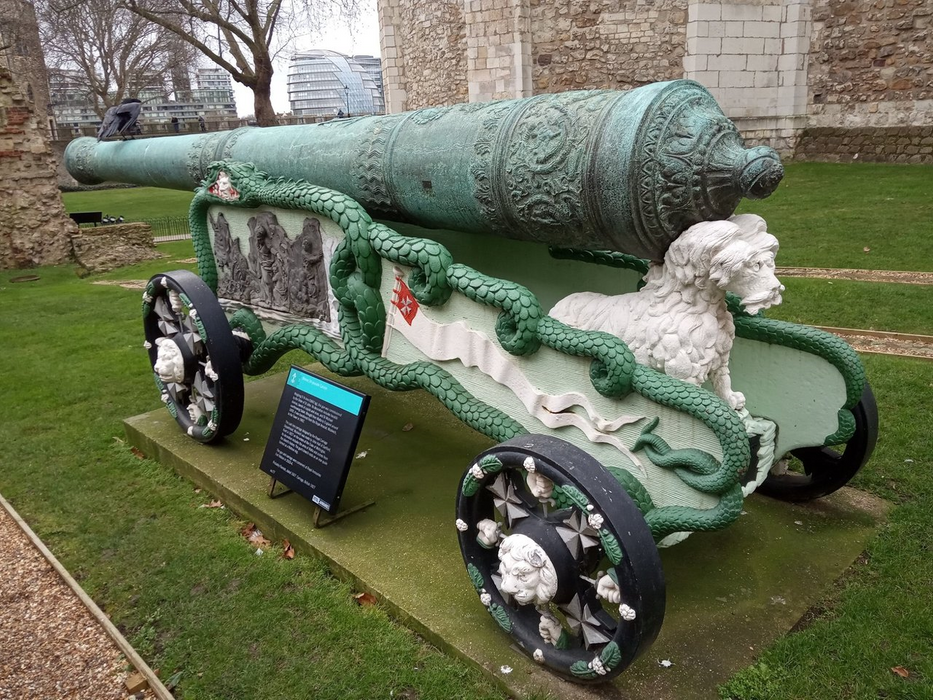 This is one of the nicest places in London to visit. And if you love animals, you will find that the Tower is secretly watched by a pretty guardian... :-)
You don't have to walk far from the Tower of London to see another icon of the British capital: Tower Bridge. I am not a landmark-photo-guy, but I agree that you haven't been in London if you don't take a photo here!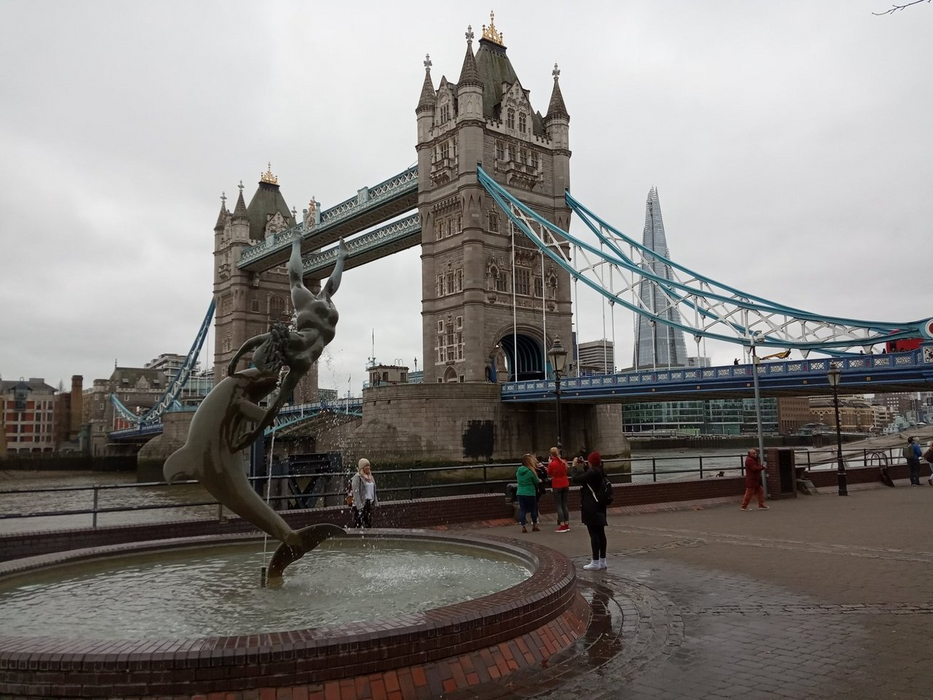 Political Landmarks
When I jumped at Westminster stop I was disappointed and even shocked. The Westminster Abbey and the Big Ben were under restoration, almost completely covered. That's why the Big Ben didn't chime on 31st January 2020.
What was more shocking was to see on the bridge several gypsies ripping off tourists with the Three Shell Game.
There are a couple of tricks in this game:
In some rounds the dude keeps the ball in his hand, ready to release it on the shell you have not chosen.
Every now and then an accomplice will bet hard on the winning shell, to show you that the dude "does pay"!
I was surprised that such an illegal show takes place right in front of the building where laws are made! Anyhow, I also think that if you fall for such a scam, you deserve it. Law cannot protect you from yourself...
I learned something more about human stupidity, if I needed. Time to move on! As you can imagine, the political landmarks are most placed in the City of Westminster. From the Big Ben, you just keep on the same side of the river and you let yourself get mesmerised by the elegant Saint James Park. You will reach Buckingham Palace without even noticing. I was unlucky, but normally you can find the royal guards standing there. You know those human statues in red that will never react whatever you do in front of them. Probably the most touristy thing you can do in London after sipping a tea with Her Majesty. Of course the Queen was busy that day, so our appointment had to be cancelled...
Nevermind, as my real goal was to meet my buddy Boris! I crossed Saint James Park, directed to Downing Street. During the route, I had an unexpected stop in the middle of cars from the 30s!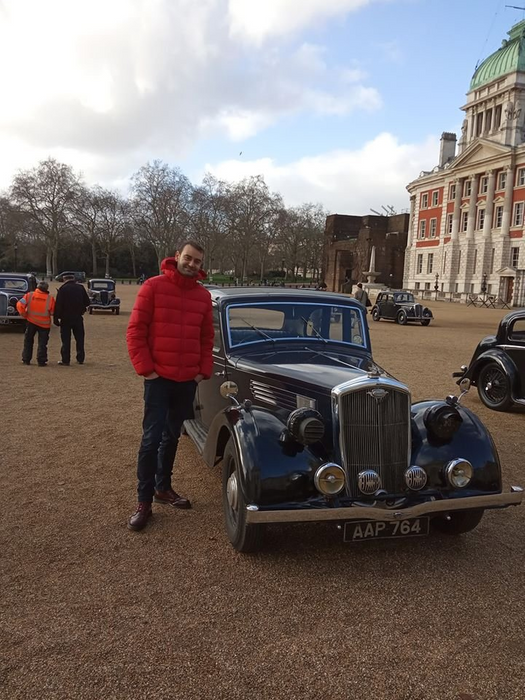 British people are crazy about cars! I felt like in a Poirot movie. Damn! Those was cars! They were true crafts out of the hands of skilled artisans. Those cars were authentic pieces of art! Their design was elegant as a feline, their curves as sexy as those of a beautiful woman.
The picture above was taken by an old British couple. As I took the picture with a Lagonda they assumed I was Italian, so they joked: "Oh you're Italian, then you're still in! But we will be back...."
Yes, it was 1st February of 2020. It was day 1 for the UK out of the EU...
"You will be always welcome back!", I replied with a broad smile. But was my smile sincere...? Hehehe....
It took a couple of minutes to reach Downing Street.
I wanted to celebrate Brexit with Boris, but they told me he was sick... Probably he got hangover during the Brexit hour the night before...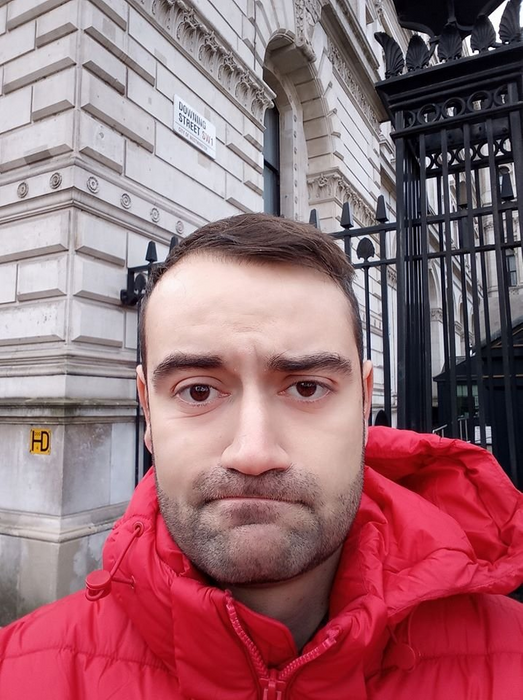 How Downing Street looks like? Just like a normal elegant street closed by an intimidating gate guarded by a bunch of cops armed with machine guns. Nothing massive as you might expect for protecting the British government. It means that they are highly efficient and don't need to show many muscles like in American style. Sobriety in power! I like that!
The Stadiums
The first thing I think of when someone mentions London is Chelsea Football Club! I confess Chelsea is my favourite football team, the one who made me fall in love with English football. When I was a kid, Chelsea was home for many Italian players. No surprise that in Italy they aired constantly games of the Blues! By following Vialli, Zola or Di Matteo, I became an enthusiast fan of the Londoner club, remaining loyal up to these days.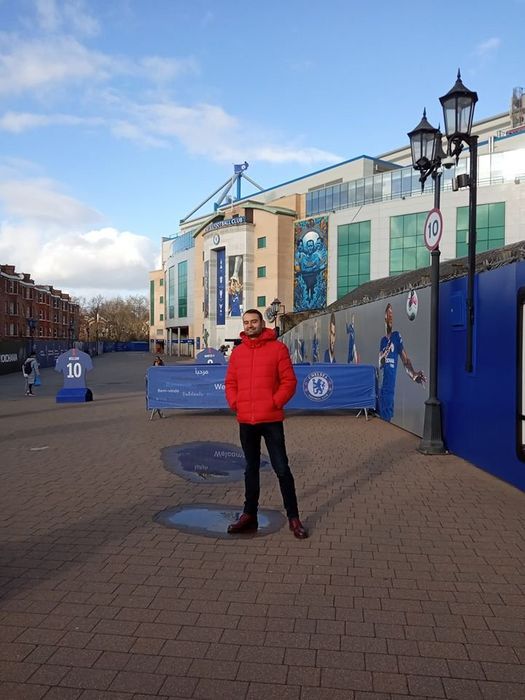 My visit at Stamford Bridge was brief as the wind was unpleasant that day, plus I was low, lacking of energy.
The next day I found better conditions and more energy in my body to take a full tour in the temple of football: Wembley. This was the only time I reached the outskirts of Greater London. As our Australian guide explained: "Here every activity pivots around the stadium and without Wembley, probably in this area there would be... nothing..."
The staff at Wembley is incredibly welcoming. When I arrived they informed me that their card reader was out of order, so I had to pay cash. The price was 22 GBP, but I had just 21... "Are you just one pound short? Then it's OK! We don't want to miss you for just one pound!"
Cashed my discount, they told me to have a look at the gallery explaining the history of the stadium before reaching the pub at 1.00 pm for the guided tour. The most interesting thing I've learned is that the original Wembley wasn't designed as a football stadium, but as a temporary area for the Commonwealth exhibition. Only after the event, it was decided to make it Home of England. We can say that the original Wembley was the Eiffel Tower of stadiums!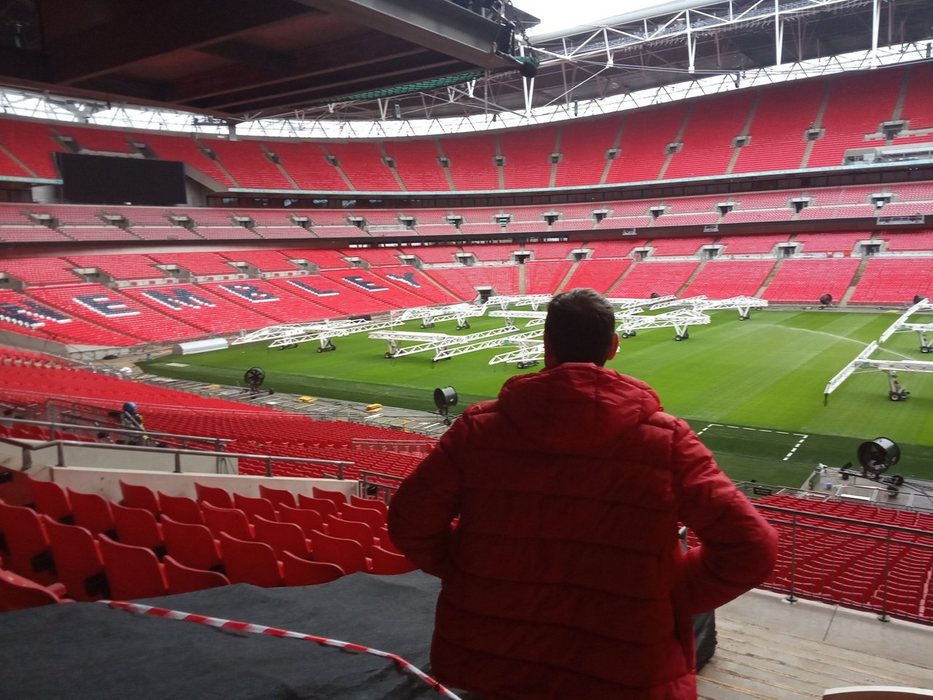 The old stadium was an icon, recognizable by the two towers that gave it a royal touch. But everything ages and England needed a new house to cope with the 21st century. The new Wembley is not less iconic than the old one. The big arch is the new symbol of the temple of football. This arch wasn't conceived as a mere stylistic whim but as a smart way to sustain the stadium roof without having vertical supports disturbing the view of the fans. Indeed, once you get into the arena you will notice how every corner of the stadium has a clear view of the pitch. It also makes the stadium look smaller than actually is, but in a good friendly way.
Wembley hosts multiple kind of events: concerts, exhibitions, motor shows and even boxing matches and American football games!
The tour gave me also an idea of how a conference room looks and feels like. Here you can see me while I answer the press questions about my new role as England's new Head Coach... :-D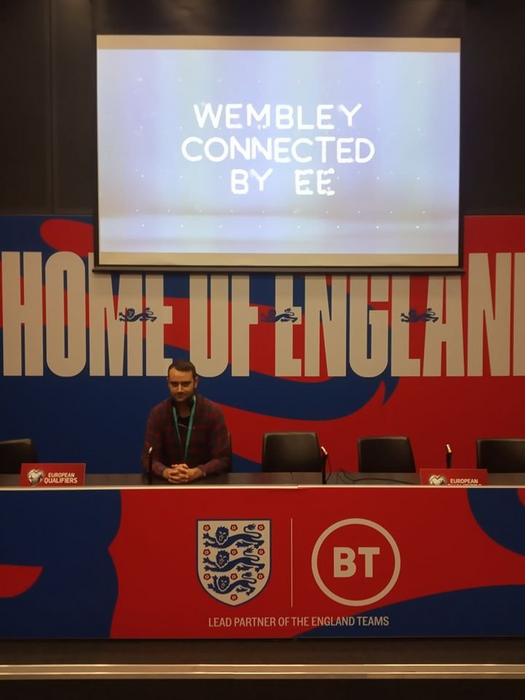 Sky Garden
"You can admire the whole city from there! The best view! I always take my friends there!", this was Kristina's recommendation about one of the most iconic skyscrapers in London. The British capital is not only about old monuments. It has a foot into the 21st century too and with style I have to say. I'm not a big fan of skyscrapers. Most look all the same, but the buildings in London stand out from the glass and steel crowd! The most famous are: The Shard, The Gherkin, The Walkie-talkie and The Sky Garden. As you can guess by the name, this tall palace has a beautiful garden on its top. Don't worry, the garden is inside, protected by a vast glass hall. The cold wind won't hurt you, but if you dare, there is also a terrace where you can take stunning photos.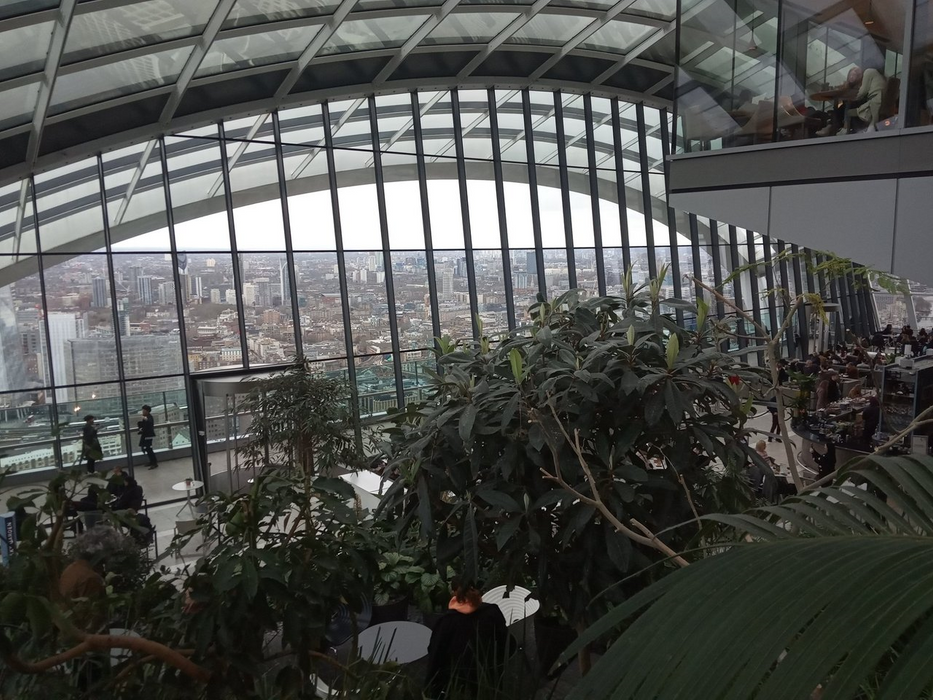 Sky Garden was a relaxing and funny stop during a demanding day of long walks.
Relaxing because I could sip a green tea while contemplating the whole city.
Funny because when I got at the entrance they told me: "You have the ticket? Because you should book in advance. But... Today is your lucky day! And the entrance for you is free!"
It must have been my lucky day... Yeah sure...
Hyde Park
And one day my French buddy Francoise texted that she was in London for a couple of days. Of course I was happy to see her!
What a nice walk and a nice afternoon! I reached Francoise at her hostel and I learned that it was near Hyde Park. Why not to pay a visit for the biggest park of London? Hyde Park is huge! In the afternoon it has a magic, relaxing light.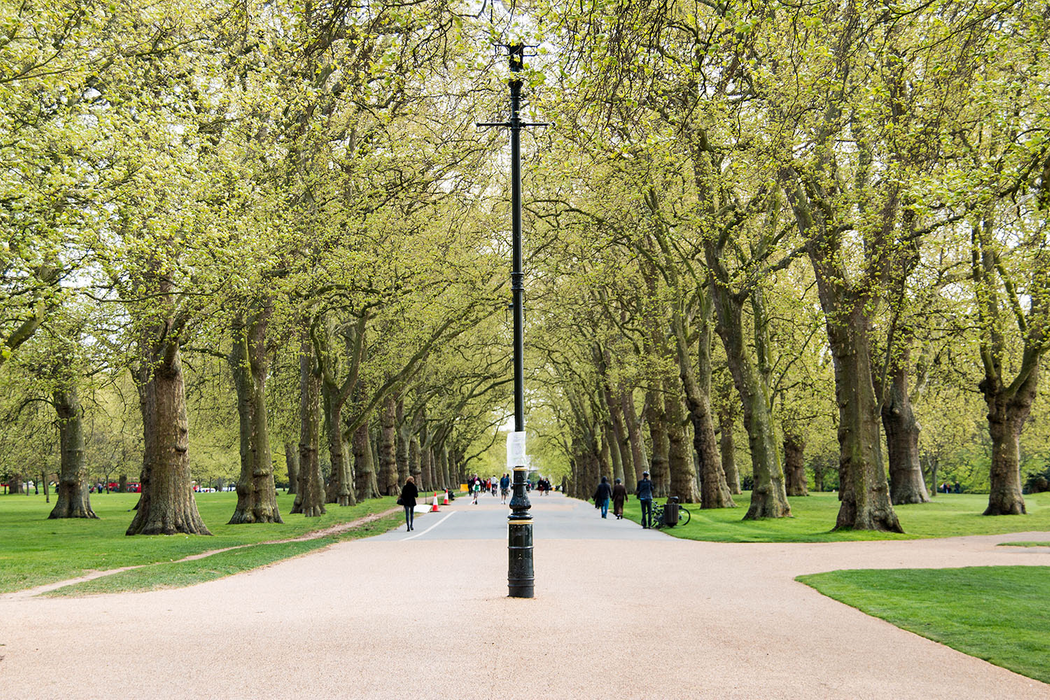 It's so beautiful that you don't realize when you reach already the City of Westminster!
Natural History Museum
It was natural that after Hyde Park we hit the Natural History Museum. Francoise and I share the love for wildlife and... dinosaurs!
As a big fan of dinos, I was happy as a kid when I got in. We rushed immediately to the dinosaurs section. There were fossils, detailed explanations, illustrations and the tools used by palaeontologists to reconstruct life from the Mesozoic. But there was also a big, big, old buddy to greet us!
The dinos are not the only major attraction of this museum. The big mammals section is impressive especially when I read at the tiger, that the Natural History Museum of London no longer relies on taxidermy.
Well done to this museum! I hope all the others around the world will follow suit.
Another big surprise I found here was to meet one of one the biggest mammals ever existed, which got extinct only few millennia ago! The Megathereum, also known as the Giant Sloth! Guys, this skeleton is at least 6 meters high!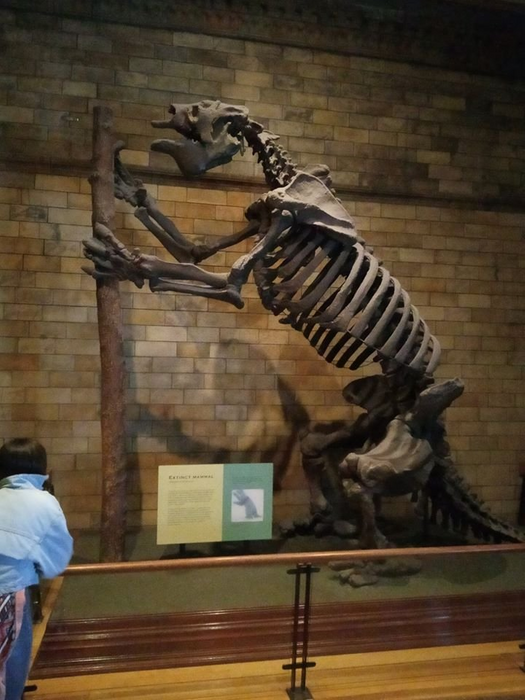 I just wonder if it could be even slower than the normal sloth!
The Natural History Museum is huge, so just one afternoon won't be enough to see everything. For curious people like Francoise and me, it was enough just for 2 sections... By the time we met the giant sloth, it was already time for the museum to close.
We walked back toward Westminster. I was craving good oriental food and Francoise was longing for a shisha. That's how we found the place for both, a Lebanese lounge right in front of Harrods. My mum had asked me if I had gone to the first shopping mall in history. I made her happy with this photo.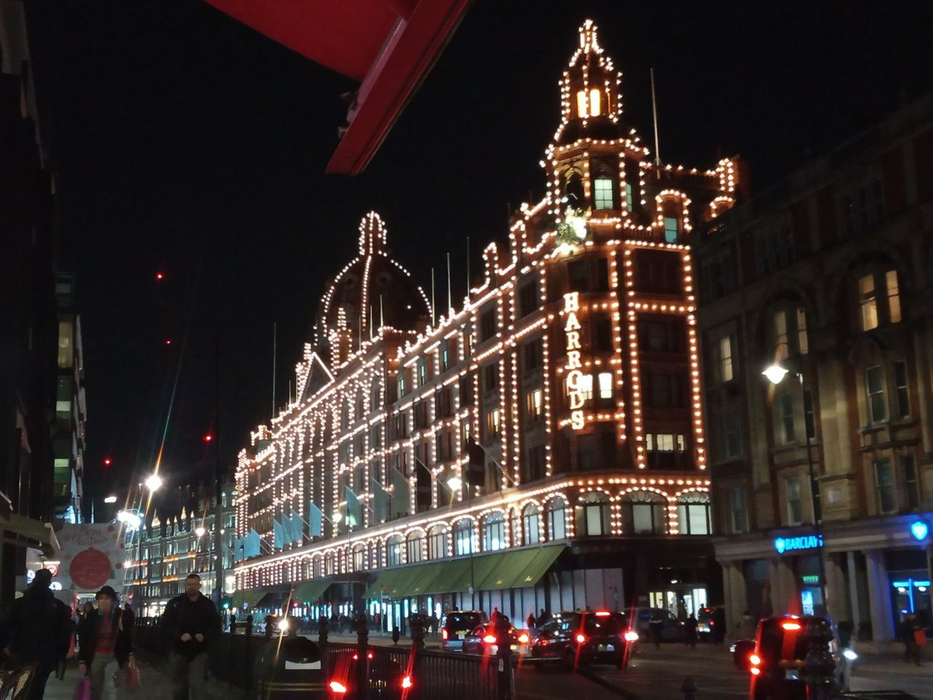 Harrods, where mass consumerism began!
Fashion
London is supposed to be a city of fashion, especially the alternative fashion. That's why I didn't fill my backpack much. I was ready to bring back some crazy clothes and possibly a colourful business suit that I planned to wear at the ICE Conference.
Both Kristina and Julia suggested me to hit Brick Lane. There is a big vintage market, where you can find weird clothes that look coming out of the 60s, the 70s or the 80s. Some stands even offer old fashioned uniforms.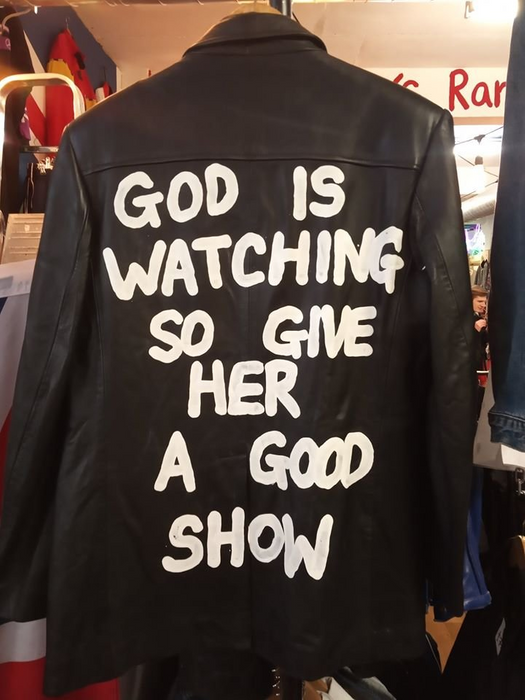 I had two objectives: a fancy, but crazy suit for the ICE and some 80ish stuff for the Secret Cinema show (I'll tell you later about that...).
While there I found no trace of any suit that could fit my idea. I thought of something purple like the Joker or alternatively something with dragons. Nothing slightly similar was available there. Maybe some military uniforms, but it seemed too much!
For the Secret Cinema instead I saw many potential candidates. There were beautiful mechanic suits, some even with "sponsor" attached. The only problem was the size. Every cloth was too small for me. Apparently I'm a giant even in London.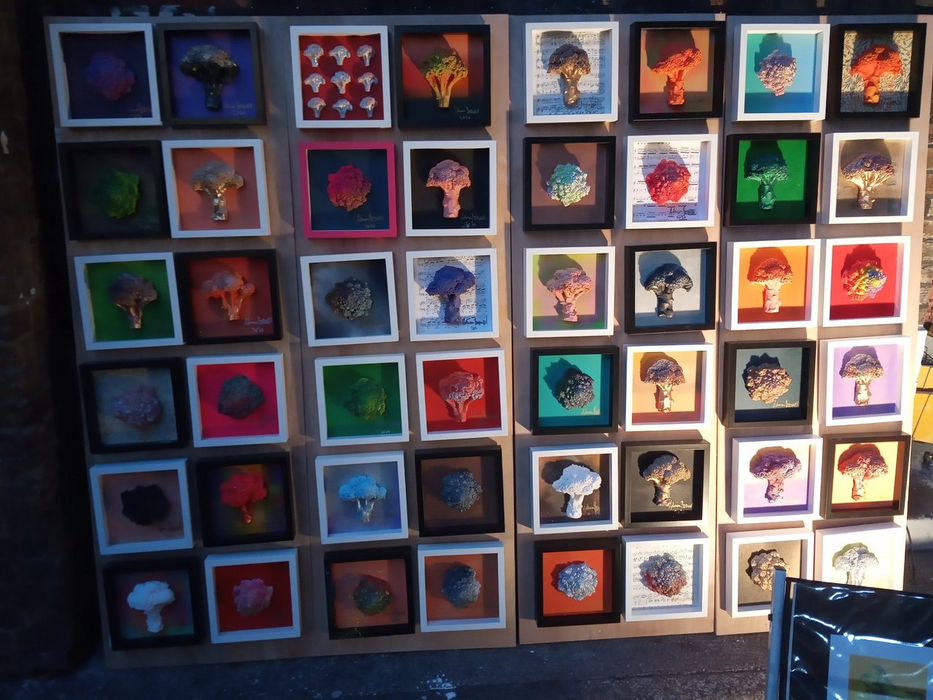 My search continued the next day in Camden Town. I've never seen such a colourful and transgressive street! No one was dressed normally! I loved that! If London had what I was looking for, it must have been in Camden Town!
Again, my idea for the Secret Cinema had to deal with dwarf sizes again, but my dream suit was almost there! I found a shop, just when it was closing. I saw some glittering blazers and I understood to be in the right place! They even had blazers with dragon patterns! The only problem was that they had no trousers... I tried to figure out how to match any of those blazers with my own trousers. I could use the black one with the golden dragons, but it fitted me too short...
Time was pushing me and I don't like buying on the fear of missing out.
I must be the first human being coming back from London without a single souvenir bought, not even a crazy T-shirts. Yeah, even the T-shirts looked all the same. Nothing in particular caught my attention.
I decided to miss out and go to ICE with my own clothes....
TO BE CONTINUED...