NO GRAMMARLY USED!

ICE 2020
Finally the ICE day came!
You may wonder what the hell is ICE??? The ICE is the biggest and most important exhibition of the industry I work in: iGaming. Yes, iGaming includes mainly online casinos, poker rooms and sportsbook. Many of you will feel moral disdain about my industry, but I don't mind. I'm used to be labelled negatively about what I do for a living and I don't care.
I woke up full of energy, but got nervous soon when I took like 10 attempts before knotting my tie with a proper Windsor knot... I even swore at my tie!
At least the DLR was punctual and fast to bring me to the Excel Complex in Canary Wharfs. I followed a herd of business suits that were walking toward the venue, then I bumped into my friend Alex. He lives in Malta just like me and he was on a mission for the payment processor he works for. When he asked me what I was doing there, I joked that I was looking for a CEO job!
To warm up each other, I pretended to be a customer interested in their services and using my experience in the payments industry I posed him some serious questions. It was the right and funniest way to break the "ICE" and get into business!
I was keen to explore, observe, interact while also learning as much as possible. Learning what? I had no idea, but I felt something extraordinary was due to happen!
Shortly after I bumped into my former manager Carla. If you follow my travels, you will remember I went to visit her in Gibraltar! I followed her for quite a few meters while she was talking with her colleague until I broke into the conversation from behind and said with a low tone voice: "I agree!".
The laugh lasted very short: "Yeah, sorry we're heading to a meeting now! See you later!".
Then I met John, my cameraman buddy, but he was as busy as hell filming around the venue.
When I was getting bored, I found Dimitrios! He was selling the slots of Spade Gaming. He was in good mood as usual, very welcoming and warm! Like all the others, he was busy with meetings, but we agreed to catch up after the conference to "hit and destroy London!".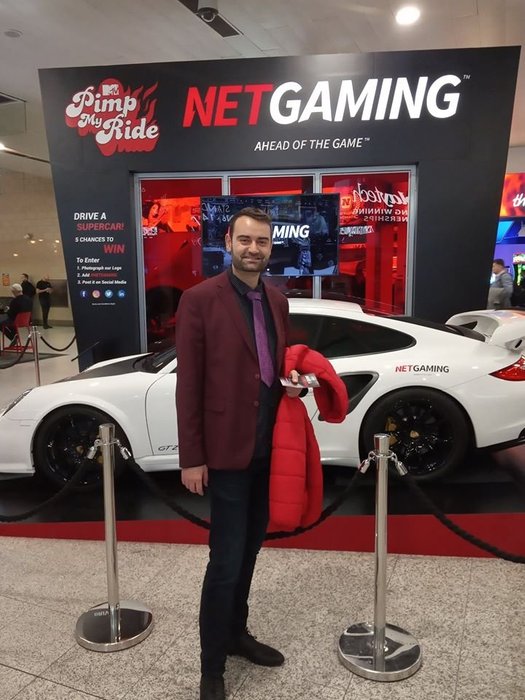 The more I was walking through the stands, the more I felt useless. "What am I doing here?".
Having a lot of friends there was a boomerang too. They were all busy with meetings. Comparison was inevitable. My mind started to shoot me as if it had a machine gun: "They are cool, I'm not. They have a serious role in iGaming, I don't. They are smart, I'm not. They have a purpose, I don't. They are sociable, I'm not." and so these overlaid voices in my head put me down and down, even knocked me out.
Depressed was my state in the middle of the day 1 at ICE. Then it was when I received a text from Elena, a girl I met at the AIBC Summit in Malta, where I had a stand for Aliencoin in the start up village! That was a networking experience totally opposite to what ICE was until then. The AIBC (Artificial Intelligence and Blockchain Summit) boosted my confidence! It gave me hope that I can network with professionals, that I can be convincing and entertaining, that I can sustain certain kind of conversations and that possibly I can be a true businessman and even a salesman!
But in London I was feeling like the AIBC was an illusion. The AIBC was in my home place after all and it regarded a specific sector, still brand new, that nobody understands clearly yet and that I got to know before the others. I felt like the ICE was slapping my face to wake me up and bring me back to a harsh reality.
"Well, maybe I can help you to connect within the iGaming world" is what I texted back to Elena.
We met at Costa Coffee. Her hug lift me up a lot. She was with her business partner Anna. They are self-employed copywriters specialized mostly in the blockchain sector, but with the desire to expand in the iGaming field.
They asked me how to move. My suggestion was to hit the payment processors, some of which are now trying to propose crypto-payments to the gaming companies. They seemed to agree, but first they needed a coffee and discuss some business between them. I left them with their meeting and I didn't see them again... And again I felt useless...
The one to fill my day was again my best buddy James Costantini. He loves these exhibitions, he is a veteran of ICE. Networking is his art. I wish I could have just a bare 20% of his social business skills. He knows everything and everyone in the gaming world. No surprises that he managed to change many companies over the years getting a better and better position each time.
I wasn't at ICE to get another job, as I am really happy with The Stars Group. On the way round instead, I started to think that TSG is even too much for me, that I don't deserve it!
The problem was that I realized that I had no idea of what I was supposed to do at ICE. Curiosity of seeing how it looks like? To see what happens there? To see what it takes to network? To see the latest products in the sector? To improve my knowledge about the iGaming industry that I could see is near to 0? I couldn't answer those questions unravelling in my mind. I was devastated.
I wanted to leave! I thought to skip even the SIGMA cruise. The guys from SIGMA invited me to this exclusive cruise on the Thames with "a lavish dinner". I think they sent me this exclusive invitation because I participated to their AIBC event. That was the biggest win for Aliencoin so far! But I felt so low that an increasing social anxiety was mounting over! "What will I do on that cruise??? Who am I dining with??? What will I tell them? Fuck! No no no! I'm not going there!"
The Cruise on the Thames
Once again James stepped in. His strong social frame and confidence led him to ask me if I could put him in the cruise! I was glad to try and magically I convinced the organizers to embark him too! Our mutual friend Manuel joined us and the night turned for the better.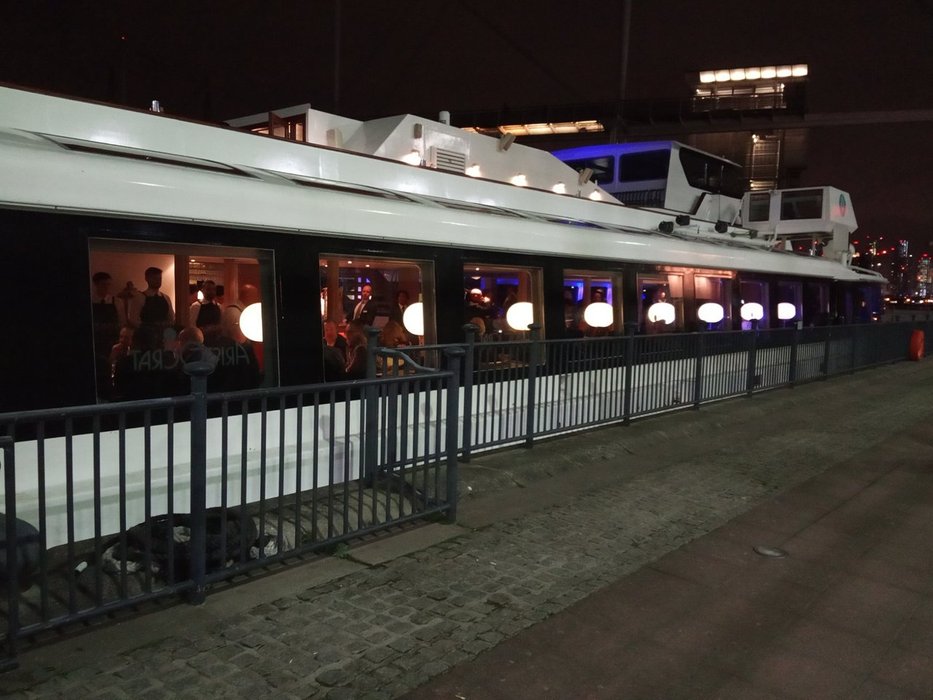 After an initial shortage of tables we were sat in a corner with two British guys and a Maltese couple living in London! On my left there was Simon, who worked for CryptoPay: "Wow! You see? Destiny brings me to crypto!". I started illustrating Aliencoin and the idea behind it. Simon was fascinated by the idea of building a blogging platform dedicated to UFO conspiracies and where the "witnesses" can be rewarded in crypto money!
When he asked me my favourite conspiracy story, I mentioned the Rendlesham forest incident.
Simon was excited about it because he is from Suffolk where the forest is located! He felt proud that his county is so famous among the UFO hunters!
The other guy was Mark, who owns a small online casino if I remember right. He was the captain of the night! Very funny guy, with the typical British humour. His favourite topic was to complain about Brexit, how the voters fucked the country up and how everything in Britain will collapse in his opinion.
Regardless of the topic, what really caught me was the Thames. We had the best spot to enjoy the view. Our table was the first from the stern! I was waiting to enjoy the show at the fullest. At the exit from the Excel complex in Canary Wharf a doubt caught us: were we going to the river or to be stuck in that channel? There was indeed an argument between the boat crew and the guy controlling the dam. It looked like he didn't want to open the dam. He looked even pissed.
James: "Guys I think we won't see the Thames..."
Another disappointment seemed to be served, but then the damn guy decided to open the goddamn dam!
The dam is cool because it acts like a water lift: the water level goes down! Then the other side opens and you are free to navigate in the Thames! I had never cruised through such a big river. In Canary Wharf the Thames is so wide that it looks like a lake! I was mesmerised by the lights coming from the skyscrapers in Canary Wharf! James: "You see those skyscrapers? You should take a look there these days! If I were your age, without family, I would have an experience in London. I think it must be rewarding, educational and for career opportunities London is still the top. And in the end, all the history of the last 2 centuries crosses this place in a way or in another...."
This is indeed what I thought for a moment the night before while I was walking to The Grapes pub, looking at the skyline of Canary Wharfs (see The Grapes chapter further down).
The idea sounded challenging from some perspective. After all I feel the need to experience life in a big city, but perhaps London is too huge.
I told him: "I am not sure I want to live here. It feels like a place where everything can happen, but then nothing really happens. For example, in Berlin I had a different vibe, an excitement that permeates the air!"
James: "Because maybe in Berlin you lived some situations that left a good memory. In the end it's not the place itself, but what you experience in a place."
Me: "That's probably what I still miss here. I haven't lived some particular situations that I lived in Berlin yet. Then here I'm quite alone while in Berlin I was with my cousin and my friends. I should give London another go with a group of friends to better understand what the city can really offer..."
In the meantime London was offering me a spectacular show of lights. The London City Airport, with the planes that land and take off few meters from the water reminded me of the airport of Nice and Genoa, that are right by the sea.
When we passed by the O2 Arena, I imagined the great concerts you can watch there... yeah, surely London can offer much. It is your call to have the time and the financial means to afford such offer.
If I'll ever live in London, I want to do it properly. There is no chance I'm moving to London just to survive.
The cruise was of course the best part of the ICE and that's why it felt too short.
ICE Me Baby!
With the cruise archived, we stopped at a pub in the Excel complex where we met an explosive business owner. I don't remember his name, just that he was from Newcastle but his family was from Bari. Newcastle and Bari is indeed an explosive mix of social warmth. He looked what I'd like to be: confident, fit, sociable, stylish and charismatic, beside being probably wealthy too. He had a word and a laugh for everyone.
After this lesson in social interactions, it was time to hit the night-scene, precisely the ICE Me Baby!
To get there we decided to try the ultimate transport experience in London: The Black London Cab! How many times I drove it in Midtown Madness!
The driver was a big dude speaking cockney, which I could guess but not understand. From time to time Mark acted as an interpreter. It was all about insulting Uber. It was epic when at a roundabout we bumped into an actual Uber taxi that reversed promptly as he saw our cab! "Uh! You see that matherfoacker! They steal our clients and then they dan't evan gat the boalls to drive aff!"
I played along and pretended to stand for the black cabs side, but this didn't spare me from a bill of 36.00 GBP charged for less than 6 miles!
When we jumped off the cab, at the ICE Me Baby, the only club (which I don't remember the name) I didn't have to queue for! The participants from the ICE entered for free and from the VIP gate! Mark introduced me to the owner stating that it was my first time in London: "Oh! Your first time ever! Are you enjoying it?"
Of course I was! If it's always like that I'm cool. The drinks were even for free until midnight! All generously offered by the organization!
The club was not that big, but it had a configuration I love. You have a big main hall, connected by a stairway that leads to the upper balcony surrounding the hall. In a nutshell, it's like a classical villa turned into disco.
That was the first club ever where I saw blackjack tables! They were set on the upper floor and quite a few people were playing hard!
Good to hear that no reaggeton was playing, but the music was still banal EDM. When I started to dance with the people from Malta I felt like being in Paceville and just like in Paceville everyone got drunk fast. My body and my mind told me they didn't want alcohol at all: "Why are you drinking this shit?"
My energy faded as fast as the folks took to get drunk. It was time to put an end to that empty day: "Fuck this! I'm going home!"
"Lord... I've been trying...
Trying to keep myself from crying...
And it gets hard there's no use denying
There's been some night when I did a little lying"
While walking through an empty Trafalgar Square, I thought that my self-esteem is made of crystal. It takes just a few negative episodes to crash it. I don't know where I would be without my friends.
When I texted my former colleagues Simona and Francesca, I vented out my frustration:
"It was a big mistake going to ICE. I don't belong there and probably I don't belong to the iGaming world. I'm even thinking to resign from Stars. I don't deserve it!"
Francesca: "Are you crazy??? Sometimes my mind tells me bad things too. You must not listen to it! I wish I was at your place! You don't know how much I admire you. The job you do, your skills, your English!"
Simona: "Exactly! I would pay to be able to do all what you can do. You don't have to take hasty decisions that you will regret soon and throw away all what you have achieved! If I listened to all the bad things my mind says, I don't know where I would be now..."
And I don't know where I would be without them! I even risked to lose them during the harshest moment of my experience at Giodani, the company I used to work before Stars.
I can't think of something more important in my life than friendship.
The Strange Troxy Ritual
The next morning I decided not to go to the ICE event. I wanted to use my time better and went for sightseeing, that was a good choice to clear my mind from all those negative thoughts.
In the night however, I decided to give another go. James sent me the screenshot of a ticket to Troxy, a club where the ICE was hosting another party. Troxy was literally 10 minutes walking from Julia's place, in Limehouse where I was staying those days. I couldn't say no. I texted my other connections in London, but no one was in the mood to join. Networking and selling at an exhibition can be highly demanding.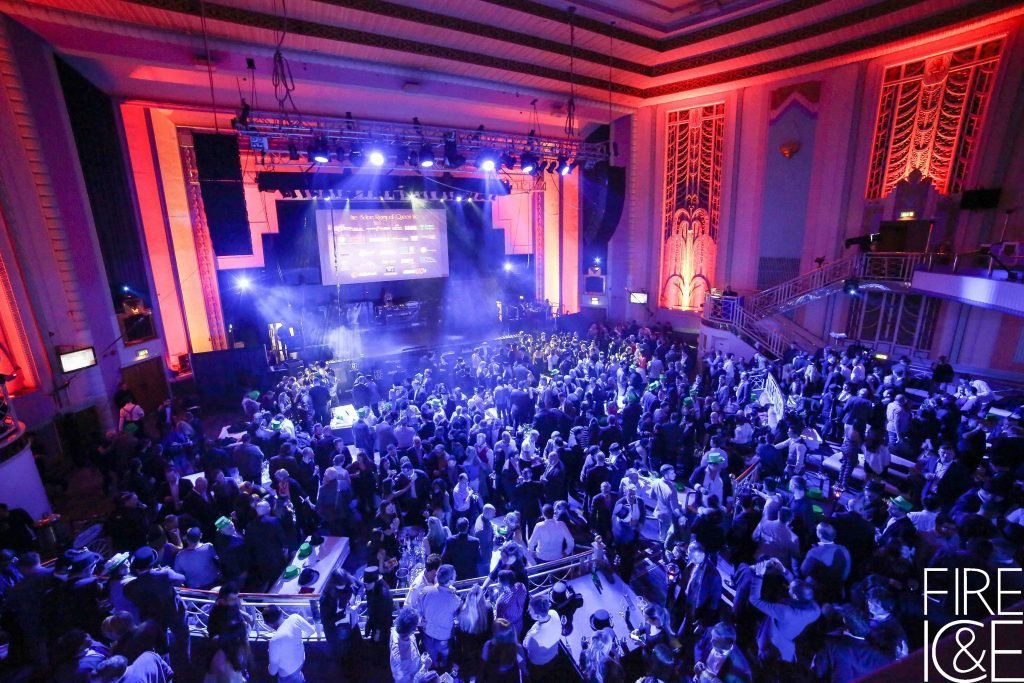 I arrived much earlier than James. Troxy is not a real club, it is more a theatre. When I passed the wardrobe and entered the venue, I was surprised to be in a stalls area facing a stage. And after all, on that stage there was a show. It was probably the weirdest show I've ever seen live. I sat down on a stall and watched what was going on over the stage. My position was high as if I was in the VIP area with no one around. All the folks were already down in front of the stage sipping their drinks.
The drums rolling were intimidating. They seemed to announce a tribal ritual of uncertain outcome. I could see a sensual figure approaching a guy in a white business suit lying down on a cube. As the drums rolled faster, the figure, a sexy black woman, sat on the guy with the moves worth of a panther and then... She began to ride him! The couple was fully clothed, but the moves of the lady were the same as if she was having orgasms. The guy was still as a stone, holding her tights and staring at her! Very sexy scene, but even macabre. It looked like she was a mantis preparing to eat her partner at the end of the intercourse. When the drums stopped, the panther stopped dancing too, caressed her partner and... jumped off. They left as fast as they came...
Now that normal EDM music was pumping up, it was time to walk down and try to blend with the iGaming people again. Soon James joined me too. He explained to me that these events are just to continue the job started at the exhibition. If you are alone there is not much socialising you can do.
It didn't take long for us to leave the venue. We searched for a nice pub to have a pint, but it was already midnight and every pub had already their chairs set upside-down...
That was the end of my ICE experience. It was freezing indeed. ICE to me was what the cave on Dagobah was for Luke Skywalker. When Luke asks Yoda what he will find in the cave, Yoda replies: "Only what you'll take with you..."
I took my fears to ICE and I found them, materialized in front of me. Just like Luke, I beheaded my opponent by stopping going to the conference, just to find out that I was running from myself...
Secret Cinema
Talking about cinema, if there is something you must do in London is to join a Secret Cinema event! You won't regret it! I was at work one day when my colleague Lenny told me about Secret Cinema. He had just come back from London and his enthusiasm was still fresh. He was telling me about this experience as if he was a kid! When I checked on their website https://secretcinema.org I was impressed by the promises. They were even mentioned by the most important newspapers!
What is Secret Cinema? I can describe it as a party set in your favourite movie! Every event is themed over a particular film or series. In our case the theme was Stranger Things. First of all, you need to figure out where the event will take place. The location is of course secret, but you will receive bits of clues in the days before the date you're attending.
When Julia and I found the tube station, we spotted some folks dressed with bright clothes typical of the 80s: "OK! We know we need to follow them!" Julia said. Outside of the station there was a guy holding a sign that said HAWKING SCHOOL THIS WAY. We felt guilty to dress so 2020... well at least I had bright colours: green trousers and red jacket! Plus my chequered red shirt made so 80s anyway!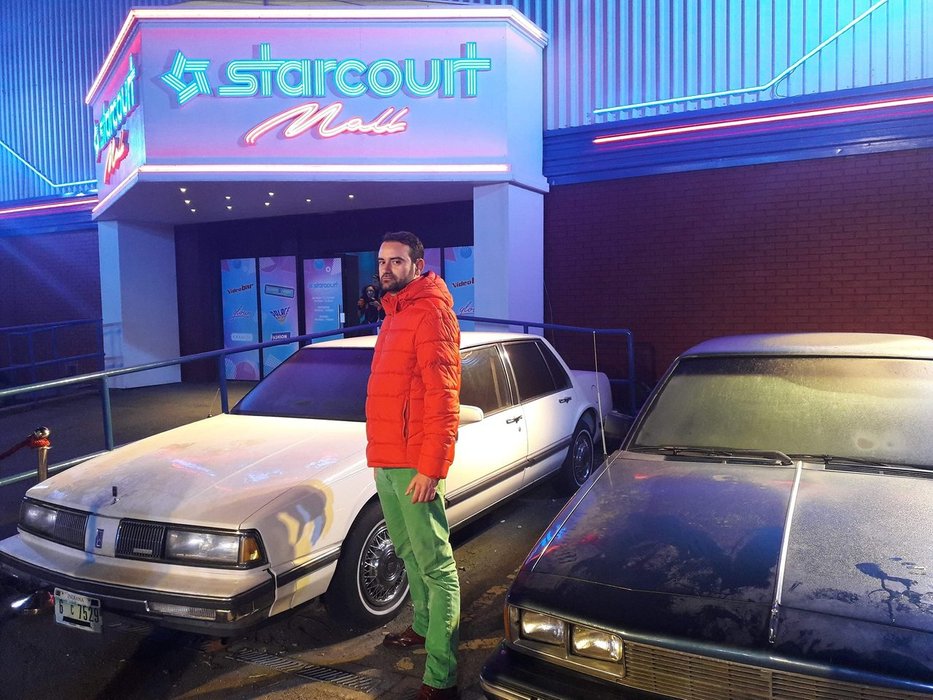 You feel exited even by queuing there! But the most thrilling part for me was when they asked us to lock our mobiles in the lockers with any other item we didn't wish to take in the story. "Yes! We are going literally in the 80s!" I told Julia "And in the 80s there were no mobiles!"
Once you cross the entrance, the real world is left behind. Nothing matters but the story you're going to live and shape too! You're part of the story! Now, I can't tell you in detail what we did in Stranger Things. We vowed to keep the secret. I can just tell you that we danced, we worked out with other folks, we went on mission to find the characters, we did physics experiments, we walked like zombies chanting "From many, we are one!", but mostly we learned what Stranger Things is about, because neither me or Julia ever watched it! Yet we had a mind-blowing time!
Secret Cinema is the top event that will bring me back to London many times! I hope to see you there!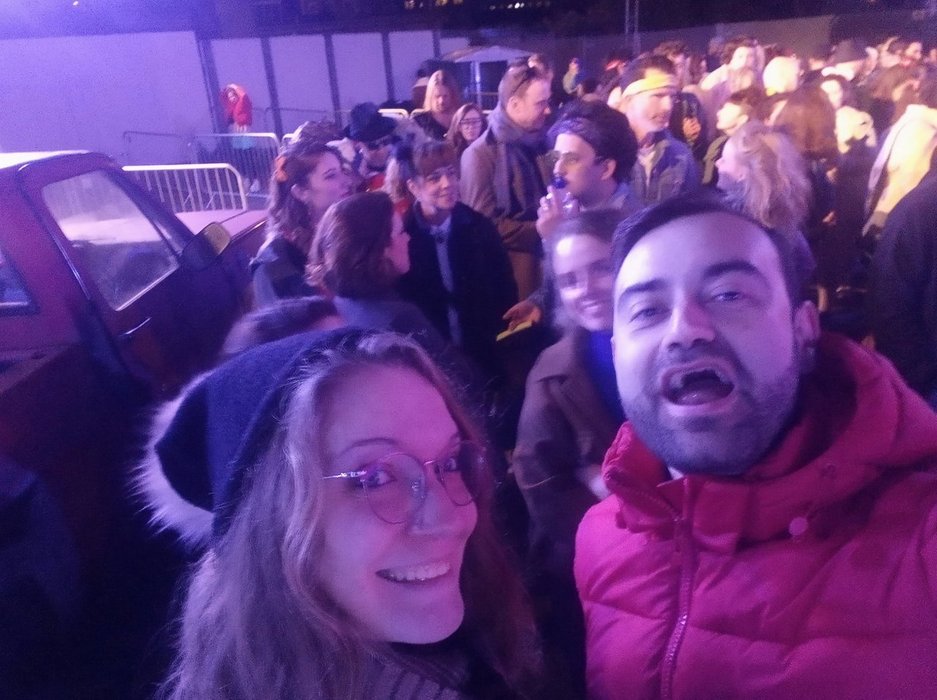 Nightlife
London offers many opportunities for the nightlife. However, there is a catch. Pubs close already at midnight, even in the weekends. If you don't have a plan (an event), clubs are your only hope to rock the night. The best of London must be booked in advance. I didn't see much room for improvisation. This was a burden for me as I hate plans. Plans get along with frustration. This time I found plenty of frustration even without plans...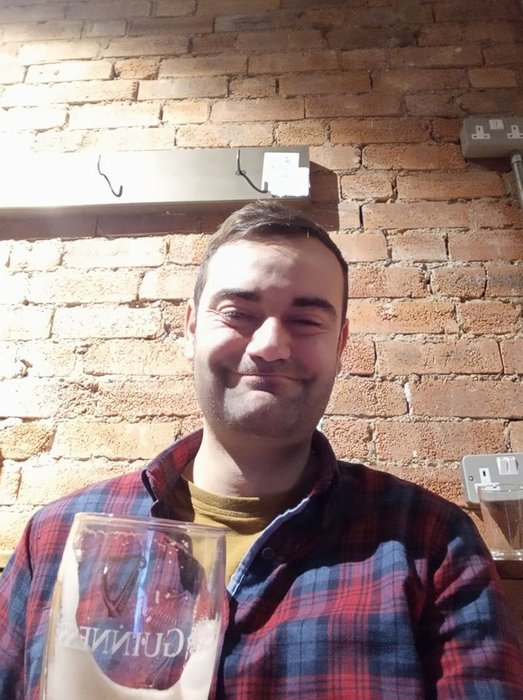 The Grapes: Chasing Gandalf
The first delusion I have to mention came from my expectations more than my plans. My friend James Caselli told me about The Grapes, a pub located close to Canary Wharf and within walking distance from Tjaša and Julia's place!
What made The Grapes a special place is that the great actor Ian McKellen lives right at the next door! With a bit of luck, you can meet Gandalf there! James suggested me to check on Monday. When he got there that day, Sir Ian McKellen was the quiz master of the quiz night!
The walk was enjoyable. I crossed elegant residential areas, while on the horizon I could admire the Canary Wharf skyline. That's where the business is! Looking at those lit skyscrapers I thought for a moment: "What if...?"
Ah, working and living in London sounded so crazy... "Let me drink first, then I'll think about it..."
When I was in front of The Grapes, I enjoyed my excitement for a moment. I felt like he was there... When I entered... the place was so hot compared to the outside that I immediately thought I would have got sick! McKellen wasn't there. The quiz master was a short girl with a raven voice that was impossible to understand. The quiz dynamic was confusing. People were rushing through the crowd to the bar, fighting to deliver the papers on time! It was impossible for me to even reach the bar and if I would have grabbed a beer, then where could I have stood to drink it in peace?
My stay at The Grapes didn't last more than 5 minutes. "Fuck this! I'm going home!"
CouchSurfing in Shoreditch
After the missed Brexit Friday, I searched for nightlife on Saturday too. This time through CouchSurfing. "Come on CS! Show me that you are useful for something!"
The old buddy told me there was a CouchSurfing gathering at the Brewdog in Shoreditch. Awesome! It was a good occasion to check this notorious Shoreditch! Finding the place was easy peasy, just 20 minutes walk from Wombat. I immediately spotted the group and the organizer was so friendly and welcoming. I don't know why I showed up in suit and tie... I had to say that I was coming from a business meeting in preparation for the ICE conference, but it wasn't true at all!
On top of that, it seemed like I was the only non-Londoner there! Everyone was working and studying in London! Nevertheless, they were all nice. All but an old acquittance, directly from Malta... Amy Borg is one of the weirdest people I've ever met in Malta. I met her when I organized a beach BBQ. She used to be the English teacher of a friend of mine. Later, I found out that she knew many of my friends. Very friendly the first time we met, she turned hostile, barely saying "Hi" to me, from the second time onwards. I've never understood why. I'm not ashamed to say that we dislike each other for no reason. Because of that, Amy was the last person I'd have expected (and wanted!) to meet in London! "Oh I live here now! Didn't you know? By the way, I'm going to get another drink, see ya later..."
Like to say: "What the hell are you doing here motherfucker??? Get out of my way! I'm going to get a drink cause I don't want to talk with you!"
I already deal constantly with the paranoia that people don't like me. This is called social anxiety and I travel even alone as a mean to cure it. But finding someone who dislikes you for real doesn't help. However, my mind is stronger than it used to be in the past. As I started talking about cool stuff with the other couchsurfers, Amy and my social anxiety vanished! The night was taking off and I was feeling happy and relaxed!
Of course, a pub in the UK is a happy place that closes too soon. Midnight and we had to move to the clubs... On the way to the club we had some thrills. A man in his 60s was lying down after he fainted and hit his head. His wife and his friends were desperate. Luckily, one of us, Ian from Prague, was trained in first aid. Ian placed the man on the right position, checked his eyes and made sure he had no wounds, while we called an ambulance. After some infinite seconds, the man got his senses back and even managed to stand up. Everyone was happy and relieved. The man signalled that he was OK, hard as a rock, but Ian advised to wait for the ambulance anyway.
Now we could hit the clubs! When we arrived at the doors, I was shocked. There was a long queue that didn't move as the bouncers were arguing with each other over a backpack found who knows where. Through the windows, I could see that the club was packed with drunk people, overweight half naked girls and young boys with acne.
At the entrance, we discussed what to do, when a ginger teenager asked me: "Hey man! Wanna some weed?"
Me: "No thanks I don't smoke!"
Boy: "Cocaine? MD? Ecstasy?"
Me: "No thanks, I think I'm going home. Cheers!"
I went home as the others did. While walking home I noticed how Shoreditch is just a longer, bigger Paceville, with the difference that clubs look even worse, more rotten, but more expensive, having to pay for the entrance (and for waiting at the queue!).
"Fuck this! I'm going home!"
Soho
After these two experiences, I kept away from the nightlife for a little while, if we don't consider the ICE events, that were something standing alone.
I returned to common night-life only on Friday 6th of February. This time I was alongside my buddy Dimitrios! We wanted to rock London! We had already started the session with some sightseeing and opened the dances at a pub, right at 6:00 pm, when people were off from work, ready to get drunk, but still happy, smiley and sociable!
It was a nice warm up, before we decided to go back to our respective places for a siesta, the classic rest of the warriors!
Dimitrios spotted an interesting event on Internations. This is a nice network that allows you to meet other expats in different locations around the planet. There is an Internations group in Malta, in London, in Paris, New York and many many other places around the globe! It can be a really nice asset for who travels often. It can be even more effective than LinkedIn when it comes to business, as you will find many groups focused on professional networking, where you meet other professionals face to face and not through meaningless LinkedIn connections or even worse, message templates!
The venue was in a fancy bar down the Hilton Hotel. No surprise if a cocktail was 14.00 GBP!
Nevertheless, the atmosphere was nice, not so different from the Internations events in Malta. My only problem was that it was a salsa night. Salsa, my biggest nightmare! It is the classic kind of thing that makes me depressed, that destroys my self-esteem. Why? Because salsa is something that apparently everyone is capable of doing, but me. It helps people connect, so I feel even more disconnected. I tried many times to learn it, even with private lessons, but my rock ears cannot grasp where the rhythm stands. It seems like for the others it is obvious when you have to hit the first step and when the fifth step. 1, 2, 3 – 5, 6, 7... I learned only once, like 6 years ago from a Cuban – Colombian couple who made the miracle to make me understand! Unfortunately, they left for Valencia before I could naturalize what I had learned, so over the next months, I forgot with the same speed I had learned. After, when I tried to resume my efforts, I was always met with hostility by the other members of the dance community, sometimes with harsh comments like: "I'm sorry, but I can't understand your style!"
Going to group classes didn't help either. Everyone looked better than me. For everyone, the moves seemed natural, granted, obvious! I just felt more and more nervous, clumsy, becoming even incapable of doing what I could do till then!
I've seen you, I know you
But I don't know
How to connect, so I disconnect
Salsa started to mean rejection, judgment, pressure, anger! Perfect ingredients to fall to the dark side of the Force...
Soon the dance floor became so scary for me that I avoided any Latino event carefully.
This time I just put on a happy face, drank my expensive glass and just talked to people as if the dance floor didn't exist.
It was a nice evening and because of this, it faded fast. Again, London pointed a gun at us, asking to choose between clubs or home... Could I give up without fighting? No! We were close to Soho after all. Kristina warned me that I wouldn't have liked Soho. She had been always right till then: "Kristina must be wrong at least once! Let's check Soho, maybe I'll end up to like it!"
And so we hit Soho! That neighbourhood looks so fancy, colourful and with great energy! While walking I even spotted a shop that sells fancy suits like the one I had in mind to wear at ICE. Ah! It was too late, but if I want something strange, now I know where to come!
Those Soho streets welcomed us with two guys in trouble. One was rolling on the ground and when he got up, he threw up all what he had inside! The other one yelled at him: "It's always like that pal! Why do you always have to get to this???"
Eh why? For sure they started in a pub at 6.00 pm, when they were smiley, happy, sociable! 6 hours later they were wasted, sad, miserable. Is this the life in London? Is this what everyone is so eager to live? The more I was exploring London, the less I understood why people aim at it so much.
Soho didn't help me to change this mind. On top of that, in Soho I found what I managed to avoid at the Latin night: rejection. The clubs didn't want us. While in Berlin I enjoyed to be bounced by the clubs, in Soho I felt angry. Maybe because in Berlin getting bounced is part of the experience and even if you are denied in one place, there is always another one waiting for you, even a simple bar, because Berlin never sleeps for real. In London, only the worse never sleeps. And anyway, Berlin has the best clubs in the world, so not to be worth of them is not such a dishonour, but the clubs of London? Why were we not worth of them? Were we not alcoholic enough? Did we have to be cocaine lovers? Didn't we dress fancy enough?
All what we grabbed in Soho was a mozzarella-pesto sandwich, obviously cold as the kitchen was already closed!
We looked around. There were still many people, going where we ignored. There were endless queues to clubs that looked all the same, then there were a couple of gentlemen's clubs. I joked with Dimitrios: "You can bet that the gentlemen clubs wouldn't refuse us. Who knows why...?"
Dimtrios: "Hahah. Yeah especially if we show them our credit cards!"
Then I looked at the Casino! I took the following picture that embeds London's night life more than a thousands words...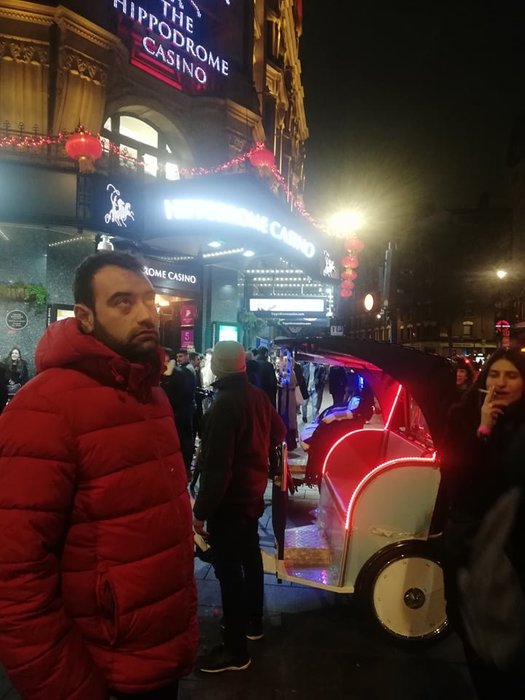 Kristina was right even this time. I don't like Soho.
"Fuck this! I'm going home!"
The Surprises of Covent Garden
In my last day I slept all the afternoon long. Julia left home already in the early afternoon, so we dealt that we would have met in Covent Town around 19:00. We managed to do so, despite the tricks that Google Maps played on me while I was looking for the pharmacy where Julia was waiting for me at.
As we met, we realized how hungry we both were. Finding a pub, to experience a proper British meal was a priority!
All the pubs were fully booked. London nightlife is though, ruthless! You can't even sit and have a dinner with your friend without booking! We decided that at the next one we will stay even if we needed to wait. That's how we hit the White Swan. The name promised good, the basis less: "You need to wait like 20 minutes. In the meantime you can grab a drink downstairs and I'll call you in" said the waitress.
We were low, but Julia got up as soon as she saw Belgian beers on the shelf, in particular her favourite one, Triple Karmeliet!
According to Julia, that's the beer which introduced her to the ways of alcohol!
When I tried it I thought that it was a great way to start the adult life! The beer helped to kill time and get ready for dinner finally. 10 days in London and I hadn't had fish and chips yet! It was time, but I chose the special version of the house that was cooked with beer! I don't understand who says that food in England is horrible. Yes, it's not the healthiest for sure, but I've never eaten something disgusting whenever I travelled to the UK. The White Swan didn't disappoint me at all.
It was a nice dinner with a great companion like Julia. She is a hilarious person, but you can even talk about deep topics, switching tone naturally at any time. We went through the crazy Malta memories, we commented life in London (she loves it while I would never live there) and we promised to watch Stranger Things after the mind-blowing Secret Cinema experience. We discussed history and Julia here gave me interesting insights about Belgium history, explaining the origins of the internal conflicts of this double-face country.
When our delicious dinner was over, we went downstairs again to assist the live performance of the night. The guys rocked! I thought it was going to be a problematic event when two highly drunk guys were moving back and forth through the pub, pushing people aside while walking. I felt that these drunk dudes were looking for troubles. I am sure they found what they were looking for, but luckily not at The White Swan. Julia and I could enjoy the gig till the end, including a strip tease by the guitarist! :D
Again, the good old pubs close too soon.
We were quite content with going back home, but when we passed by the Hippodrome Casino (just 24 hours after I passed by it with Dimitrios!) Julia confessed me her desire to see a casino from inside. I was sure to find a place full of old pimps sided by young gold diggers. I didn't imagine that instead the Hippodrome Casino is the house of the famous (or notorious?) Rich Kids of London! Yeah, the average age in
this casino is low, like 20s, early 30s max, but the bets are high. To give you an idea, the minimum bet at the Black Jack is 25 Pounds...
The Roulette was more accessible. I told Julia: "The Roulette is the favourite game of my parents, especially my mum. When she came to Malta, she persuaded me to play it. Do you wanna be my mum?"
Julia: "I don't feel like playing tonight. I feel overwhelmed now. I will play next time when also Tjaša will be here."
Fair enough, it's a promise that they made to each other and I wasn't that keen to play either.
Going around the venue, we spotted a game that I had never seen before. It was a cool occasion to learn something new about my industry.
Pai Gow looks like a mix of Domino and Black Jack. It's the weirdest casino game I had ever seen! As I could guess, it came from China, indeed all the tables were full with Chinese players, notoriously great gamblers.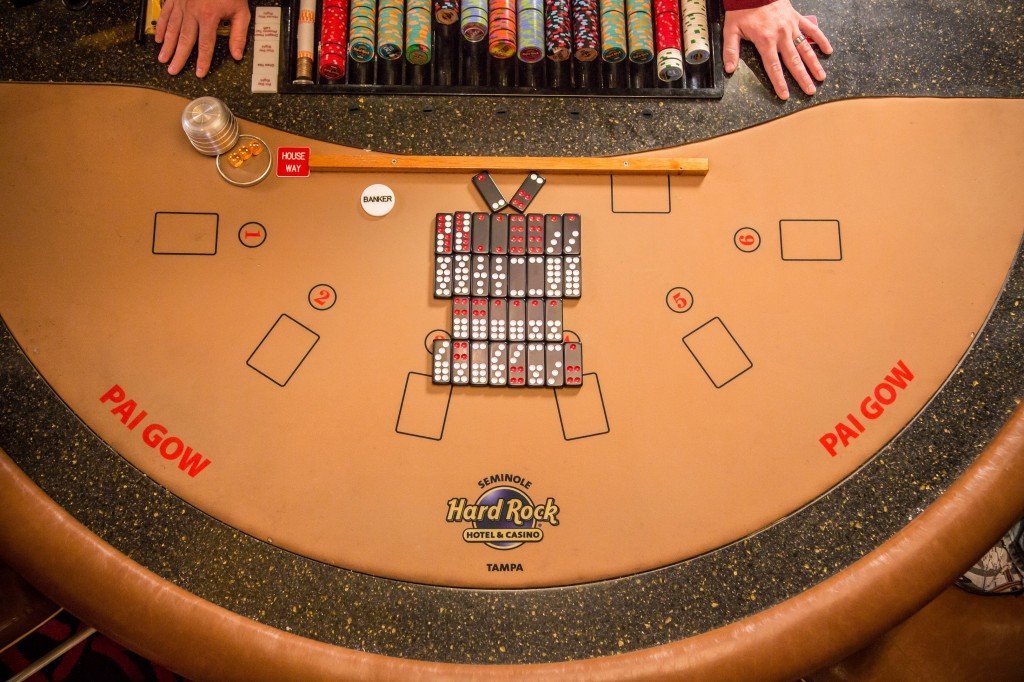 The game in the end looks quite simple. You have a hand formed by two domino tiles and you have to beat the dealer's hands, just like in Black Jack. Weird and brilliant!
However, Pai Gow, the entrance without ID, the young folks, the high bets, the crowdy venue could not beat the biggest surprise I had when I raised my eyes to the ceiling and noticed a big red spade with a white star in it... "WTF? You wanna tell me that PokerStars has a poker room here???"
I heard that the company had a poker room in London, where we host one of the most important events in the European Poker Tour circle: "Julia, do you mind if we go to take a look up there?"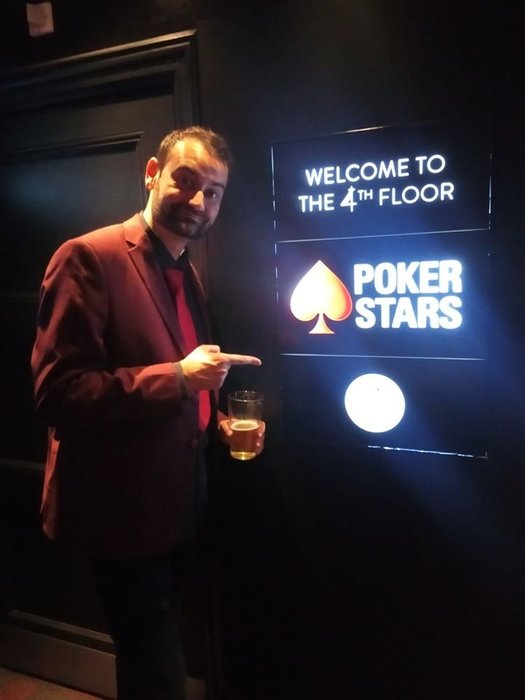 I didn't refrain from greeting the PokerStars dealers as colleagues. They were amused to host someone else working for the company: "I swear, I'm not here to check on you guys! Just on holiday!"
Hearing the poker players playing with the chips in their hands sounded like a lullaby. Finally, after 10 days I felt home! Just when there were only few hours left to my flight.
I was happy anyway, it was worth it. I finally saw an enjoyable side of London's night-life, I showed Julia what a real casino looks like, how the games work and I explored an area of my company that I ignored! Amazing finale!
The Thrilling Return Flight
After this unexpected casino experience, for me it was time to go back home, pack and take the bus to Stansted.
It was an intense trip. I felt physically exhausted. I felt psychologically disoriented. But I must thank London because it made me more aware of myself. London told me that I still have a long way to become a successful man, who knows what he wants and how to get it. It wasn't a failed test, it was more an assessment to better understand where I am at in my life. London was calling, but I hang up.
London also showed me what amazing friends I have! The verve of Dimitrios, the experience of James, the smart tips of Kristina, but mostly, the heart-warming hospitality of Tjaša and Julia!
All of them made this trip fantastic despite all the difficulties!
Never let good friends go! Good buddies are the most precious thing you'll ever have and there is no way you can buy them! Remember that!
I thought how lucky I got with the weather, but once at Stansted, a sharp wind blew to my face! Damn! I hate cold wind! This one was really strong, so strong that it put my flight in danger. I didn't want to remain in London further. 10 days were enough!
We took off eventually, but for the first time I got worried during a flight. The wings vibrated like I have never seen before. I tried to remember my lessons in aeronautics, precisely the tests in which we had to calculate the maximum load sustainable by a wing. It didn't help. That Boeing sounded suffering a lot under the pressure of those aggressive whirlwinds over Stansted... Despite everything, I was still confident that once at the cruise altitude, those tremendous blows would have ended. I could sense and see the fear among the passengers. I tried to keep calm so not to worsen their situation. Then a chilling thought crossed my mind: most of Ryanair pilots are rookies! This could have been one of the first commercial flights for the pilot! Shit! I was craving to reach the clouds more than anything else. That waiting was endless, like the punches that the storm gave to our plane! Finally the aircraft pierced through the clouds and found peace! Well relative peace, because the currents were still strong up there, but nothing comparable to the mess ongoing under the clouds!
It was a long and shaky travel. Several times I felt like vomiting and during the landing I went so close to the point of no return! Inhale, exhale was the mantra when the plane positioned to land on the Malta Airport track. Now it was really enough. I didn't feel well at all. I was not sure I could drive either, but eventually I found some residual energy to take the car and to drag myself back home.
I fell on my bed like a stone. I fell asleep instantly, but I woke up several times during the night coughing. While the cough was increasing I had a flashback and one particular signal...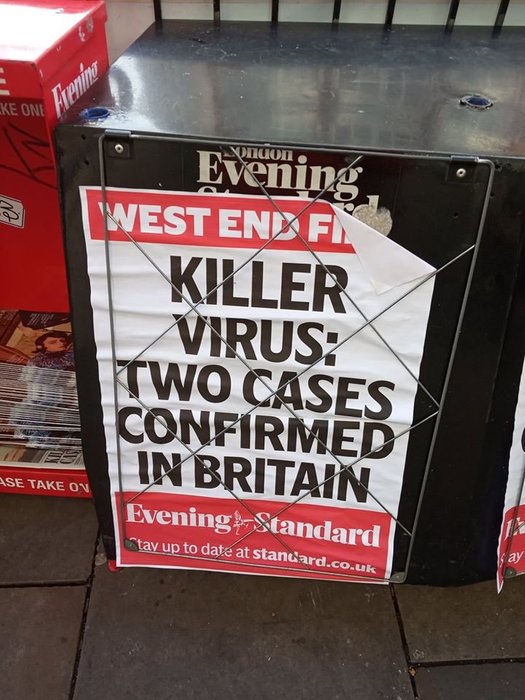 And I though, caught between concern and amusement: "What if...?"
Impressions
I always say that 8 years in Malta feel like 30 years elsewhere. I wonder if it is the case of London too, because of all the experiences it has to offer. Or maybe due to the long distances, life is monotonous. I saw people walking everywhere with a fast pace toward their robotic routine.
London is a place where you can have everything or nothing. To me it felt like a lot can happen but in the end nothing happens, if you don't plan ahead and invest enough resources to make things happen.
I am sorry to leave you with confusion, but London is so huge that 10 days were not enough to understand it properly. I will definitely need another round there to properly get what London is about.
I can just say that there I faced my inner demons. It was more a journey inside the darkest niches of my mind. I like to think that London helped me to bring some light in those corners. It definitely helped me to grow more than other travels. It was a compelling journey and I'm grateful for it!
And now let me profile London according to my senses...
Weather: Well, we're in the UK so don't expect the best weather of your life! Nevertheless, I can't complain about the weather I found. After all I met just one rainy day, while the other days were OK or even sunny and despite being February I've never felt cold!
People: People are OK but I can see that they are absorbed by their careers. They are always in a hurry or in their existential bubble.
Food: I fell in love with Pret a Manger. This is a healthy fast food chain. Whenever I felt hungry, a Pret a Manger was always there ready to serve me some nutritious salad with salmon, eggs, avocado or whatever juicy I wished for! The food choice you have in London is endless and of good quality.
Cost of living: I was surprised by the prices I found, on top food. Everything is fair priced, sometimes even cheap! I was wondering how can people say that London is expensive, but I started to understand when the tube was deducting around 2.50 GBP at every ride, then I understood once for all when I read the ads of a real estate agency: 3 bedroom flat 500 GBP (only???).... per week! Ah OK... holidaying in London can be reasonable, but living in London is expensive...
Safety: Everybody always talks about the crime rate in London. Even my friends warned me to be careful especially after certain hours, in some areas and in some situations. During my stay I detected only one potentially dangerous situation: the drunk guys looking for trouble at the White Swan. The rest was safe, but I am 1,92 meters tall after all... If I was smaller or a girl I would not walk alone after midnight in White Chapel, Brick Lane or some parts of Shoreditch.
Landmarks: Are you into classic monuments? You have them! Into modern art? You have it! And then you can have a religious tour around the holy places of the English football up to the temple of football itself! Wembley, which is a landmark for music too! O2 Arena if you want to have the greatest concerts of your life, right at the doors of Canary Wharf, the modern monument to business! A couple of selfies to the Tower Bridge or from the London Eye and the likes on Instagram are guaranteed! If you can't find a place to frame in your picture you are probably blind!
Transport: It's expensive but its efficiency is outstanding! Punctual, frequent, diverse, rooted till every corner of the city and fast! Who has a car in London is either dumb or has so much money to waste!
Nightlife: The night-life is exclusive. You always have the impression that you must show to be someone to get into the loop. For the "peasants" there are the pubs, but these close at midnight. The London night-life can be harsh and disappointing but it turns incredible if you choose the right event in advance...
And this is what makes me sure that I will come back to London for some magical weekend!