Hello Steemit!
I hope you've all had a merry Christmas and enjoyed some good times and delicious food with family over the last couple of days. If you're not out taking part in the Boxing Day madness, why not take a 5 minute break, grab a cup of coffee and join me on my continued exploration of Medellín? You know you want to!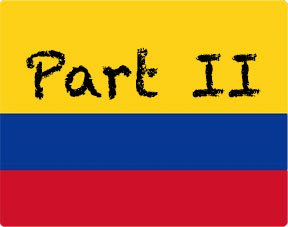 If you missed my intro post to Medellín, you can read it here.
Next up...
The San Javier District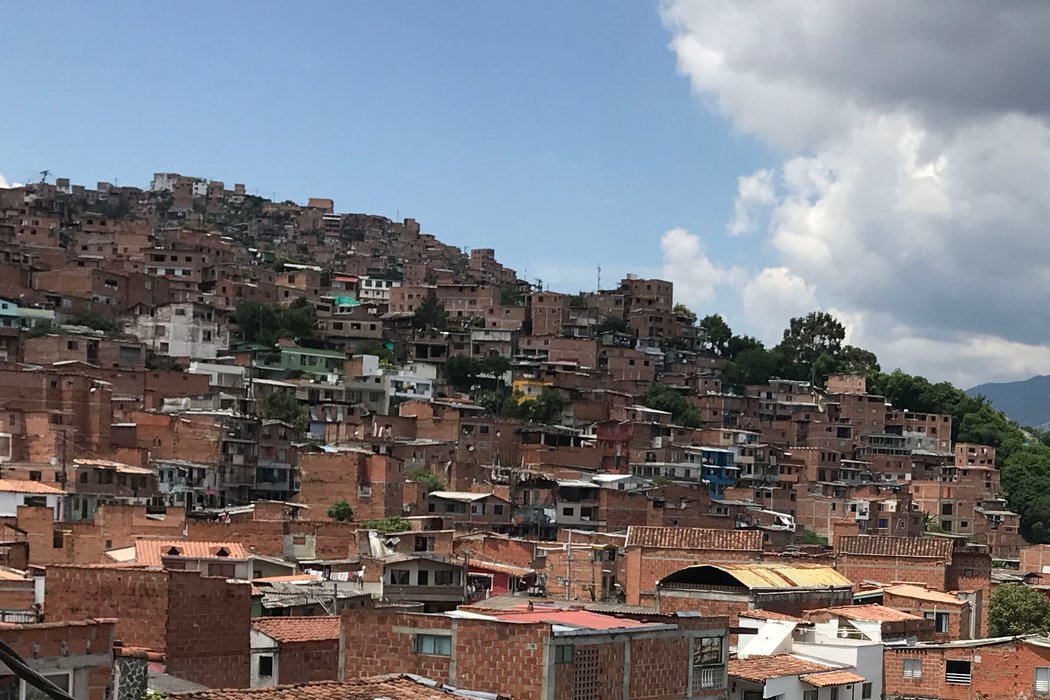 After a hearty breakfast at El Colmado, we jumped in an Uber and headed over to San Javier del Socorro to meet the new in-laws.
To give you a little background, San Javier is a sprawling residential area that crawls up a hill on the western edge of the city. It is also one of the more densely populated neighbourhoods of Medellín and comprises mostly of low socioeconomic inhabitants. Only 4 km away is the more infamous Comuna 13, which used to be one of the most dangerous areas in the city during Pablo Escobar's hay day. Comuna 13 provided an ideal route for the transportation of illicit drugs, money and weapons to the main highway that lead up to the coast. Much has changed since those days however, and tours are now being offered during the day time to give visitors a peek of the area's troubled history as well as the local graffiti. Tourists are still being cautioned to avoid the neighbourhood at night times as crime is still rampant due to the extreme poverty of the citizens. Gangs are also still active in the area.
While driving to our destination, I immediately noticed a drastic change in the surroundings as the buildings were all more uniform in their appearance and perhaps a little more simple in their construction. A vivid reminder of the reality of living in Colombia were the security bars in front of the windows and doors. Having grown up in South Africa, I can remember living behind tall fences and bars on all the windows while the crooks roamed the streets, but I have to admit that it now seems a bit odd to me. The streets were very narrow and quite steep as they lead up toward the mountain. The family's little house was located on a very steep hill that afforded a beautiful view of the sea of terracotta roof tiles all around the city.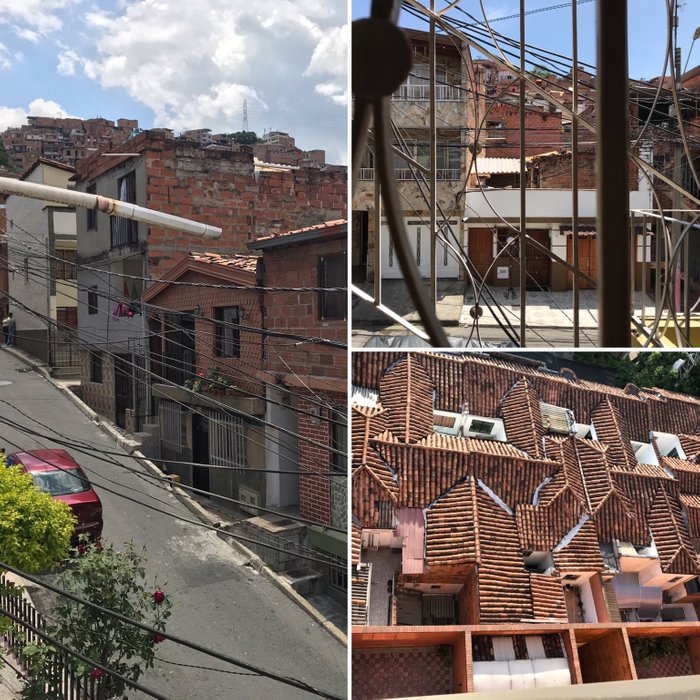 The family was an absolute delight. I was treated as a guest of honour, and considerable time was spent on making small talk which was quite challenging considering the language barrier. Nevertheless, I felt welcome and at home. I was served some Colombian mazamorra which consisted of yellow corn that was cooked until very soft and that was accompanied with milk and panela sugar. It was delicious!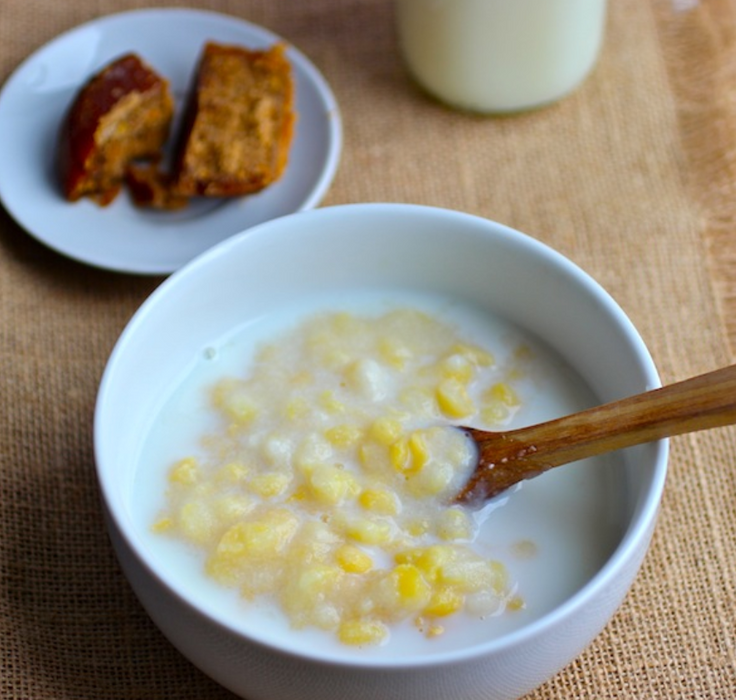 Image source and recipe for Mazamorra Antioqueña
After filling up on the mazamorra, I learned that we would be going to meet some more family just around the block for dinner. I wish I had known so I could leave some room! You don't want to offend people by refusing their food; especially not the new in-laws.
While we walked a couple of streets over to the next house, I couldn't help but noticing that I was the only gringo around and everyone was staring at me like I had grown a second head and two extra arms. I was starting to feel pretty uneasy when we turned the next corner and saw several dozen military personnel patrolling the streets on foot. They were completely decked out in riot gear and looked pretty mean! I wasn't sure if this was a good thing or a bad thing but I kept trekking on like it was business as usual. My fiancée told me that Colombia has no typical police service and that the army regularly patrols the inner city. I guess it only makes sense if you consider the troubled history of the drug cartels and the brutal violence in this country's recent past.
We arrived at the house in one piece and just in time for dinner. And what a dinner it was: TWO plates chock full of authentic Colombian food made in honour of my visit. I was still drowning in the mazamorra, but how could I say no?
The first bowl contained a very filling soup with 4 large yucas (a kind of potato) in it, while the second plate contained TWO steaks, rice, tajada (fried banana), chicharron (pork) and an avocado salad. This is a BIG meal!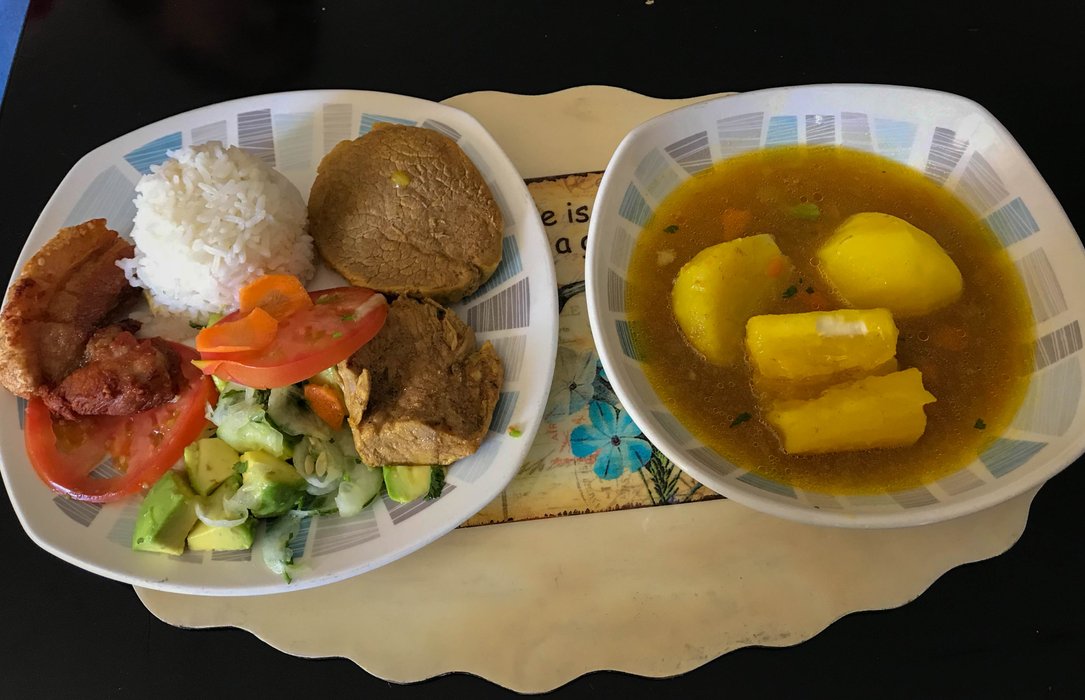 Visiting with these people was quite the experience for me. It was obvious that they did not have much in terms of material possessions but I could sense that they lived a very rich and full life nonetheless. They were friendly and good natured at their very core, and they treated me with such love and respect that it stirred up a strong sense of humbleness inside of me. It once again confirmed to me that material things are not everything and should not be our final goal in life. Instead, a life well-lived, rich in friendships and experiences, has the potential to make us rich beyond our wildest dreams.
In Canada, we are sometimes so concerned about how we spend our money (on big fancy houses and expensive cars, boats, RV's, and other toys) that we forget how to be human. We sometimes lose that ability to connect with one another in a very basic way and only gravitate toward people of our own socioeconomic status. We tend to ignore, or worse, even look down on those less fortunate. I have learned a valuable lesson here: even when you are considered poor by the world's standards, you can still be rich of character and offer your best to your fellow man.
After a delicious home-cooked meal and heart-warming conversation, we hopped in an Uber to go meet even more family and to explore another part of the city.
Sabaneta
One of the highlights of visiting Medellín was definitely the town of Sabaneta, which is probably one of the nicest areas in metropolitan Medellín. We met up with my fiancée's cousin who lives in very upscale high-rise building with a gorgeous view of the city. After some pleasantries and yet another BIG meal, we ventured off to Parque Sabaneta which is where all the action was happening. This charming little park is the size of a small city block and features multiple tall trees, a fountain and several park benches. The park is the center of a lot of events throughout the year and attracts locals and visitors alike during the weekends. Surrounding the park are a hotchpotch of restaurants, bars and little shops that are filled with hungry locals and tourists.
The Santa Ana - Santuario de María Auxiliadora is a gorgeous, white Roman Catholic church building located on the south side of the park. It is one of the must-see attractions when visiting Sabaneta as it features a lot of beautiful artwork and stained-glass windows. Unfortunately the church was packed with people who were apparently going to mass at 10 PM and so we didn't have a chance to check it out. Legend has it that the brutal sicarios of the drug cartels frequent this church to pray and ask forgiveness for their sins.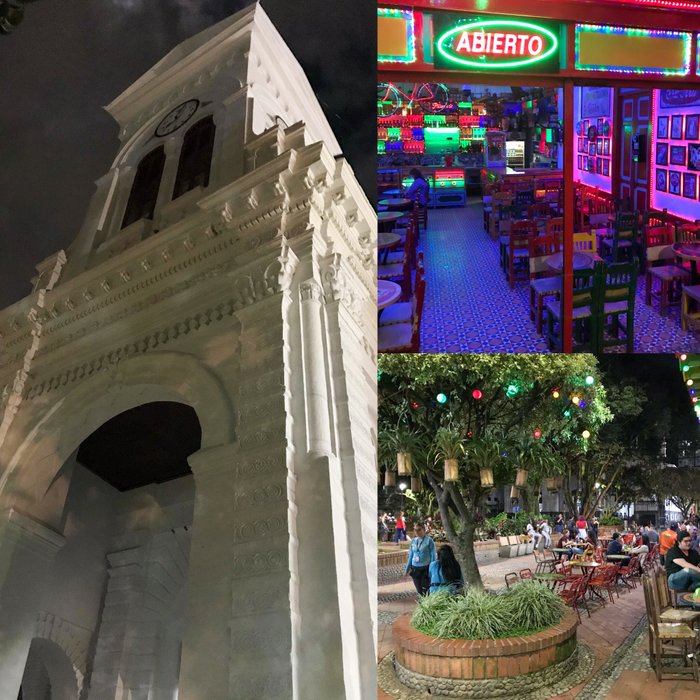 We wandered around the park for a bit to snap a few pics and finally settled on the patio at the Fonda Sitio Viejo to sip on a drink and do some people-watching. The ambiance was infectious! Everywhere people seemed so relaxed and happy, and for a moment I could imagine what it would be like to live here without a care in the world. To be immersed in this warm culture and to take every day just as it comes at you. But then I guess Monday probably comes just as rudely here as it does everywhere else in the world and even Colombians have to do something to pay those bills.
Fonda Sitio Viejo: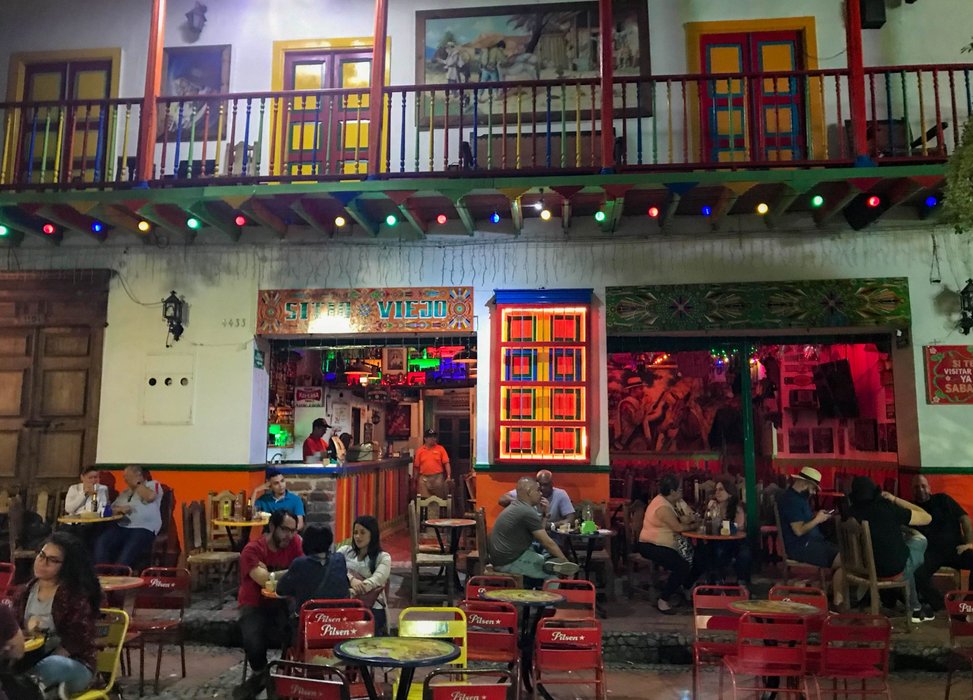 After we finished our drinks, we sauntered down Carrera 45 and disappeared into the many market stalls lining the street to sample some of the local street food. If you're ever in Medellín for a few days, I highly recommend a visit to Sabaneta for a night of cumbias, vallenatos, aguardiente and dancing.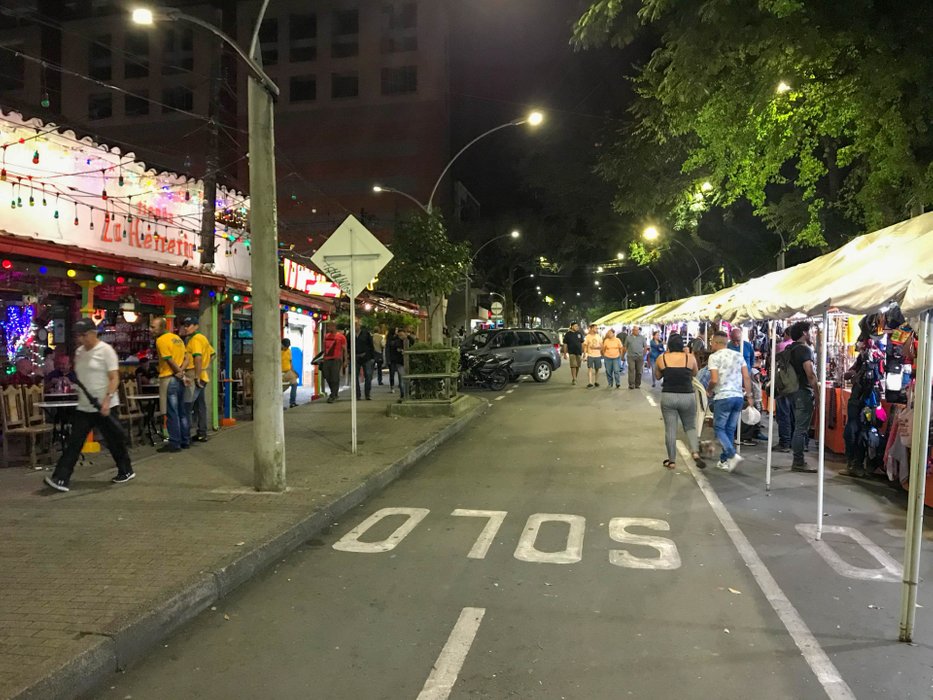 Pueblito Paisa
One of the most popular tourist destinations in Medellín is the turn-of-the-(last)-century replica town of a Pueblito Paisa. The little town featured a small white church, a cobblestoned town square complete with a bubbling fountain and several souvenir shops and restaurants. Even the locals wore traditional Colombian clothing which added to the overall colonial ambiance of times past.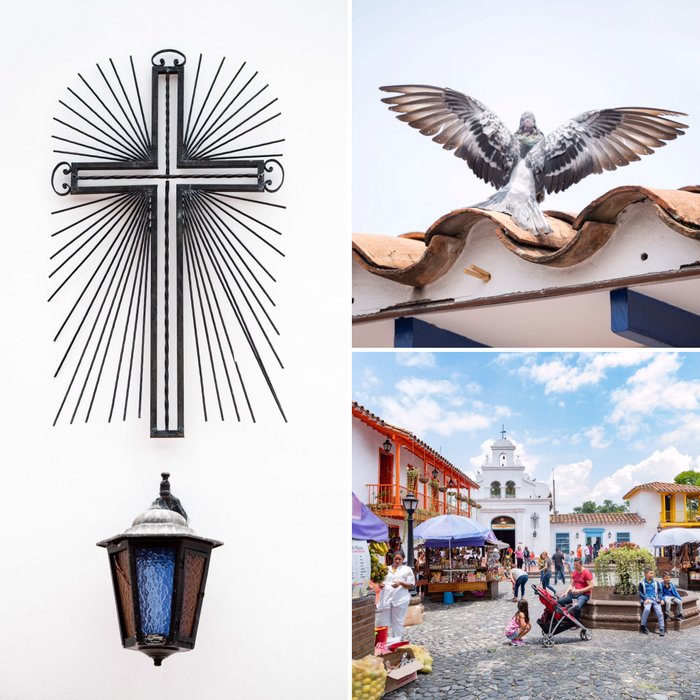 We spent several hours perusing the town and basking in the warm Colombian sun. My fiancée had a chance to practice her ever-growing patience with my excessive need to photograph everything around me as I spent the lions share of the time taking photos of the resident doves. For some reason, it was not the cute little church or the museum, or any of the other attractions that caught my attention. It were the doves. More so than the bright colours and decorations, it were the doves that fascinated me as they so perfectly matched the atmosphere of this treasure. They would flock to the rooftops and then back down to the ground to pick at various morsels of food in between the cobblestones, only to flutter back up to land on top of the church tower. Just amazing!
I took the photo below in the town square. It was also featured in my introduction post and it turned out to be one of my favourite photos of 2019.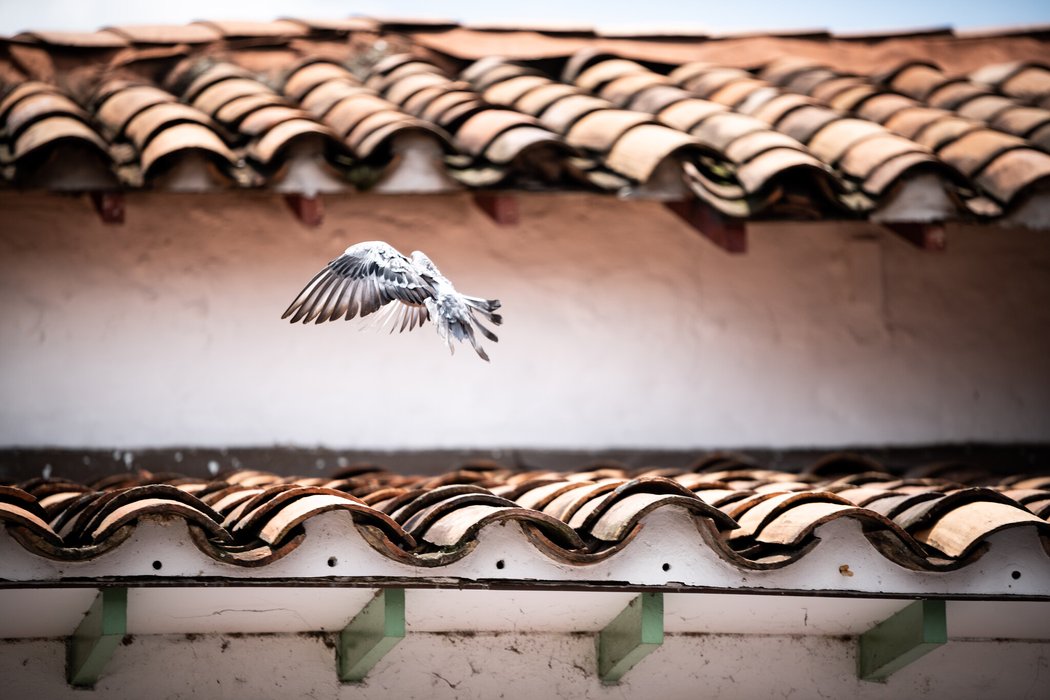 After taking an impossible amount of photos of the doves, I did finally make it over to the little shops and ended up buying a ton of really cool souvenirs. My favourite one was a reprint of the famous Colombian artist Fernando Botero who is known for his paintings and sculptures in which he depicts his subjects with exaggerating volume (ie. fat). The little painting I bought featured the infamous Pablo Escobar in his last fateful moments atop a Medellín rooftop as he tried to escape from the long arm of the law.
Pablo Escobar dead on a rooftop: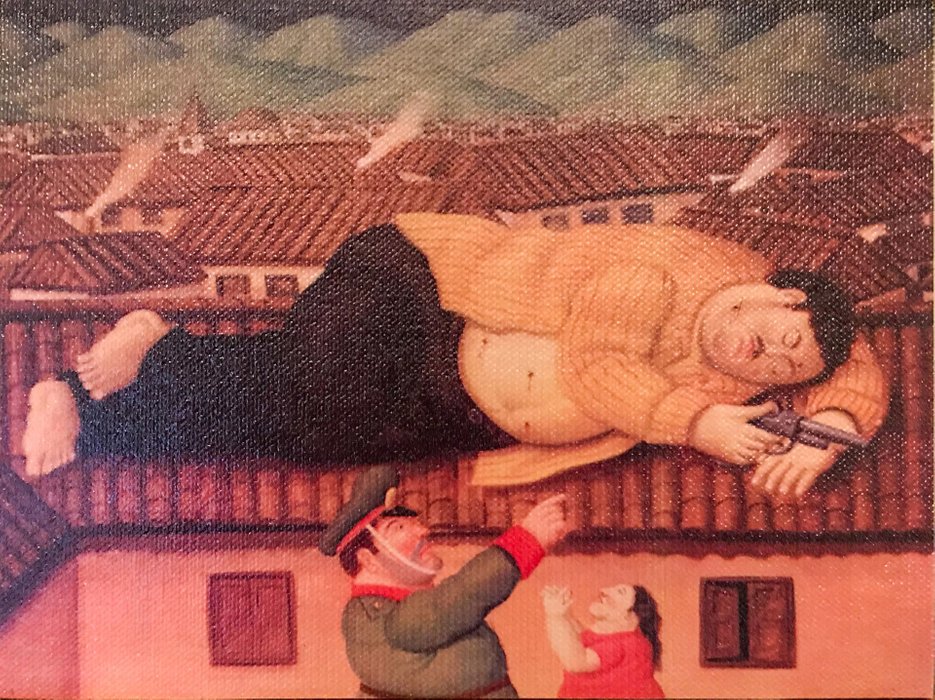 Pueblito Paisa town square: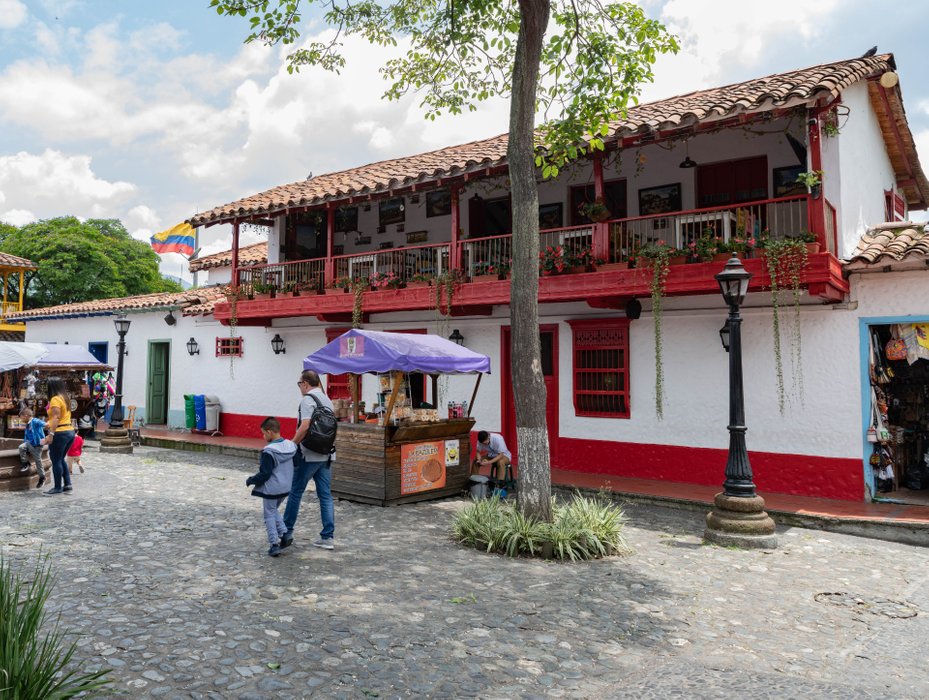 The little white church at Pueblito Paisa: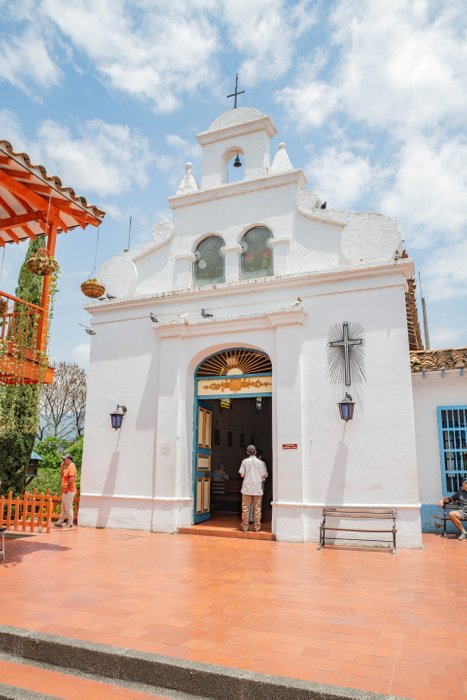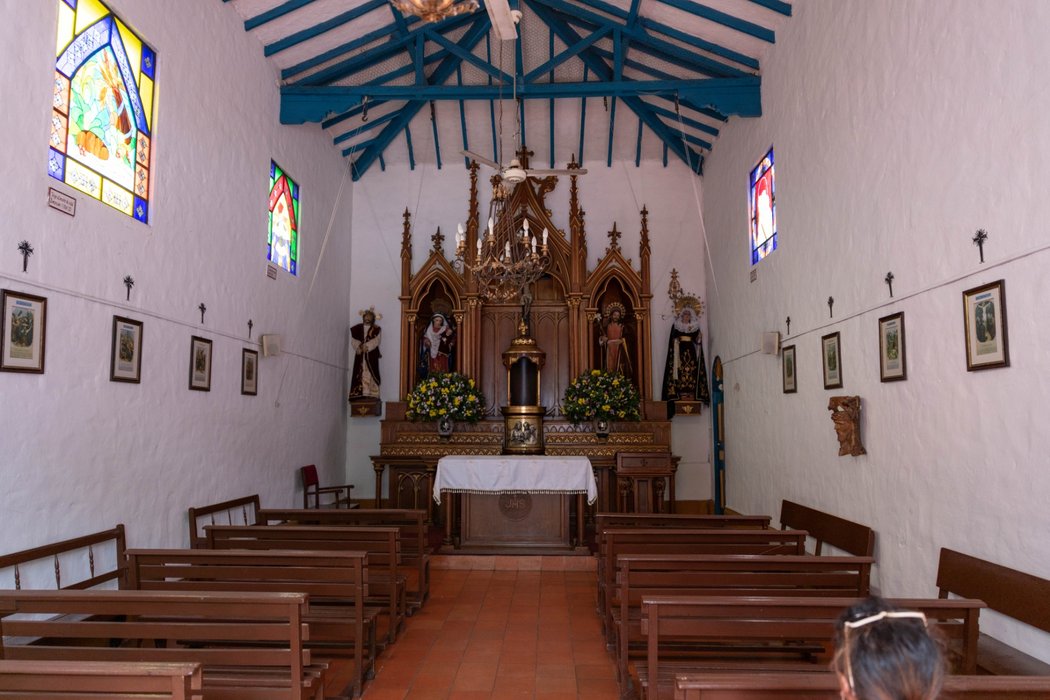 This señora in traditional clothing was selling some candies and offered to pose for a photo for a donation of a few pesos. I caught this candid moment after I already got the "official" photo: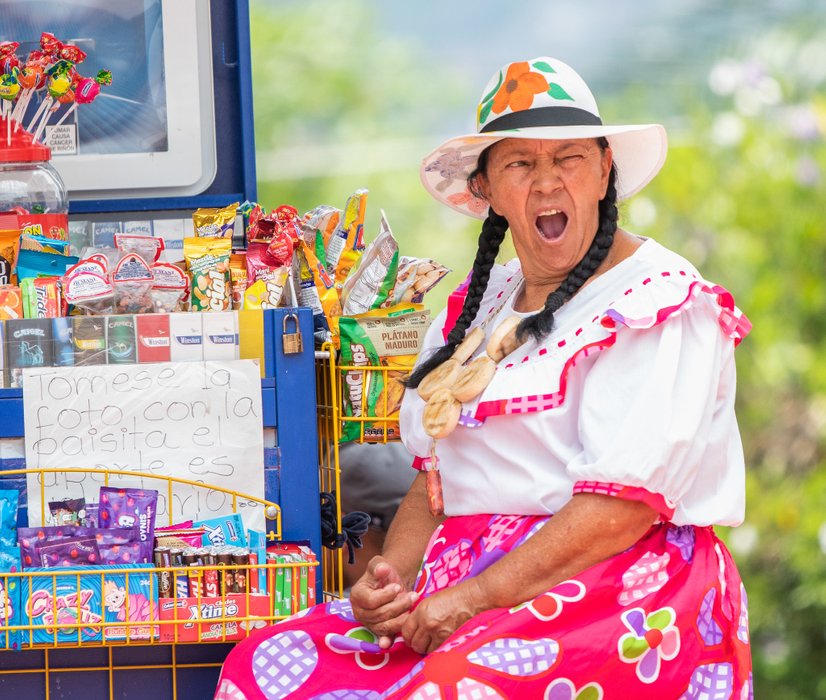 Jardín Botánico de Medellín
Our next stop was the botanical gardens which is considered an actual museum by the city. The gardens are set on 34 acres of land and contain many different species of plants, birds, a butterfly farm and one very cute monkey. If you're into photography you will find lots of good photo ops and if you're not, you can simply stroll around the gardens or find a comfy spot in the grass to read a book or take a nap. It's a nice way to spend an afternoon and admission is free!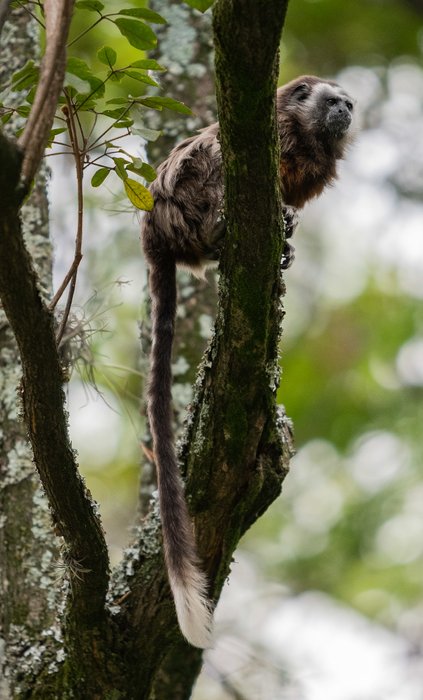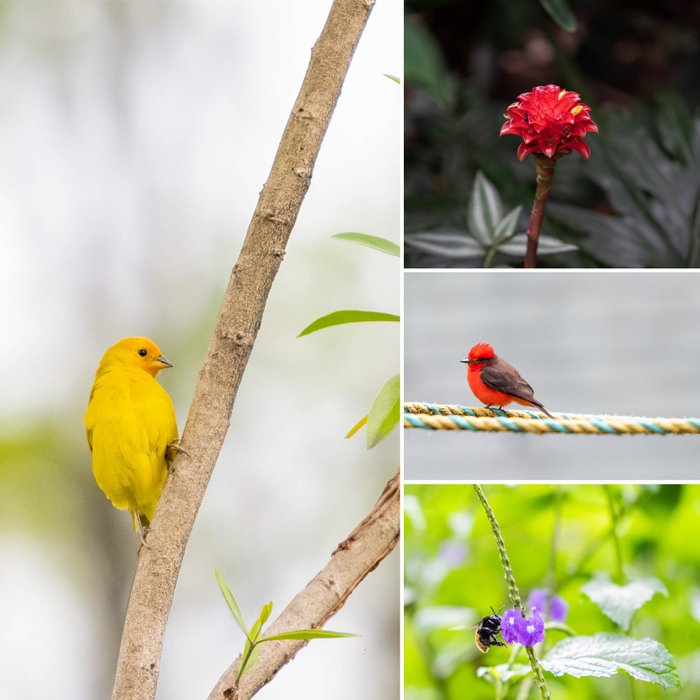 That's it for today! I hope you have enjoyed reading about my experiences in Medellín. Please join me next time when I finish up my trip and take my camera out for some street photography.
See you around!
Journey of a Nomad