Occasionally the Indian Ocean becomes really stormy here on the southernmost shores of Africa. Recently I was able to capture some images of just such an occasion during my hike along the south Cape coast of Africa. Although the weather was fine, the sea was rough and churned up quite a frothy foam bath of bubbles as it crashed against the rocky shoreline. The impression was just fascinating and filled the place with excitement. Or perhaps it was just me that was inspired by the animated motion of the ocean that seemed to cause such a commotion.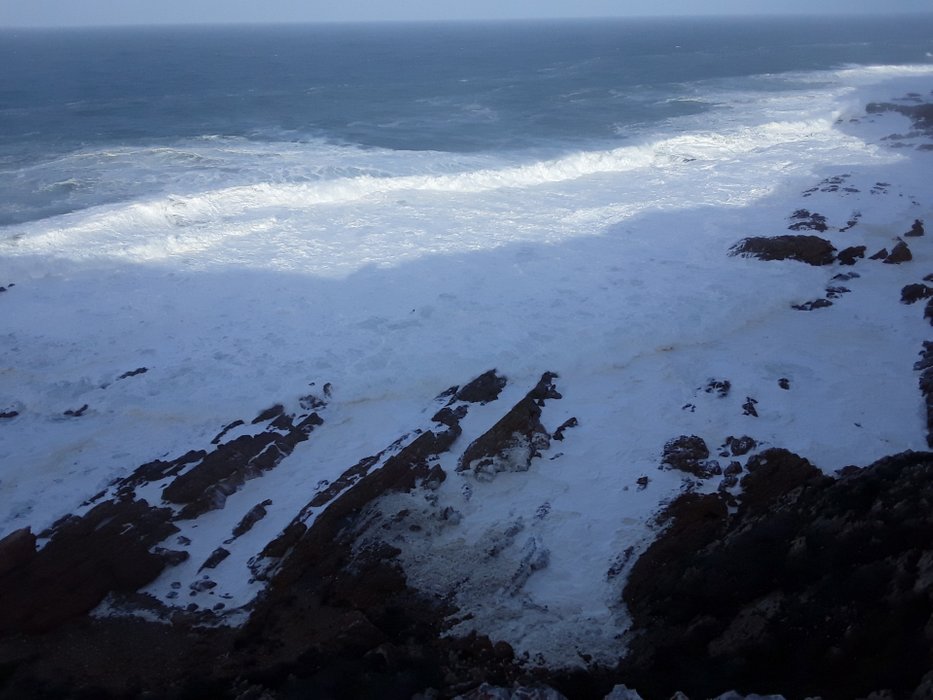 Indian Ocean stirring up a swell of creamy foam
I could hear the intensified sound of the roaring ocean before I actually saw it. As I approached the cliff edge, the sound grew louder and louder until I eventually made it to the very edge itself and was able to look over and down to the shoreline below. It was then that I actually saw the massive swell and turbulence that was causing all the roar. On a cloudy day it might have seemed less impressive and I may have been less inspired to go closer but it was such a clear and sunny day that I decided to venture down to the shoreline itself, way down the steep and dizzying cliff slope. I was keen to check out the foamy feature up close.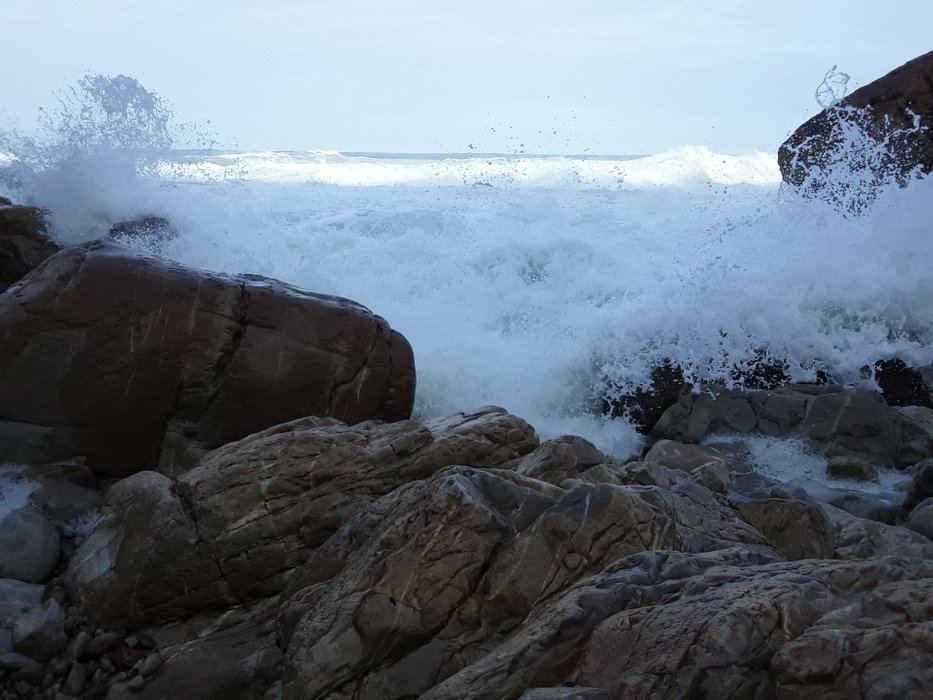 At the front line of the oncoming waves
After the climb down the steep and treacherous slope, I made it to the rocky beach and right up to the front row view of the shoreline. The sound and sight of the raging surf was just epic as it steam rolled its way over the rocks and swamped the beach with pure white water. Once landing, the white turned to a cream color, much like you might see as a layer on top of some milk direct from the cow on a farm before any mechanical intervention. It's a pale yellow color which is as attractive as it is tasty. The sea just looked like a giant ocean of dessert. I don't know what the brain is thinking at the time but it just looks so edible and attractive to see this raging white water which actually looks totally solid at this stage, yet also liquid. It's mesmerizing.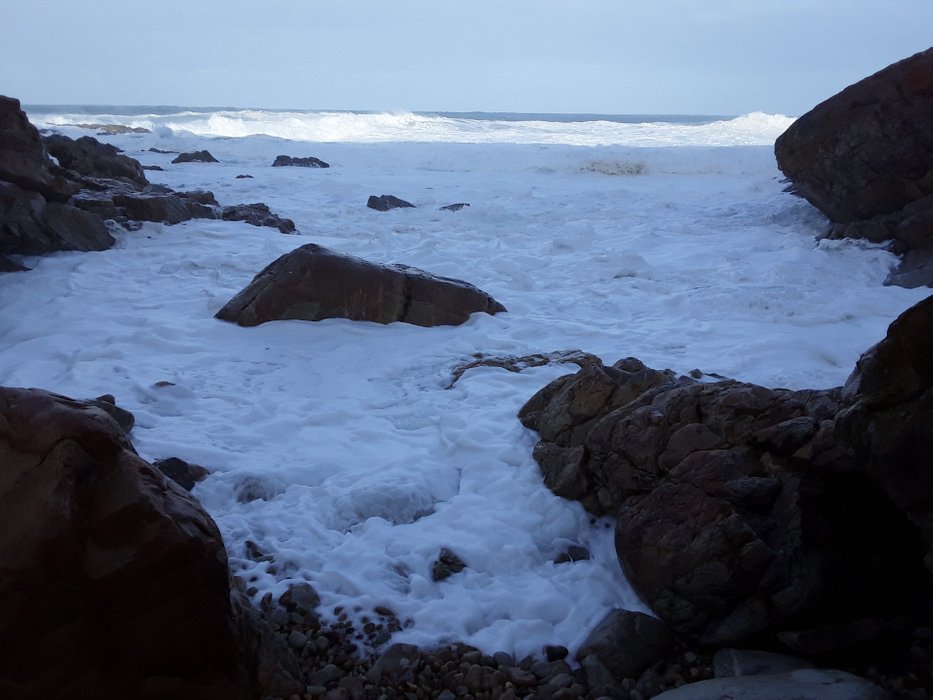 A layer of foam hides the water below and looks like path to purity
Such is the amusing nature of the coastline and rocky shore here on this stretch of Africa's southernmost shores. Not only does it look cool and refreshing, or inviting to the swimmer and surfer, but to a food lover like me it even looks edible – on a day like this. Maybe I'm becoming bewildered. Anyway, it's hard to describe the peculiarly attractive quality of this mass of frothy foam as it races up toward the shore and swamps the rocks that lie in its way. For some reason it appeals to the senses, except that there is no smell. It must be the eyes that are seeing it look like an ocean of cream and thus bewildering the brain.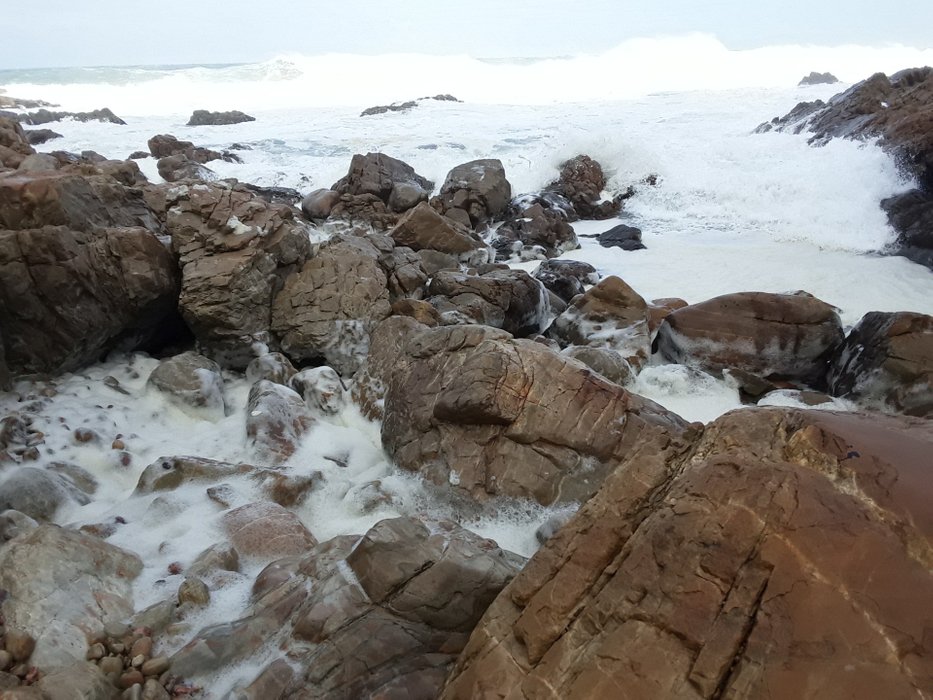 Wild times at the shoreline
After feasting my eyes upon the ocean of cream, I walked a bit further along this stretch of coastline to explore some other angles of the scene before me. Over the many months of hiking along these shores, I have seldom found anything of value or in fact any man made objects at all. So when I came across one today, it was quite an anomaly. Did you perhaps lose your shoe? Well I found it here, if you want it back. Yes these shores also get occasional plastic washing up from the sea. It mostly comprises of water bottles and shoes, much like Thailand or other coastlines around the world. Here is the one solitary shoe in blue for you.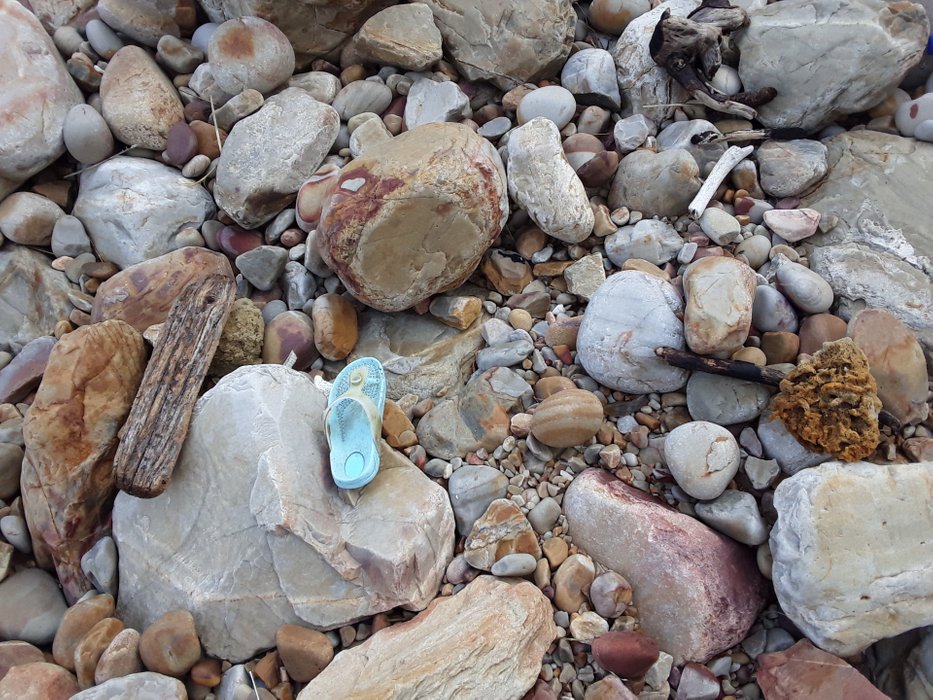 If you lost your shoe...it's here waiting for you
A more natural and interesting doscovery is this gold sponge. That could make a decent bath scrub I presume. The sponge is a natural feature, perhaps originally some underwater plant species. I just found this one piece on the rocky beach so picked it up for my collection of rare finds. I left the shoe though. It wasn't my size. The golden piece of foam might make a nice decoration or artefact for the garden. Even the many rocks and smooth rounded pebbles are great items for decorating a garden and there are millions of them here, but I don't bother lugging them up the cliff on my climb back up, unless they are particularly attractive and uniform in their circular shape and appearance. I have found a few neat pebbles that look like coins and I collect those to add to my "abundance pile", which is how I attract abundance in my cryptocurrency portfolio. All those coins!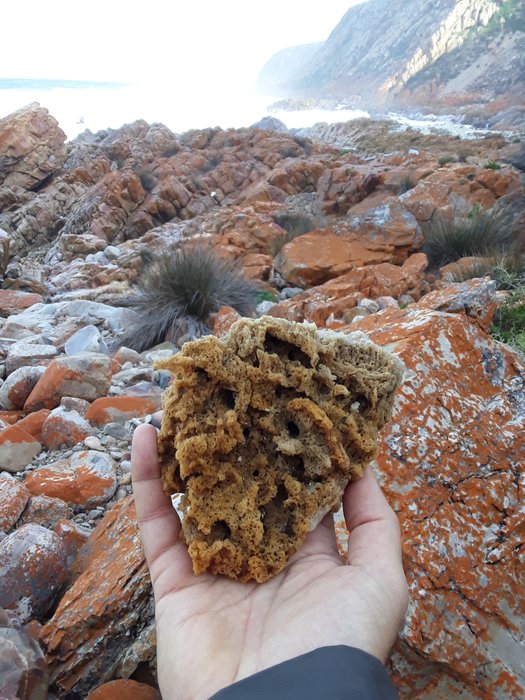 A natural bath sponge for my traveling toiletry kit
Further down the beach I came across another awesome display of foam landing on the stony beach as well as washing right up to the vegetation itself. This is particularly rare and shows just how high the tide had washed today under these turbulent conditions. To me it was like watching a live show, just sitting and observing the frenzied foam wash up and land among the green plants, making what looked like another dessert topping on the ground.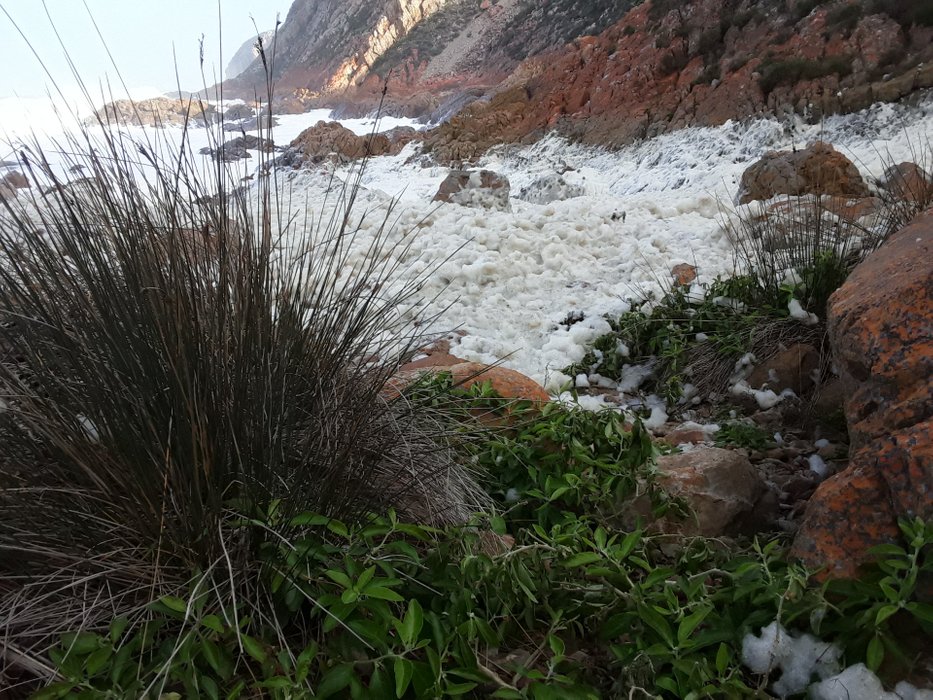 Foam washed up as high as the vegetation today
I found this foam-filled day really inspiring since they are quite rare and make an artistic display out of natural events for me to watch. It's hard to capture just what I mean merely by photo but I hope some of my images here today will convey to you the curious and fascinating experience, as I felt it while immersed in the timeless moment that is also so fleeting and transitory. Perhaps I'm waxing poetic and getting too frothy for most in my lyrical allusions to nature's displays here on this part of Africa's southern shoreline. Blame it on the frothy foam washed up at my feet today.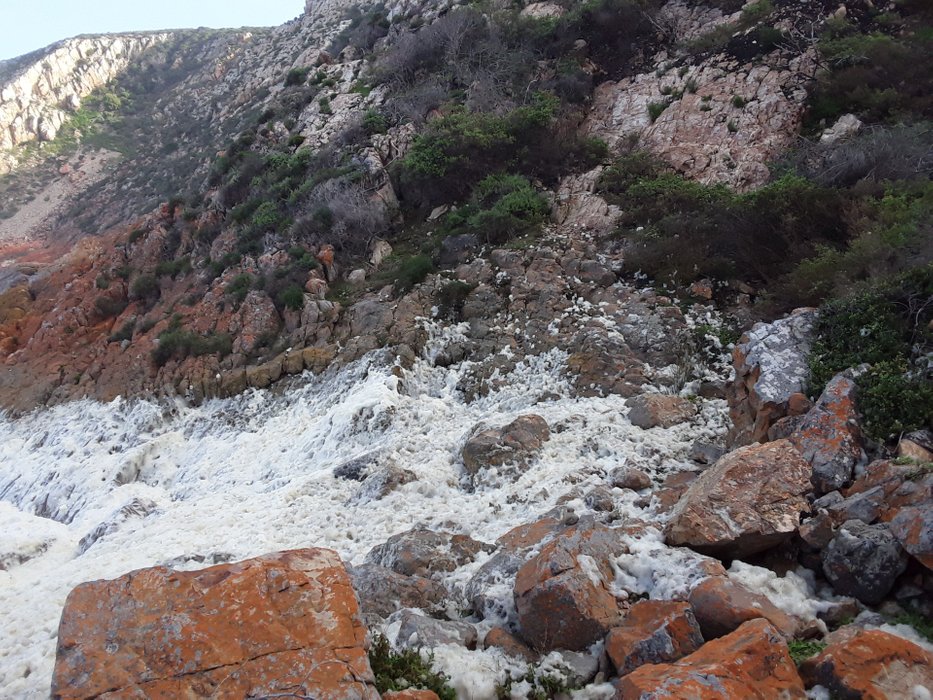 Rough seas washing up to the cliff edge
It truly is a rare and captivating sight for a wondering nomad like me to see nature is one of its rare shows of fantasy foam. You have to be at the right place and the right time to capture these moments, so today was a great opportunity to capture these images so that I can share them with other intrepid travelers like yourselves.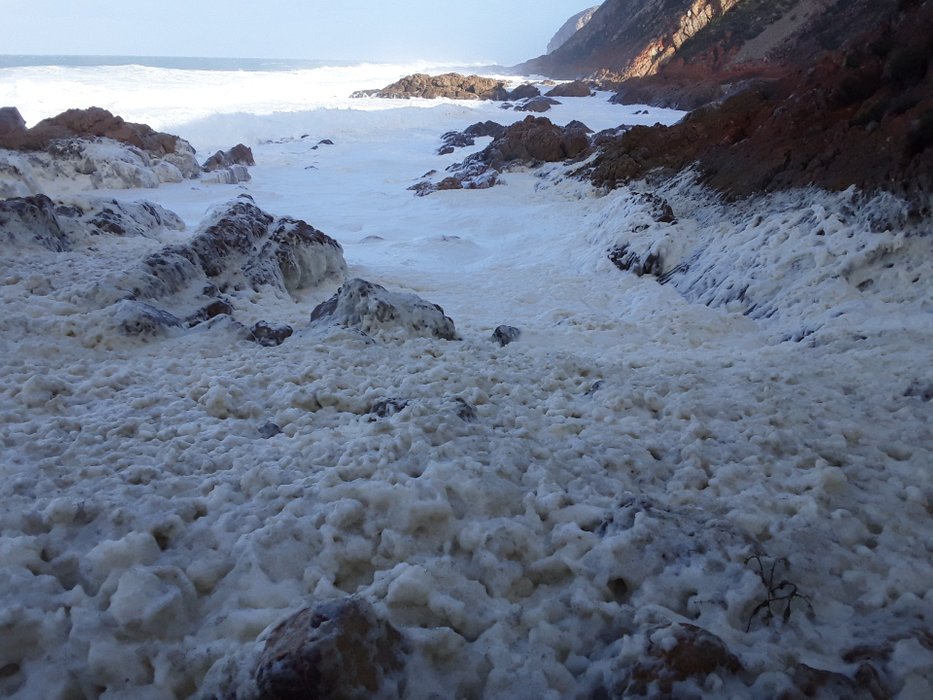 A truly surreal landscape, only seen on the rarest occasions
Add to that some wind and suddenly the foam is flying all over the place like the lightest of substances, creating even more of a festive experience. It truly is a party of some sort, with loads of edible looking dessert treats and confetti flying all over the place. I wonder who is having a birthday? Whoever it is, the party is rocking here right now on the most appealing stretch of the Cape south coast of Africa, known locally as "The Garden Route".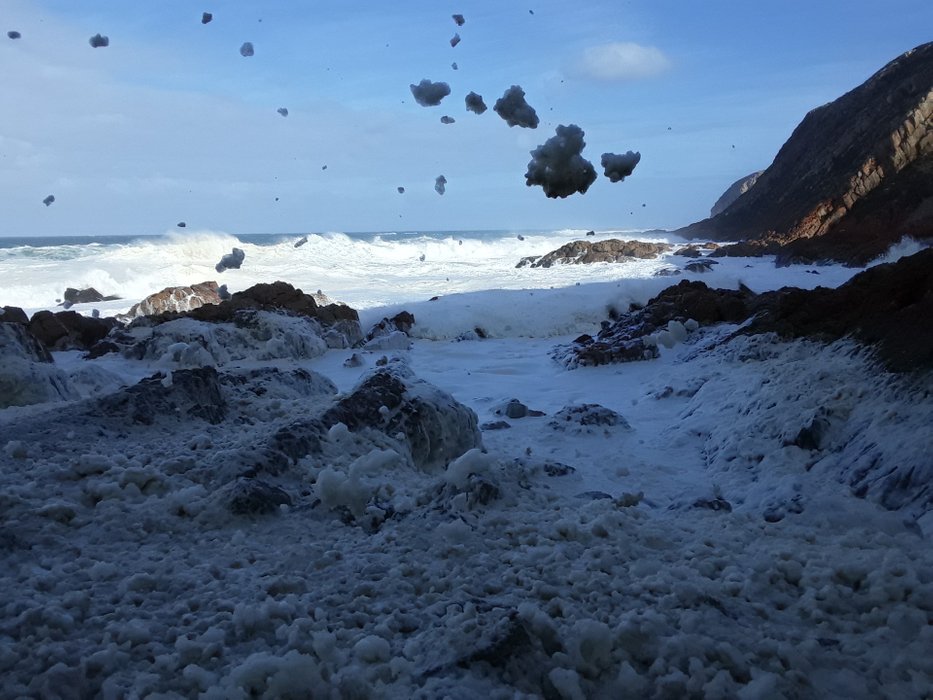 The fluff that dreams are made of