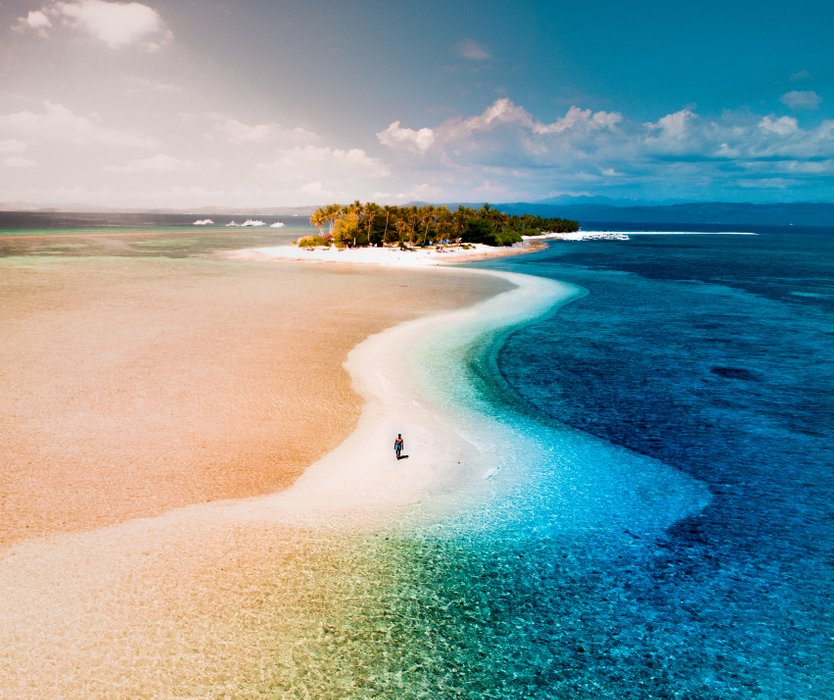 This story starts where you wouldn't expect. Not with a camera, nor with a map, nor with social media.
It actually starts after a lunch break at my corporate job, 9 months ago.
I remember staring at my office computer background as I logged back in after grabbing a quick bite. I mean, how couldn't I? Beyond the little symbols for Microsoft Word, Excel, and Outlook, there it was: a picture of the Phi Phi islands, with their towering limestone formations and perfect green-turquoise waters. I literally just kept looking at it, almost like if I focused hard enough I might just be transported there.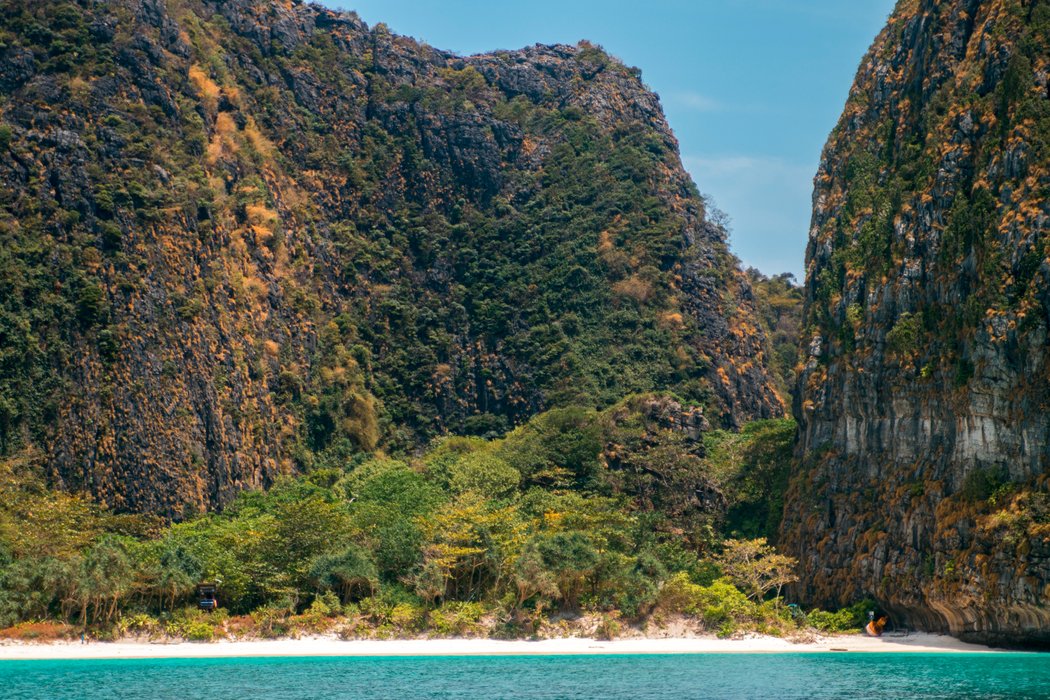 (One of the pictures I took of the same beach that I had on my screensaver!)
"Someday…" I thought, before the phone rang and I was whisked from my daydream back to the daily grind at the office.
You could say Thailand was on my mind, but it was more than that. I had seen so many creators' photos and videos of Southeast Asia, and was ready to get there myself, and capture these incredible places through my own lens.
And I felt it. I was going soon. I wasn't sure when or how…but I was going. Time would show me the way.
---
Fast forward 4 months, and I came across an ad on Instagram for the second time. The first time I dismissed it without thought, but the second time…I just couldn't ignore it.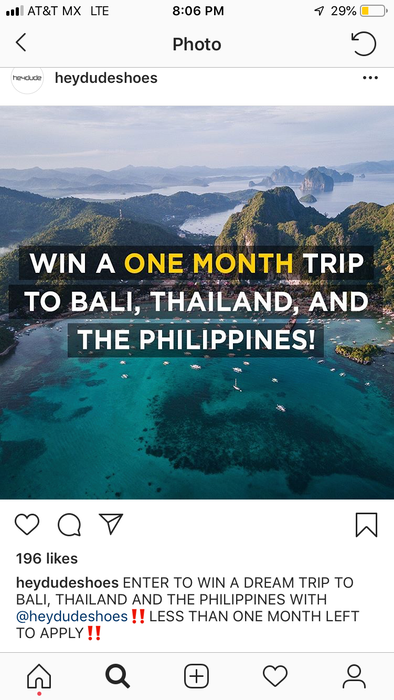 (The exact ad I saw. I screenshotted it to show it to a friend later that night...my buddy who would end up joining me on this trip!)
A lot had already changed. I was no longer at the office. Instead, I was seeing this ad after a quick swim in the azure waters of the Caribbean, cooling off after a long day of filming in Playa del Carmen. I had taken the leap. Quit my job, made a 6 month time investment in my video and photo skills, and was traveling around the Yucatan Peninsula filming. I mean, even just reading that back it sounds like a Facebook commercial to sign up for a webinar…right?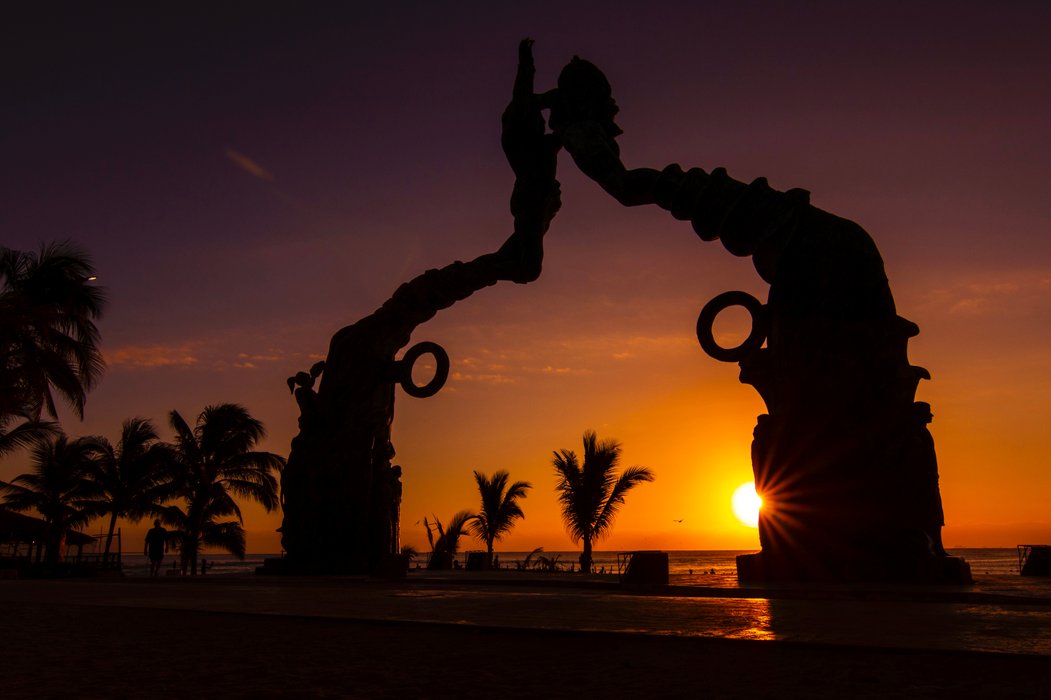 (One of my favorite photos that I took during my time in Mexico. This is the Portal Maya in Playa del Carmen.)
Here's the reality. Yes, I was in paradise. But no, there were no Ferraris and 4-story luxury villas. Truth was, I was living on a budget, filming and editing 10-14 hours a day, and spending long nights learning new techniques. But I was getting to do what I love while exploring a dream destination, which you absolutely cannot beat. And this week a dude named Nick from my filmmaking group was coming through Playa, so we were planning on meeting up and filming a little bit. Should be cool.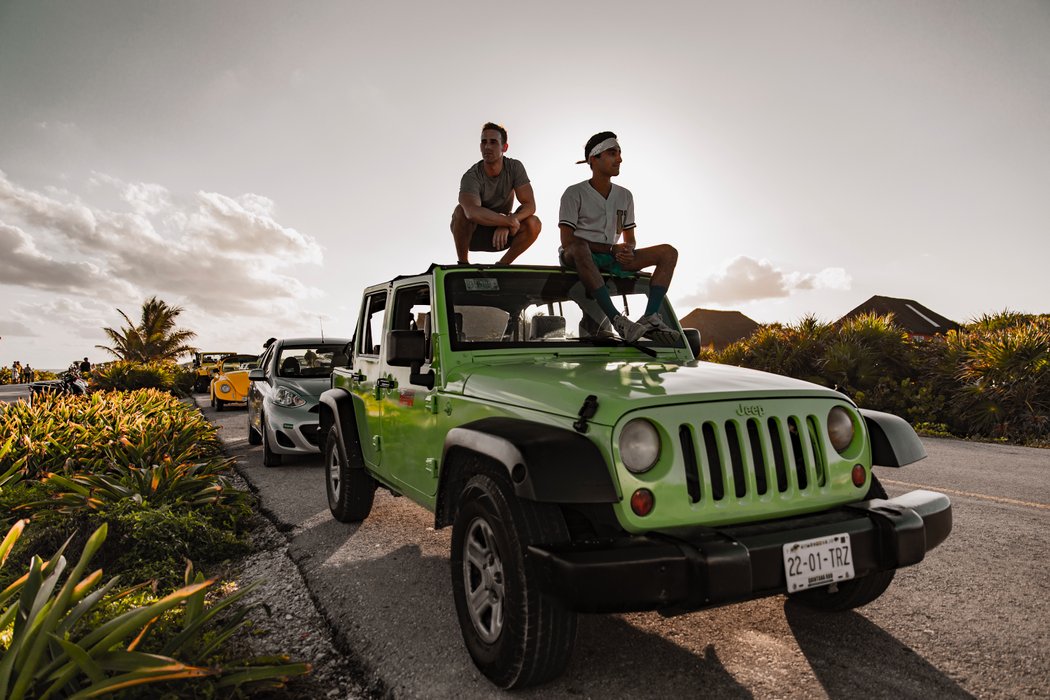 (Golden hour after an epic day filming with Nick on Cozumel when he came to visit Mexico.)
But seriously…back to this ad! Was it too good to be true? I was so stoked with what I was capturing in Mexico, but in the back of my mind, I was still thinking about Southeast Asia. And here was a company called Hey Dude Shoes offering to send two content creators to not only Thailand, but also the Philippines and Bali.
Mind. Blown.
Next thought: Is this legit?
does Google search
Yessir! Cool shoes too.
deep breath
Gametime.
---
I was eating a burrito at one of my favorite taquerias in Playa when Nick and I found out we won.
Completely epic. (Both the burrito and the news! For real though, this burrito>>>>)
I was stoked on another level.
And with that we were on our way! I packed up my things in Mexico, flew to Chicago, the shoes came in the mail, April 1 rolled around, and a couple long flights later we landed in Bangkok.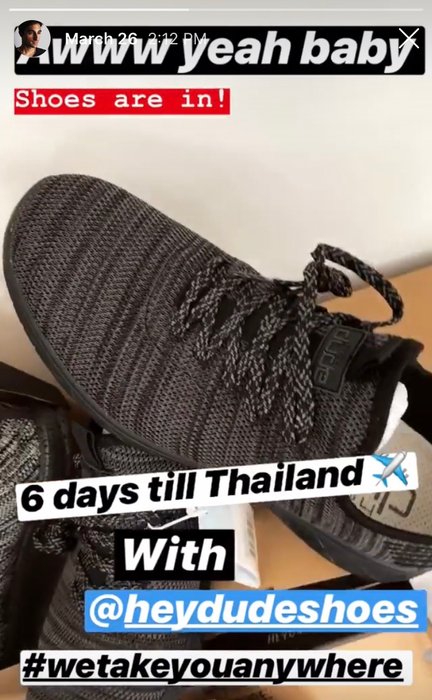 (The day the shoes arrived. I always wanted to be sponsored as an athlete, but never envisioned that I would be sponsored as a filmmaker/photographer!)
We were in Thailand. And the Phi Phi islands were on the itinerary. Talk about full circle.
---
Bangkok was a blur of busy traffic, colorful Tuk Tuks, incredible Buddhist temples, discovering Pad See Ew and then wanting to try it at every restaurant, catching a Muay Thai fight night, and getting a Thai massage (which was WAYYYY too intense…no lie, my back hurt for 2 days after) for the first and last time ever.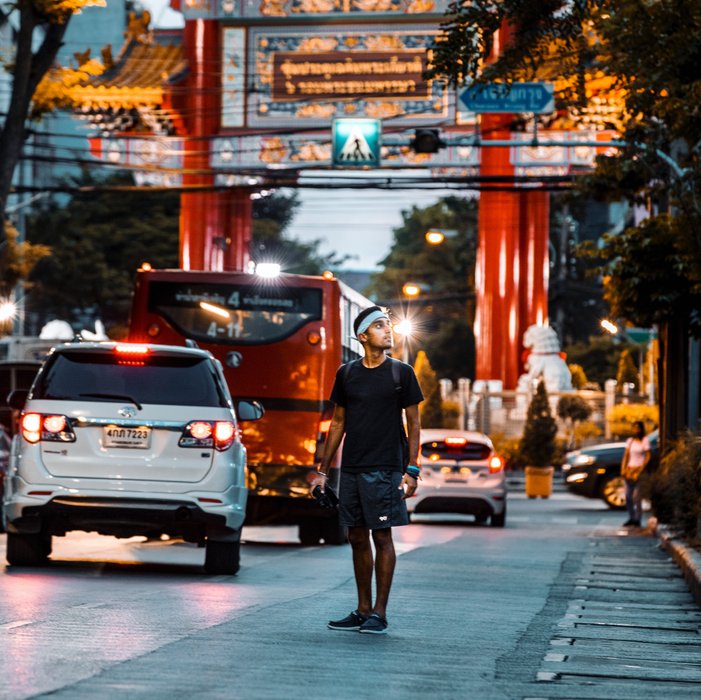 (Exploring Bangkok. Captured by the homie, Nick.)
I'd always wanted to go see the Golden Reclining Buddha at Wat Pho, so that was at the top of my list for Bangkok, and it did not disappoint. I also had my favorite meditation session of the whole trip at the temple grounds there, so that entire experience was epic.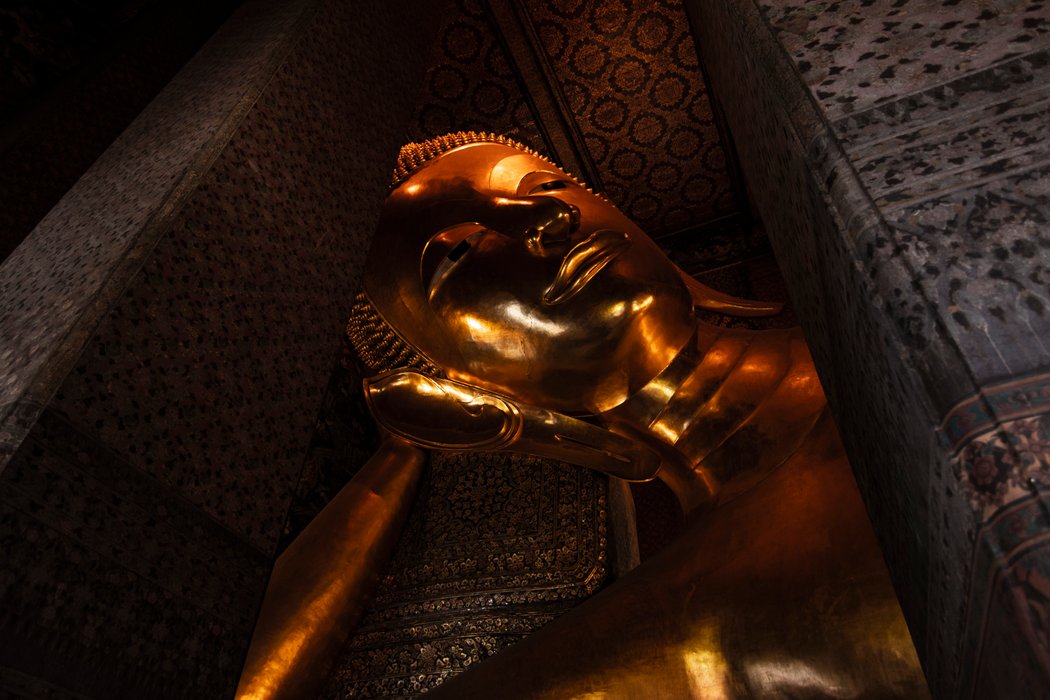 (The Golden Reclining Buddha at Wat Pho. Literally one of the coolest temples I've ever been too.)
But what definitely stood out to me from Bangkok was Wat Samphran (the Dragon Temple). You can see it in both our Thailand video and our vlog, and we only found out about it last second when Nick saw a picture of it on Instagram. We immediately decided to go for our last day, and it ended up being one of the coolest places I've ever been. It's a 17 story structure that is wrapped in the grip of a massive dragon that curls around the entire building, from top to bottom. And climbing to the top of the temple through the dragon's belly to see the view from up above was like something out of a fantasy novel. Coolest part was, the temple is still quite unknown. When we spoke to the staff at our hotel before leaving, they hadn't even heard of it. The lack of tourists definitely contributed to a greater sense of tranquility while there, and also added more to the mystery and grandeur of the temple. I'm beyond grateful that we had the chance to see it as we did, because I'm sure that one day it will be more widely known and much busier.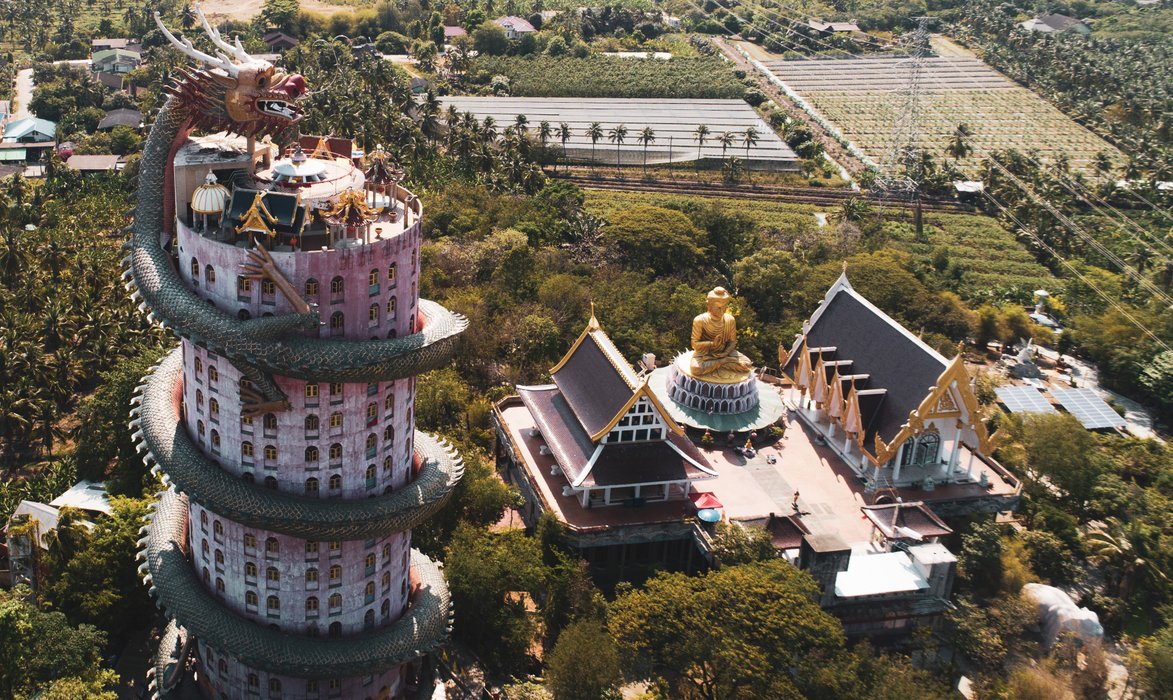 (Aerial shot of the Dragon Temple, captured by Nick!)
---
We saw the smog on arrival in Chiang Mai. We had been warned that burning season was going on in Myanmar and that the pollution would drift over the border into the valleys of Chiang Mai, forcing everyone to wear masks. And they were right. When the sun would set, it would fade from a perfect orange to red, all the while burning its way through the thick haze before it's last pink light gave way to the night sky.
But if ever we needed a breath of fresh air and a new experience, there truly was no better place to be than Chiang Mai.
Because we knew what awaited.
Hanging with ELEPHANTS.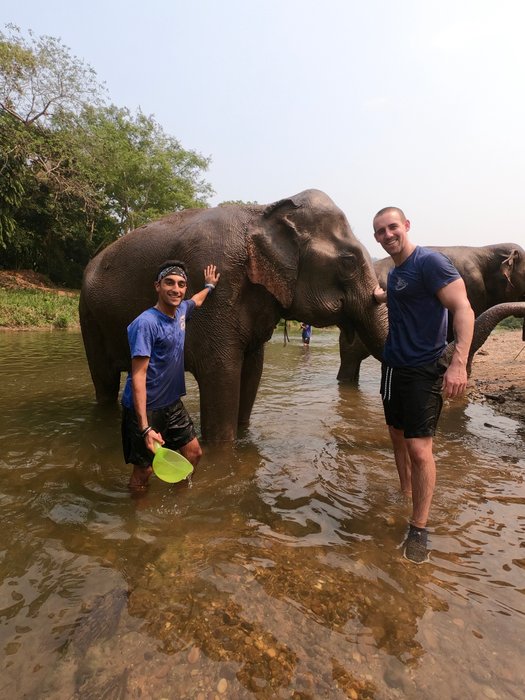 (Giving one of our elephant buddies a bath in the river!)
And they did not disappoint! Our day in the Elephant Eco Park was definitely one of my top 3 days of the trip. There were so many highlights, from baby Jackie trying to playfully tackle everyone with his trunk while we were giving him a shower in the river, to feeding all the elephants pounds and pounds of bananas and sugarcane while they tried to poke their trunks in the bags to get even more of the good stuff, to taking 60 year old Moto out for his walk through the scenic valley. It was awesome to see how free and protected the elephants were in the park we visited, and how they genuinely interacted with us out of curiosity and friendship.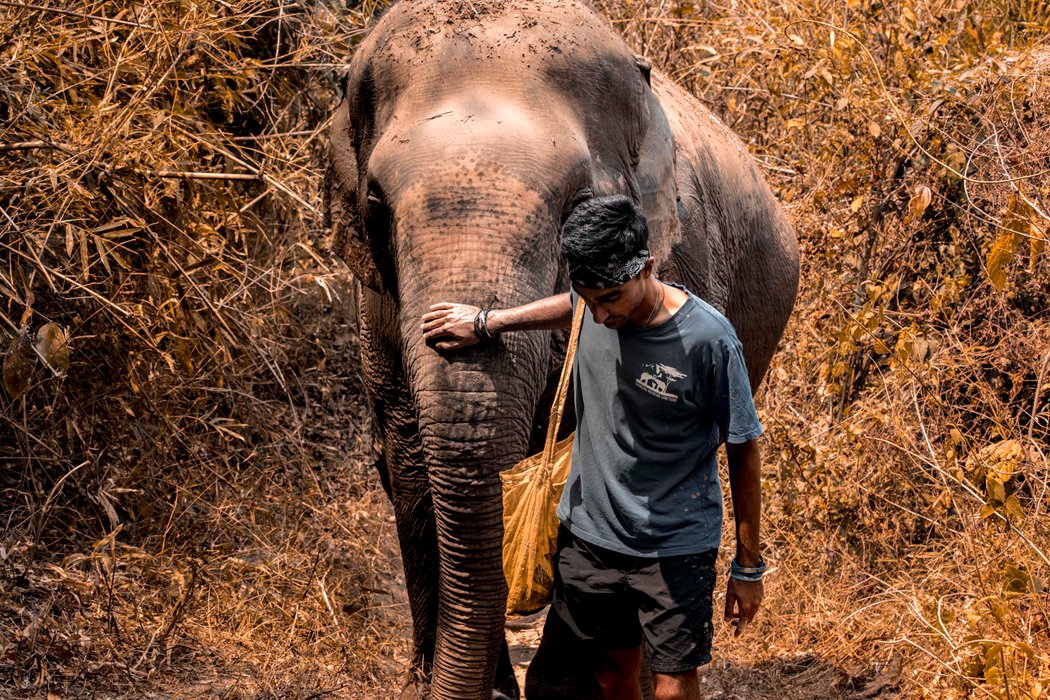 (Out for a walk with Moto)
Let's just say it was a good day.
20 out of 10 kind of good.
---
As the engine droned and we started our descent into Phuket, I awoke and raised the window shade to reveal a landscape of islands dotting the blue expanse of the Andaman Sea.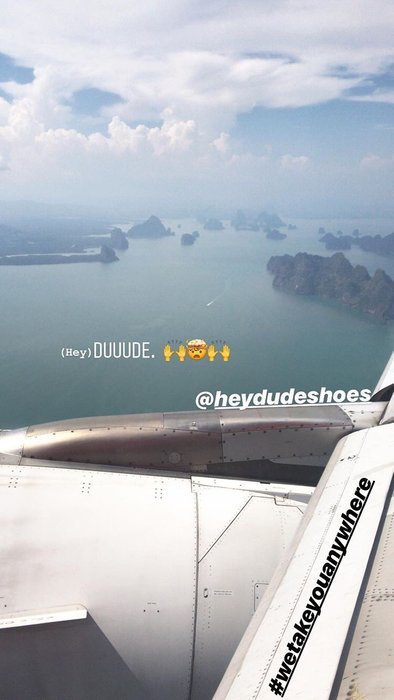 (Exactly what I saw when I pulled up the window shade!)
This was the moment that I was waiting for.
Tomorrow we would finally see what I was longingly day-dreaming of while staring at a computer screen in the office just 9 months back.
---
I was amazed at every turn. The Phi Phi Islands were incredible. It was everything I hoped for and more…even though I never got to see the view I had envisioned.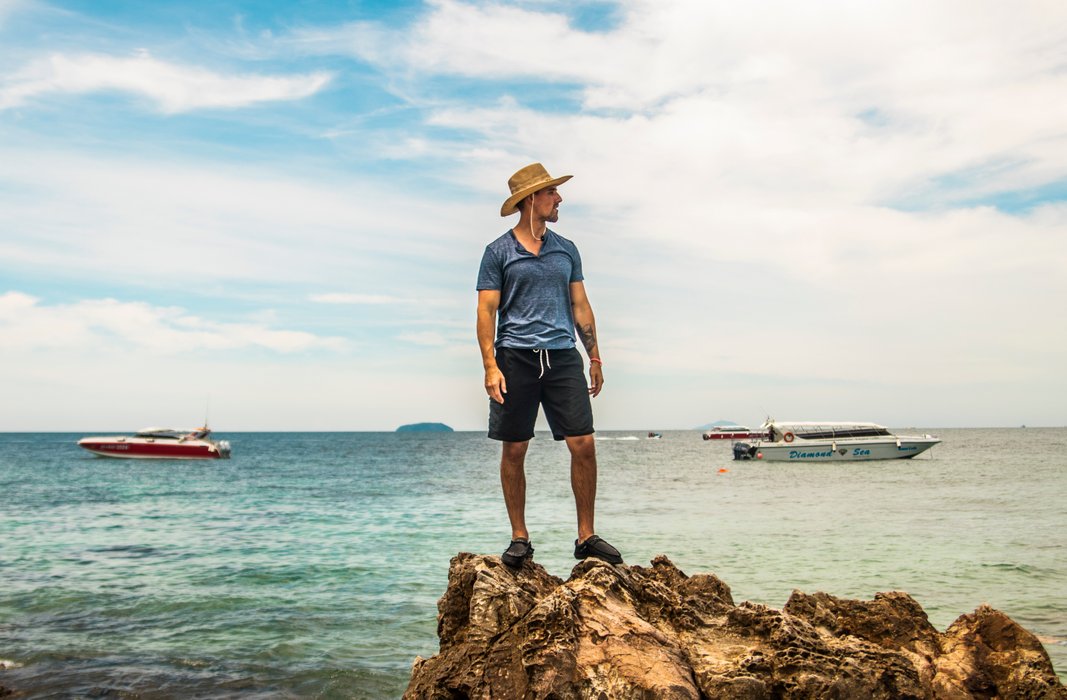 (A shot I got of Nick from the first of the Phi Phi Islands that we visited)
Let me explain…
The picture I had as my computer background was of Maya Bay, which actually has been closed since last year as the government tries to allow the area to repair ecologically from the damage that tourism caused to the coral. So although we didn't get to set foot on the beach, I was totally cool with that. In fact, it was awesome to hear that in the short time since they closed the bay, there has already been a resurgence in marine wildlife returning to the area and noticeable improvement in the health of the coral.
BUT, this actually gave me an opportunity I would've never expected. We had 45 minutes there to snorkel outside the bay and then get back to the boat, and I saw that there was a second bay that was not closed off, separated by a massive limestone rock face from Maya Bay. I could see why there wasn't really anyone out there. It looked much more wild, and was at least a 15 minute swim away (and every boat there was part of a tour group with limited time in the spot)…but it truly looked like some kind of lost paradise from a distance.
So, naturally, I had to get a closer look.
We don't have any footage of this spot, but I swear, when I finally reached the bay…I was speechless.
"Is this real?"
It was otherworldly. The trees growing in between the palms had a shape I'd never seen before, and the moss began before you could even leave the sand. As I trudged inland, the beach gave way to a thick jungle, which then almost immediately turned into limestone caves. And that was it. That was the whole inlet. Only thing that was missing were some wild monkeys…but we would see those later in the day!
I honestly won't ever forget that beach. I don't even know it's name…just "the beach next to Maya Bay"…but the 15 minutes that I spent there will be a lifelong memory.
Looking back, that was even more special than getting to see the view from my computer background. After all, the world has already seen that. But I haven't EVER seen a photo of this beach, and maybe its better off that way to preserve its natural wonder.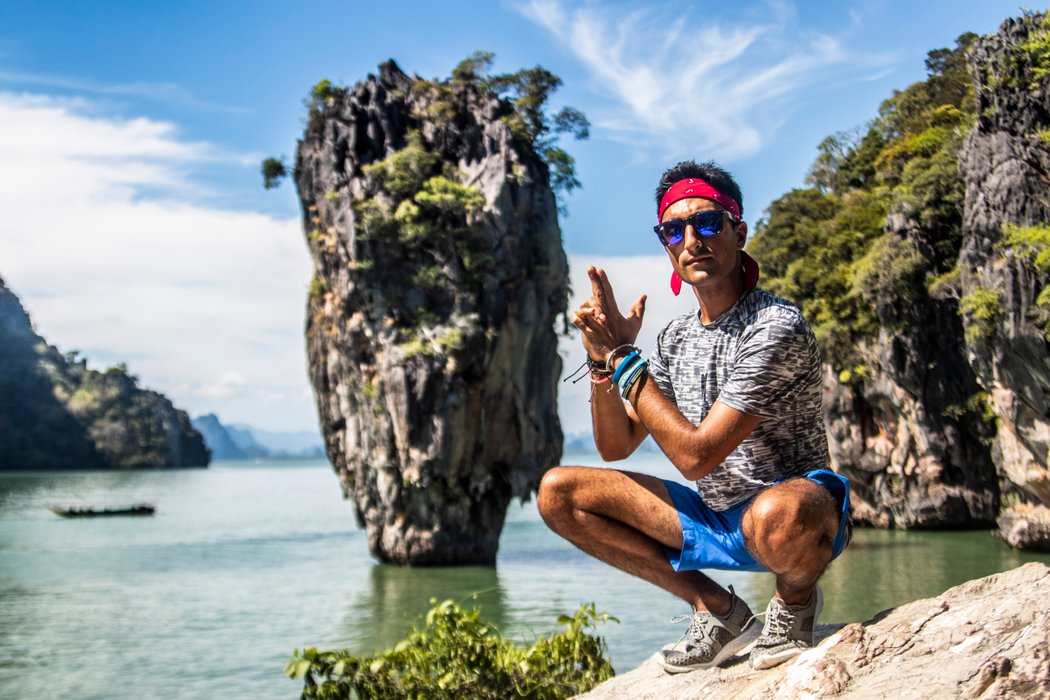 (Since I don't have any photos of the beach I'm describing, here's another amazing island in Phuket! Had to pose like this for James Bond Island!)
---
Also…funny story. I got hungry after seeing Nick eating a cheeseburger and hit up a food stand in the airport before leaving Phuket, without realizing that our flight was about to board in 10 minutes. Big mistake…because this was literally the spiciest food I ordered all trip long.
I took one bite of the "street food inspired" dish and my mouth was on fire.
Literal flames…no lie.
You know when the food is super spicy but also like 150 degrees hot? Like hot and also spicy hot? Yeah…this checked all the boxes.
It was then that I saw the MANY sliced red Thai chillies among the chicken…
I immediately got up and walked to the Krispy Kreme next to our table, looking for some iced coffee or literally anything to cool off my mouth.
And…that's when Nick heard them call for us to board our flight.
BROOOOOO…whyyyy?!!
So here was the problem: I could've just left it. But it also tasted so good and I was hungry.
And most importantly…I ain't soft!
But y'all. I swear I haven't ever felt the burn like I did trying to finish off that huge bowl of food in 10 minutes. I mean this stuff was pure fire.
BUT. I got it done….and your boy didn't even need a Tums.
Bang bang…what a way to wrap up Thailand.
---
Our bags got lost on arrival in Cebu. But, we were super fortunate and they were delivered to us by evening the same day. We spent the afternoon exploring the city a bit and then geared up for a big next two days. And with that we were off.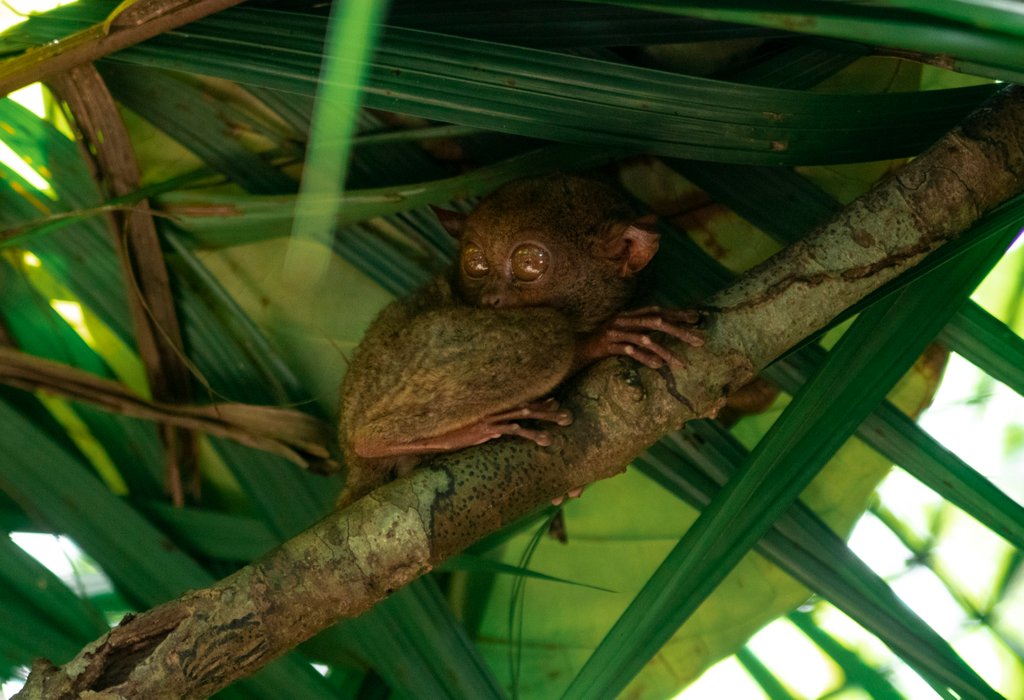 (One of the world's smallest monkeys, the Tarsier, is native to Bohol!)
From swimming with whale sharks in Oslob to seeing Tarsiers (one of the world's smallest monkeys!) in Bohol to floating around in the turquoise waters of Kawasan Falls, our time in and around Cebu was so epic.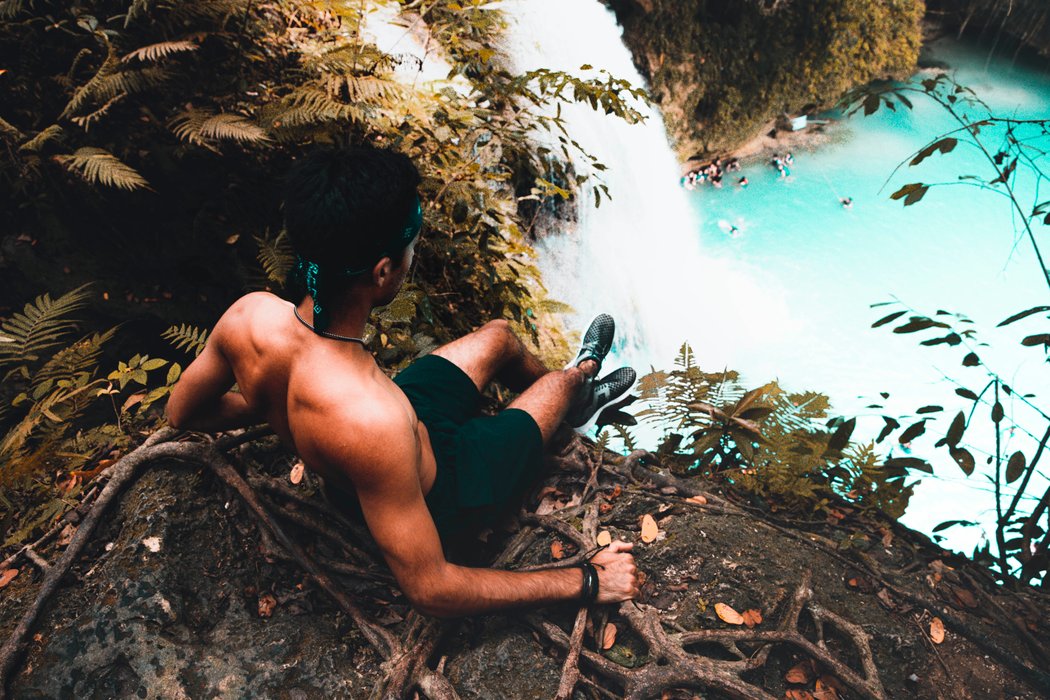 (The overlook over the turquoise waters of Kawasan Falls! Captured by Nick.)
But my favorite spot of them all ended up being Tumalog Falls, which was actually more like an add on to the trip, believe it or not.
When we arrived at the waterfall, our guide told us we'd stop by here really quick for 20 minutes to take some pictures and then head out. Instead, we stayed for over an hour…and I could've stayed all day. The height and the flows of the waterfall made it so epic, and there was barely anyone there. I was pretty much speechless. It seemed like something out of a movie. I mean, I have driven around and hiked to almost all the major waterfalls around Tennessee, which has a bunch, and nothing even came close to this. Walking out to where the water hit the base of the falls and feeling it's weight as it washed over me was pretty special. And watching the birds fly through the mist at the top of the falls with the sunlight peeking through made for some truly epic scenery.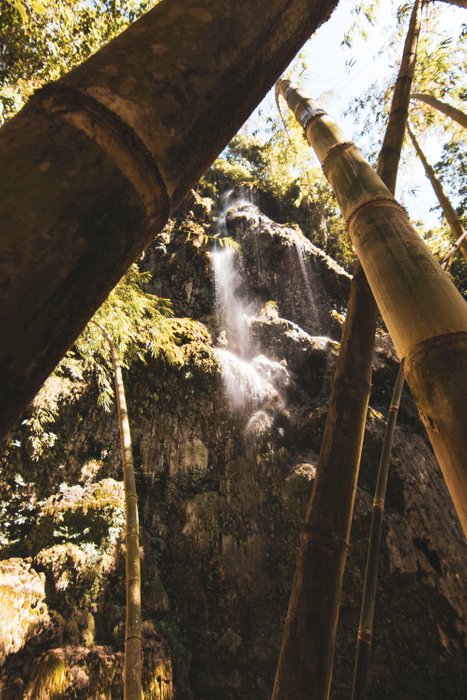 (Tumalog Falls in all its glory)
Honestly, there were multiple times in the Philippines when I reflected at the end of the day on what we'd seen and gotten to do, and just had gratitude wash over me like the waters of Tumalog Falls. I can't say it enough, but thank you so much to Hey Dude Shoes for making these experiences possible. They truly were next level.
---
I have a list on my phone of places that I want to visit and experiences that I want to have in my lifetime. And it's got a lot of stuff that is pretty adventurous and a lot of places that many people haven't ever heard of. But that's just how I like it. From running with the bulls in Spain to finding the Mano del Desierto in Chile to swimming with the 10,000 golden jellyfish at Eil Malk Island in Palau, there are some things on there that are way outside the norm. And for the last two years, there was this place called Kalangamman Island on that list. I had seen a video about it a while back and threw it on…knowing it was one of the more isolated, long shot spots on my list. But oh well, right? I mean just throw it on the list and forget about it for a while.
Well…just so happens, Kalangamman Island is actually a part of the Philippines.
Ok, but the Philippines has over 7000 islands…
Well…this one just happened to be on the itinerary.
YESSSSSIRRRRRRR!!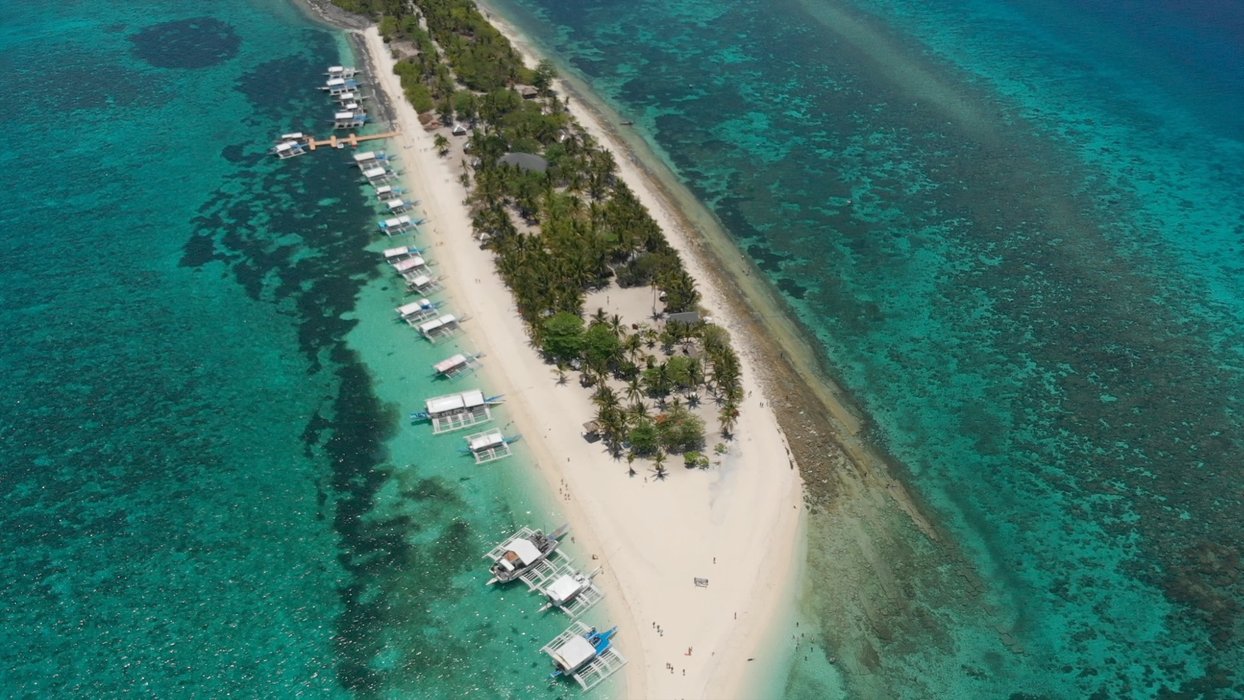 (Kalangamman Island from above)
Y'all. Kalangamman Island is a bright white sandbar that reaches far out into the ocean, with turquoise water surrounding it on all sides. Like if they needed to put a picture in the dictionary with the definition for paradise…a photo of Kalangamman would be perfect.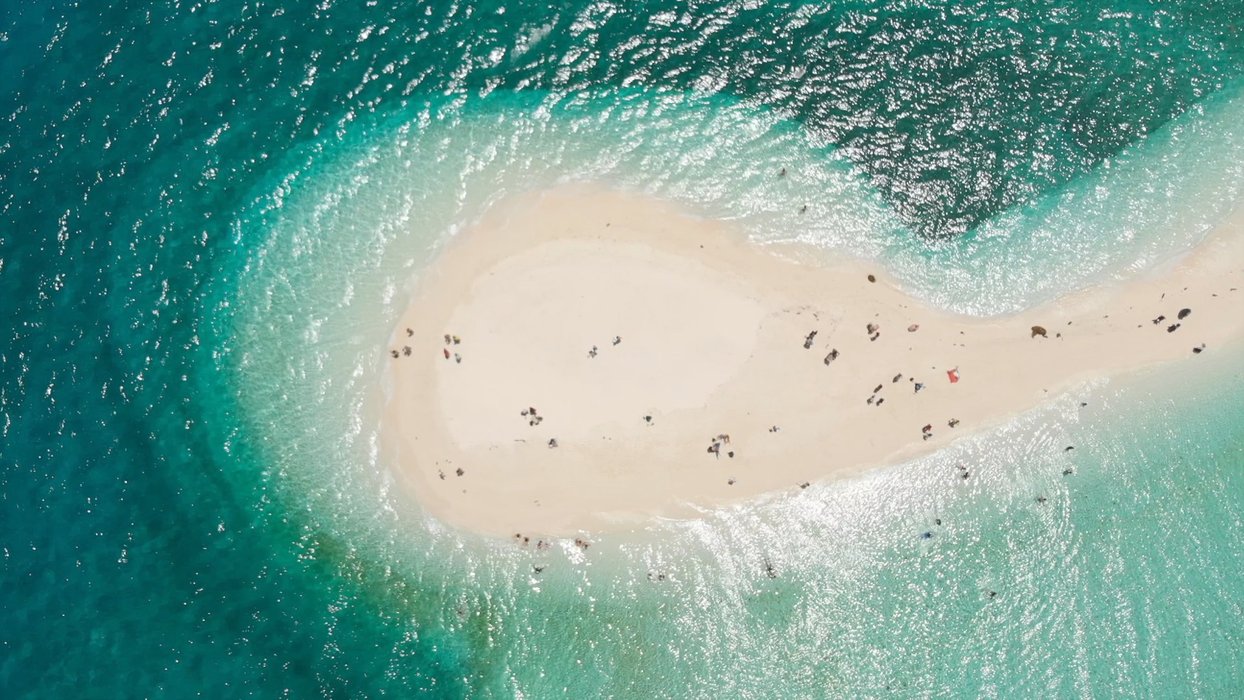 Honestly, there really isn't much that words can describe better than seeing drone shots of this place. Good news is, there's a bunch of those on the vlog! Also, make sure to watch for what we discovered on the other side of the island, separate from where all the tourists go… (the spot where we took the cover image of this blog post!)
So go check that out!
Oh yeah, and if all that wasn't epic enough, a pod of dolphins swam with the boat on our way back. I honestly think I'm running out of words to describe this trip.
But with that, it was already time to head to Indonesia. 2/3 of the way through our journey, and so grateful to have gotten to see another amazing country.
Thank you, Philippines. You were legit.
---
The people you meet along the way on any trip or journey have a huge impact on your perceptions and experience. And Bali had some of the friendliest locals I've ever met. Also, I have to give a massive shoutout to our friend Indra, who drove us to a bunch of places, from Ubud to Uluwatu and more, and is such a good dude. Getting to know him during our time in Bali was awesome, and he was always sharing details about the traditions, daily life, and history of his island and people. It's so cool to see the pride that Balinese people take in their island and it's beautiful nature, and that really shines through with everyone you meet.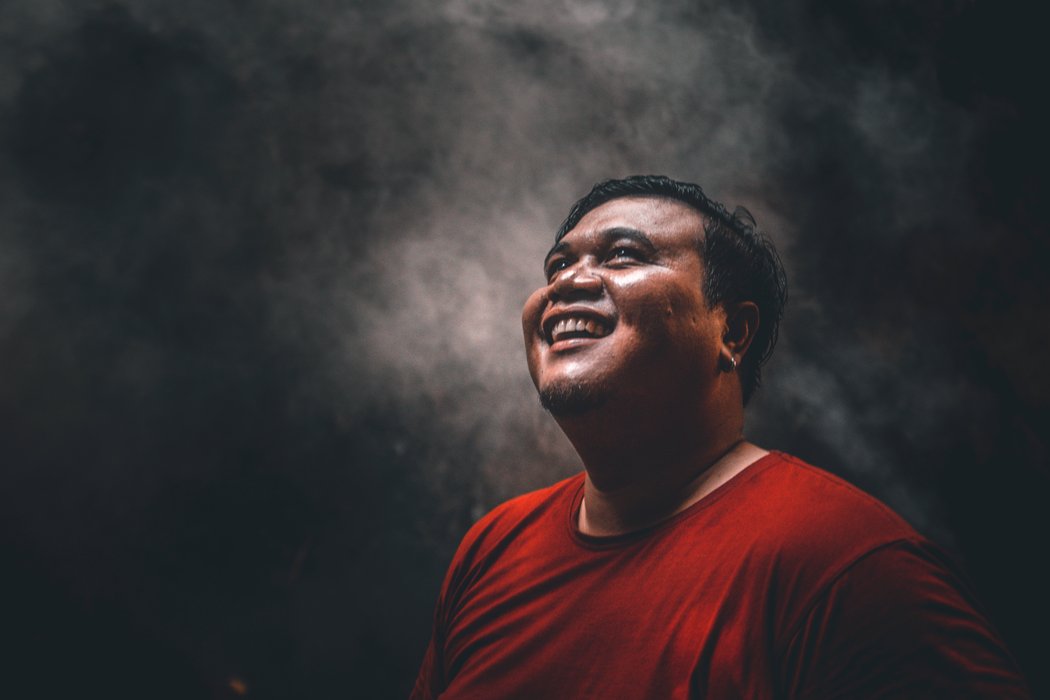 (One of my favorite shots of the trip was actually this portrait of our guide and now good friend, Indra!)
---
B: Blew my mind
A: Amazing nature
L: (3) Level KFC?!
I: Insane sunsets/Indra is the man!
---
Yes, there was a 3-level KFC in Bali. With glass windows all the way up. Y'all, I'm serious, this was the fanciest KFC I've ever seen in my life. They don't look anything like that back in Nashville. Nor in Kentucky for that matter. Colonel Sanders would be proud. Also...shame on me for not having a pic....
---
I'm a sucker for anything that makes me feel like I've stepped into an unknown world, or a lost paradise…and the Sacred Monkey Sanctuary in Ubud felt just like that.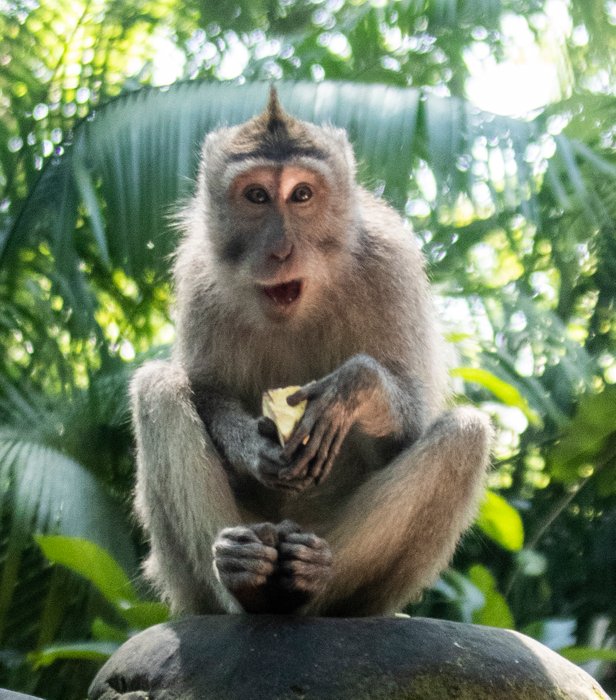 (Just look at this mischievous guy!)
It was one of the coolest places I've ever been, because as soon as you enter, you know that you're in the monkey's territory. This is their kingdom. Not trying to go all Planet of the Apes on y'all but I'm serious.
They go where they please, jump on you when they want, and would love to swipe your camera, sunglasses, or anything shiny.
And that makes it so awesome.
Trees covered in vines tower well over 100 feet, forming a canopy above that the sunlight filters through. And there are monkey statues everywhere, covered in moss, with plants growing all around them, as if you've just discovered them while wandering through an ancient forest.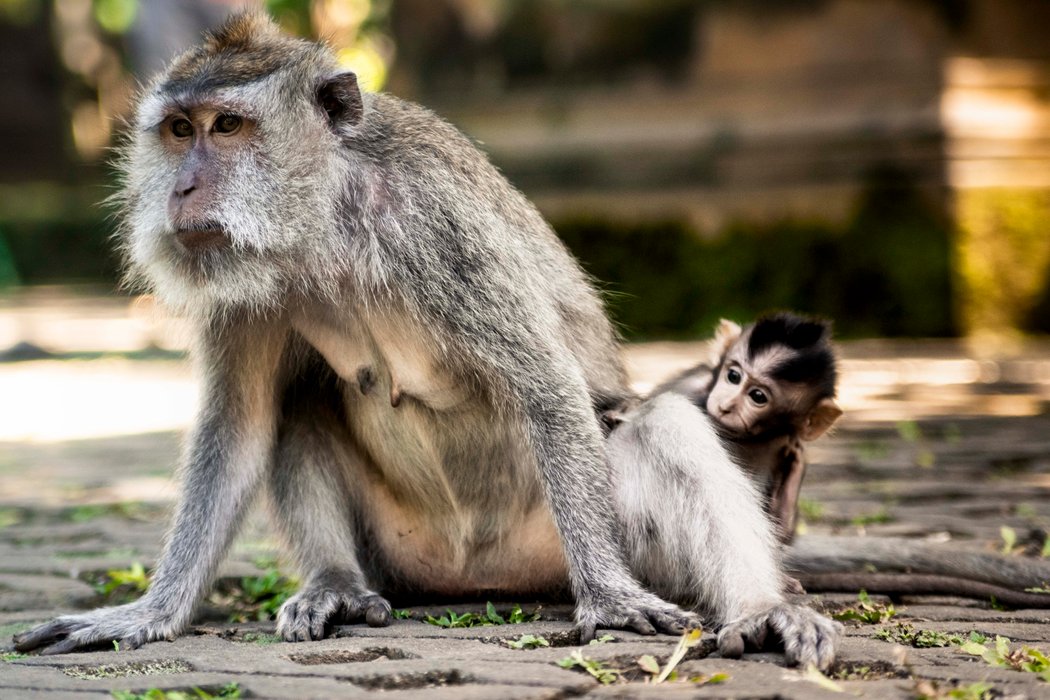 (Momma and baby monkey! One of my favorite shots.)
Absolutely unreal.
---
In the vlog you can see a lot of our drone shots of Kelingking Beach. I now understand why people rave about this spot after visiting. It's raw and yet perfect. Like a diamond that doesn't even need to be cut.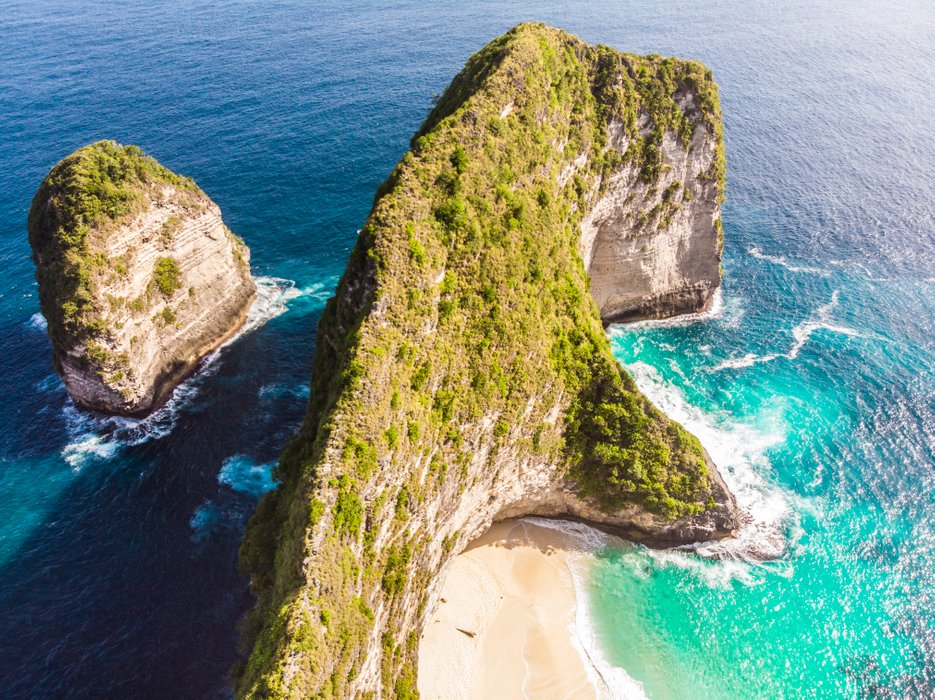 (The famous Kelingking Beach)
And the path to reach the beach below speaks to that. It's steep, it's rocky, and the wooden and bamboo railings don't instill too much confidence that they'll hold. But y'all, getting to the bottom revealed more than just incredible scenery.
First, it made me feel small. Like the same kind of small I feel when I skydive and see the semi-trucks on the interstate looking like little ants when I'm parachuting down. I mean, to see the cliffs rising behind me and the sheer power of the waves right in front of me…it felt like I was in nature's domain. And that's when the rugged beauty of the entire landscape really hit home.
Second, it made me feel hugely grateful. It was one of those places where you turn around in a circle a couple of times while looking up because there is something to see on all sides, but also it's like you can't take it all in just your first time around.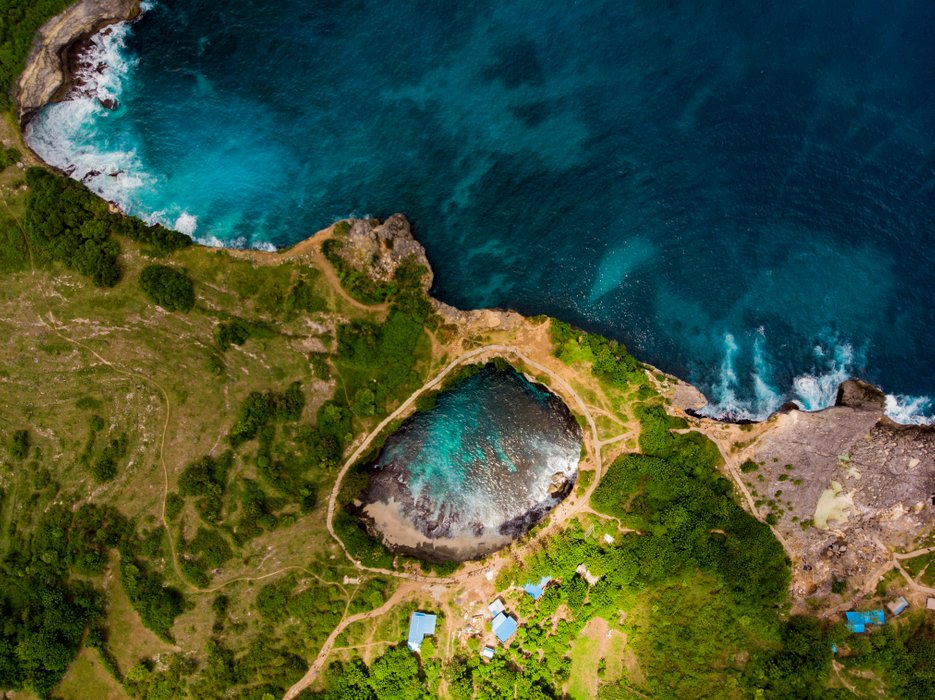 (Broken Beach also was a wonder of nature, pictured here)
I only got to jump into the water for like 2 minutes (it's on the vlog) because I was filming or flying the drone the whole time, but man…did that moment define "doing what you love".
But…that was also when I remembered that we needed to be back at the car by 4 (to drive to the dock and catch the last boat at 5)…and it was already 3:40. BIG MISTAKE.
The climb down took about 30-35 minutes. And the climb back up was going to be way harder, especially with all the gear on my back.
But I only had 20 minutes.
I remember passing like 5 people near the bottom, and by the time I reached the top, I looked back and they were still not more than halfway up. Also, I was legit unsteady. Shirt was soaked in sweat, breathing was ragged, and I couldn't believe I hadn't cramped up. Seriously…what a blessing. I immediately bought a water bottle from the nearest store and downed it faster than a Bugatti can go zero to sixty.
Then I head to the parking lot and hopped in the car by 4:05.
Honestly…I still can't believe it.
Overall, it was worth it, but trust me, plan better than I did and do not try the climb up like its an American Ninja Warrior speed course.
But, chalk that up to another experience I'll never forget.
Chalk it up to a beach I'll never forget.
And chalk it up to living a life full of making memories that I'll never forget.
Thank you Bali.
And thank you Hey Dude Shoes.
Y'all said it would be the trip of a lifetime…and it sure delivered.
No doubt about that!