Nightfall caught us before we arrived home. Tired from the long trip to Dallas, we brought Blue Ace home with us. He'd meet his new storage facility the next day. It was too dark to explore our new addition to the family.
Excited to learn how all the new features and gadgets worked, we got up early the next morning. We made a checklist:
Kitchen: all the necessities - RV size refrigerator, gas stove and oven. Microwave is a bit small, but I can work with that. Enough storage for kitchen cookware and utensils.
Sleeping: six can sleep comfortably with the added over-the-dash pull-out loft. Lots of storage overhead.
Eating: Comfortable seating at the dinette and lots of storage underneath.
Entertainment: Two TVs, mobile satellite.
Then we wanted to try out each feature to make sure it worked, so we plugged him up, then:
rolled out the automatic awning;
lowered the automatic levelers;
tested the generator;
cooled down the refrigerator;
checked the freezer;
lowered the overhead bed;
checked out all the storage locations;
decorated the bedroom;
cooked breakfast; and
watched a movie.
All while in our driveway!
Everything worked perfectly. What can I say! We love BlueACE. It's our home away from home.
And the decor is cool too: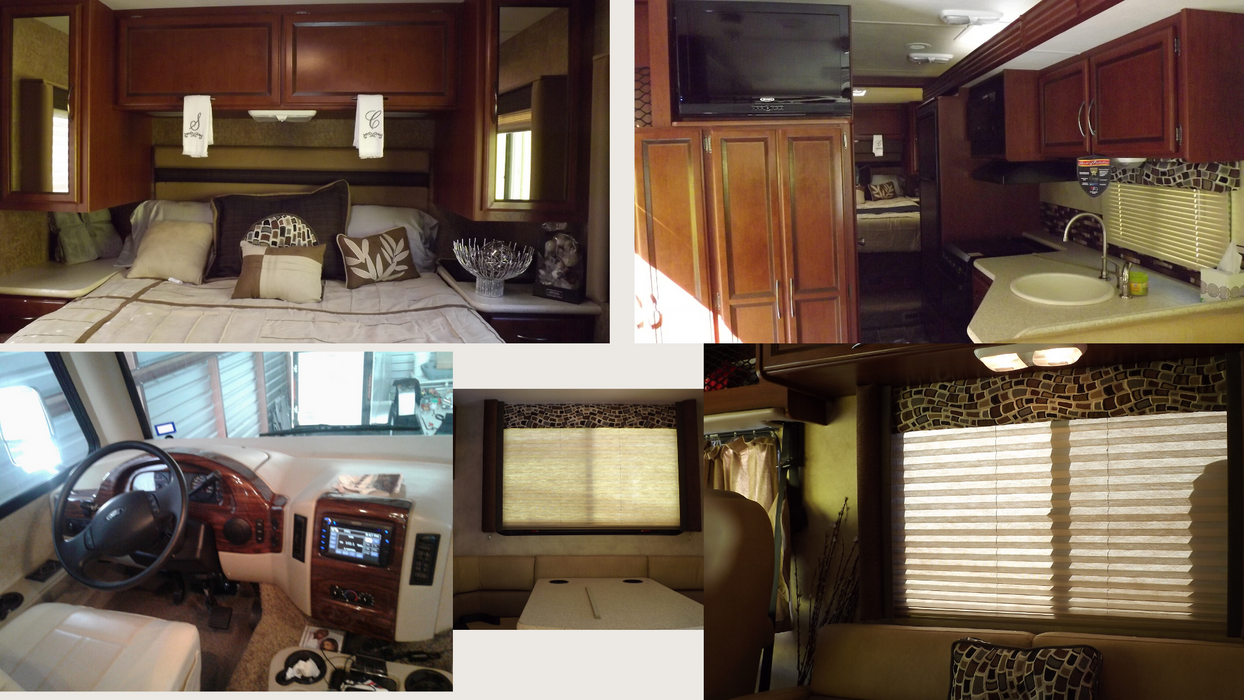 So, off to the storage we went to show BlueAce his new sleeping quarters.
About three days later, we received a letter in the mail that stated, "We hereby notify you that no vehicles such as tractor trailers, recreational vehicles, etc. are allowed in this subdivision, and are subject to a fine...."
We laughed so hard.
Can't wait for our first adventure!
---