| WHAT IS A THALI REFLECTION? |
---
Some of you Indian food lovers might be familiar with the word thali, the Hindi word for plate/tray. It also refers to the Indian style meal consisting of a variety of dishes all served on this thali.
---
@Sreypov and I are both chefs; we used to run a thali restaurant in Cambodia before coming here to Suriname. At our restaurant we served a different daily $4 thali based on what produce was local, cheap and fresh at the market. We took a picture of every thali we ever made, and Pov and I have watched Sakana grow up in these very photos.
---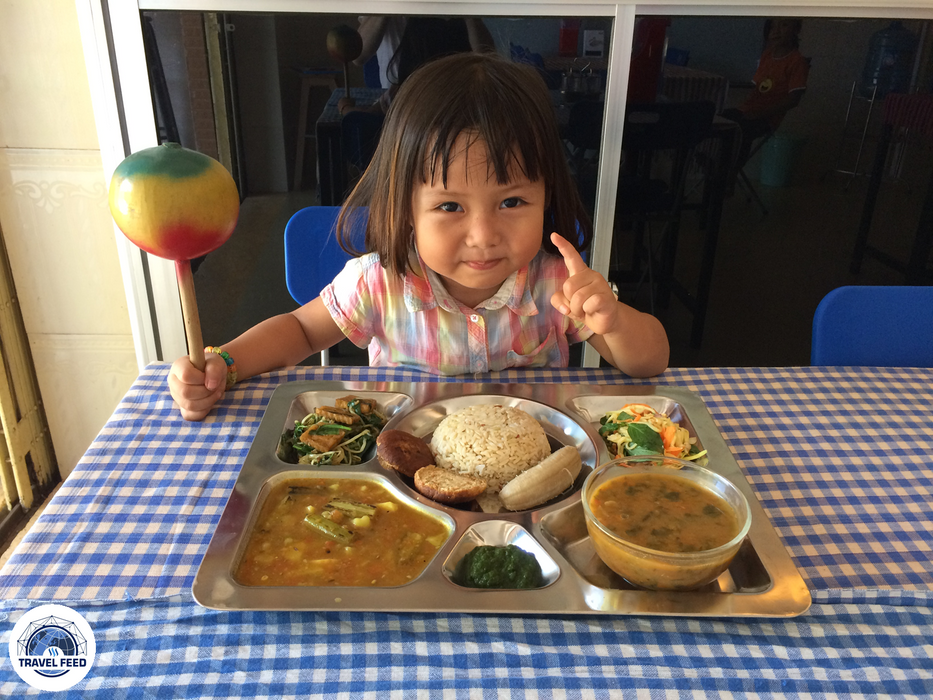 The very first thali, shaking down Babylon 🦁
---
| THE MINISTER OF PROPAGANDA |
---
Sreypov and I would rush the kids to school in the morning, then have just enough time to stop by the market, buy veggies for the day's thali and return home to cook. As soon as the thali was finished, I had just enough time to race back to school to get Sakana in the rickshaw and return home once again.
---
As soon as I had returned from school with Sakana, it was time to take a photo of the thali with her and upload it by 10:30am. We opened at 11am, so it was crucial to get everything done fast and eat our thalis before customers began to arrive. Our daughter Sakana was known locally as the Minister of Propaganda for her role in marketing each day's thali.
---
Another random thali, a little older and wiser 🤔
---
We had originally planned to just take an artsy picture of the thali each day, but Sakana demanded to present it for customers, so we complied. Eventually it turned into a staple of our restaurant, and our customers looked forward to these daily photos. The thali eventually took a backseat to the real star, the new Minister of Propaganda.
---
Big sister filling in on a sick day 🤒
---
| THE RESTAURANT |
---
We received customers from all over the world, as well as local foreign residents. Our biggest customer base were Ukrainian, Israeli and Japanese nationals. We were the only Ital restaurant in Cambodia, so many people came from far and wide to try our unique food. We even once hosted a private party for a group of Ethiopian soldiers who'd never eaten Indian food.
---
Ready for school; you can't beat your own private yellow school bus 🚌
---
Our restaurant's cuisine was a mix of South and Southeast Asian flavors with a little bit of Caribbean influence. It was a really unique concept to do a mixed thali like that. Why shouldn't you be able to eat Tofu Larb with your Sambar and Tempeh Balado right? I always thought Cambodian and Indian flavors complimented each other quite well.
---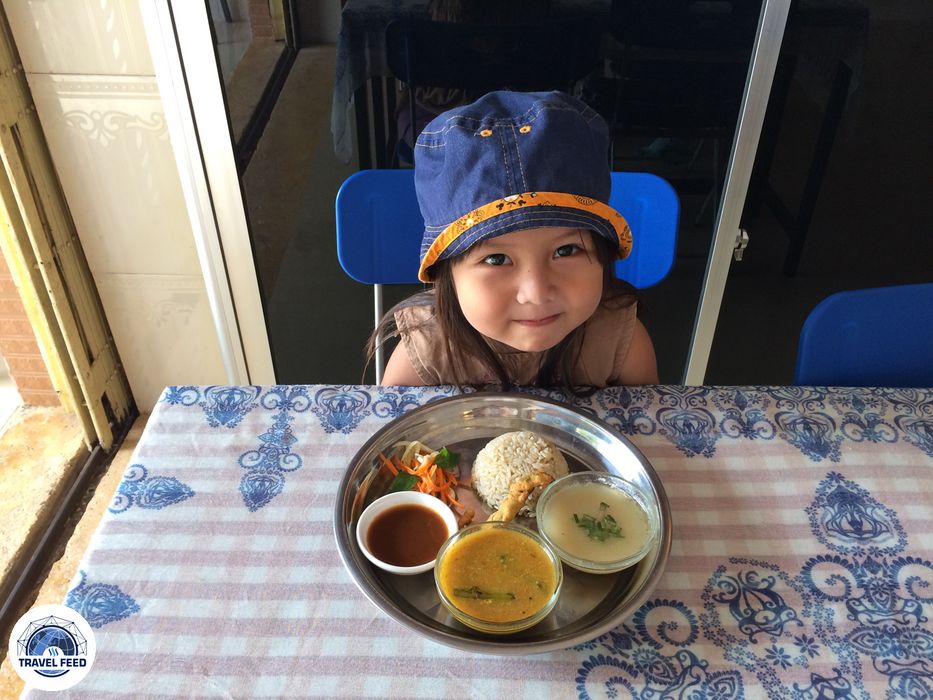 Experimenting with a ladies' half-size thali 🧘
---
It was a rough and busy life, but we really enjoyed making new and different dishes each day, and not being confined to a menu. We were never hungry when we ran the thali restaurant, and we loved meeting new people from all around the world everyday.
---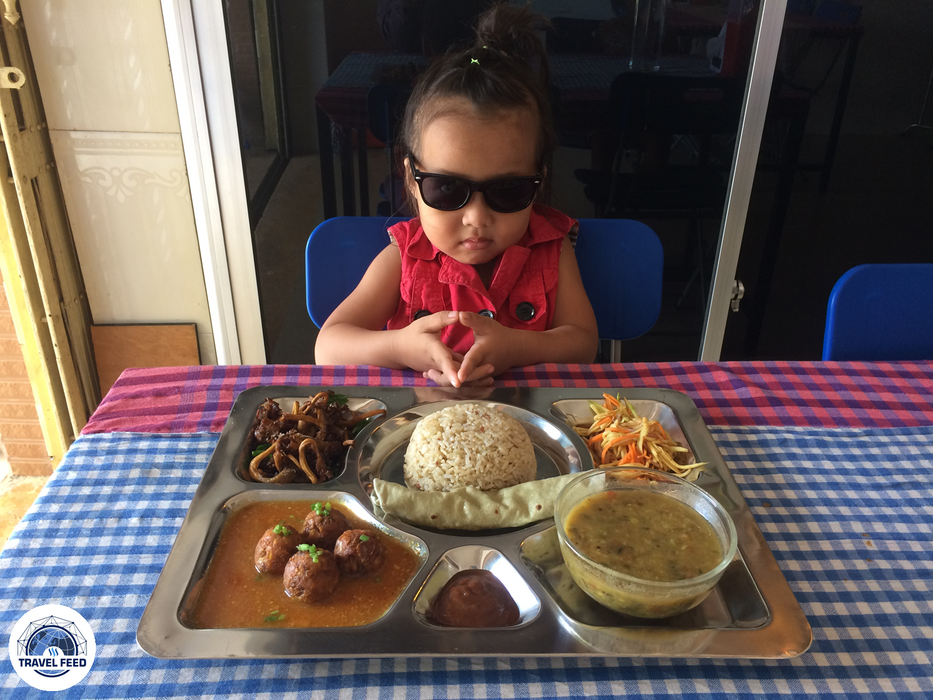 I think she called this the one the "gangster thali" 🕶️
---
We eventually closed the restaurant due to the loss of my residency permit of which I was unable to renew. It was very difficult to leave Cambodia, but we love our new home here in Suriname. This country has a lot of Javanese and Indian descendants from Dutch colonial times. Strangely enough Cambodia has a long history of cultural and religious ties with India and Java.
---
We are hoping to reopen our restaurant here in Suriname someday soon, and I think the Surinamese will take to our food very quickly. But a lot has to happen before we can make a restaurant in Suriname.
---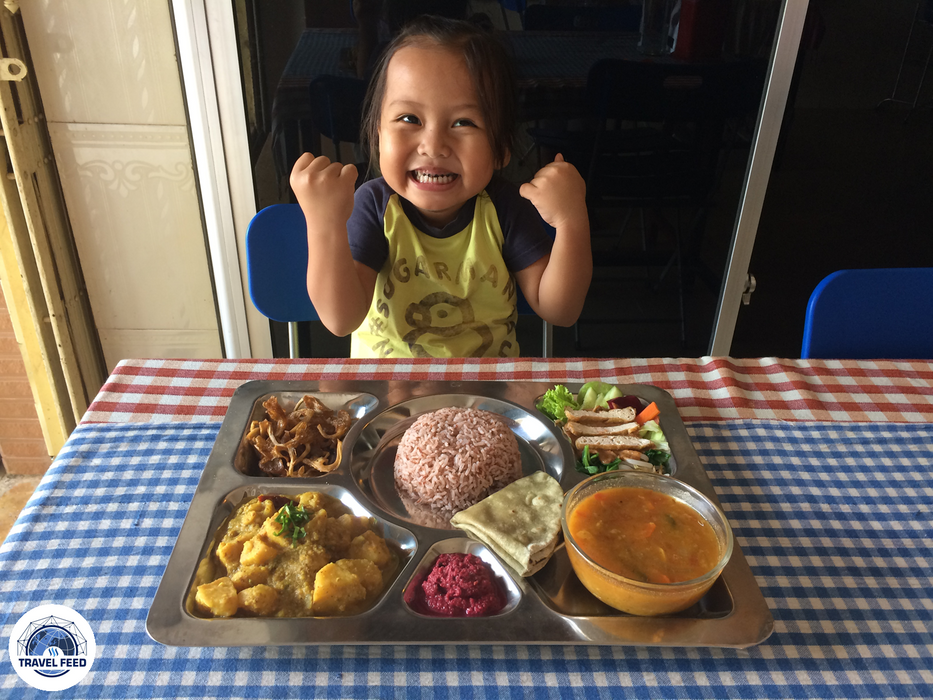 Put up your dukes; I'll fight you for this thali!! 🥊
---
The biggest joy we have from our restaurant in Cambodia are the memories. There are hundreds of photos of Sakana with our thalis, and it's only now I've looked at all of them and noticed how she has grown from a toddler to a young girl behind the thali.
---
Let me know what you think of this story.
If you have any questions, feel free to ask me.
I'll do my best to answer you.
I care a lot about what my followers and the Steemit community at large think -- so feel free to leave a comment.
Follow me @justinparke
---
Woohoo! I was the winner of a recent writing contest hosted by @invisusmundi. Take a look at that and also my most recent post.