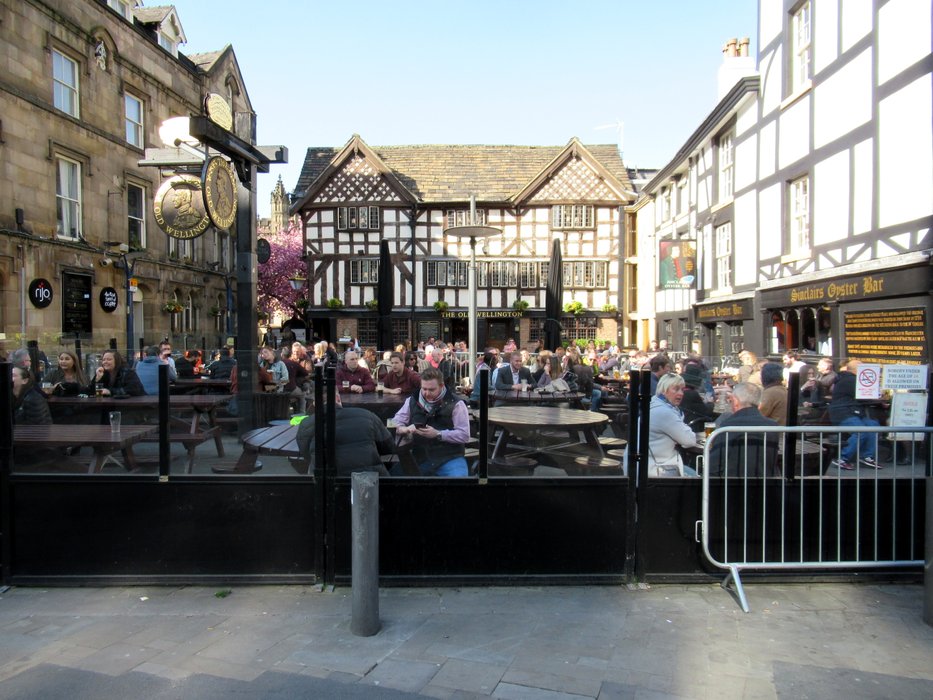 If you want to know a city, tour it with a local. I was staying with a good friend of mine in Openshaw, Manchester which is a short bus trip to downtown and the start of our daily adventures.
In the first photo, people are out in front of the pub enjoying the afternoon sun. You can see a flowering tree and part of the Manchester Cathedral in the background. Let's walk that way.
Manchester was a delightful surprise



I had said in a previous post that my first impression of Manchester was red brick. Now I would call it a city of surprises. And there is so much happening, I want to go back to see how it all turns out. I should mention this was my first trip to England and I haven't seen London yet. Would I have a different impression if I had seen London first? I don't know.
I got a kick out of this sign. The British have both a whimsical and comedic side.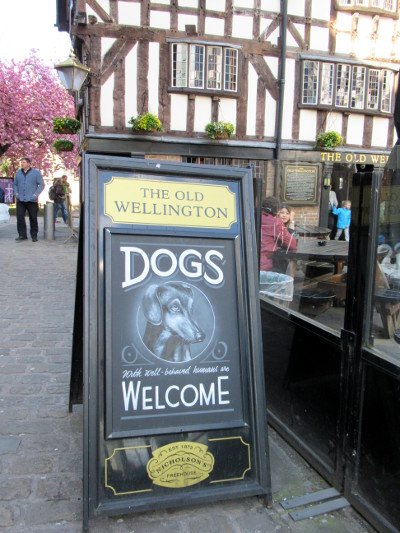 Next is the Manchester Cathedral, "center stage in the city's history for 600 years." I had recently discovered that my g-g-grandparents were married here. In fact, when it was the only church in town and people were flocking to this booming city for jobs, couples were lining up to get married.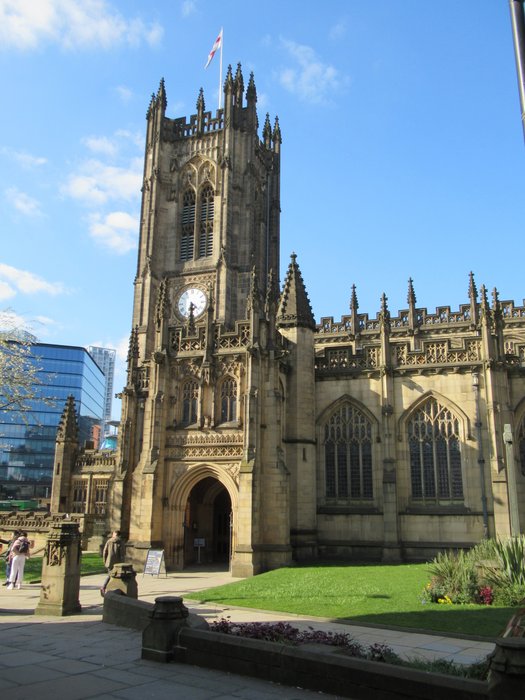 The Cathedral has seen a lot of change. Many old churches have private family altars along the sides but during the reformation, this was frowned upon and they were ripped out. The Cathedral's design was a little different to me too with the organ in the room's center and an inner room where the bishops sat during the services. That's where we are now in the next photo. I was surprised to hear they hold concerts and my friend saw Melissa Etheridge here in this wonderful intimate setting.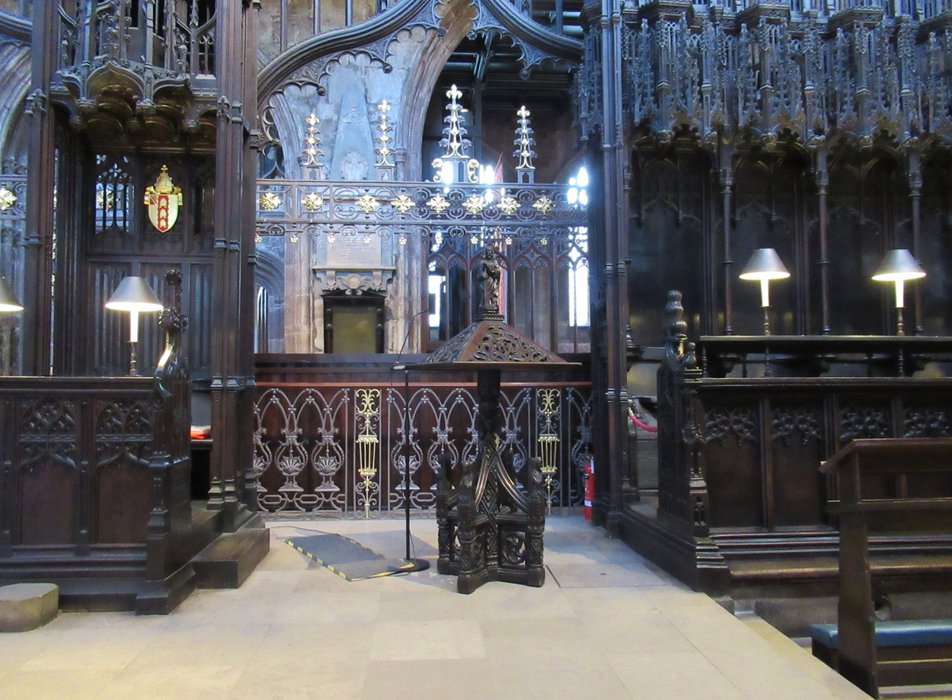 I will save the rest of my cathedral photos for another day. In the old streets, buildings were crammed together. It makes for interesting architecture and you don't expect to see things like a pub right across the street from a church, or a hanging ditch.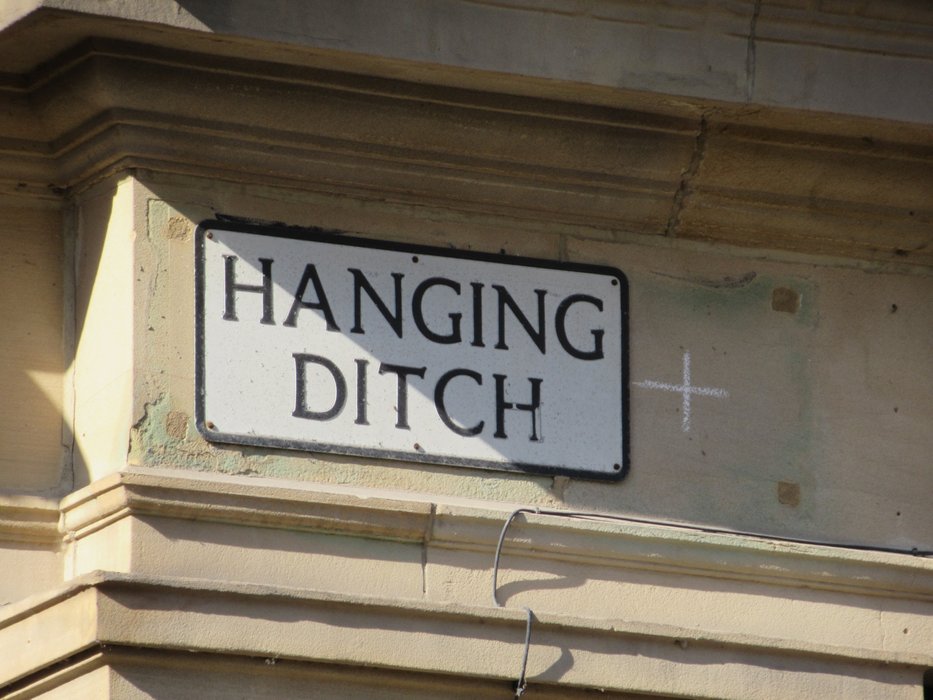 What is behind a place name? When the river was a little closer and the women used to wash clothes there, the clothes were hung up to dry in the hanging ditch.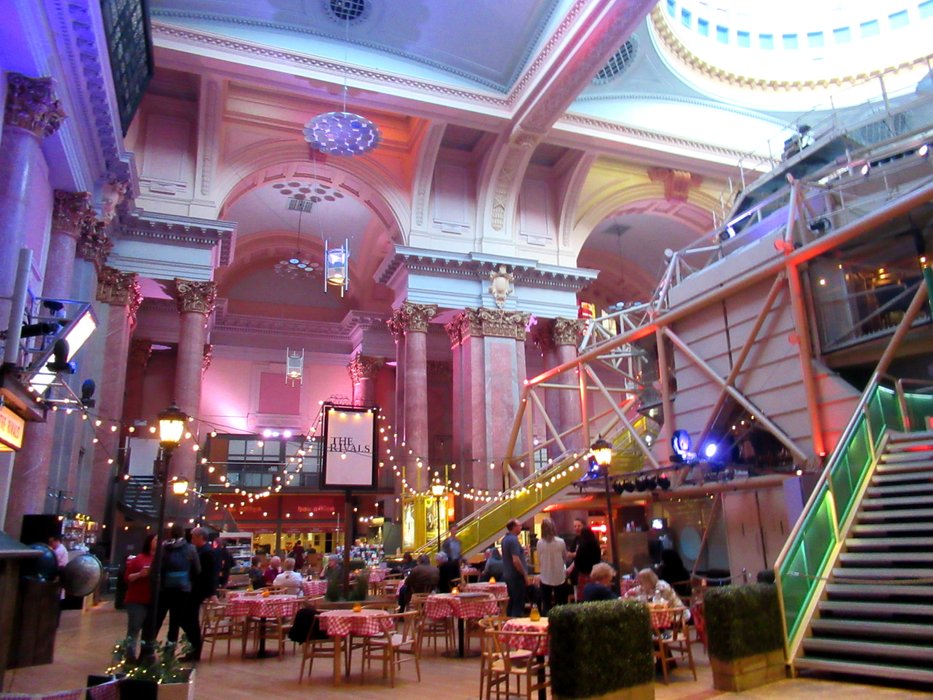 My friend led me through some old doors and into an art deco wonder. A theatre has been built in the center of the building and it's surrounded by restaurants. I think this had been the Corn Exchange.
It's not that they preserve all of their old buildings but some have been repurposed in interesting ways. Come and I will show you the Printworks.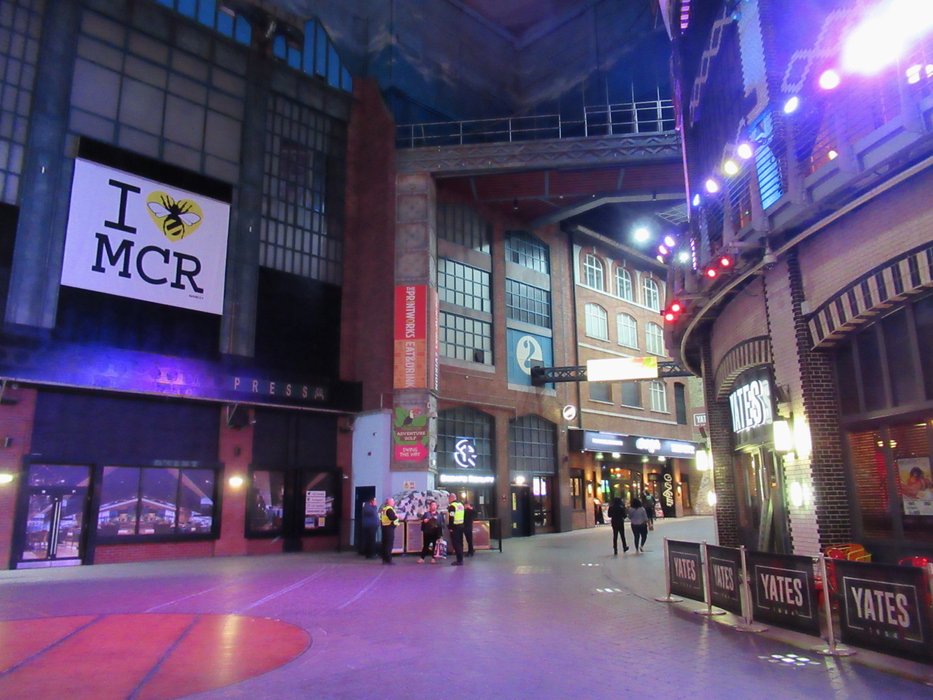 This was another time we walked through some doors and... if it feels like you are walking down an old street, it's because you are. They took a street that was in the old printing section of the city and turned it into an entertainment complex. The facades of all the buildings were preserved and the floor even has some of the old train line in it.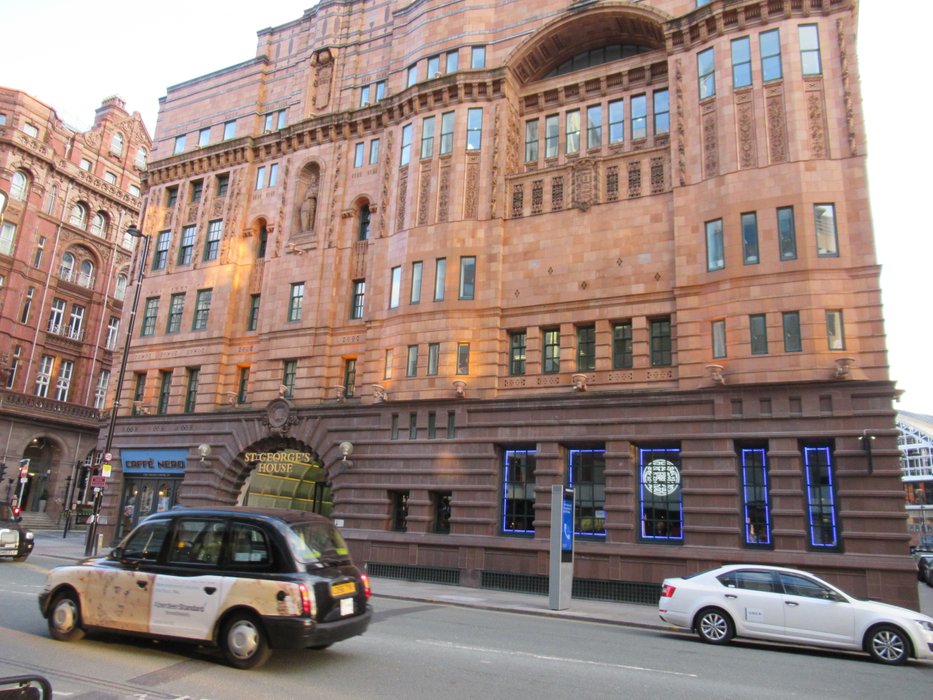 I love all of the red brick in this city.
There is nothing ordinary about it.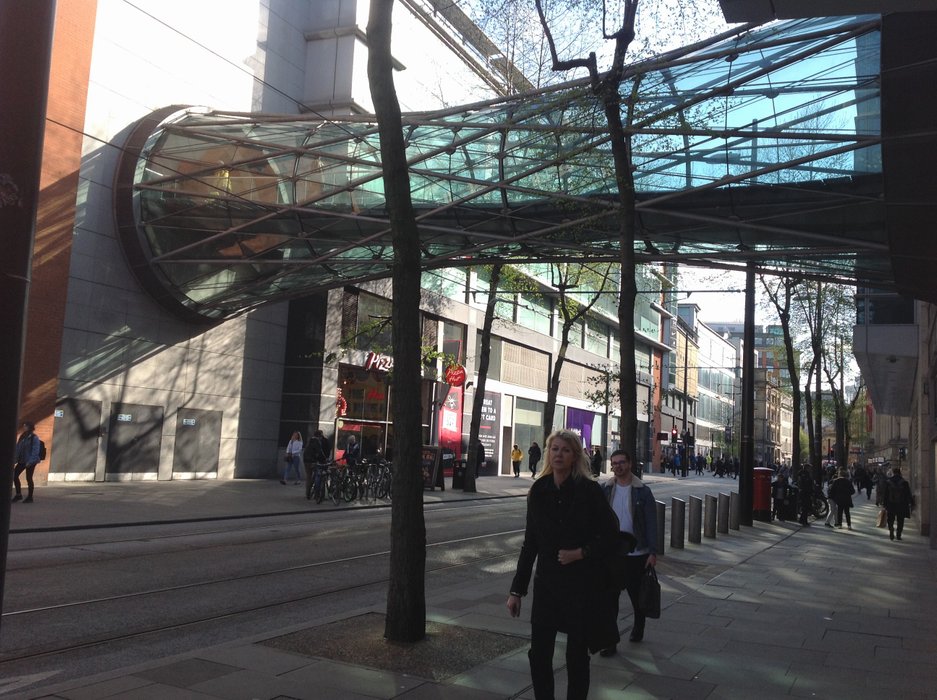 Now let's mix something new with the old, a small example. I wonder how much the architecture school has to do with the interesting design here. Manchester seems to know they must keep moving forward. There are a dozen cranes over the city skyline, a huge beautification project underway around the train station, and a new terminal being built at the airport.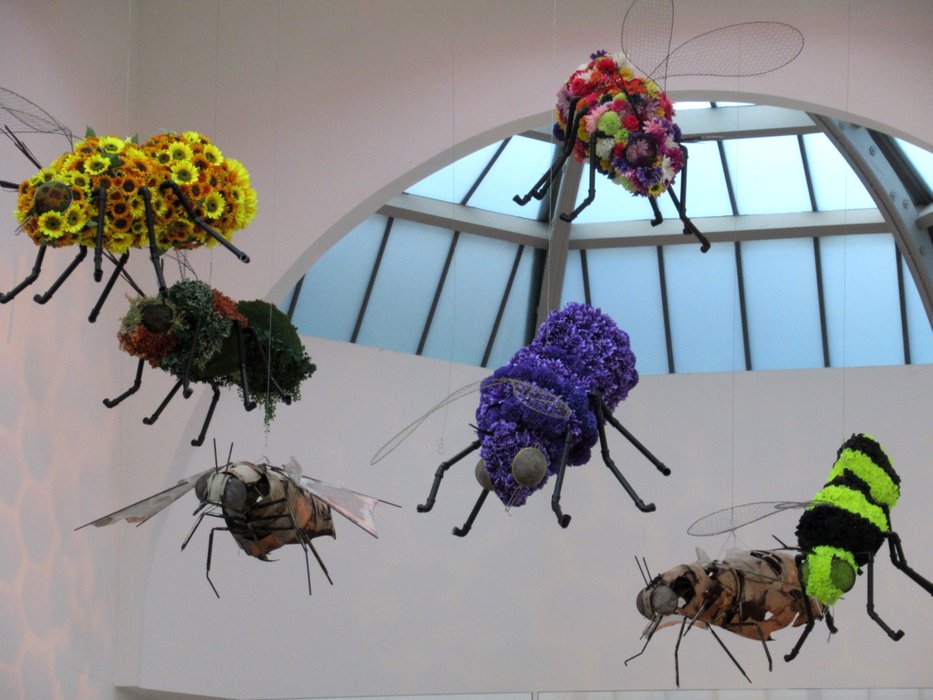 And when you enter a building, never forget to look up, another take on Manchester's worker bee symbol.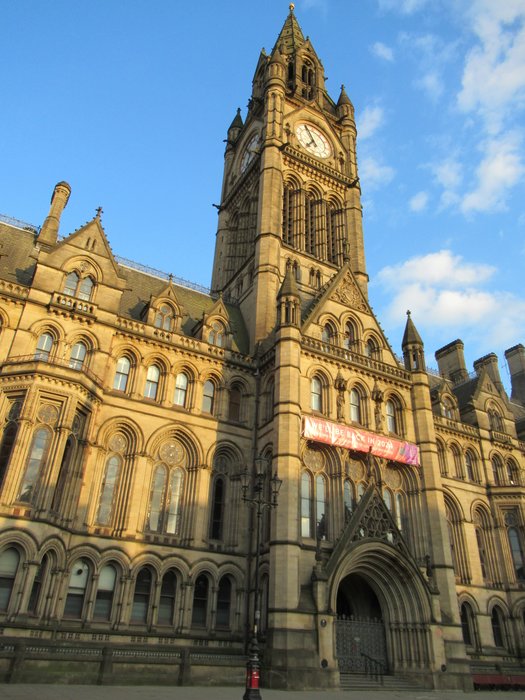 This is the city hall. Isn't it gorgeous?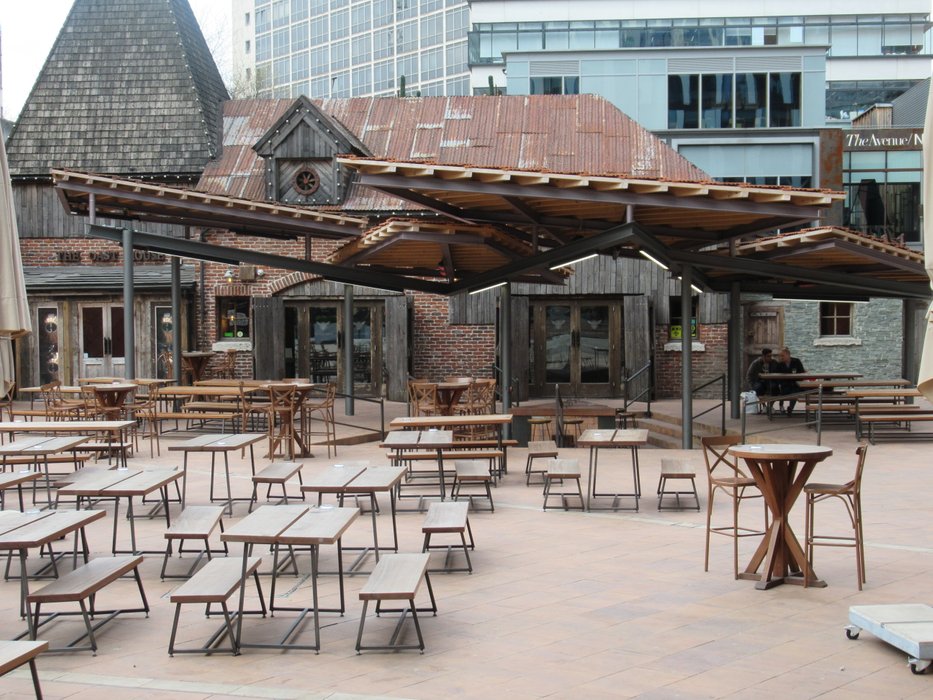 We were starting to get hungry and my friend wanted to show me this next pub but there was a lineup. It doesn't look busy but it was just cool enough that everyone had gone inside. In the evenings, you would be surprised to leave a completely empty street and walk into a completely packed pub!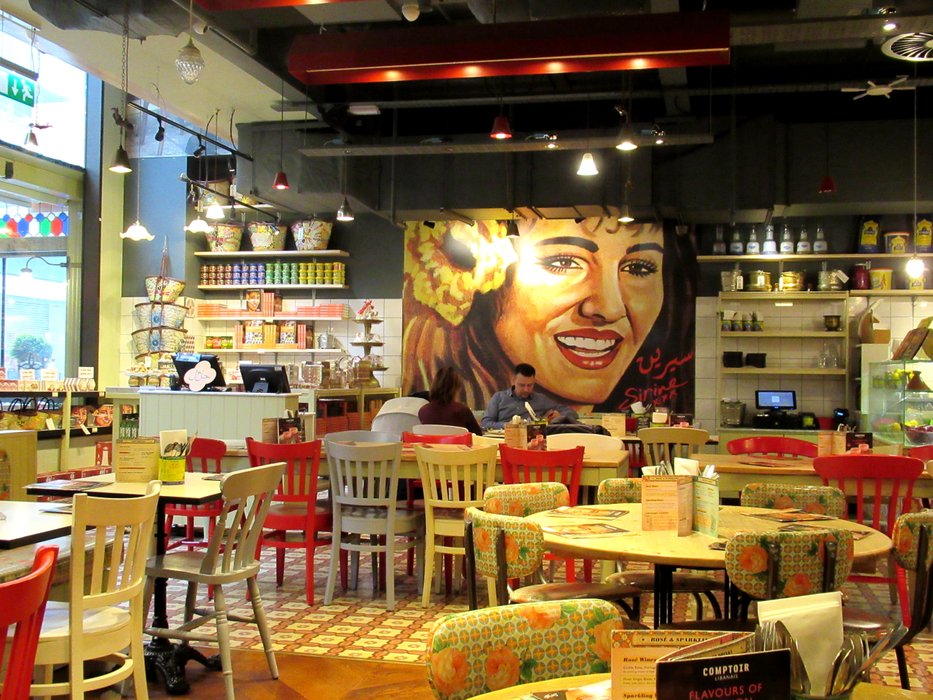 So we left and found this lovely restaurant.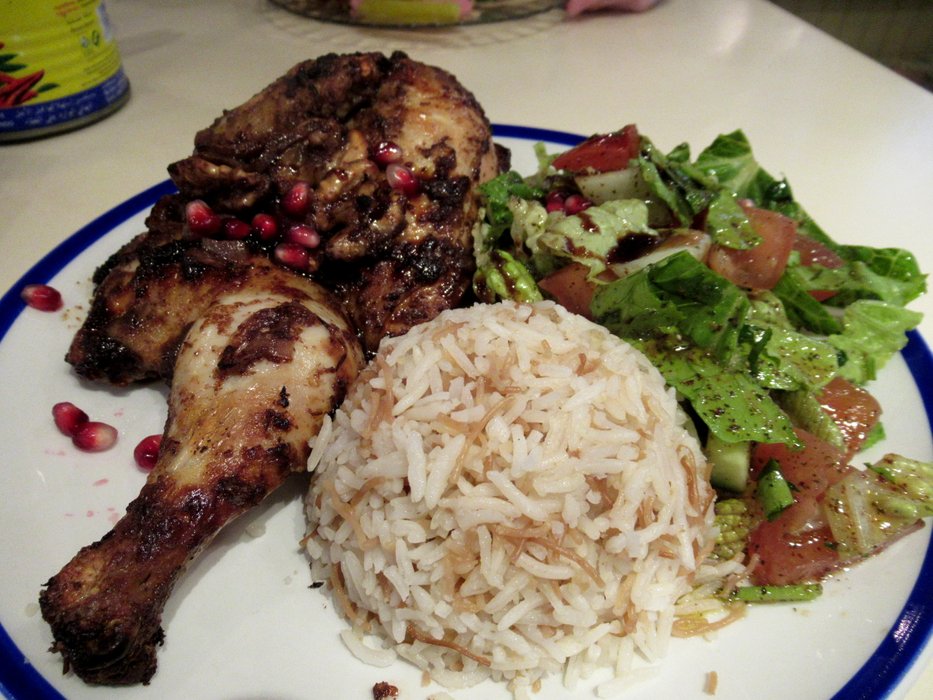 Yummy Lebanese food tonight. Nom, nom, nom.
We had an early start that morning so we decided to go home after dinner. Just so you know, we didn't do that every night. My friend made it her mission to show me all the oldest pubs and I have enough photos for a post of their own!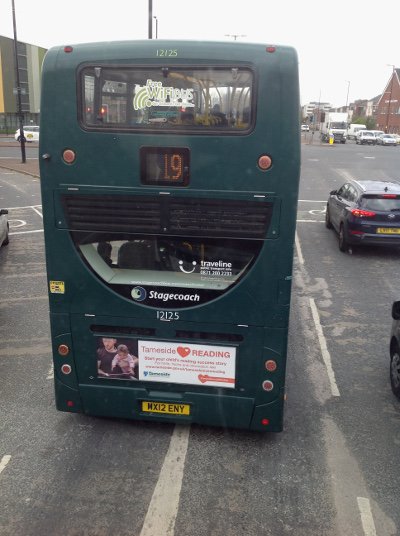 You don't realize just how far north you are and the sun stays up a little longer. We caught the bus home and did I mention the buses here are double-decker ones? I took this photo from the top of the double-decker.
References
Visit Manchester
Manchester Cathedral
The Printworks
Images
Photos from the Canon SX620 HS and iPad of @kansuze.


I hope you enjoyed our walk!
@kansuze