Not everybody knows Zermatt, a mondain Alpine village in the heart of Switzerland at 1700 meters altitude. But when you mention the legendary 'Matterhorn' mountain, all of a sudden people will know exactly what you are talking about.
But although everything around Zermatt was build around the view of the Matterhorn (which is actually impossible to miss because it is sticking right out of nothing, visible from every corner in Zermatt), the town itself actually has a lot more to offer than just its view.
Carfree
Zermatt is an entirely car free village, except for electro taxis and electro busses driving the visitors back and forth. I find this in general a good thing, not having to circle around cars everywhere. It does give a little bit of a Disney feeling to the town, as posh people are very willing to let themselves be driven around in electrotaxis for 15 bucks for just a brief 400 meters into the city center. Yes, Zermatt is a bit for the people who want to be seen, when you walk around in the the town.
So where do you park then? You can drive up to one village beforehand by the name of Täsch and park your car in a garage and travel the rest by train. Or travel entirely by train, it will also save you move for the autotrain getting to Visp beforehand. The trainride is 3 hours from Zurich.
Apres Ski
What is almost unusual for Swiss skiing areas was the great amount of good restaurants and bars in Zermatt center. So after a great day of riding, there is also enough fun when you are looking for a well deserved beer. The prices of this? Not any worse than in most Swiss towns (if you know what I mean)
Skiing
And then the reason why I went to visit Zermatt. The skiing itself. With an astonishing 200 kilometers of piste, also connected to the Italian Breul Cervinia this region has something for everyone. Overal, I would say that beginning skiers are not in the best of place here. The majority of the slopes are of red difficulty and also offpiste there is enough to see and do, but for beginners I would choose another destination also because of the prices of the passes (79 CHF per day)
But if you are ready for some serious grinds of long distances, Zermatt is your place to be. My tracker told me that our average descend was between 5 and 6 kilometers per run, which is a lot!
On the Italian side you even have a descent from 3800 meters altitude all the way into Valtournenche at 1500, a run of 22 kilometers straight. That is just skiing porn!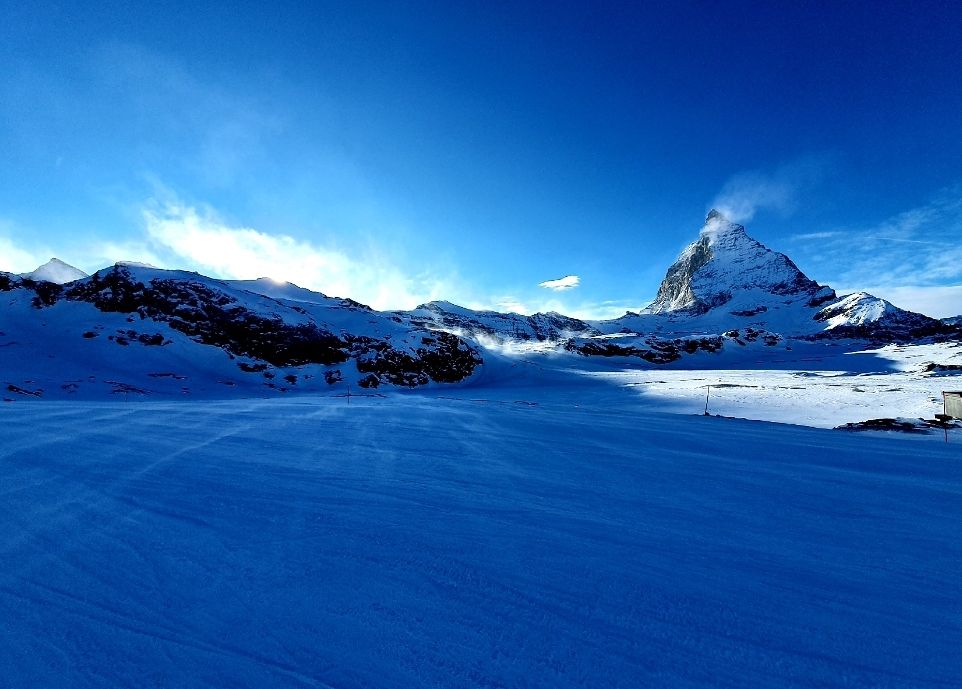 So many strong point on Zermatt which on the other side is also their weakness. Because of the altitude it is very prone to strong winds. And what happens with strong winds in mountains? Yes, lifts close because it is dangerous and that happens in Zermatt a lot. Over the weekend when I was there on Saturday all lifts were closed because of 120km/h winds over the mountain tops and on Sunday when I was travelling towards 3800 meters to ski there (damn high right!!!) also all of a sudden the lifts closed because of the winds, making it impossible to travel to the Italian side (kind of sucks of you are already on the wrong side. A drive to get home then is 150 kilometers).
Being on this altitude was really kind of spooky with these winds flying over, so I got myself down to lower levels ASAP. But apart from it being spooky, it was also very magical being almost alone so high with waves of snow passing by. Weird moment!
All in all, Zermatt is a winner which I would love to go back to! The vibe in the village in combination with the fantastic skiing possibilities are surely something that any ski lover should check out at least once!