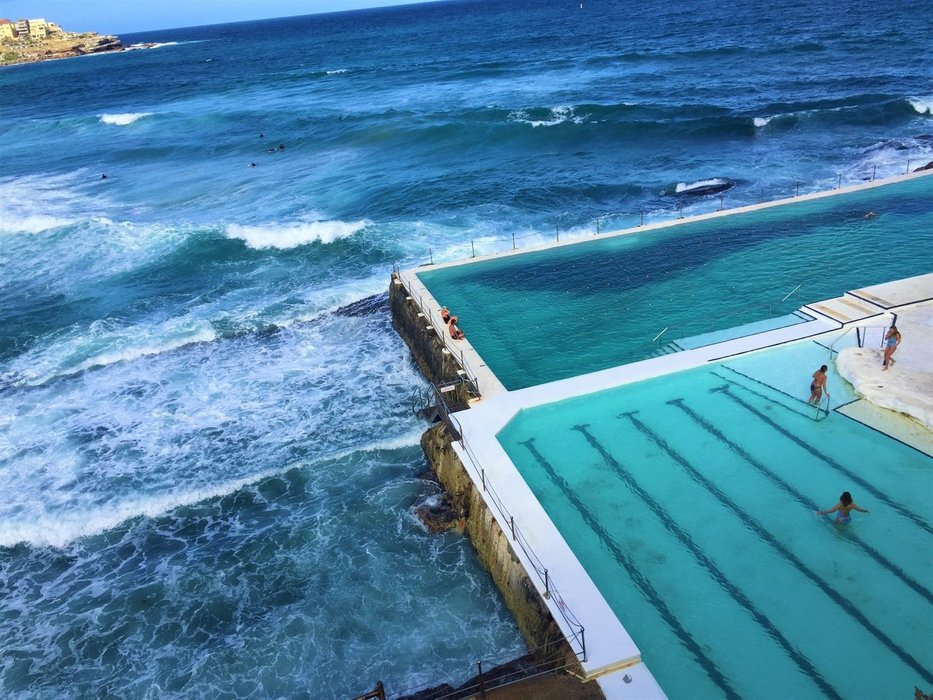 Our first stop in Sydney was the Bondi Icebergs Pool. No wonder, my sister and I are swimming since we were 6 years old and we have done many years of performance swimming. So the amazing swimming pools in Sydney were on the top of our travel list. The Bondi Icebergs pool is located on the Bondi beach, surrounded by the sea. So you can swim in the pool while watching the waves. A dream! Unfortunately, the weather was not so nice when we were there.
To be honest, it was so cold that day that we paid for admission and walked a few inches into the pool, that's about it. Also, the wind was extremely strong and the water in the pool very cold because every few seconds seawater was flushed into the pool. Although we knew already that the pool is right on the sea, we were surprised with what a force and mass the waves were washed into the pool. Still, the view has compensated all that. You get only the slightly different view of the Bondi Beach if you go into the pool and pay entrance fee. I am convinced that it is worthwhile, especially in summer!
Another plus: Directly closer to the pool you can watch more experienced surfers surfing. In this area you hardly see beginners surfing, because the waves are already very high and there are dangerous rocks in front of the pool.
The pool was still great. It's been around for over 100 years and it's open all year round. Only on Thursdays it is always closed. Incidentally, the Bondi Icebergs Club was named after a group of locals who also go swimming in the winter. There is a larger swimming pool for adults and a smaller one for children. Admission for adults is 6.50 Australian dollars.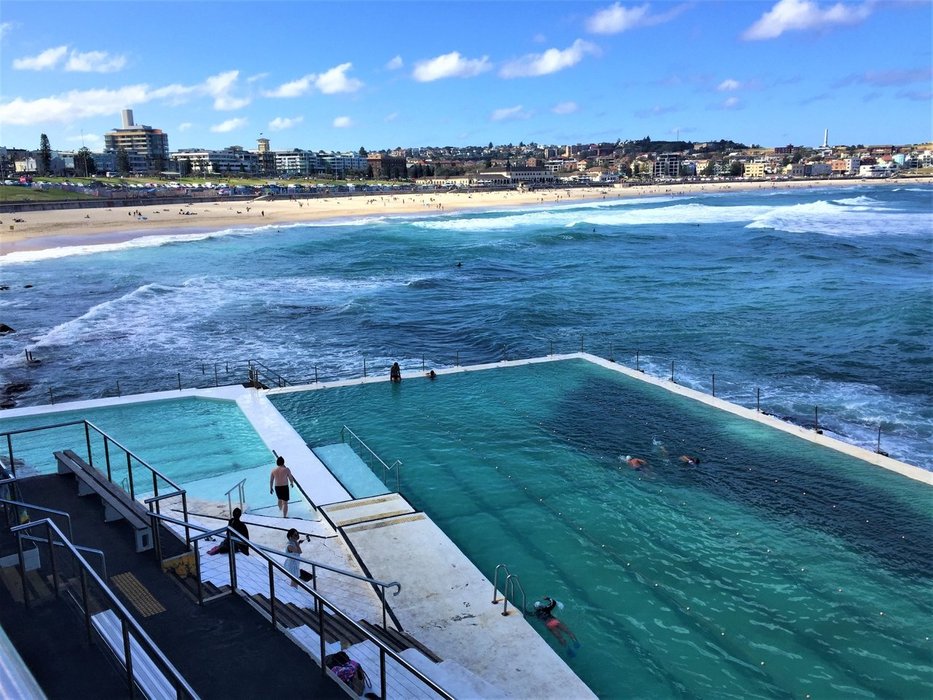 In addition to the ice blue pool, the Bondi Icebergs Club building is a real eye-catcher. The white façade and picture windows allow visitors to enjoy a breathtaking view of the legendary Bondi Beach and the roaring surf that the Icebergs Pool is embedded in. Incidentally, the Club Restaurant not only gives you a great view of the bay, but also serves Australian seafood and other specialties.
If you enjoyed my post I would be very happy about an upvote :) See you soon!