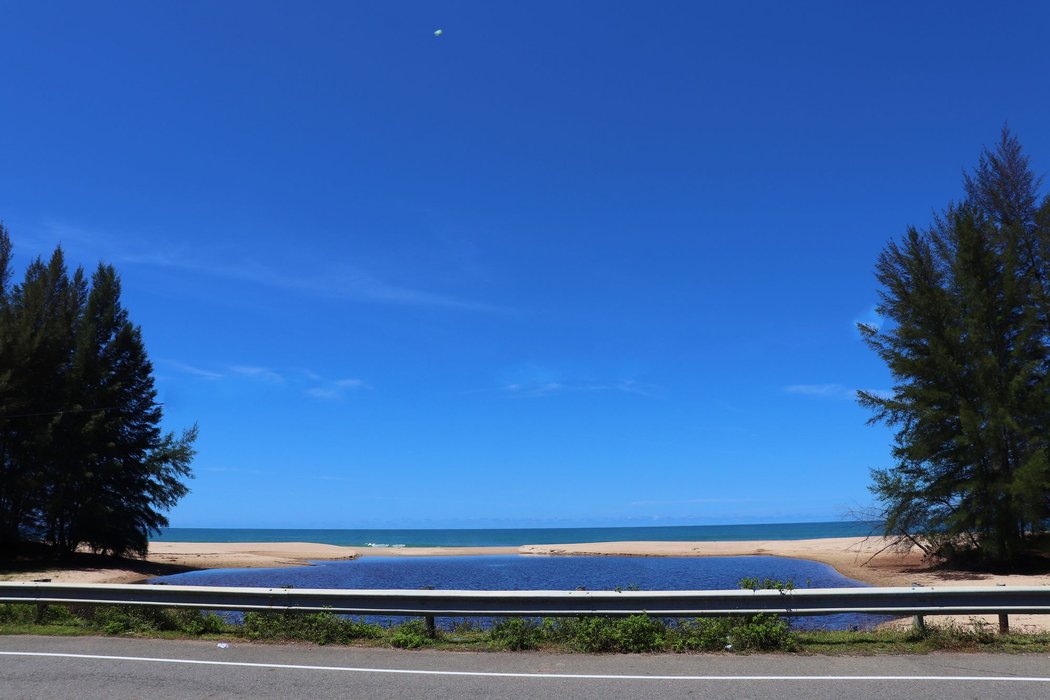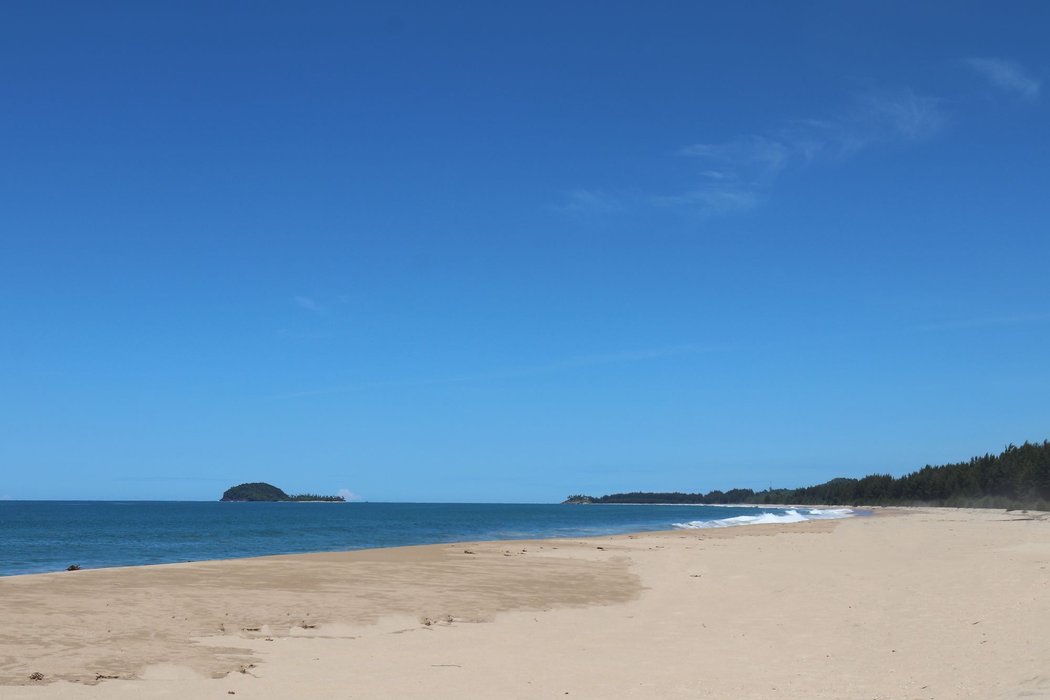 English
Relating to what I have said in my post last night about the unnamed beach that I met while my trip. I try to continue and explain about it. This beach is near to the Malem Hill and across the road, there are food stalls for west and southern travelers. But from some people I met there said this beach really doesn't have a name. Why this beach still does not have a name ? I am more curious about it, so I try to search it on the internet.
My shot in the noon, watch the blue ocean 1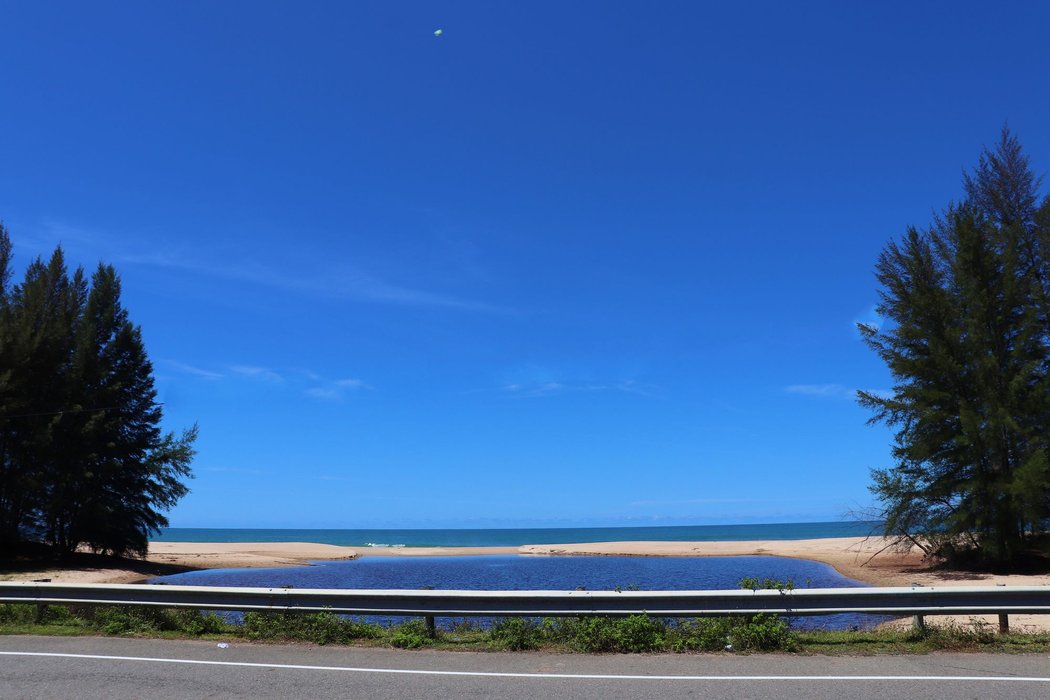 ---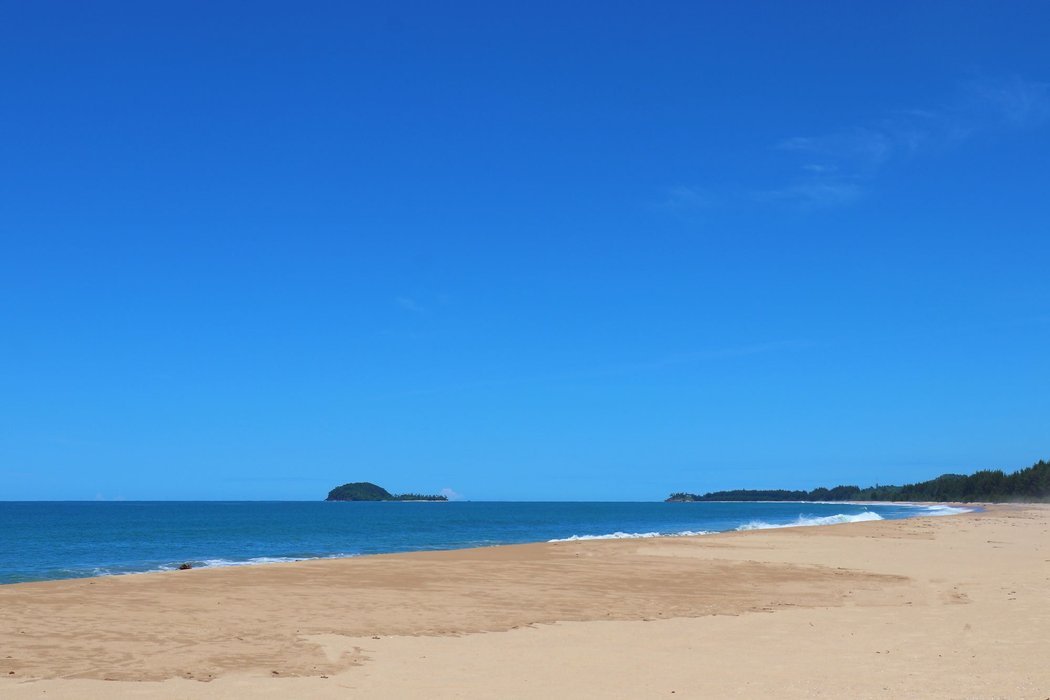 This location is located in Sawang, Setia Bakti District, Aceh Jaya, Indonesia. But if you check on @steemitworldmap this beach has not been marked as a beach, please try to click the coordinates below, [. What do you see? From the coordinates, there is only one sign there, just name of the al-Ikhas Mosque, while the beach I mean there has not been marked at all.
My shot in the noon, watch the blue ocean 2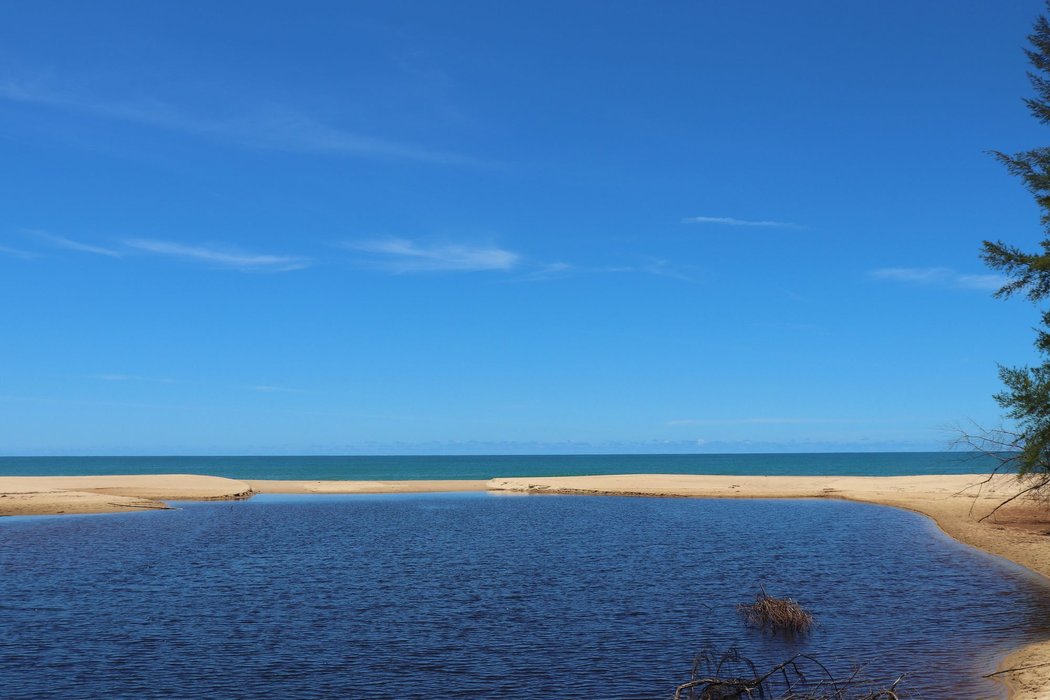 ---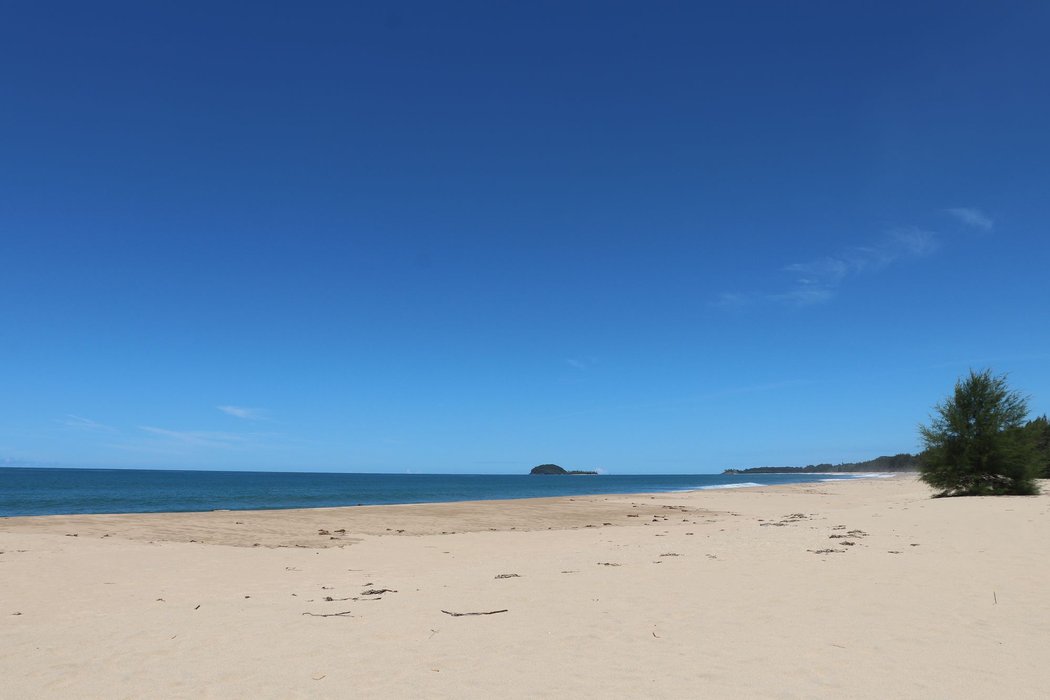 From the great waves and the hard noise of the wind here, it's explained the sea on the beach was very deep and dangerous. Need high alertness and excessive courage to try swimming here. You must know the distance between the beach and the village are very far, so if something unexpected happens to you, it is very difficult to ask for help. So, don't swim here alone and you must full safety kits.
This beach is very natural, of course, this beach is very clean, only a few pieces of weathered wood that appear on the surface of the sand, maybe because crashing waves. The view on the beach is very wide, and the grove of pine trees on the beach (behind me when taking this photo) makes this beach location very comfortable but still mysterious.
My shot in the noon, watch the blue ocean 3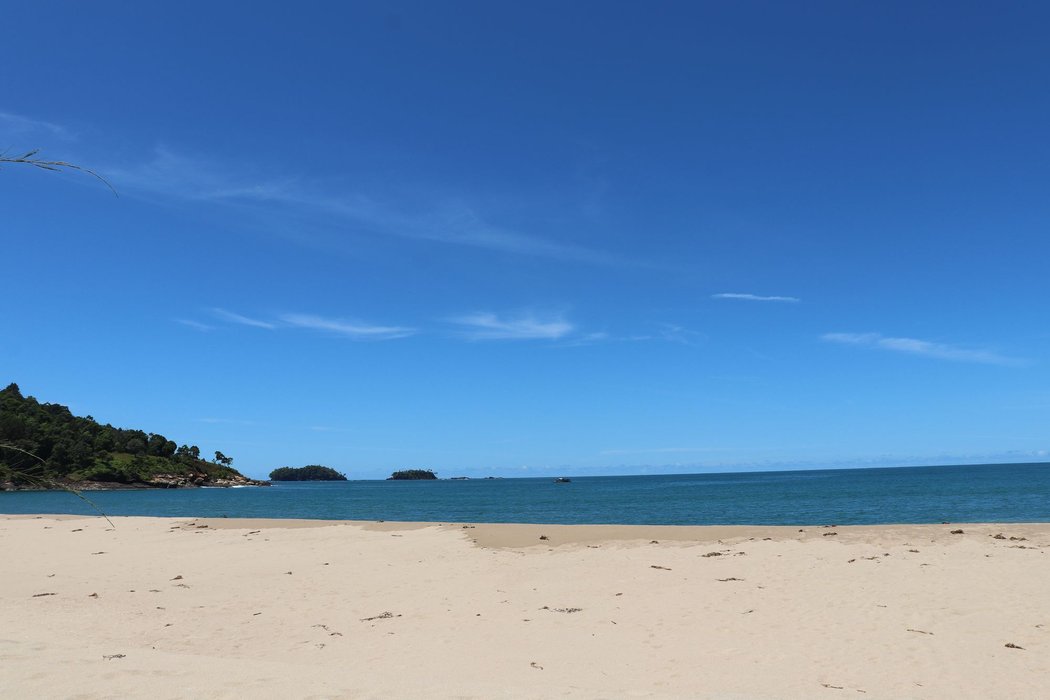 Look at the long coastline, this reminds me of a first Baywatch movie series, the long Hawaii beach and thousands of people enjoying it by bathing, sunbathing and other activities. But let this beach be a mystery with its beauty, some local policies here only allow you to enjoy it as a view, not plunge there or bath. The great traveler is who respects the culture and local policies where he visits. Are you agree?
Some beauty that I show here is the original of my own work. I still need a lot of learning to take good angles and how to describe a photo to be better later. Some inspiration in my writing method came from sir @r2cornell and @wolfhart. I am very grateful for this. About special objects and local culture, I like to read @slowwalker posts. Thank you for this valuable knowledge.
Here some shot before sunset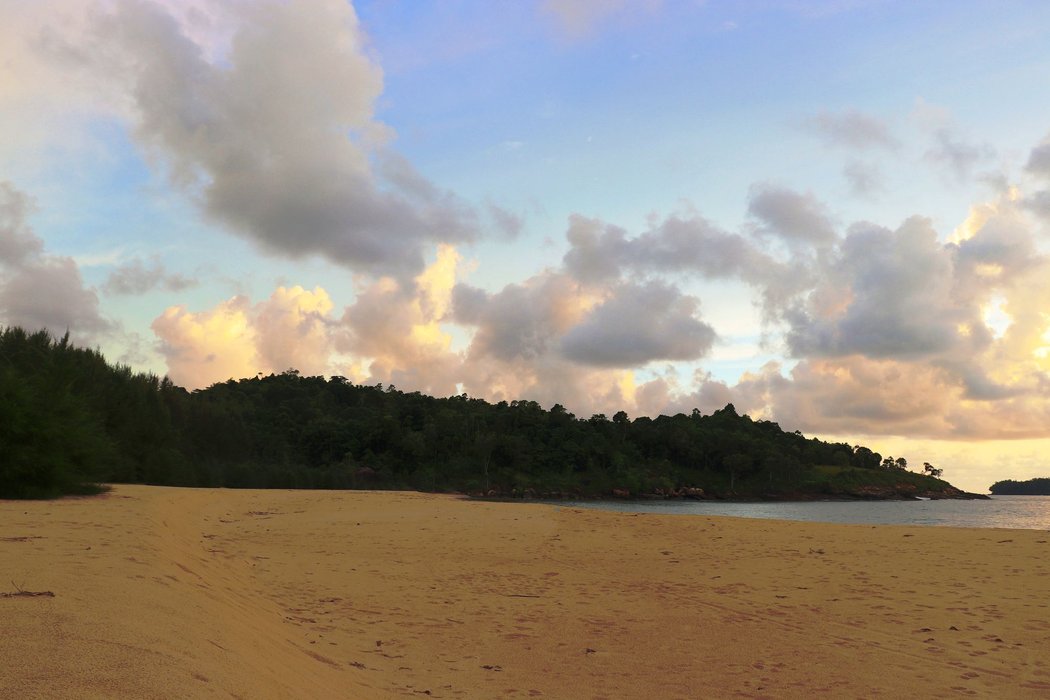 ---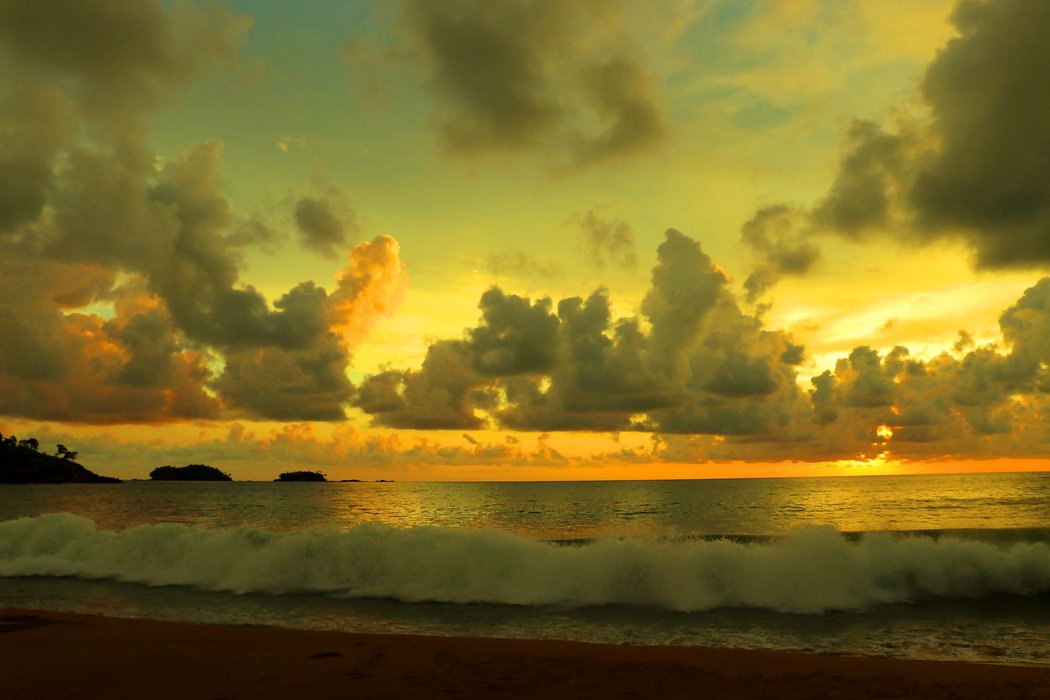 "Paddle your own canoe".
I got this wise term when I tried to find a suitable sentence to remind content creators to prioritize originality in their posts. I think this sentence is right. Give your best work and your own efforts to present here. Isn't that better ? However, nothing instant here and everywhere. All thing come and born by the process. And the boat that you are using is your own boat, you are your own paddle, the beach of reward where you go will be special for you next. Stop Plagiarism, Stop Farming, Stop Abuse and Be C4 (community, creativity, Content, and Consistency). Thanks for reminding us @michealb.
Here my shot when sunset comes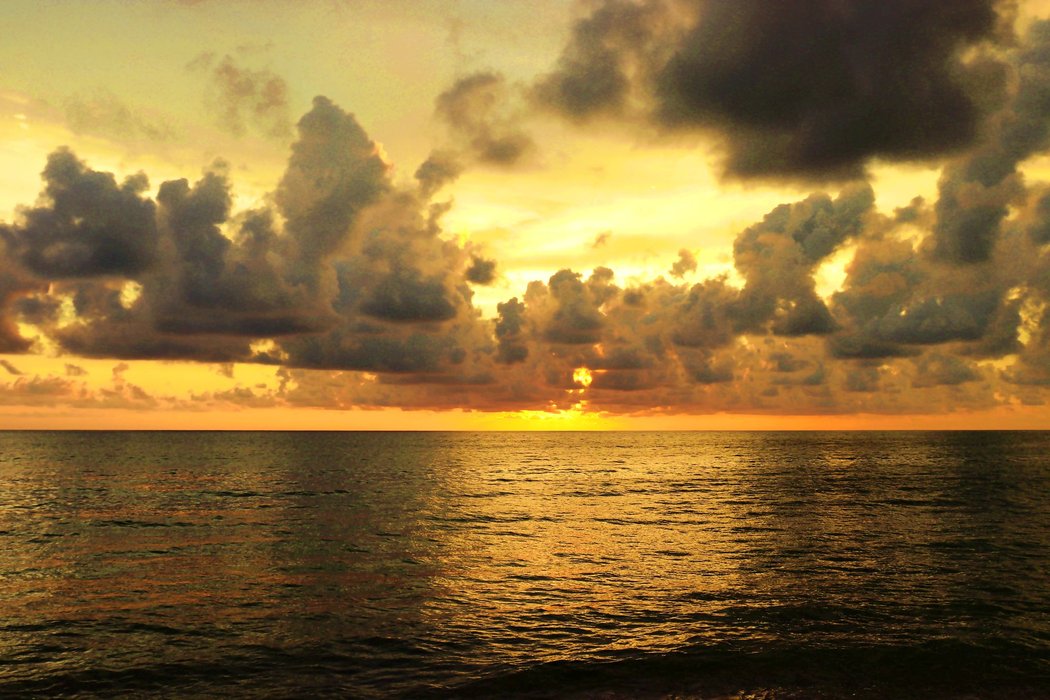 ---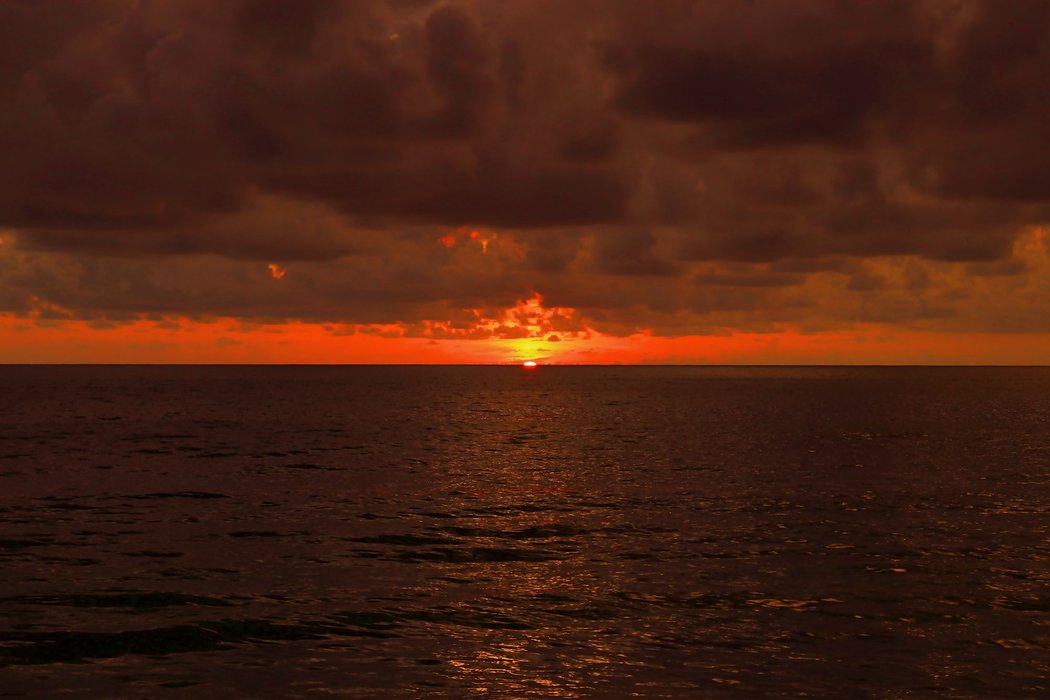 And for you steemian from Indonesia, let's join @steem-indo and you will get valuable benefit by delegation program, it's related with our motto "dari kita untuk kita". You can read more info in the @steem-indo post. Some benefits OK, relationships are built each us is OK, curated 24 hours once a day. So, hurry up before this opportunity lost. More questions contact me and @khanza.aulia in the discord. Thank you.
How do you think about my shot ? Feel free to comment if you have some correction, suggestion and opinion. Blessing.
Regards
All Pictures taken original by me, using my Canon EOS 800D, Location : Unnamed beach, Aceh Jaya, Indonesia
Bahasa Indonesia
Sehubungan dengan apa yang telah aku utarakan dalam postingan terakhirku tadi malam tentang pantai yang aku jumpai dan belum bernama itu. Pantai ini berdekatan dengan Bukit Malem dan di seberang jalan dekat pantai ini juga ada warung makan bagi para pelintas jalur selatan. Namun dari beberapa orang yang aku temui mengatakan tidak ada nama untuk pantai ini.
Lokasi ini terletak di Sawang, Kecamatan Setia Bakti, Aceh Jaya, Indonesia. Akan tetapi jika kamu mengecek di @steemitworldmap pantai ini belum di tandai sebagai pantai, coba klik koordinat berikut ini ? [(. Dari yang kamu liha dari titik koordinat itu, hanya ada satu tanda yaitu Nama Masjid al-Ikhas. Sedangkan pantai itu belum ditandai sama sekali.
Deburan ombak yang besar, serta riuhnya suara angin menjelaskan bahwa laut di pantai ini sangat dalam. Perlu waspada tinggi dan keberanian berlebih untuk menjajalnya. Jarak antara pantai ini dengan perkampungan juga sangat jauh, jika terjadi hal yang tidak diinginkan, maka sulit sekali meminta tolong.
Pantai ini sangat sangat alami, sudah tentu pantai ini sangat bersih, hanya ada beberapa serpihan kayu lapuk yang muncul di permukaan pasir karena terhempas ombak. Pandangan di pantai ini sangat luas, dan rerimbunan pohon cemara di pinggiran pantai (atau di belakangku saat mengambil foto ini) membuat lokasi pantai ini sangat nyaman tapi masih misterius.
Lihatlah garis pantai yang panjang, ini mengingatkanku pada sebuah serial baywatch dulu, pantai hawaii yang panjang serta ribuan orang menikmatinya dengan mandi, berjemur dan aktifitas lain. Tapi biarlah ini pantai menjadi misteri dengan keindahannya, beberapa kebijakan lokal disini hanya mengizinkan anda untuk menikmati sebagai pemandangan, bukan terjun kesana.
Beberapa keindahan yang aku tampilkan disini adalah original karyaku sendiri. Saya masih perlu banyak belajar untuk mengambil sudut yang bagus dan bagaimana mendeskripsikan sebuah foto agar lebih baik lagi nanti. Beberapa inspirasi dalam metode penulisan saya datang dari sir @r2cornell dan @wolfhart. Saya sangat berterimakasih atas hal ini. Jika berkaitan dengan objek khusus dan budaya setempat aku senang membaca post dari @slowwalker. Terimakasih atas ini ilmu.
"Dayunglah perahumu sediri"
Istilah ini aku dapat ketika mencoba mencari kalimat yang cocok untuk mengingatkan agar para content creator mengutamakan originalitas dalam postingan. Aku pikir kalimat ini tepat sekali. Berikan karya terbaikmu dan hasil usahamu sendiri untuk ditampilkan disini. Bukankah itu lebih baik, bagaimanapun tidak ada yang instant disini. Semua melalui proses. Dan perahu yang kamu gunakan adalah perahu sendiri, kamu dayung sendiri, pantai reward tempat yang kamu tuju akan menjadi istimewa buatmu. Stop Plagiat, Stop Farming, Stop Abuse dan be in C4 (community, creativity, Content and Consistency).
Dan bagi kamu steemian indonesia, mari bergabung di @steem-indo dan kamu akan sangat diuntungkan dengan program delegasi "dari kita untuk kita". Info lebih jelas dapat kamu baca pada postingan @steem-indo. Untung pasti, relasi terbangun, selalu dapat lirikan 24 jam sekali. So, buruan sebelum peluang. Pertanyaan lebih lanjut hubungi saya dan @khanza.aulia di discord. Terimaksih.
Terimakasih dan salam hangat
---
Location information
● Sawang, Setia Bakti, Aceh Jaya Regency, Aceh, Indonesia
Related link
●
https://www.steemitworldmap.com/
●
https://www.google.com/maps/place/4%C2%B044'36.3%22N+95%C2%B029'53.0%22E/@4.7434093,95.4958617,742m/data=!3m2!1e3!4b1!4m6!3m5!1s0x0:0x0!7e2!8m2!3d4.743404!4d95.4980477
---