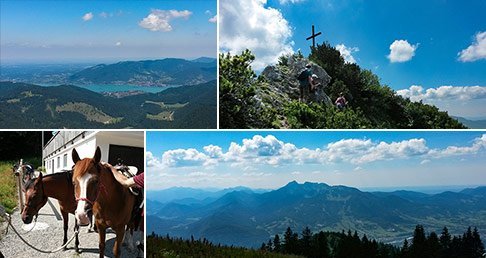 Ochsenkamp, Auerkamp und Spitzkamp heißen die drei Berge südöstlich von Lengries, die eine wunderschöne abwechslungsreiche Wanderroute bieten. Die Tour lässt sich noch erweitern mit einer Überquerung des Seekarkeuzes und den Abstieg über die Lengrieser Hütte. Wer mit öffentlichen Verkehrsmitteln unterwegs ist, hat die Möglichkeit in Bad Wiessee zu starten und durch den Stinkergraben aufzusteigen. Ein Gebiet, dass seinen Namen durch eine Schwefelwasserquelle bekommen hat. Diesmal waren mit dabei:
@freiheit50
, der die Tour ausgewählt und sich als hervorragender Bergführer erwiesen hat, und
@bobbyboe
, der uns mit seinem Fotografenwissen gute Tipps geben konnte.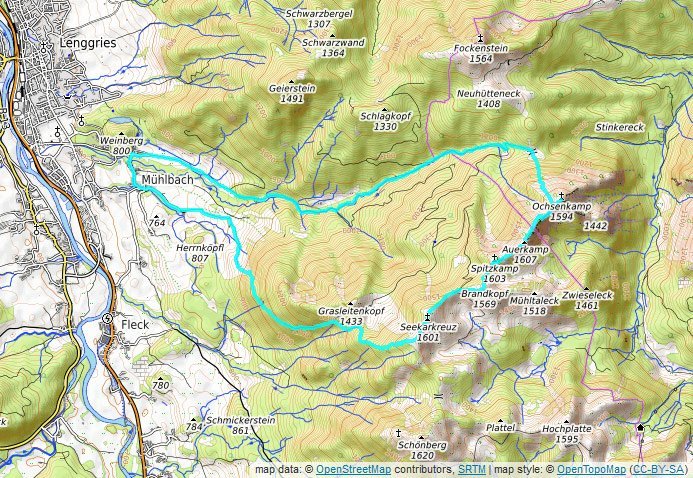 Bei Klick auf die Bilder wird eine größere Version angezeigt.


Wir starten beim Wanderparkplatz in der Hohenburgstraße bei Lengries und folgen der Forststraße die sich gemütlich entlang des Hirschbachs durch einen Wald nach oben schlängelt. Bei der ersten größeren Abzweigung biegen wir nach links ab in Richtung Fockenstein/Kampen.


Schließlich kommen wir aus dem Wald heraus und können unser erstes Ziel, der Ochsenkamp schon rechts über uns erblicken. Jetzt beginnt der interessante Teil der Wanderung. Der kaum erkennbare Pfad im rechten Bild ist der Einstieg in den Berghang. Der Pfad ist eng, steil und auf beiden Seiten mit kleinen Bäumen und Sträuchern verwachsen.


Schon bald haben wir den Ochsenkamp erreicht, von dem man eine tolle Sicht auf den Tegernsee hat.


Auch das restliche Panorama ist traumhaft schön.


Gestärkt durch eine leckere Brotzeit geht es kurz danach weiter zu den weiteren Kampengipfeln. Breite und schmale Stellen wechseln sich ab und manchmal darf man sogar ein bisschen klettern.


Obwohl wir gar nicht so lange weitergewandert sind, sieht die Aussicht auf dem Auerkamp ganz anders aus. Auf der rechten Seite im Tal ist Lengries zu sehen.
Danach geht es über den Spitzkamp ein Stück nach unten, und mit einen kurzen Abstecher über eine Viehweide auf den Brandkopf.


Da wir bei der Lengrieser Hütte vorbeischauen möchten steht noch ein weiterer Gipfel auf dem Programm. Der fünfte dieses Tages: das Seekarkreuz. Es erwartet uns wieder eine ganz neue Aussicht.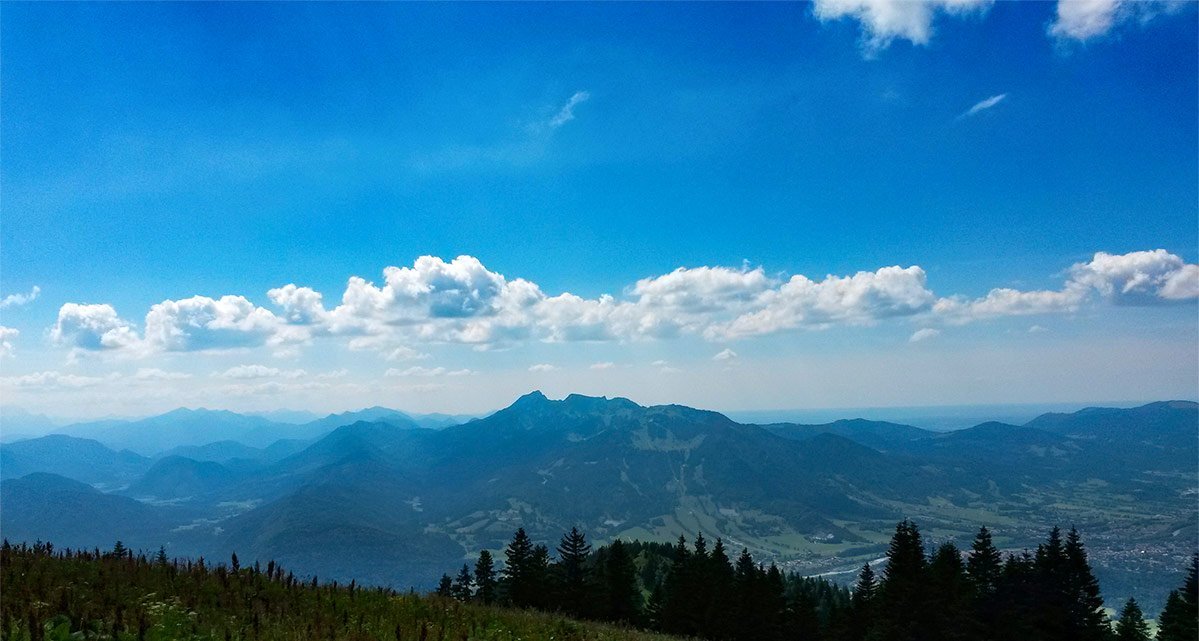 Im Westen sind die Berge um das Brauneck sehr schön zu sehen.


Die zwei Spitzen im Südosten sind Buchstein und Rosstein, auf die ich im Jahr zuvor schon geklettert war. Der bleiche hohe Berg im Hintergrund ist der Guffert. Weiter gehts mit dem Abstieg zur Lengrieser Hütte...


die wir kurze Zeit später erreichen und uns erst mal ein kühles Getränk gönnen.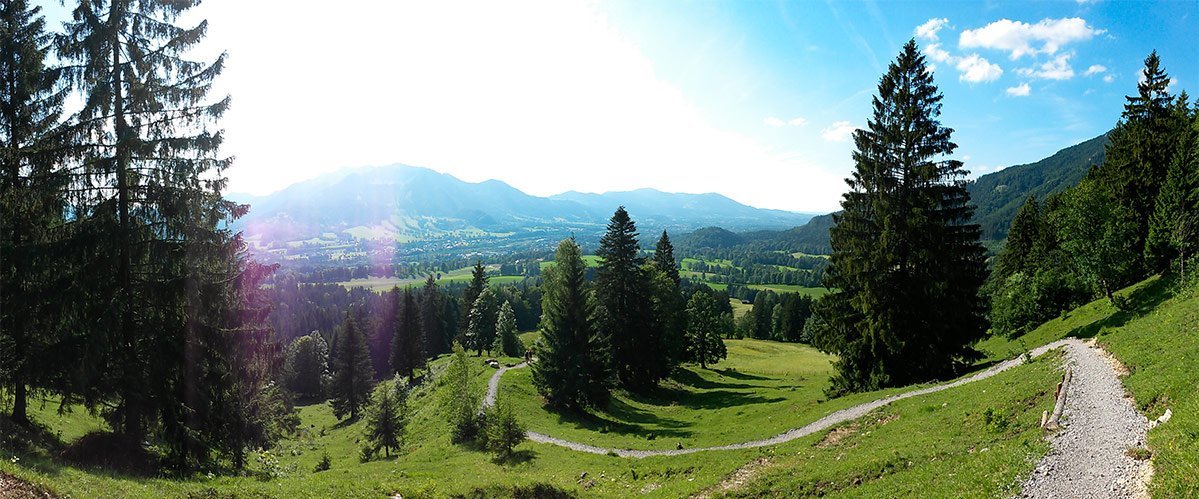 Der restliche Abstieg danach ist zeitweise wieder etwas steiler, aber auf einem gut ausgebauten Pfad. Etwas erschöpft aber glücklich erreichen wir schließlich den Ausgangspunkt. Was für ein traumhaft schöner Tag.
English text
Round hike over the three Kampen mountains (1594-1607m) near Lengries
Ochsenkamp, ​​Auerkamp and Spitzkamp are three mountains southeast of Lengries, which offer a beautiful varied hiking route. The tour can be extended with a crossing of Seekarkeuz and the descent to the Lengrieser hut. If you travel by public transport, you have the opportunity to start in Bad Wiessee and hike through the Stinkergraben. An area that got its name from a source of sulphurous water. This time I was accompanied by: @freiheit50, who selected the tour and proved himself to be an excellent mountain guide, and @bobbyboe, who was able to give us good tips with his photography knowledge.
We start at the trail parking lot in the Hohenburgstraße at Lengries and follow the forest road which meanders snugly along the Hirschbach through a forest. At the first major branch we turn left towards Fockenstein/Kampen.
Finally, we leave the forest and see our first destination, the Ochsenkamp on our right. Now begins the interesting part of the hike. The barely visible path in the picture on the right is the beginning of the climb on the mountainside. The path is narrow, steep and overgrown on both sides with small trees and shrubs.
A short while later we reach the Ochsenkamp summit, which has a great view of the Tegernsee.
The rest of the panorama is simply beautiful, too.
Strengthened by a delicious snack, we continue to the other summits. The path is sometimes wide and sometimes narrow and at times you can even climb a bit.
Although we did not walk for a long time, the view on the Auerkamp looks very different. On the right side in the valley you can see Lengries.
Then we descend via the Spitzkamp, and make a short detour over a cattle pasture to the Brandkopf.
Because we want to visit the Lengrieser hut, another summit is on the agenda. The fifth of this day: the Seekarkreuz. Again, we have a whole new view.
In the we can see the mountains around the Brauneck.
The two peaks in the southeast are Buchstein und Rosstein, that I climbed the year before. The pale high mountain in the background is the Guffert. We continue with the descent to Lengrieser hut...
which we reach a short time later and where we enjoy a cool drink.
The rest of the descent is at times a bit steeper, but on a well-developed path. Somewhat exhausted but happy, we finally reach the starting point. What a wonderful day.