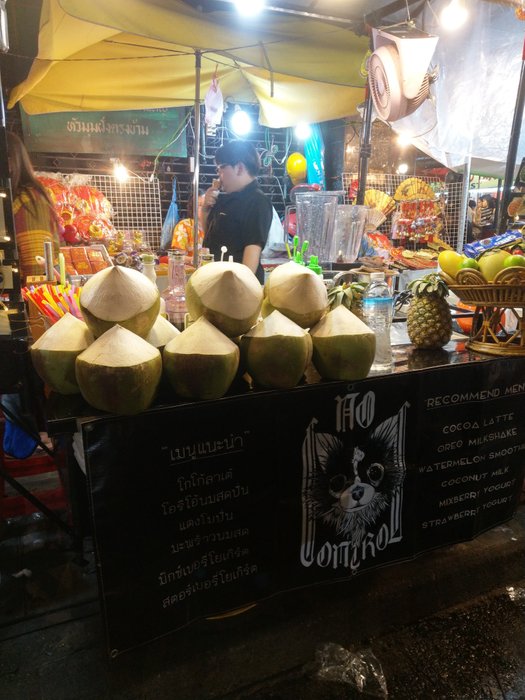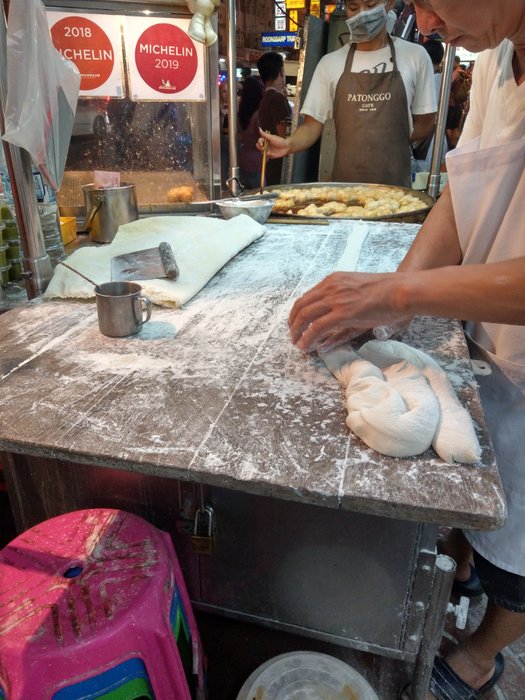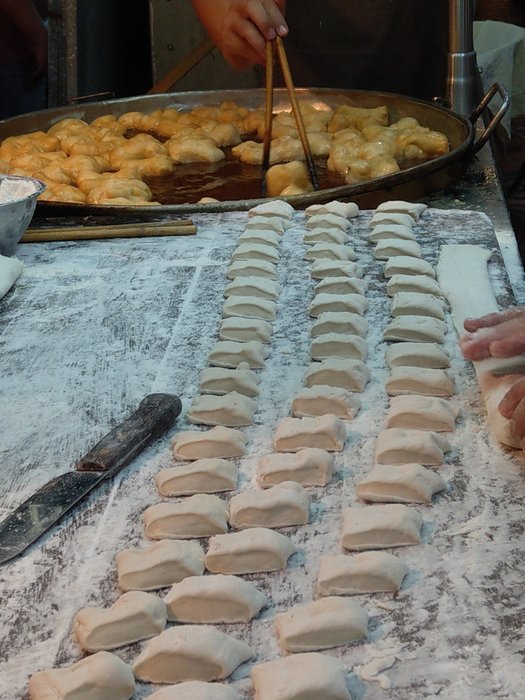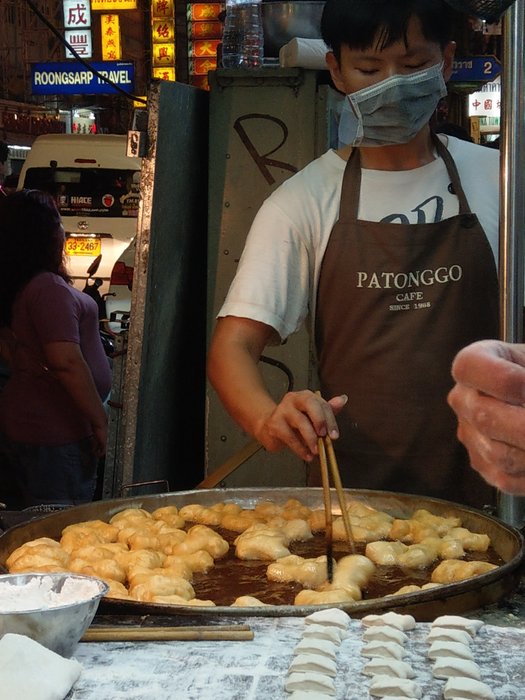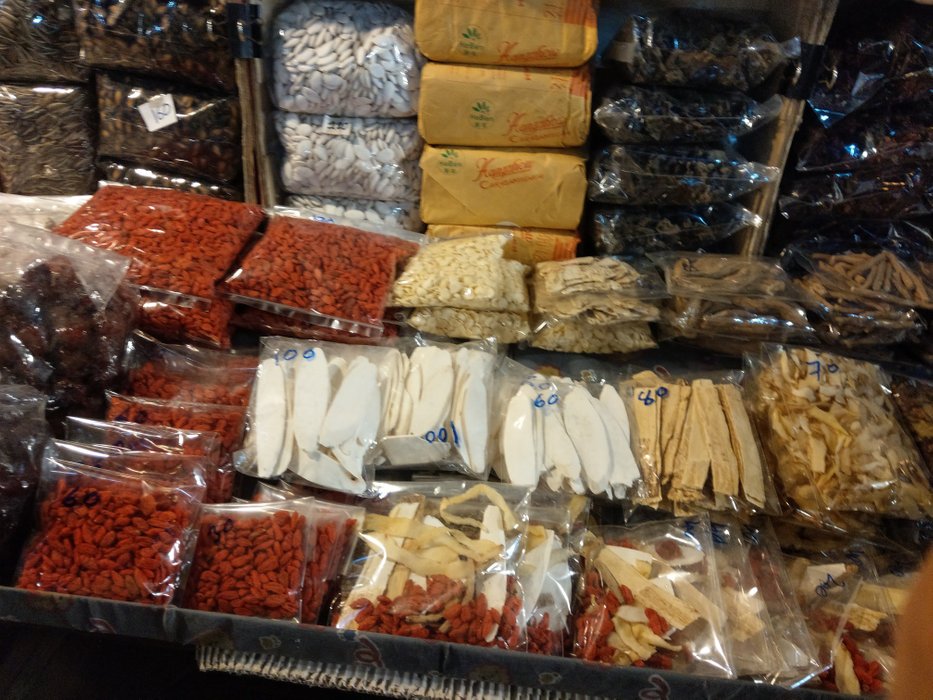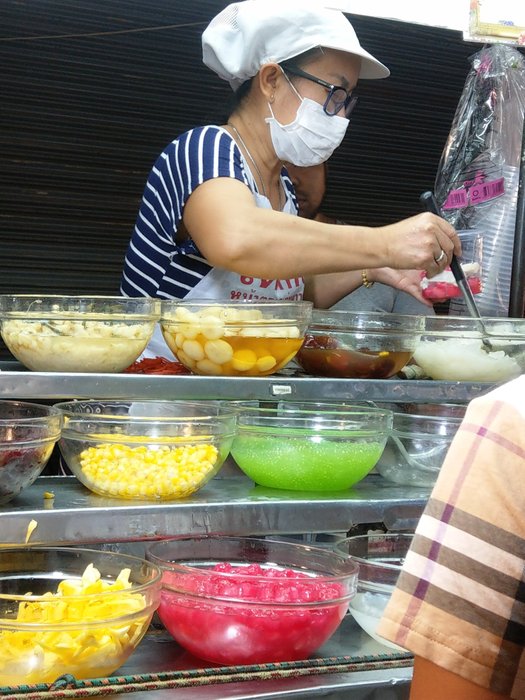 ---
Fellow Steemians, this is the second batch of pictures I made during the food hunting at Yaowarat street, the China Town of Bangkok.
In this post I would first show you few interesting desert, snack and beverages that I love the most. Believe me, I actually wanted to try more.. unfortunately I just can't stuff any more things in my stomach and our times in Bangkok is simply too short to taste everything.
Well, we should have stayed longer cos 5 days were quite occupied with the #steemfest4 events already.
Nevertheless we couldn't really complain since it was already very fortunate that we could come at all at that time frame.
Food culture is a special thing in Asian countries, probably I would only include France, Spain and Italy to represent western folks regarding food culture. Yes, because all this while I guess I only found people who would see food not only as a material to fill the stomach but to enjoy it wholeheartedly.. something to make your heart feel content.
Asians would even use lunch and dinner as a supporting material to close a business deal. Many important contract would be basically decided over a hearty meal even if there is no signing yet. The paper work is generally only a formality which can be left to the assistant to manage them.
So if you are thinking to get into the business world in Asia, please prepare your stomach and don't nurture any excessive fear of calories 😂.
Anyway... this food culture naturally doesn't only belong to those with a deep pocket. Frankly speaking, if you want to taste the authentic home meals, the things you should never miss is the small cafes in the normal neighborhood (not touristic places) or the street vendors.
Unless you have a rather sensitive body constitution, then I would say that it is a mistake to not try out the street food during your travel in Asia.
Those are things that you could only enjoy there.
Please just forget about your normal quality standard in your home country for a while, you probably would only be able to enjoy a little of them and only for a short time anyway. Even if you may consider them as not healthy, it's not your daily consume anyway.
A little tips from me for the delicate stomach of tourists from developed countries during food hunting in those not fancy restaurants:
"Anything cooked, grilled or fried should be okay to try.
Unless you are ready to take the risk, don't try any cold beverages with ice in it nor try anything with fresh raw salad, because the water which is used for them may not be boiled nor well filtered.
Cooking process would atleast kill most of the bacterias."
This principle would naturally prevent you from tasting the delicious original Somtam (Thai papaya salad) or wing beans salad for example, but well... the choice is always yours 😝.
Considering the usage of chilis, you can always tell the seller to adjust to your spiciness tolerance as long as you are ordering a menu that is freshly prepared/cooked from scratch.
However I must tell you that some specialty would only taste perfect if you don't have any special request and just let it be as the inhabitants normally eat them 😉.
Like Somtam and Tom Yum soup would taste the best only when it's spicy and savory enough for example.
By the way, drinking fresh coconut water is the best choice against dehydration... the best option especially when you got diarrhea and it has a low sugar level.
Furthermore, coconut water tastes the best and very cheap in Asia so I nearly always choose it over any other beverage options when it's available.
---
These are chestnuts, probably nothing new for Eurepean but I noticed that Asian chestnuts are rather smaller than those I saw in Germany at least. I never saw how they are baken in Germany but here they seemed to be fried or baked in a big rotating pot which has kind of small black stones in it. It is similar technique like ours in Indonesia. There people use sand instead., of course we have washed the sand first before using them to cook. It's a great method to fry chips without using any fat/oil and it will roast or fry your food well with less risk of getting it burnt.
---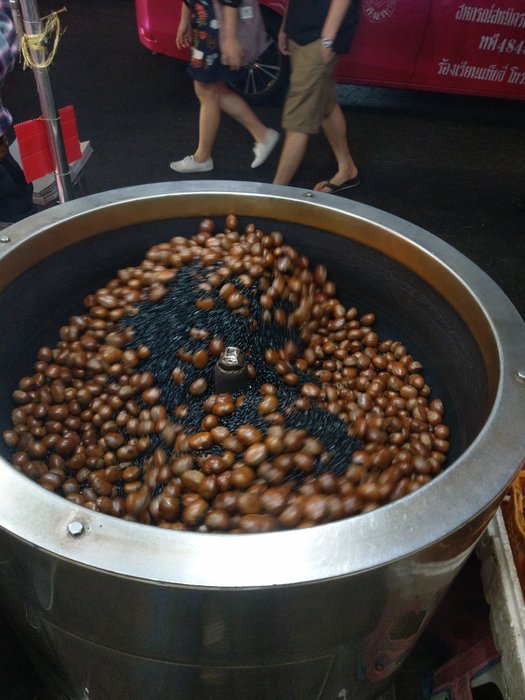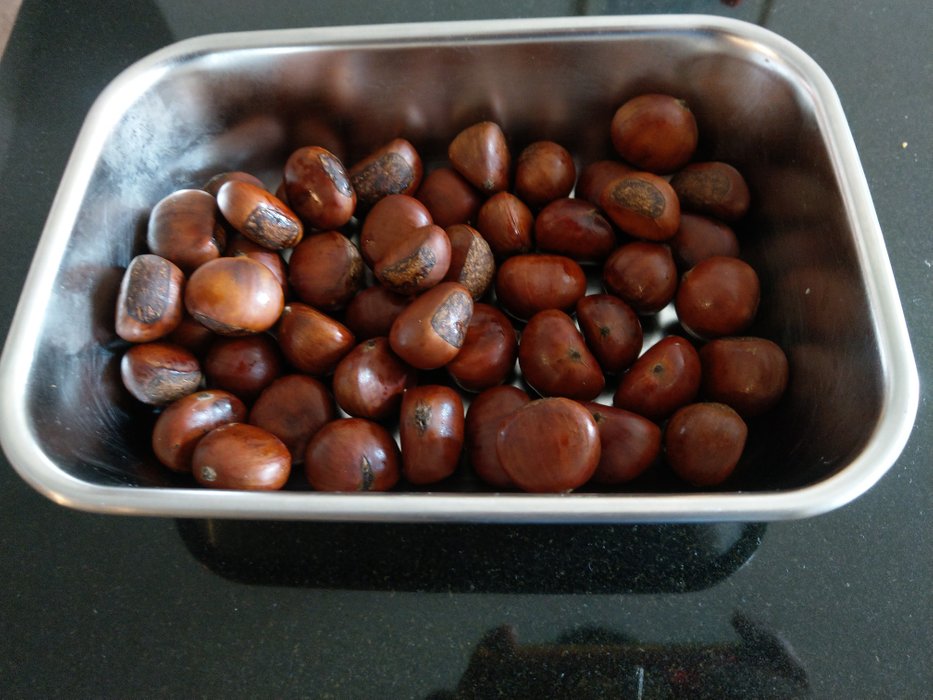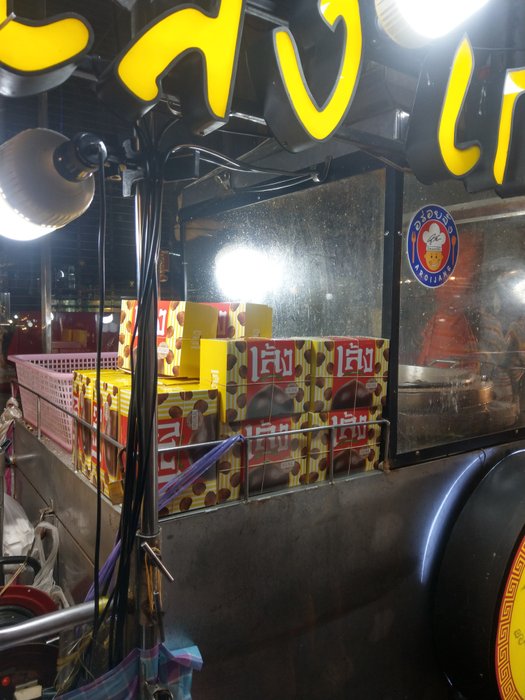 ---
Water chestnut in coconut milk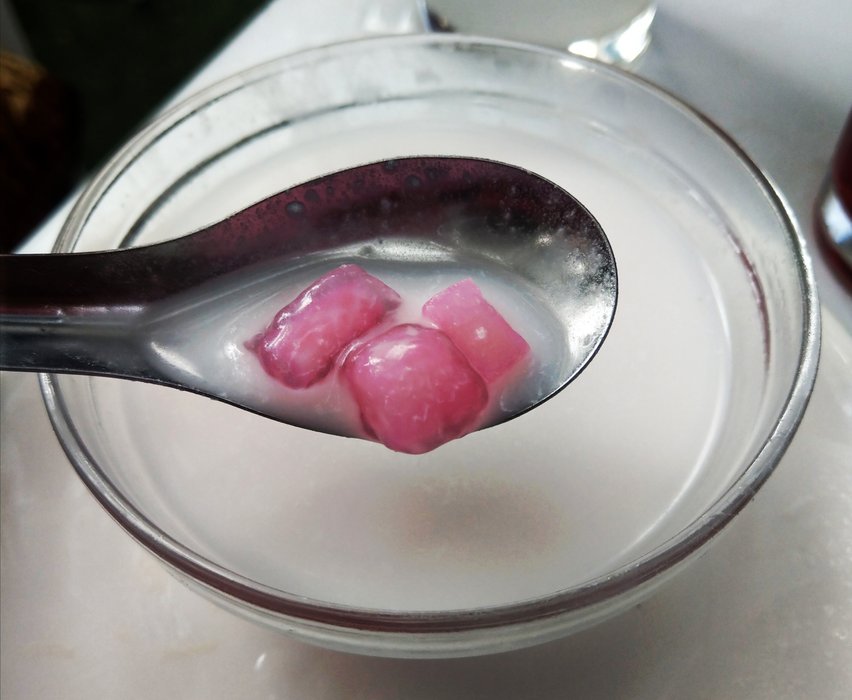 ---
This is wing bean salad, Indonesian call this bean "kecipir".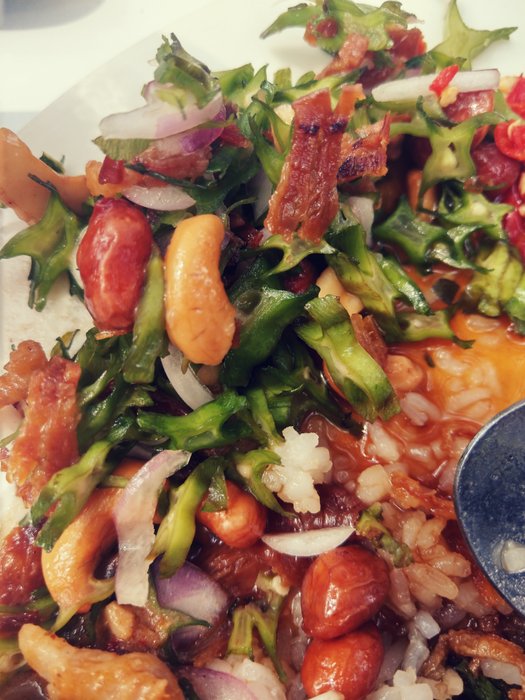 ---
Bajang (sticky rice with meat filling wrapped in bamboo leaf)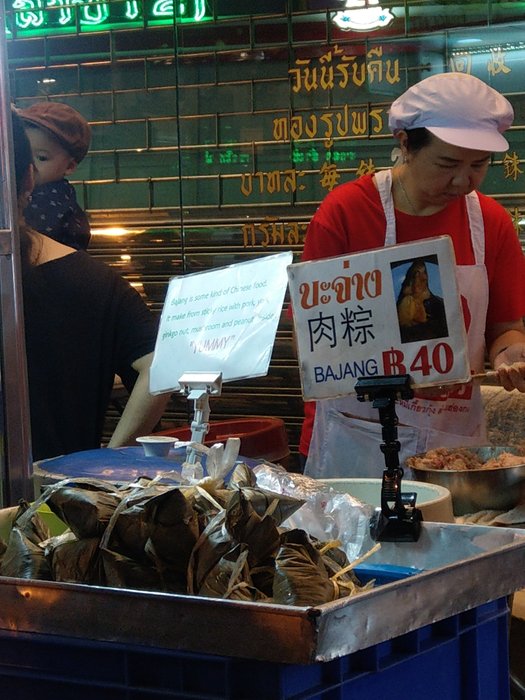 ---
Ok, that's it for today and I'll see you again in my next post about our Steemfest-Trip in Bangkok. Thanks in advance for the upvotes.
来自于 [WhereIn Android] (http://www.wherein.io)