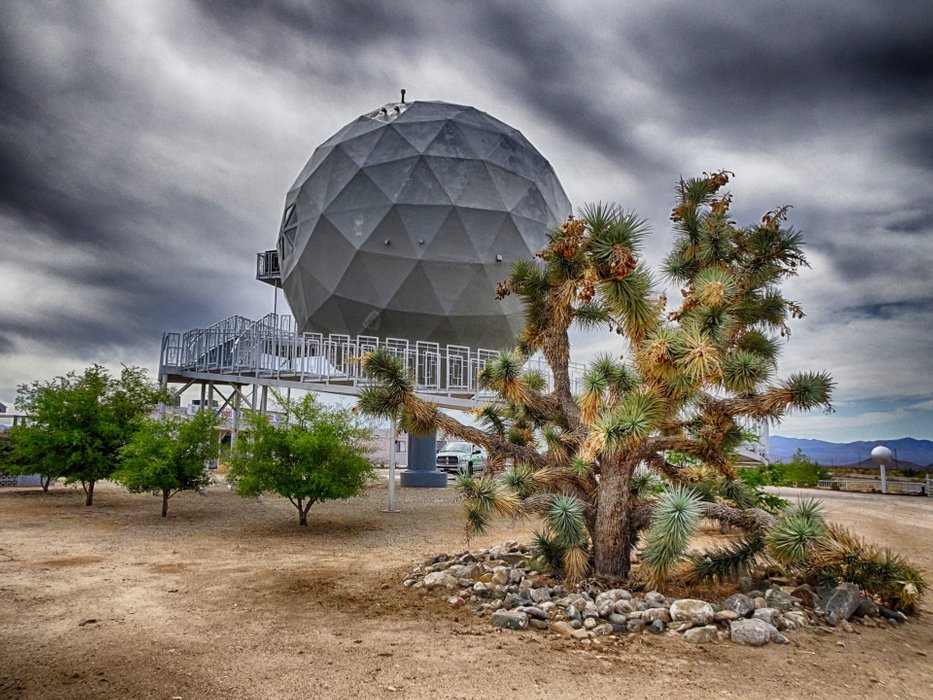 Everything you know about UFOs is wrong. The history of aliens on earth needs to be rewritten. The true story: On May 20, 1953, a UFO crashed outside Kingman, Arizona. The U.S. military had recovered crash debris and alien corpses immediately thereafter, and taken all or part of the material not to the famous Area 51 like you read and see in all the movies and books. No, they brougt the bodies and other remains to a secret and decommissioned Army Airfield in Yucca, Arizona for investigation.
It was only the start of a thriller. After years of intensive study, this material provided the U.S. military with advanced technology useful in the development of magnifecent aircraft and magic strong spacecraft. Nobody knows because it's very secret. Yes, it's for no eyes only! But you`re lucky: Directly on the legendary Route 66 you see a geodesic sphere looking like a golf ball. And this mysterious thing houses a museum preserving this widely unknown chapter of American history.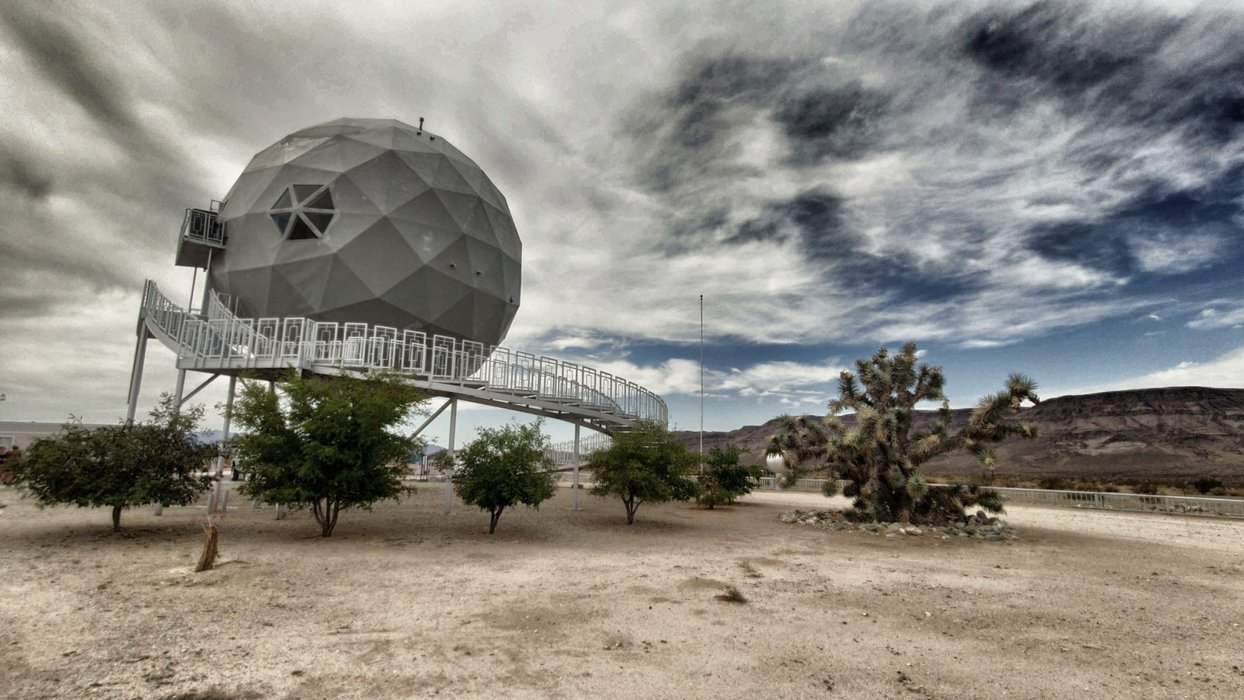 It's true and it's perfect for this place deep into the outback. You have seen all this 50ths cars, 60ths motorbikes and 70ths diners – but here the real deal with the most bizarre part of these area: A huge golf ball before blue sky with some small clouds. And a never told story of aliens crash landing and government reverse engineering of their ship for the US government.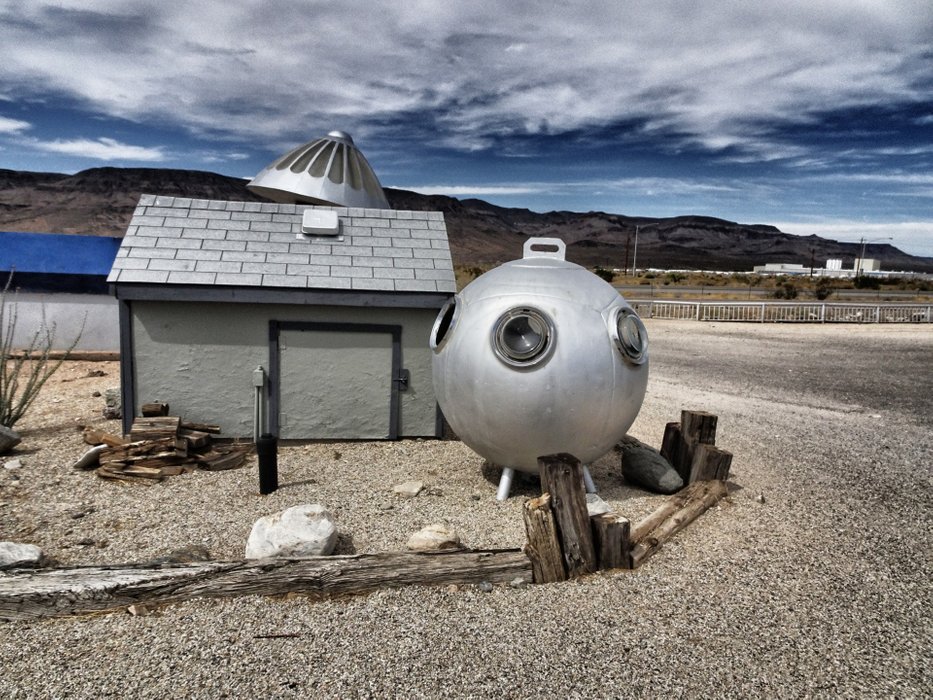 You have to stop. You must stop. All in you will cry Stop! Five minutes later you`re in a small convenience store where they sell tickets for the golf ball for eight dollars each. There is a stairway up and on the top floor a film show you all the truth about the lies of the government and a really nice model of the extraterrestrial space craft that was supposedly made by the government. Like at Skywalk Grand Canyon West photos are not allowed of the real small flying saucer.
This is the moment you definitly know: It's a secret! If you left the golfball there is a small sign: "Area 66 makes no claims regarding the authenticity of these events but rather leaves it to you, the visitor, to create your own reality."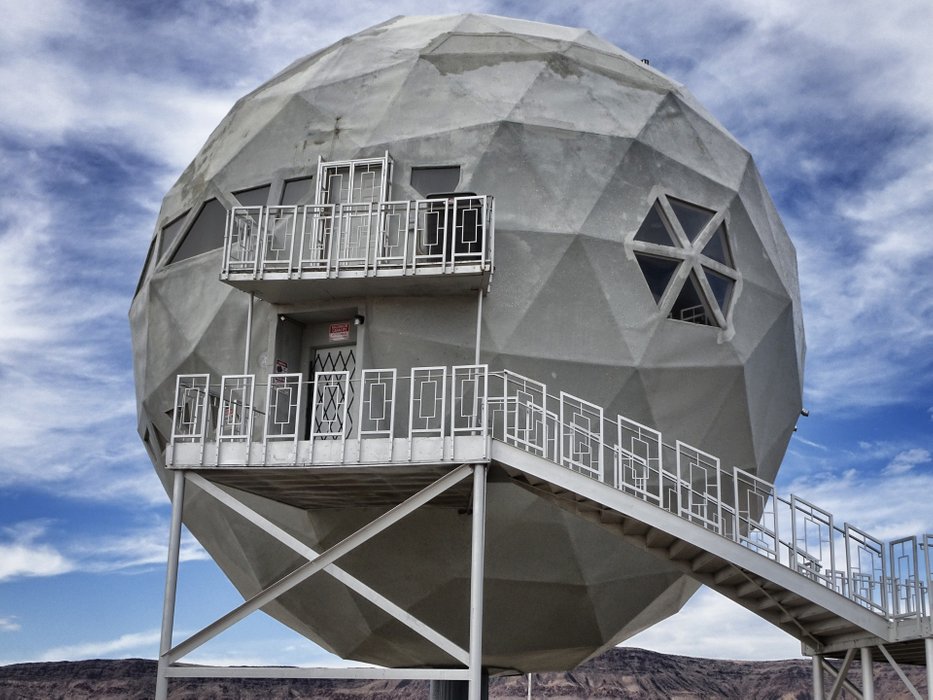 This reality is painful and very earthly: The golf ball was used once as a real estate office to sell plots of land to "Lake Havasu Estates", a project that never came to life. The developers of the classic scam were charged and a couple people served time in prison. The golfball, after been empty for years, found new owners some day and they have had a new idea: Let's spent a significant amount of money renovating it, built a store on the property, name it Area 66 and opened as a UFO museum. On a place where everybody is looking for food, coffee or a rest room not a bad thought. By the way: If you're in the small restroom, you found the only one real alien on this place: A tiny little plastic puppet in the corner behind the trashcan.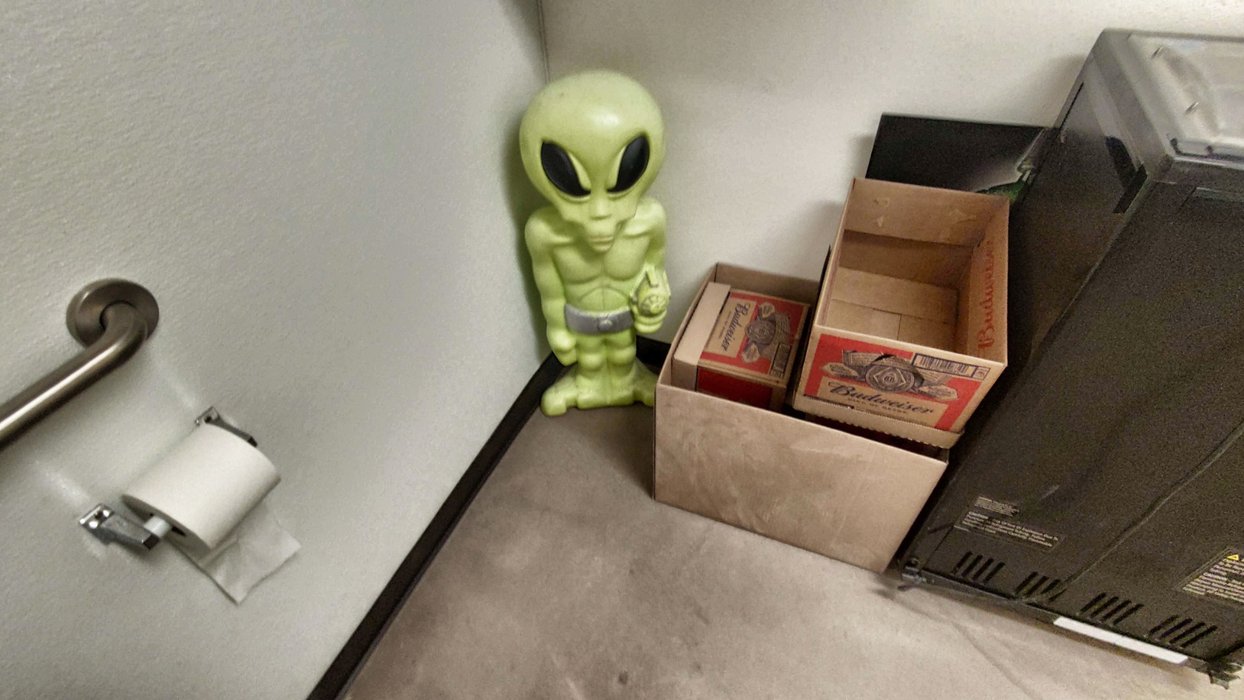 Follow me on my epic journey through America:
Ghost Town Oatman: Where the mule does rule
Route 66: On the road that kicks
Grand Canyon West: No-pics allowed of this beauty
Grand Canyon: Scenic views into the abyss of earth
Graveyard of giants: The Jurassic Park at the Navajo Trail
More than monumental: The heart of the wild west
Arches NP: The biggest bow you've ever seen
Zion Canyon: Ice-cold feet in narrow waters
Bryce Canyon: God's glowing stones
Las Vegas: Home of Bad Luck
Red Rock Canyon: Road under the ocean
Death Valley: The dry throat of the desert
Mt. Withney: High on thin air
Mono Lake: Eating flies on a salty shore
Golden Gate Bridge: 80.000 miles of steel wire
Sequoia: Beyond the everlasting trees
Yosemite NP: Crazy climbers at El Capitan
High Sierra: The wonder of the Sierra Waves
Alcatraz: Into the home of horror
Richfield: Where Easy Rider is alive
Alabama Hills: Blue skies over Hollywoods West