It's 30 years after the german re-unification as we mind a bizarre plan: We're trekking along the Iron Curtain, the former deadly borderline between the East and the West of Germany! There is a hiking way named "Grenzwanderweg" or "Green Ribbon". You can hike here along the path on which the east german border guards monitored the "Iron Curtain" between the socialist world and the west. 
The first episode of our hike you can read here. This is the second one and here are third, four, five, six and seven.
Here we go with part eight:
On our way to a little nest called Wendischthun I meet my ancestors. Right on the banks of the Elbe there is a place called "Konau", almost like my name - it is tiny, smaller than any other along the way. Just a couple of homesteads, a couple of barns, two dogs. Nobody is on the street. But at least Konau is almost a world cultural heritage site - a marshland village that was part of the world exhibition "Expo" years ago because flowers, plants and animals have survived here in the restricted area on the former borderline who cannot be found anywhere else.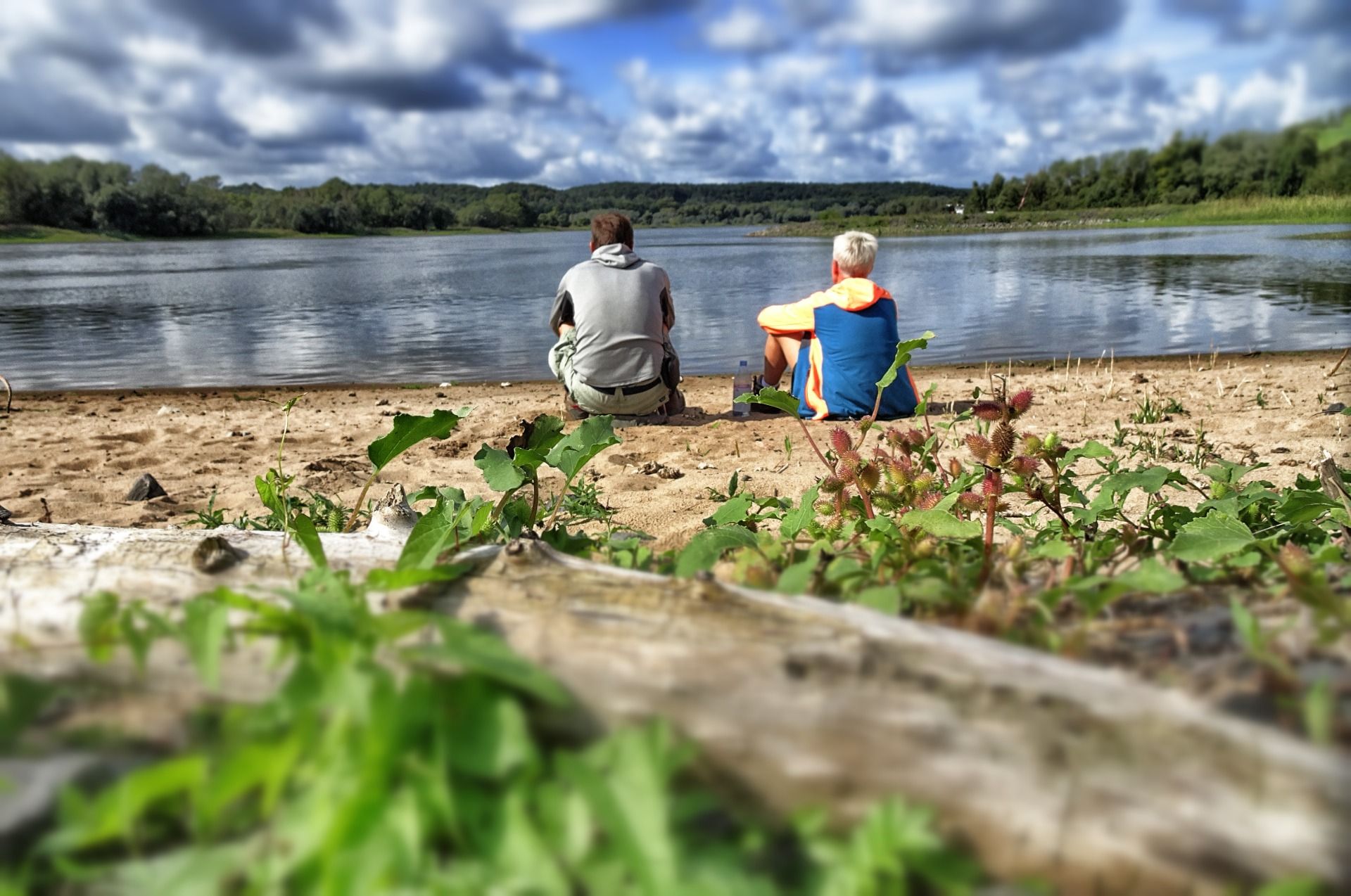 There is also an exhibition on this, but it is closed due to Corona, as is the Hofcafé, which we had high hopes for because we have to fill our bottles up with water. So the way becomes long again and the next break takes place on the banks of the Elbe, which always looks tempting, but is usually hardly accessible.
River without access
The pastures are always cordoned off, there are never paths down. But here we finally come to the water, on which, as always, not a single boat or ship passes by. Except for a few workers with a dredger, the Elbe waterway is empty, and not because there is no water.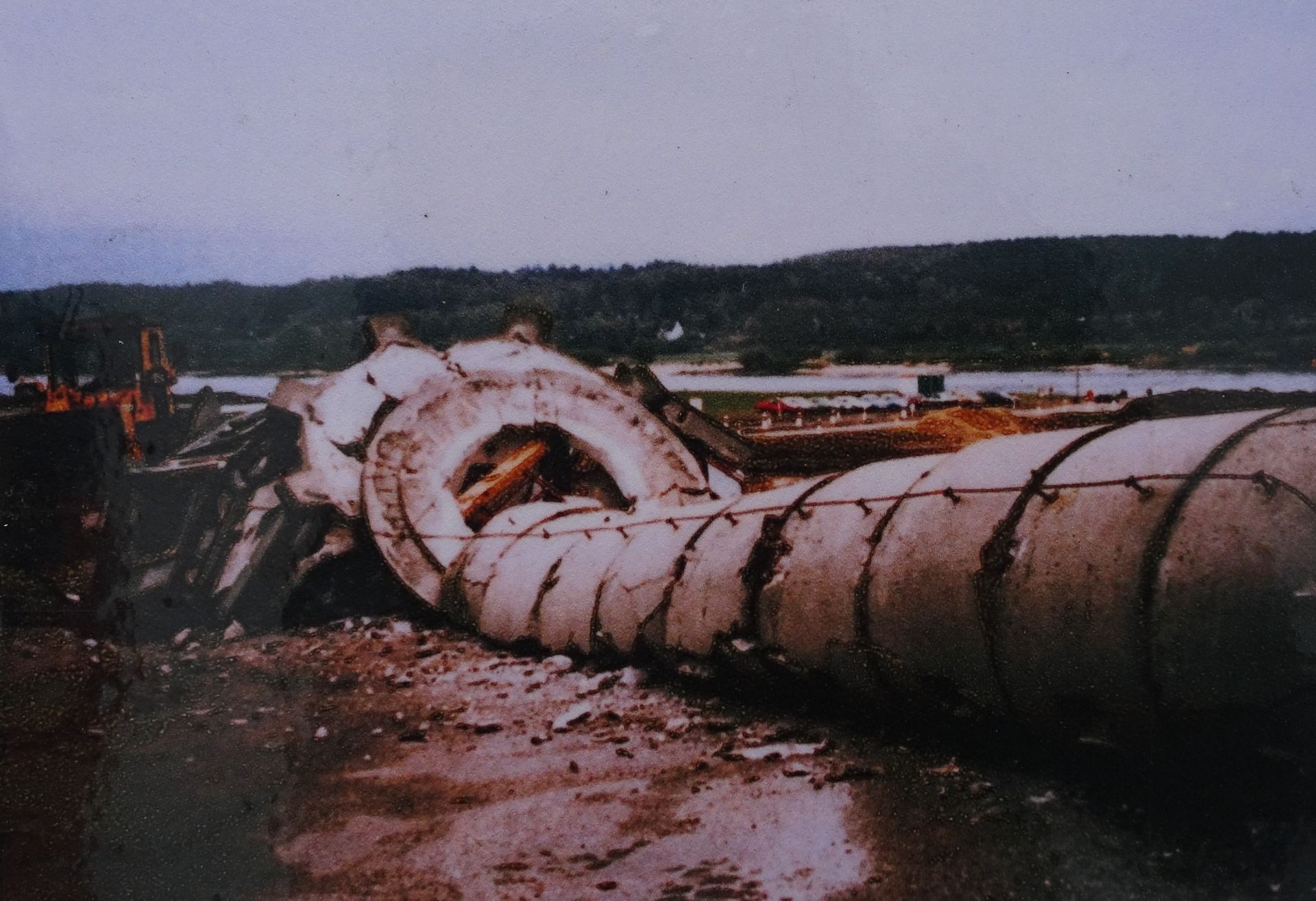 Amazing. The further north we get, the more white sandy beaches there are on the shore between the groynes. They invite to land, linger and swim. But there is nobody here who uses the calmly flowing river to relax and admire the endless cloudy sky, which is reminiscent of Scandinavia. It's an empty place again, nobody around us. Germanys longest hiking trail is without Hiker like always.
A cyclist speaks to us, Heinz from Zella-Mehlis, who not only collects kilometers, but also strange stories along the way. He himself is on his way to Schwerin, but lost the direction. "Let's see where it takes me," he says.
Heinz and his superspeed
Heinz has time, time enough even to push along next to us at such a pace he probably thinks is very leisurely. Heinz also doesn't carry a sack of cement as backpack, just a notebook full of stories that he picks up on the way to write a book about his trip.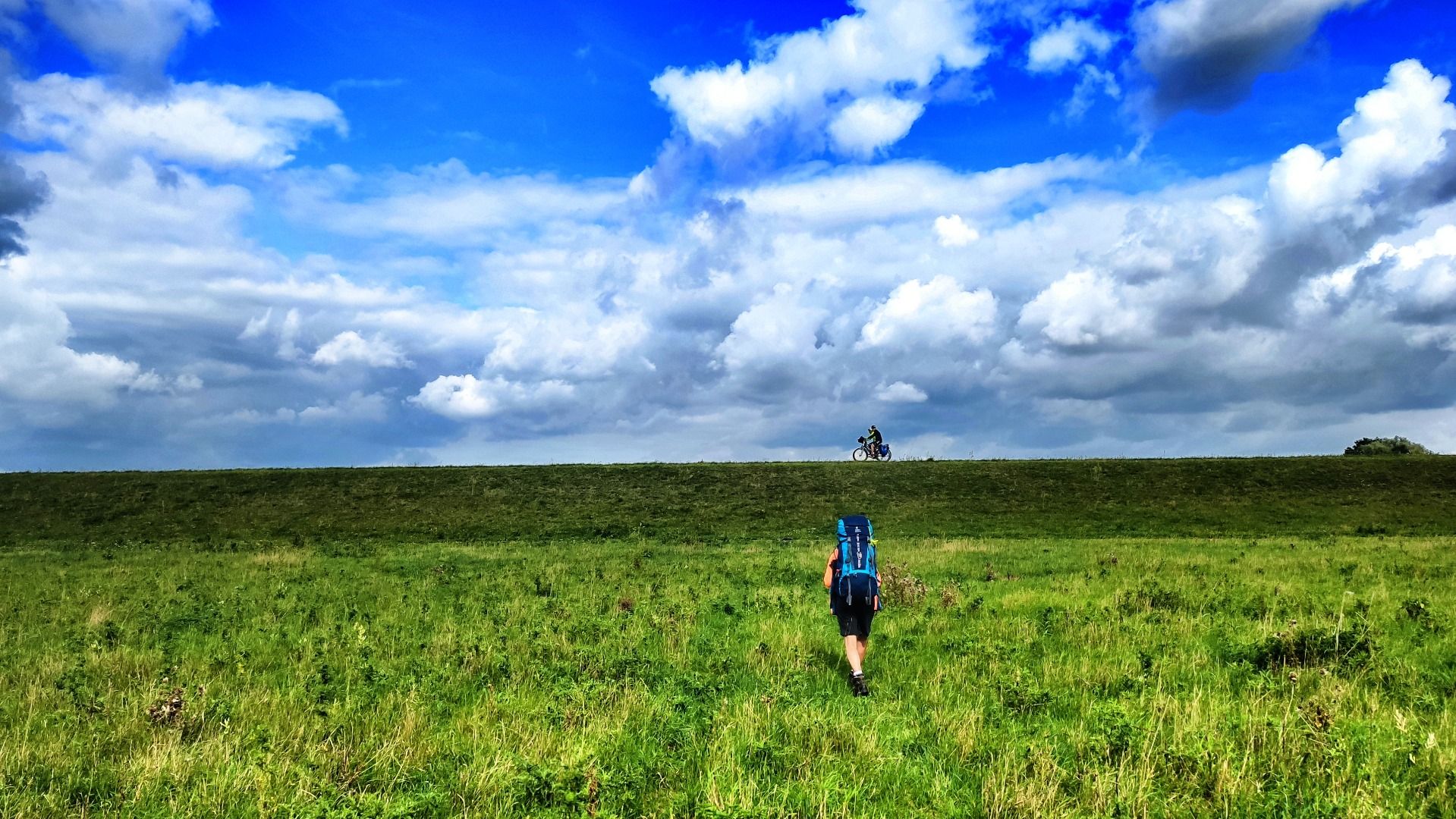 "Did you see the guy running over the dam with his pram?" He asks. Yes we have and we nod breathlessly. He said: "There is no child in it, but the young man's luggage." Really? Breathless nodding. Yes! "He runs from Dresden to Hamburg," is how Heinz describes his encounter with the extreme athlete, who flew past us like a young father take his child with him on a jogging lap.
We tell about Elisabeth, a 70-year-old from Erfurt, who hiked from Travemünde to Thuringia all by herself and was the only hiker we had met up to then. "It's a shame, I missed that," complains Heinz, to whom we can tell yet that Elisabeth can manage more than 25 kilometers a day thanks to the small rucksack she has and lots of pre-booked overnight stays in boarding houses. Actually, she said, friends of hers wanted to come along. When everyone jumped off, she decided to do the 1000-kilometer hike alone. Heinz seems impressed.
Every now and then cormorants, herons, storks, cranes, seagulls and kites fly over our heads. On the dike sheeps, cows and horses grazing and as we finally reach the smokehouse in Stiepelse, host Jürgen is just hanging out the "closed" sign.
You can't do that! I cry. Jürgen sees the backpacks and understands. Of course, because the tall, skinny guy in the far too wide sweater clearly has a heart for all weird birds. Jürgen has spent his life as a musician, playing bass for the great german stars Udo Lindenberg and Gunter Gabriel, among others.
We're the crazy hikers
"Until his death, Gunter was here again and again and performed at my place," says the Kneiper and shows photos of himself and all kinds of stars. Heinz, who just shows up again, pulls out his camera and is amazed. "Even celebrities here", he praises - "and of course my crazy hikers."
As we turn now to Wendischthun, the little town where we pitch our tent today in an apple garden thats look like a paradies. The trees are green, the apples red and Heike, the host of the near Old School, has some cold beers for us. Just a few meters away Kai has build up his tiny tent, a cyclist who's coming the 400 kilometres from Dresden.
He's only since three days on the road and he's willing to go 400 kilometres more to Kopenhagen. A young sports man, very cool and trained. But before we have opened our third beer he falls asleep right before us. Good night, bicyle hero. We feed the cows next to our tent with some fallen apples.
If you like my work and you want to read the following reports from our hike please follow me on Hive, Travelfeed or Steem or visit my homepage koenau.de
A few more pictures for you: