Just drive off, right into the somewhere. Just not to the German Baltic Sea, which is as full as a soccer stadium on the German coast. We get into the car and set course north. We want to go to Poland, a country we last visited many years ago. What adventures are waiting there? We will experience it.
They are sailing
First we take the S3 highway. Yes, they have roads here now that are better than any in Germany. Wide and empty and brand new, built by Chinese companies not even ten years ago. And they continue to build, in countless places. Sleep is for the winter!
All the beach is ours
Sleep ist for the winter
On our way north, we first reach the westernmost tip of the country, where countless modern hotels have sprung up in recent years. Here at Pobierowo, construction fever reigns, huge complexes grow out of the ground. And the beaches are as full as in Germany, mostly occupied by Germans.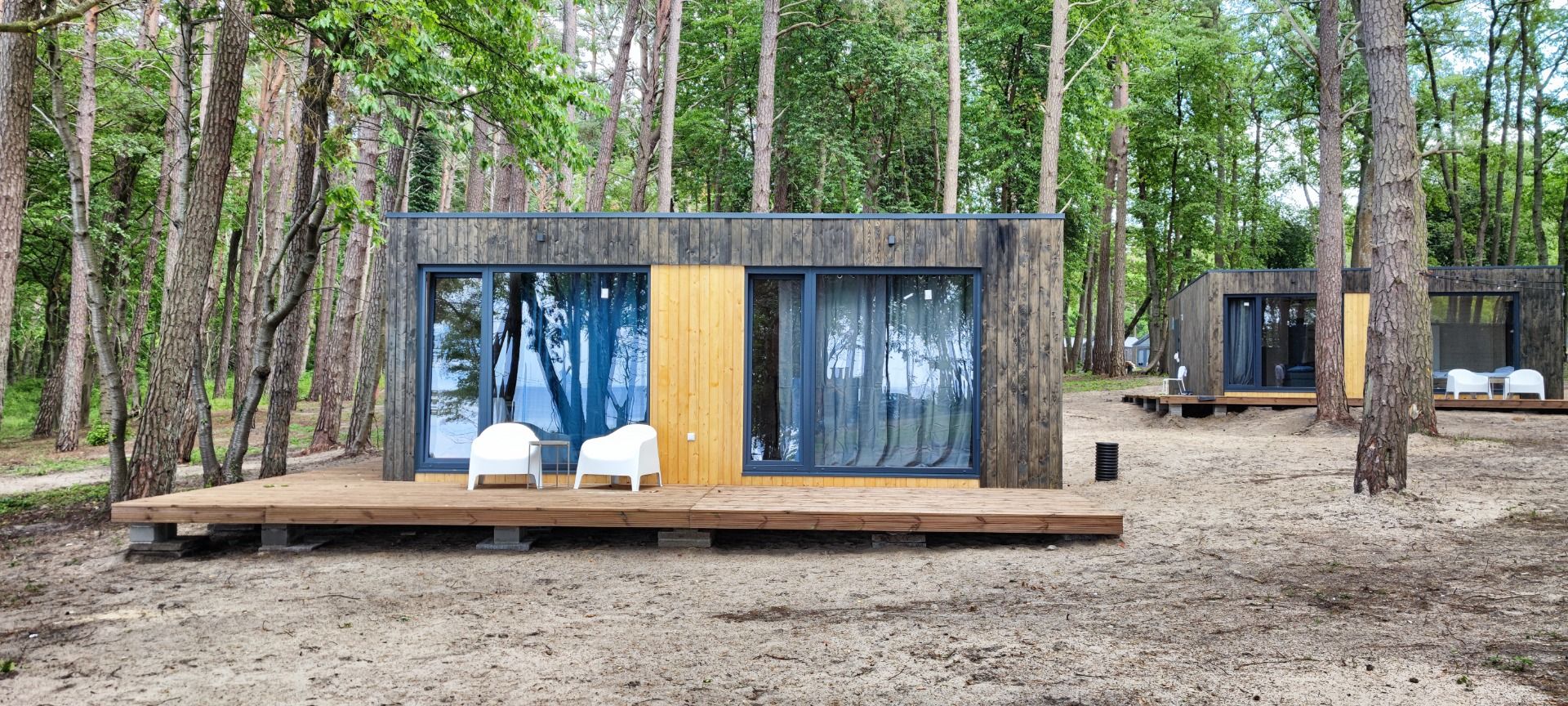 Bauhaus style beach house at Darlowo
Poland is cheap for its German neighbors, although the local currency, the zloty, has become a hard currency compared to the euro. Polish money is worth 15 to 20 percent more compared to ten years ago. Nevertheless, it is only after Koszalin, known to Germans as Kohlberg, that the true Polish Baltic coast begins.
The dream of every architect
Like an american dream
We stick to the small road right on the coast, which looks dreamily like an American coastal road on the map. But this is deceptive. The funny places here are all crowded. It's school vacations in Poland, and it feels like the whole country has gone to the sea. Families with children stroll through endless streets of stalls with cheap goods, pubs stand next to pubs, there are dishes from all over the world.
The coal country builds wind power engines
We see builings like the control tower of the bridge of Darlowo, a house like a designers dream. We see a military parade. And we see a lot of Porsches and Jaguars on the streets. It is hot and it takes time to find a place where the beach is empty and the sun shines just for us.
Art is gone
Right here is supposed to be Poland's largest graffiti painting gallery. But the man guarding the entrance tells us that we have come too late. Four months ago there would have been old barracks from socialist times, painted all over. But now excavators are standing on a site and digging up the old communist vacation paradise.
We're welcome
Part of it has already been renovated; the Poles are quick once they get started. And they have good taste: they have built wonderful Bauhaus-style cottages among the trees near Darlowo, loosely spaced, with large glass fronts and less than 50 meters from the sound of the waves.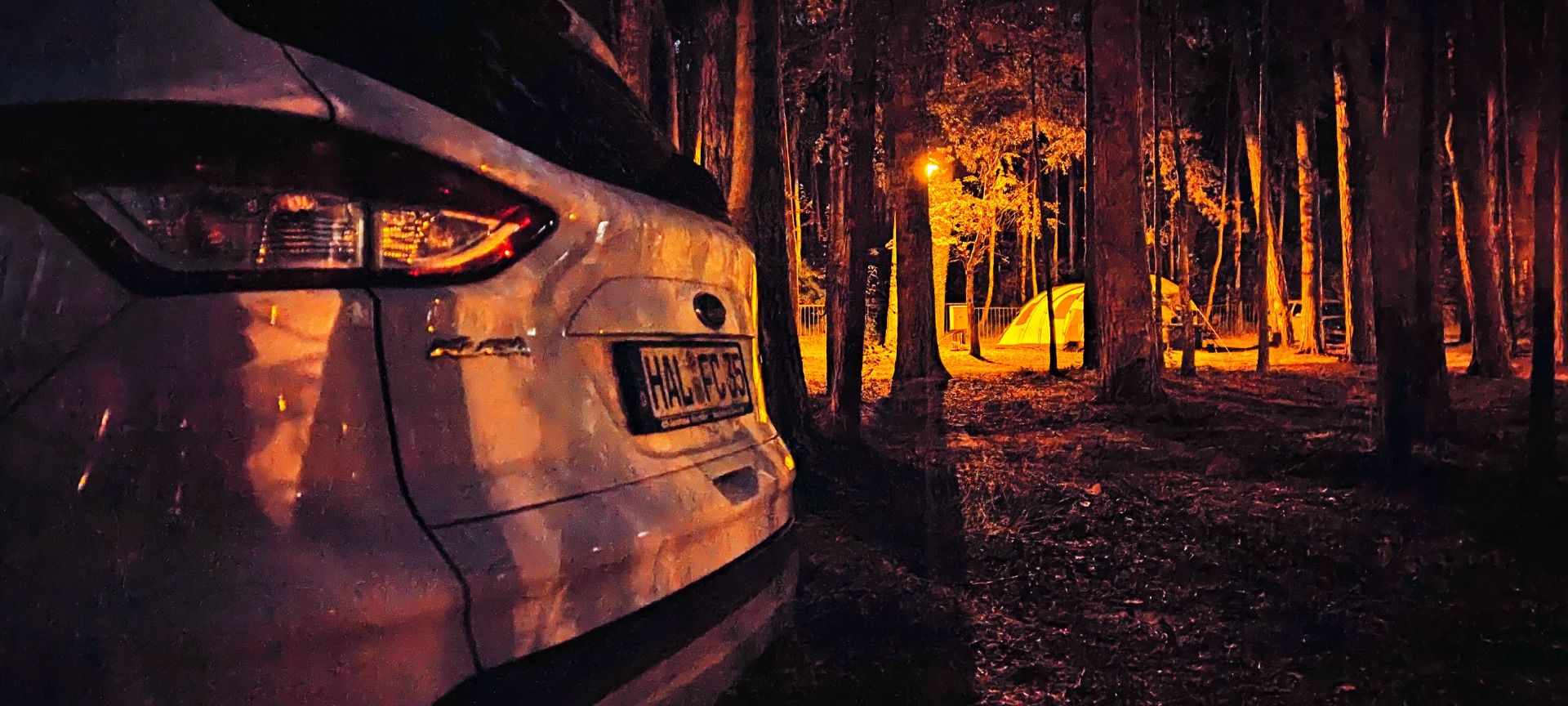 Little light at the camp site
Small place on the beach
It would be nice to stay here, but we have to continue east in search of the real, original Poland. We find it a few kilometers away, in a forest on a campsite not much further from the sea, overshadowed by trees and run by an elderly lady who doesn't understand a word in any language except Polish, but can make herself understood that way.
When the night comes in
Looking for somewhere to sit, there is enough of it. Back there it goes to the coast, five minutes walk. On the beach a bar with cool beer and Polish ice cream is waiting. In town, also just five minutes away, there's pizza, more beer and a DJ to whose Polish pop with crashing beats a few couples are dreamily waltzing but not Mathilda. The evening sinks in, the head is full of impressions.
Have a break
It can go on like this for the next few weeks.
Thank you for reading and if you like my work please follow me          on Hive, Travelfeed or Steem or visit my homepage koenau.de
A few more pictures for you:
The tower of the bridge
Polish special: Auitomatically sweet machines for the kids 
The Baltic Sea without a crowd
The port of Kamien Pomorski
The wood where the camp was
The bar on the beach
The drink Kamikaze
We take beer
The stars are looking different tonight