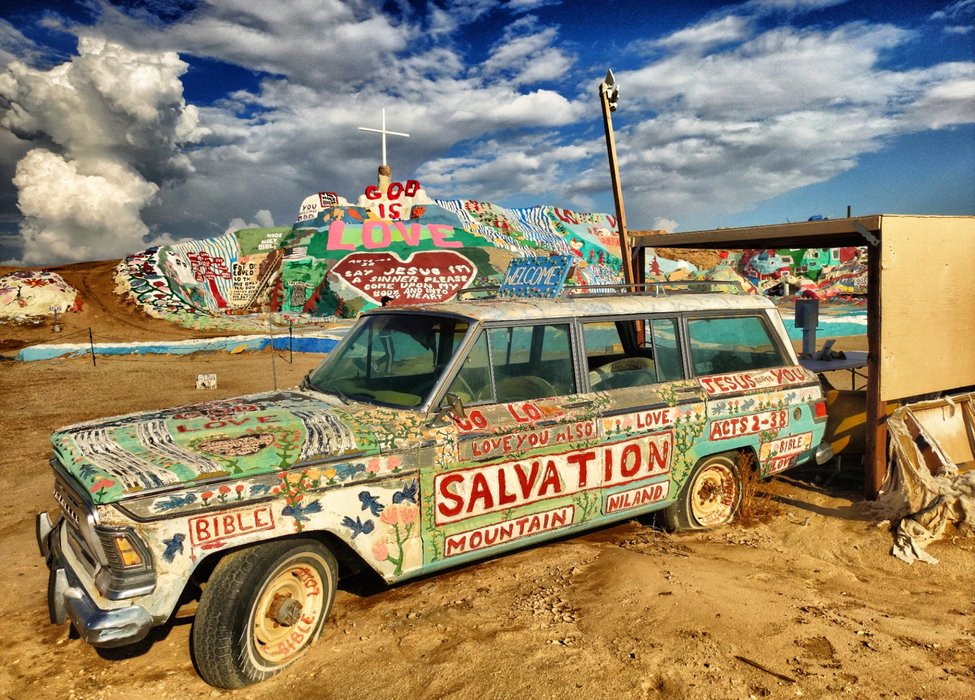 Leonard Knight was in his mid-50ths as he beguns to make a mountain. The man from Vermont has a vision: "if the prophet won't come to the mountain, then I had to make a new mountain!" Knight starts with tons of mud, sand and waste and it needs years to get up whats now famous is a Salvation Mountain: A small hill made of coluor, art and bezarrnes just north of Calipatria (Kalifornien) and near by Slab City, a camp town which is well known since the movie "Into the wild".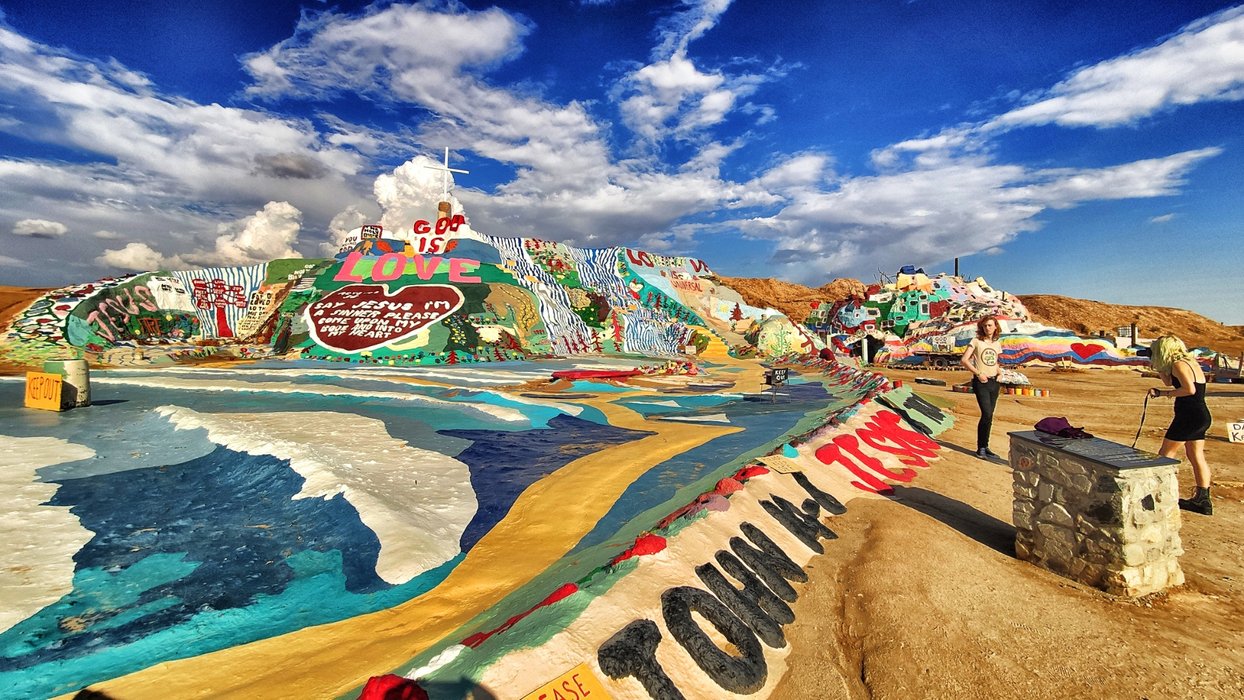 Salvation Mountain is true come dream of one lonely man: Knight, born 1931, build this colorful hill to tell the world the message from god: God loves you! He never take any money from nobody because he believes that HE alone has the right to feed his mountainman.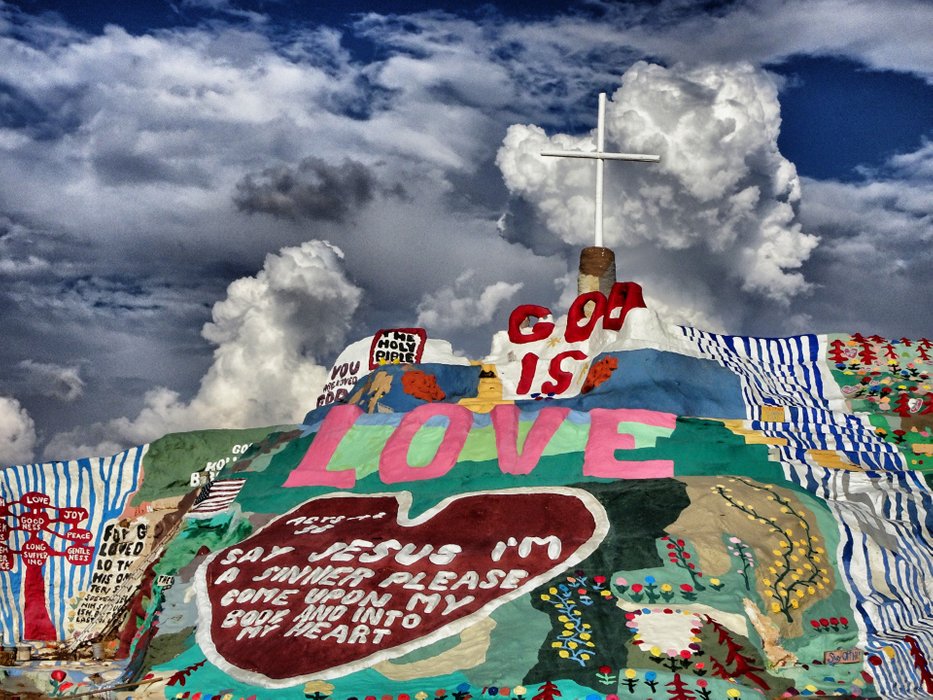 Knight does othing but this: He lived without electricity in a 1930er Chevrolet close to his work. He toiled 30 years until his death in 2014 to make the hill high and in all the colors oft he rainbow. He brought a few more old cars tot he place and painted them with bible verses. He has found his passion.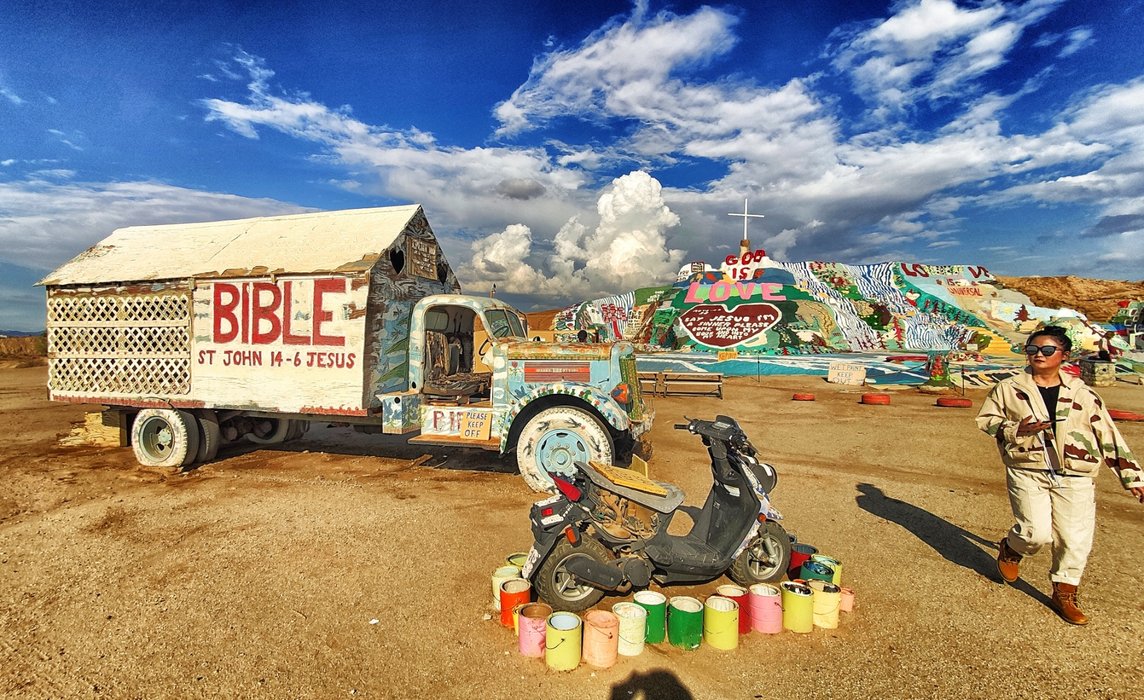 After years of hard work Salvation Mountain really began to gain notoriety. The Folk Art Society of America declared him "a folk art site worthy of preservation and protection", tourists came, Instagrammers like it for pictures... Only sadly Leonard Knight can`t see it: The Man who made this mountain passed away five years ago. Only his message lives on.
More pictures under the link section.
Follow me on my journey through America:
Bombay Beach: The fine art of deep depression
Anza Borrego Desert: Meet the monsters made of steel
Joshua Tree: Holy trees under a blood red sky
Area 66: The last secret of the aliens
Ghost Town Oatman: Where the mule does rule
Route 66: On the road that kicks
Grand Canyon West: No-pics allowed of this beauty
Grand Canyon: Scenic views into the abyss of earth
Graveyard of giants: The Jurassic Park at the Navajo Trail
More than monumental: The heart of the wild west
Arches NP: The biggest bow you've ever seen
Zion Canyon: Ice-cold feet in narrow waters
Bryce Canyon: God's glowing stones
Las Vegas: Home of Bad Luck
Red Rock Canyon: Road under the ocean
Death Valley: The dry throat of the desert
Mt. Withney: High on thin air
Mono Lake: Eating flies on a salty shore
Golden Gate Bridge: 80.000 miles of steel wire
Sequoia: Beyond the everlasting trees
Yosemite NP: Crazy climbers at El Capitan
High Sierra: The wonder of the Sierra Waves
Alcatraz: Into the home of horror
Richfield: Where Easy Rider is alive
Alabama Hills: Blue skies over Hollywoods West