Hey steemies!!
I would like to begin my post offering my sorrow to the victims and my condolences to the damaged families of the various recent religious attacks that plagued both Christianity and Islam a few days ago. Don't let hate propagate, these are actions of radical lone wolfs and do not represent the views of the majority. We are meant to live in peace and freedom, although different ideologies we must respect and love one another and learn to respect each other's beliefs as different as they may be.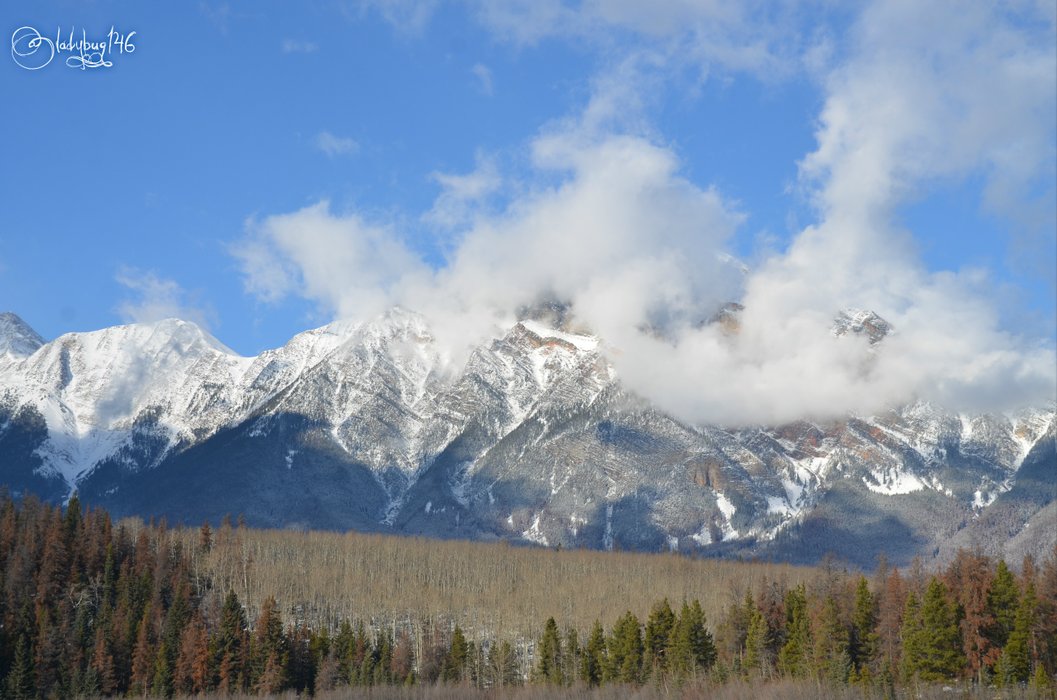 Shot 1/320 sec. f/9 40 mm, ISO 100
Going thru my pictures, I noticed that I forgot to do a post on my last trip to the Rockies. We stopped in Jasper National Park and decided to stop in for the day and visit some of all time favorite locations on while we were on our way back home from British-Columbia. If we are willing to take a detour that adds several hours to get a chance to view then why not stop in when it's on the way! One of our old favorite we didn't get a chance to visit last time, was Pyramid Bench. Along with all the fun winter activities available and the spectacular view, there are also self guided tours and trails to be seen. We left early in the morning, by the time we got there it was still pretty quiet. The sun was shining bright and the blue sky that had been covered by fog and clouds for most of the trip had thankfully returned. What a refreshing sight!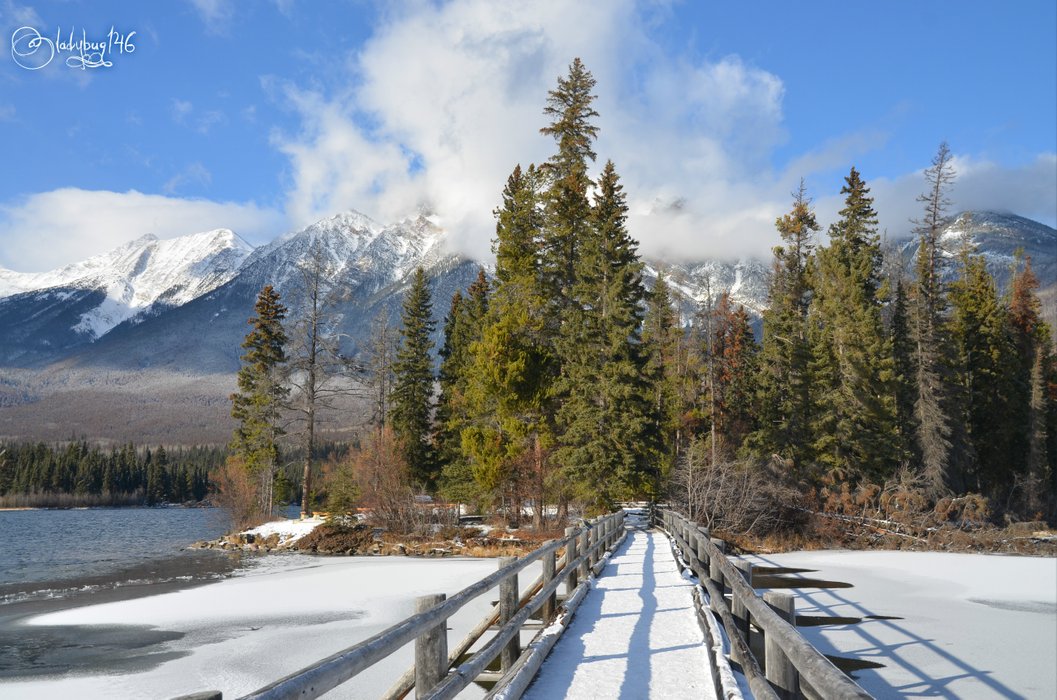 Shot 1/250 sec. f/8 22 mm, ISO 100
We discovered an area we hadn't been to yet, how could we have missed this!! We discovered a trail head that went to Pyramid Island. Perhaps we missed it because it's so small and looks like the mainland from afar. The island is linked by a bridge to go across, very easily accessible for all ages and level of fitness. The Island doesn't take long to tour, maybe 15 minutes at the most. The trail goes completely around the tiny island where tiny animals and birds can be seen actively catching the attention of their guests and offering us some entertainment for a few minutes.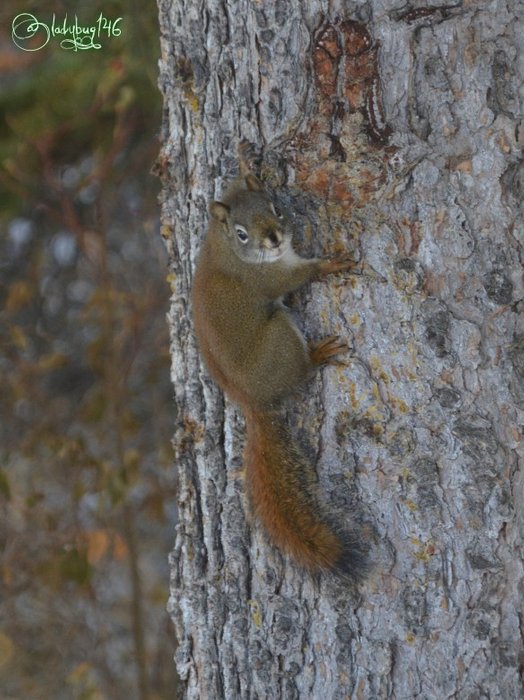 Shot 1/500 sec. f/6.3 200 mm, ISO 1600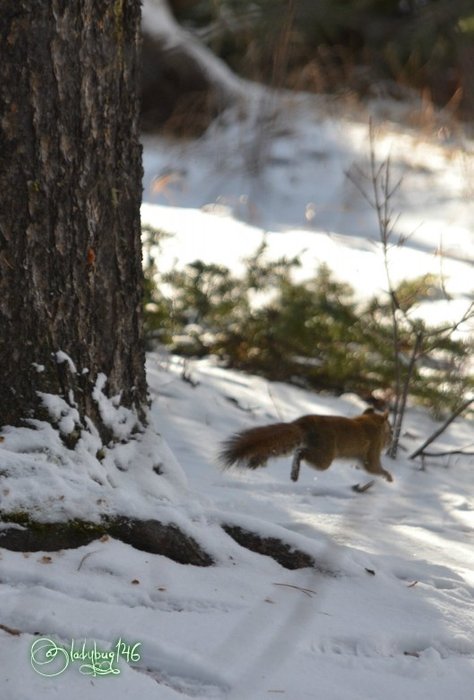 Shot 1/1000 sec. f/6.3 200 mm, ISO 800
The Trail brought us to a closer and unobstructed view of Pyramid Mountain. This was taken in November, It wasn't to cold yet but cold enough for the ice to begin forming around the edges of the lake. We could hear this annoying light whistling almost like someone running their wet finger on the edge of a glass and we took quite some time trying to figure out what it was. Secretly being watched by UFO's? 😲 What could possibly making that noise! Once we reached the tip of the island, we noticed a very light nearly invisible layer of ice floating over the lake and it's vibration in the waves and colliding pieces were creating this whistling. Who knew ice could sing! Well we learn something new everyday but what a strange phenomenon! UFO's would have been a fun explanation too lol...maybe some other day.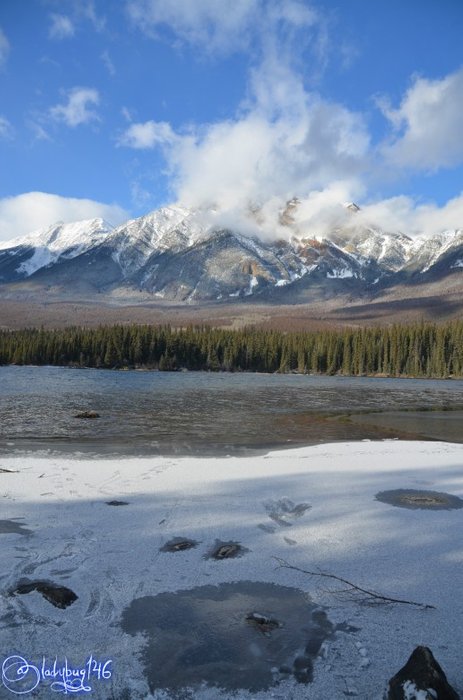 Shot 1/250 sec. f/8 18 mm, ISO 100
We gave ourselves a pat on the back for our great detective work and decided to get of the signing island, I was wearing my hiking boots that I despise and used to climb parts of Mount Robson a few days before, honestly it felt like I was walking with broken ankles and I just wanted off, I much preferred having frozen feet in my runners at this point, I was ready to begin walking back to the truck barefoot in the snow. Note to self, ditch the boots and get new ones, Columbia Hiking boots are crap and ergonomically incorrect at the ankle support, don't make the same mistake I did. I told @silvergingerman not to wait for me and walk at his pace to get the truck to come meet me where ever I make it during that time, it saved me 5 minutes of an excruciating walk and was soon sporting my runners with no grip on ice, time to do the penguin walk for the rest of the day I guess but my ankles felt so much better instantly!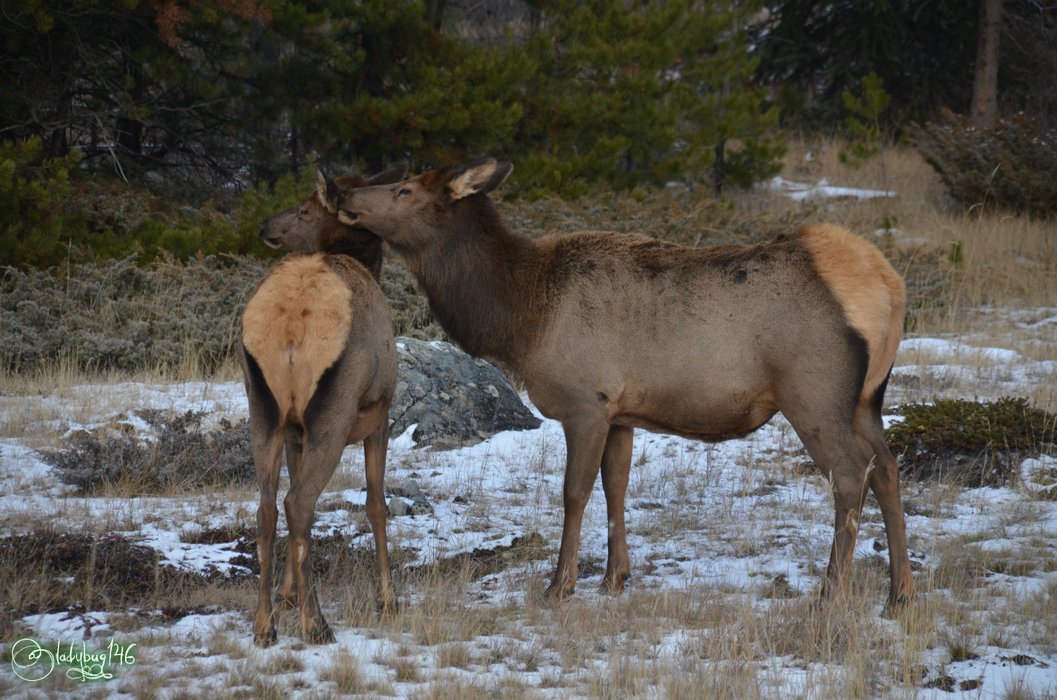 Shot 1/1000 sec. f/6 155 mm, ISO 560
Isn't that sweet! A mother's love! We ran into a herd of elk, like any other trip. Parts of me wondered if it the same one I saw pregnant last winter and the mother and bambi I saw in the summer. They tend to be with their herd and roam the same locations? Did I witness the little one growing up from it's conception? Wouldn't that be cool! Sometimes I envy the park workers to be able to track these little wonders. With the cold of winter setting in, it was heart warming to see this duo (again), I just love animals, watching their behaviors and learning about them. At this age, the young bucks get their first set of tiny antlers and I can't see any, she must be a doe.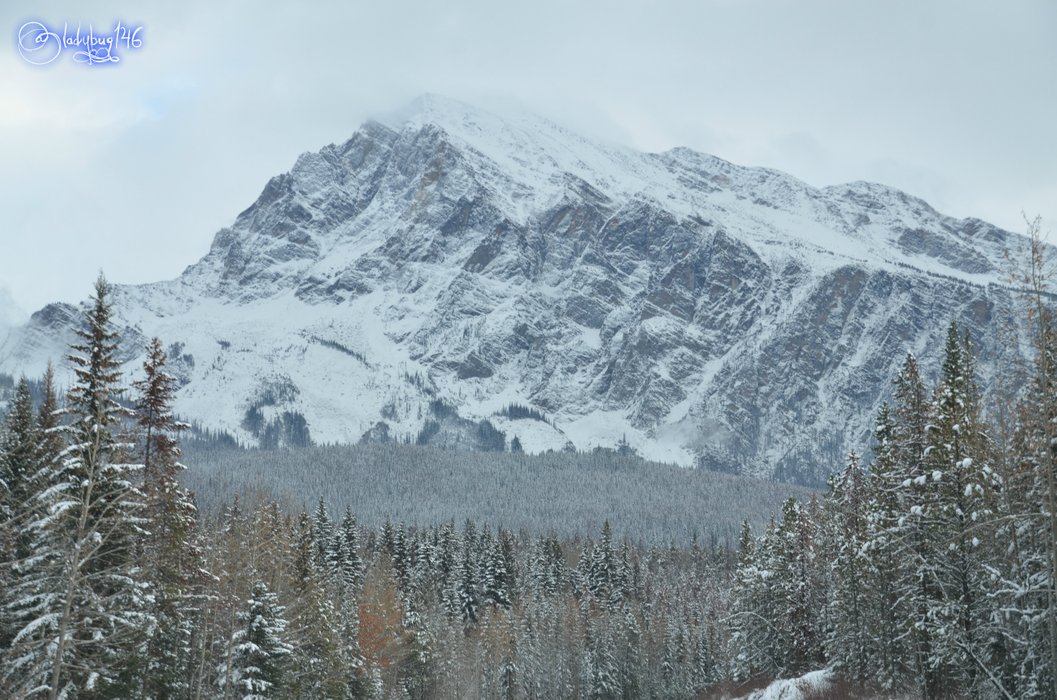 Shot 1/200 sec. f/7.1 55 mm, ISO 200
Next on our the agenda, well the only one we really cared about absolutely visiting was our favorite location, Athabasca Falls. The required us to go on a journey down one of the most beautiful drives in North America, the Icefield Parkway. Never go to Jasper without checking this road out, it's magnificent especially in winter. The trees lined with snow, driving along the semi frozen river. There are many rest stops for viewing and take in the gigantic landscape and the storms forming on the mountain peaks in the distance, take your time! It's very busy in the summer but the off season offers some peace and quiet to truly enjoy the environment at our own pace.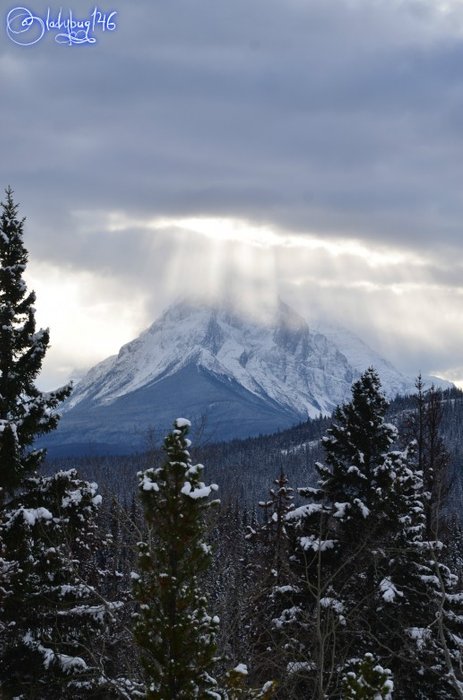 1/250 sec. f/8 55 mm, ISO 100
Good thing we are not on top of that mountain!! It doesn't look all that friendly today! As we got closer to Athabasca Falls, we could see many storms setting in giving the Rockies a more somber feel than the town of Jasper, I suppose it is to be expected in the mountains it seemed to be the theme of the trip anyway, leave the clear blue sky behind for clouds and fog, why would it be different now? 🙄 🙄 🙄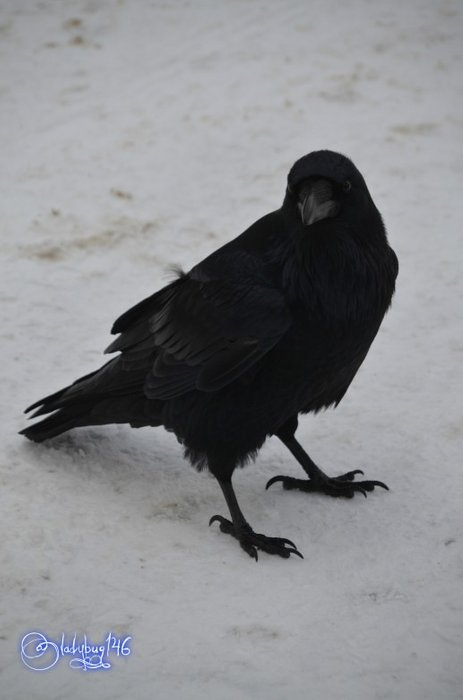 Shot 1/1000 sec. f/6 155 mm, ISO 500
I saw my spirit animal, the elk on our way, it was only natural that @silvergingerman gets to spend time with his too. Upon our arrival at Athabasca Falls, we were greeted by @silvergingerman's raven and he followed us for a bit, probably looking for food but regardless got a chance of having a good photo op with him as other guests were beginning to arrive. We didn't come here for the ravens tho, it was time to move on and view what we had been so excited about... THE WATERFALL! We made our way down the short trail, the place was busier than we expected for this time of year but still not as crowded and difficult to get a good view like summer. Each year, many visitors make their way here with large tour buses viewing can get difficult as the crowds gather in large numbers all day. Who can blame them, this place is incredible!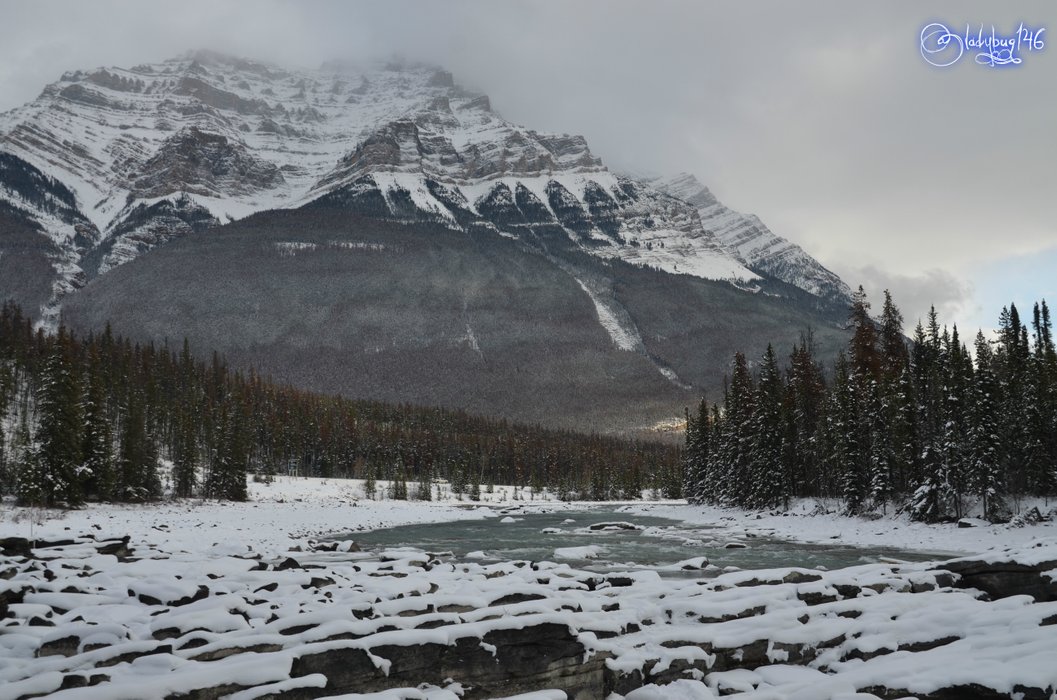 Shot 1/250 sec. f/8 26 mm, ISO 125
The devastation of the pine beetle infection can clearly be seen on Mount Kerkeslin and it's surrounding, it is heartbreaking but knowing that we had enough cold this winter to kill most of the larvae population offers some relief and hope. The damage is already done but it will be easier to contain this year and hopefully the damage can be under control enough to save the landscape from more damage. At this time of year, the flow of the waterfall is substantially reduced as the glaciers are freezing instead of melting but nonetheless there is still some water flow and the fall was beginning to form the beautiful ice mass it carries in winter yet the river not frozen enough to be able to walk over it and view it from the bottom. We took our time and took as many trails as we could and enjoy the shortened day as much as much as we could.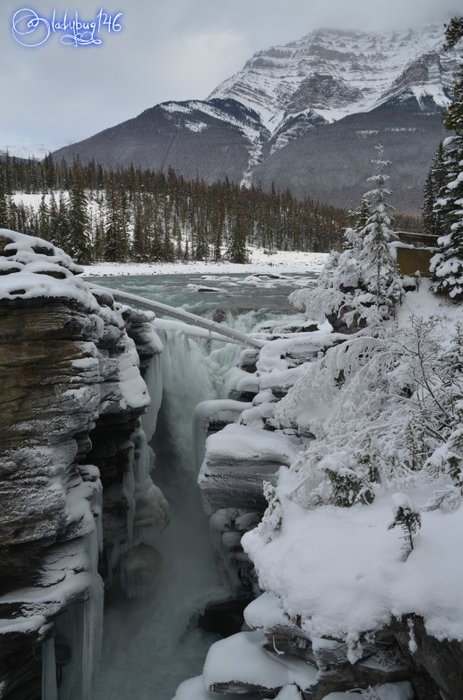 Shot 1/250 sec. f/8 18 mm, ISO 180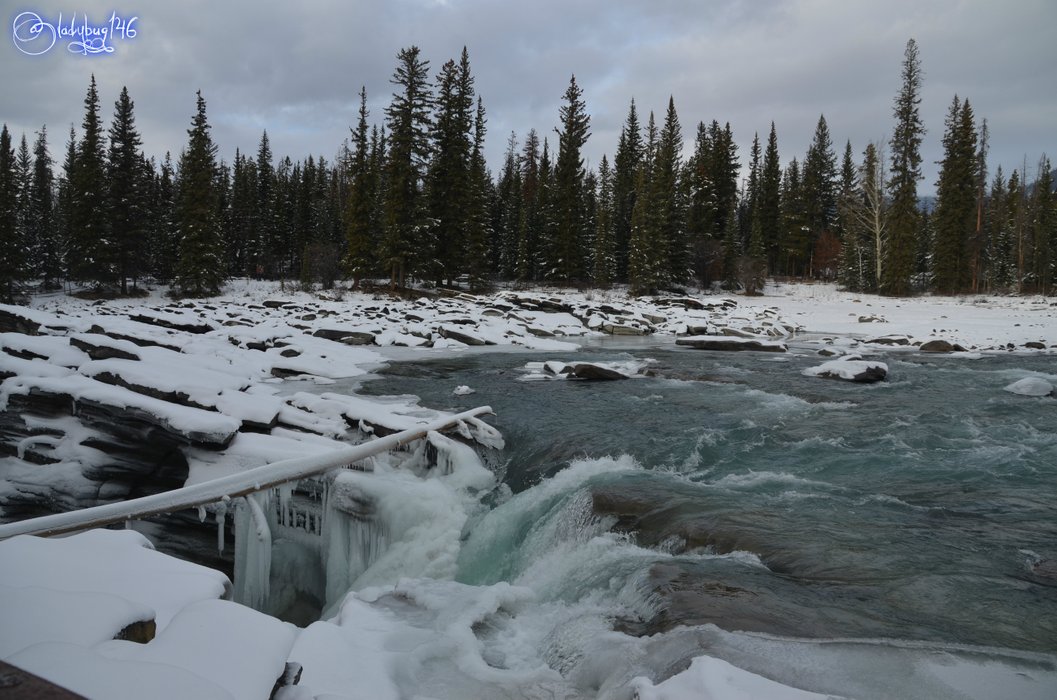 Shot 1/250 sec. f/8 18 mm, ISO 125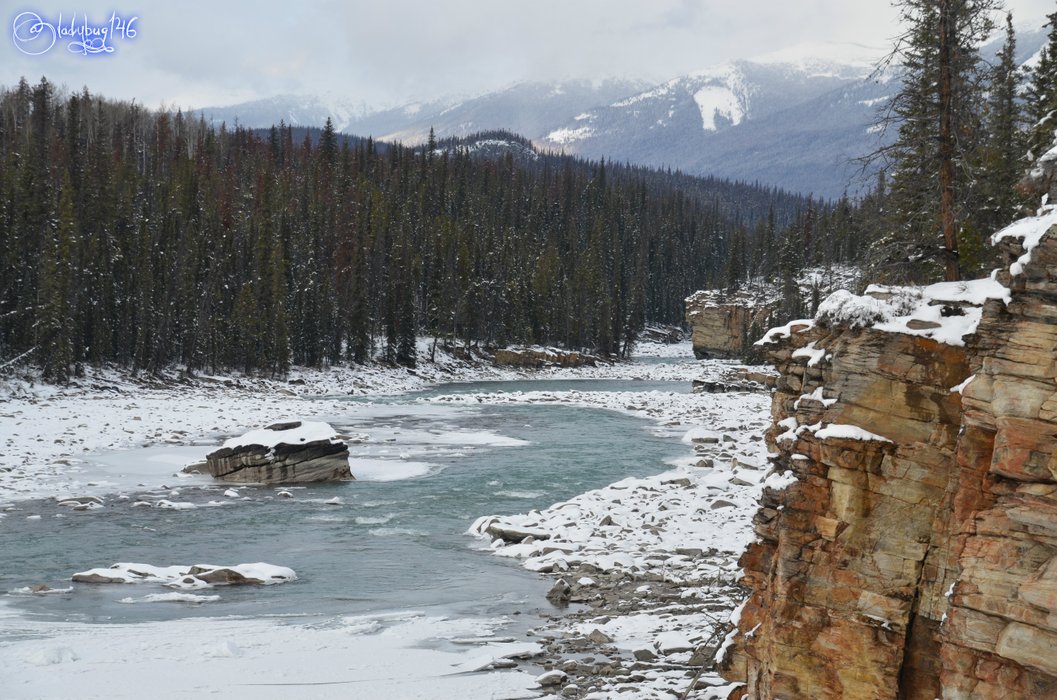 Shot 1/200 sec. f/8 55 mm, ISO 200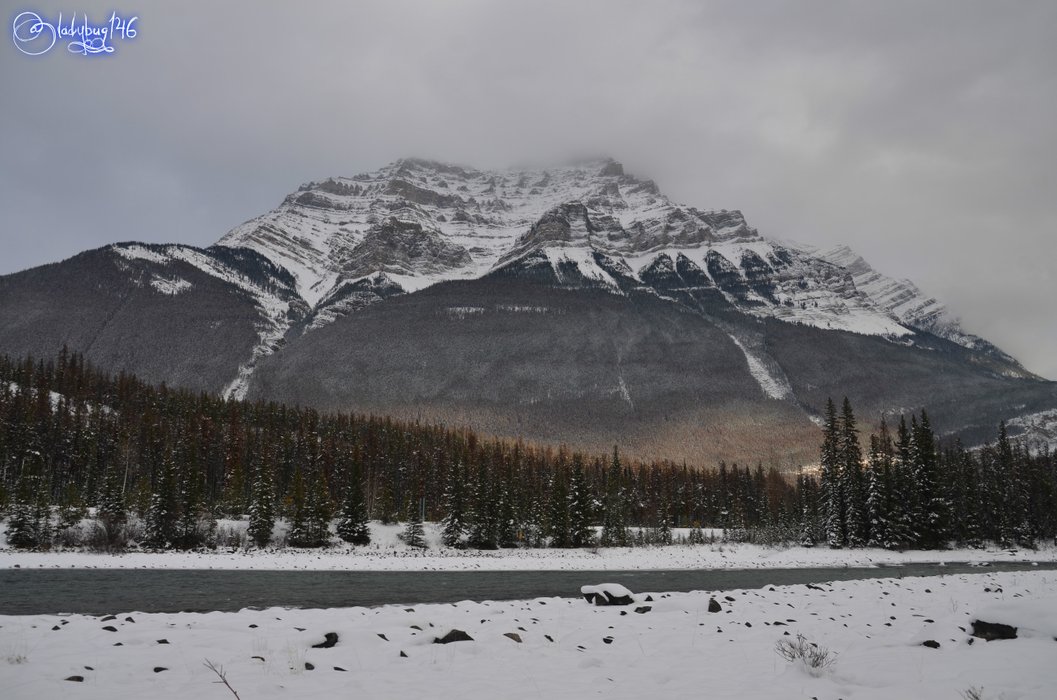 Shot 1/250 sec. f/8 18 mm, ISO 100
The sun was beginning to go down and sunsets are often spectacular near the endless chain and that was also one of our targets for the day, it is less than 30 minutes drive away and we already made it this far, why not! We like to just sit at a nearby rest stop and watch the sun illuminate the tip of the chain as it disappears. It was too cloudy for it on that day but still worth a shot anyway. We didn't get the sunset we had hoped but we were still happy just relaxing after a busy hiking ad traveling week. Too bad the vacation was was coming to and end, I could stay here forever. This was a good place to quietly reflect all the excitement of the trip. We were on our way home after all, this was a bonus and a great way to end another successful journey discovering the great Canadian landscape.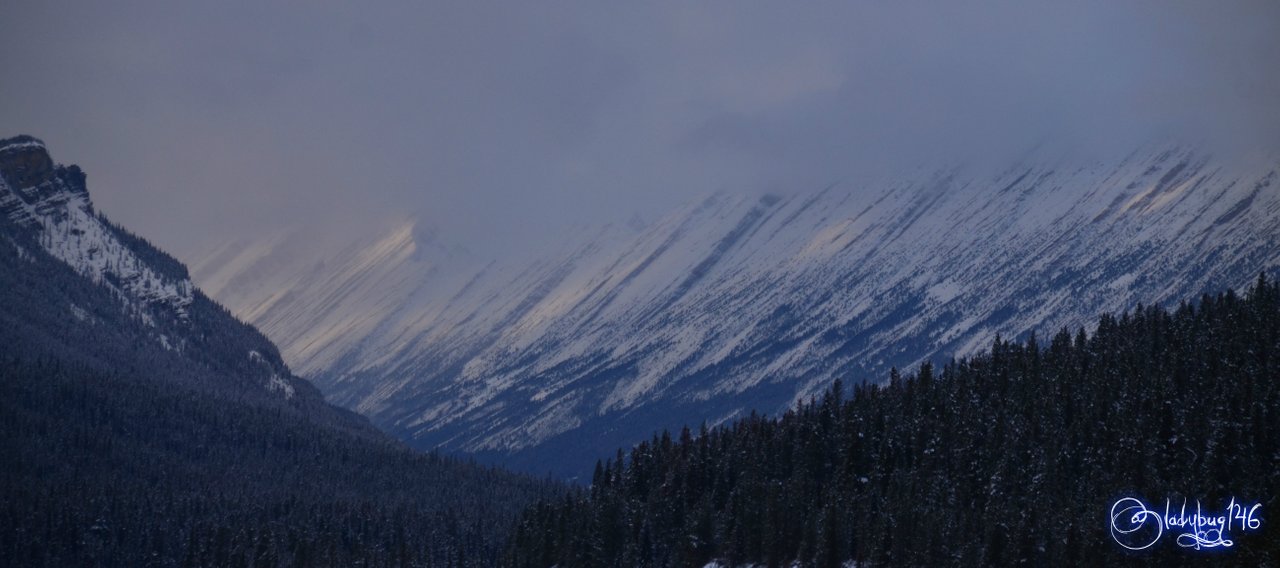 Shot 1/500 sec. f/5.6 135 mm, ISO 280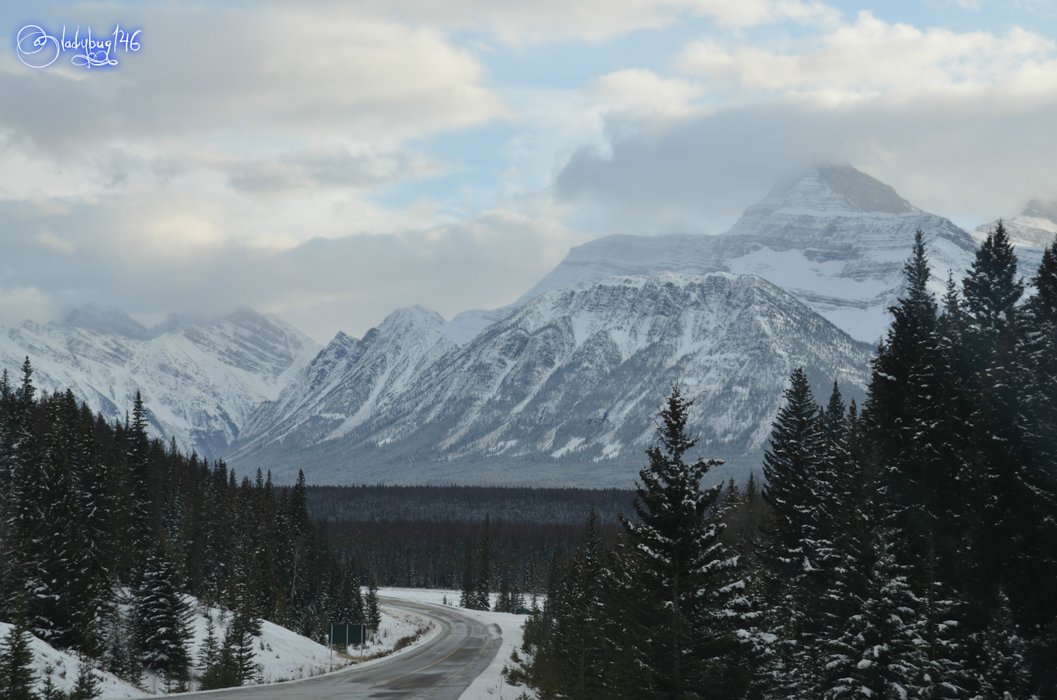 Shot 1/250 sec. f/8 46 mm, ISO 180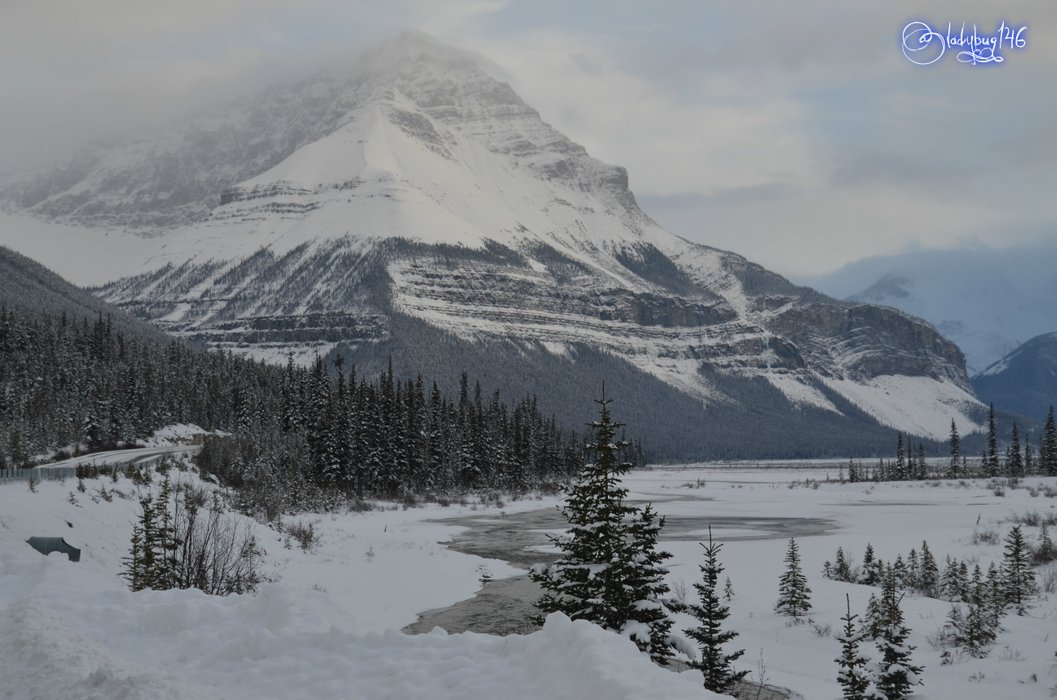 Shot 1/250 sec. f/8 46 mm, ISO 125
All images taken with Nikon D7000 and Sigma 18-200mm lens.
Cheers my friends! X🐞X