Hey steemies!
How much cooler does ice get in my province? So far we have seen gas bubbles freezing in ice, the fortress of solitude looking caves, frozen waterfalls and other formations. If that's what nature can accomplish, what can man do with the mundane commodity that keeps your soda or rum and coke cold? How about something strait out of a movie like Elsa's Frozen castle or somewhere you would expect to find Narnia's Ice Queen on her throne...The Edmonton Ice Castle at Hawrelak Park! Walk with me and I'll show you how we celebrate the cold urban style in Canada's most northern metropolis center.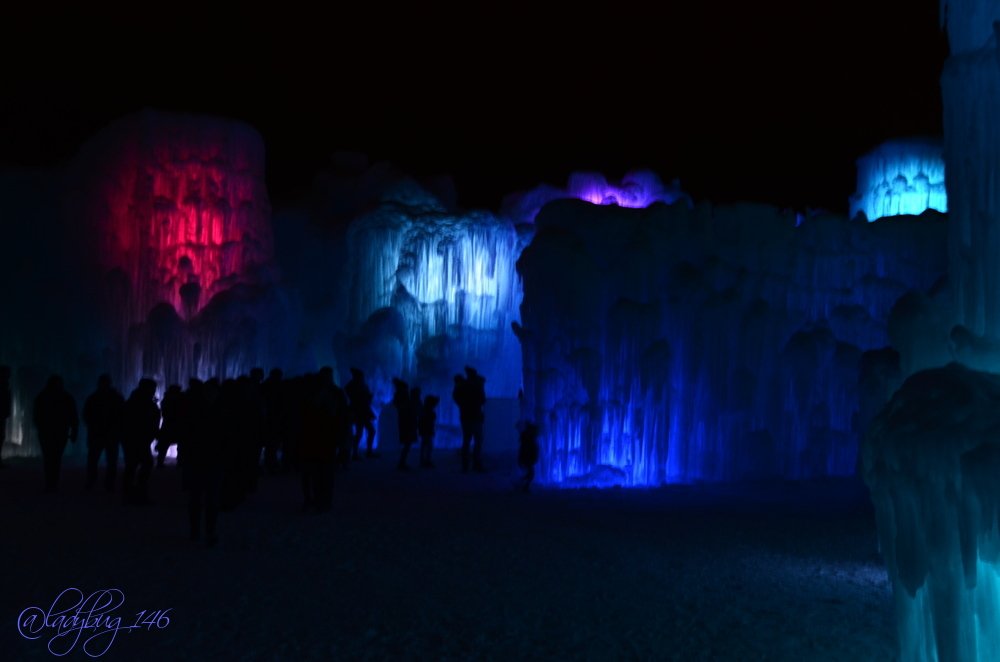 Shot 1/10 sec. f/6.3 18 mm,ISO 800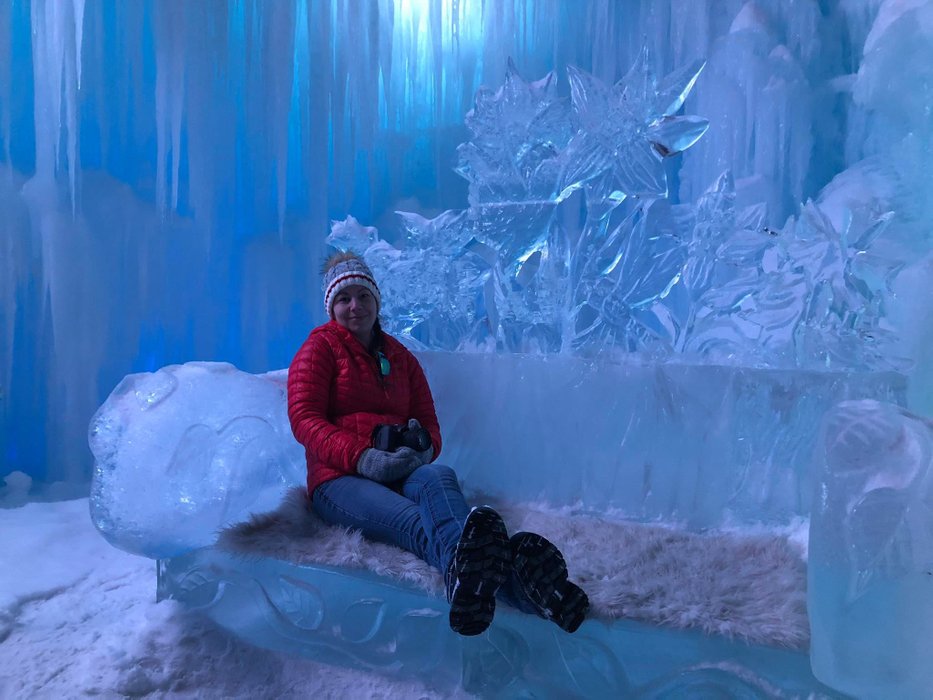 Taken by @silvergingerman with iphone 8
This vision originally started on a much smaller scale in Alpine Utah when a father wanted to build a front yard frozen cave wonderland for his daughter and her friends. What was once a popular small neighborhood hit evolved into what is now a major winter attractions across 6 North American cities, Edmonton being the only Canadian venue. As they experiment building ice structures for the fifth year in Edmonton, their craft gets more refined and the castle improves with every construction creating nothing short of a magical escape from reality.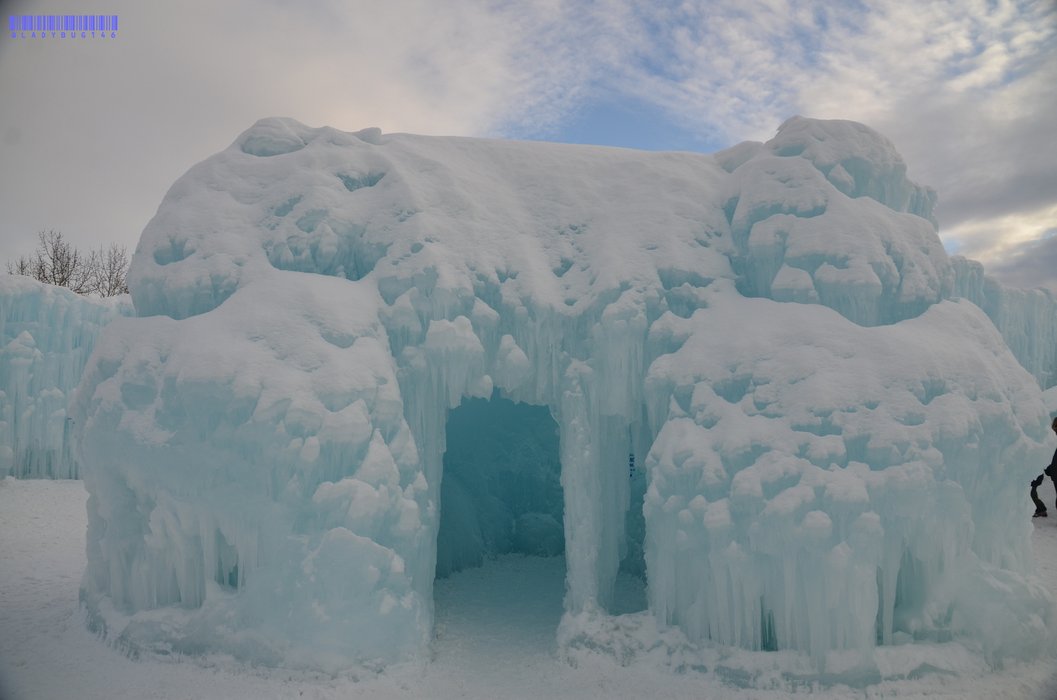 Shot 1/200 sec. f/7.1 18 mm, 200
The structures are constructed by "icicle farming" where sprinkler systems are set up when the temperatures stay consistent around -8 Celsius to build icicles to be harvested and individually added to the structure with built in Christmas lights and the whole thing sprayed over with a hose to freeze everything in place as a 1 acre castle. It requires thousands of man hours and icicles to complete. The venue is generally in construction mode for most of December, you can see them hard at work if you visit the park over the holidays. Given it's weather dependent, viewing period can vary from year to year but expecting first week of January all the way to the first week of march is the guideline.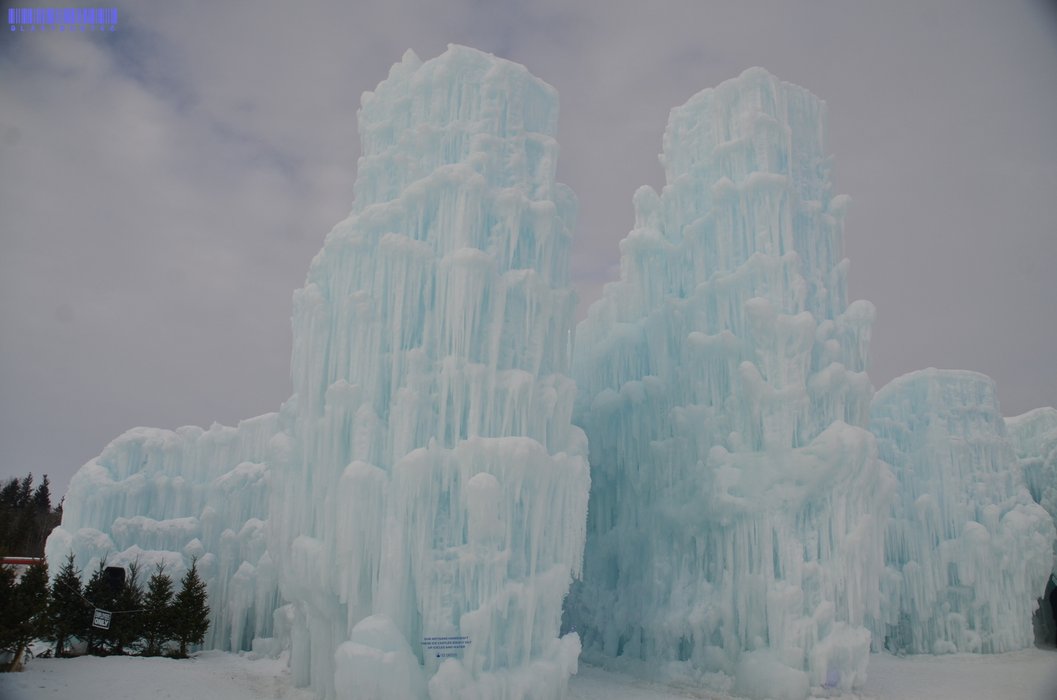 Shot 1/250 sec. f/8 18 mm, ISO 200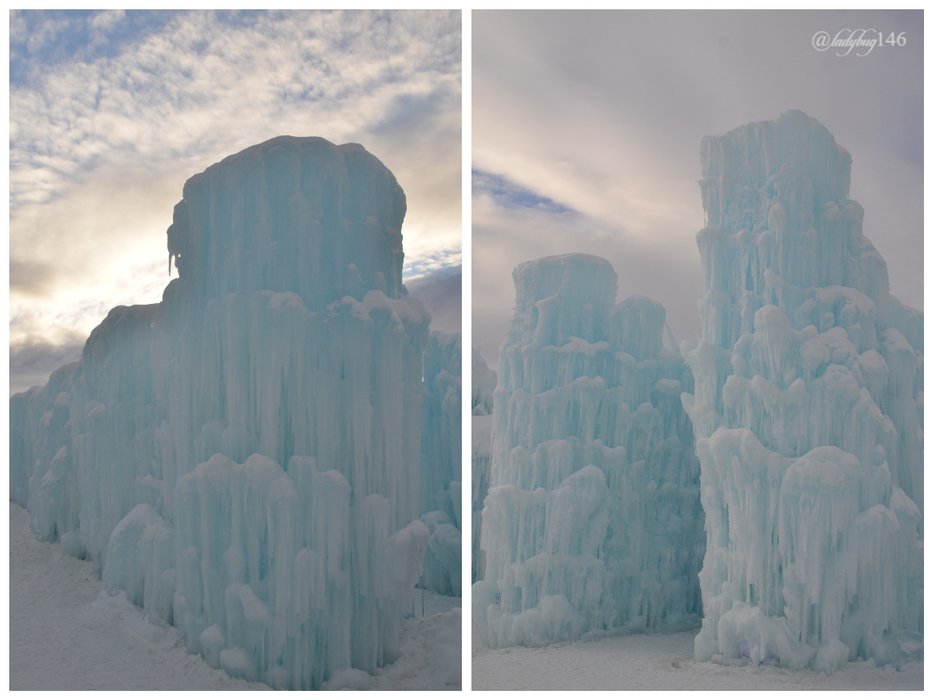 Once temperatures consistently reach high single digits to low double digits, it becomes unsafe to use and gets shutdown for the season (it can be earlier than anticipated) , I can't give you an exact time frame to visit. Once the castle is abandoned, it just melts away and a water collection systems and processing plant clean it up to environmental standards and it goes back into the adjacent North Saskatchewan river like it never happened! Hawrelak Park is a popular festival area for our city both in winter and summer with it's ring pond skating and large grounds to host large crowds into our river valley. This year, the Ice Castles have partnered up with another popular and longest running winter festival "Silver Skate" that just kicked off tonight (Friday) and happening this week-end for the next 10 days.
https://www.silverskatefestival.org/go/home/the-festival/rediscover-the-magic/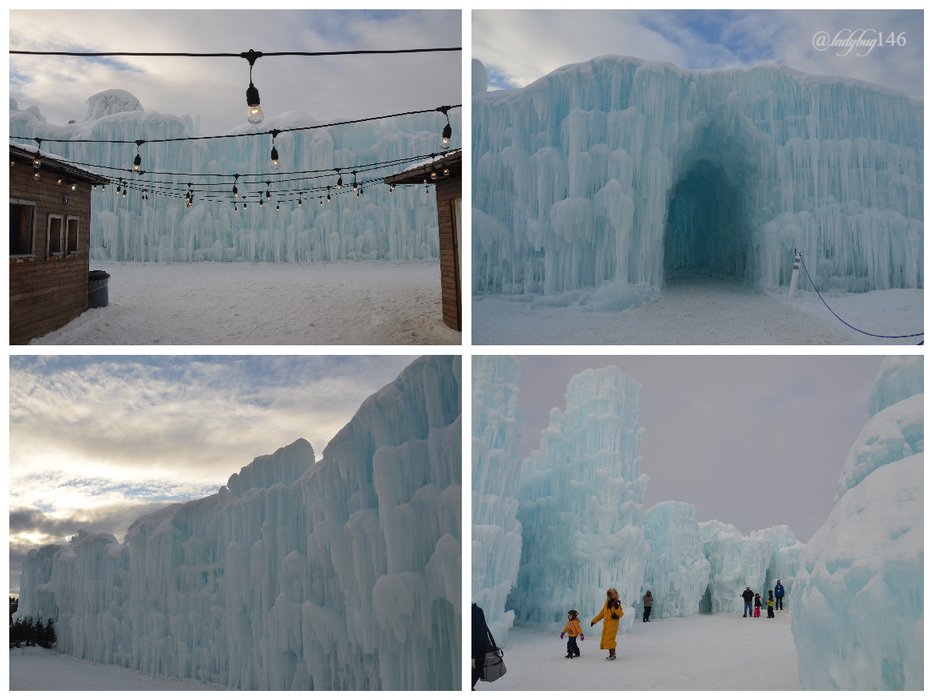 The first two pictures are taken outside of the castle at the entry while the bottom two are inside the castle.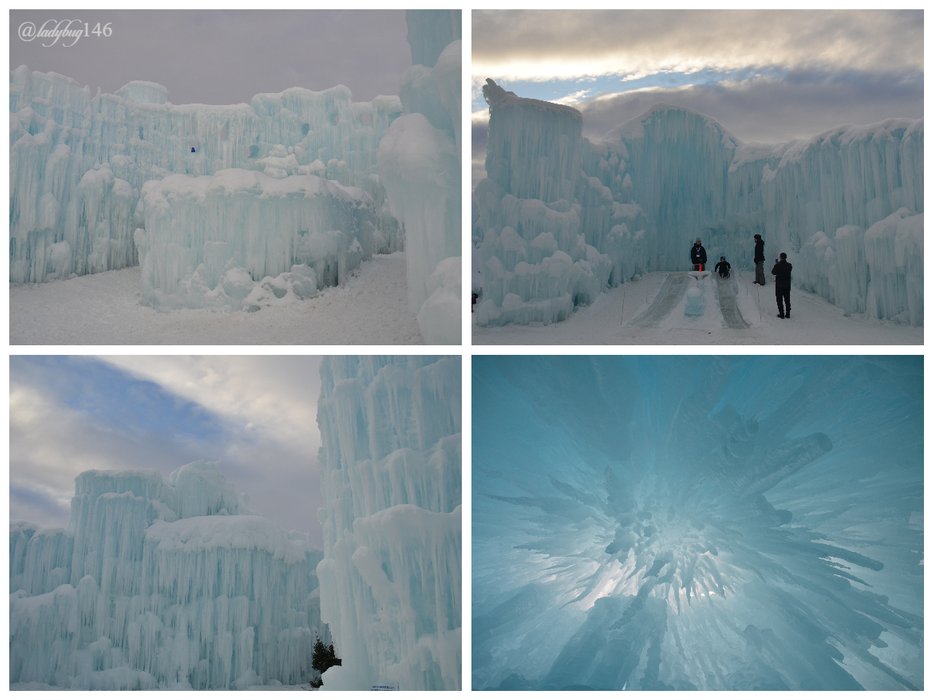 The icicles formation in the last picture is actually the roof in the tower tunnels, just a bunch of large icicles over our heads.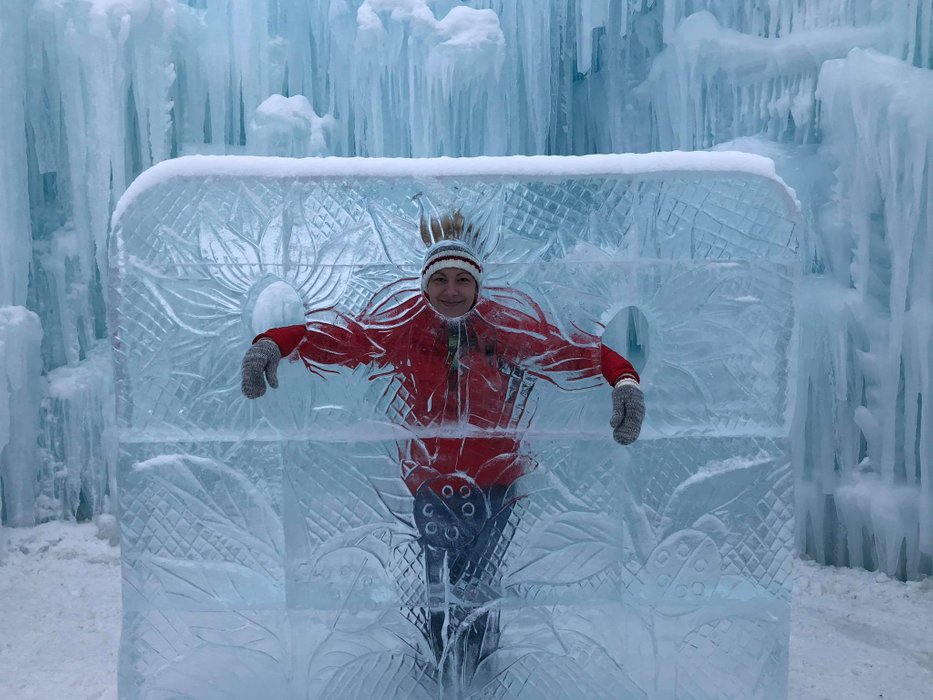 Shot by @silvergingerman. With all the ladybugs carved into the ice, I had to indulge...self explanatory!
We may still go to the festival later but it would be our first time and maybe more for you than myself! World renowned snow sculptors will be showing off their skills over the next 3 days. How is that relevant? There is a nice platform at the ice castle for a view of the action, although there wasn't much action while I was there last night. Good news is, I regretted not having brought my 10mm lens and wanted to go back to get the shots I want, perhaps a dual purpose. I can do photography of Silver Skate from my castle watch tower and get the photos I want of my frozen playground ...and maybe go down the slide a time or 10. With a cost of 13.99 CAD on weekdays with advanced ticket purchase, going twice isn't unreasonable.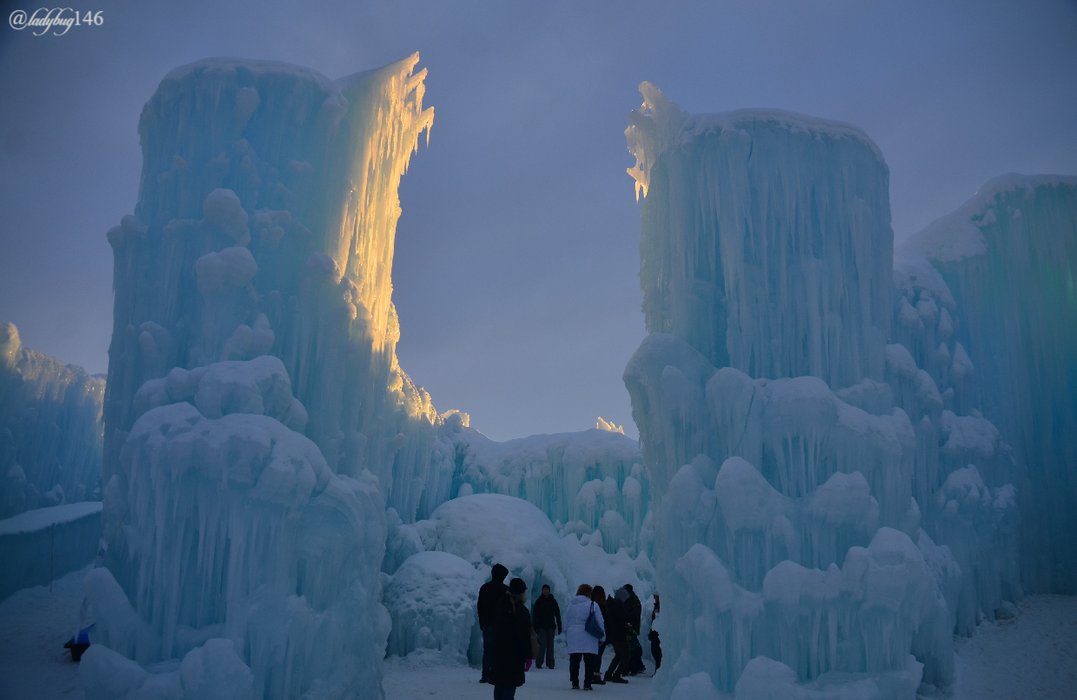 Shot 1/125 sec. f/5.6 18 mm, ISO 200. I didn't catch any cool sunset as hoped but that glow on the tower was interesting.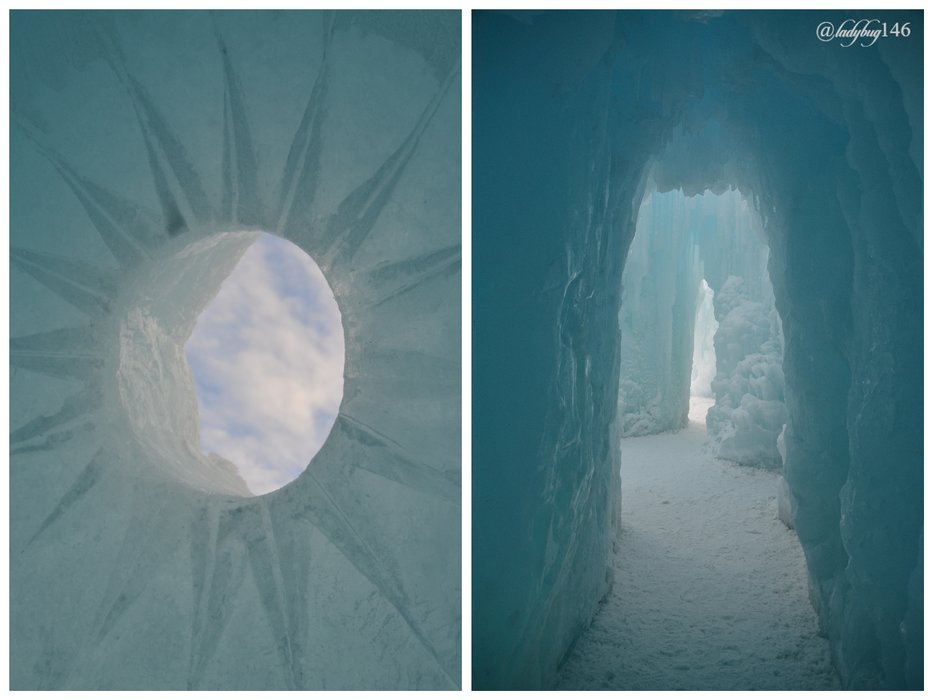 I remember being fine with my 18-200mm the first time but over the years the towers have gotten bigger along with the tunnel maze hidden inside of them. The frozen palace includes various snow huts, tunnels, slides, water fountain and countless snow or ice sculptures hidden either on the walls, in caves or at plain sight. The venue opens at 4 pm until 8 to 10 pm depending on the days and tickets may be available for purchase at a higher fee at the door if they have room for more guests. Once again, having advanced tickets guaranty your preferred entry time and faster flowing line-ups being able to stay as long as desired.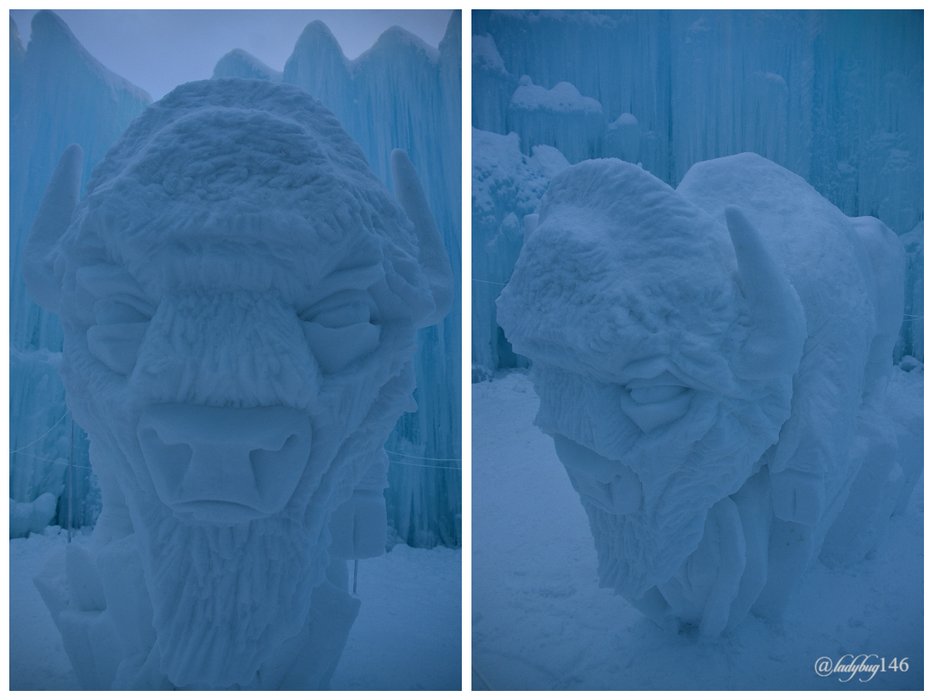 Our beloved Prairie icon, a snow carving of a Bison.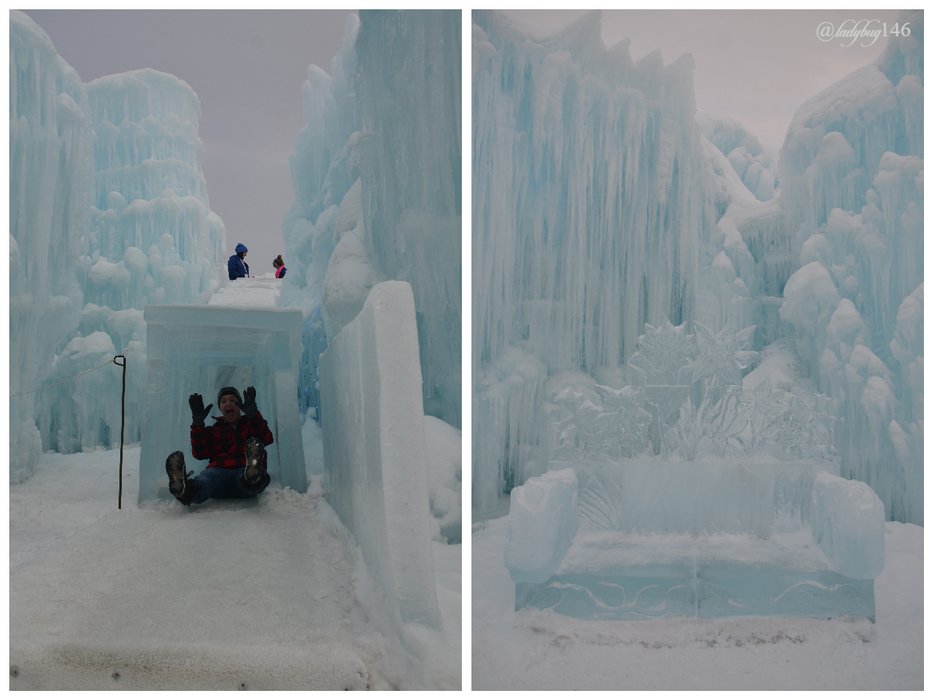 Going at 4 pm in a week day help eliminate crowds for better photography but realistically, it doesn't take long for the place to fill up thereafter, better be quick to get the empty shots. Normally, it takes about 45 minutes to get a good view but I like to see it in all 3 stages, full daylight, sundown and after dark. I can't seem to pick which I like best it all looks so different, luckily, today is a bit over the freezing mark and kind of sunny and melty I might as well stay for all 3. There is an fire pit for warm up breaks if needed, we're dressed warm enough anyway. We stayed for a total of 3 hours, once it starts to get dark, it all happens pretty fast from there on.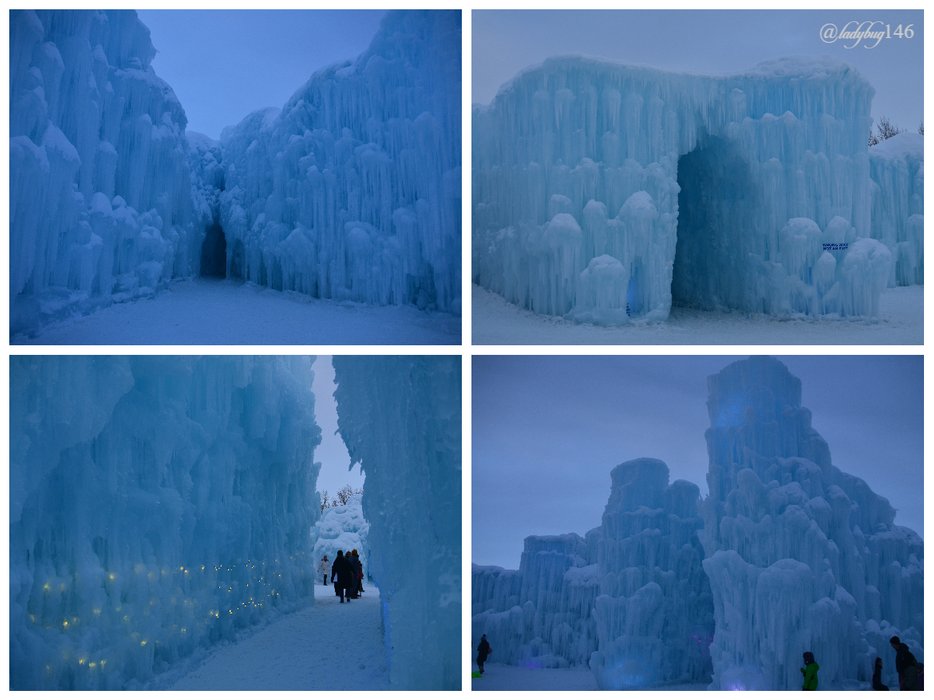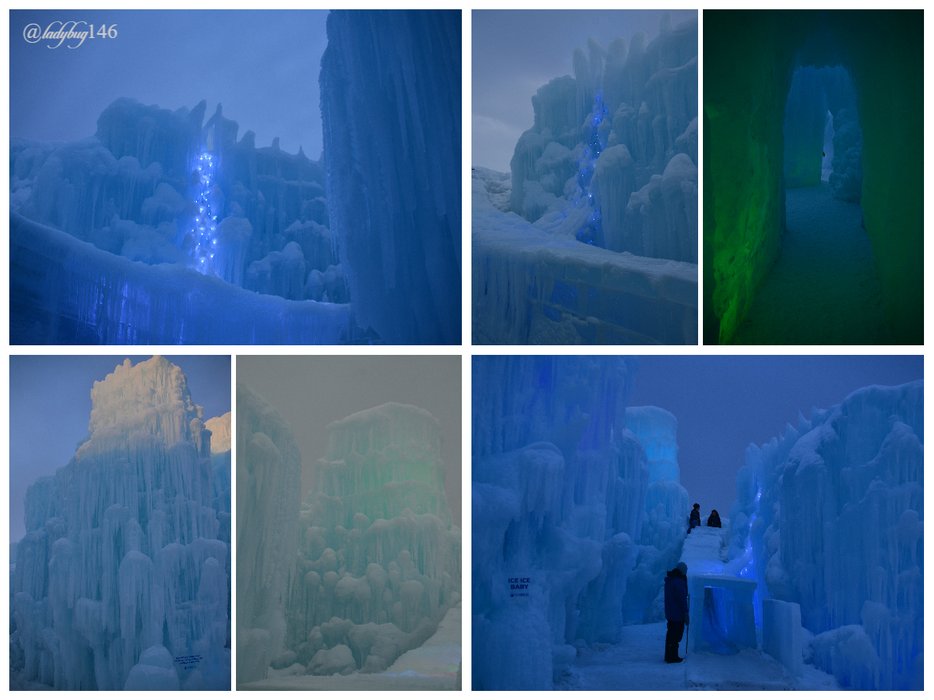 What did we do all day besides walking around while waiting for the darkness? Ice Slides!!! Of course some are very kid oriented but one is for the braver older kids...no age limit FYI...only a minimum height restriction... I'm tall enough, lets unleash the inner kiddult! Our slide is a long lighted ice tunnel that speeds you down from one of the top viewing platform all the way to the entrance to the tower tunnels. It's a little slow at the beginning of the night but as it gets used it gets really fast and fun especially after dark once it's glowing flashing colors all the way down. Finally, the sun was starting to disappear on the horizon and the lights frozen in the ice were starting to show, I was starting to get a little cold but I really wanted the night pictures, it's pretty spectacular.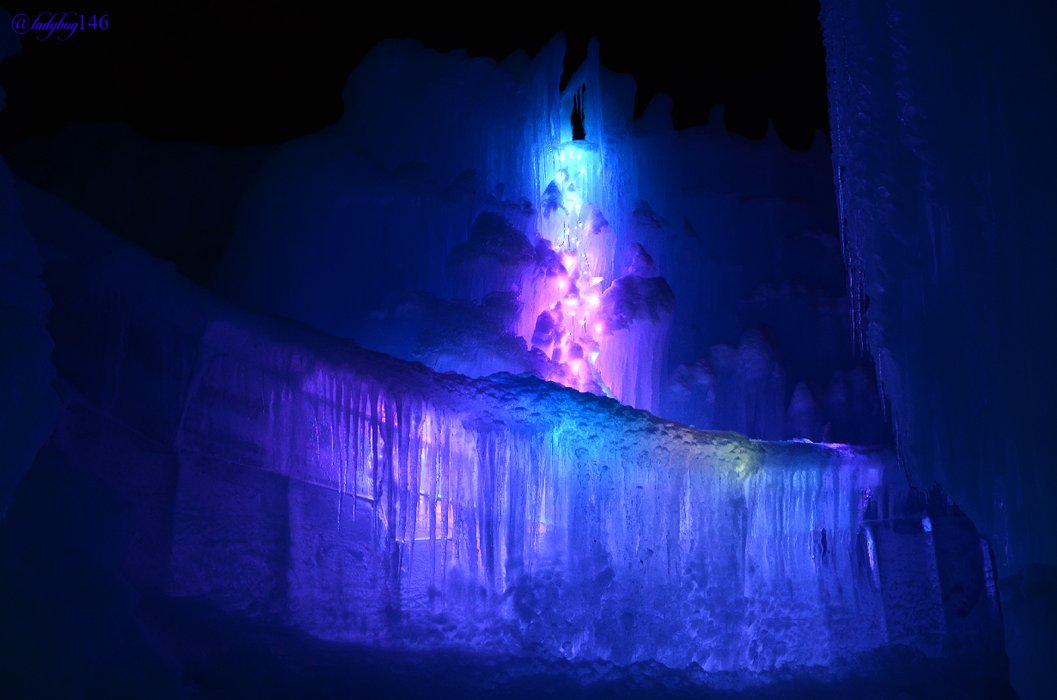 Shot 1/30 sec. f/7.1 18 mm, ISO 800. A light waterfall cascading over our favorite tunnel slide.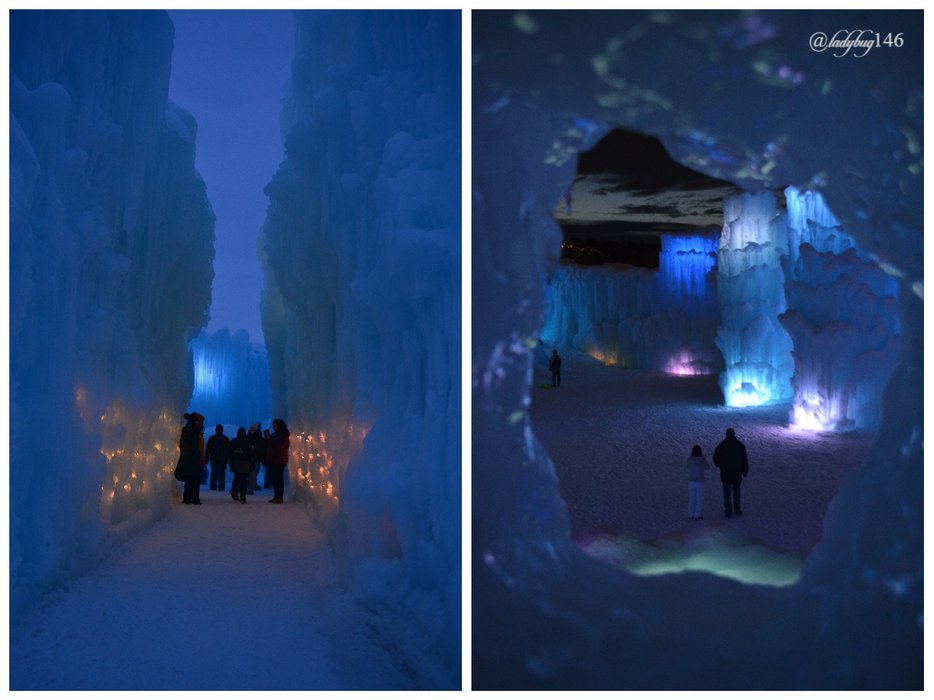 Obviously, I'm not the only one with this idea, this is peak time and expect the castle to be pretty busy and now to get the empty shots was nearly impossible. Trying to be as patient as I can, the best I could hope for is at least have shadow people in strategic places that adds to the photos, those opportunities were plenty. Many use this location for professional photo shoots, since most of them act like they own the place or completely oblivious and directly insert themselves in other people's pictures without consideration so I got a free model, might as well make the best of it, kinda made for some cool shots after all (I still got the picture I wanted eventually).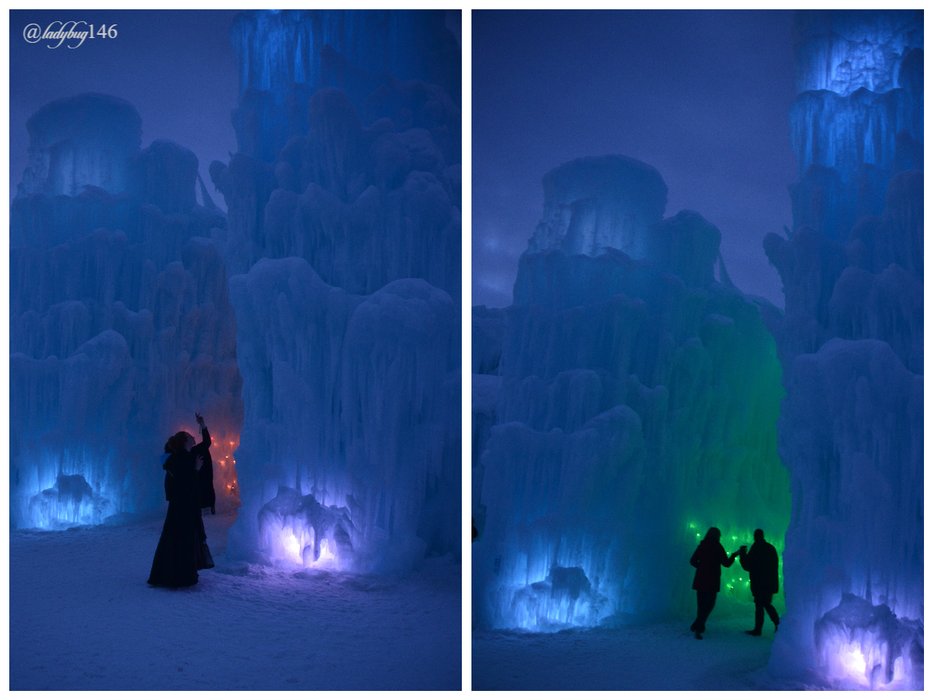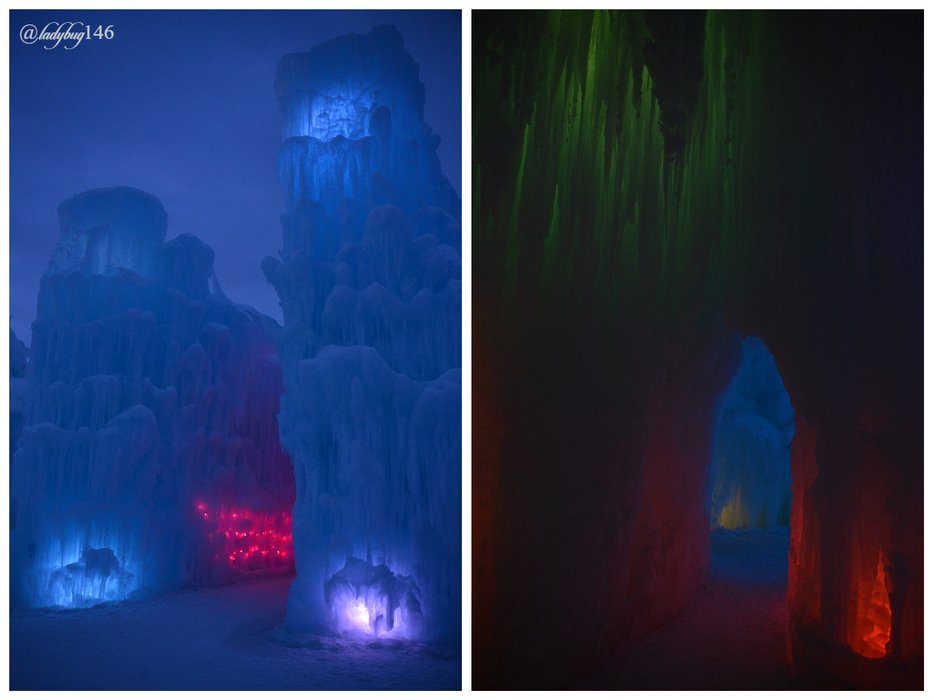 The first time we visited was 2 years ago, I have to say they have gotten better in the construction over the years, we wanted to go last year but it melted too soon. I missed some of the features they had 3 years ago overall I still really enjoyed myself and forgot I was an adult for a little while, it was a good day! I highly recommend making your way down there if you can sooner rather than later, I saw geese are starting to fly back, we might have an early spring. One thing I found, they didn't do very good maintenance of the ground to prevent it from getting slippery from the heat of our feet especially on slopped trails and it gets a little dangerous. They really upped their game with the tunnel caves and mazes. I tend to slightly prefer night photography here, I'm sure I don't have to explain why!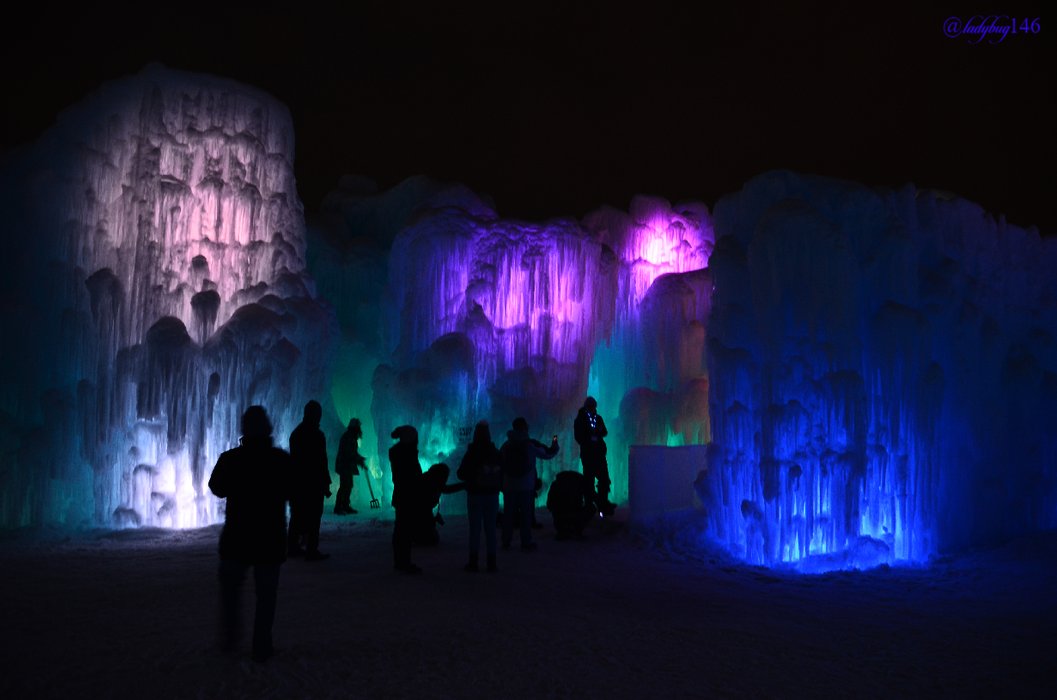 Shot 1/10 sec. f/5.6 34 mm, ISO 800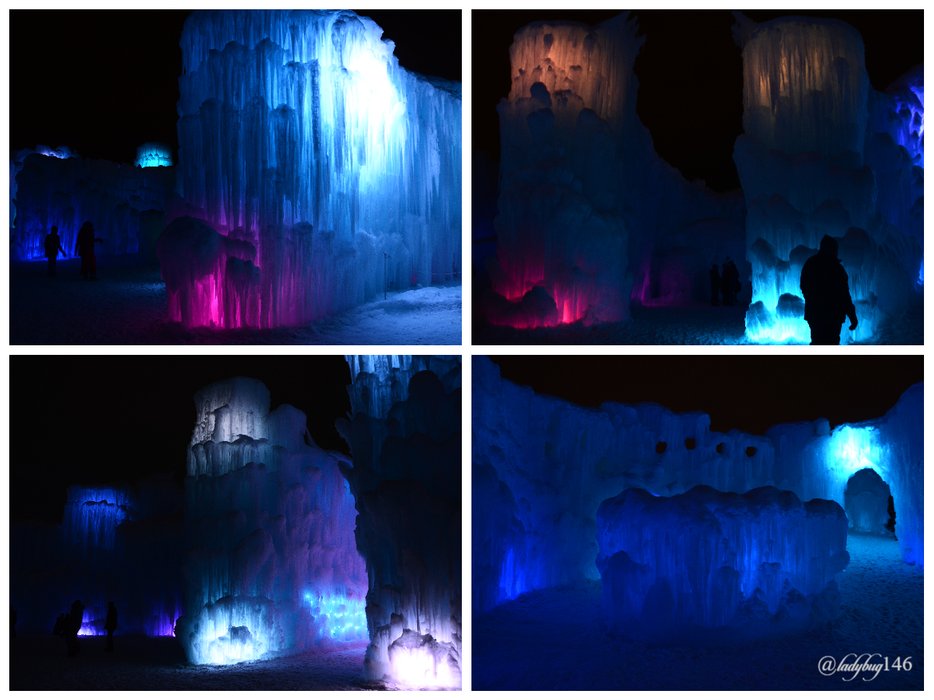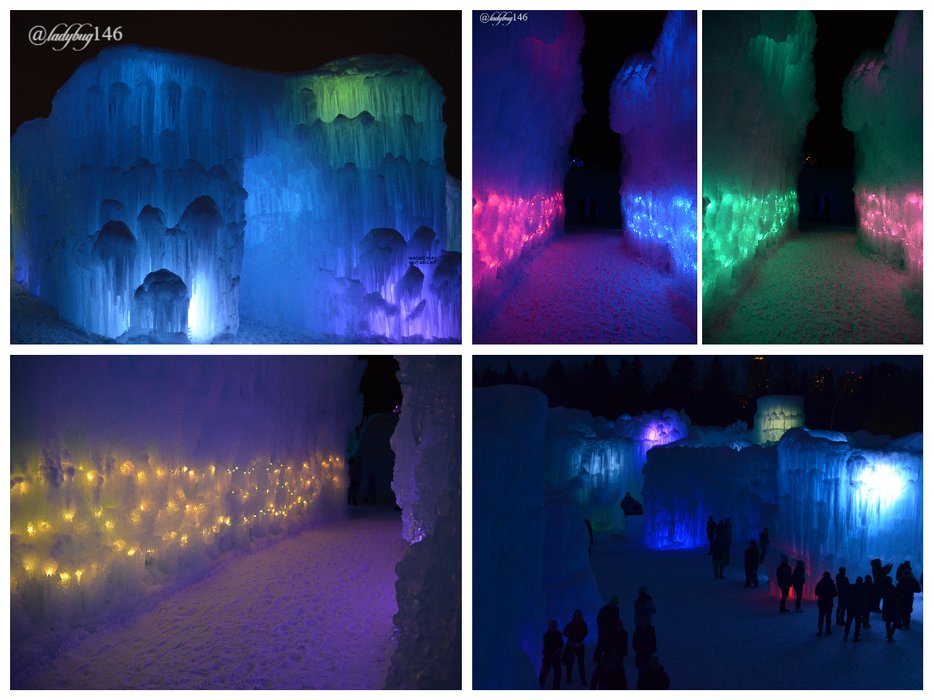 There you have folks, Edmonton Ice Castle 3 ways! This pretty much does it, we were getting a little hangry and cold so here is one more picture from the entrance, I liked the way the stringer lights glowed in front of the castle. If you look close enough, you can see the light rays coming out of the bulbs but picture time was over and time to get some grub. Should I make another visit before the season is done? Cheers! xox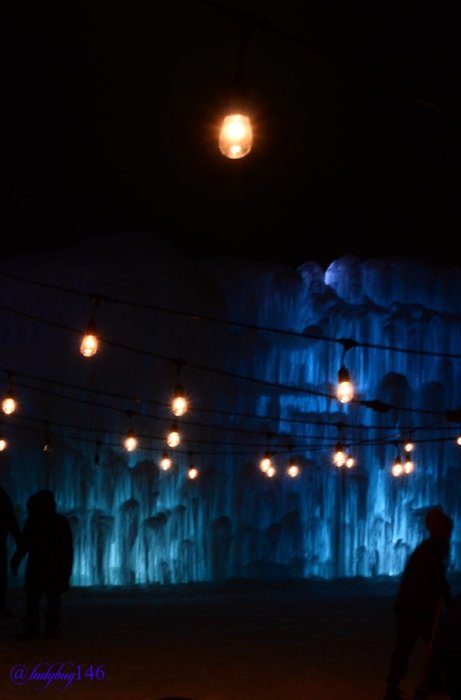 All images taken with Nikon D7000 and Sigma 18-200mm lense.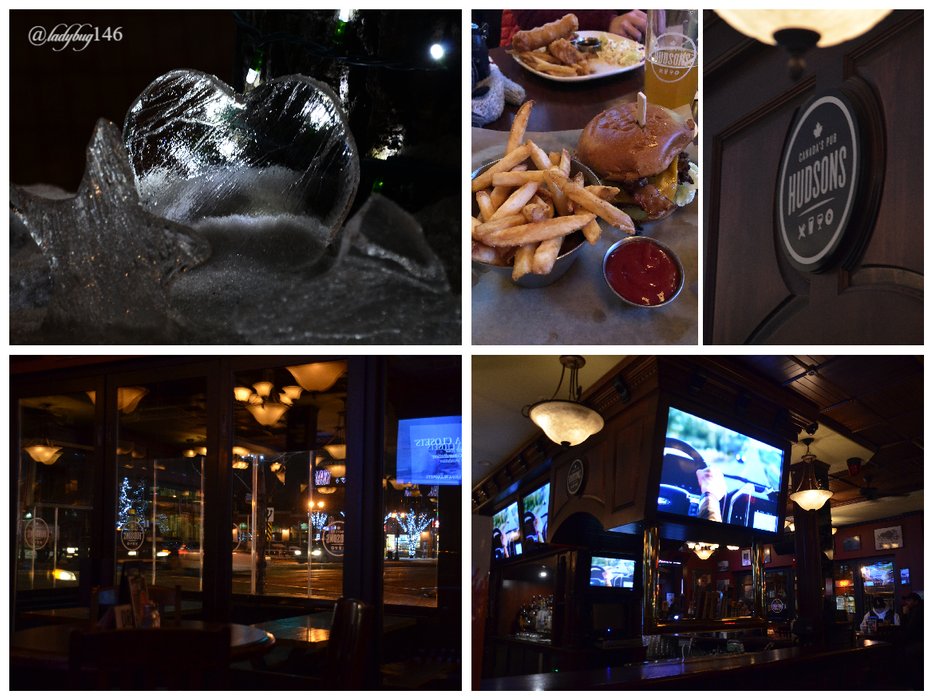 https://icecastles.com/alberta