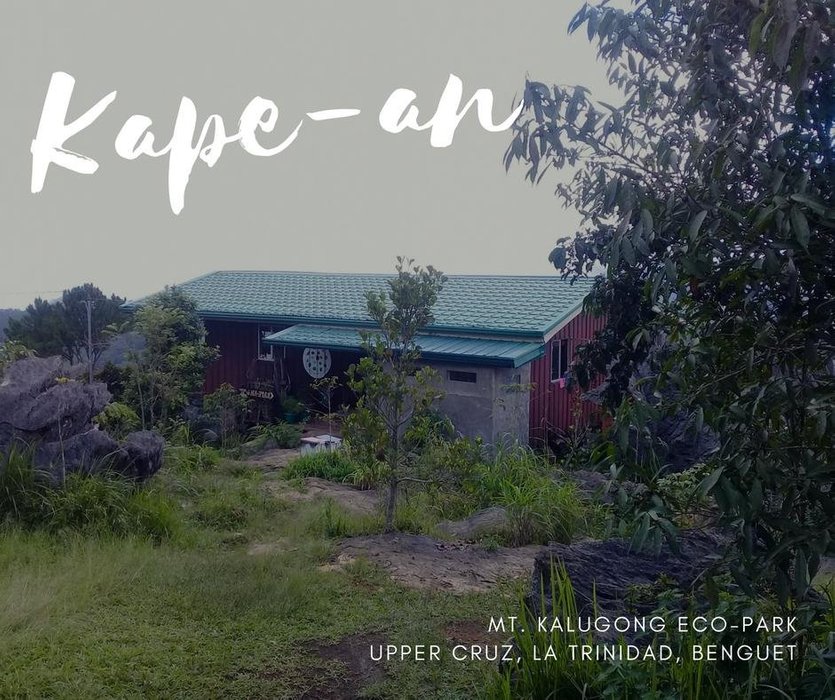 You can read about Part I of our short hike here ULOG #32: MyPictureDay at Mount Kalugong (with short clips)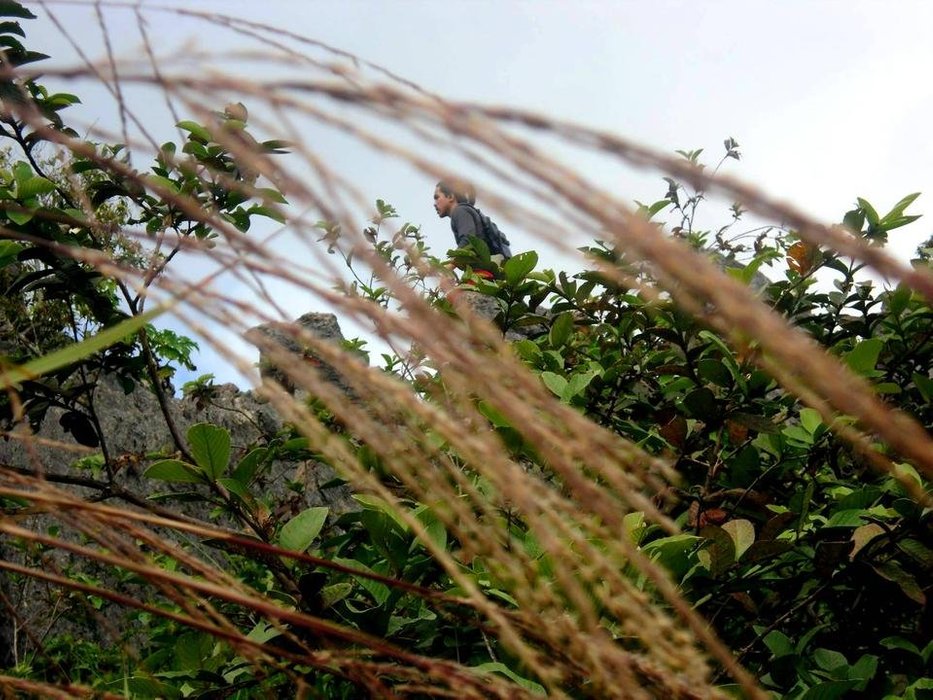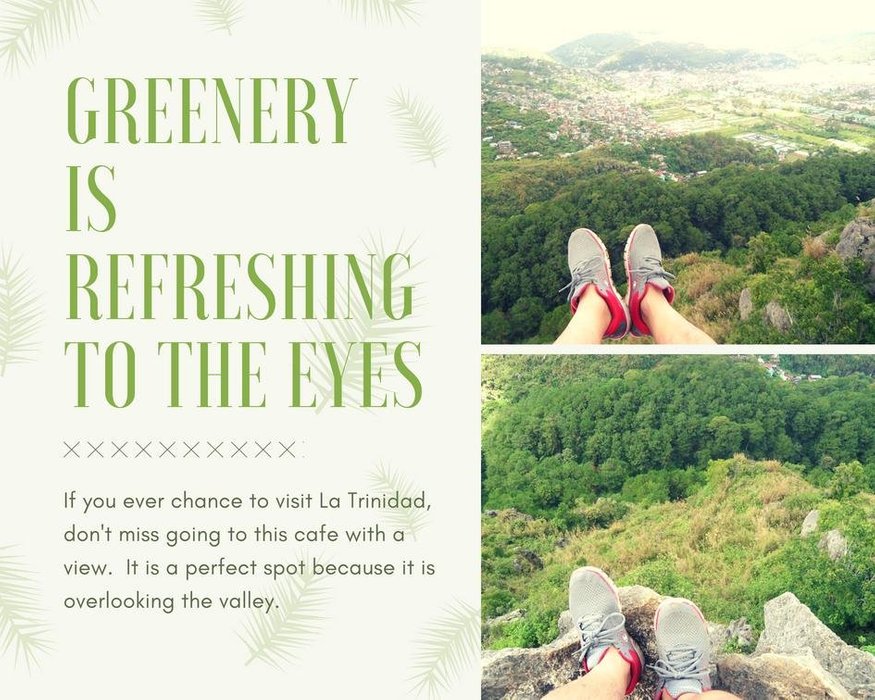 All photos and videos were taken using Samsung mobile phone and Casio Exilim camera.
Here is a short clip of the inside of Kape-an for those who are not interested to read the descriptive post about it.
After a hike going to this Eco-Park, roaming around and exploring the place, be adventurous and be daring where you take photos - it's time to rest and soak in the view of the valley more.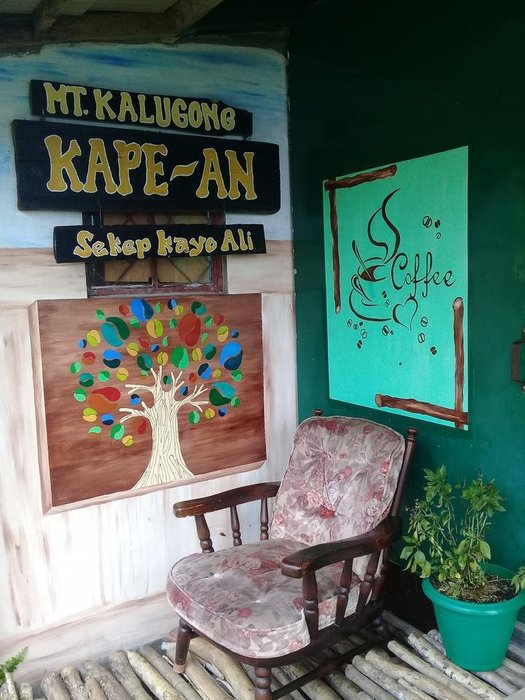 Take a seat and have a selfie
Kape-an is from the word "kape" meaning coffee and "an" is added to denote a place. "Kape-an" then means a place to drink coffee. If you notice in the picture below KAPE-AN are the words "Sekep kayo ali" which is an Ibaloi language meaning "come in" or welcome.
Ibalois were one of the the original settlers of the valley. Most of them settled in the plains. Kankana-eys are the other group of people but settled in the mountains. This cafe is owned by an Ibaloi. Even the names of their coffee or food in their menu are localized because of the Ibaloi names.
It is a nice touch to give a fancy name to your drink. Empetang for hot drinks and engketileng for cold drinks. For example, "empetang jen kape" means hot coffee and "engketileng jen kape" means iced coffee.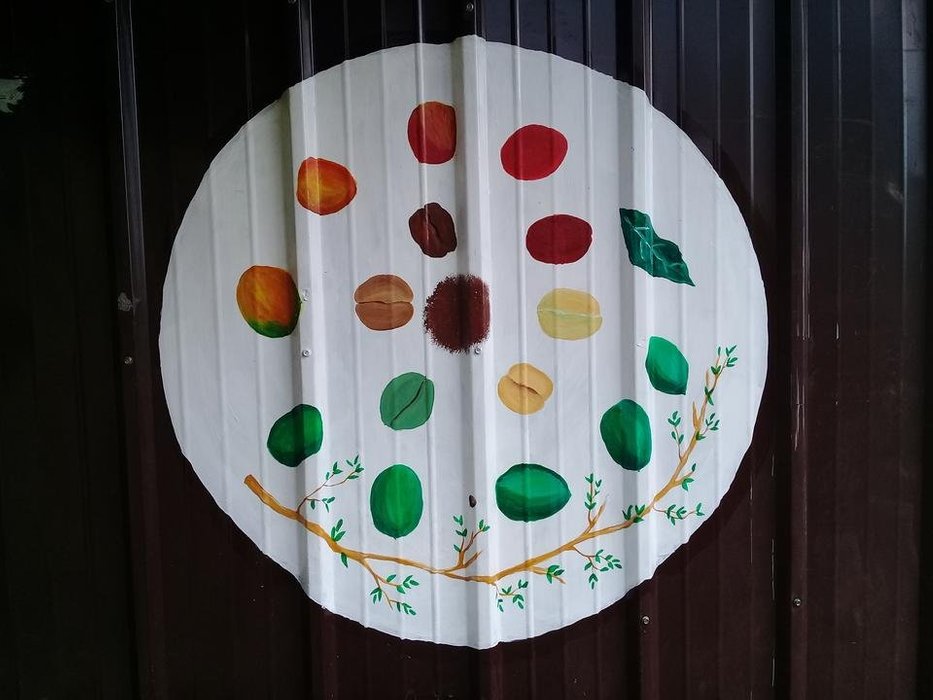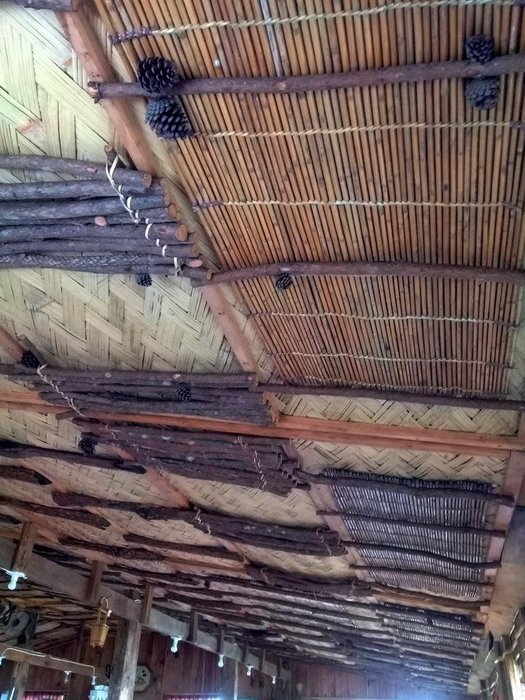 Ceiling made of pine twigs/branches, nipa and runo
It is an unassuming place but when you go inside, it gives a homey vibe. Plus, the aroma of Arabica coffee brewing puts you in a comforting place. With its lots of windows, it gives off a bright atmosphere. The wood floors and walls and ceiling of pine twigs/branches, nipa and runo give it an indigenous and exotic ambiance. The chairs and tables compliments these structure. This kind of set up must have been patterned from some of the houses before wherein slabs of big pine trees were used to build houses. They say that if you walk in a house and you notice evidence of pine trees or the design is derived from trees, then you know that the owner is a Cordilleran (Cordilleran is the collective term for people of the Cordilleras which include Benguet and Mountain Province).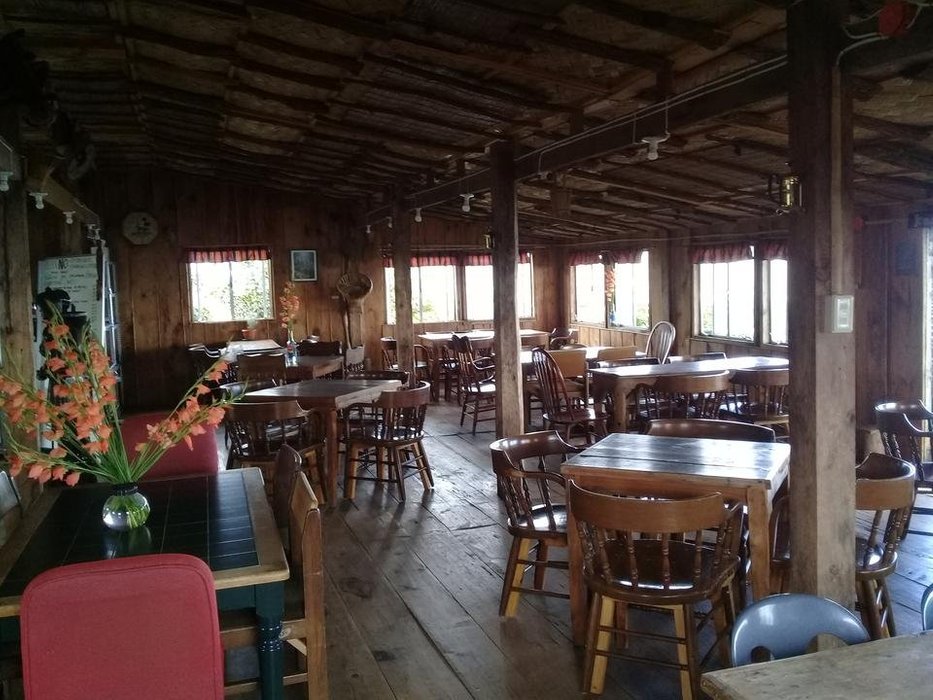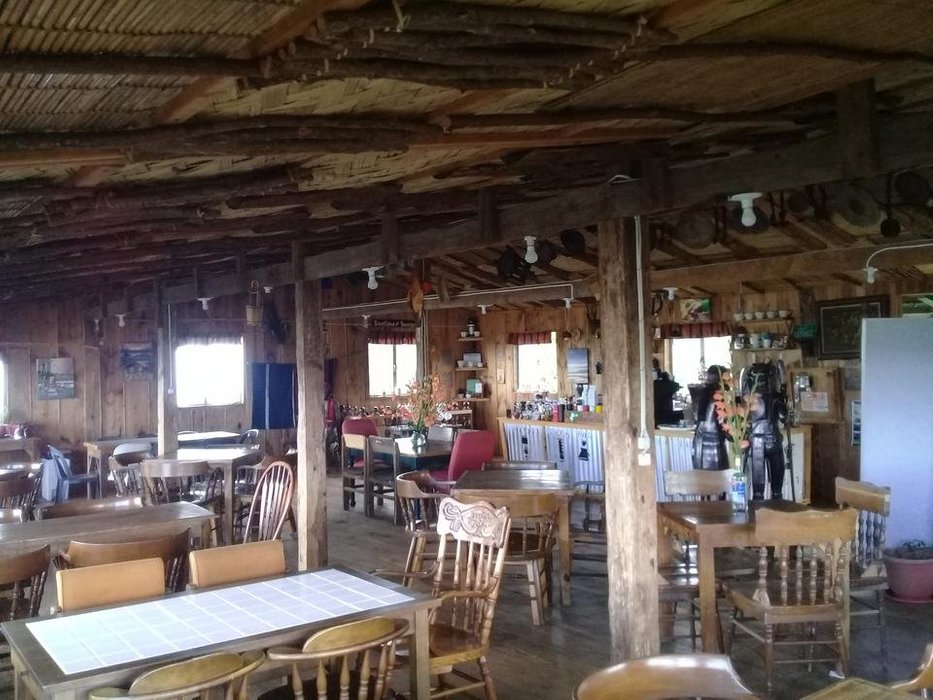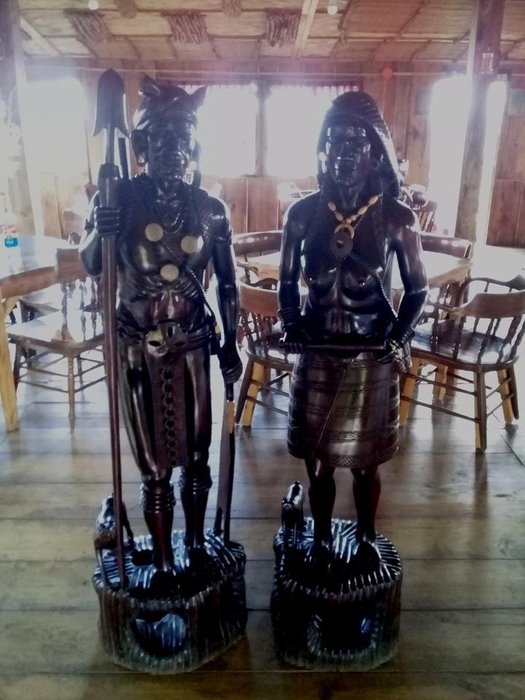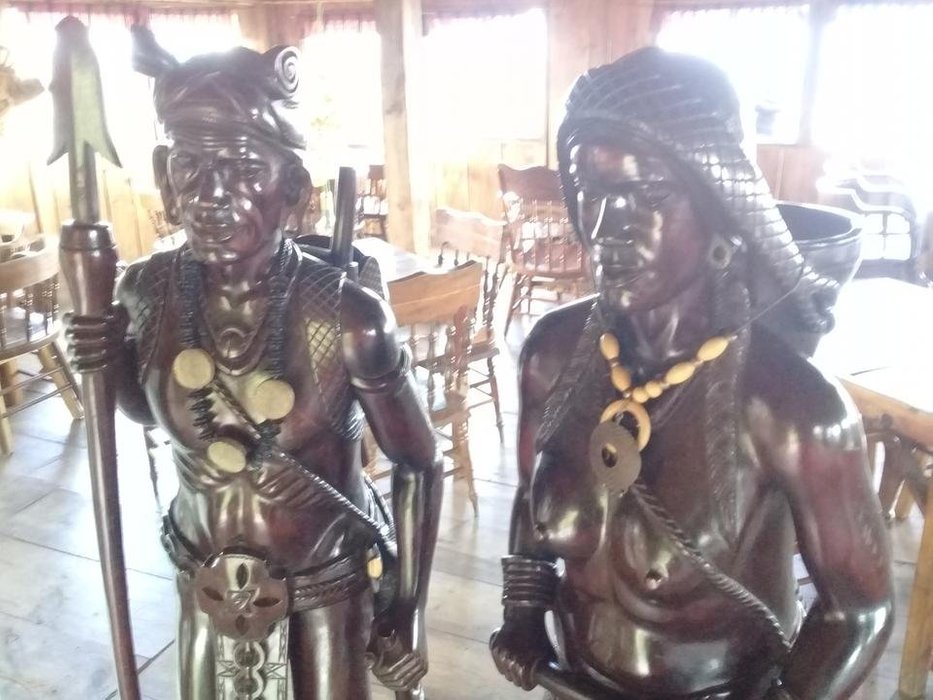 These two wooden statues greet you as you enter the cafe. They depict how people used to dress before complete with accessories from head to toe. Men used spears and bow and arrows to hunt. Women on the other hand farm the land and take care of the house and kids. The woman statue has basket called kayabang secured with a strip of clothing and strapped on the head.
Wooden spoons, drums, baskets, pots, etc were used to accessorize the place as well and can be seen on the beam and walls.
The cafe is a one-woman business. It is self-service which is understandable. When we were there, me and my sister were the only customer and no one else came after us during the duration of our stay. There were others who were there visiting the place but they must have brought their own food and ate in the picnic grounds or on the rocks.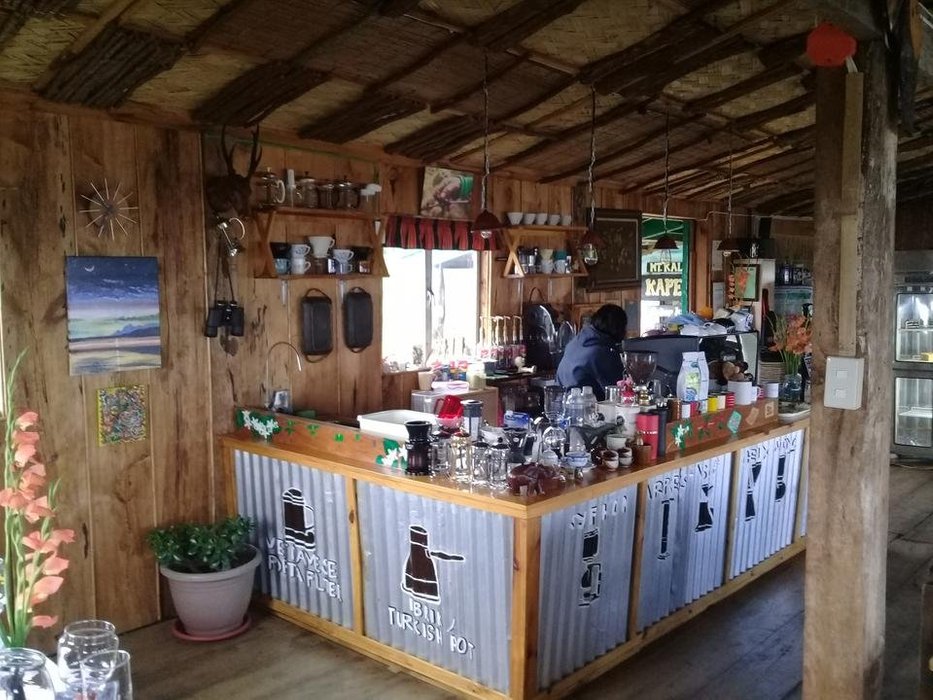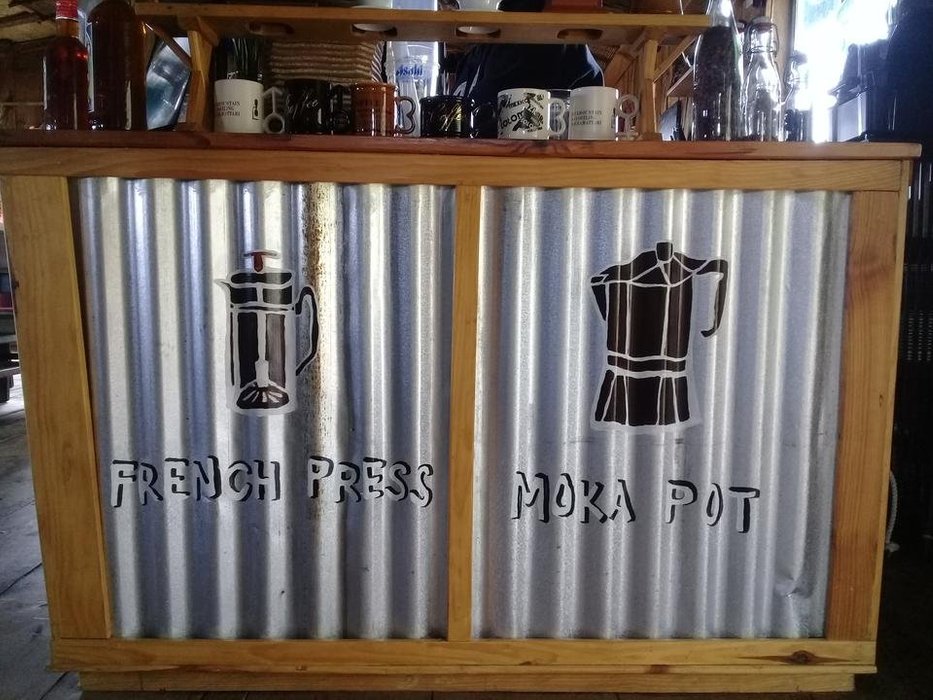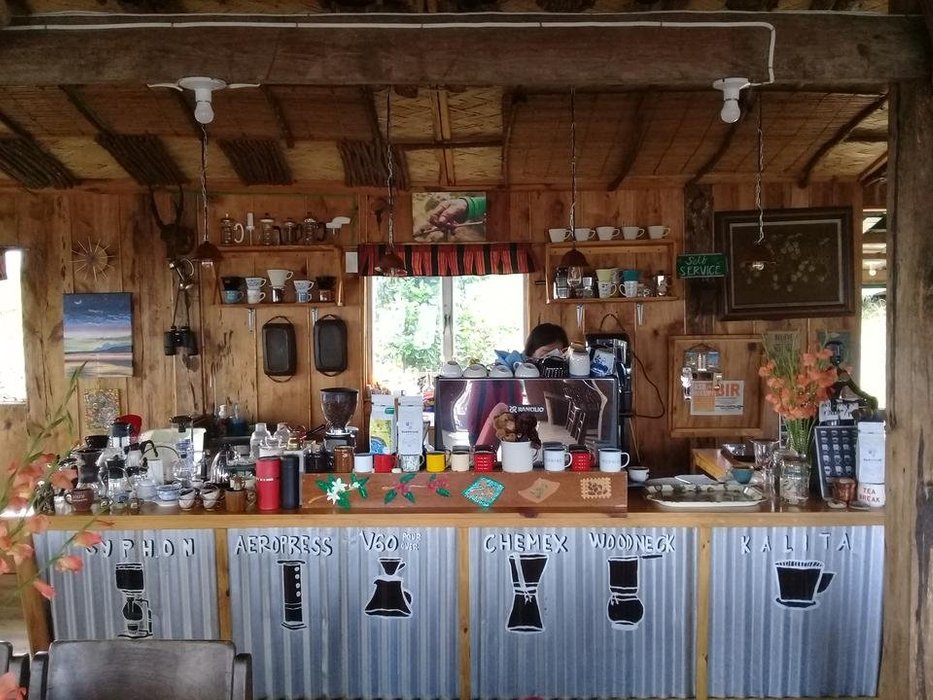 The counter is just a sea of pots, coffee cups, stuff toys, tumblers, coffee beans placed in interesting items like test tubes, etc. Each frame of the place has a story of its own and it is picture perfect. You can also see some paintings enlivening the wooden walls.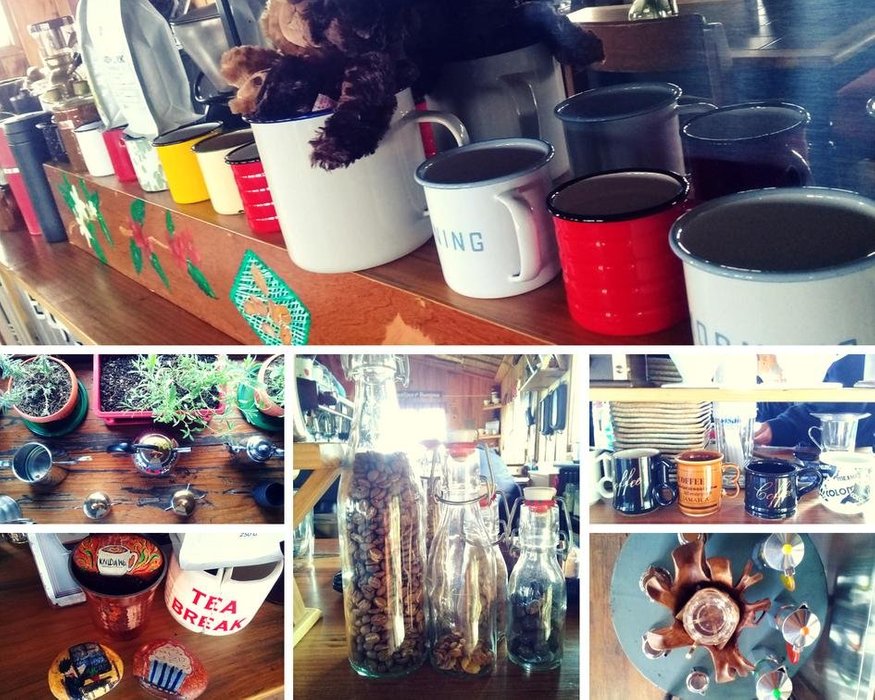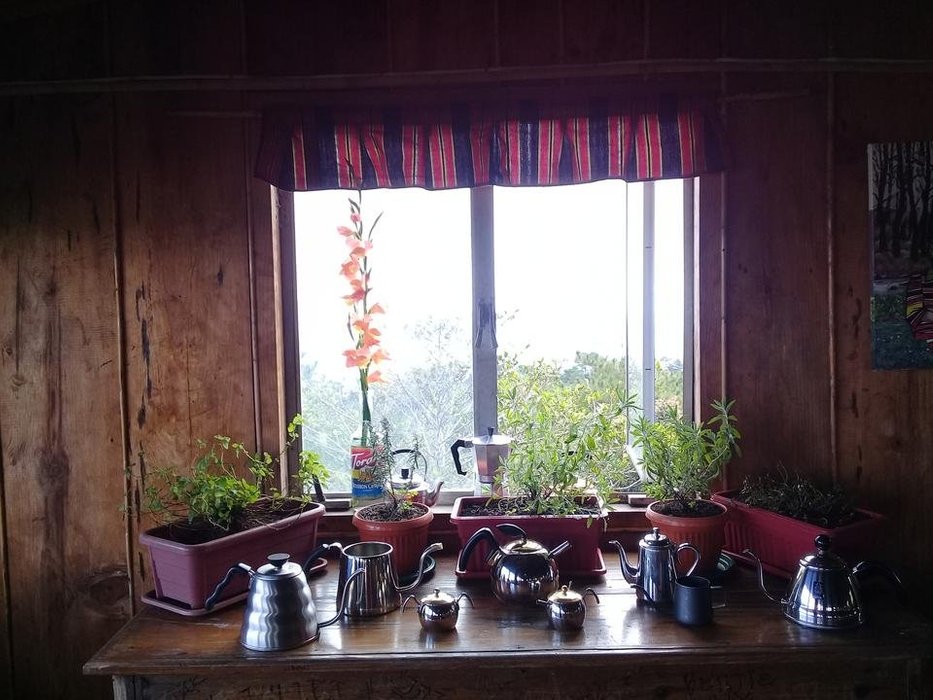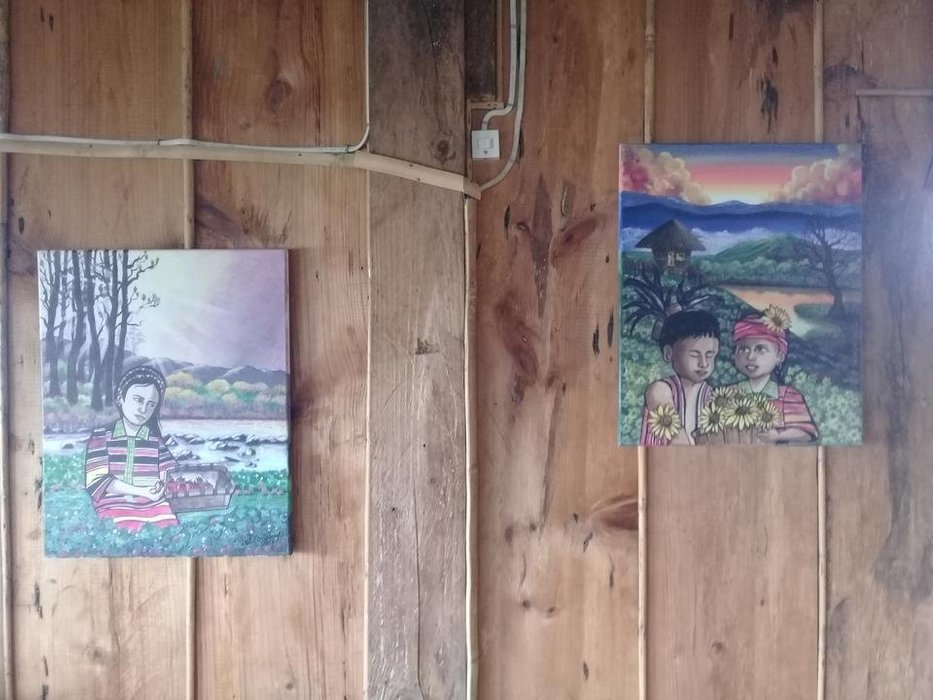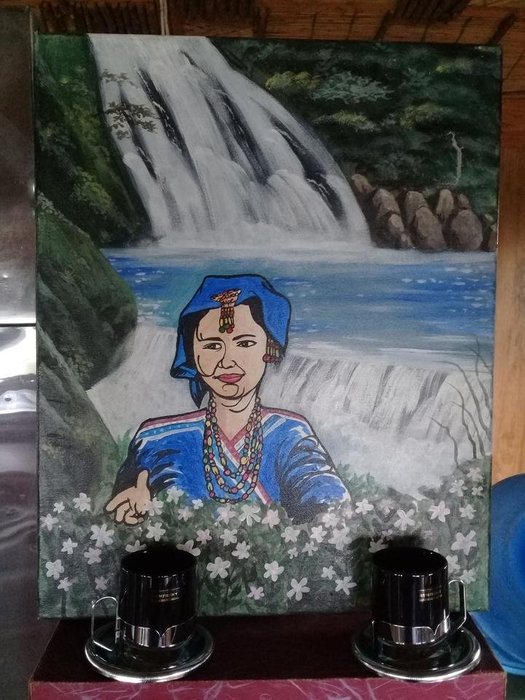 You will also find there bundles of rice displayed. Women use baskets or "kayabang" to place the rice they harvest. They were hanged to dry. After which, we use al-o (pestle) and alsong (mortar) to pound the rice. The mortar can either be made of wood or sculpted from rock.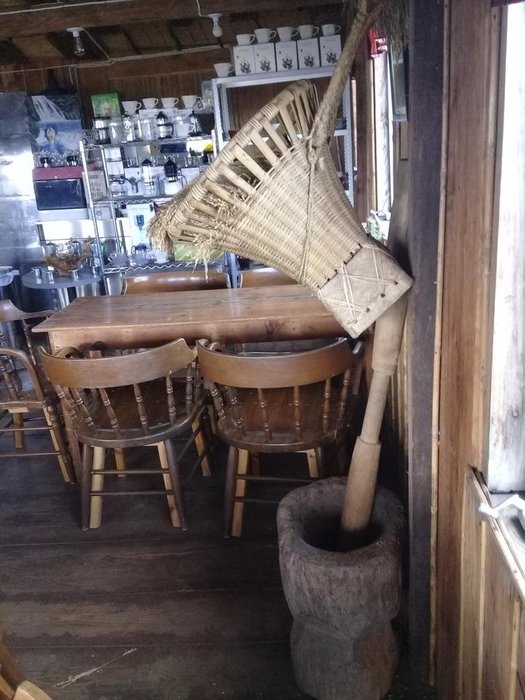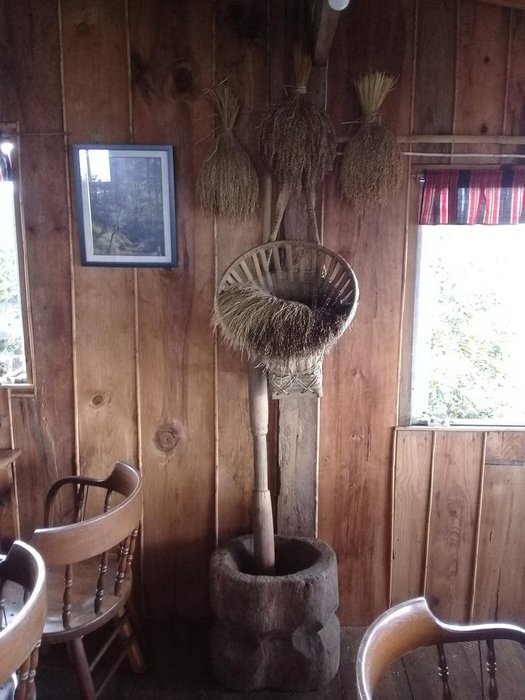 After feasting with your eyes, time to sit, eat cakes and drink smoothies. A hike deserves a cold refreshment and a boost of energy.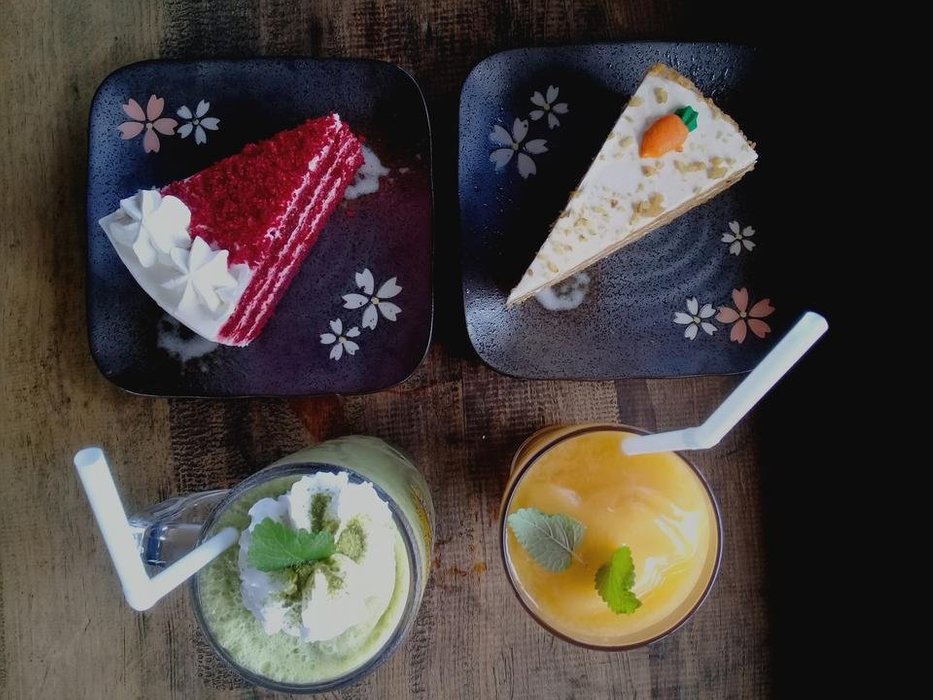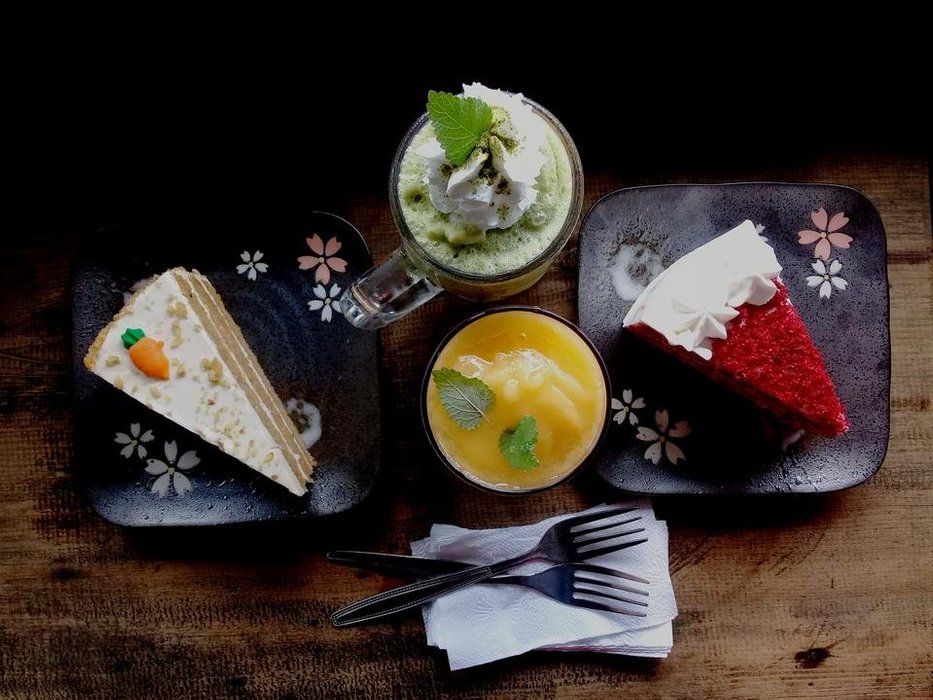 We ordered red velvet and carrot cakes. I chose peach, pear and apricot smoothie. My sister ordered matcha green tea frappe. The cakes are delicious and the sweetness is not too much. The softness texture makes the cakes smooth and almost melt in your mouth. The smoothie, however, is not from fresh fruits but they used syrup to make it. Peach, pear and apricot fruits are expensive and we don't grow those here. So, it is impractical to use fresh fruits. The frappe on the other hand has the strong almost bitter taste of green tea that I like.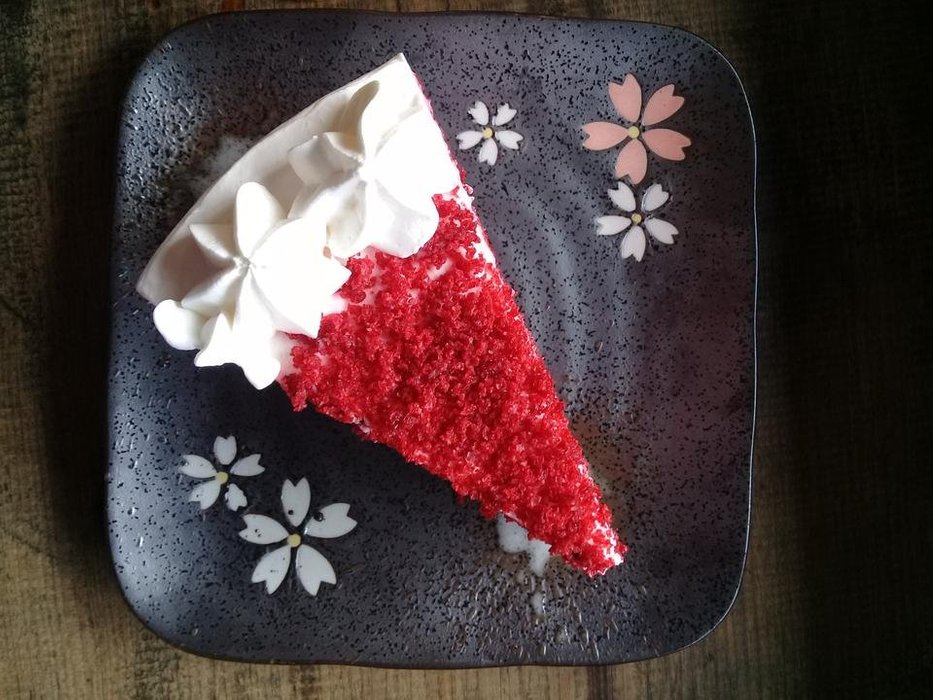 Kape-an's embalenga jen kek (red velvet cake)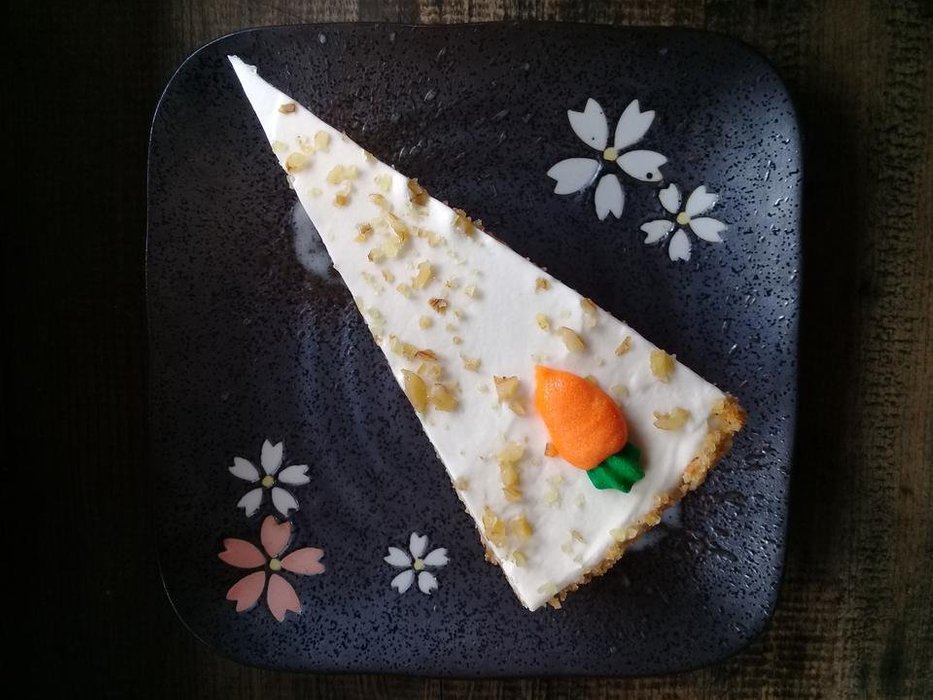 Kape-an's carrot kek (carrot cake)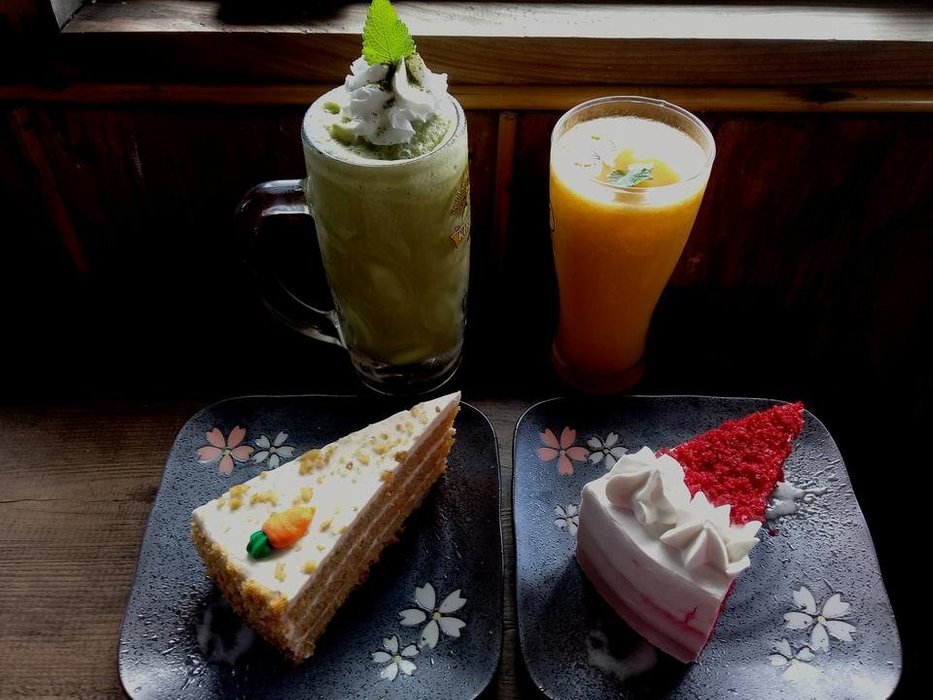 Let's enjoy the view for a moment again.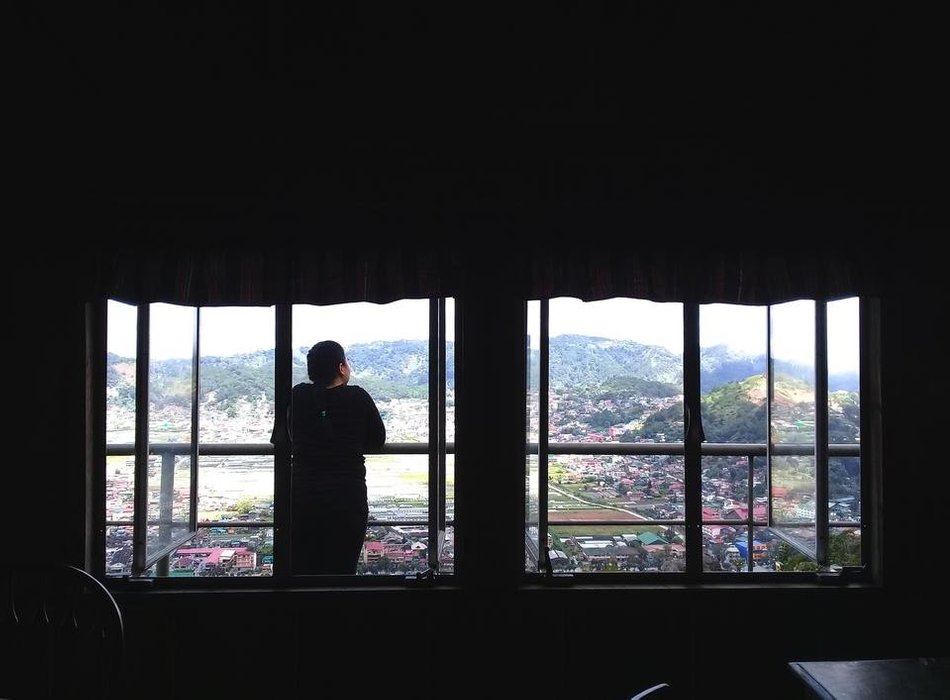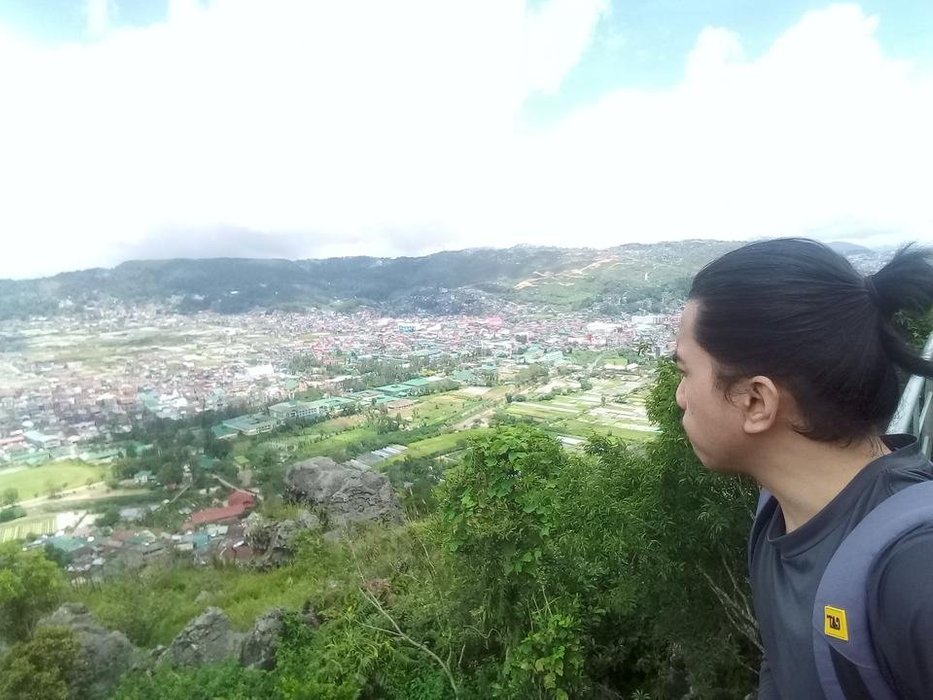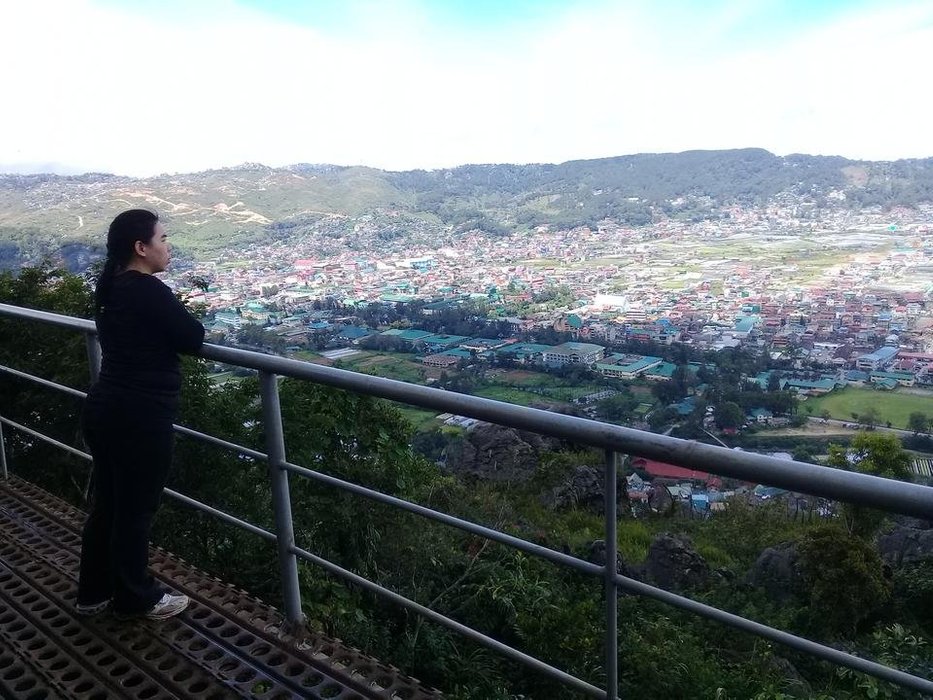 Here is another interesting statue that you can see inside the cafe. Here is a tradition that I believe is no longer practiced. I have not seen it but have heard from my family, friends and relatives who did.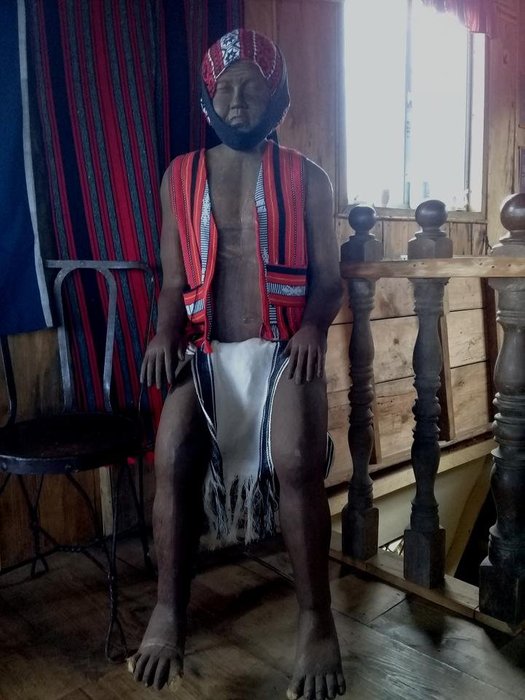 It is not obvious in this photo but this statue is sitting down. This is what our old folks do to their dead. The dead is securely tied and seated in a wooden chair. The chair where the dead is seated is called "sangadil" which this practice derived its name.
It is believed that the spirit of the dead still roams. As a sign of respect, they place the body of the dead in a corner where guests gather (usually the living room) and treat the dead as if it is still alive. Some would sit their dead on the ladder going up to the house. This practice is called "tetey." This is not practiced widely though.
Depending on where the dead was placed and how far it is from the threshold, if it is far from the door, when it is time to bury the dead people would line up and pass the body until it reaches the door. Family and relatives would then carry the dead out of the house to where it would be laid to rest. It is common practice to bury the dead in their yard.
I don't want to end this post with such macabre note. So, here is a clip outside the cafe and more photos.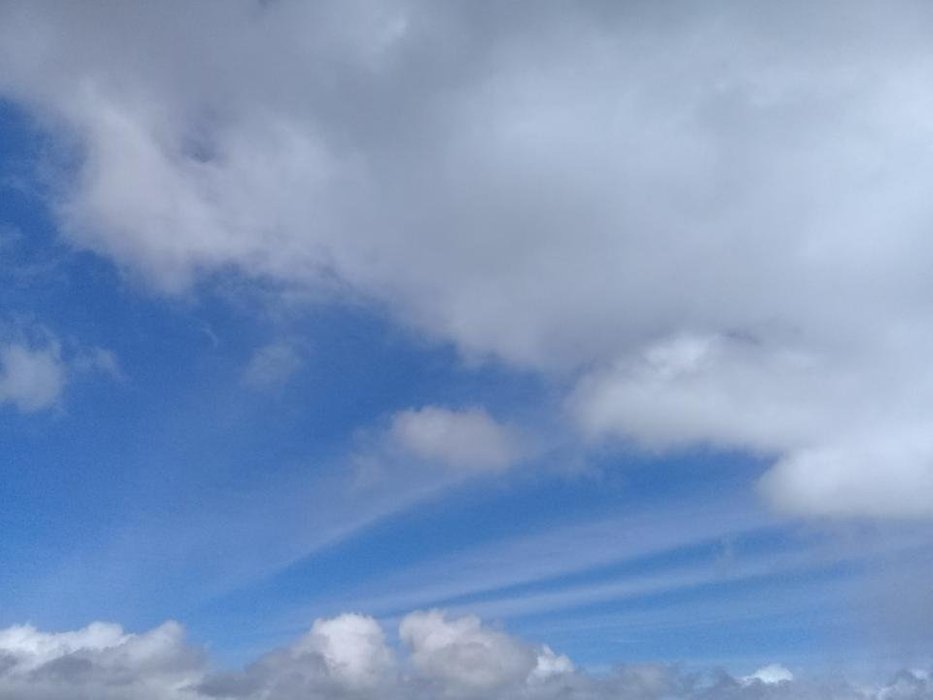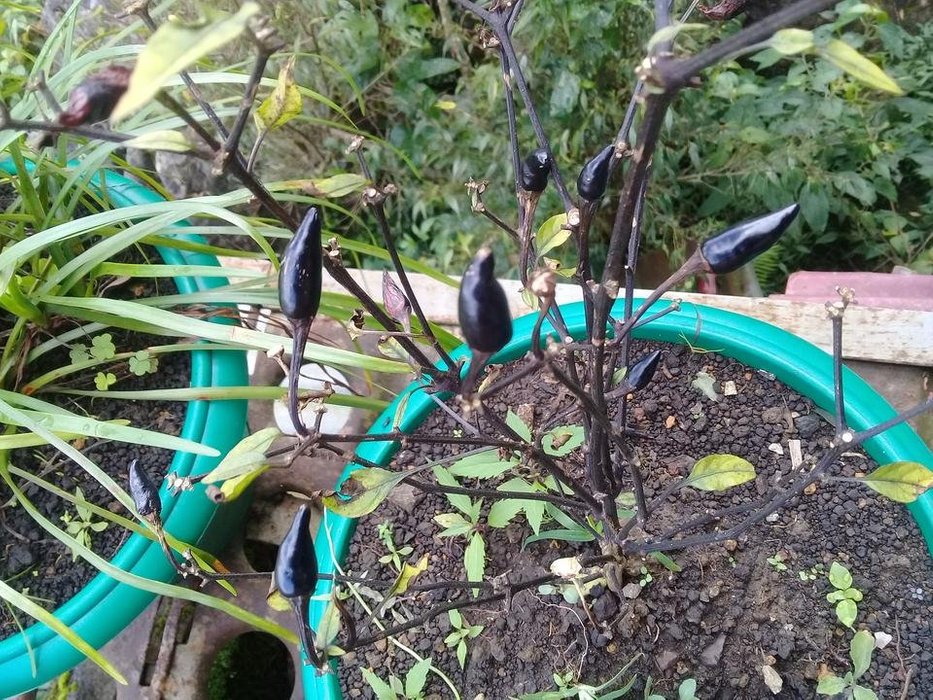 This is the way going to or away from the cafe. When you enter the eco-park, you can either go right or left. If you go right, then you will take these tire stairs which lead to the cafe.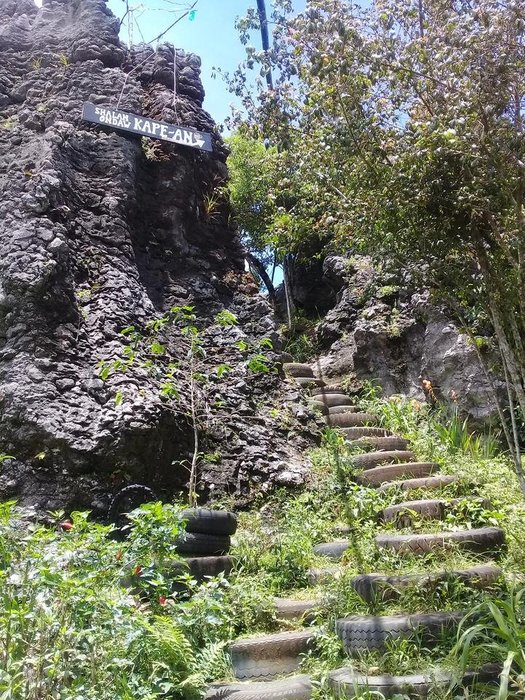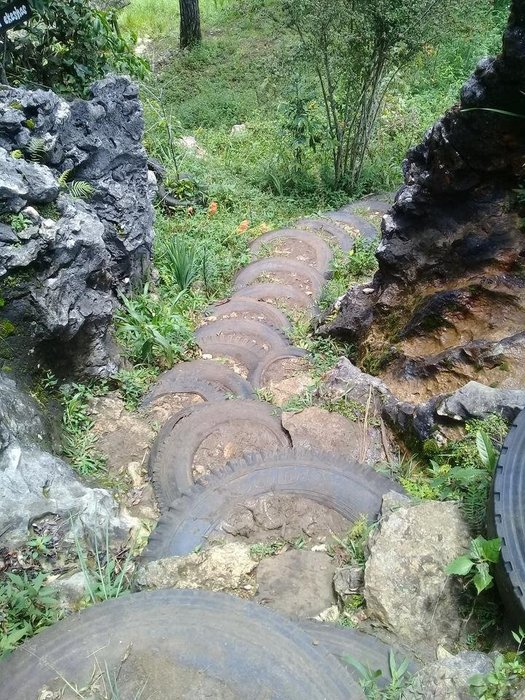 Before you leave, take a remembrance with you and buy these cute mini gongs. I forgot to ask the manager if these were made of pure gold. Some gongs of old were made of gold. Gongs along with drums were used in cañaos. An old tradition that is still practiced today.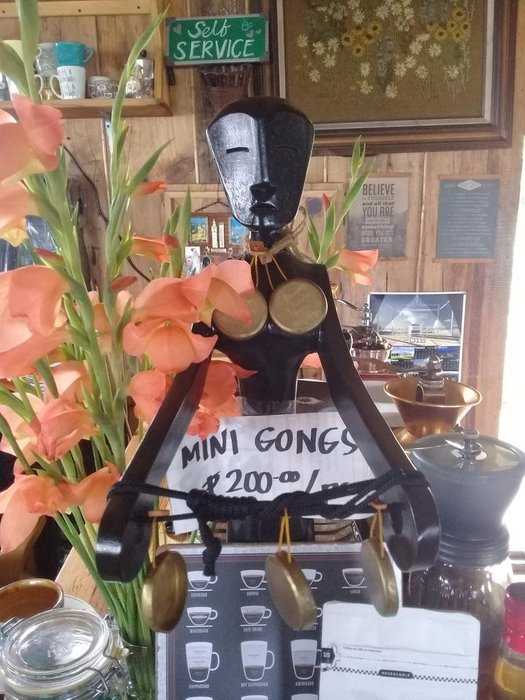 I hope you enjoyed this cafe full of tradition and culture.