Second time around. The first time we came here we ordered beef noodles and kind of familiarize ourselves of the place. The food is good but something made me to come back for more and more we did.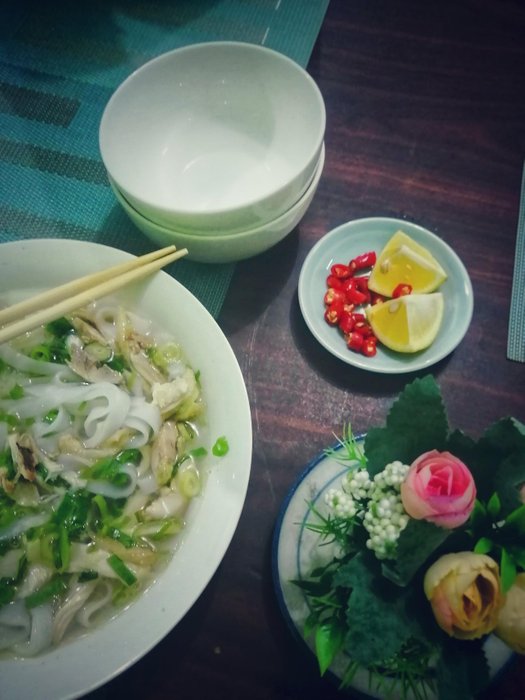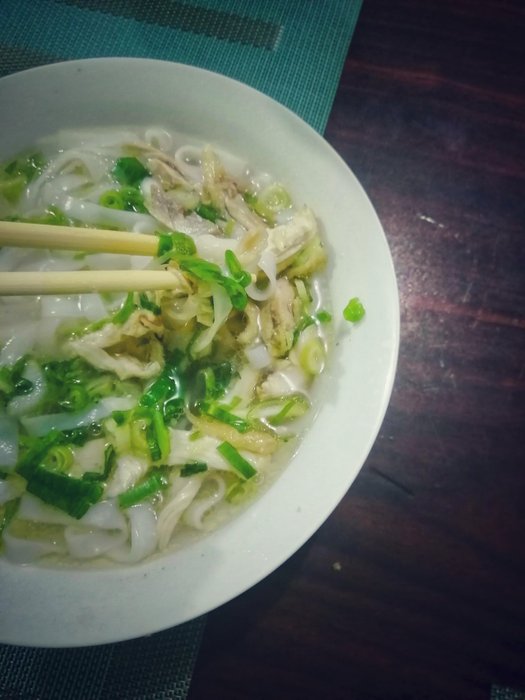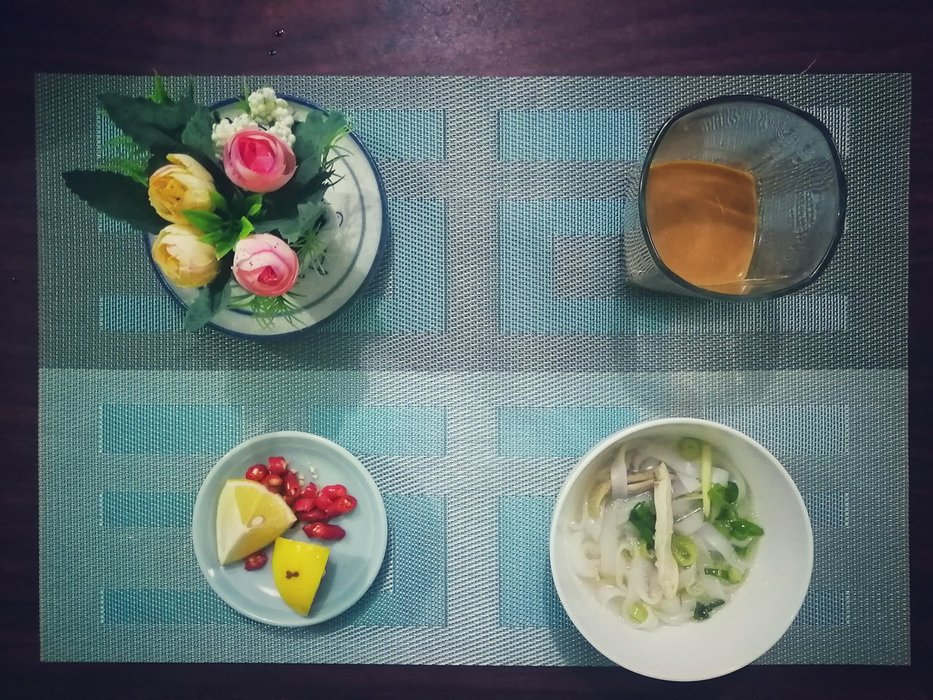 We ordered chicken noodles this time. It is more tasty than the beef. The other ingredients are still few but well balanced. It is more about the noodles which I am getting the hang of it. I just love the smooth texture and how it easily glides as you slurp it.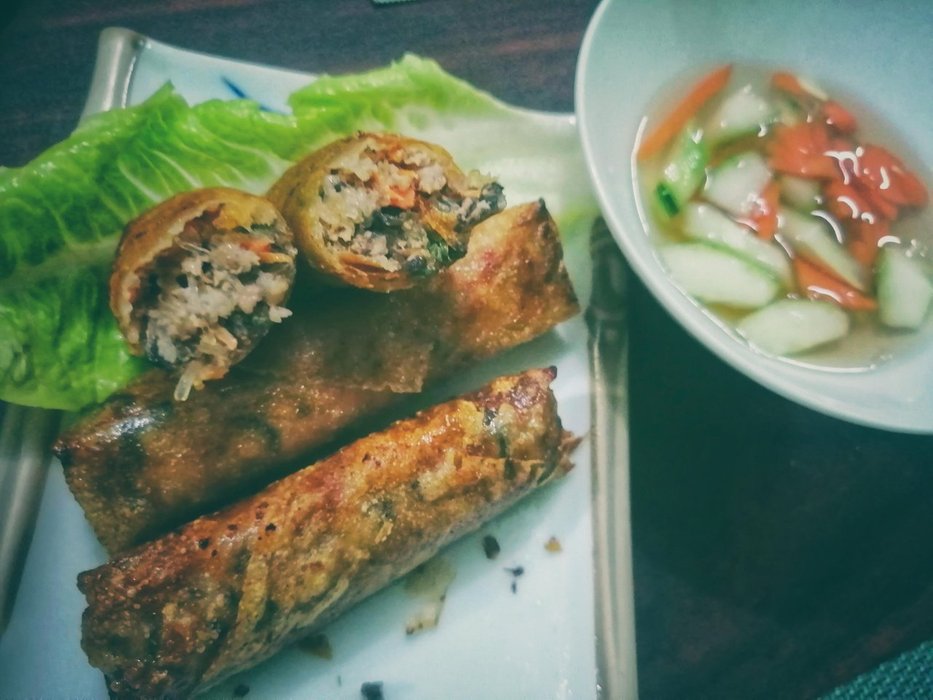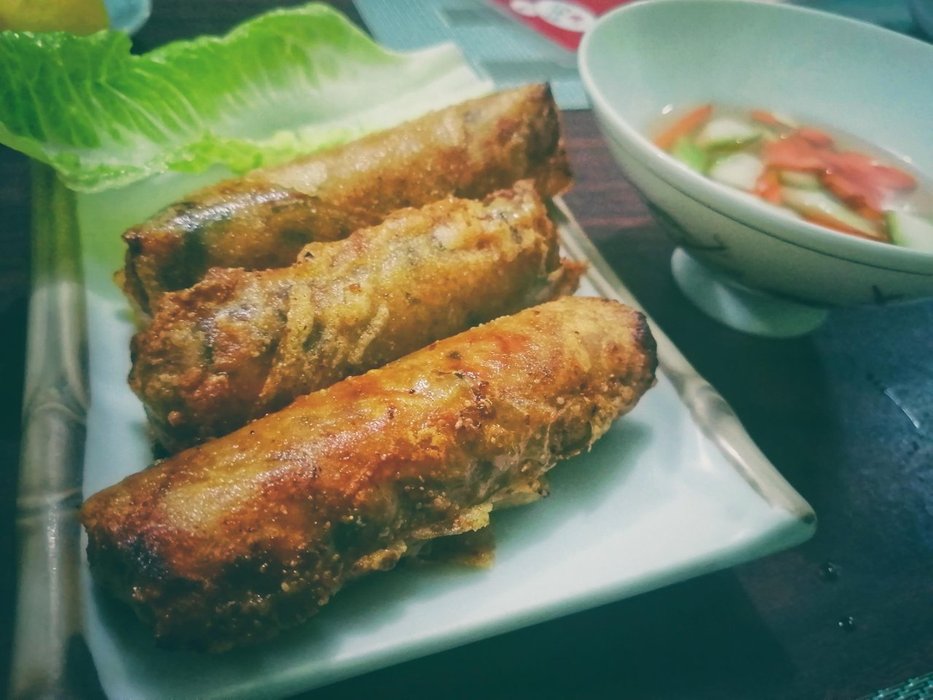 Their fried spring rolls consists of ground pork, mixed vegetables and noodles. It is compact and has more meat in it than the other ingredients. You can choose 3 or 5 pieces. Each order comes with a vinegar dip with slices of cucumber and carrots. I am not fond of vinegar but I tried it still. With or without vinegar it tastes good. The thin crunchy wrapper is a contrast to the meat inside it.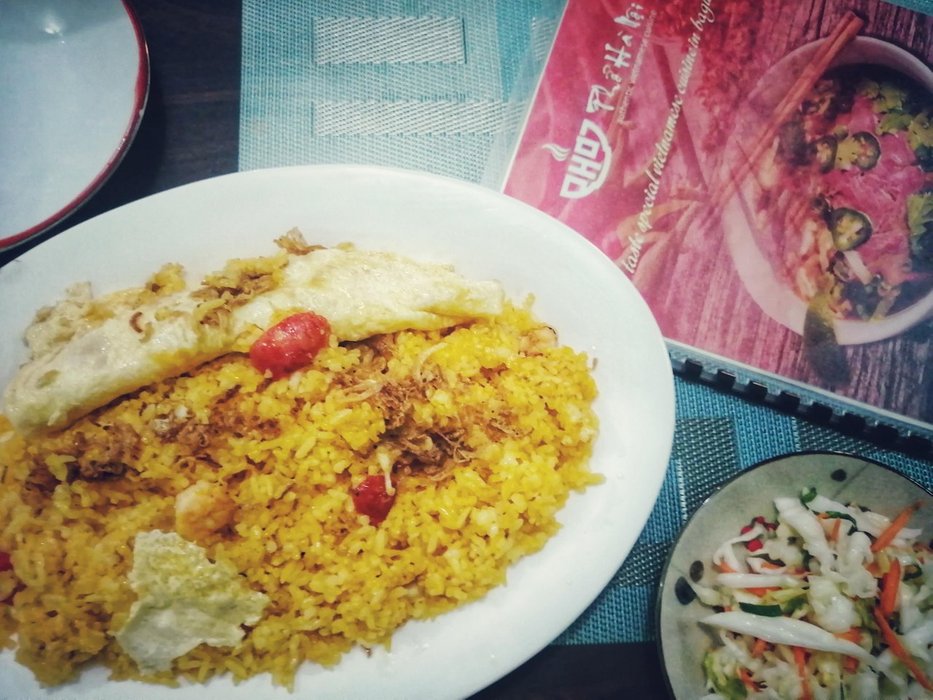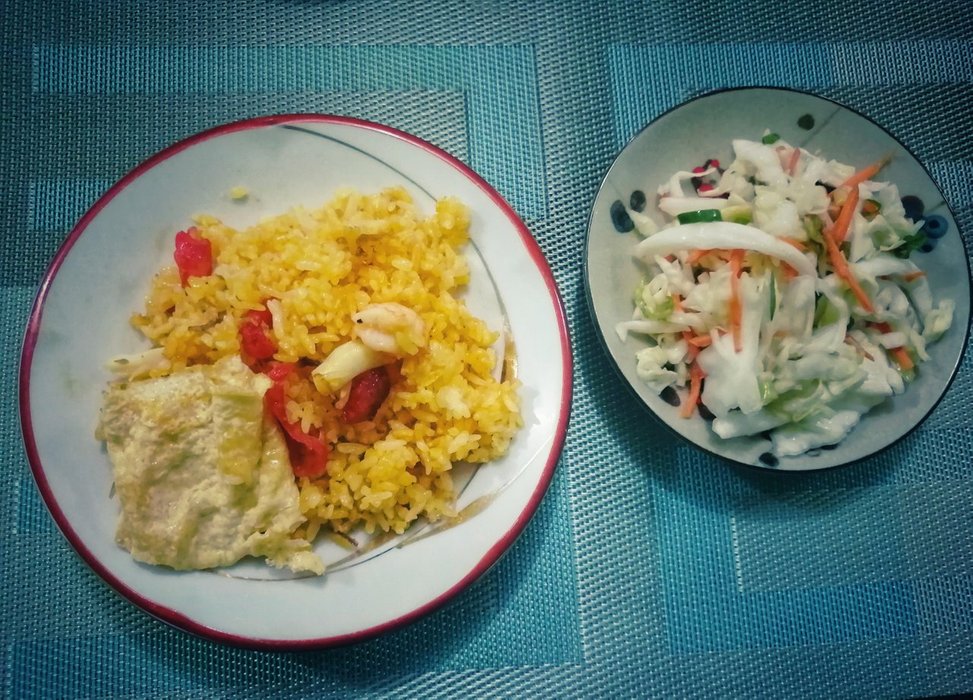 Their fried rice with seafood is a bit of a let down just because of expectation as shown in the pix and reality when served was totally different. However, it was still okay - not good but not bad either. It has some shrimps in their, a few squid and fishes then topped with omelet. It tastes okay but a bit dry. It comes with a small plate of fresh vegetable salad (coleslaw).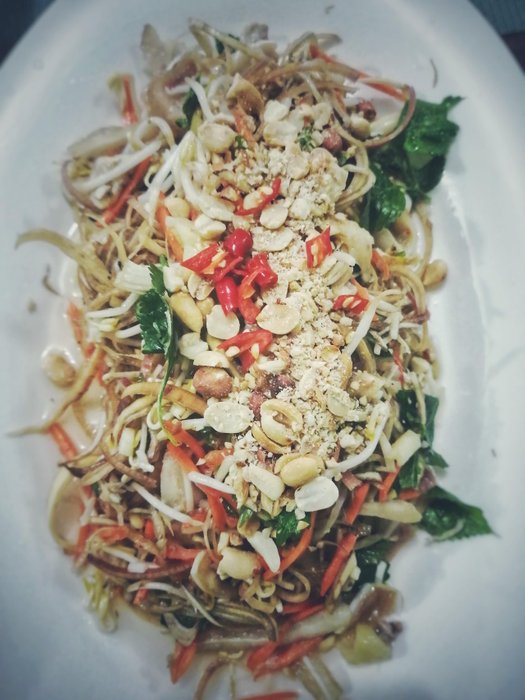 This is the best tasting banana flower salad I have ever had and will order it again. Mixed with it are bean sprouts, carrots, strips and pieces of chicken and pork, peanuts on top and red chilies at the bottom. They mixed Vietnam mint in it. I was curios about it and asked the staff. They were unsure of its English name at first and said it was just Vietnam herb. A few clicks at Google did the trick. They grow it outside the restaurant. I checked it out ans compared with Vietnam mint photos online and assumed it was that. It is not as minty as the round mints though.
As you dig deeper into this, you get different textures and fusion of tastes - freshness, mint, spice and sweet.
All of the food above, I haven't had a hit of msg or seasoning other than salt but just a hint of it.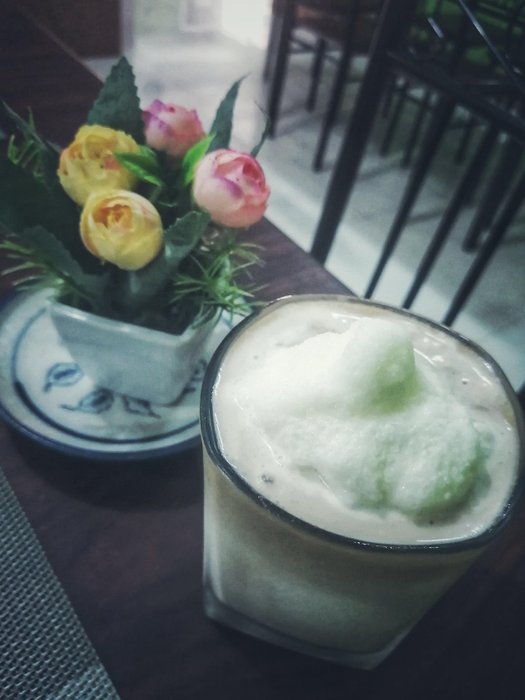 We tried their coconut coffee. It was explained it is coconut milk with a bit of coffee. I didn't expect it to be frozen coconut milk. It is sweetened with condensed milk and sugar. Interesting mix I would say for I have never had this kind of combo before.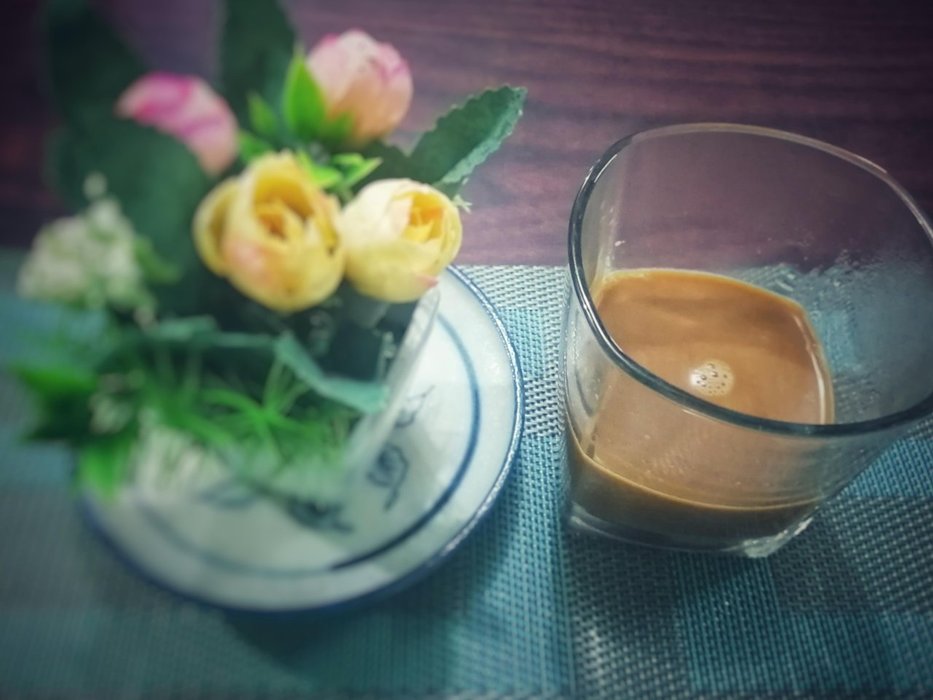 I was undecided at first when ordering a drink. The girl who assisted us was kind enough to offer us a free Vietnamese coffee for us to sample. It tasted like instant coffee to me. It is too sweet for my taste as well.
All in all, it was a remarkable experience. I traveled from Philippines to Vietnam through food. From the highland vegetables we have here then slowly transported to Vietnam as we progressed in our food. It is a mix of tasty to spicy to sweet to hot and cold.
The girl who assisted us was not there the first time. We took the liberty to ask some questions. She said she is here with her family for a visit to help her uncle. Her uncle decided to put up a business here in Baguio City before deciding anywhere else in the Philippines but most probably Manila she said.
This made me think of the population of Vietnamese here in our city. Maybe because Filipinos and Vietnamese have physical features similar that one can mistake the other. We have other nationals here in the city and they are growing in number. You can tell right away they are of different race.
We are now becoming more diverse as other race come and introduce their culture to us. With that comes their people and traditions - and we embrace them and welcome them with open arms.
Pho Hanoi is located at Labsan Street below Hotel Caterina, Baguio City, Philippines. This is in front of Vismar Massage. This is across the Justice Hall building's right side.
You can also read #marketfriday at Pho Hanoi: Authentic Vietnamese Cuisine for more.
You can contact them at their facebook page Pho Hanoi, email at [email protected] or through their phone number (+63) 0927-164-1845. They are open from 10:00 a.m. to 9:00 p.m.
*photos are mine and edited using #snapseed
This contest is brought to you by @steemfoodtours