Seattle,WA where do I begin 🤔. First thing that was so cute, I got a Airbnb which was a cute little bungalow in a nice quiet area.
   After I got settled in and got familiar with my new living space; I had to go out and see the sites. I wasted no time and hit a couple of green thumbs 🌱 😤; which I found out the quality was good and sticky and not a dry consistency like Portland,OR. I guess the altitude is a bit lower where it's being cultivated. 
    After those quick pit stops; I had to go and see the Space Needle which was a cool experience and well worth the trip.
   So after the exploring of the Space Needle they have a pizza store under the Needle; it's just like a Subways but with pizza. It's your own small personal pizza you can even watch while they make it and add all the toppings you want; as if I was at Subways that was 😎 but for pizza they need this in NY. It located near this 👇🏾 big armory art.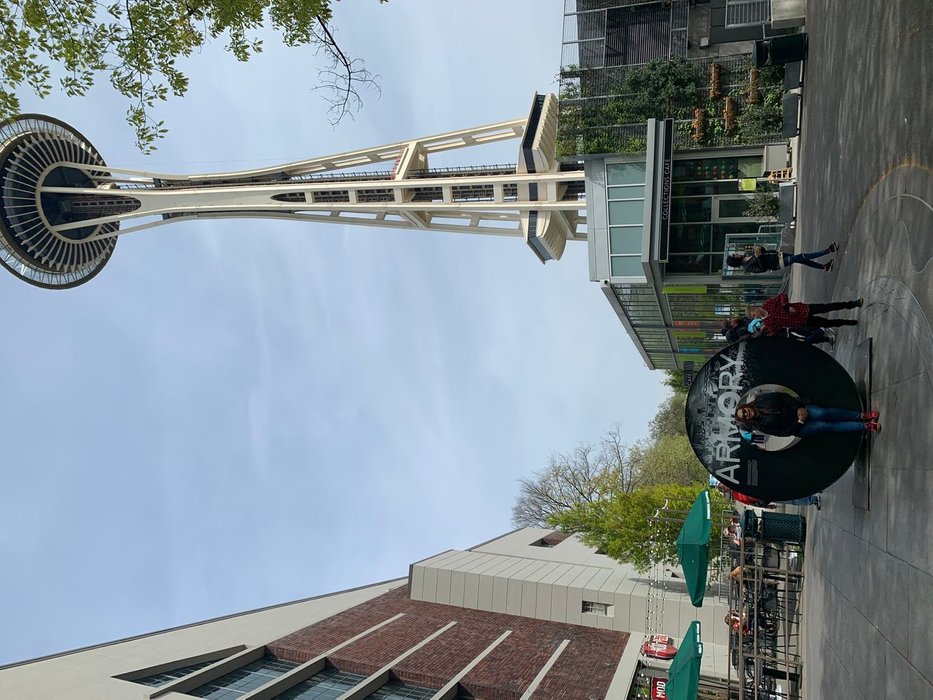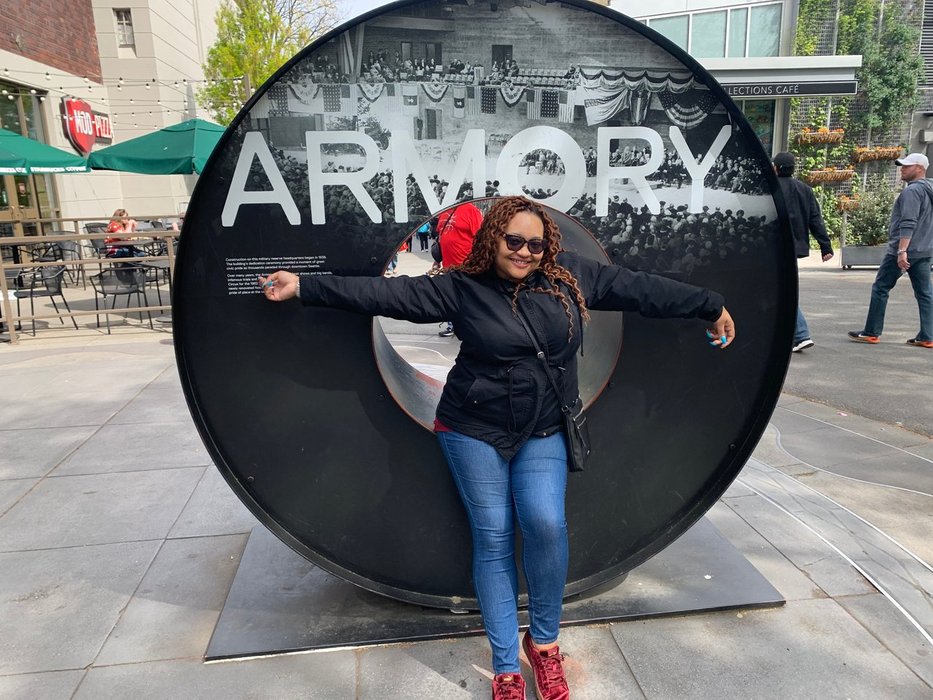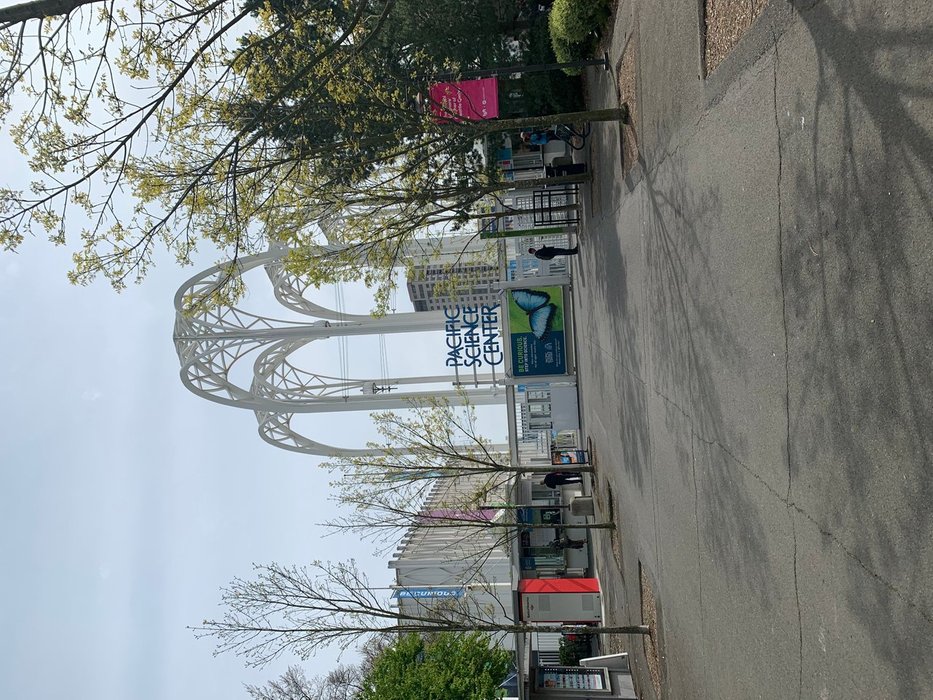 After that I had to go and visit the fish market; the iconic Fish Market; they throw a big slab of fish around the room screaming ayeeee.! Sidebar ( I was just happy I didn't get hit in the head with fish juice lol).
  That was cool; but if you go downstairs at the fish market you will discover the famous Gum Wall. It's kind of trickery getting to it because the stairway is a bit hidden it's right near the fish throwing. It was a bit scary walking down a long deep stairwell and boom an entire alleyway fulled with gum. It smelled like bubble gum everywhere the day I didn't bring gum to chew and slap on the wall.! 🤦🏽‍♀️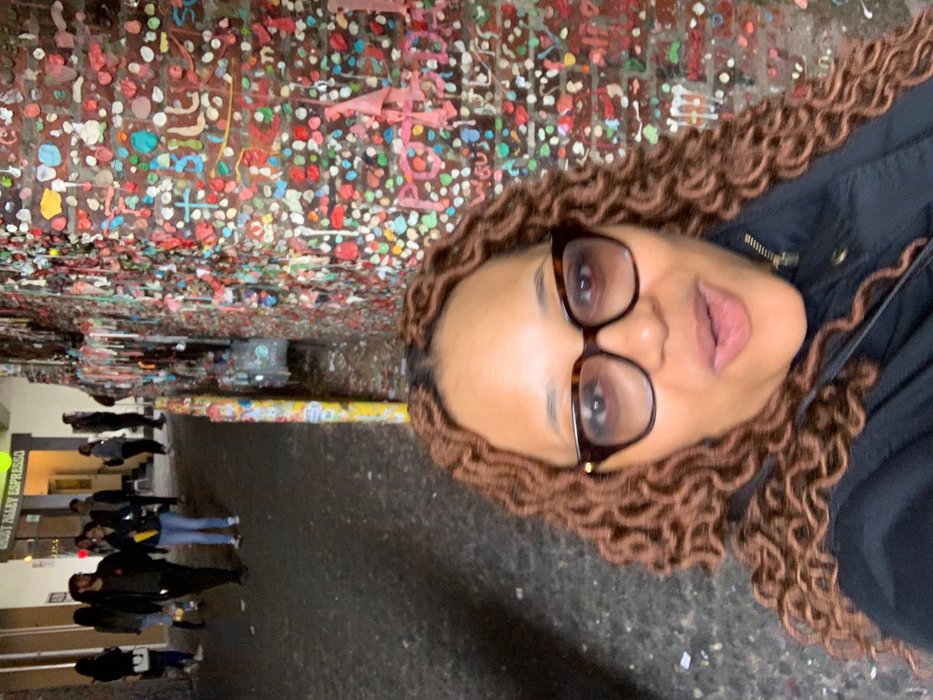 The fish market is a must go hopefully you can find parking because that was the biggest challenge. I rented a car so driving in Seattle was more of a slow pace no honking like NY, I did see a hit and run people should be aware when driving out their keep your eyes wide  open. While driving around the fish market looking for parking if your not use to driving up verryyyy steep hills you might get scared driving up those steep streets, it was scary at first but after the 3rd spin around the block loooking for parking it was fun. 😁 
   Now off to the ball game I got to see inside the T-mobile field and got to watch a game it was cool; the beer was pricey of course lol. Tickets were cheap parking was terrible and everybody that offered parking was asking for more then 10$ Finally found a spot 5 long blocks away.
      So when leaving the game their was a strip club down the block selling CBD beer. I've never saw or heard of CBD beer so I just had to try it. So when the wind blew me inside walking down a long neon lighted hallway and boom 💥 strip club. The CBD beer was ok, the dancers could of been a bit better but I was really only their for the beer lol. 
     If your ever in the mood to try a big cup of liquor with fire 🔥 try HULA HULA  the burger, fries and the drink was good. It was empty in their. I really only came for this fire drink lol; the guy thought I just got off work; I just went with that flow 🤨. 
   Their was also a nice place that had a good desert bar which I ❤️ a good desert bar, their hot chocolate coco was rich and the set up was cute my desert was recommended by the owner paired with a sweet white wine (so good). I was trying to go to the Pie Bar but it never was open when I went twice which was disappointing so I opted out for this spot called "little odd fellows" On the strip.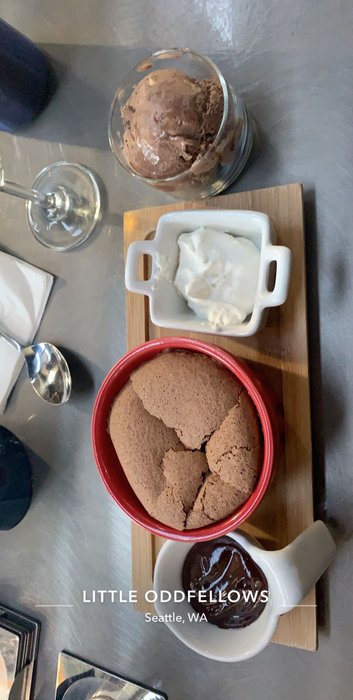 Downtown they have big fairest-wheel which was cool.  Next to all the shopping areas of course no parking 😂. But I made it work. 
   Over all this trip was fun I had a nice relaxing time. Now would I move here.... uhmmm .... no..! cost of living is expensive with out the types of jobs to match way to many homeless people camping out with tents by the highways which I never saw that before only in Portland and Seattle it's like tents city 😞. High the cost of living in my opinion. I always go away and ask myself do I see myself just staying and never leaving 🤔...Not really; Seattle is not as diverse as I would of hoped for. But over all try to hit up the downtown area, and hit up a desert bar and relax. They do have a reggae club/ restaurant; I forgot the name but the food wasn't the best like I would of thought for Caribbean food, but the music and drinks where nice. They do have a bit of diversity but it was hard to find. 
   I hope this give someone some insight on Seattle, Washington if you ever wondered what it was like, I enjoyed it and if you have dreads make sure someone asks you first before they rudely dive in and grab a fist full of your hair trying to touch it smh 🤦🏽‍♀️. Some people just don't have manners and or home training. IT'S NEVER OK TO TOUCH SOMEONE'S HAIR WITHOUT THEIR PERMISSION!!!!!.