Hi everyone,
I promised more than a month ago to post my photo's of my trip to Vienna. Everything is going so fast lately, I just couldn't find time to gather the photo's and write this post. So here it is then... Let's start :)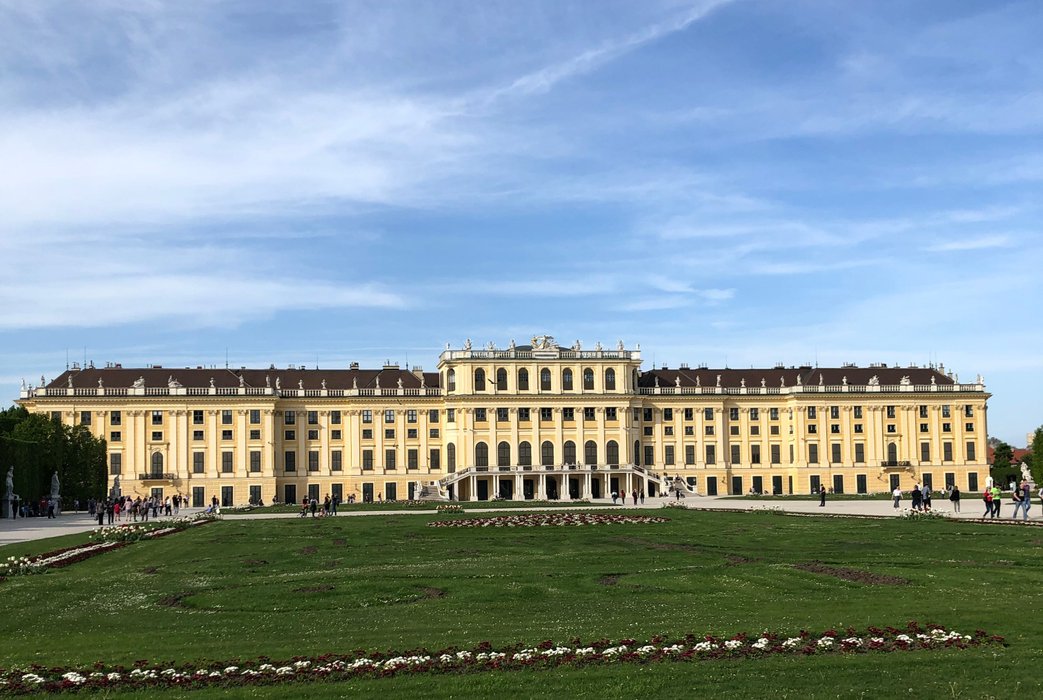 After visiting Graz and Prague, we went to Vienna. We have a cousin living in Vienna, we stayed at his place. He was very keen to guide us through the places to be in the city, but because he was working during the day, we tried to find our way while he was working and went out with them in the evenings.
Islamic Center of Vienna
The first day was clouded. But still, we wanted to go and see some places. We first went to see the Islamic Center of Vienna, from which we heard of before. In 1969 the Islamic Community purchased this ground which is approximately 8300 m2. to build a mosque. We heard that there were some financial difficulties during the build. In 1975 it was the Saudi king himself pledged to finance the further construction.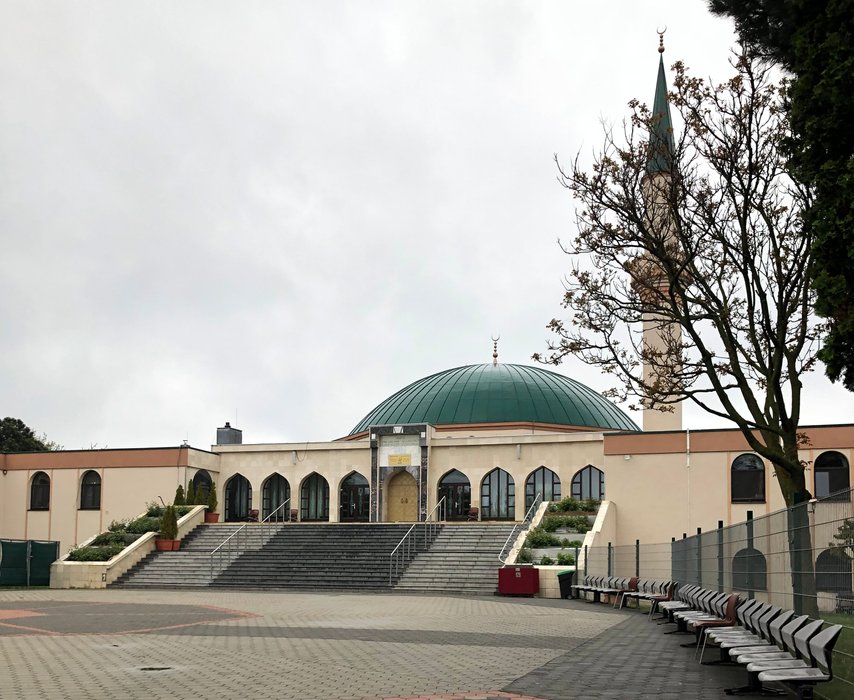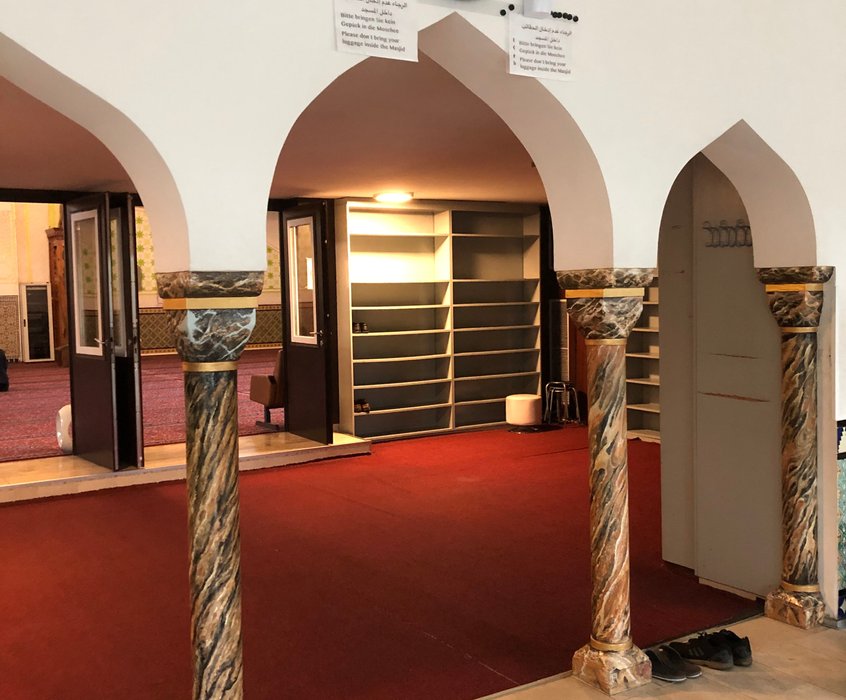 The mosque is beautiful from outside as well as inside. Decorated well.
After checking out the mosque silently (because there were people praying) we decided to move to our next destination.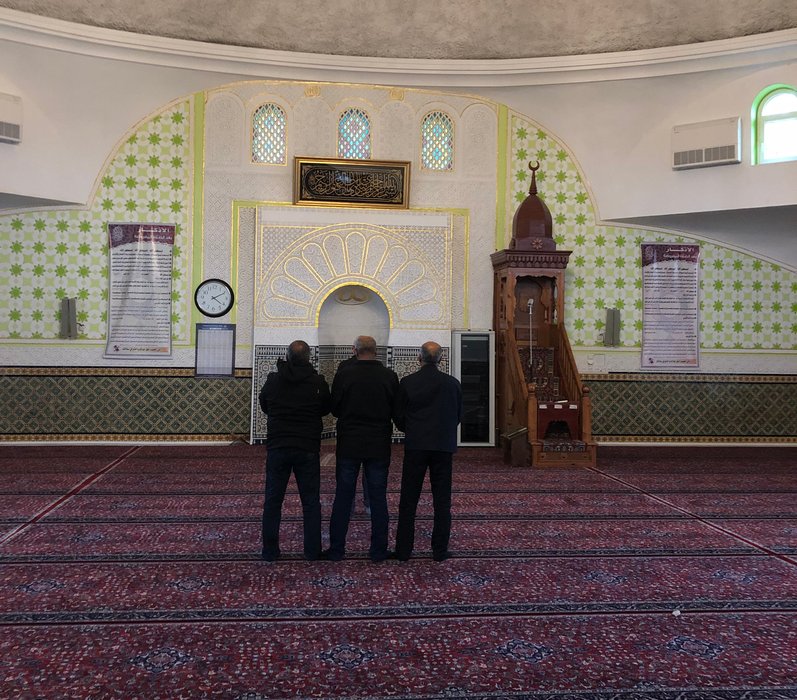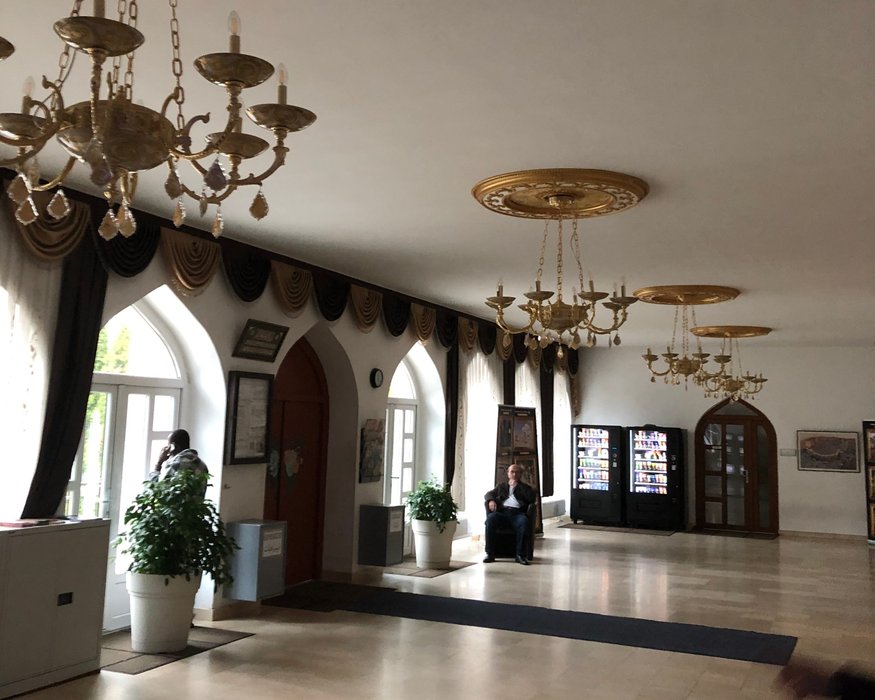 Donauturm (Danube Tower)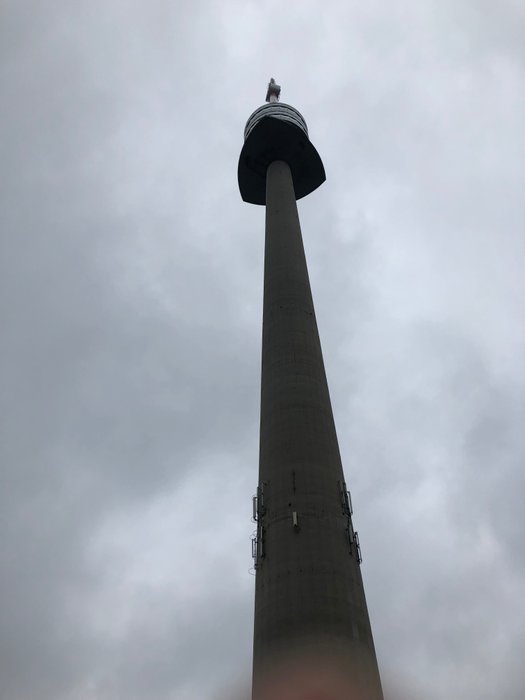 The Donauturm is the tallest structure in Austria and also belongs to one of the tallest towers in the world (at least in top 100). It is 252 metres tall and was constructed during 1962-1964 by an architect called Hannes Lintl. We were not very lucky because of the weather, but still managed to take some beautiful pictures from the tower looking at the city of Vienna. The entry was 14,50 euro for adults and 9,90 euro for children from 6-14 years old. So keep in mind that it's not very cheap :)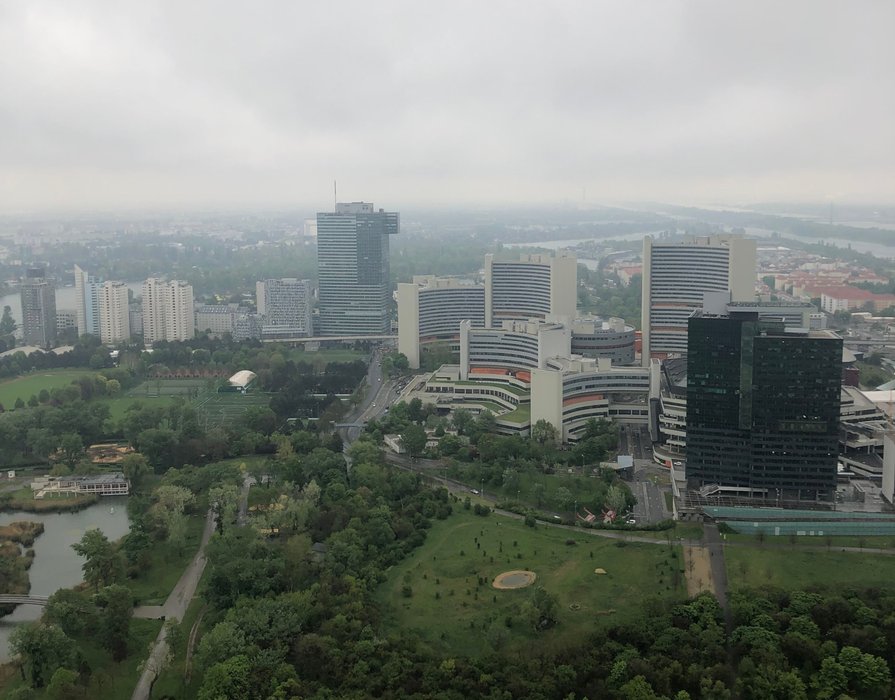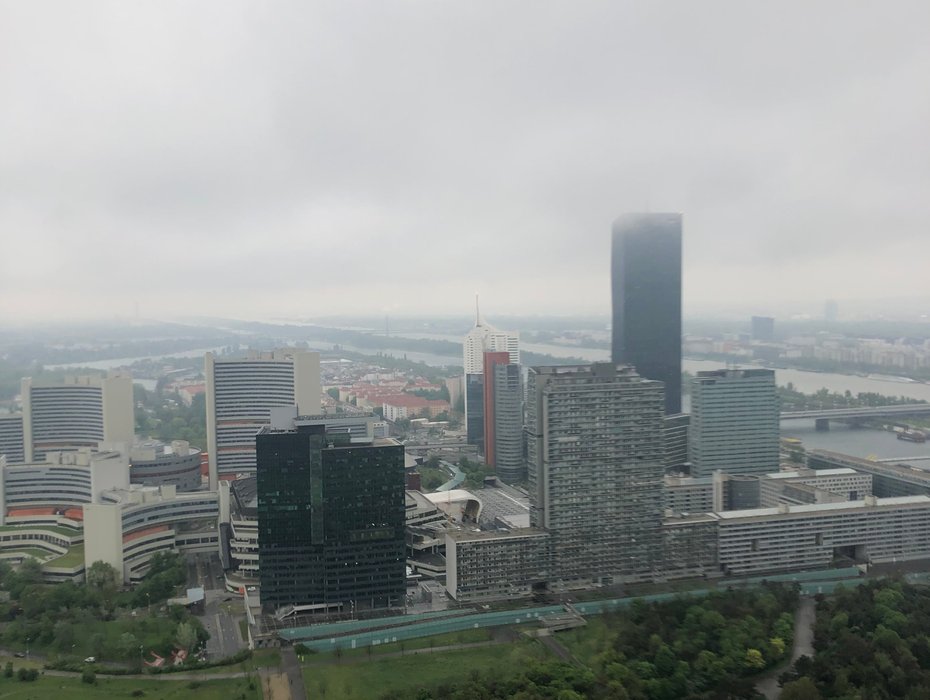 You can walk around the tower to take photographs of the city in 360 degrees.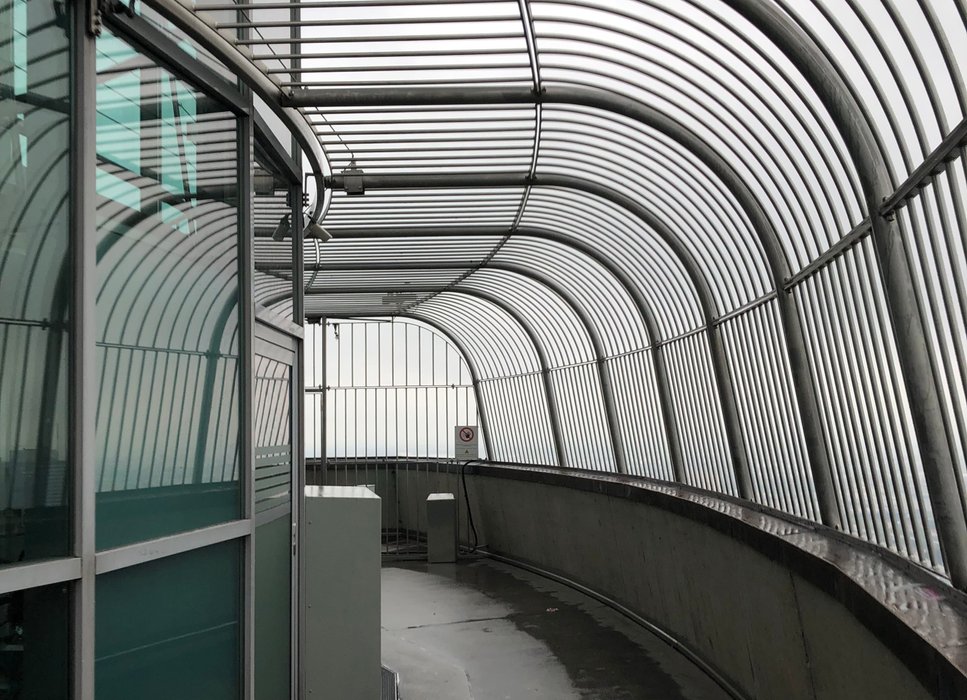 Let's enjoy the view with some cake and coffee :)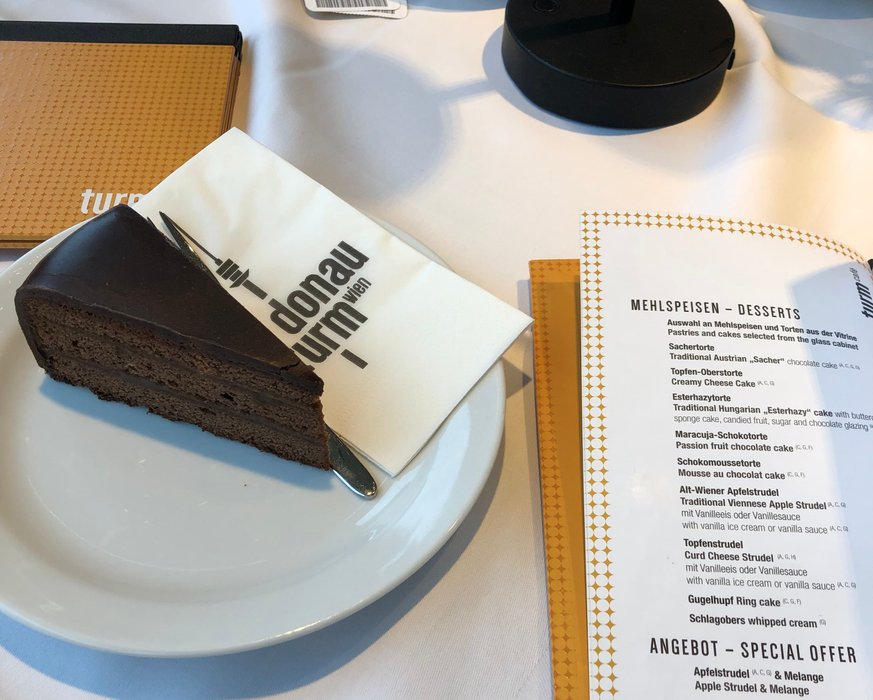 While we were enjoying our cake and coffee and talking about stuff, we noticed that we were not in the same spot as we arrived and sat. That was a bit confusing :) Later we saw that we were continuously moving around to see the whole city while we were sitting. The movement was so slow that we didn't feel anything.
Here is another couple of photo's of beautiful Vienna from the top of Donauturm.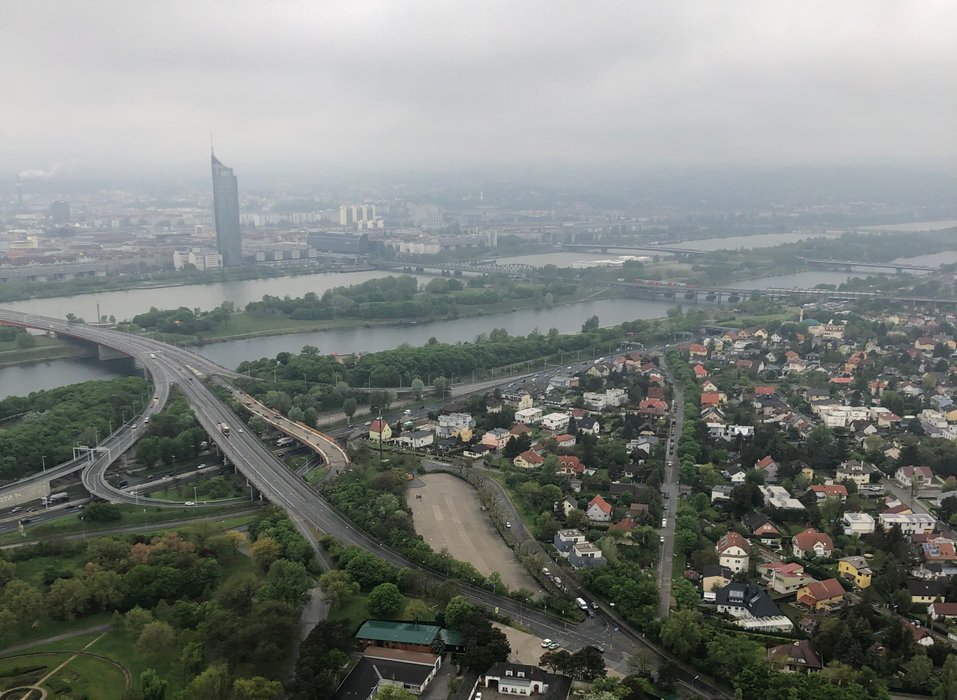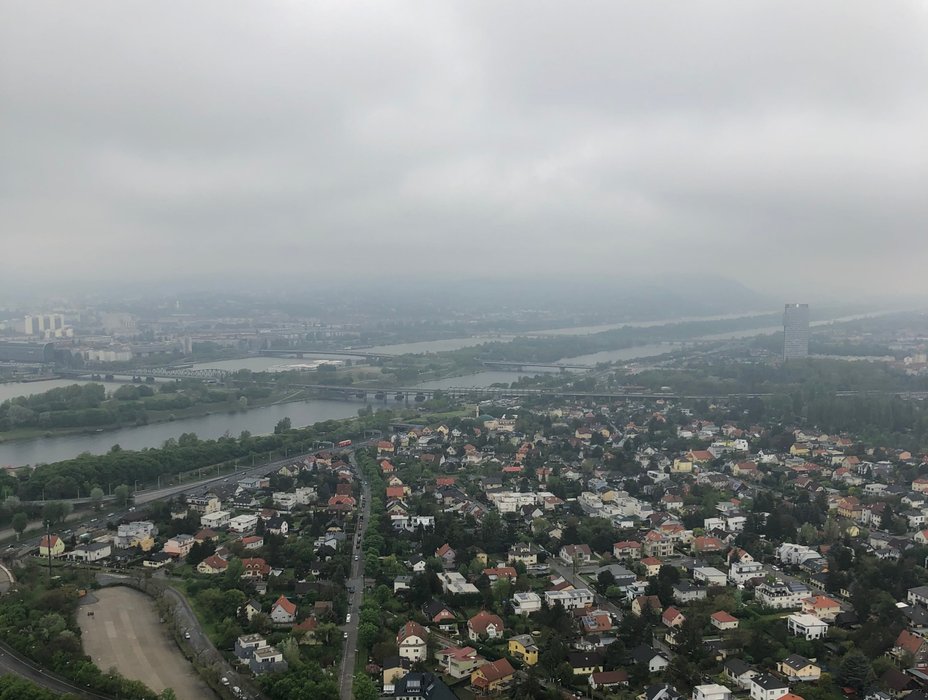 District 1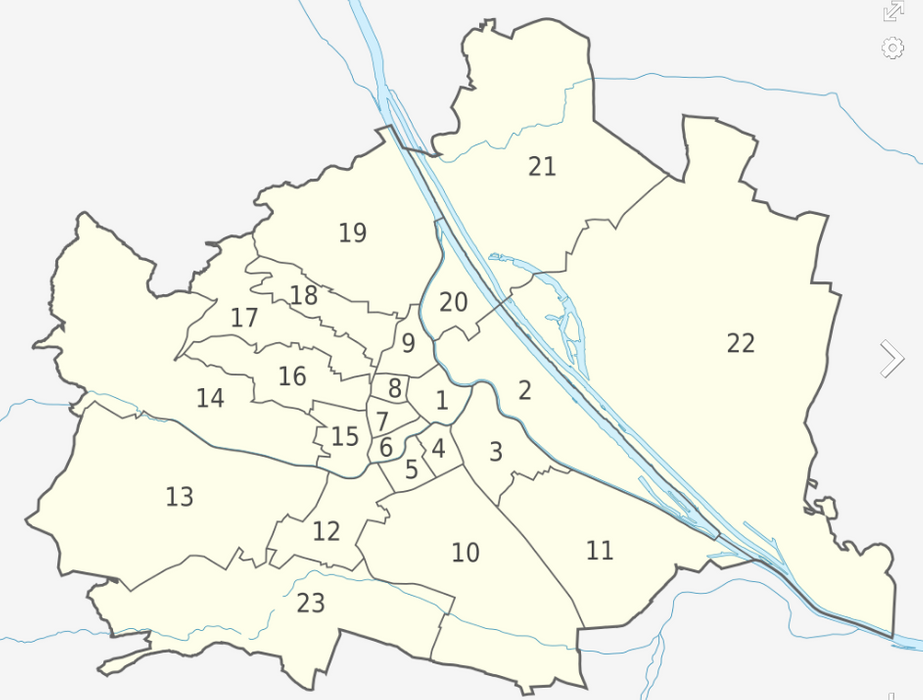 By TUBS - Austria Vienna location map.svg by Rosso Robot, CC BY-SA 3.0, Link
Most big cities in The Netherlands are divided in regions like "Rotterdam North", "Rotterdam South" etc. and having their own district names. But Vienna is divided in numerical districts. This sounds normal, but people living in Vienna are also mostly using the number of the district when they refer to the district instead of the name.
We were lucky during the second day of our stay in Vienna regarding the weather. So we decided to visit the Innere Stadt mostly referred as District 1. We were told that going to this district by car was not a good idea, so we took the subway.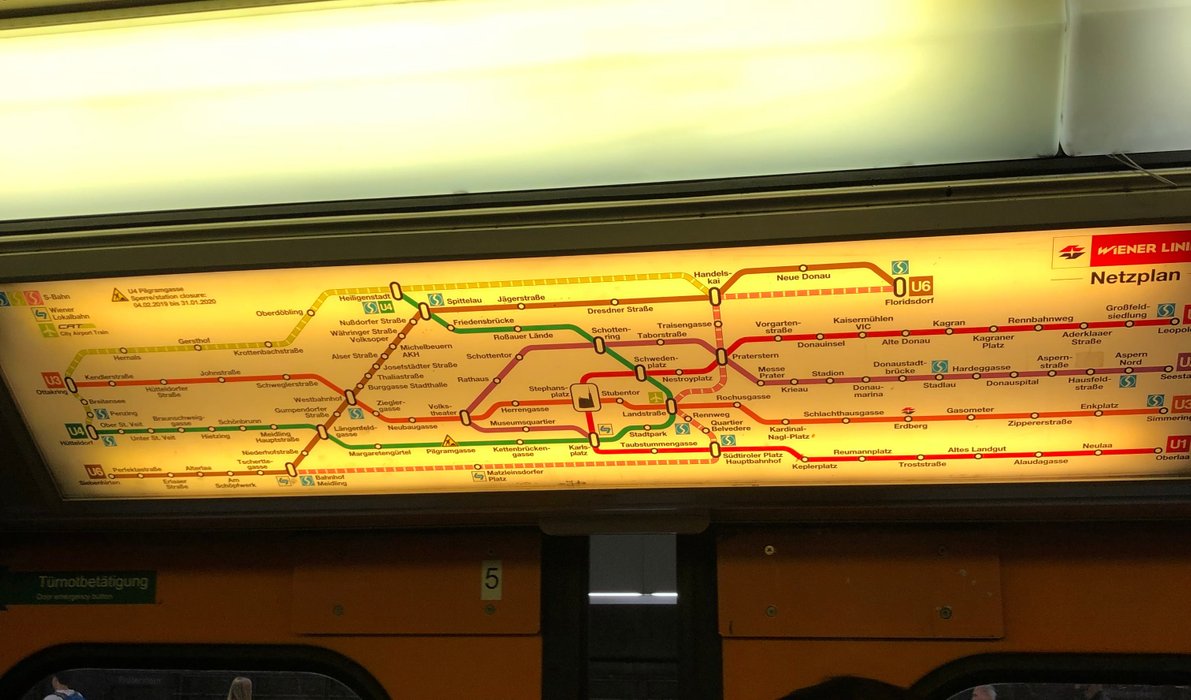 Cool to see a cryptocurrency ad at the subway station! That was a pleasant surprise :) Although I don't use this exchange/app, way to go bitpanda!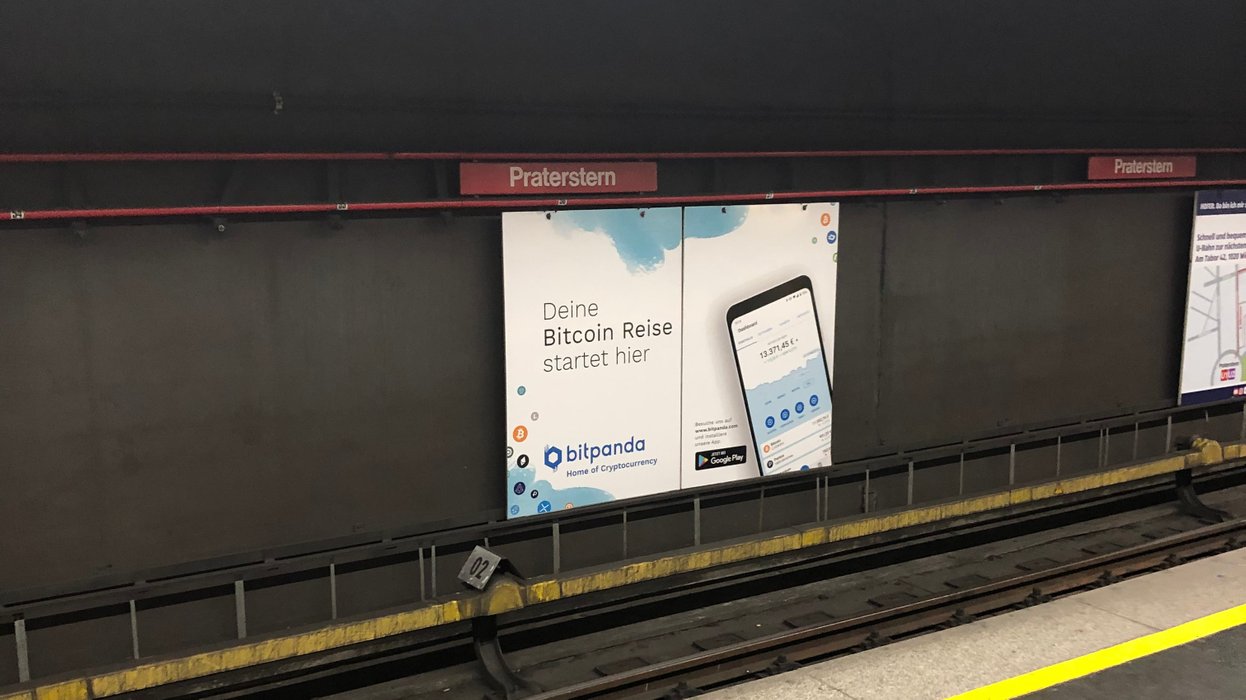 The city was crowded. Also thanks to the nice weather of course :)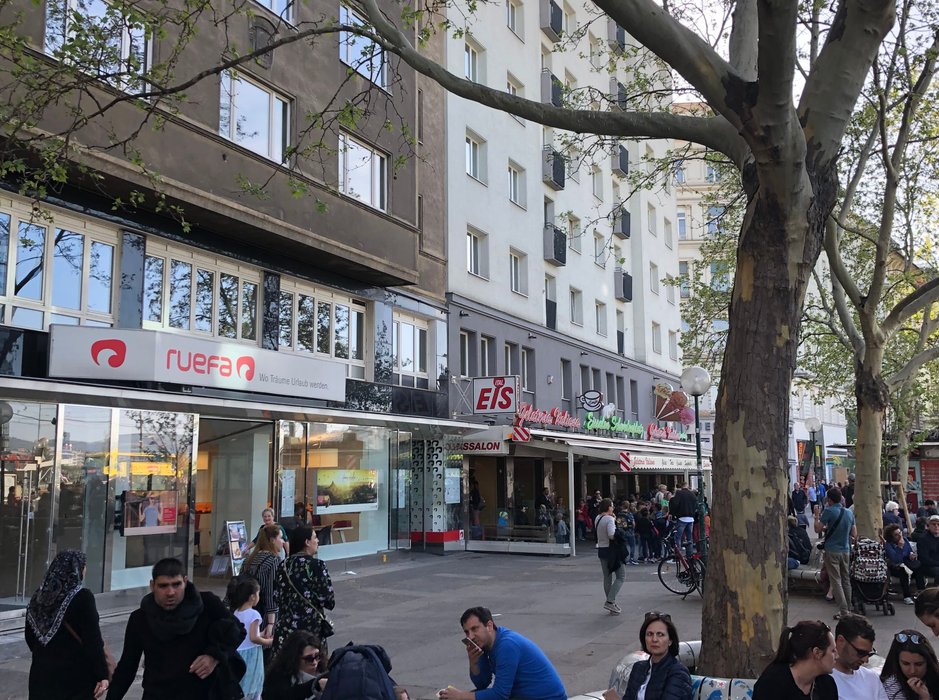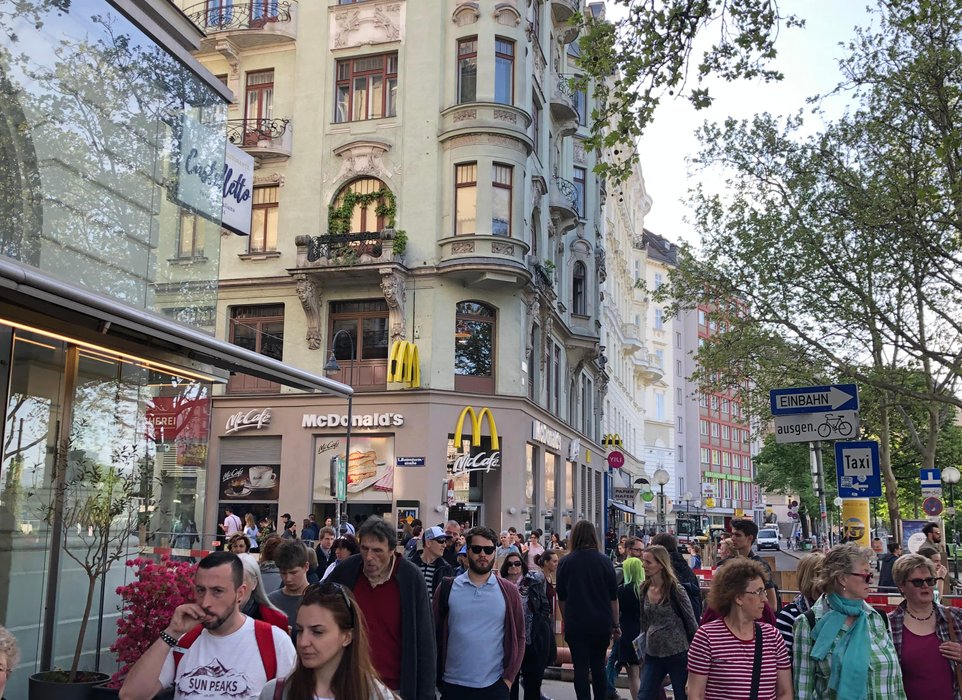 We were told that ice cream of this place in the city center was a must to taste :) So we went in Castelletto to buy their famous ice cream.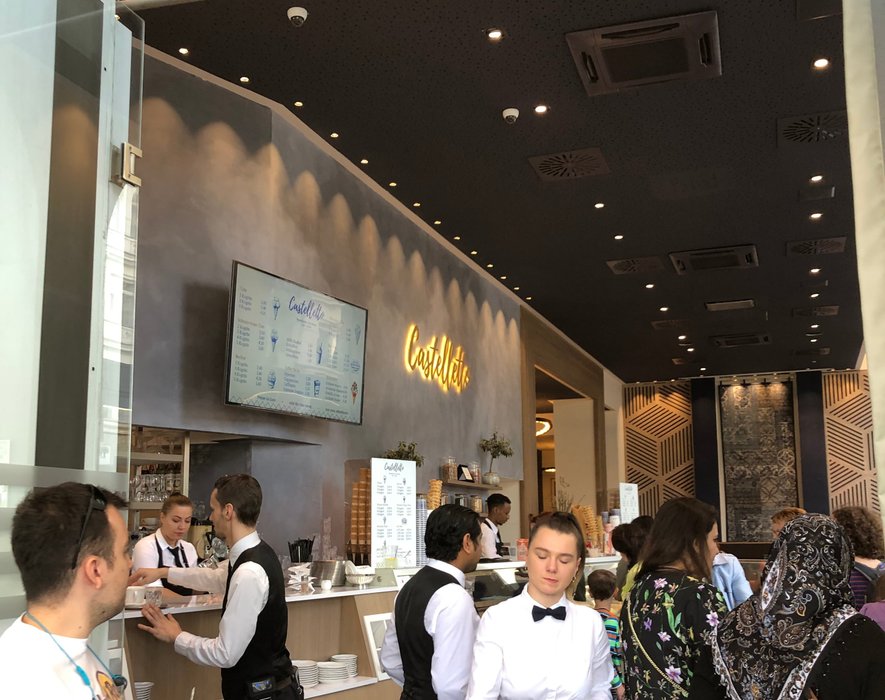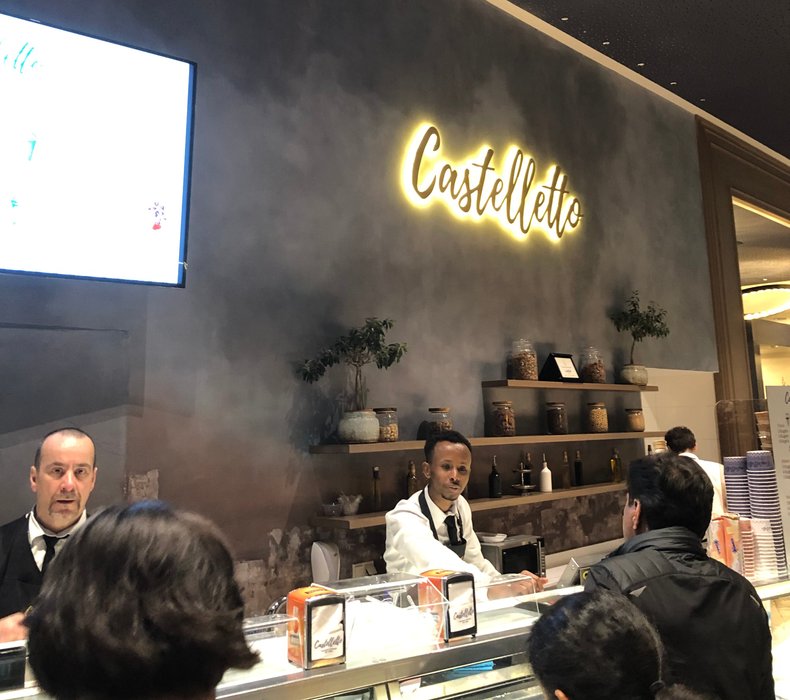 Oh man what a choice!!! :) I went for the strawberry + coconut if you wonder :)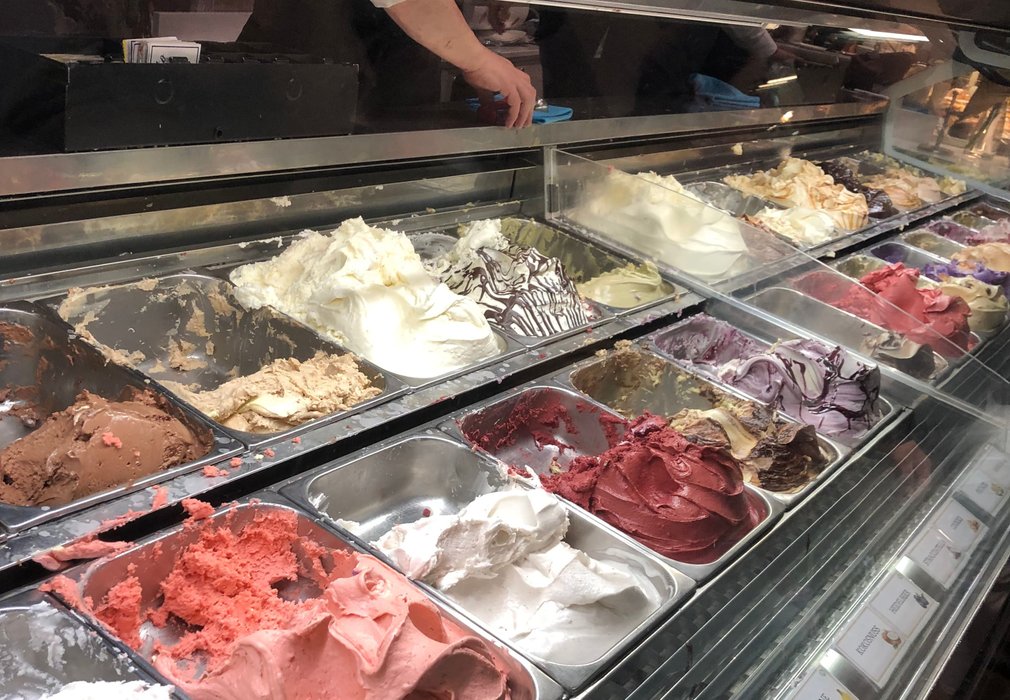 St. Stephen's Cathedral church
There was a lot of contruction work happening on the streets of district 1, so we couldn't visit each building we wanted to visit, but still, we got to see the St. Stephen's Cathedral church. What an impressive architecture!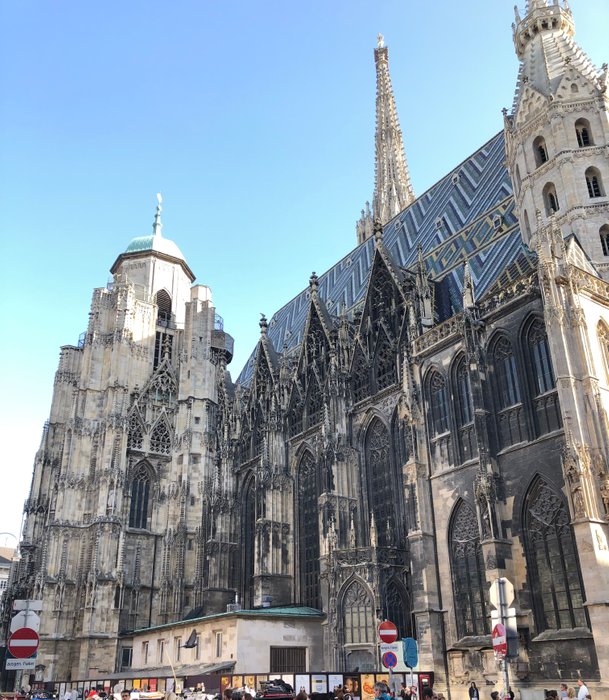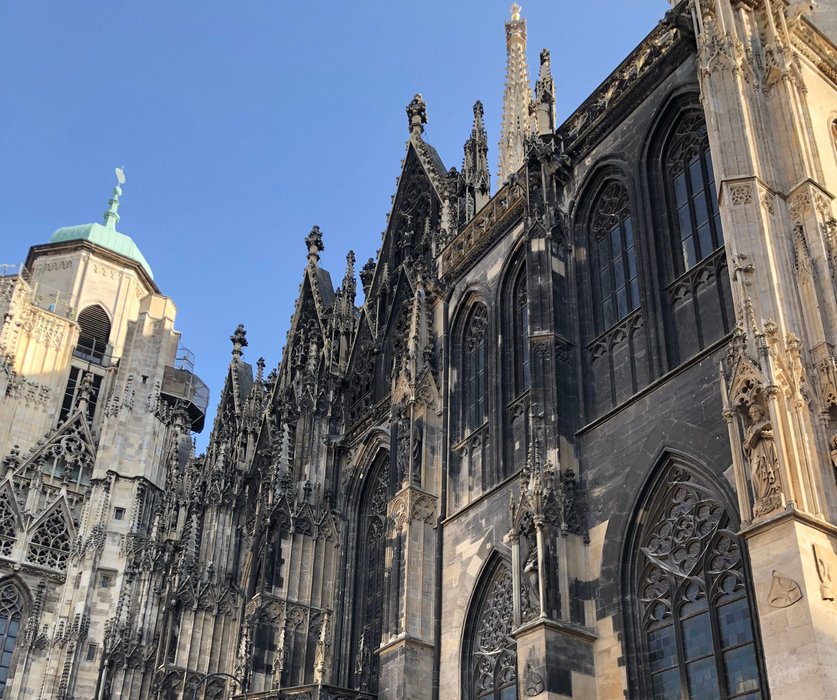 Apparently St. Stephen's Cathedral is the most important Gothic/Roman church of Vienna. It is also considered as the mother church of the Roman Catholic Archdiocese of Vienna. This cathedral is also famous because of its bells. It has 23 bells in total and also has the largest bell in Austria and second largest bell in Europe. This bell is called Pummerin ("Boomer").
The cathedral from inside is almost as beautiful as its outside architecture.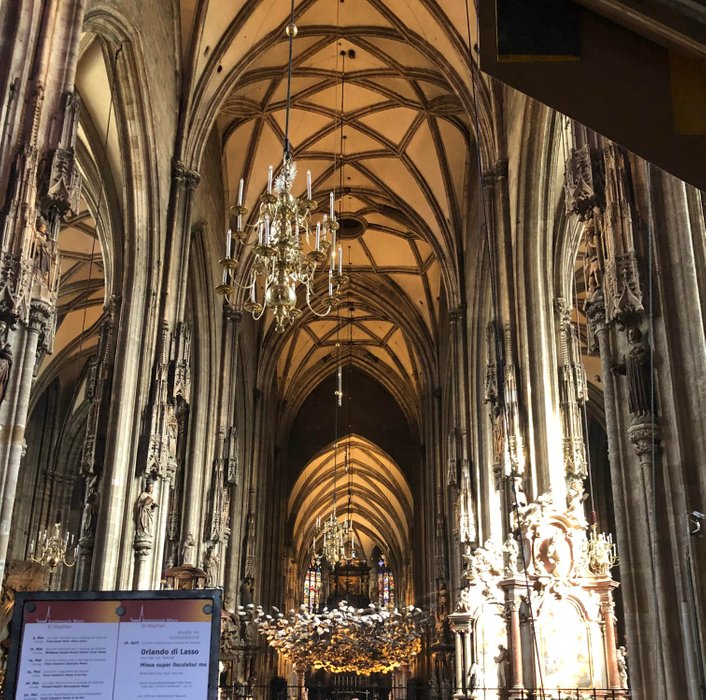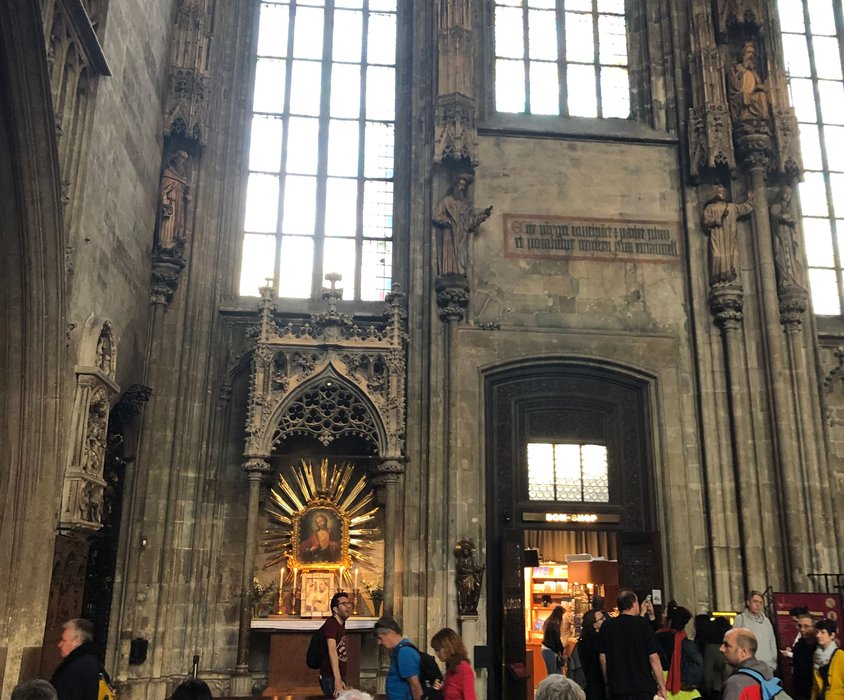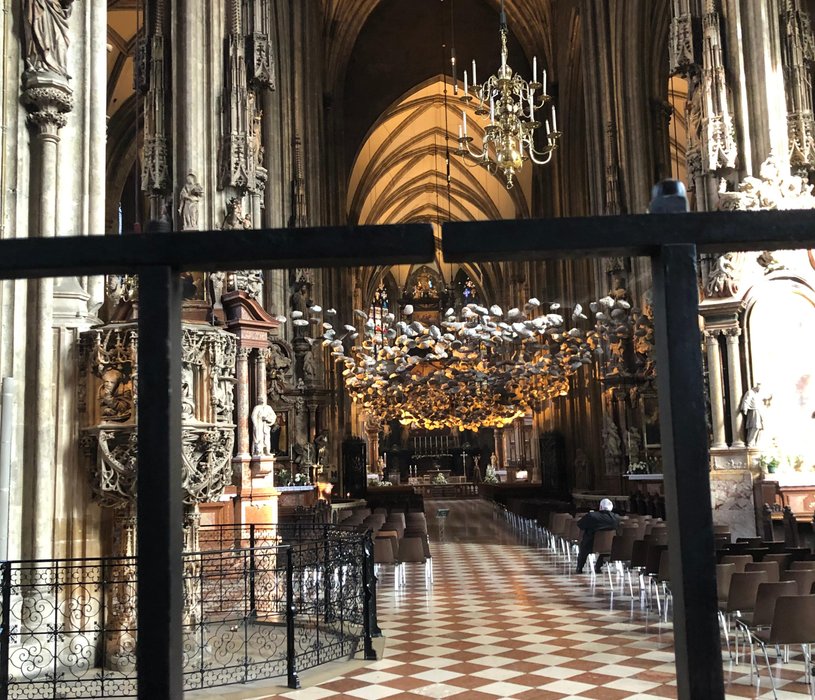 We again tried to remain very silent as there were people praying. The crowd around us didn't really care, but showing a bit of respect would be in place imo.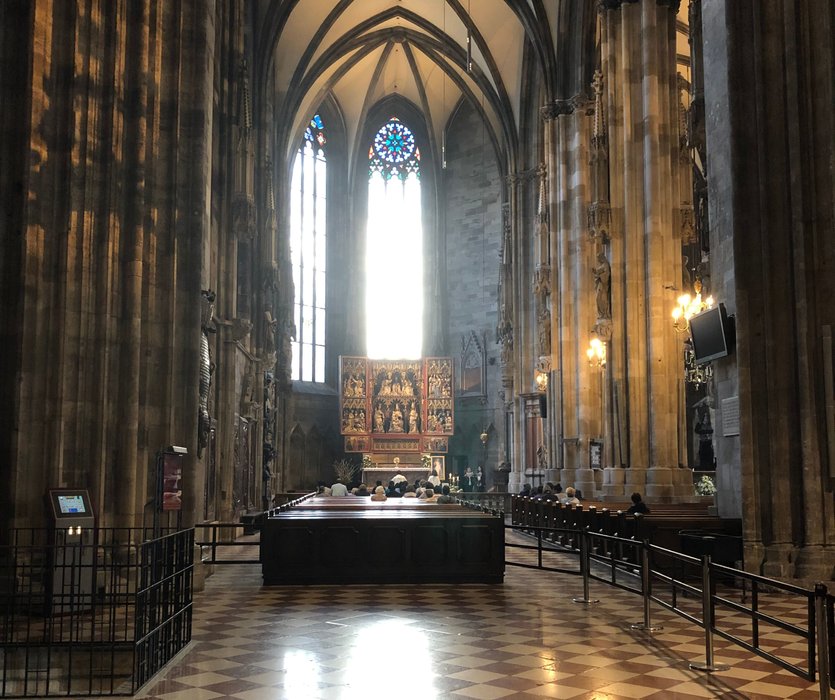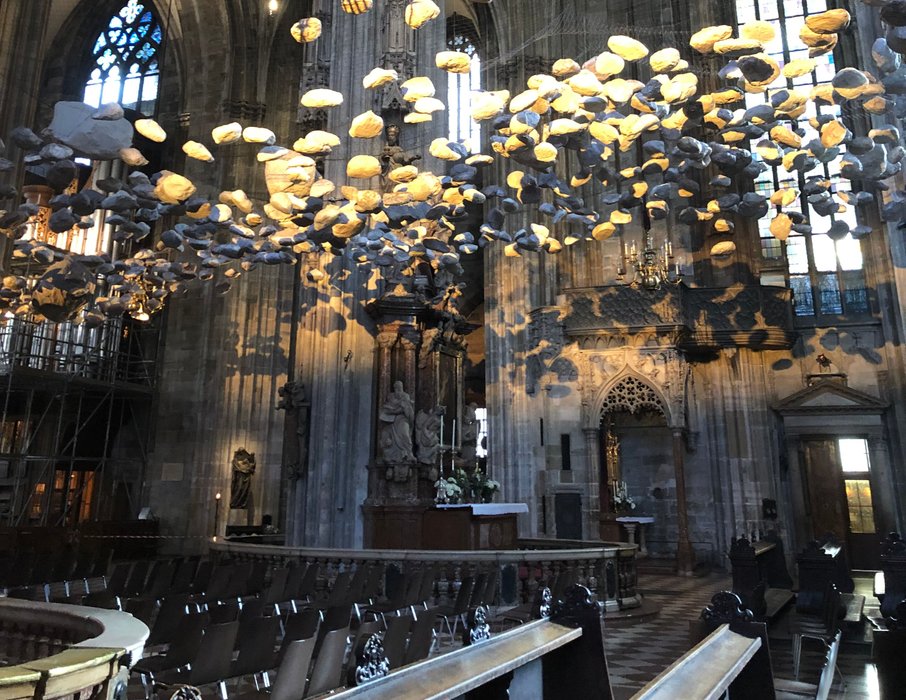 Approaching the city center, you can see some beautiful buildings on your left and right. The road to the city center is very pleasant to walk, especially if you are walking with a crowd. The sunny weather also gave some positivity I guess :)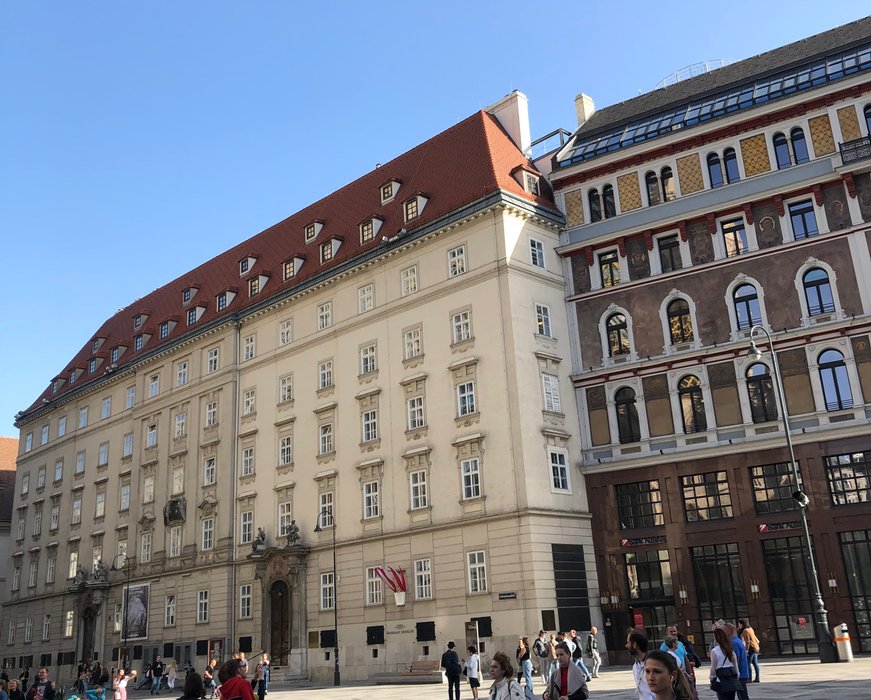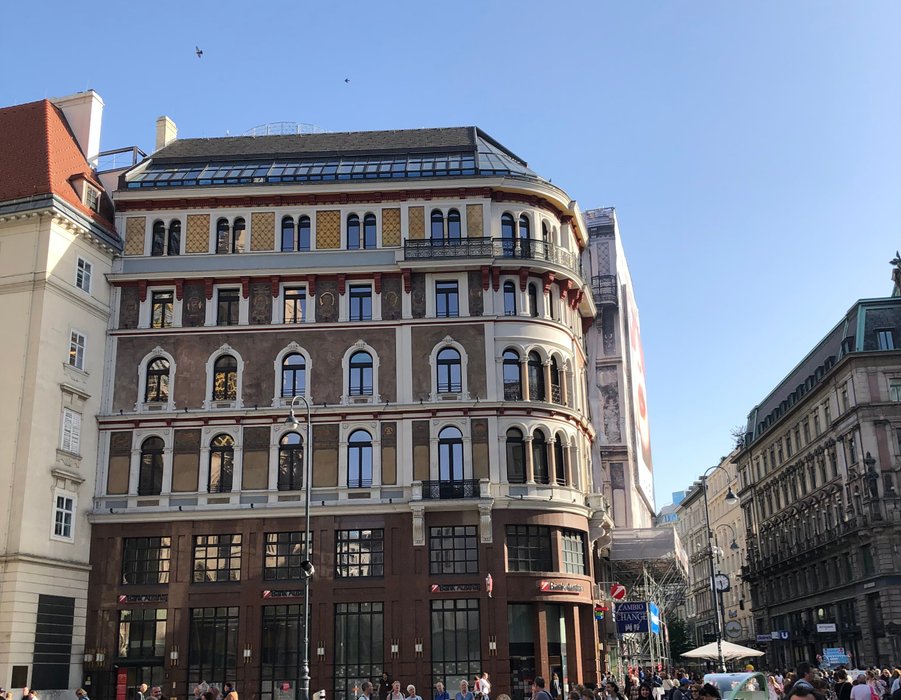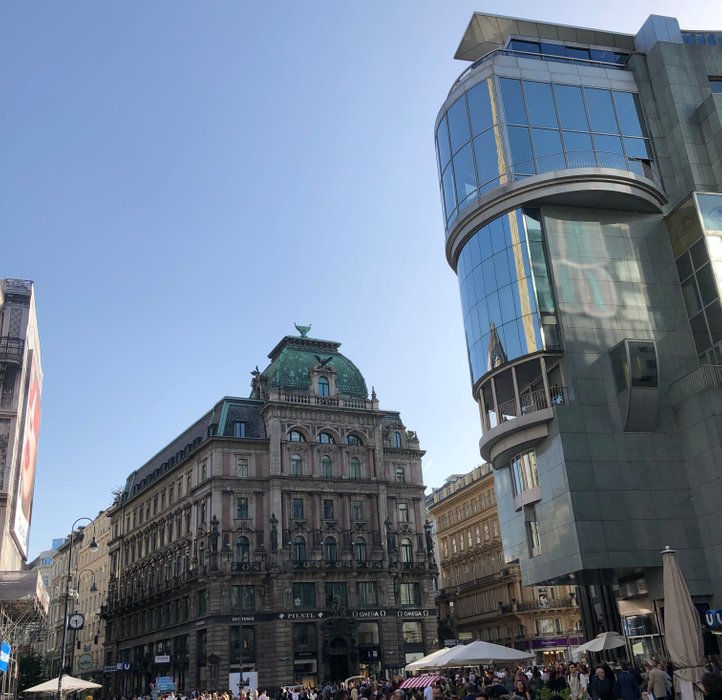 In the evening we came to the city center again for the ladies who wanted to take a walk without the kids :) We left the kids to our aunt at home, and came back. And guess the most favorite activity of the ladies? Shopping indeed! We are not that rich to buy stuff from these big brands, but still it was cool to visit :)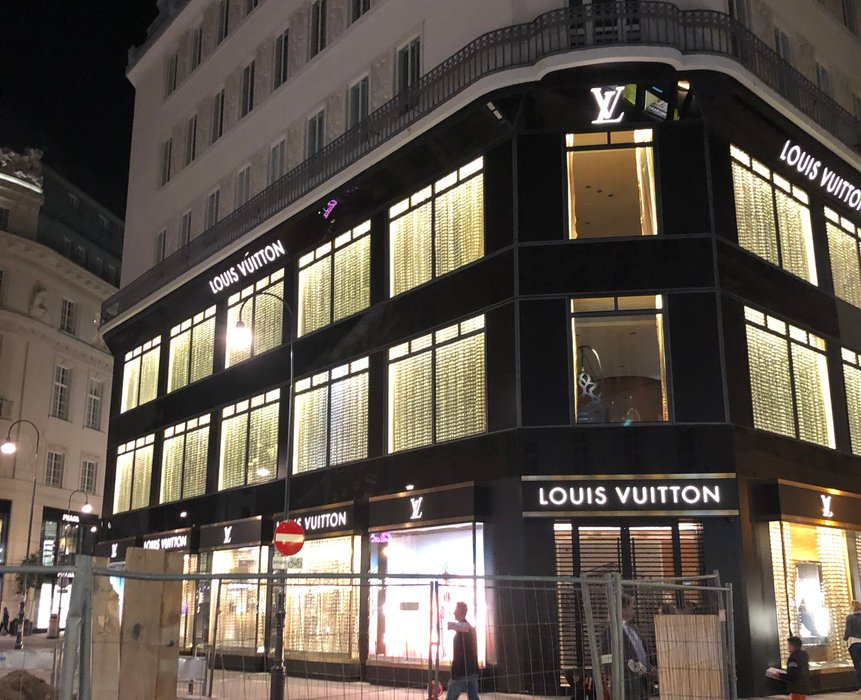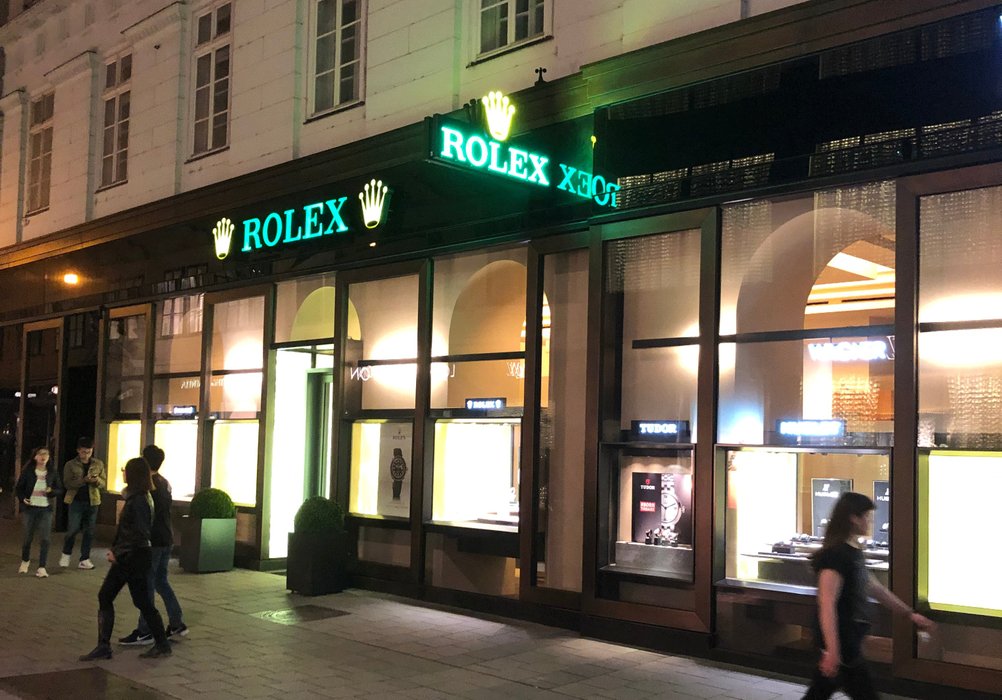 If it was up to me I would directly by-pass this Louis Vitton store. It is just insanely expensive!!! How can people buy these bags! Actually the question is WHY?! Don't worry I have kept my frustrations to myself :P
Rolex, Wagner, Chanel, Prada... OMG!!!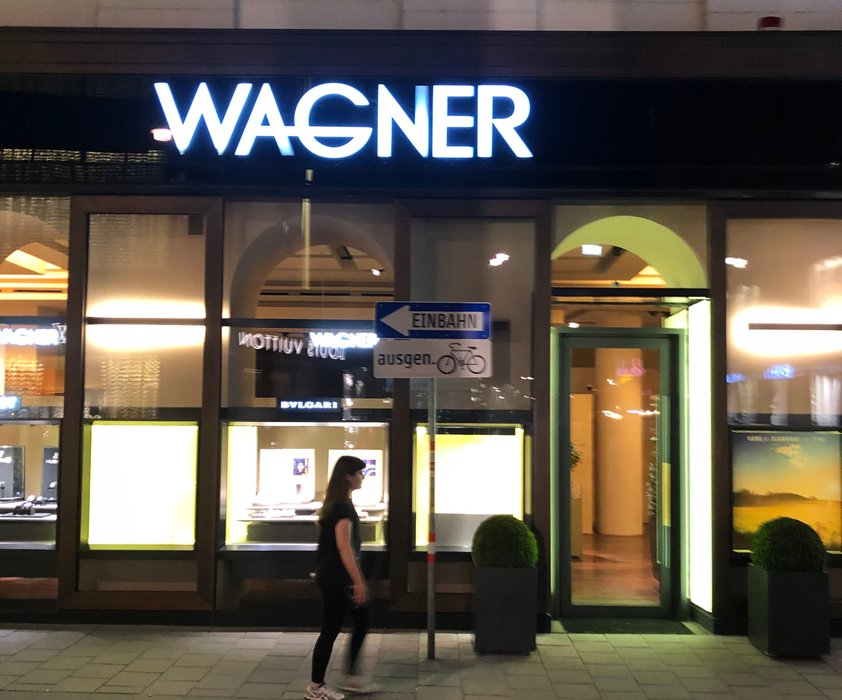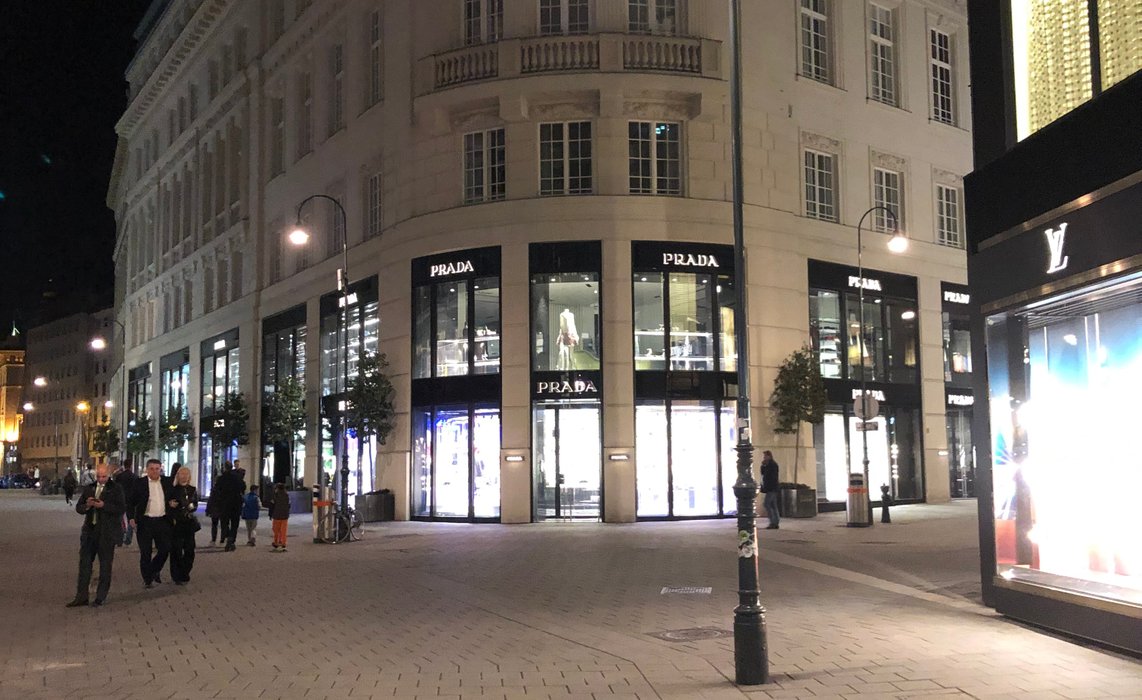 And this is not all. There are many more shops there, but let's keep it short.
As you can see below, the city is even more beautiful in the evening: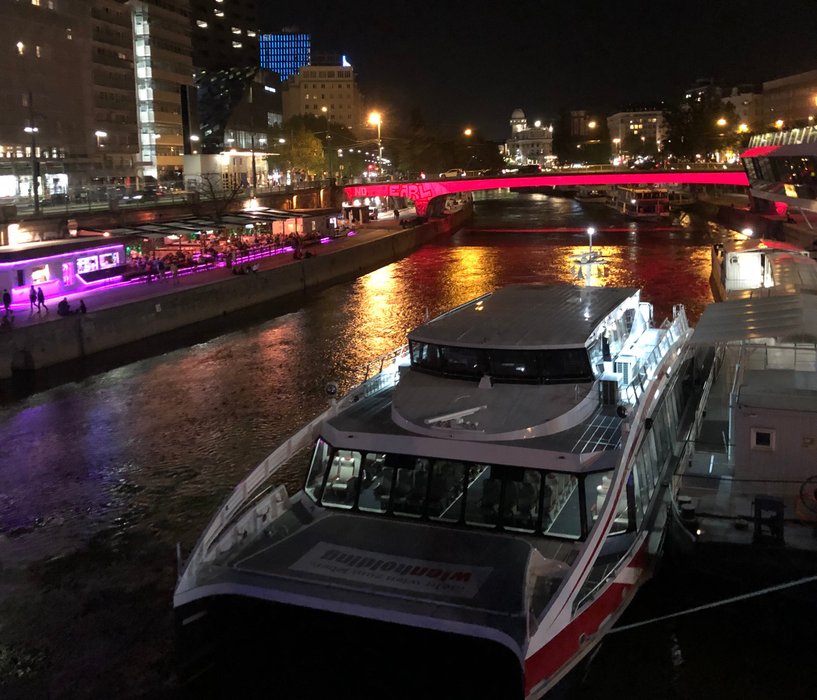 Schloß Schönbrunn
On our last day, we decided to visit the Schloß Schönbrunn aka Schönbrunn Palace. This is a huge palace in Baroque architecture containing 1441 rooms! Yep, you read it right, one-thousand-four-hundred-and-fourty-one (1441) rooms! :) It really looks fantastic!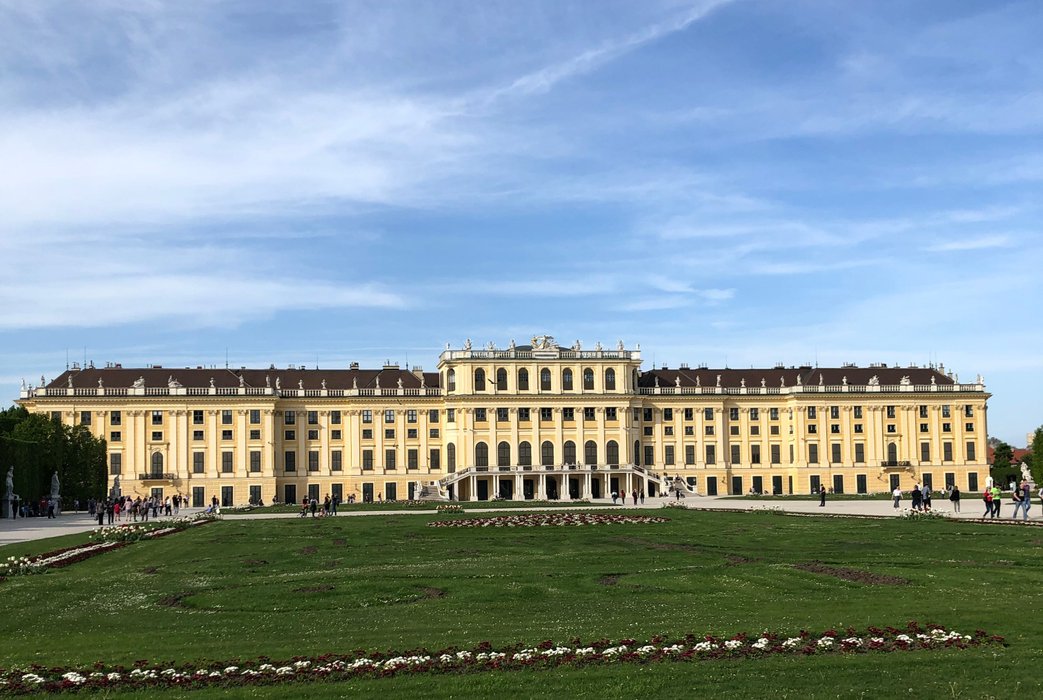 This palace is also quite famous among the tourists. We can tell that because of the crowd visiting this place. It definitely is one of the most important monuments in Austria. This place was the main summer residence of the Habsburg rulers (one of the most influential royal houses in Europe). Besides the spectacular building, this place also has a lot of green/nature around it.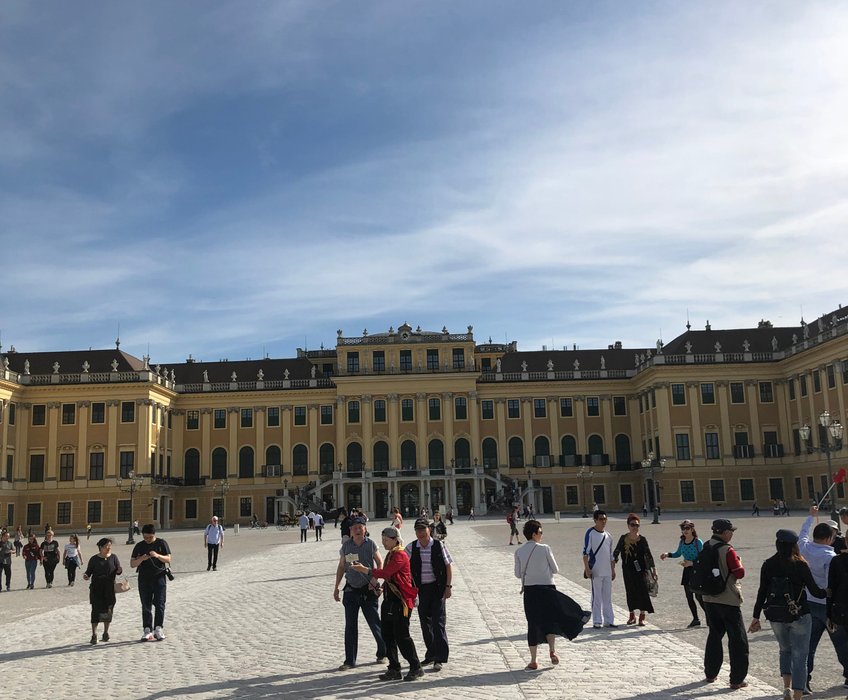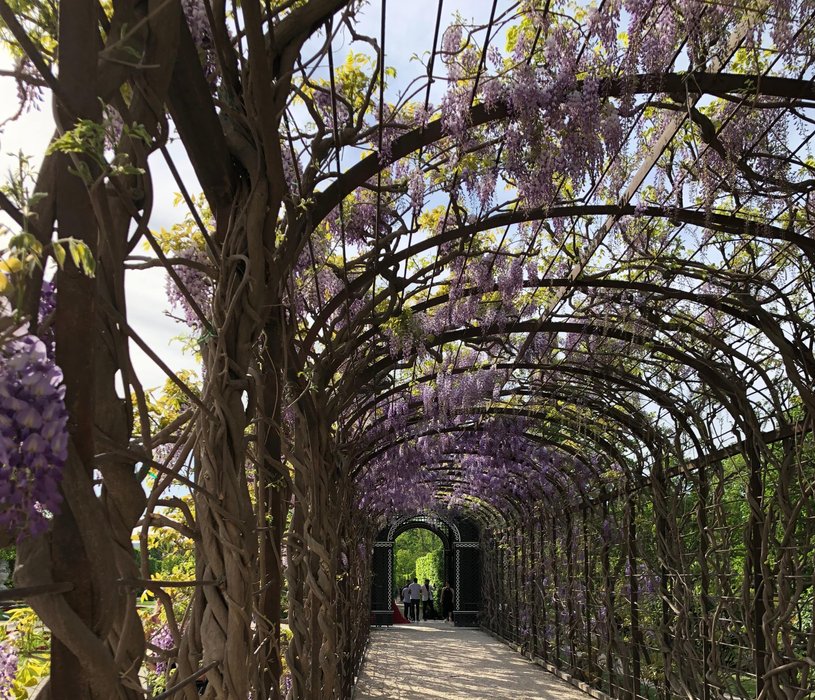 In later years, architects built and placed some new structures in the areas behind the main building. This piece below is called the Neptune Fountain.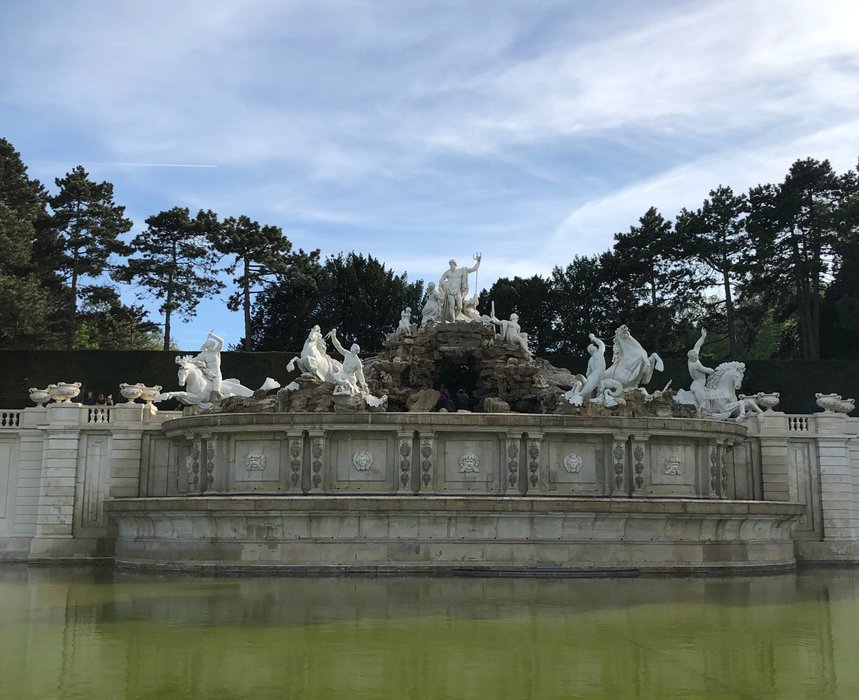 As we walk towards the Gloriette building, we take photo's of the main palace to see how far we walked :)
A gloriette (from the 12th century French gloire meaning "little room") is a building in a garden erected on a site that is elevated with respect to the surroundings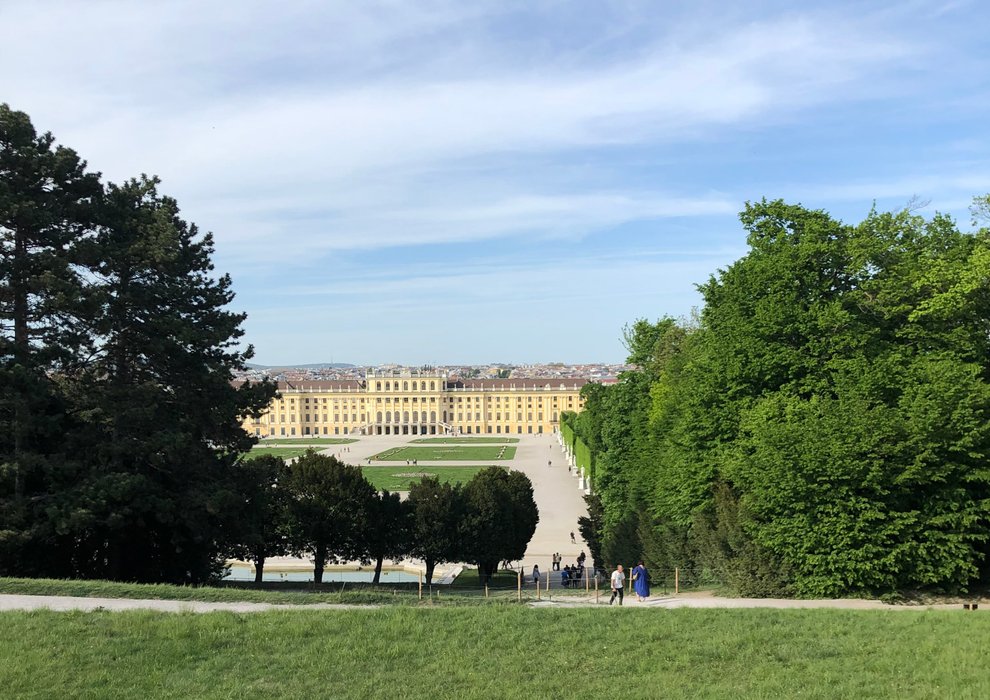 That's some distance... But we still had to walk a bit towards Gloriette...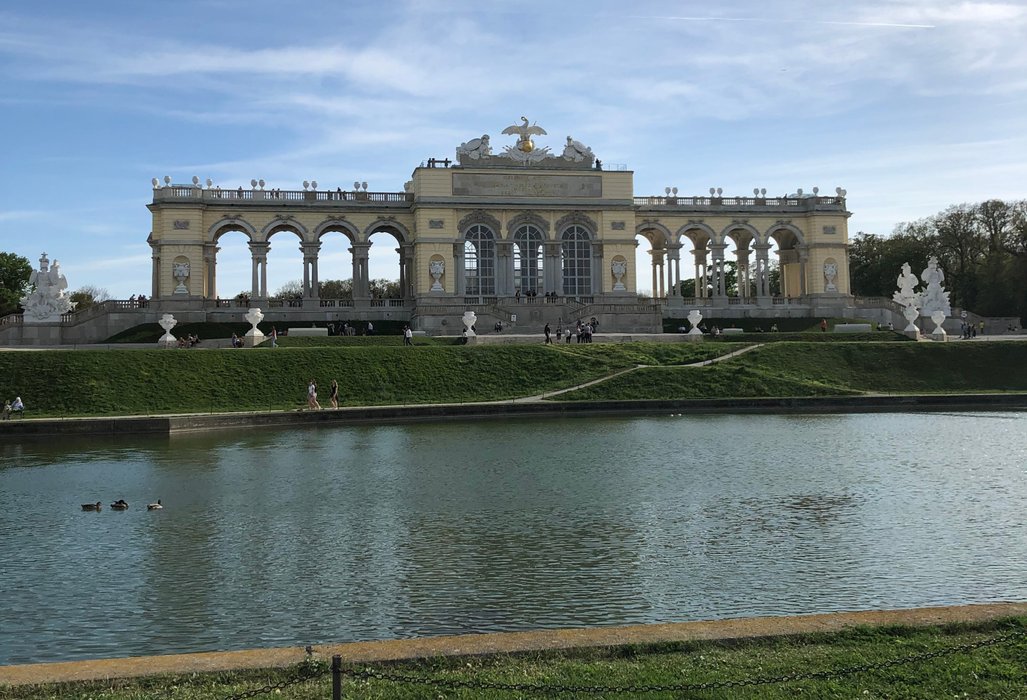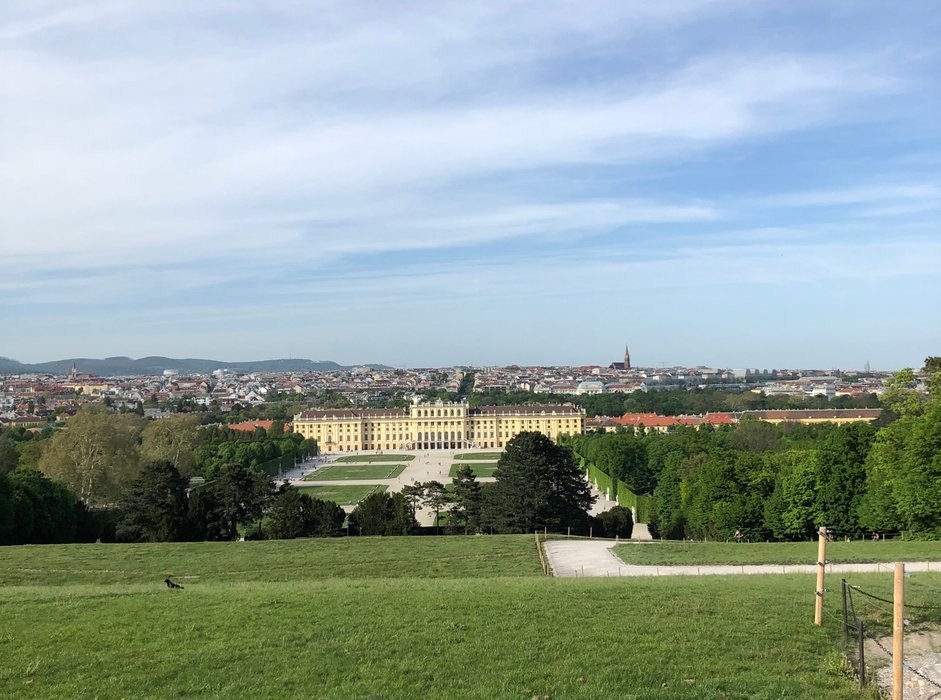 Finally we made it! But we were quite exhausted!
Here is a photo of the palace and the rest of the city of Vienna taken from Gloriette.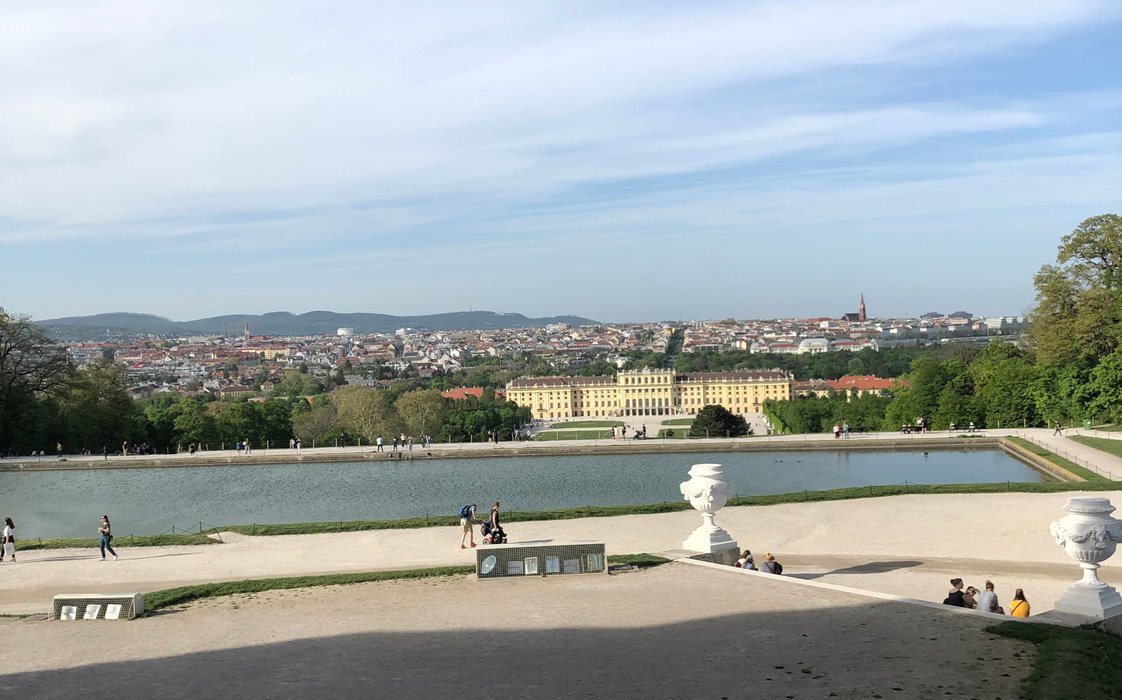 This is the result of the long walk :)) Dusty shoes.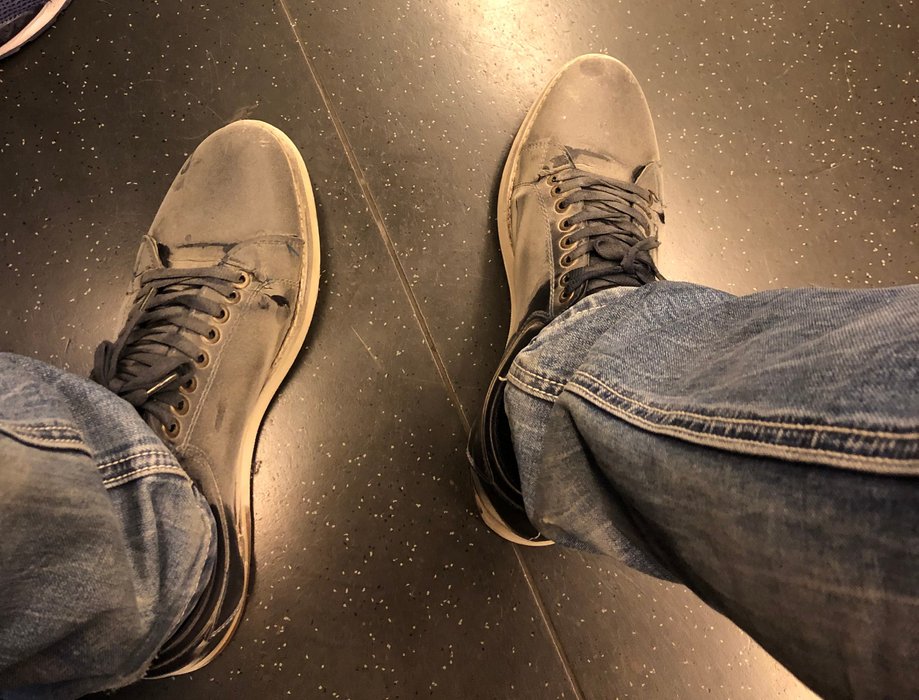 End of the day we rewarded ourselves with pizza!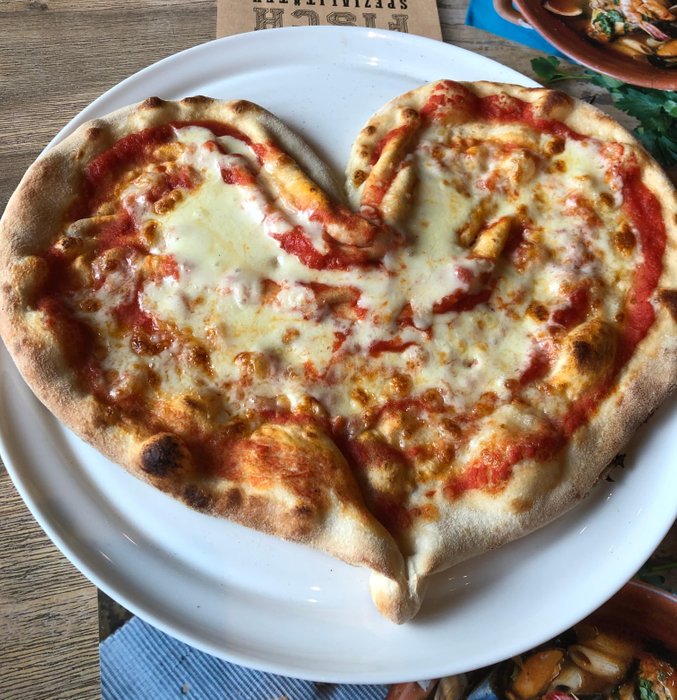 Although we were not able to visit a lot of places we wanted to visit initially, we really enjoyed our stay in Vienna. It was not all about visiting touristic places, but also visiting family and spending time with them. In the end we feel satisfied with our visit to Austria. This country definitely won our hearts, and hopefully we will go back to visit some more beautiful cities and places in Austria.
I hope you enjoyed this post and My Spring Trip Photo's series of Graz, Prague and Vienna!
Thanks for reading!